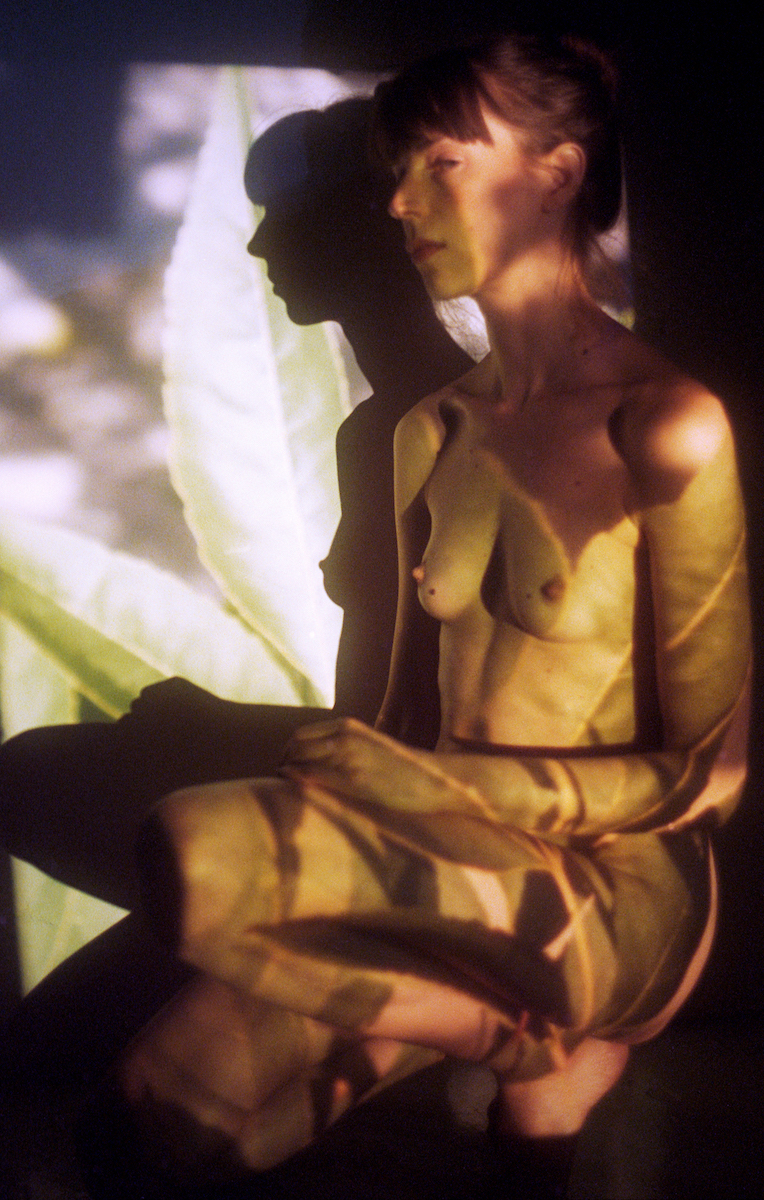 Tu es mon Tresor is a denim brand by Aimi Sahara. The brand, which creates designs that speak to women's bodies and sensibilities, has collaborated with many women artists through the fashion magazine SSAW, a magazine from Paris/Helsinki. One of the women Tu es mon Tresor has worked with is New York-based photographer Jenna Westra. After working on an editorial for the fall/winter issue of the magazine, they had an exhibition for 1977- Summer Residency and Shop, which was held at a house in Atami designed by architect Junzo Yoshimura. As such, the pair continue to deepen their friendship. We spoke to Sahara and Westra—who share many ideas and attitudes regarding expression—about how their collaborations came about and their thoughts on women's bodies and sensibilities.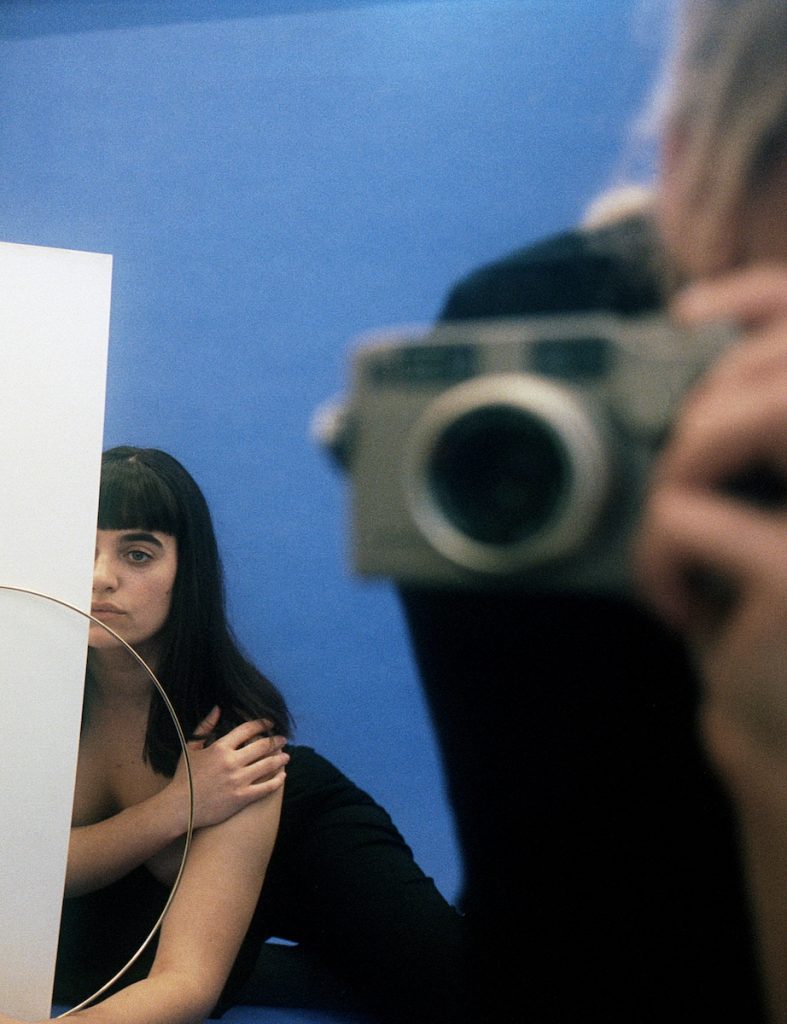 —How did your collaborations come about?
Jenna Westra: Aimi discovered my work after seeing my editorial in SSAW. Chris (Vidal Tenomaa), the editor-in-chief of SSAW, is our mutual friend, and he asked if I'd like to do a project with her. So, after creating an editorial with Tu es mon Tresor for the magazine's fall/winter 2022 issue, we continued collaborating for 1977-. Also, she kindly told me she wanted to sell my photo books on her brand's website and events in Japan. We've built a close relationship. I relate so much to her way of being as a woman artist and how she wants her voice to be heard.
Aimi Sahara: I've worked on projects with SSAW for over three years. I've collaborated with many women photographers for the editorials I've worked on until then, but Chris suggested I work with Jenna for the next shoot. He also loves her work, and this project came out of my wish to create a story with a woman my age with a similar sensibility.
Looking at one's own body and sensibility through photography and clothes
—As artists, I'm sure you contemplate your bodies and sensibilities as women. What made you pursue your respective creative endeavors as a designer and photographer?
Westra: I studied painting at university. I tried to reproduce a specific subject—my body—in a performative way. I traced my silhouette and used my body to paint the blank spaces. I feel like the act of reproducing has something in common with photography. Much like how a photo appears once an image and light come into contact with printing paper, I made paintings by putting my body and paint on the canvas. I became interested in photography after I graduated from university, and at first, I was drawn to cameras themselves more than taking photos. I was curious about the mechanism of cameras and printing technology, so I would fix cameras I found at flea markets and secondhand stores and use them. At first, I took photos of myself as the subject to test them out. After that, I really started seeing photography as a means of expression. Once the purpose and direction of my shoots became clear, I stopped using myself as the subject and began inviting friends to my studio so I could take photos of them. In retrospect, the act of reproducing my body might've been one means of self-discovery.
Sahara: In my case, I may have tried to overcome the damage done to me as a woman through fashion. I believe many women have experienced being hurt because they're women. I felt spiritually liberated when I added pearls and gems to jeans, which were initially made as men's workwear, thus recreating them through a woman's perspective. This was in 2010 when I started my brand. Because society and I have matured since then, I began wanting to work with women's bodies instead of symbolic femininity and masculinity. Until recently, my designs would look like adding original embroidery to vintage-looking jeans, but today, I try to design jeans by reinterpreting them from scratch so women can wear them easily and comfortably. The fabric is softer, and the patterns have become curvier than before. Also, the buckle belt became necessary to adjust the jeans to a woman's body, which changes each month. How I express myself has changed, but my interest in women's bodies and sensibilities has always been the driving force.
Collaborating with each other for the second time: 1977- Summer Residency Shop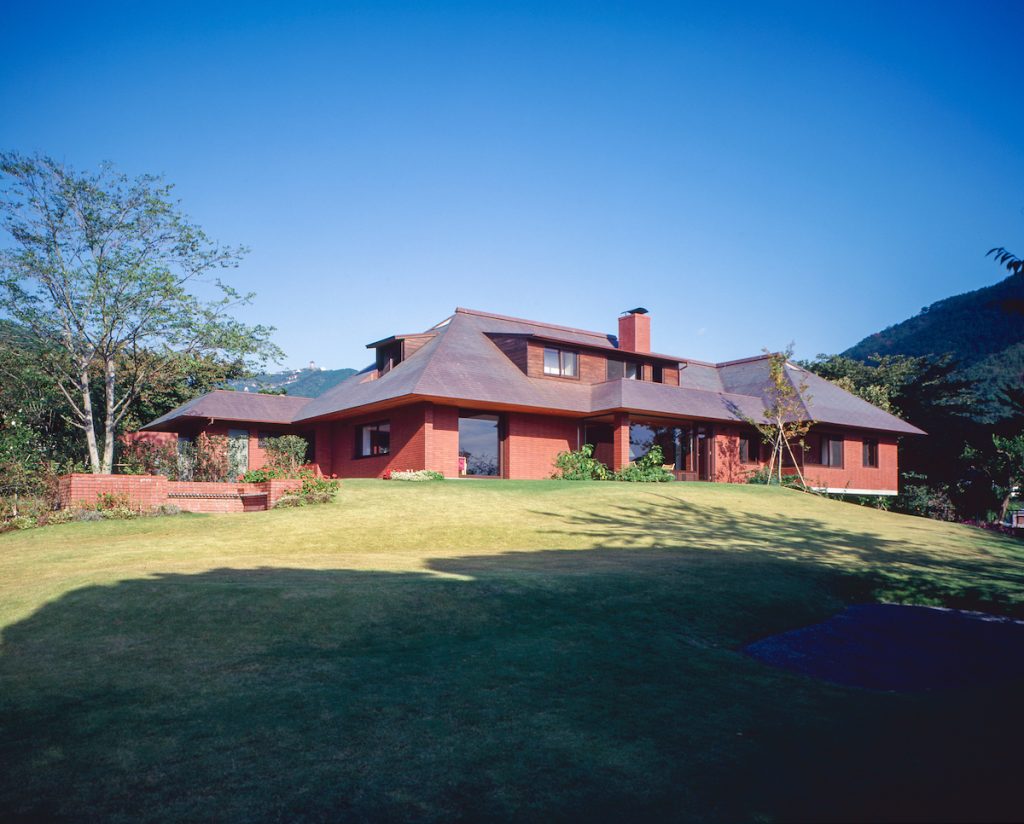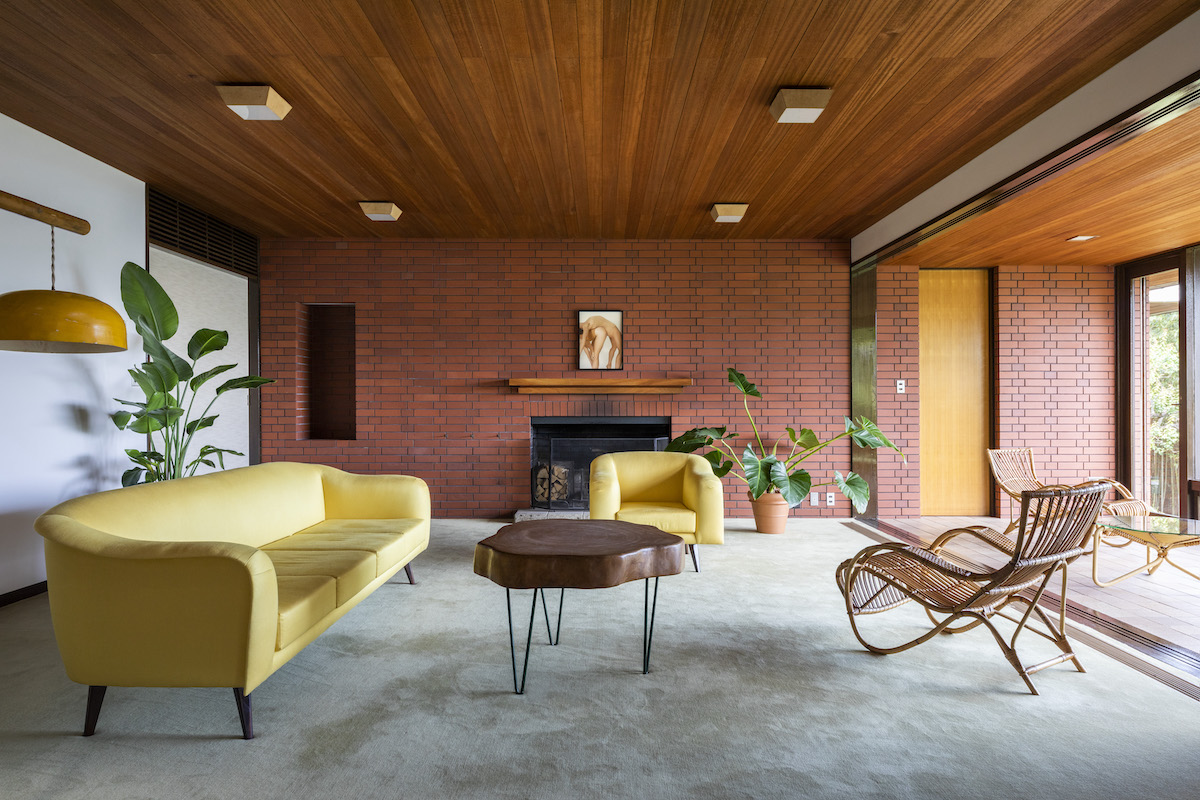 —What was your initial vision for the photo exhibition?
Westra: The first thing that came to mind was the benefactor and former owner of the house, a businesswoman. I imagined what she would think of my work being exhibited. It was the perfect place to show my work: a house made for a woman (benefactor). The color and texture of the space became essential elements to consider. The exhibition was made of a combination of photos I took for the brand and others I had taken since 2010. When I look at my old negatives, I can tell my tendencies as a photographer: I took the photos but didn't print them out. By understanding such tendencies, I feel like I was naturally able to decide what to take photos of next—for instance, sequences and overlaps of images. Until now, those [motifs] appeared as mirrors, water, and shadows. In Kayla with Found Slide Projections 1-3, which I took for the exhibition, I depicted the overlapping of images in a new way by projecting a photo of plants taken in the 70s onto the model with a projector.
—When you saw the photos, did you think the world of Tu es mon Tresor had something in common with Jenna-san's work?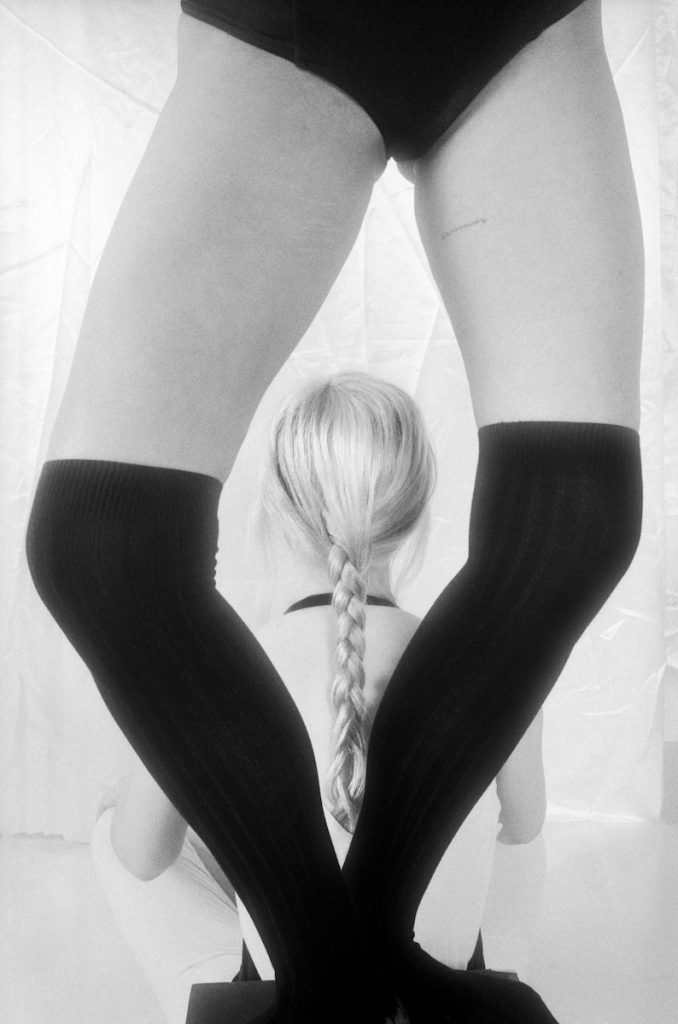 Sahara: The photos Jenna sent me were amazing and suited any space, which was exciting. It's tough to communicate my thoughts to the other person with words, but I could relate to how Jenna, who's of the same generation as me, understands the concept of time and expresses herself. She tries to live positively through expression and human connections made with emotions and aesthetics. When Jenna was staying in Japan, we had the opportunity to talk about literature, and strange enough, we had similar tastes in authors and poets (Kate Zambreno, Joan Didion, Sylvia Plath). I feel like I understood what made me feel close to her in our collaborations. Art, literature, and fashion make people bond strongly, more than verbal communication.
—What did you think after your 1977 collaboration?
Westra: With my past SSAW projects, I would communicate with others through emails and phone calls, so after this project, I realized the importance of spending time and sharing space with everyone. I stayed at the house; it was just like living in a world of my works because I spent time being surrounded by them.
—What does a safe place for women, which is the brand's concept, mean to you, Sahara-san?
Sahara: A safe place is somewhere you can escape from reality. I'm sure everyone has a way to be free from the real world and worries and concerns or, in other words, have emotional support, such as immersing themselves in music, reading a book, and traveling. My safe place is immersing myself in the world of fashion. I want to create an emotional haven through fashion for others.
— Your photos also had the peaceful vibe that I would associate with the word "safe place."
Westra: I sometimes see a sense of consumption or desire to dominate the woman subject in photos taken by male photographers. On the contrary, when it comes to shoots where both parties are women, there's deep empathy and recognition between one another. Whenever I shoot, I always try to create an environment where women can be protected from the various disturbances out in the world. For instance, the women wear clothes they wear daily and feel comfortable in. I constantly talk to them during the shoot to check in with them. Photoshoots are always done with the consent between the subject and me, so I never force them to take their clothes off. In the past, I've had instances where the subjects themselves proposed taking their clothes off. Maybe women can be bolder in environments they feel safe in. We need more spaces in society where women can express their bodies and sensibilities in a freeing way.
Aimi Sahara
Aimi Sahara is the designer of Tu es mon Tresor. She founded the brand in 2010. Based on the desire to create a safe place for women and design jeans for women's bodies and sensibilities, she relaunched the brand as a creative denim brand in 2020.
https://tu-es-mon-tresor.com/
Jenna Westra 
Jenna Westra is a photographer and filmmaker based in New York. Aside from showcasing her work in New York, Los Angeles, Boston, Madrid, Pescara, Warsaw, Copenhagen, Berlin, Tokyo, and Atami, she has published two photo books, Atlas (2018) and Afternoons (2020). She is represented by Lubov (New York) and Schwarz Contemporary (Berlin).
https://www.jennawestra.com/
All images courtesy of Lubov, New York and Schwarz Contemporary, Berlin
Text Nana Takeuchi