The artist Tadanori Yokoo has had a career spanning over 50 years since the 1960's. In 1960's Japan there were many conceptual works, known as conceptualism, which surprised the world with color and complex composition that was unthinkable at the time. It is a well-known story in folklore that he was so shocked by the retrospective work of Picasso in the New York modern art gallery, that he withdrew from commercial design in 1981 and declared himself a painter and devoted himself to that pursuit ever since. More recently, as well as the "Mysterious Genealogy" exhibition and his art book "Come home Tama," he uploads past works or scenes from town to Twitter, and has displayed his original mask collages "WITH CORONA". Although he is now over 80 years old, he is still a genius who influences creators around the world and has made a 2 collage with elements of Gucci and a GG pattern; the motif of "HANGA JUNGLE" and "Kohke." How did the artist Tadanori Yokoo, see the Gucci design in the same piece?
Eliminate the thinking process for creation
Yokoo's work doesn't have a set style or pattern. Fantasy images coexist with reality in the work. Many of the motifs defy a logical explanation. Where do such ideas come from?
"Chosen intuitively and fleetingly from a stock of various visual experiences from past memories. I'm not particularly interested in logical consistency. I create an encounter between unmeasurable things. I don't think of creating things with a purpose, so I'm not interested in finished work. So the purpose of drawing is not to draw results or a just cause."
Eliminating the thinking process in the production of work is Yokoo's individual stance of "reception ability" to make one's own thoughts those of another, and has left countless works with that theme. Yokoo continues to collaborate with fashionable brands. What thinking went into the collaboration with Gucci this time?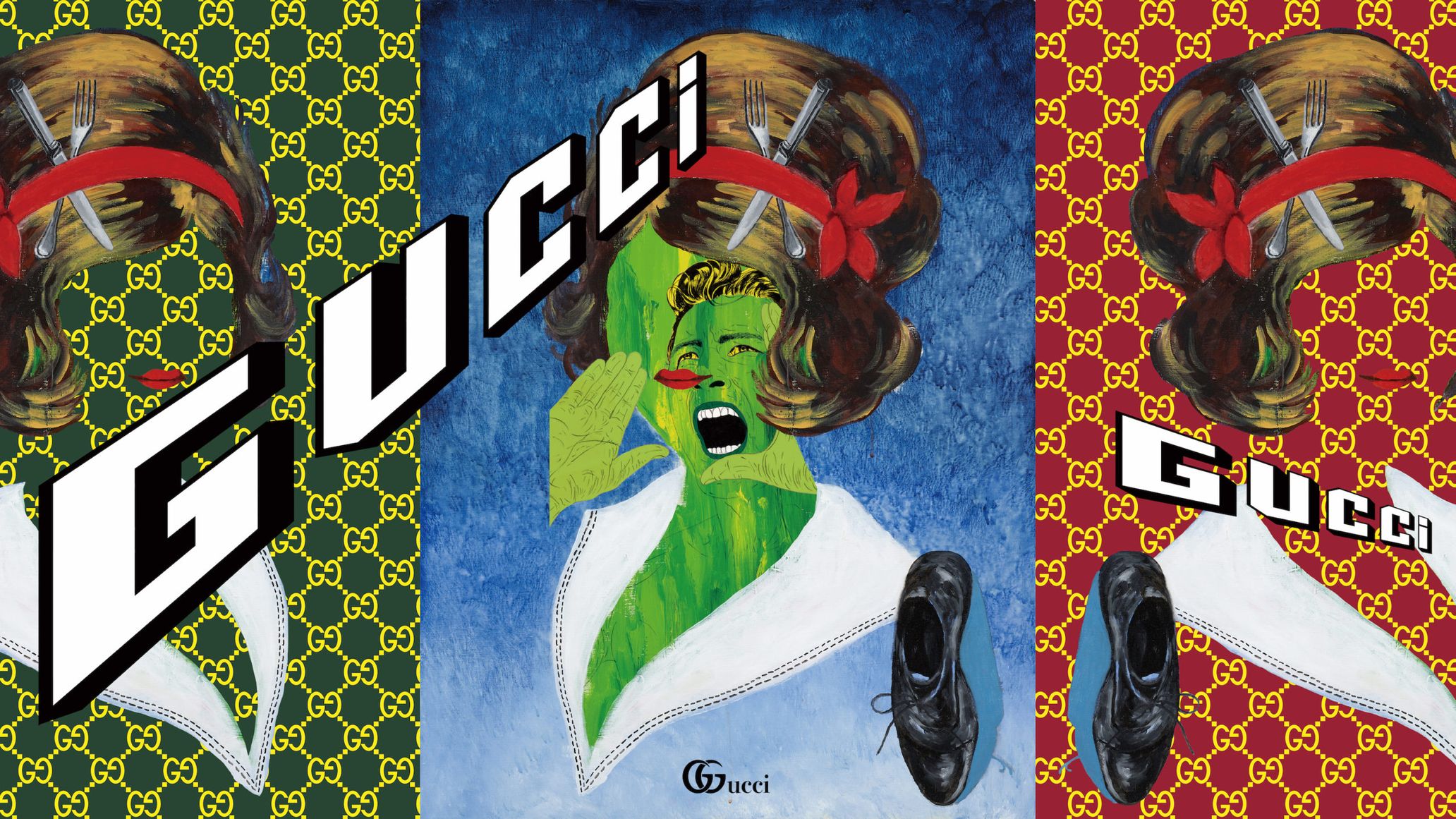 Brand logo's jump straight into one's eyes from works in the series "Kohke." Vibrant pink and yellow background is repainted over the green and red of the Gucci colors and the GG pattern is a brilliant collage.
Also, to celebrate the 5th anniversary of the Yokoo Tadanori Museum of Contemporary Art, built in 2018 to commemorate the Hyogo Prefectural government's 150th anniversary Predecessor Project, the works of the HANGA JUNGLE exhibition are surprising with elements of Gucci motifs. "Hanga" is well-known in English to mean super print, not the more traditional meaning of "print," and works that combine the Gucci brand logo with the key colors of red and green are included intuitively in collages with the same theme as the exhibition where Yokoo's varied expression is layered with the word "jungle."
"There is no particular reason for choosing from the several candidate Gucci logos. The collage balance was improvised and set intuitively. Other logos or characters would have been just as good. I made 2-D works 3-D and I'm interested in situations where a new function is implemented in society. Similar to certain works, artists and fashion brands, in a way homage aims to break away from authority. Malevolence is necessary for that. Respect and beautification cannot exceed the object. You may also unknowingly reject the value of the market. Being too greedy in the market will stifle your freedom. I even think I should deny my purpose for freedom. In other words, I prioritize self-evaluation over social evaluation. Conventional styles will be the death of art."
One of a kind originality when even one's own work is subject to copying
As a feature of Yokoo's work, which does not have a particular style, is the repetition of motifs. The "Pink Girls" series, representative of the 1960's, was displayed again in the 1990's and was drawn intermittently until recently. Also, works since the 2000's symbolize "Y-Junction" and the same scene changes gradually through many iterations. Originally, Yokoo regarded copying existing images as an important element of his work. Then is can be said that his one of a kind originality is subject to copying. It is not just self-imitation, his conviction is supported by the idea that "works evolve over time" and is antithesis to Yokoo's common sense.
"I always want to be new. Today I want to draw different images to the ones I drew yesterday. I'm always thinking how my drawings will change and develop. This is different to forming a setup. When I didn't have a particular style, one of my peers said "Your style is all over the place! Are you sure you're not schizophrenic?" and then I knew I had found my path. That was shortly after I turned to painting. An original way of drawing or compositional variations was never there from the beginning."
When asked for a final message he replied "I am incomplete; my drawing are incomplete." This time the works are themed around the Gucci motif, and include collages on "repetition," which is the true value of Yokoo's work, as well as visual and abstract metaphors. The artwork makes you appreciate the message that "everything is incomplete" could be considered a final present from Yokoo.