While in quarantine, makeup artist Yuka Hirac posted a new makeup look every day on Instagram. Based on this diary of photos she took from April 6th to May 27th, she recently held a solo exhibition titled "52 days visual diary." In this interview, TOKION talks to Hirac about why she started her makeup diary and the inspiration behind her eccentric makeup style.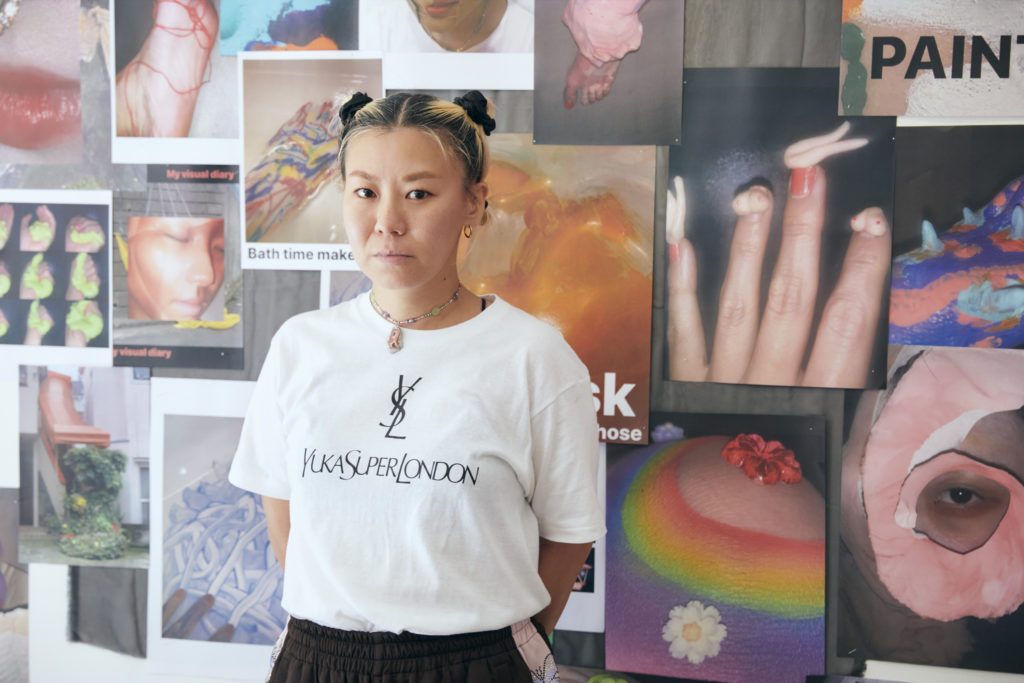 ——Your solo exhibition, "52 days visual diary" is based on your makeup diary on Instagram. Why did you start this makeup diary in the first place?
Yuka Hirac: The main reason was that all of my work was put on hold due to coronavirus at the beginning of April. At the time, my assistant Meyu had just joined me, and since she lived in the apartment next door, it started out as makeup practice. I started to have fun with it, so I decided to keep a makeup diary every day, for 52 days, from April 6th to May 27th. And when I say makeup, I don't only mean face makeup, but also makeup on body parts like hands and feet. Meyu modeled the face makeup and the body makeup was on my own hands and feet. And I took all the photos on a smartphone.
——Were you planning to do an exhibition from the start?
Yuka: I hadn't thought about it at first. In the beginning, I started putting together a photo book of the makeup diary just for myself. But after I finished making it, I realized I wanted a lot of people to see it.
Sometimes, I teach a special makeup class at a vocational school. I see a lot of young people there who have something they want to do, but they can't seem to muster up the courage to do it. I hope my work inspires young people to realize that they can take action. And then, I want to see the cool work they create. That's what made me decide to sell the photo book and hold a solo exhibition to showcase it.
We did everything ourselves for this exhibition, and we tried to make it look as DIY and amateur as possible, even displaying everything on regular printer paper. When we actually held the exhibition, a lot of people came, so I was really glad we did it.
——Even at first glance, these makeup looks are really eccentric. Was there an inspiration behind them?
Yuka: I didn't exactly have a specific inspiration, but if I had to choose, I guess it'd be the strangeness of everyday Tokyo. With corona putting a hold on my work, I had a lot of spare time to go on walks. I was struck once again by how strange Tokyo is, and I think the source of my inspiration is the unusual scenery I saw on those walks. Or also, dreams I had the night before. The model for this project, Meyu has a really unique face with a sort of "Tokyo" look, so I tried some things I wouldn't normally do. Usually, when I do makeup for work, I adjust what I'm doing to what other people want. But with this makeup diary, I just did what I wanted to do. I wanted to return to what I really like, which I had almost forgotten about in my daily work.
I was mainly doing three to four makeup looks a day. With my personality, it was more like I was going with the flow and letting inspiration strike, rather than creating something in a careful and detailed way. I've always liked colorful makeup, and with this project, I used acrylics and other non-cosmetic items that I usually don't get to use on models. I was able to express colors that I can't with regular makeup, which I thought was really nice. It also made me realize that in the future, I'd like to create acrylic items that can be safely used as makeup.
——What kind of scenery are you talking about when you say you were inspired by the "strangeness" of Tokyo?
Yuka: Tokyo is an urban place, but there'll suddenly be a vacant lot that's overgrown with grass, and there's this mixture of artificial and natural elements. The sense of discomfort that comes from mixing order and chaos was interesting to me. I rediscovered a lot of places like that, places that I had looked at but not really appreciated until then.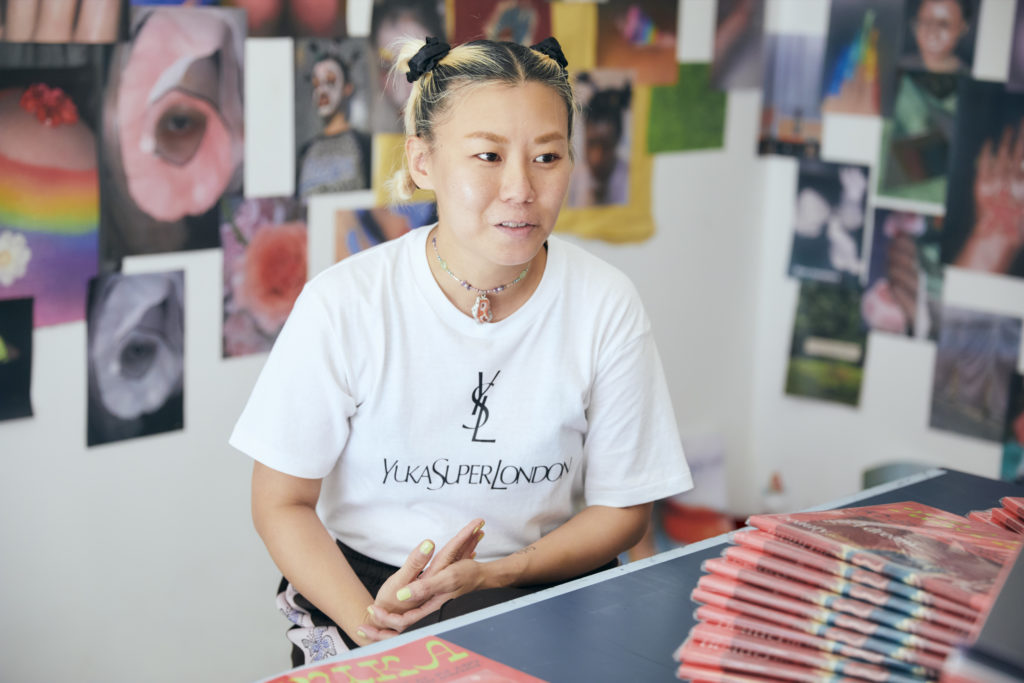 ——You did a great job with the photo book.
Yuka: It was my first time making a photo book, and since I've never been good with computers, I had a really hard time with it. I went to computer classes to learn how to design it myself. At first, I thought a zine would be good because it's quick and easy to make, but I didn't want something that people could glance at and be done with. I wanted something that really left an impression, so I decided to create a photo book. But because I was going for the same amateur feeling as the exhibition, I did everything myself. That's why there are some typos or things I forgot to delete. But there are also some parts where I thought the mistakes were kind of nice, so I left them.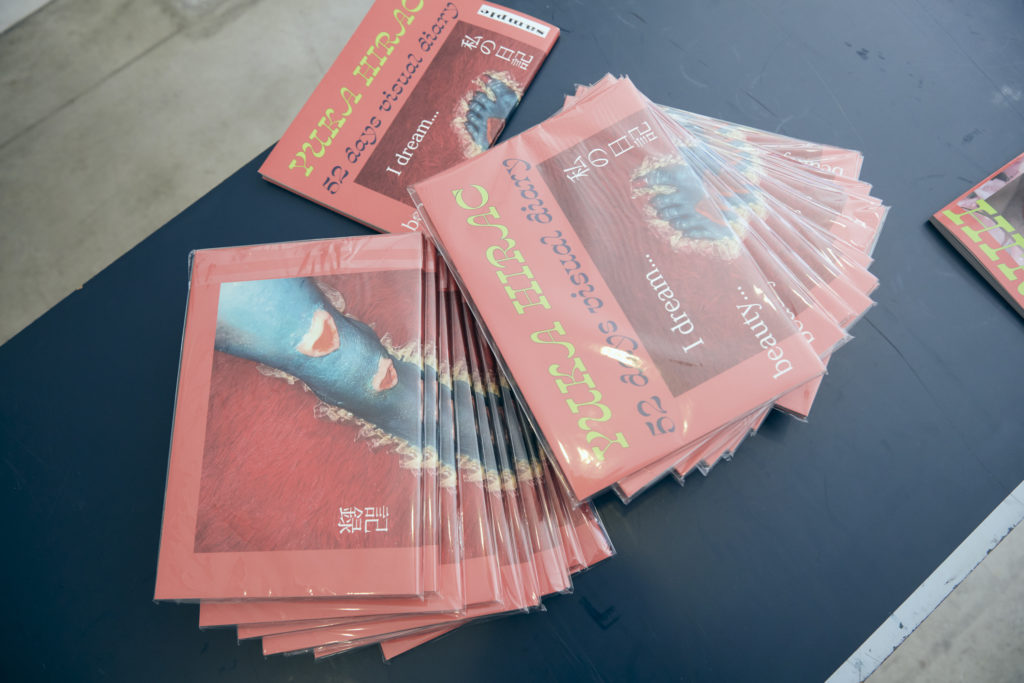 Through my work, I've always had a chance to meet a lot of creatives in the fashion industry, but after being part of an exhibition two years ago, I had the opportunity to get to know even more artists. I'm particularly good friends with flower artist Alexander Julian, who inspires me in many ways. The artists in my life have made me realize that I can express myself more, and that's part of the reason I created this makeup diary.
Although in some ways, creation is nonessential and nonurgent, it requires a lot of energy. I'd be happy if my exhibition empowered young people to feel like they could do whatever they wanted to do, and really take action. The exhibition is already over, but the book is still available for purchase, so if you're interested, feel free to reach out via DM.
——The name "Yuka Hirac" is unique too.
Yuka: Until last year, I was using my real name, Yuka Hirata, but I changed my name this year to Yuka Hirac. Yuka Hirac was originally my nickname, and it's my Instagram handle, too. I like Hirac because it's a combination of "high" and "luck," which is good luck, and it sounds a bit London-esque. Also, I've recently been thinking about end-of-life planning, so I wanted to rename myself as something I can leave behind. The photo book is part of that, too.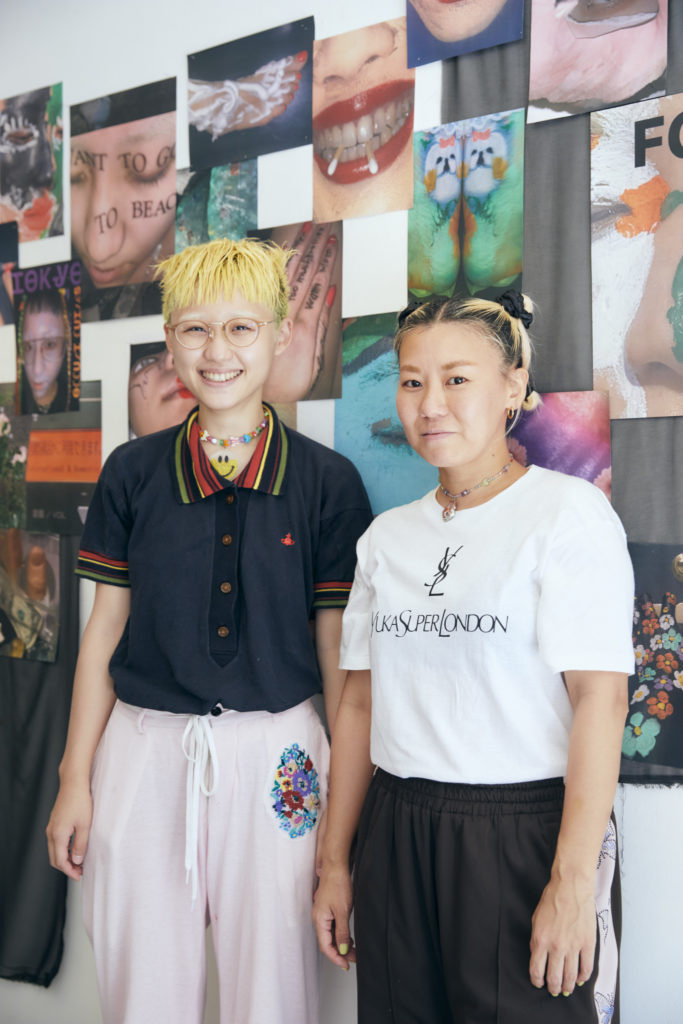 Assistant Meyu,Yuka Hirac
——Lastly, is there anything you'd like to try in the future?
Yuka: I'd like to continue the makeup diary on a regular basis. I'd also like to collaborate with other artists to create installations that combine scents and 3D objects with makeup.