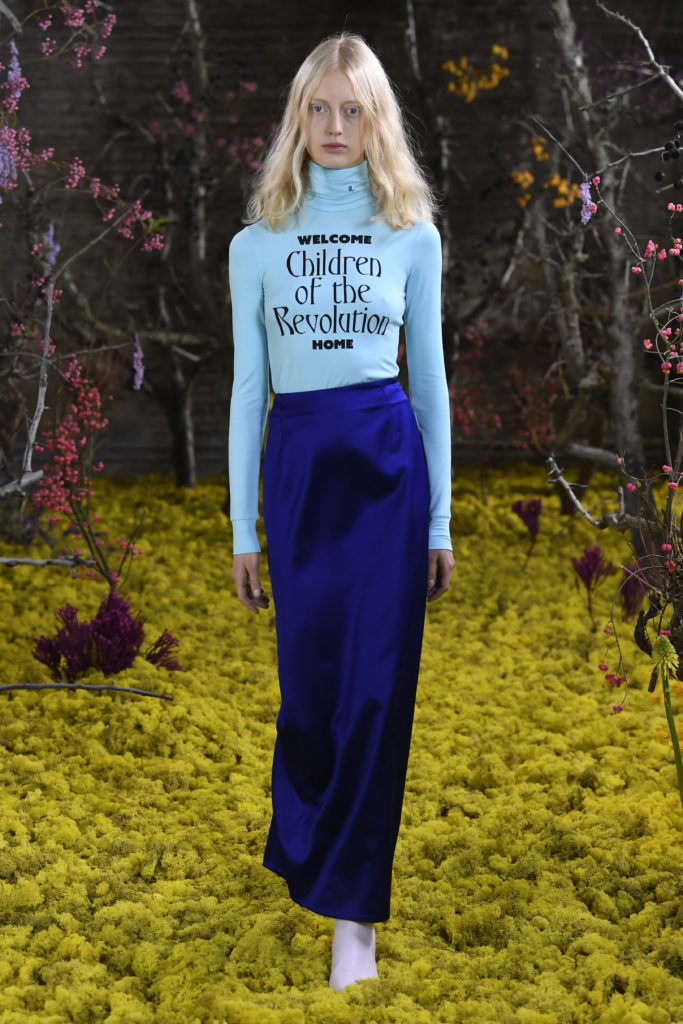 On October 23, "Raf Simons" unveiled its first women's collection.
That being said, it isn't the first time for Raf Simons to work on women's outfits. Since 2005, he has designed women's clothes for "Jil Sander," "Dior," "Calvin Klein," and for "Prada" about a month ago, although it should be pointed out that he "collaborated" with Miuccia Prada as a "co-creative director." For ten years since 2001, he also teamed up with Belgian artist Peter De Potter and made use of his artworks, showing his true colours and originality. However, while working under big names, he definitely still had to pay attention to the brands' identity.
That is why this collection is especially worthy of attention, as his first 100% original Raf Simons' women's collection. But what's the reason behind this collection? Is it because of the brand's 25th anniversary? Or maybe because of the corona pandemic, or could it be some leftover frustration from working with Miuccia Prada? In any case, for this article, I want to focus on his 2021 summer/ spring women's collection.
First of all, I watched his movie.
The title is "Teenage Dreams." Unsettling music is playing in the background, darkening the mood. Male and female models are slowly walking and crawling around in a space painted in vivid colours. From the hair make-up to marble prints and flared pants, everything closely resembles the 70s psychedelic fashion, with clothes and pin badges containing Raf's typical logos and messages.
However, this is where "Raf Simons" really shows us his uniqueness. As well as the outfits' design, it is also as much as important to understand what kind of culture is behind this collection. In his press notes, printed in three versions of purple, red, and yellow writing on a black background, Raf lists different songs and movie titles, such as different tracks from Joy Division and the book/ movie "Alice in Wonderland," previously known to be his sources of inspiration, "Hair (1979)," and "Zabriskie Point (1970)," famous for their depiction of the hippie culture, different horror movies such as "Alien (1979)," "Scream (1996)," "Nightmare on Elm Street (1984)," teen movies such as "The Breakfast Club (1985)," suspense and Sci-Fi movies like "Annihilation (2018)."
My knowledge about movies is not the best, and I cannot watch horror movies since they scare me, so the only reference I could notice right away was the one to Alice, with models crawling out of holes, although I am sure the video is full other metaphors. The unsettling atmosphere, the resemblance to the 70s, the fairytale-like mood; the overall nonsensical details definitely come from the afore-mentioned movies. I end up wondering if the fans of Raf's work would check all of the listed works at once.
Raf's image of youth culture
So, what about the women's collection, after all?
To be honest, I was not surprised by the clothes themselves. The colouring and graphics caught my eye, but it is a pretty common form and the design coincides with men's. It doesn't look like he put particular effort into it: it seems just like he added skirts to the collection and changed the size to fit women. I also wondered if the female models were mostly wearing skirts because of some obsession with old values. Most women who like Raf already wear oversized men's clothes, and while "genderless" clothing has already become a fashion cliché with many brands already shifting their direction to unisex apparel, I wonder if separating the genders in this manner was purposely done to acquire new female customers. Although, women who love fashion and wear clothes categorized as "women's" value first impressions the most, myself included. Not many people contemplate over what kind of culture is in the background.
One of Raf's strong points is his deep connection to youth culture, and while it says "Teenage" on the title of this collection, is it actually appealing to young people? That is probably not the case, too, since it doesn't seem to be referring to this generation's teenagers here. Looking at the original concept, I feel that it is mostly pointing at the young people of the 70s, those involved with student movements, like Raf himself, who was born in 1968. It is completely different from people like Hedi Slimane, who picked up various TikTokers for "Celine's" 2021 spring/ summer collection, although being the same age as Raf.
So, when it comes to this, I think that the people who are mostly happy about this collection, are either women who love Raf's clothes and wanted their size of clothing or skirts to be sold or the generation who spent their youth in the 70s and 80s. It is by no means a collection suitable for all. I think "Prada" would be the better choice for women who aren't very "immune" to Raf Simons.