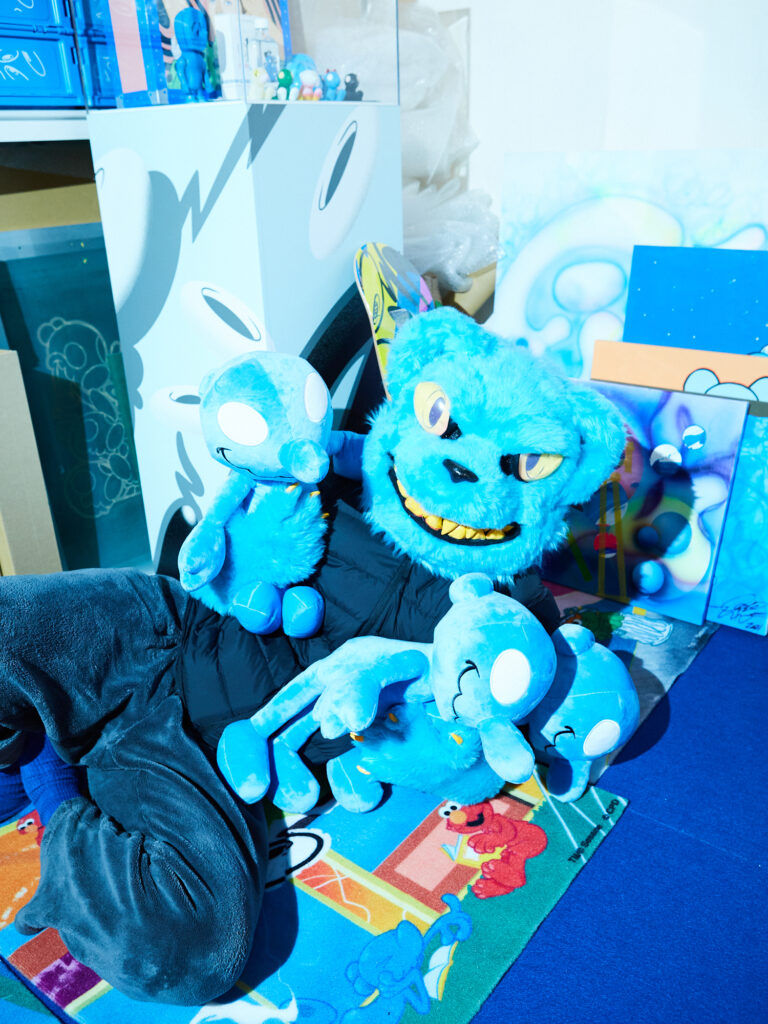 COIN PARKING DELIVERY kicked off their career in 2018. They quickly gained popularity for their pop style and began brand collaborations. They have become an artist to look out for, as they have recently expanded their creative field and have delved into 3D works. We asked COIN PARKING DELIVERY to speak briefly about how they started, what they've put into their creations, and their visions for the future.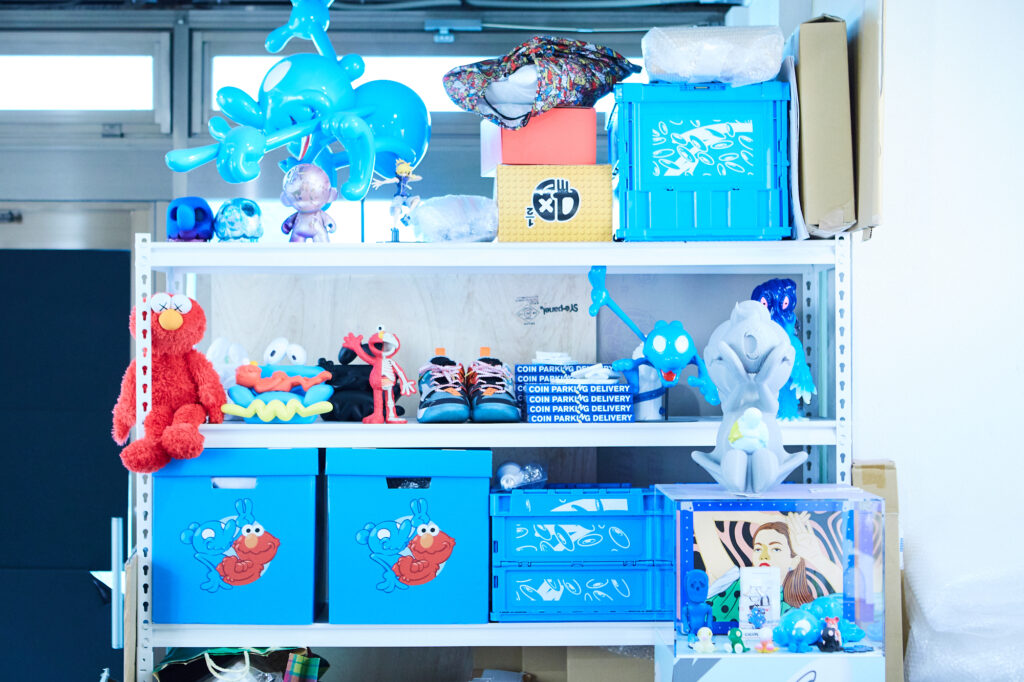 – You've done various media interviews in the past, but this is your first time being interviewed for TOKION. So I'd like to start by asking some basic questions first. Regarding your creations, were you always interested in graphic art since you were a child?
COIN PARKING DELIVERY: I always liked going to art museums and drawing, but I did line drawings and realistic drawings, not the more pop-style art that I do now. I never thought that I would become this type of artist.
– Is there anything that influenced you when you were in elementary or middle school?
CPD: I was influenced by Shigeru Mizuki's Gegege No Kitaro. I didn't like scary stuff, but I liked the yokai (supernatural entities in Japanese folkfore). I was constantly doing research on yokai at the time. I spent weekends touring sacred yokai sites, and from elementary until right before middle school, my annual Christmas present was Shigeru Mizuki Pottery.
– Do you think your current style is influenced by yokai or Shigeru Mizuki in any way?
CPD: No. I was starting to think about incorporating those elements into my work, though.
In the beginning, I didn't really understand art. I always wondered why some works of art were so valuable; I was always a little critical of it. But when I decided to go this route in my career, I thought it's not wise to have no knowledge about it, so I taught myself. That's when I started to understand why some things had the value they did. In other words, I learned that art represents how society functions. That's how I became interested in art.
There's also thought behind my pop drawings. Pop drawings seem "cute" at a glance. I think that's similar to the real-world condition right now. I feel like the authorities are trying to create a world that can be relished without having any serious thought. I try to express that through my style; it's pop, but the concept is carefully thought out.
– Does each piece have its own concept?
CPD: Yes. Each piece has a concept or theme in common; they all include the characters Shirai-san or Katayama-san. Shirai-san is a character that represents a moment in time, and Katayama-san is Shirai-san's friend/lover/acquaintance. The message of each piece is depicted through these two characters.
– Shirai-san seems to be your main character. How did that character come about?
CPD: Shirai-san is a character that represents a moment in time when I figured out what I wanted to do. The character is half dinosaur, half alien. Since I think of aliens as a symbol of the future, and dinosaurs as a symbol of the past, Shirai-san exists as the present, who is a combination of the past and future.
The present is very ephemeral, and the perception of the present and the past is created by these overlapping ephemeral moments. But I think people tend to disregard the ephemeral parts of the present. I created Shirai-san for people to understand the ephemeral nature of the present.
– Naming your characters Shirai-san and Katayama-san is unique, as well.
CPD: Culturally, instead of creating something from nothing, Japan is a country where people tend to be good at developing, say, one to create a hundred. On top of that, we're very good at putting our own original twist to things. I thought it would be cool to create a Western-looking character from a Japanese animation lens, so I purposefully gave them very Japanese names like Shirai-san and Katayama-san.
– In terms of naming choices, the name COIN PARKING DELIVERY is also unique. How did you come up with that?
CPD: I never intended to go by this name. COIN PARKING DELIVERY was just the words I put on the front of my first original hoody. That ended up becoming my artist name.
Graffiti artists tend to keep their names to three to four letters so they can quickly tag something and run. But I started creating graphic firstly on a smartphone. So, unlike those graffiti artists, I had enough time to sign my work, which is why I purposefully gave myself a long name. I wanted a word that started with C and something that would be instantly memorable, which is how I came up with COIN PARKING DELIVERY. I also purposefully named my characters Shirai-san and Katayama-san to give it a bit of awkwardness.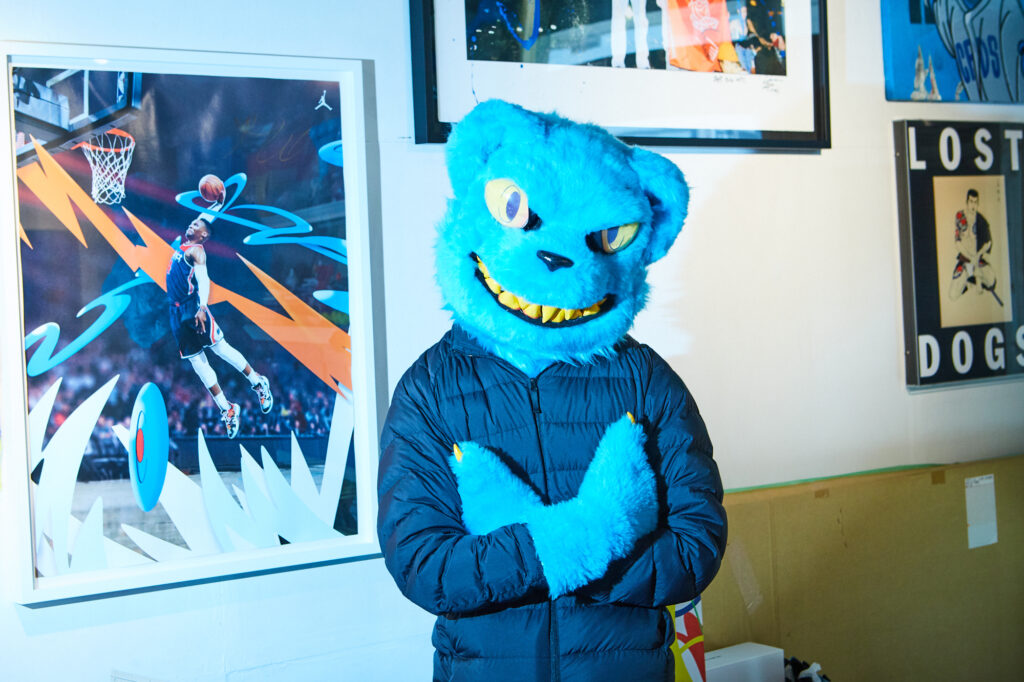 – How do you feel about being anonymous?
CPD: It's not that I want to hide my face. I just don't think there's a reason to show it. It's also easier to live a normal life if I remain anonymous.
– Are you particular about your masks?
CPD: I bought my first mask at a market in the U.S, but then I started making my own. I was conscious of keeping the face similar to the first one, but changed some things like the eye detail to make it more similar to my art. I also made it more realistic and scary. I keep the previous one for when I go abroad. I also make gloves, which are designed to let me use my phone while I have them on.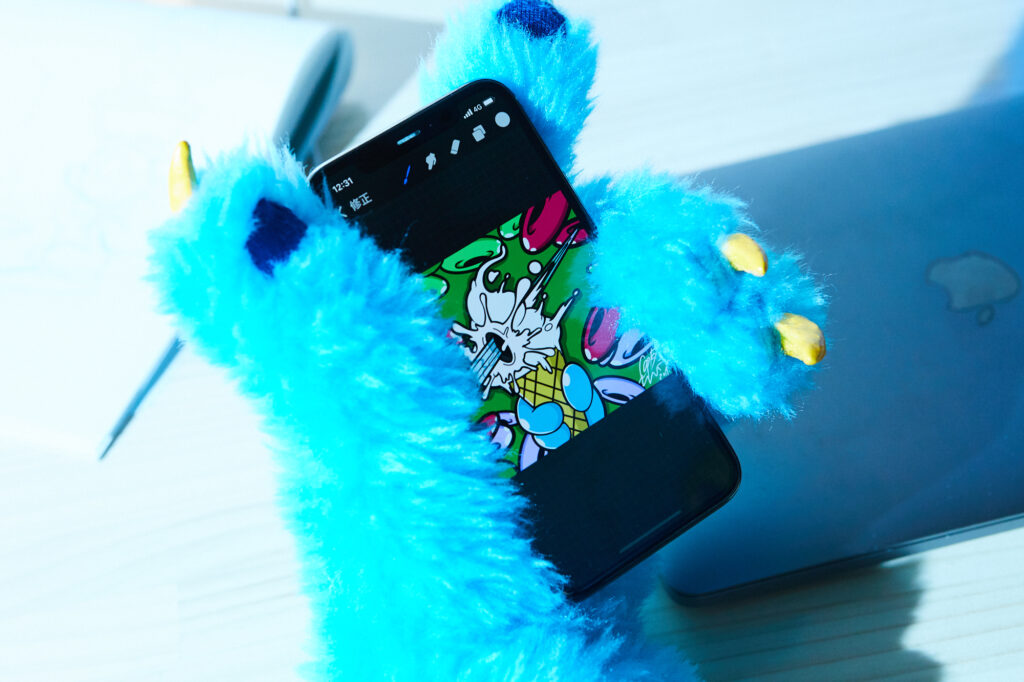 – You often use blue in your work. What is your obsession with the color blue?
CPD: I feel calm when I look at the color blue. It's said that blue is the hardest color to handle, because its character changes a lot once its tone changes. Depending on the pigment, it can be so intensely aggressive, or it can suddenly disappear. But that's why I like it. I like to mix colors and make the pigments I use for my work. I have specific colors for everything, like Shirai-san's line is this specific number color.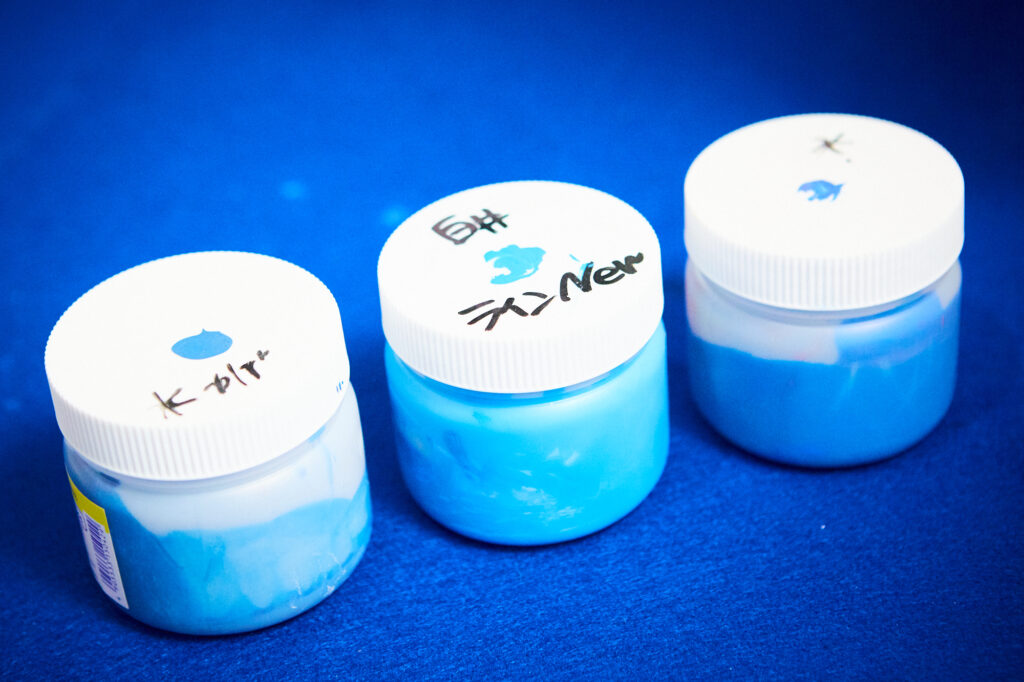 Becoming "a jack of all trades"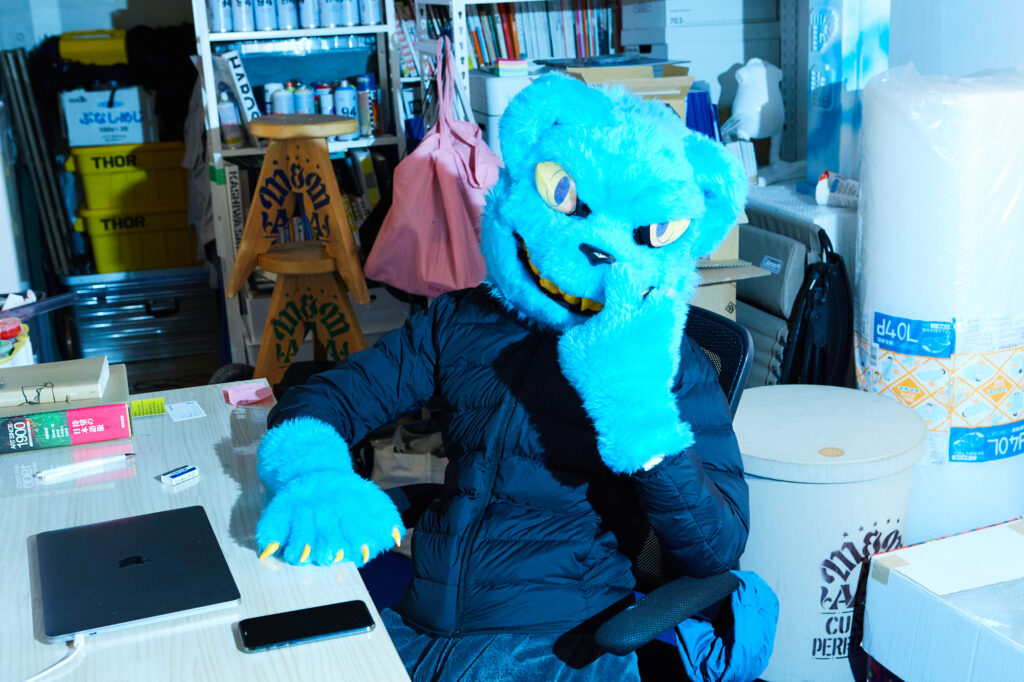 – You mentioned in a previous interview that you started creating on the train commuting to beauty school. Can you tell us again how that came about?
CPD: I was such a busy student that I could barely take time off to work a part-time job. But since I needed money, I started drawing illustrations on my phone on my commuting train. I printed those drawings on a hoody, sold them, and many people bought them. That's why I started out in retail. But I quickly realized it might be disrespectful to anyone doing apparel seriously, so I stopped. That's when I seriously started my career as COIN PARKING DELIVERY, around May of 2018. Four months after that, in September, I had my first solo exhibition… That's kind of how it went.
– I see. By the way, what app do you use to draw on your phone?


CPD: I use a desktop computer now because smartphones lack data processing capacity. But I originally drew everything with an app called sketch on my Xperia. Once I switched to an iPhone, I started using Procreate, drawing on my phone little by little. It may be hard for some people, but I had fun doing it. Partly because I didn't have money, I was just spending time drawing everyday.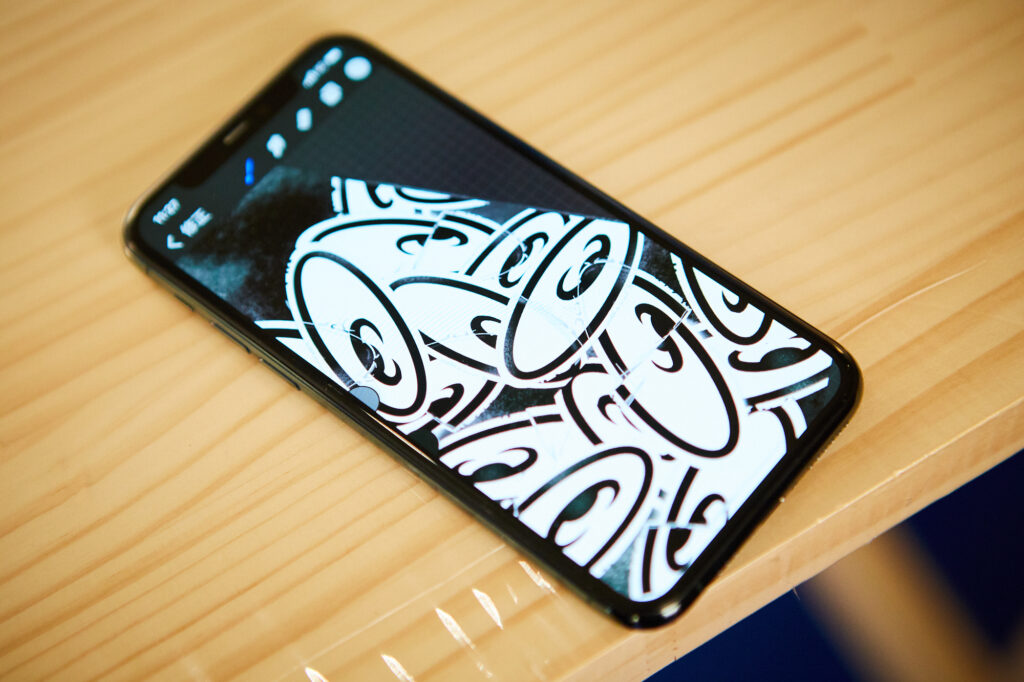 – Recently, you've been working on three-dimensional work, like the public art in Tennozu Isle.
CPD: I have. I've also been doing more sculpture work. I've just started working on sculpture. Unlike drawing, I feel that it's somewhat articulate, which I find interesting.
Some people say that it's cool to master one thing, but I get bored after a while, and my interests tend to shift to other things. I always thought that was a negative trait of mine, but now I've changed my mindset. I've decided to become a jack of all trades . As a result, I know I'll be able to create a new culture unique to myself that wouldn't have been possible with the knowledge of just one subject. I think the beauty of drawing can be found once you take on other mediums like sculpture and three-dimensional works. That's why I want to widen my range.
– I heard you've always wanted to try public art.
CPD: I've always admired sculptures, and wanted to try it one day. Public art is something that involves the people in that city, so it has to be something that makes people smile. It might be impossible to make 100% of people happy, but I think it has to be something that most people can agree on.
You know how you can feel the atmosphere of the city the second you step off the train? I felt like Tennouzu, where my public art is, is a place that relies heavily on imported culture. In this work, Shirai-san is lifting up a pine tree seed. The seed has great significance for me in connecting Japanese and imported cultures. It was also presented at the Diesel exhibition held from 2021 to this year, which is why I created this sculpture in Tennozu with the same theme.
I'm also personally interested in traditional Japanese culture, much of which has been passed down orally. I thought I could also carry that on, too.
Increasing value without belonging to a gallery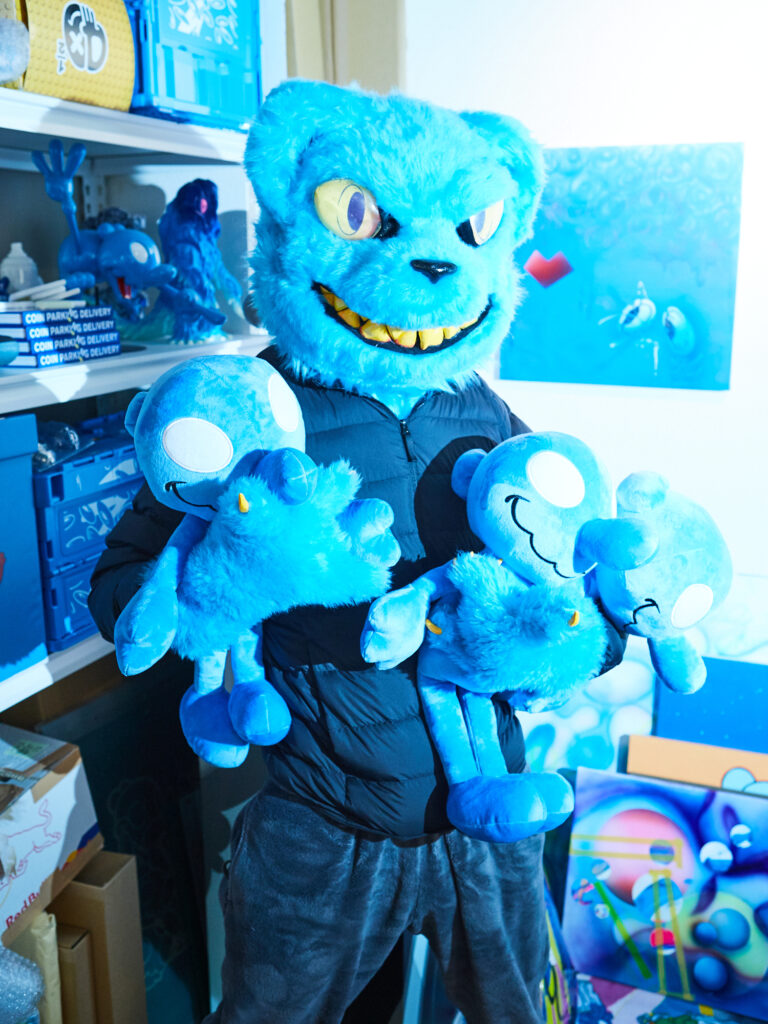 – You've collaborated with various brands so far. What is something you keep in mind when you collaborate?
CPD: It's obvious that I'm thoroughly making things I want to make, and things I want to wear. But I think it's important to create something that the collaborator could never imagine, in a good way. I want to make something that goes against everything this brand thought they would be getting when collaborating with COIN PARKING DELIVERY. And it feels great when that goes well.
– Your first collaboration was with the eyewear brand Police for their interior decoration. Did you suddenly get an offer from them?
CPD: The person in charge contacted me after seeing my first solo exhibition. Police is a foreign brand, and they had never had anyone change up their store interior before. Looking back, I'm surprised they entrusted a new artist like myself to do it (laughs).
– After that, you've been getting non-stop offers from other brands like Montblanc, Puma, Adidas, Nike, Calvin Klein, Sesame Street, and others.
CPD: I think a lot of it was luck. I'm still being offered a bunch of commissions from clients, but first I want to try something I've never done before. Recently, I designed a Molten basketball, including the box design and everything. I didn't have time, but I wanted to do it because it seemed fun. In terms of collaborations, I have projects in the works that won't be done for years. I want all of those projects to leave a good legacy.
– How do you feel about the recent art bubble?
CPD: I do really feel that there's an art bubble, and that I'm someone who has reaped a lot from it. But I feel a sense of urgency because I'm not sure if it'll last long. I've been creating my own framework to survive in case the bubble bursts.
I don't even belong to an art gallery. There's something about my existence that doesn't reflect the art world. If I can create more value on my own than what the gallery gives me, perhaps it will become a major trend, and that is what I would like to aim for.
– When asked what you would want to do later in life, you stated that you'd want to build an amusement park?
CPD: I do want to build an amusement park. If possible, I'd want it to be around for a limited time only, three months or so. That way, people can talk about it later and say "I went to that one." Currently, I'm envisioning two possibilities: a permanent amusement park or a mobile one.
I want to make an amusement park that's culturally diverse, along with a music festival, something that children and adults can both enjoy. Everyday, there'd be a different event. I think it would be cool if tickets sell out for the three-month period immediately after it goes on sale.
– Do you keep coming up with ideas of things you want to do?
CPD: No, it's difficult. So I've decided to learn one thing a day. I read books, too, but I think it's important to come in contact with many things, not just knowledge.
-Are there any plans for exhibitions abroad in the future?
CPD: I have several offers. One of them is to have a solo exhibition in LA, I'm not 100% sure if I can do it this year though. Other than that, I plan to have at least one exhibition in Japan.
– Is there anything else other than the amusement park that you want to create in the future?
CPD: I want to make animations. It would be exciting to see Shirai-san moving on TV. I want to create something that children can also enjoy.