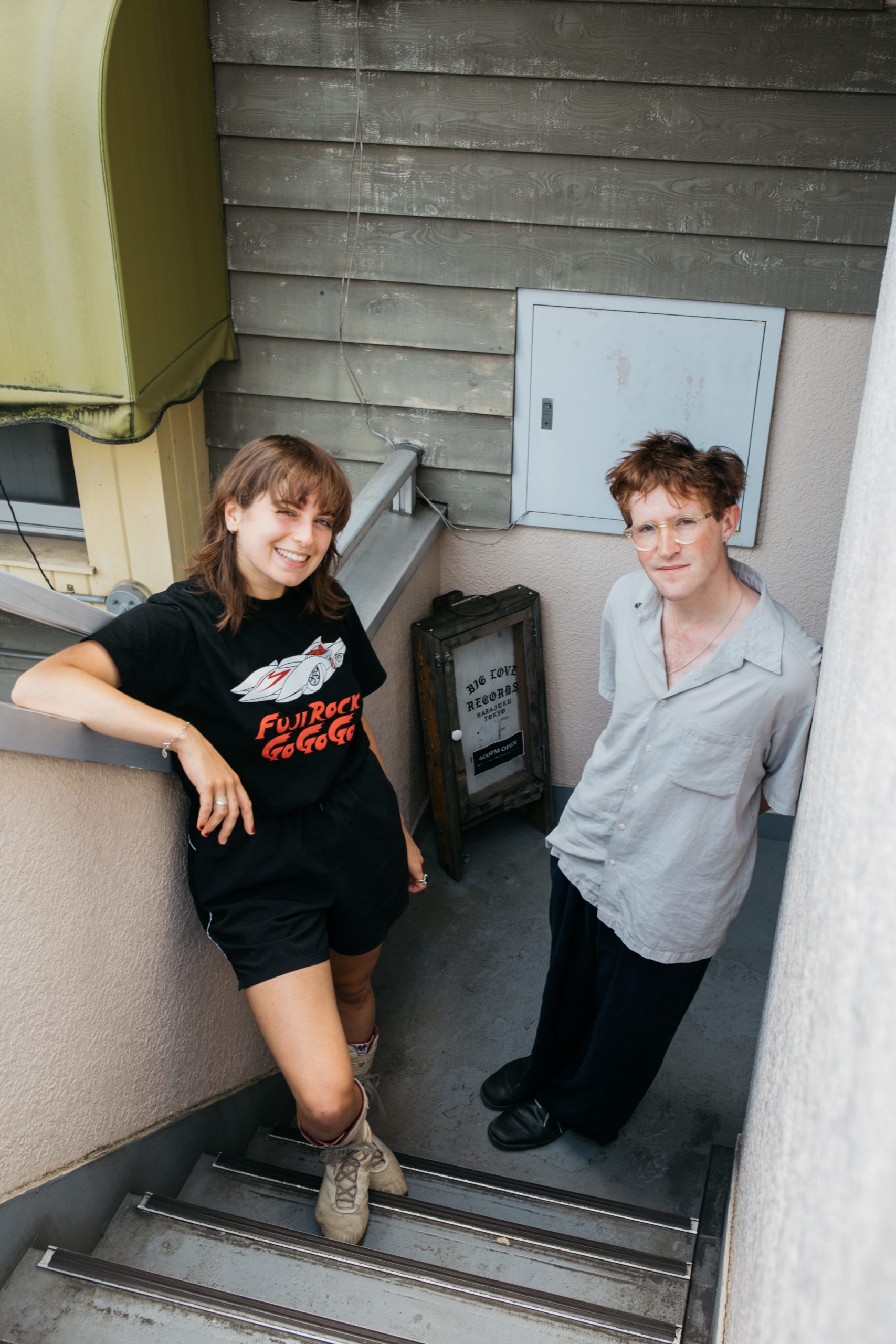 With impressive musicianship and performance skills, Black Country, New Road (BCNR) is a dominant force. The UK band stands out above the rest thanks to their unique chamber rock sound mixed with post-rock elements, strings, and lyrical singing. BCNR overcame the departure of former main vocalist Isaac Wood right before the release of their second album, Ants From Up Here, which performed well on the UK charts. At the end of the tunnel was the long-awaited Fuji Rock Festival. And the rumors were true: their entire set included new songs only. Each band member played without fear, creating energy and a feeling of oneness in the air. We spoke to Charlie Wayne, who plays the drums, a crucial instrument for the band. We also talked to the bassist and daughter of Karl Hyde from Underworld, Tyler Hyde, who started doing vocals for BCNR after Isaac left. They told us about their experience at Fuji Rock and the band's trajectory after his departure.
Becoming one with the audience; BCNR's first time at Fuji Rock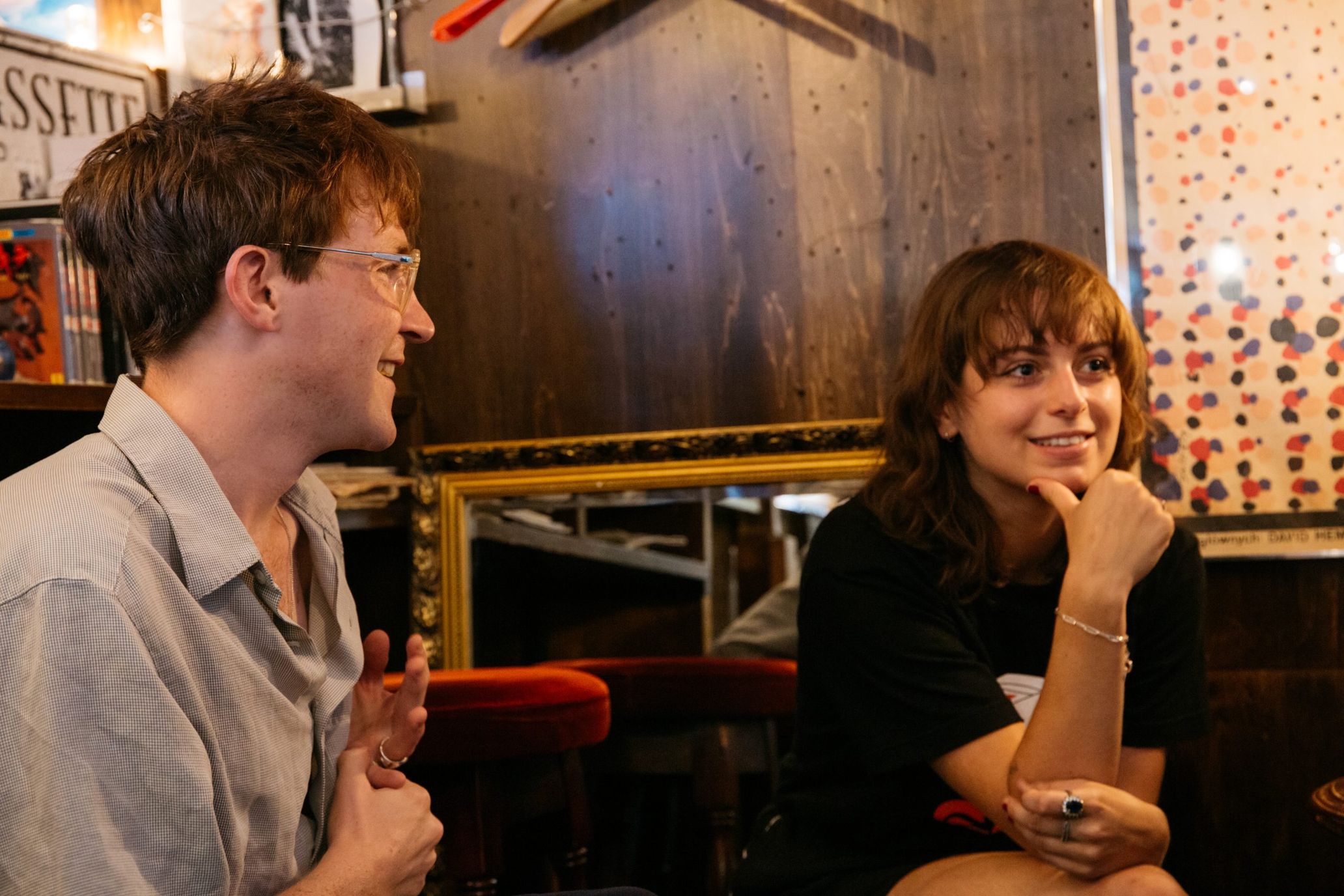 –Congratulations on performing at Fuji Rock! How was the experience? How did the audience react?
Charlie Wayne: It was a great experience. The audience gathered around the front when we walked onstage, so it was loud. But once we started playing, something shifted. I could sense their respect for us. We had a variety in our performance, from loud to quiet parts; I feel we were dynamic.
Tyler Hyde: The audience usually starts chatting when we play softer songs in other countries, so it's hard to focus. But at Fuji Rock, I felt one with the audience. It was great.
–It was impressive how the vocalist changed from song to song. Did you discuss it after Isaac left the band? Or did that come about naturally?
Tyler: We gradually changed to that formation, even before Isaac left the band. But we barely had time to dedicate to practice and rehearsals, so we landed on having three main vocals. We wanted to use our material to the fullest. We plan to record the next album the same way we performed at Fuji Rock.
–No one's taken singing lessons before, right?
Tyler: Right. But I've always loved singing. I also sing for my solo project, so I don't get nervous doing it.
–Isaac used to alter the lyrics whenever he sang onstage. Does the vocalist rearrange them?
Charlie: Isaac would change the lyrics, and we would rearrange the songs. Performances become richer with improvisation. Our songs are incomplete, in a good way, so there's room for possibilities. It's one reason I enjoy playing with BCNR.
–You only played brand-new songs at Fuji Rock. Which song made the audience react positively?
Charlie: Our first song, "Up Song." The lyrics are simple enough for the audience to sing along because we wrote all the songs for festivals. This song changes a lot and is impactful. It's appropriate for an opener.
Tyler: We all sing together as one. "Up Song" is a placeholder for now, so the title might change when we release it. When I sing this song for my solo project, the tone changes 180 degrees. It turns into something that makes your heart ache and tears roll down.
A show without an audience during lockdown
–Your performance at Queen Elizabeth Hall—performed on March 7th, 2021, and posted on YouTube in June—felt so short because of how exciting it was, despite its length. Do you change the structure of your live sets according to the venue?
Charlie: That performance was crucial because we were at the height of lockdowns. It was right after we released our debut album and were working on our second. We couldn't play live shows in front of an audience, so it was a special promotional project. Southbank Centre is very popular, and the number of seats is on another level.
Tyler: I don't think it would've been possible for us to do a sold-out show at a venue of that size. We could perform there because of that moment in time.
Charlie: It was our first time playing in an empty hall, so being able to do that was a positive experience.
–It was brilliant how the background visuals were in sync with the performance.
Tyler: That was by Bart Price, who does our artwork.
Charlie: I was so happy to do something creative with friends I hadn't seen for a long time because of lockdowns.
–Where are you all from?
Charlie: Cambridgeshire.
–And the band formed in London?
Tyler: Georgia (Ellery) moved from Cornwall to London, and we met in music school. Luke (Mark) and May (Kershaw) also attended the same music school. Luke and I started the band, Charlie and Isaac joined, then some people left… it took several years to form BCNR.
–Did your lifestyle change after graduating from university?
Tyler: I lived in Manchester for four years, so I'm glad I get to live in London with my bandmates and devote myself to making music.
–Charlie, you went to school in London, yes?
Charlie: Yeah, I studied ancient histories like Greek and Roman history.
Tyler: Charlie is an intelligent kid (laughs).
–Did university influence your music?
Charlie: I hope so! I paid so much money to study (laughs). But I don't think it has influenced my music much. I wasn't interested in attending a music school, so I'm glad I studied at university. Besides, I get to make a living by playing in a band. I don't have to worry about rent now.
–Only a handful of bands in Japan can make a living off of music.
Tyler: Financially speaking, we're barely making money, but we're blessed.
BCNR's first US tour: third time's a charm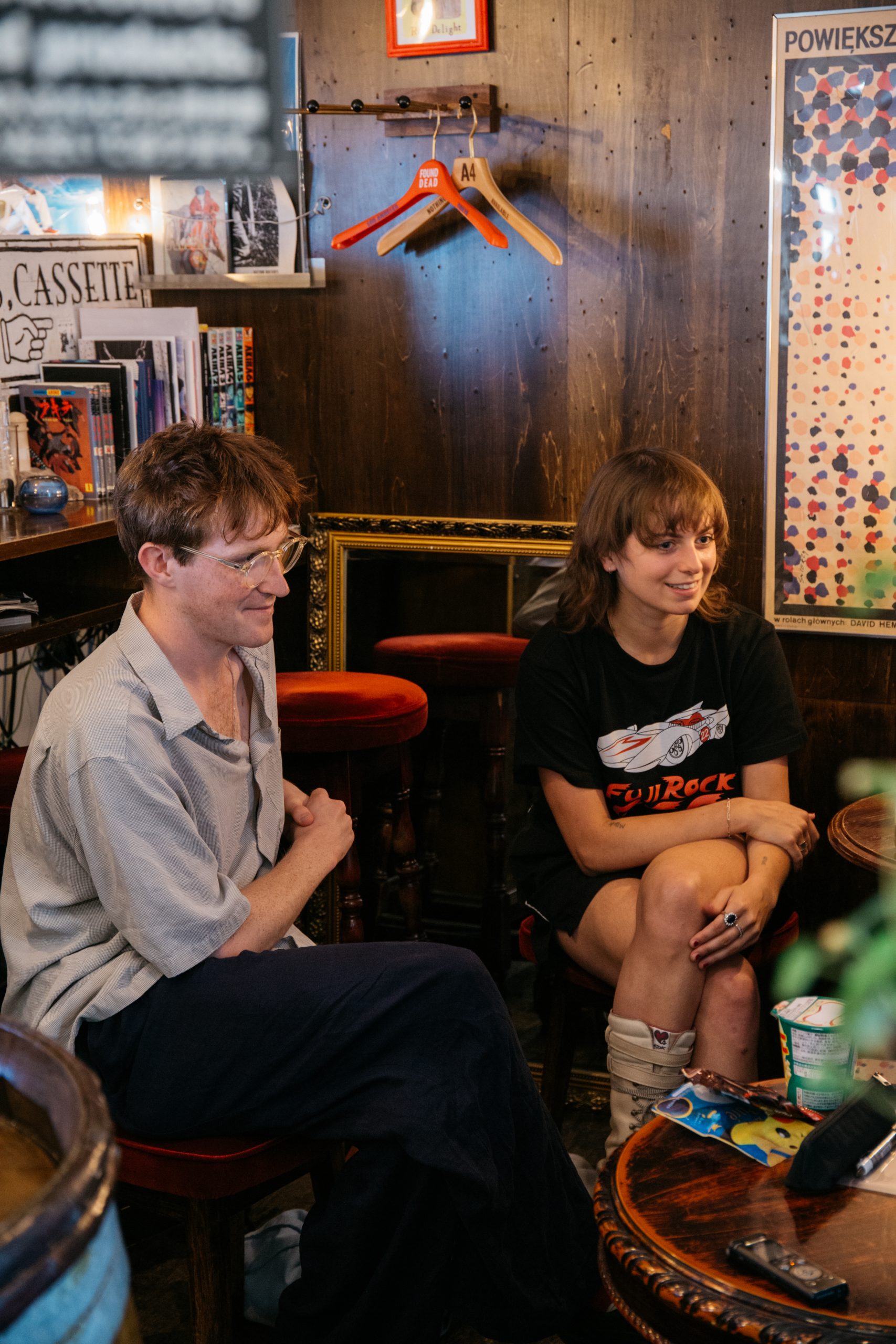 –What do you do when moving from place to place on tour?
Tyler: I usually play sudoku. When I focus on it, I feel calm. I prefer using a pencil and a book rather than my phone, but I typically forget the book at home, so I buy one at the airport. I have around 20 sudoku books stacked on my bookshelf (laughs).
Charlie: This is so typical, but I listen to music and watch movies on my phone. I also listen to Japanese artists. I've recently been into Masakatsu Takagi. His music is beautiful because of its simple structure. He only uses the piano.
Tyler: His music is the perfect soundtrack to traveling.
–Tyler, what have you been listening to lately?
Tyler: I've always listened to his music, but I got hooked on Kendrick Lamar's new album. I started listening to his whole discography again.
–You must feel excited to play in America for the first time this fall.
Charlie: Yeah, it's finally happening!
Tyler: It got canceled twice, but the third time's a charm.
–The time you spent on the road here won't compare to America.
Tyler: So true. Most travels in America are long distances. The country's so big that it's scary. But I'll have my close friends and Black Midi with us, so it'll be a fun trip.
–That sounds like a school trip with no time to be bored.
Charlie: Definitely. We're lucky to have the chance to tour in America. We want to remain grateful.
Tyler: Whenever I feel anxious or unhappy about something, I stop and look at my situation rationally. I can think, "I'm lucky I get to do this," and appreciate my situation and the surrounding environment. I mean, I make a living making music with friends!
–Do you ever get nervous onstage?
Tyler: A bit. But being nervous can be very useful.
–What about Fuji Rock? You all seemed relaxed, standing next to each other.
Tyler: We intended to be focused during May's solo song, but it was just so hot. Maybe we were exhausted and trying to restore our energy levels (laughs).
An unbreakable bond with Isaac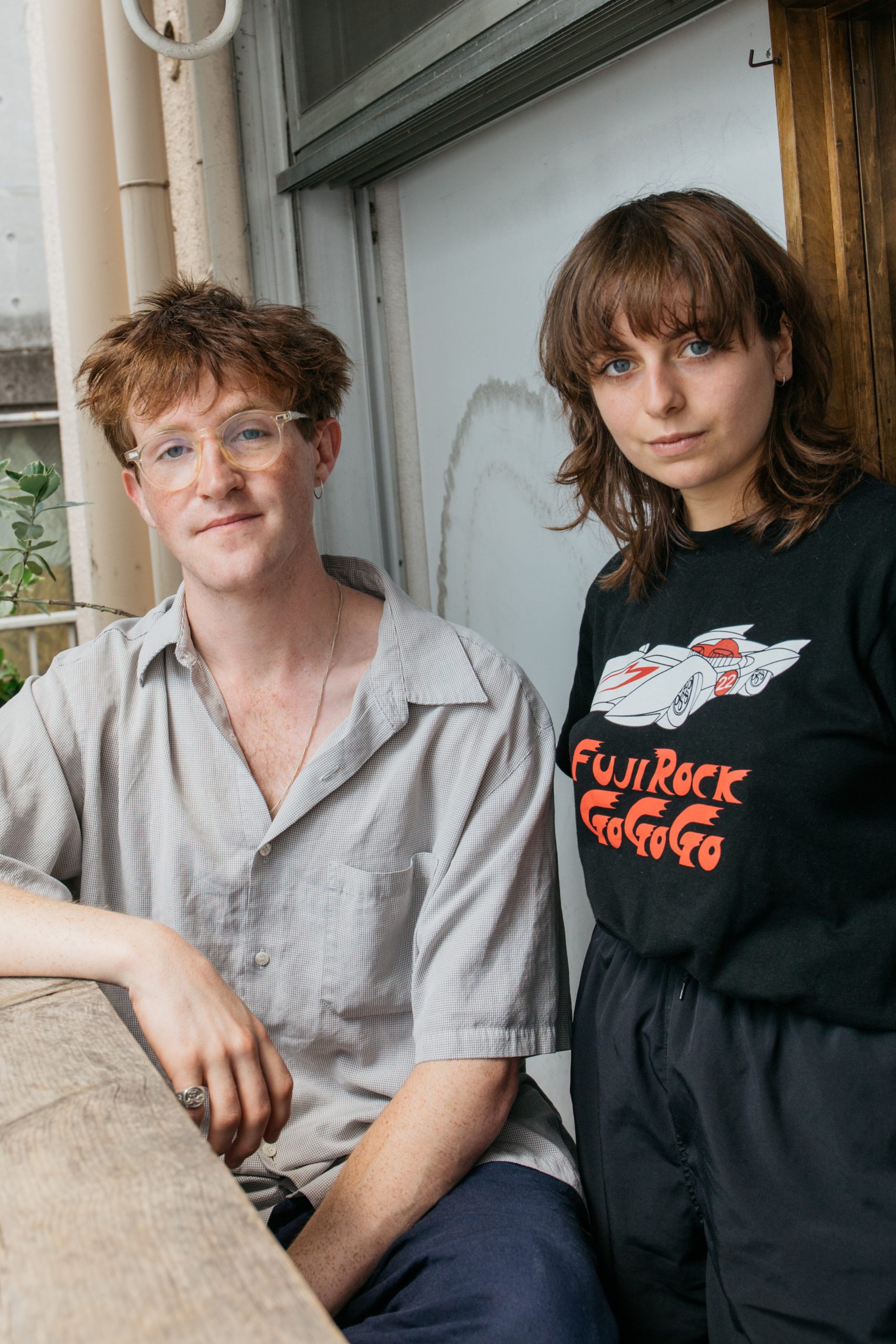 –Did you have any difficulties balancing shows and your relationship with each other after Isaac's departure?
Tyler: We're good friends first and bandmates second. We have an unwavering bond. We always hang out, so we only have a few difficulties.
Charlie: We're away from London when we're on tour, so there have been changes in how we spend time. We don't get to see each other like before. But there wasn't a massive change in our relationship with each other and Isaac.
–When do you come up with song ideas? Is it while you're touring?
Tyler: We write music wherever we are, so getting ideas for songs on tour is possible. It's hard to put songs together on tour, though. We go into the studio to make songs, so it sometimes gets stressful creating something new within a limited amount of time. It's a big challenge for the band to make music while touring.
–Is the city of London, where you're based, reflected in your music?
Charlie: None of us are from South London, so I can't say the city influences the music. But The Windmill (a pub-like live house) means a lot to us. It's a place that gives a lot of young people a chance and nurtures youth culture. We left the nest, and now we play on bigger stages.
Tyler: The Windmill is a special place. We still visit it to this day.
–In Japan, many still wear masks and sanitize daily. What are things like in the UK?
Tyler: People get together in tight spaces without wearing masks, but that's a difference in culture and values, so both realities are fine.
–There are many live show restrictions in Japan, so I'm jealous of you all in London. Your coming here means so much to me (laughs).
Tyler: It means so much to us too!
–Tyler, you've visited Japan a few times with your father (Karl Hyde from Underworld).
Tyler: I've been here three times. My father said he's visiting Japan in October.
–Has your impression of Tokyo changed since you last came here?
Tyler: I don't think the vibe has changed that much. I enjoy returning to a familiar place because I feel like, "I'm back." I become attached to the place. When I came to Tokyo from Naeba, I was like, "Wow, I'm here again."
–Charlie, have you been to Japan before this?
Charlie: In 2015, as a boy scout.
–No way!
Charlie: Yeah (laughs). I was 13 years old, the oldest age for a boy scout. While I wasn't interested in the activities, I was drawn to traveling.
–Where did you visit in Japan?
Charlie: I spent four days in Tokyo and ten in Hiroshima. I went to Aomori after and stayed with a host family. It's cooler to say I came here as a musician, but I have pleasant memories of coming here as a boy scout (laughs).
–Would you revisit Japan after your new album is out?
Tyler: We'll come here if we get asked to! It'd be amazing if I could come here with my father.
Respecting Isaac is what drives BCNR forward
–The cover art of your previous album uses a painting by a friend of Isaac's mother, Simon Monk. Who decides on the visuals?
Tyler: We all share ideas. We try to understand each other and have discussions. The artwork on our Instagram feed is by our artist friend, Rosemary. Her nostalgic work matches our music.
–It must be hard unifying everyone's ideas since there are so many of you.
Charlie: As long as we constantly have new ideas, we'll never come to a dead end. Because we understand that we all have different perspectives, musical backgrounds, and tastes, we can decide on things smoothly. We're friends, so we don't like conflict. If one person objects to something, we'll listen to them and try doing things their way. We'll try other ways if that doesn't work out. If someone else has an idea that could improve our work, we'll let them explain themselves so we can give their vision a chance.
Tyler: And if that doesn't work out, we'll try another way. It's only fair. We're straightforward and democratic. I sometimes hear other friends in bands talk about how they can't maintain fairness because of the band members' egos. Egos don't clash in our band because we value each individual as a friend.
–Perhaps you have similar values.
Charlie: Exactly. We have the same goal and value of wanting to create amazing music.
–It must've been a serious decision not to play any songs from your first and second albums, as they received worldwide recognition. Did you feel conflicted or hesitant?
Charlie: An interpretation of a song is temporary, and there's no such thing as completion. Each song section is an accumulation of what each band member has worked on.
Tyler: The reason we won't perform the songs is simple. We want to respect the lyrics and songs he wrote. Of course, we love and have strong feelings about each song, and Isaac said we're allowed to play them. But now is not the time. We might overcome this one day and play the songs, but we want to move forward and continue to grow.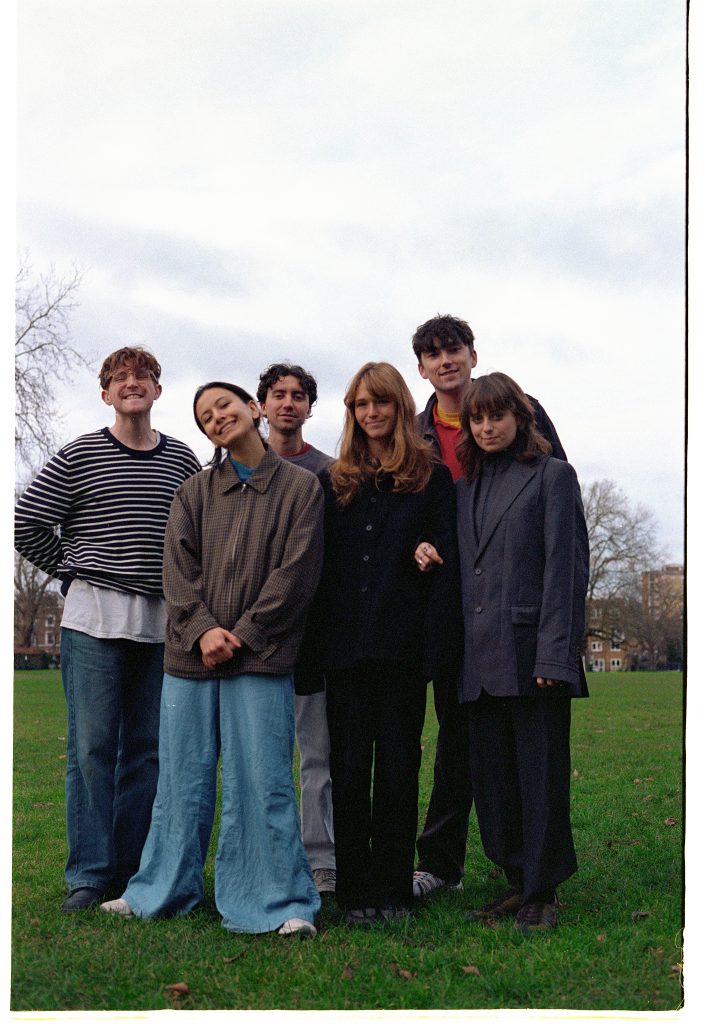 Black Country, New Road
Black Country, New Road is a six-piece based in London, UK, formed in 2018. Isaac Wood, the former vocalist and lyricist, left the band on January 31st, 2022. The band members are Tyler Hyde, Louis Evans, Georgia Ellery, May Kershaw, Charlie Wayne, and Luke Mark. They landed fourth on the UK charts with their 2021 debut album, For the First Time, and were nominated for a Mercury prize. They released their second album, Ants From Up There, in February 2022.
https://blackcountrynewroad.com
Twitter:@BCNRband
Instagram:@blackcountrynewroad
https://www.youtube.com/channel/UCLTa27Tr5QqHx9G53H8jdFQ
Translation Lena Grace Suda
Photography Yuki Aizawa
Edit Nana Takeuchi