Hiroya Kurata started living in America as a student and built a career in New York for two decades. He makes a living by working at an art restoration studio but also makes paintings of his own. Kurata started gaining recognition recently because of his oil paintings, which are conceptualized from photos he takes by himself. We spoke to him about his career and art upon his return to Japan after three years.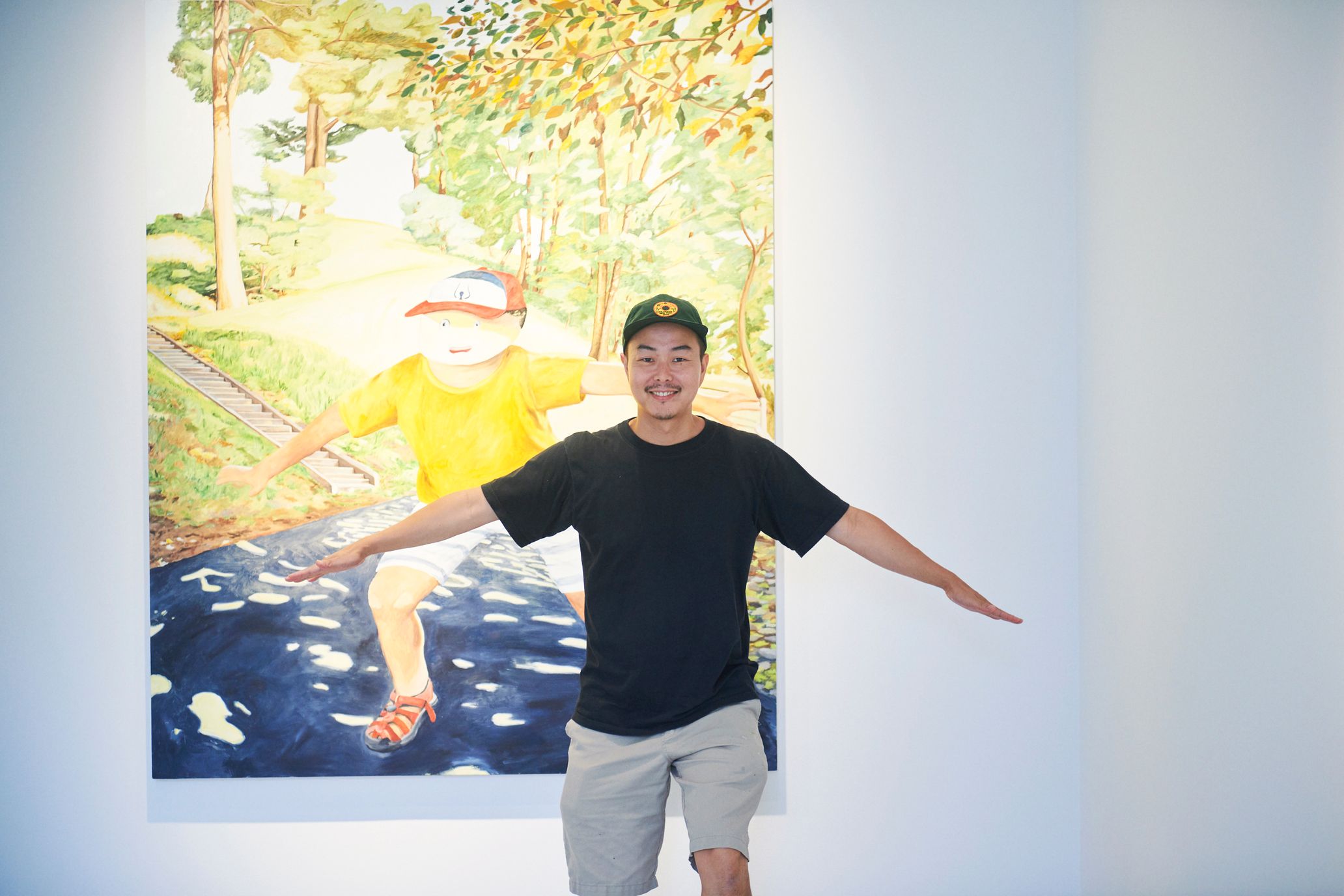 Hiroya Kurata
Hiroya Kurata was born in Osaka in 1980. He moved to America in high school and graduated from Parsons School of Design in New York in 2003. Since 2007, he has been working at an art restoration studio and creating his own artwork in New York. Kurata's solo exhibition, "Summer Hours," is being held at The Mass from August to September, his first exhibition in Japan in three years.
Instagram:@hiro_kurata
Being drawn to constantly drawing since childhood
——How did you get into drawing and become a painter?
Hiroya Kurata(Kurata) : I was born in Japan but grew up going back and forth between Japan and America since I was small because of my father's job. I've liked drawing since I was small, and I drew throughout elementary, middle, and high school. I went to a high school in the outskirts of Massachusetts on the east coast, surrounded by nature. In hindsight, it was a hippie-ish school with quite a few students and teachers interested in things like, organic food and the environment. (This was new to me in the late 90s.) The school had a welcoming attitude toward art, so no one would bother me for example if I lay on the grass with my Walkman and drew on my sketchbook. It was such a free environment.
——Did your relationship with art in high school play a critical role in your development?
Kurata: I became friends with an older Japanese student in my high school, and meeting him played a significant role. He was an excellent artist and knowledgeable about different cultures, so I looked up to him. After graduating from high school, he attended an art school in New York. I took the bus to sleep over in his dorm room countless times and started wanting to live in New York after graduating. I moved there in the summer of 1999, as though I chased after him. I began going to Parsons and living in a small apartment on East 9th Street with three other friends (three men and one woman).
——Did you begin studying painting once you entered college?
Kurata: I didn't study during my four years in college. I feel like I was too busy hanging out with my friends because I believed art was something not meant to be studied. It was a convenient yet contradictory excuse (laughs). My grades were so bad that I was on the verge of dropping out; I wasn't a good student.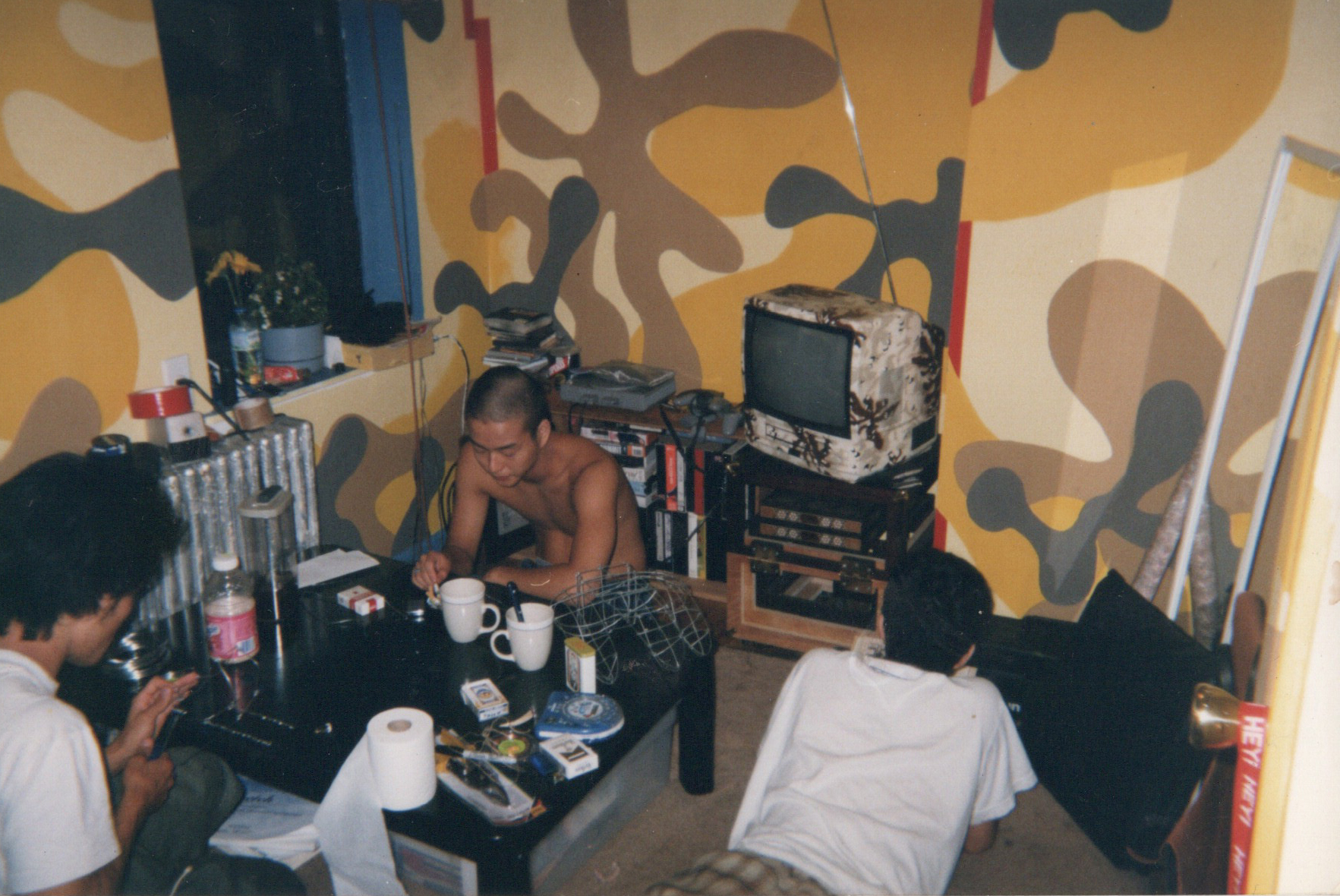 One room in Kurata's East Village apartment back in 1999
——How did a student such as yourself begin to want to become a painter?
Kurata: In college, I had a professor named Jordin Isip, an illustrator and curator, who took me under his wing. He curated a massive group show—I think there were nearly 100 artists—and that show was the first I had ever participated in. It was also the first time I sold my artwork. One of the artists happened to be Barry McGee, someone we young artists admired so much. I felt shocked after realizing I could have similar opportunities if I made art in New York. Artists oozing with a DIY spirit began catching people's eyes, which made me feel like I could do it too. That amplified my desire to become an artist.
After graduating from school, I picked up many part-time jobs and started painting seriously. I worked at an art gallery and ran an accommodation for Japanese travelers. For four years, I worked as a studio assistant to Forrest Myers, a well-known sculptor. My most important job was art restoration, which I've been doing since 2007.
——Can anyone pursue art restoration as a job?
Kurata: You usually need a degree in art conservation to do this job. But I learned how to restore paintings from scratch because of fate. The owner of the art restoration studio I work at is a true New Yorker from Brooklyn. He's a self-made art restorer who learned the ropes through a teacher-and-student dynamic like me. He creates an open-minded environment for the staff, partially because he also wears several hats as a business owner, a poet and a musician.
——He understands the work you want to do.
Kurata: Thinking back, the money was just enough to make a living in the beginning but I was lucky enough to have a job as a foreigner, and most importantly it was a fun environment to work in. We've been working together for around 15 years, so he's like family now.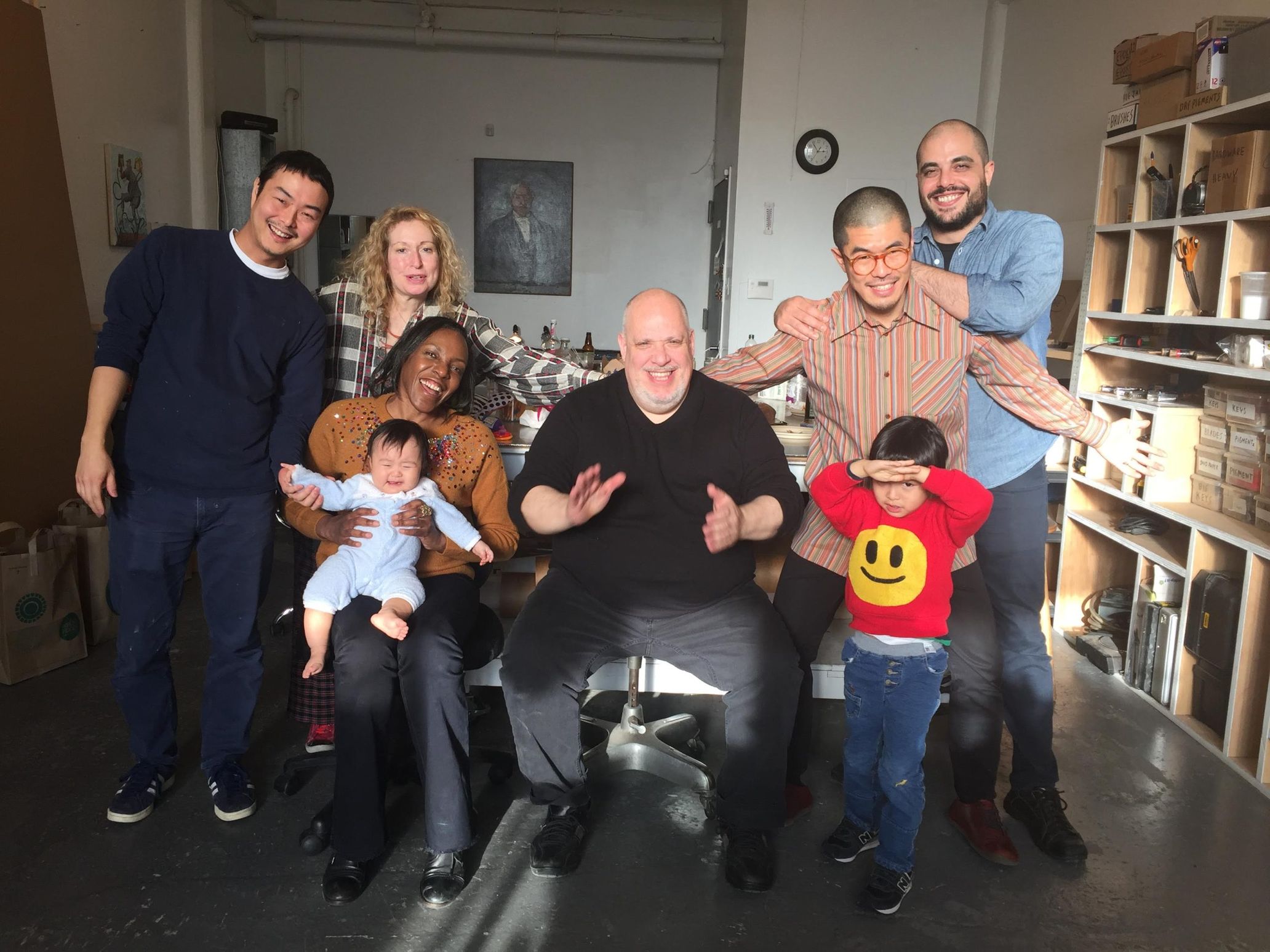 A photo at the art restoration studio Kurata works with his co-workers
——Is there anything from your art restoration job that affects your personal work?
Kurata: To restore paintings, we use a paintbrush to color chipped or cracked areas. Technically speaking, I learned how to make colors because there are various colors and textures in paintings.
I learned many things thanks to working with pieces from different eras. The biggest realization I had was that the quality of a painting has nothing to do with its price. When I started working with expensive artworks worth millions, I would get clammy hands because I felt overwhelmed by their value. I used to feel nervous, thinking I would be in deep trouble if I screwed up. At some point, I became able to treat each painting as one piece of work. That is, I developed a calm attitude. Once I found out that, in some cases, there's a big gap between a painting's quality and marketplace value, I began to feel more at ease.
——It sounds like what you experienced could make you feel like you'll never lose, even if you can't make a living only off your paintings or don't get recognition.
Kurata: Exactly. The realization I just talked about came from a place of jealousy (laughs). Looking back, I feel like I wasted time living in a delusion without confronting reality when I was younger. It's embarrassing to say this, but I used cliched thinking like, "One day, I'll make a living off of my paintings" and "I'm talented" as armor. Whenever I felt anxious, I read Taro Okamoto's words, hyped myself, and tried to escape reality.
It might've been a good thing that I painted without hurting my confidence, which wasn't grounded in reality; I managed to avoid self-loathing. I feel like it's emotionally easier for me to paint now after telling myself "paint what I can now at this age".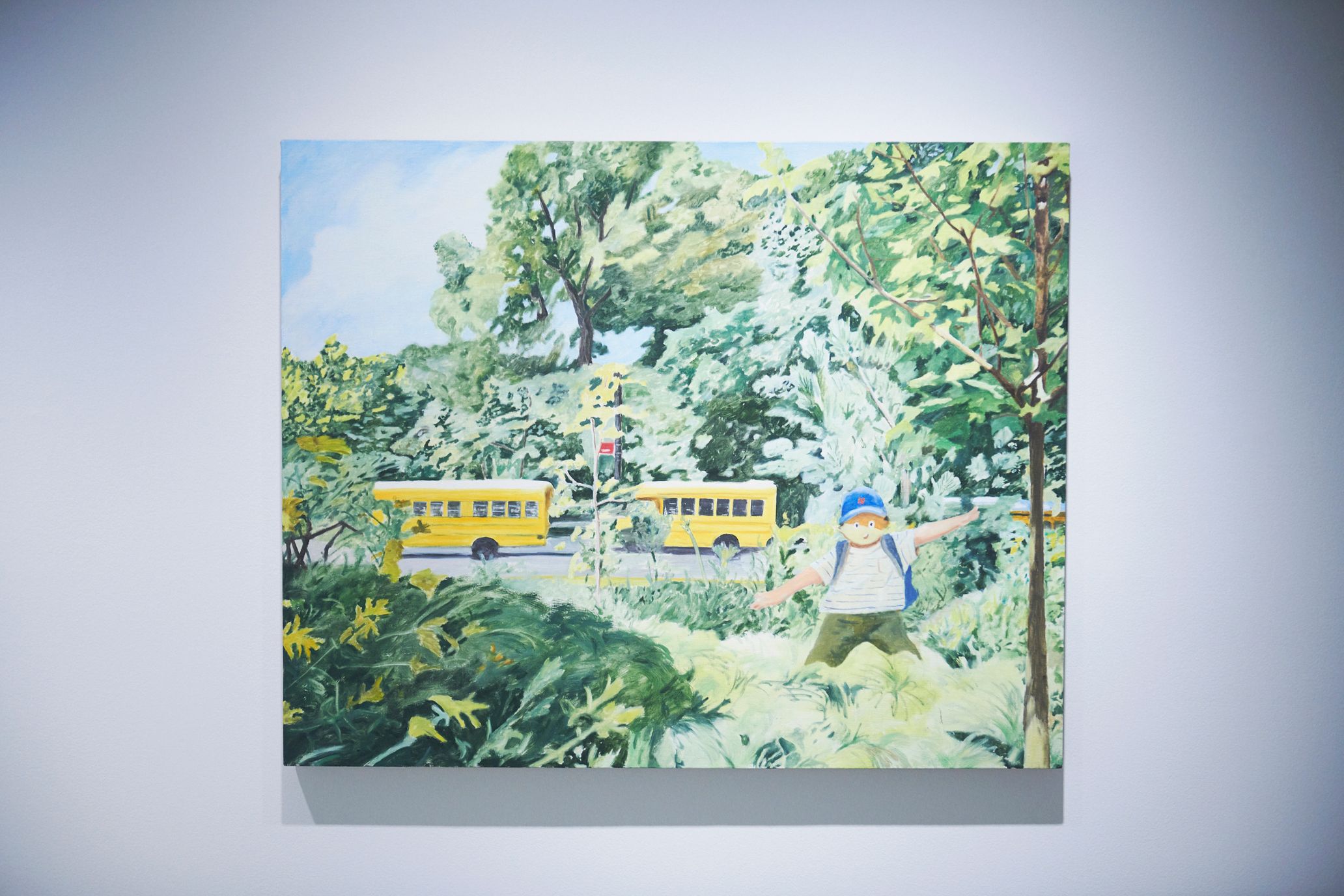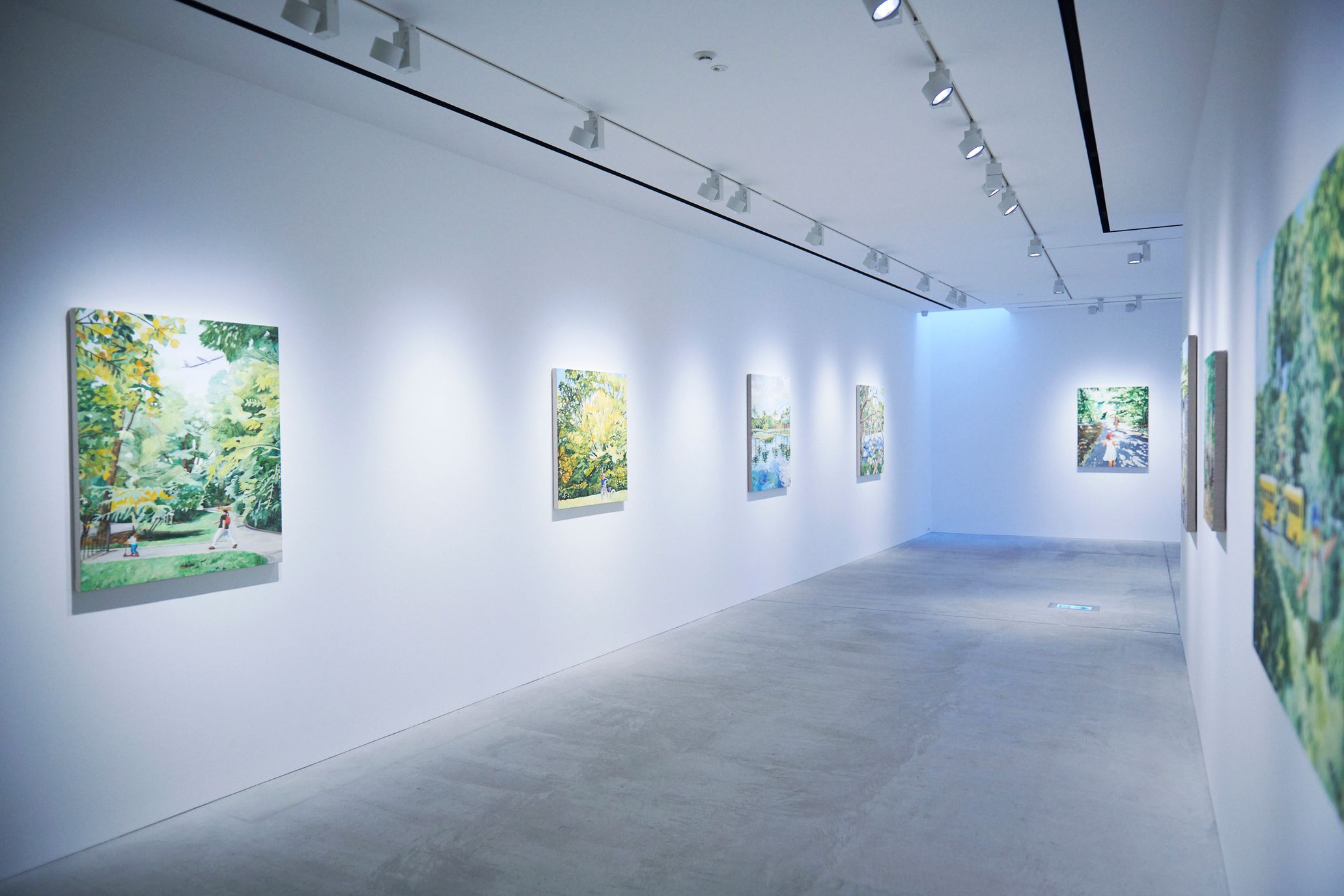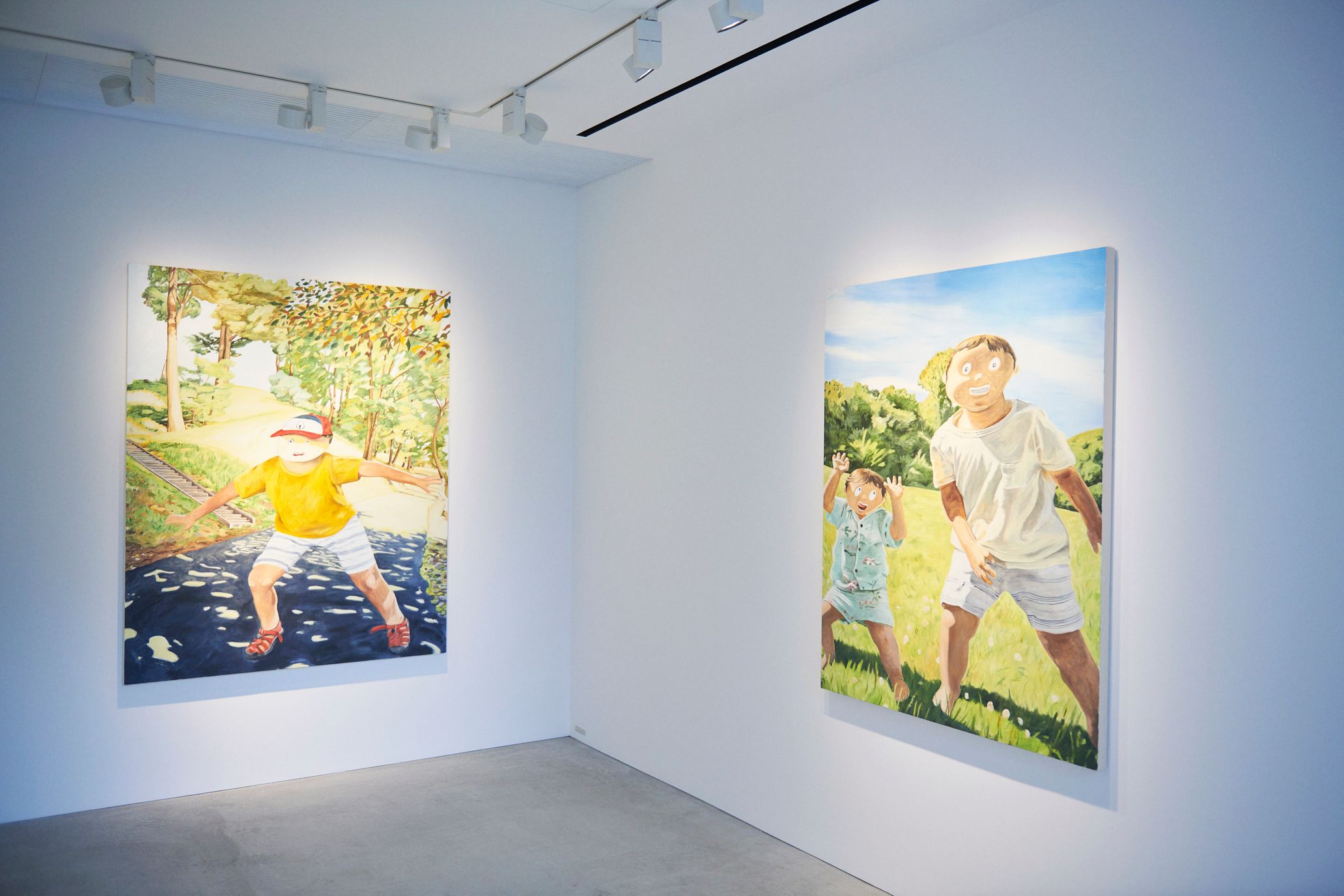 From "Summer Hours"
An illustrated journal can be art too
——Let's talk about "Summer Hours." Your work is based on the photos you take yourself. The way you portray people is quite memorable.
Kurata: I'm not too into realism. I like simplified faces, such as the ones you see in manga. I draw the sceneries in a detailed way, but the faces are manga-ish, which is why there's a glaring contrast.
——True. Your past works on Instagram look different from your current style.
Kurata: I used to incorporate a lot of baseball-related things. I did it as a student until a few years ago but gradually got bored of it. I once drew a portrait of my parents holding hands with their grandchild so I could gift it to them, and it came out pretty well. That was what made me look to my surroundings for subjects.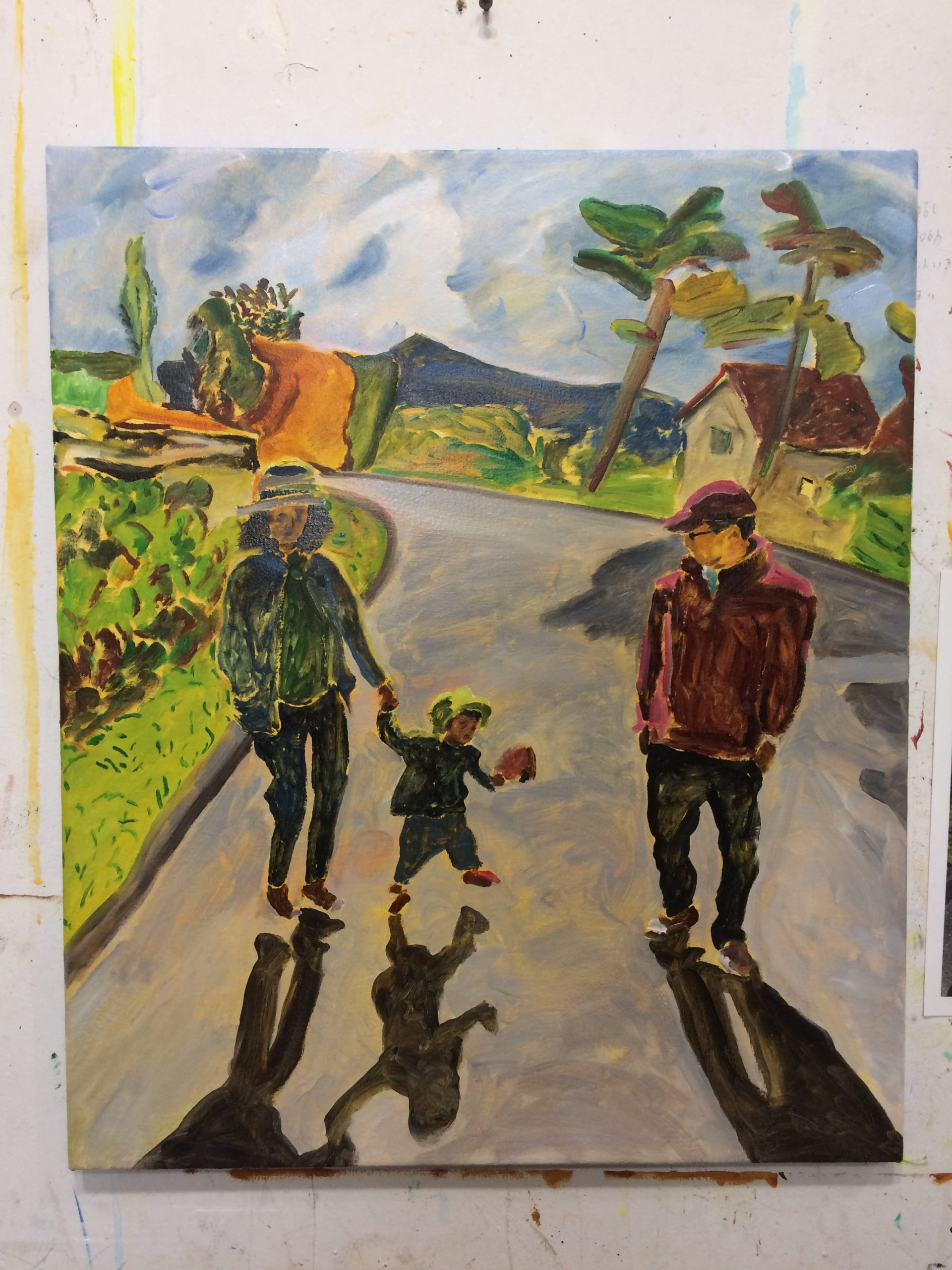 2017, a precious drawing sent to Kurata's parents
——I pictured summer break in the Japanese countryside during the 70s and 80s upon viewing "Summer Hours."
Kurata: I feel like that was what I wanted to communicate. There are so many genres of art, but I think even something like an illustrated journal is art too. Some visitors who came to my exhibition told me they felt something because they associated my artworks with their memories. That made me genuinely happy.
Over the past few years, I've come to like landscape artists like Milton Avery, Fairfield Porter, and Lois Dodd to name a few. What they do isn't complicated, though. They've been able to draw their real lives and pass that down to the next generation. I hope I can become a painter who's like them.
——Is there a possibility your style could evolve in the future, much like how you changed from someone who used to paint baseball-related things?
Kurata: I believe my style of painting will change. My kids would probably stop wanting to get their pictures taken, and it would probably be more difficult to have family outings with them [once they're older]. My family might break apart! You never know (laughs). Anything can happen in our world, so I want to become a painter who can observe changes every day and reflect them in my work.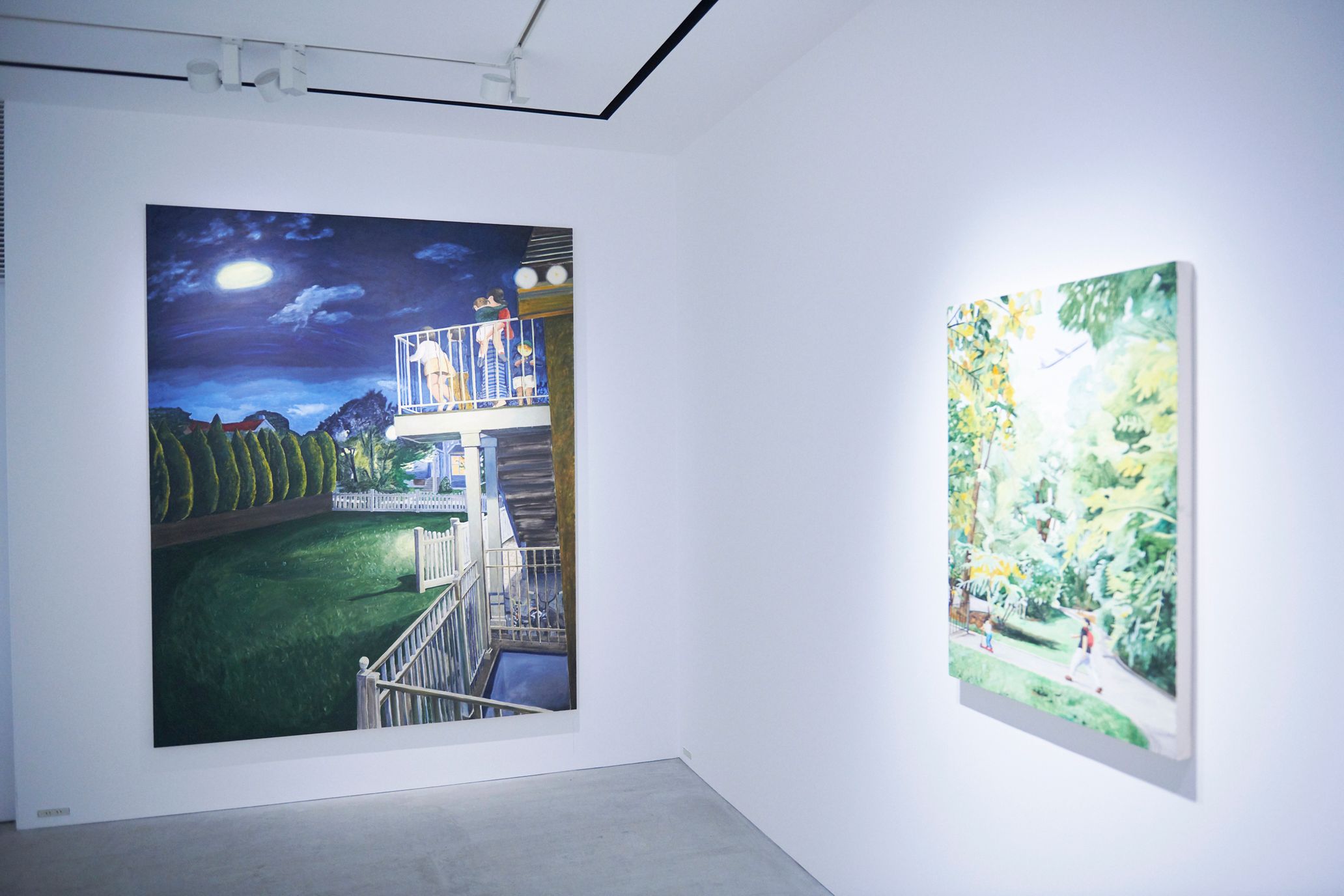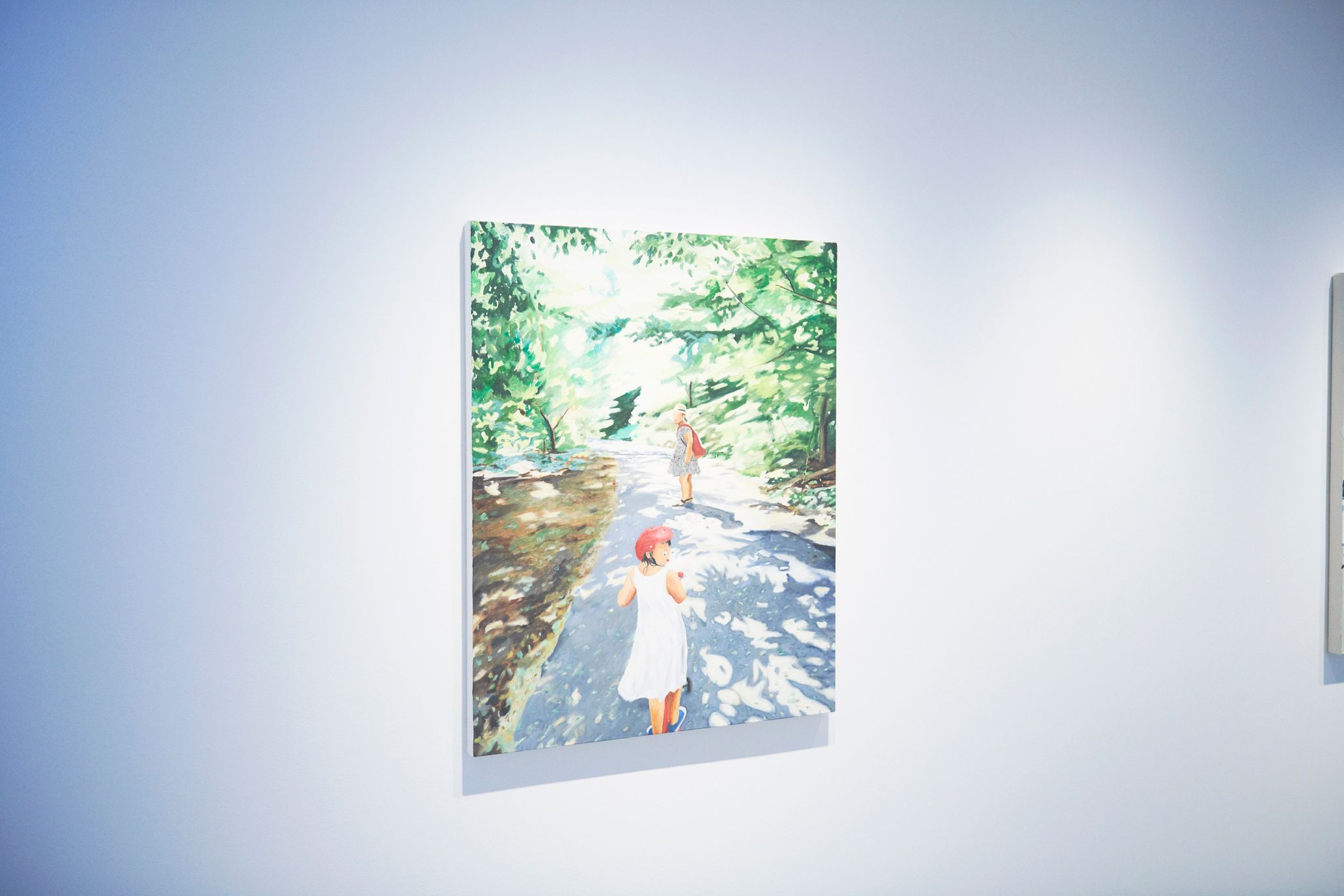 From "Summer Hours"
"I've been thrown into the ocean naked because I've never been a full-time artist"
——Do you have any plans for the near future?
Kurata: I plan on holding a solo exhibition in Los Angeles in 2023 and Paris in 2024.
——It sounds like balancing solo exhibitions with your job as an art restorer is challenging.
Kurata: I go to work twice a week now, but I feel like I can paint full-time soon. The prospect of that does make me feel nervous, though.
——Do you feel anxious and nervous about being able to support your family?
Kurata: I feel financially anxious, of course, but I also feel mentally nervous (laughs). I feel like I've been thrown into the ocean naked because I've never been a full-time artist. I'm sure I'll learn as I go along and try different things out.
"Just stick around; your turn will come"
Kurata: I often tell my Japanese friends that I genuinely think Tokyo is such a great city. In recent years, the cost of living in New York has skyrocketed, thus pushing more people into homelessness. The city's become less safe now. If I walked around my apartment in Brooklyn, I would spot two or three homeless people. The other day, on my way back from dropping my kids off at school, I saw someone who seemed like a homeless person quarreling with an owner of a deli, and they eventually started swinging a knife. Now, of course that doesn't happen everyday but it's something to consider about. As a parent of three children, I felt comfortable being in a safe city after returning to Tokyo for the first time in a long time. Safety might feel like a given for people who have lived in Tokyo for a while, but it's essential to live in a safe city.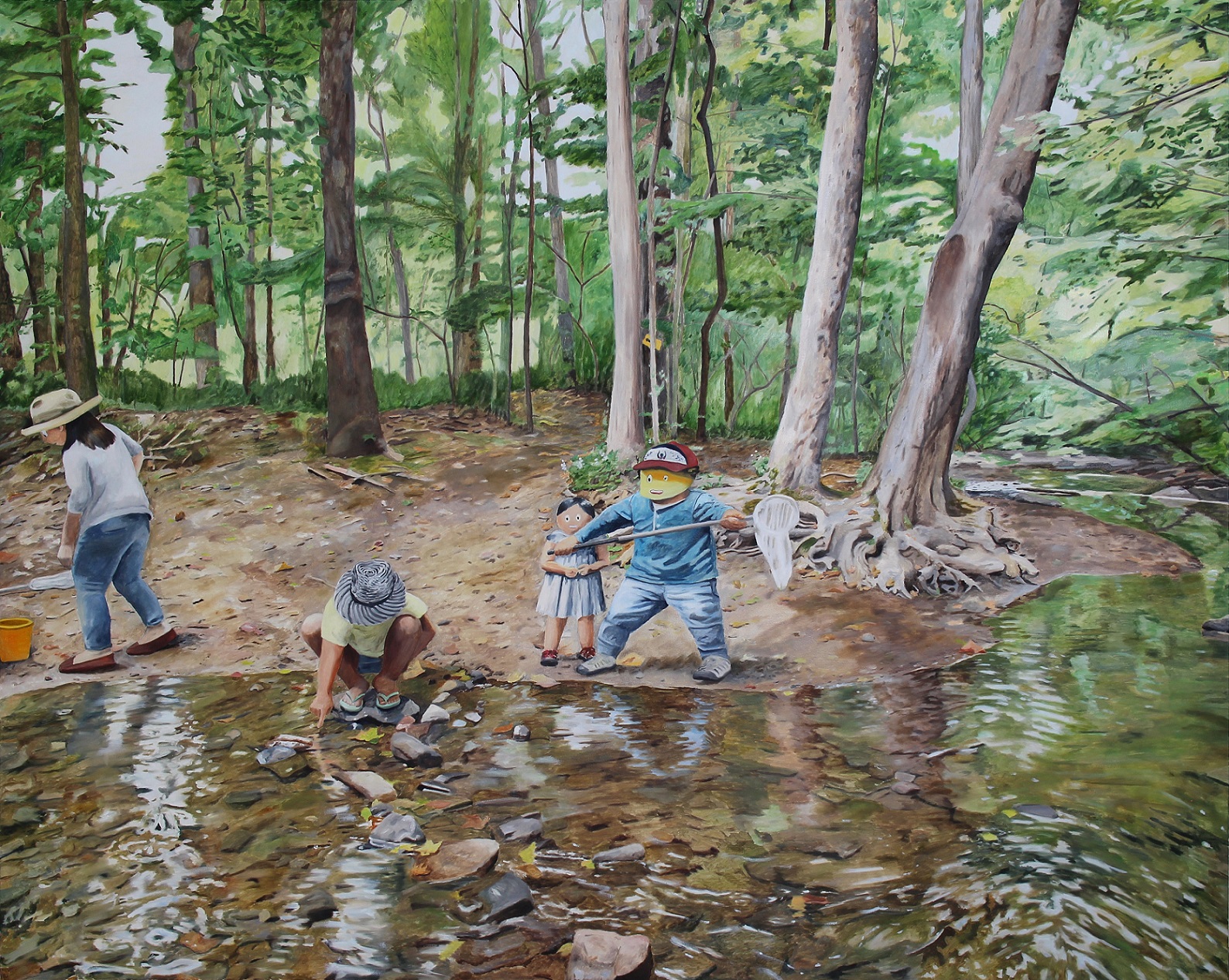 From "Summer Hours"
——What are your thoughts on Japanese art culture?
Kurata: I can sense that the art scene in Tokyo and Asia is having a moment, even as someone who lives in America. It's a wonderful custom for young collectors to support young artists, but I feel like selling and buying art at auctions only within Japan might be dangerous. Rather than emphasizing the artist's future, it's all about money, in which the rich get richer. I'm not sure about the specifics, but this happens in America too. I've come to feel like an artist's career depends on which gallerist they become partners with.
With Forrest Myers, Kurata's mentor. Taken in 2014.
Photography Hiroyuki Seo
——In terms of doing what you love for a living, what do you value?
Kurata: I don't want to sound snobbish, but looking back on how I've been able to making art, my horizons as a painter broadened thanks to my job as an art restorer and an assistant to a sculptor in the past.
Everything starts with imitating, right? I believe creating an environment where you can imitate other works is essential. I still remember something from Forrest Myers: "Just stick around; your turn will come." Or "Don't go home yet" he said. I think that's valuable. There was weight to his words because of the things he had been through, by seeing the New York art world since the 60s.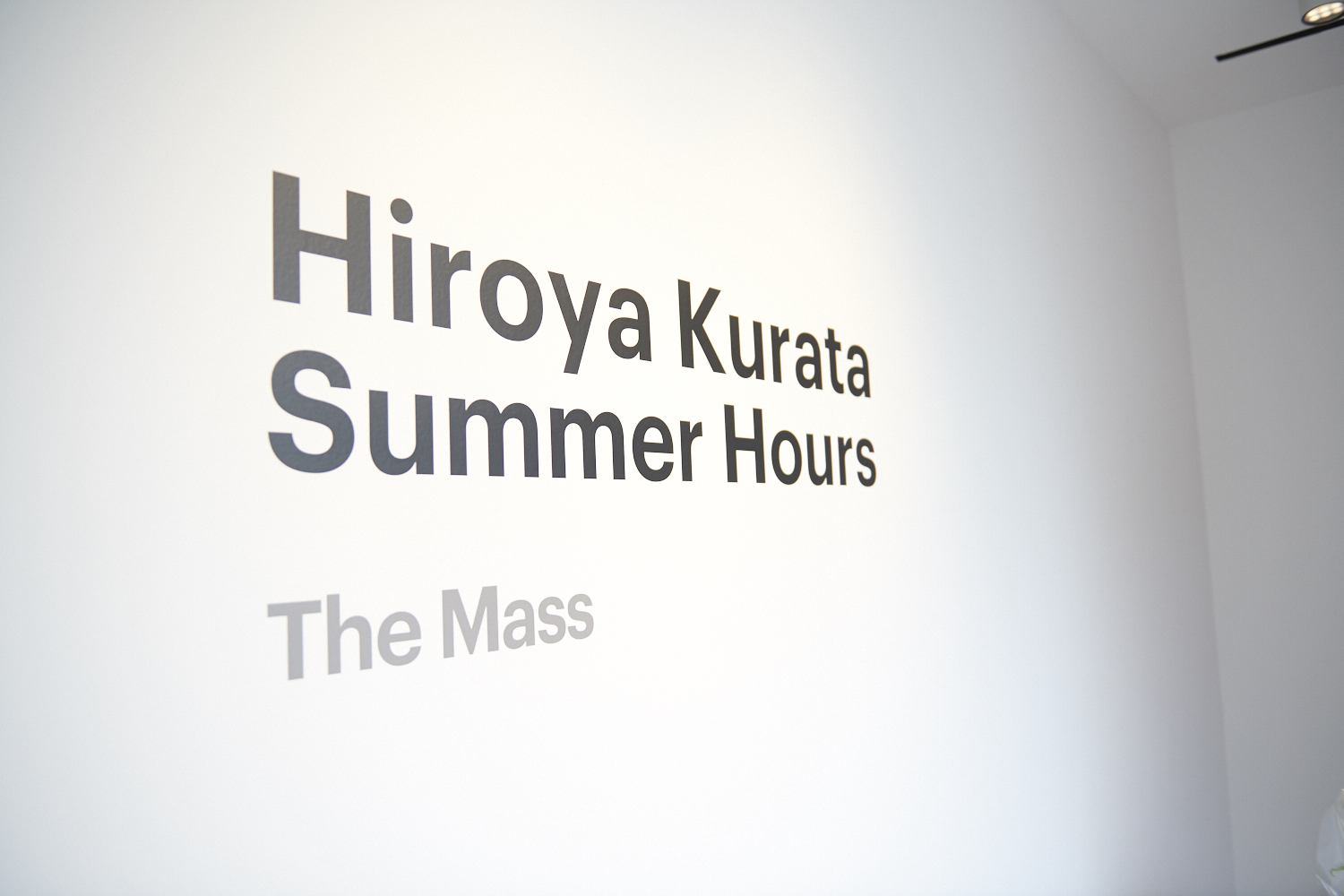 ■Hiroya Kurata "Summer Hours"
Date: ~ September 25th
Venue: The Mass
Location: 5-11-1 Jingumae, Shibuya-ku, Tokyo
Hours: 12 PM to 7 PM
Closed: Monday, Tuesday
Admission Fee: Free
http://themass.jp/
Photography Masashi Ura
Text Kango Shimoda
Translation Lena Grace Suda