In 2021, "DARK MATTER" opened in Berlin's Lichtenberg district. Also known as "Parallel Cosmos," it is a large-scale light installation that has an exhibition space of 1,000 square meters, distorting the boundary between the real and digital worlds. The driving force behind the project is interaction designer and media artist Christopher Bauder and his design studio WHITE void. Christopher and his studio have created a number of installations, including "DEEP WEB" and "SKALAR" at Kraftwerk, and in 2014, "LICHTGRENZE," a project to celebrate the 25th anniversary of the collapse of the Berlin Wall, in which 8,000 luminous balloons lit up Bonhommeerstrasse.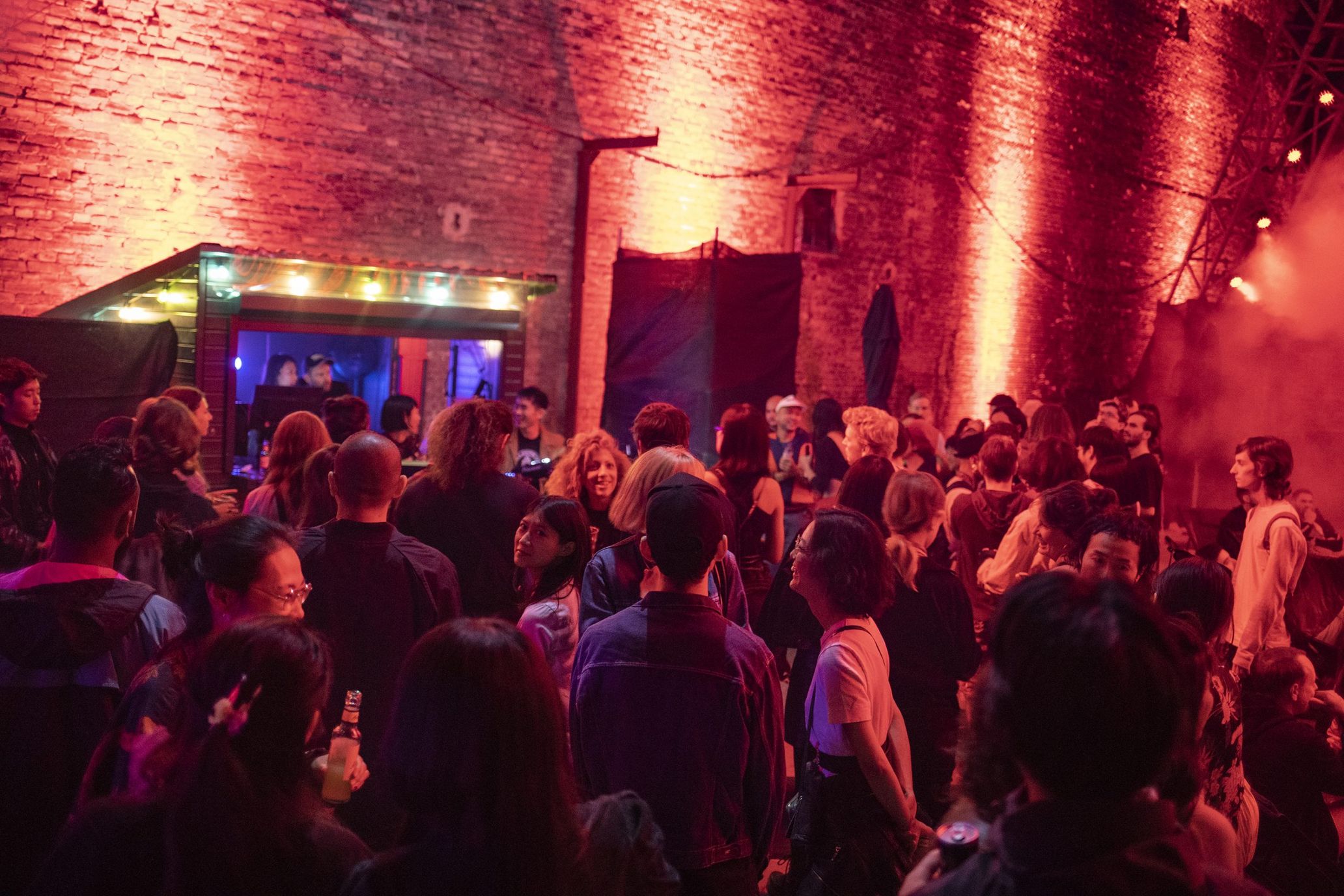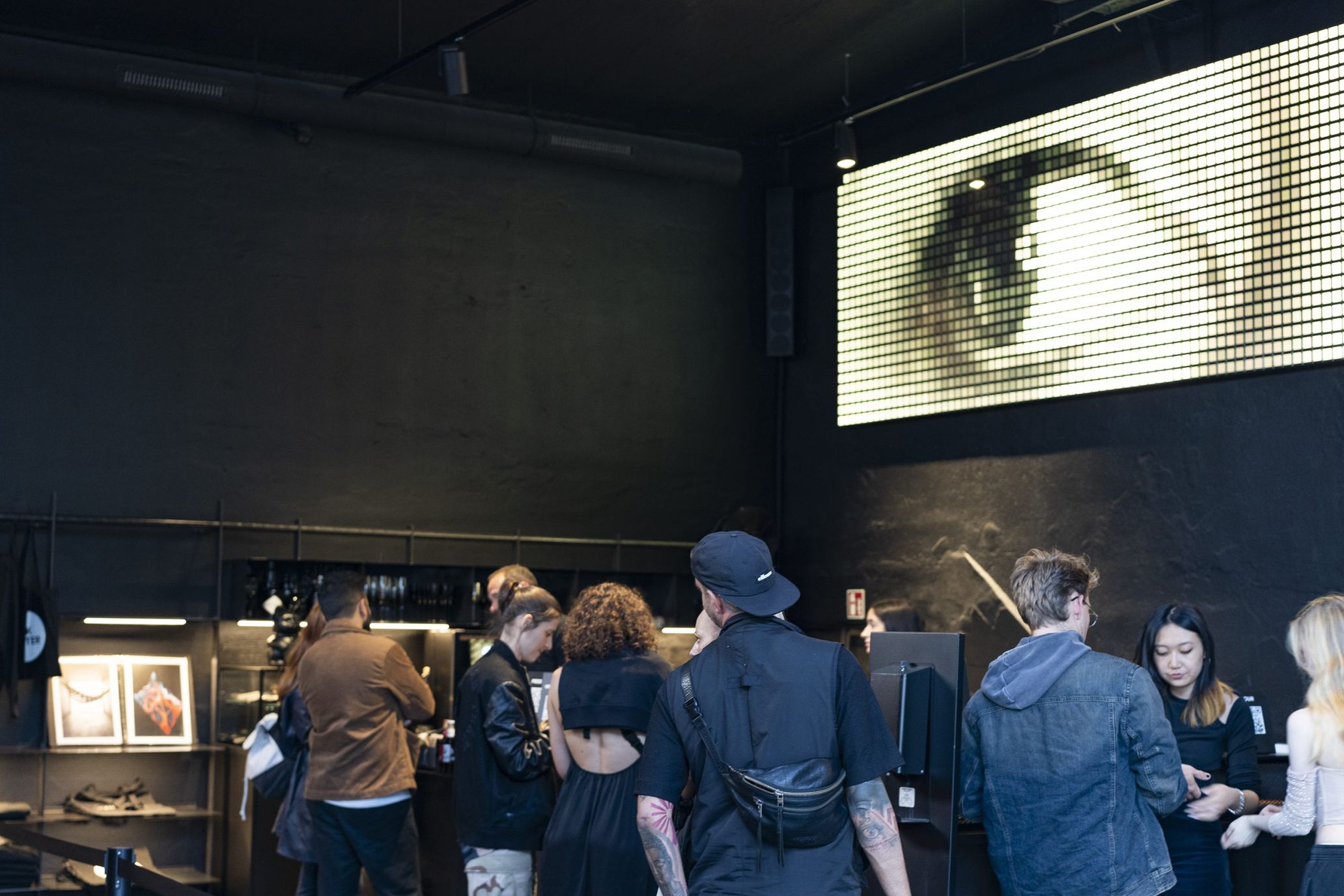 Kyoka
Kyoka is the first solo female artist belonging to the German experimental music label "Raster-Noton". The label represents its co-founder Alva Noto (Carsten Nicolai) and internationally acclaimed artists such as Byetone, Frank Bretschneider, Ryuichi Sakamoto, William Basinski and Ryoji Ikeda. She works in a wide range of fields as an electronic producer, DJ, installation artist, and field recorder. Besides, "Hovering," her signature song created using syncopated electronics and a rhythm-breaking drum machine, was used in a global campaign for the iPhone. She has performed at prestigious venues and festivals around the world including Aphex Twin Curates (Manchester), The Warehouse Project, Mutek (Montreal, Japan, Korea, Spain), Centre Georges Pompidou (Paris), CTM Festival (Berlin), Sonar (Tokyo), Bolt Festival (Sweden), and Plisken Festival (Greece).
https://www.instagram.com/kyoka.sound/

Yone-ko
Yone-ko is a DJ who has greedily absorbed the essence of Japan's techno/house scene, and expresses his unique musicality with his advanced skills and a selection of music that mixes the old and the new. He started his DJ career in Shizuoka in 1999, and since moving to Tokyo in 2002, he had been playing at underground parties in Japan while pursuing alternative yet universal groove of house and techno music. In 2011, he moved to Berlin and has been playing all over the world, especially in Europe. In parallel, he runs his own party "Wordless" with Timur Basha, founder and resident DJ of the Kiev club Closer. Following several releases while living in Japan, he revamped his production process after moving to Berlin. He has released his own works on labels such as Workshop, Dial records, Delsin, Aex, and Clommunity, a label run by one of his base clubs Closer.
https://www.instagram.com/y.o.n.e.k.o/
https://on.soundcloud.com/8aCMG
Upon entering the minimalistic black building, light and sound suddenly start to move in the pitch-black space. Visitors will feel mystical yet pleasant sensation of 3D sound following them as they move from room to room. The seven different light installations are a mixture of beauty and strangeness, as well as a highly accomplished piece of interactive art that makes people lose their sense of balance and that gives them a sense of immersion. These works make visitors want to stare the spectacle in front of them endlessly, or enjoy escaping reality.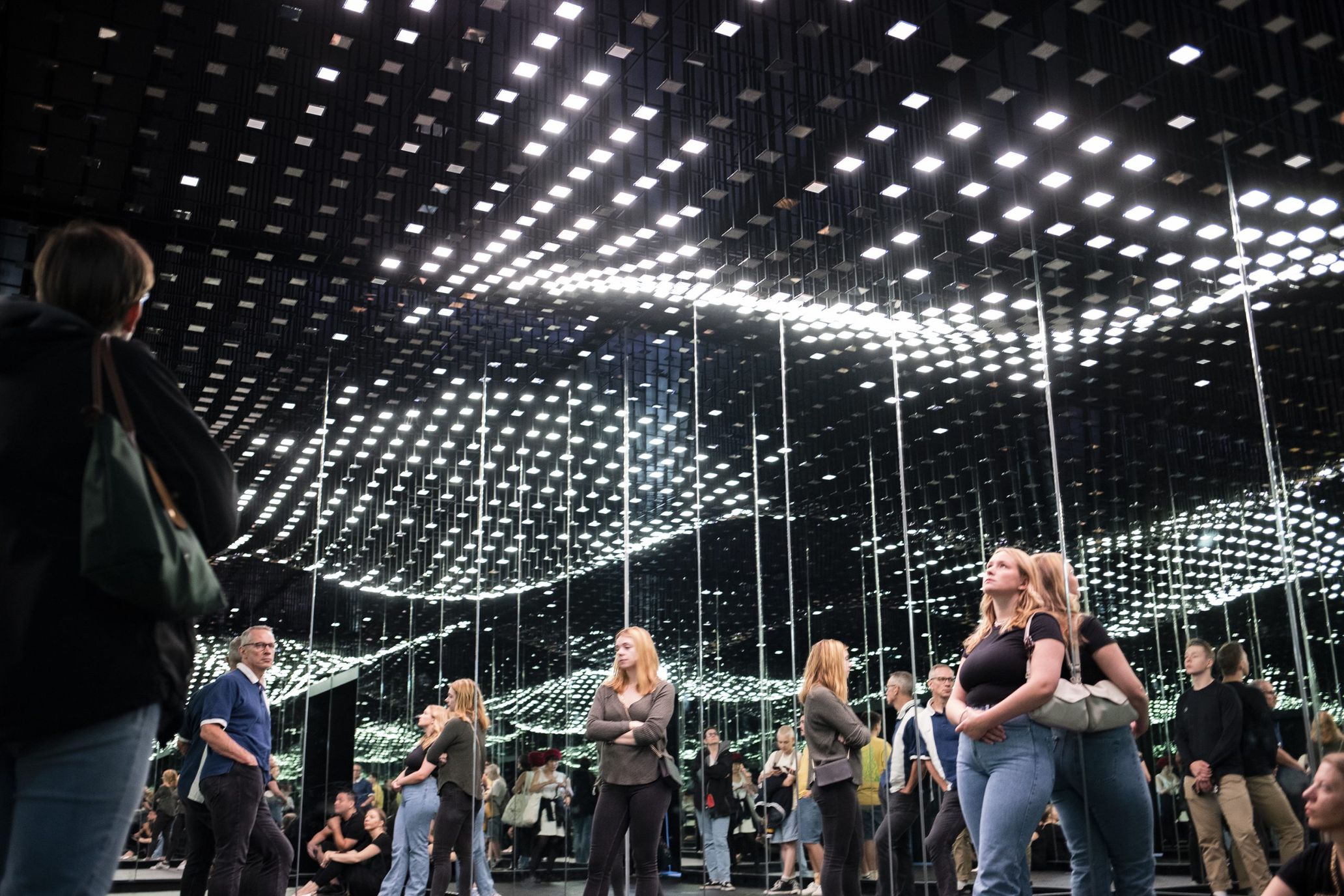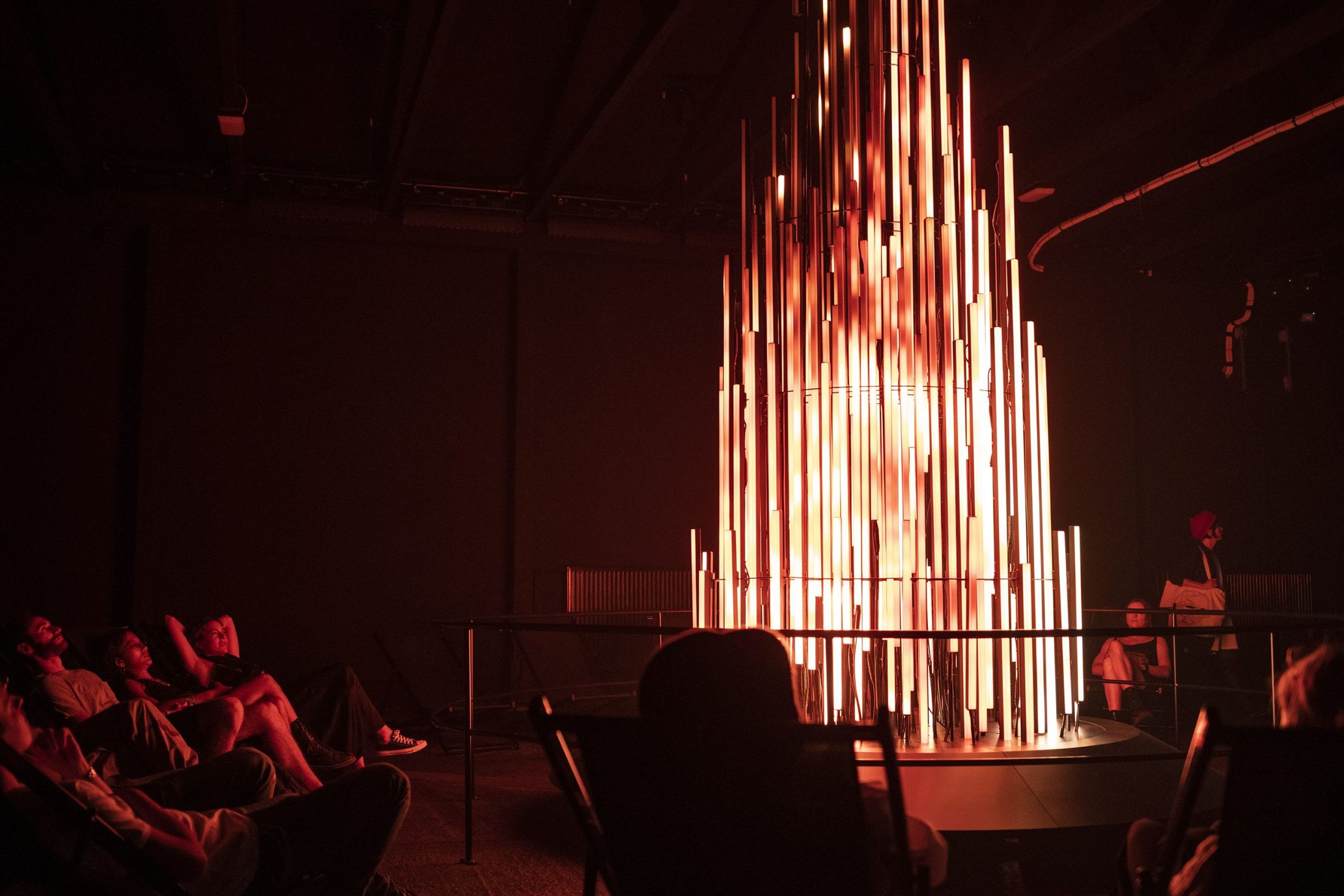 Sneaking into the closing party of the open-air "SUMMERLIGHTS" installation
The highlight of the installation is the 16-meter-high light sculpture "STALACTITE," which has a great presence and occupies a prominent part of the open space. Held under the fantastic lights is a summer-only garden party titled "SUMMERLIGHTS". The party features a number of acclaimed artists, including Massimiliano Pagliara, Nick Höppner, and Robag Wruhme, and is attracting attention as a brandnew spot in Berlin.
On September 4, Kyoka and Yoneko were invited to perform as guest artists at its closing party. Kyoka, based in Berlin and Tokyo, is the first female artist belonging to the leading German experimental music label "Raster Norton" and is active worldwide in a wide range of fields including installation, composition, and live performance. Yone-ko, on the other hand, is a Berlin-based DJ who plays all over the world. Her party "Wordless," which she organizes with Timur Basha, founder and DJ of the famous "Closer" club in Kiev, has earned a cult following. In recent years, Yone-ko has been broadening her scope of activities as a producer, mainly working in association with European labels such as Workshop and《Dial records》.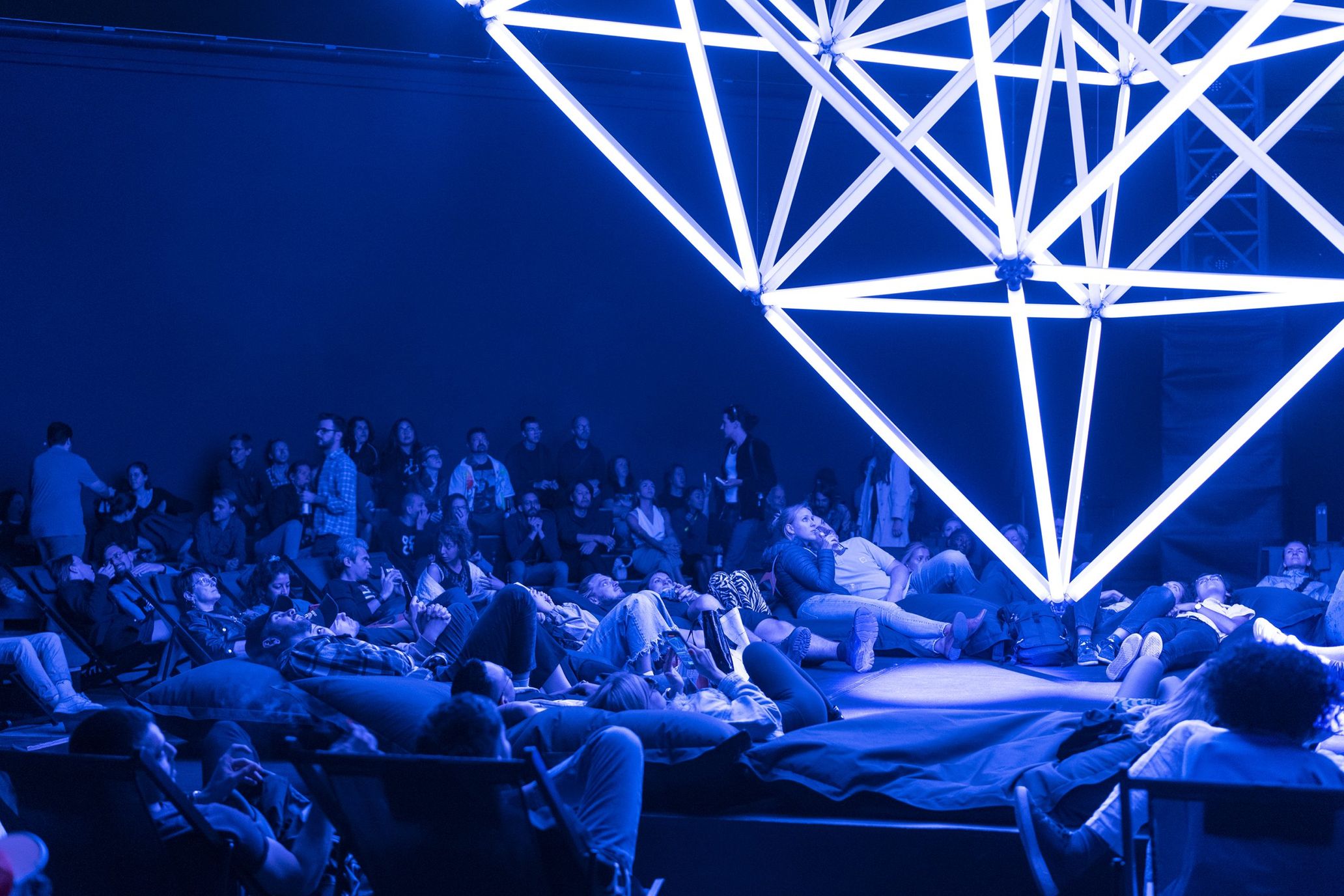 Although the doors opened a little later than 8:00, the place was filled with people in no time. The way people enjoyed their time at that party vary, which is quite unusual. Some people were lying down and chilling out under the fantastically color-changing "STALACTITE," others were just hanging out or dancing.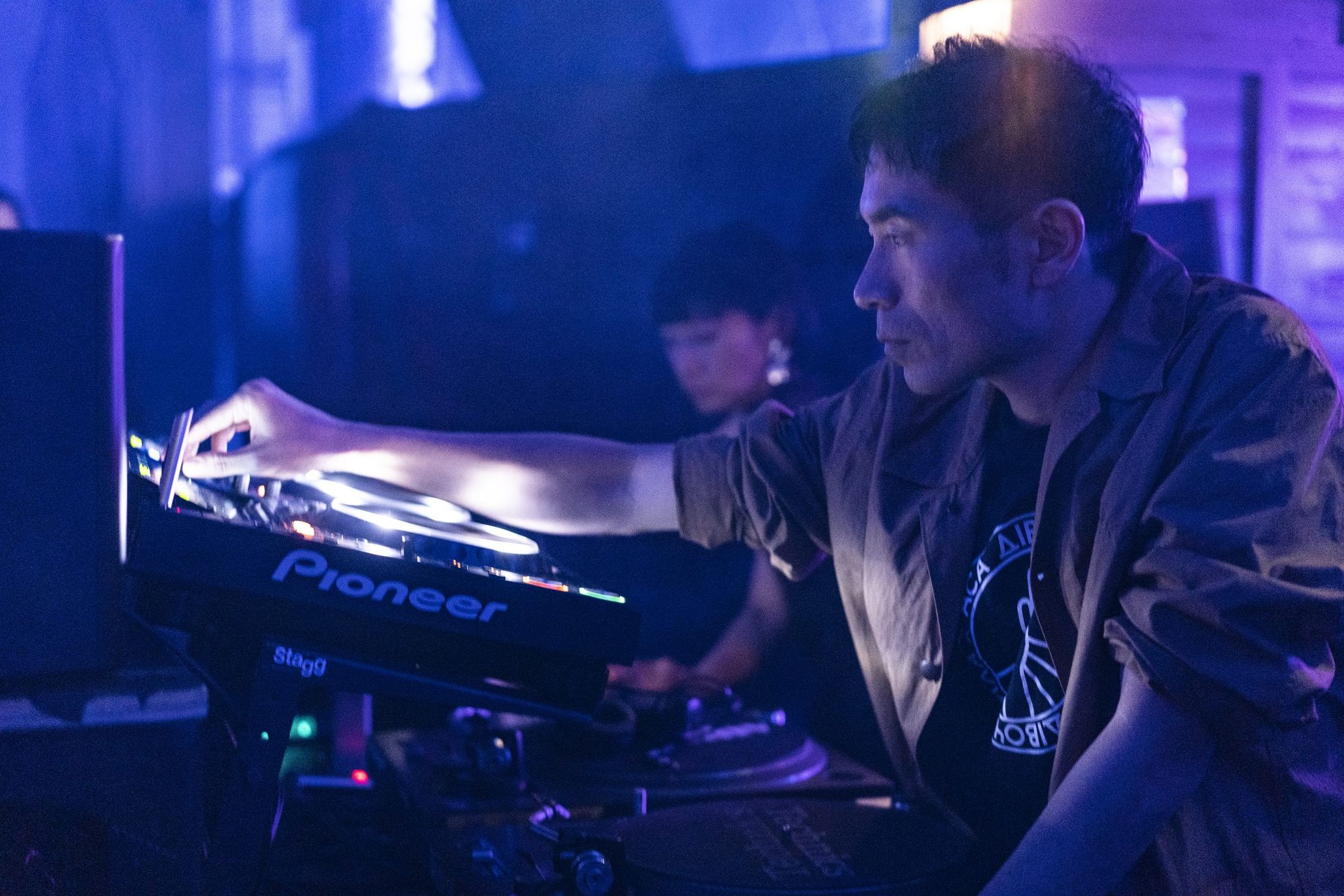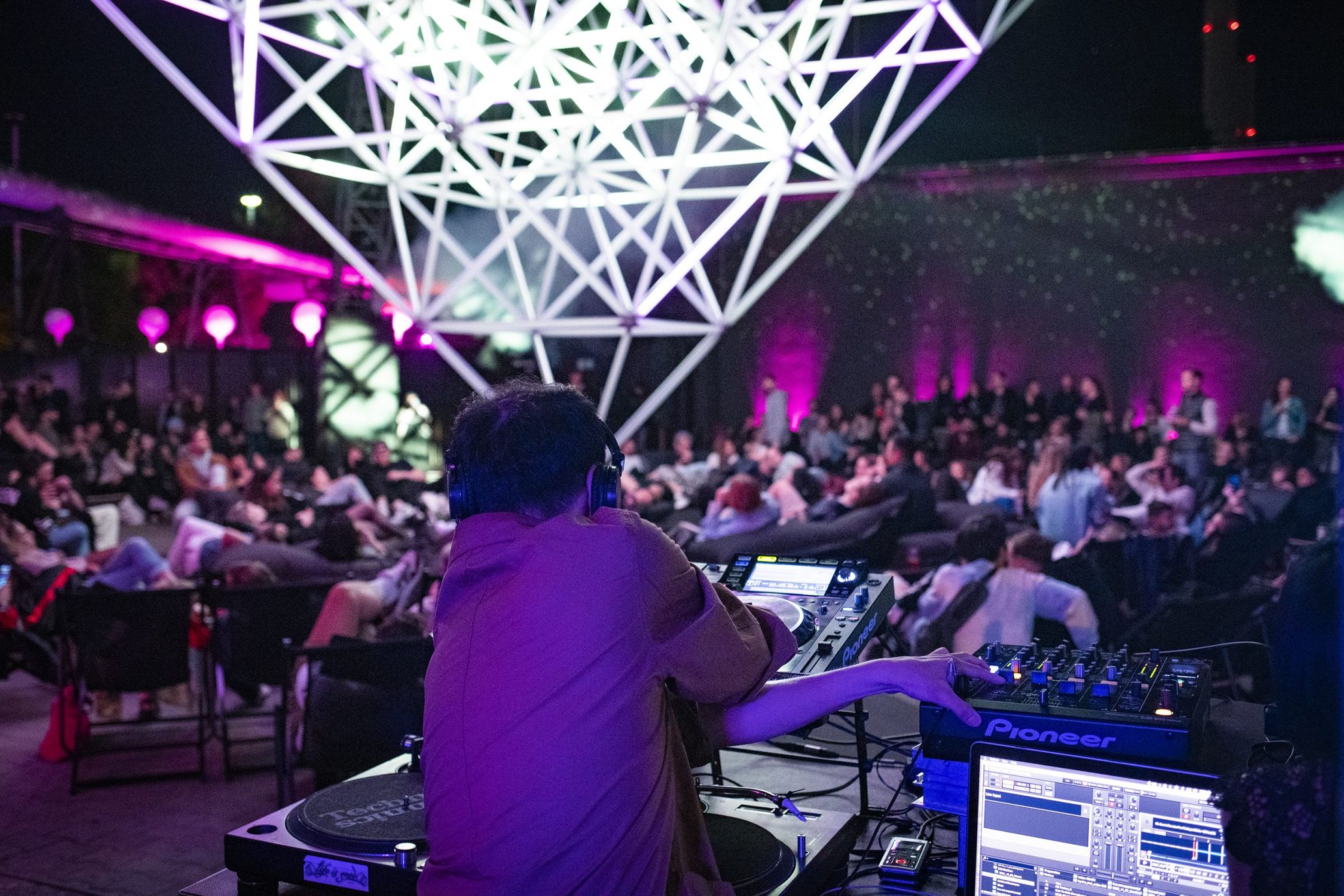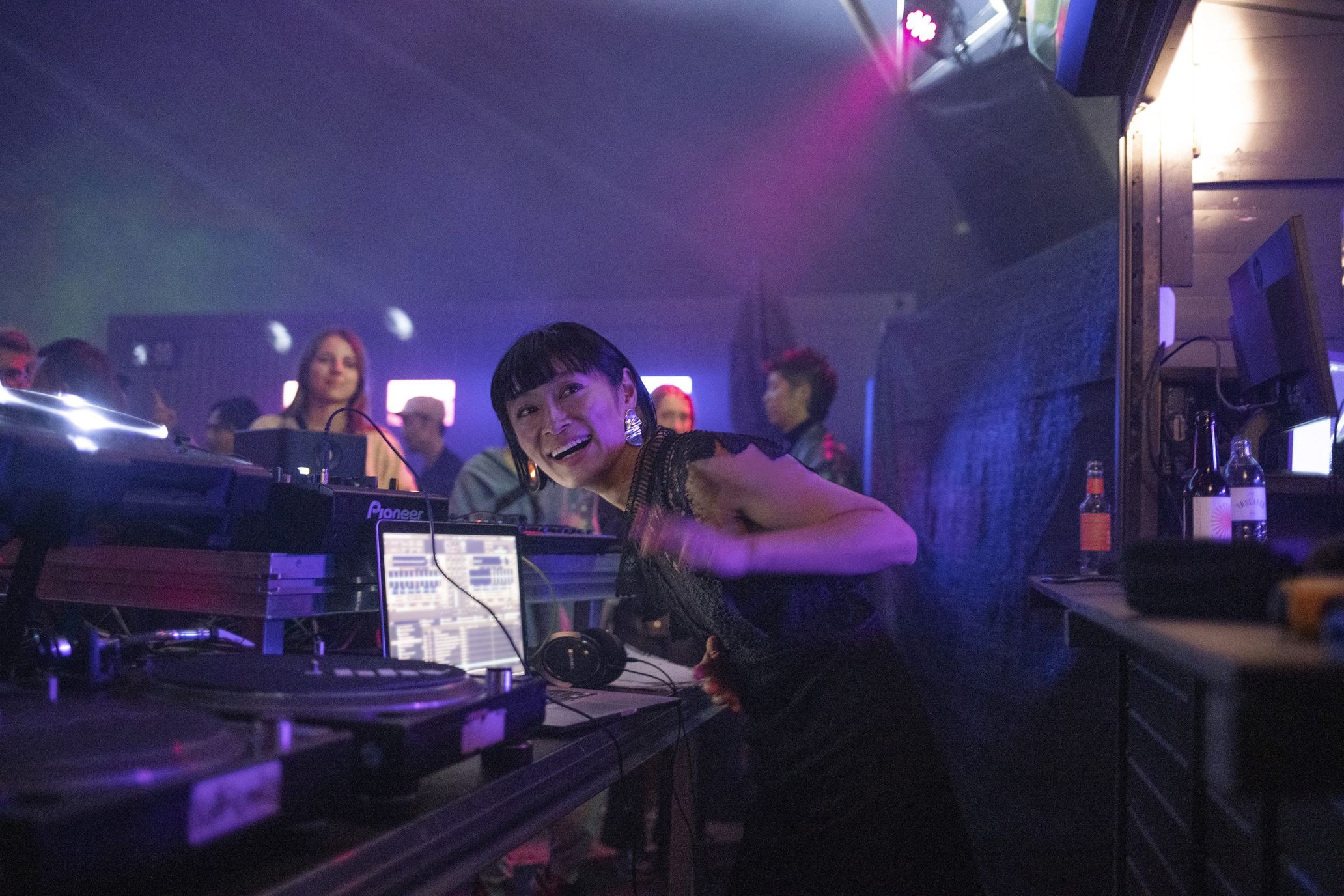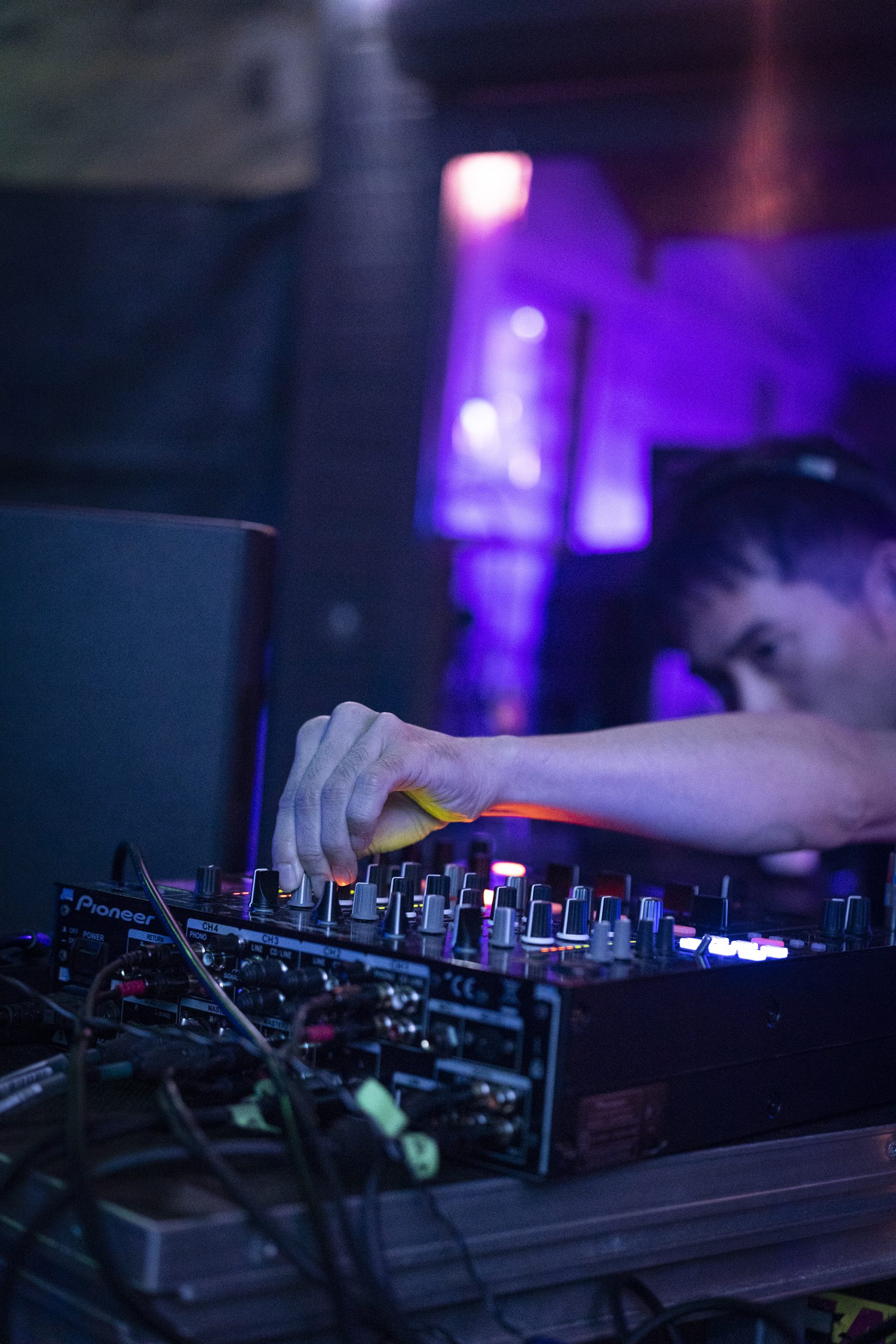 When the baton was passed to Yone-ko again, the abstract and unpredictable tunes turned the venue into a complete dance floor, and the party quickly came to an end. Kyoka said, "Unlike the usual club venue, it was a closing party of the garden, which is only open in the summer, so it was like a big reunion, bringing together all sorts of people I had worked with but who don't usually come to clubs: professors, researchers, scientists, people in the theatre, contemporary dance and art fields, people working in the people in the music industry, hip-hop lovers, song lovers, technologists, engineers, professional club-goers, day people, night people, drinkers, and many others. It was very interesting to see how everyone interacted with each other. Since Dark Matter is not only a party but also a cultural event where people can enjoy light installations together, I was thinking of playing the sound that could be used as background music, but when I started to play the sound, people gathered in front of the stage were ready, willing and able to dance, so I just kept going in the direction that the direction that would bring smiles to everyone's faces. As a result, it turned out to be a party filled with excitement rather than just a chill-out gathering! I pay respect to Yone-ko who played beautiful and groovy sounds before and after my performance! I am also very grateful to the organizers who trusted me and booked me for this incredibly important timing of the closing."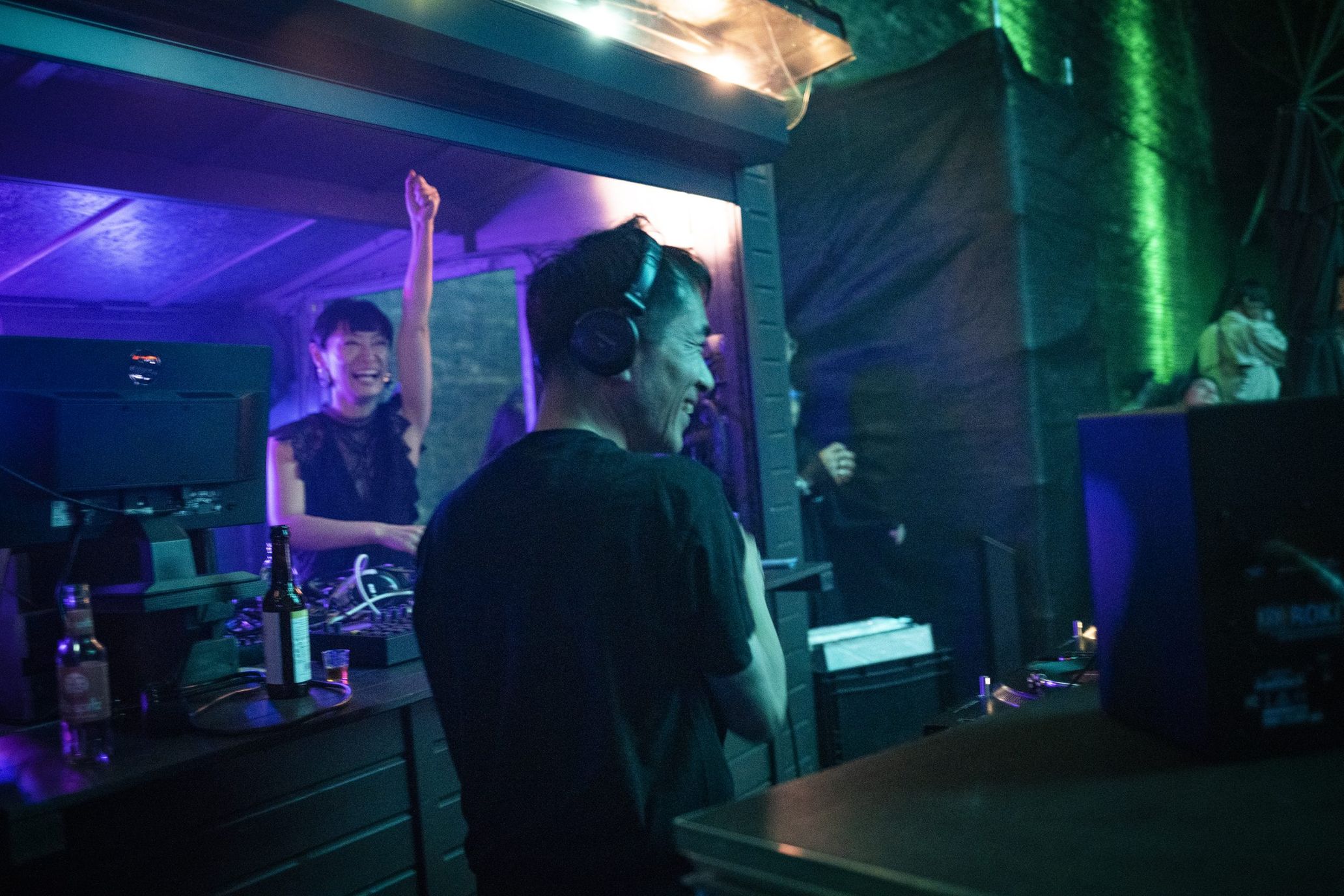 Yone-ko said, "Since this was the closing of the event and not an all-night party, I prepared for it, keeping in mind how to create a special atmosphere in a short period of time. I was very happy to see that many of the audience members enjoyed the event. This time I had the opportunity to perform with Kyoka, and I was greatly inspired by her technique of attracting the audience as soon as the live performance started, and then culminating it."
As many of you may know, it is absolutely forbidden to take pictures during a party at local clubs in Berlin, even in the open-air area called the garden. For this reason, we are very happy to be able to report on Berlin's local party and the activities of Japanese artists in it.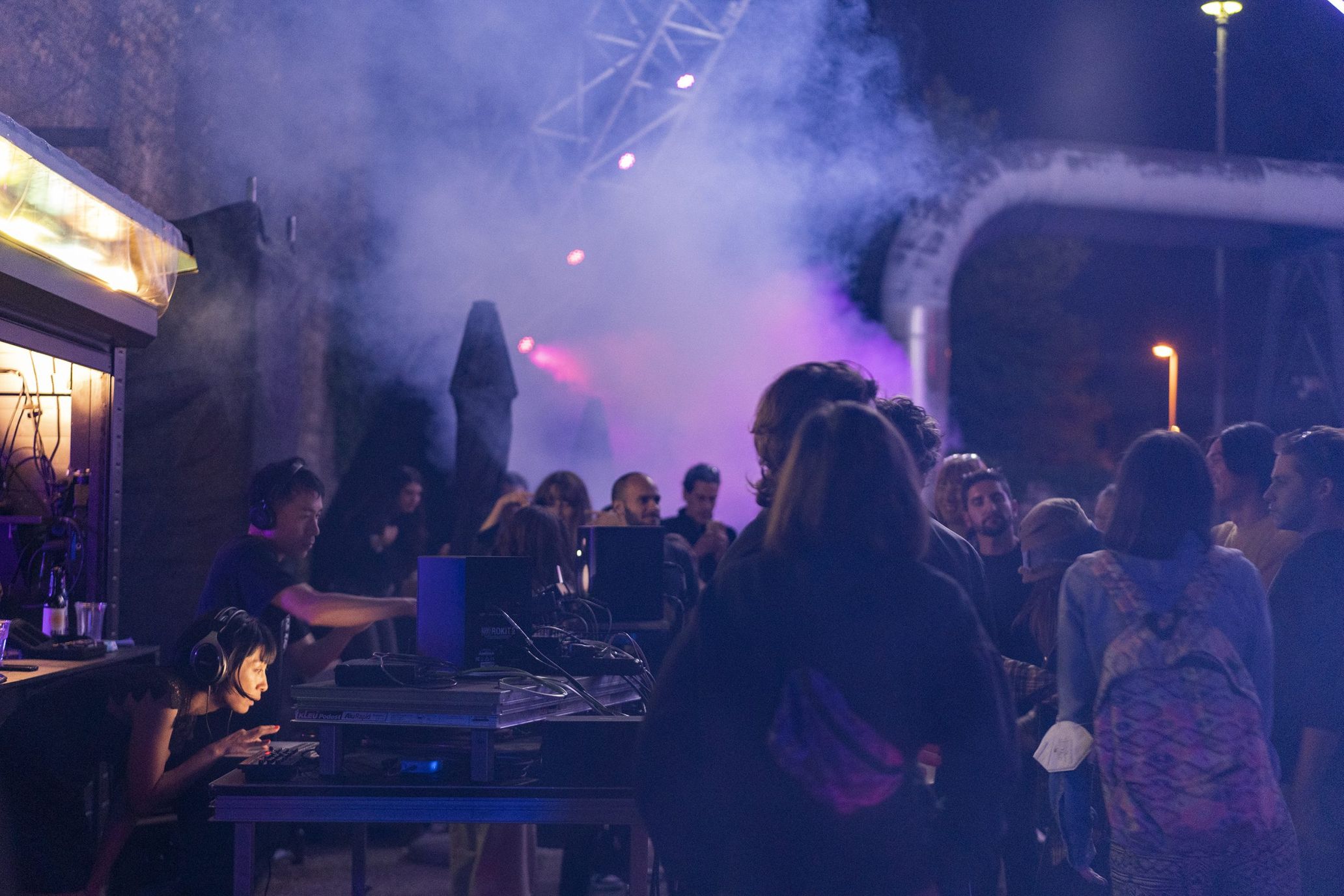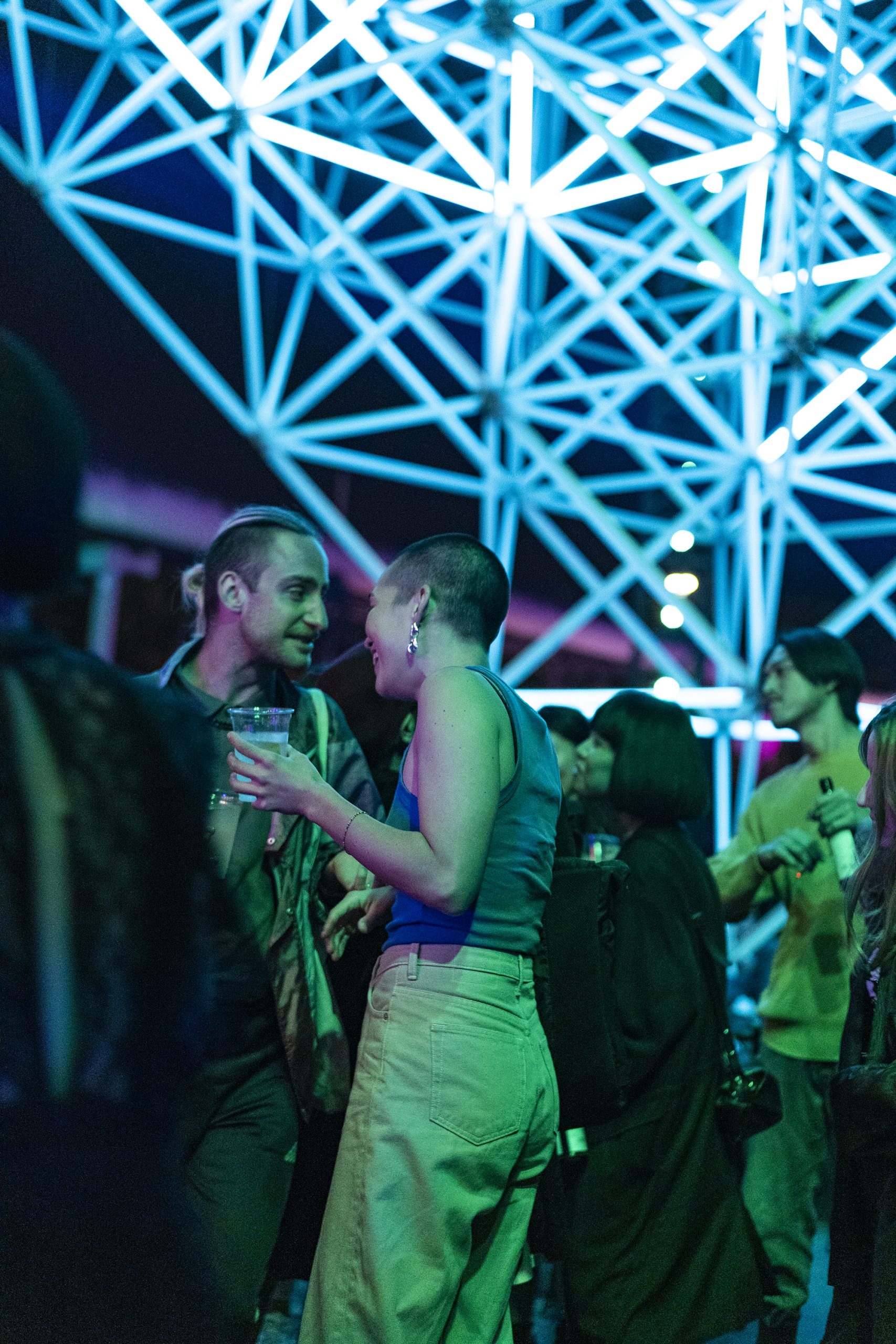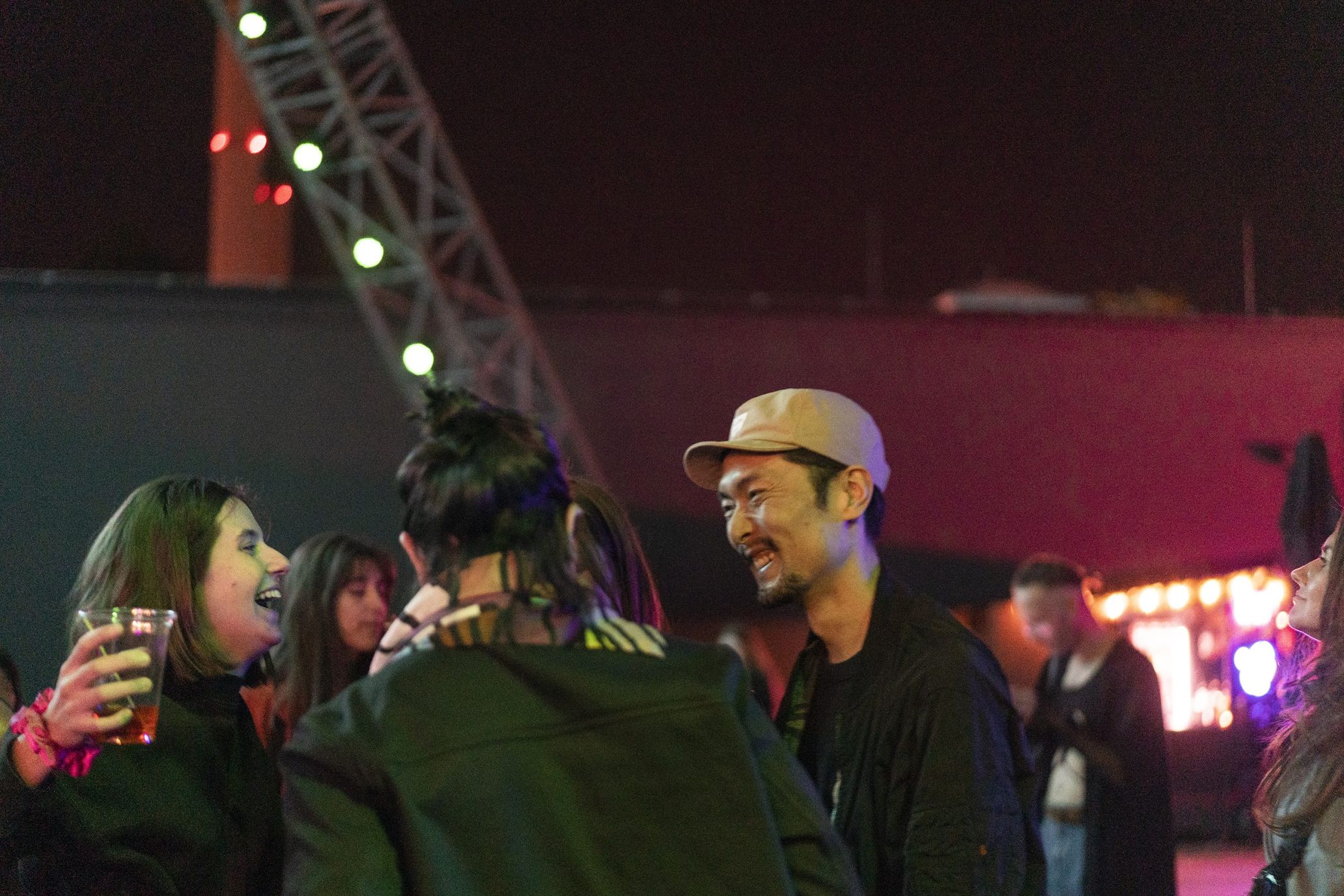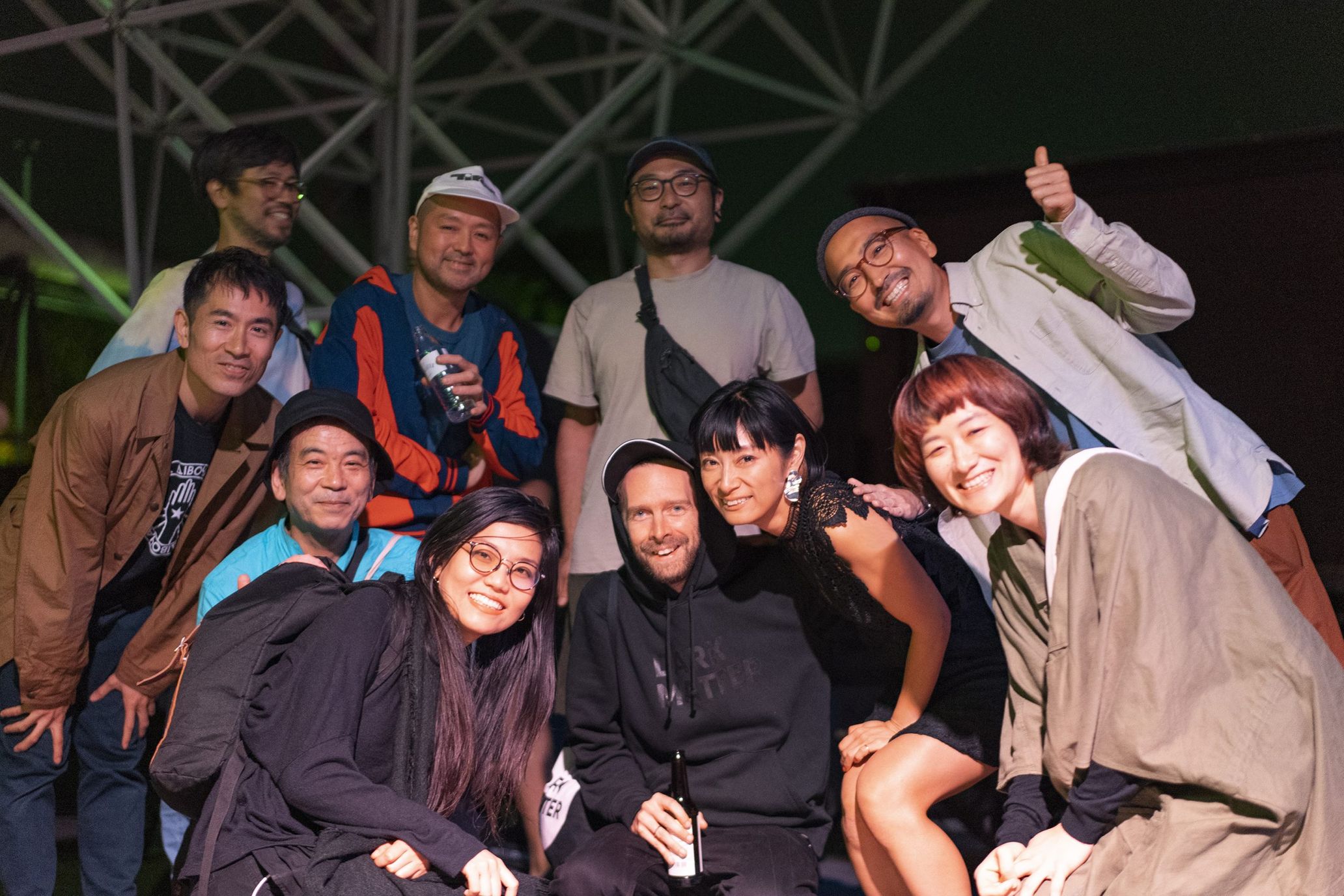 Berlin's happening places are increasing more than ever in OST. OST, a term meaning "east" in German, refers not only to areas dotted with existing local clubs, but also to emerging neighborhoods with a deeper and more interesting culture. In this area, there are long-abandoned decadent "sites of some kind of building" that have been renovated into hip event spaces, and studios of prominent artists and creators. OST is so full of energetic power that it is hard to believe that the pandemic had turned it into a ghost town. OST reminds me of Brooklyn in the early 2000s. It makes me remember visiting Williamsburg by myself, which was considered unsafe at the time, and feeling much more excited than I felt in downtown Manhattan.
Photography Musashi Shimamura