A painting on canvas can be seen either as an "image" or as a "lump of paint". In terms of Taniguchi Makoto's works, we tend to focus on emotional motifs such as manganized young girls, but they actually seem to dodge the question of "what painting is" or the question of existence and cognition to which many modern and contemporary painters have turned.
At his latest solo exhibition at NANZUKA UNDERGROUND in Jingumae, he showed a new series of "box-shaped paintings with mirrors." A transparent acrylic plate is placed on the front side of the box, and a mirror is placed on the opposite side, so that the paint on the surface of the transparent acrylic plate and the image reflected in the mirror behind it are both visible at the same time. "When you paint a picture, what you paint and what is painted are usually identical. In other words, they are perceived as the same thing. I tried to separate the two and create a state in which they are seen at the same time but separately." Taniguchi continued, "I was interested in why people find something more in a painting than its constituent elements themselves. That mystery was fascinating to me." We interviewed Taniguchi at the exhibition venue to learn more about his new works, his creative process, and where his interests lie.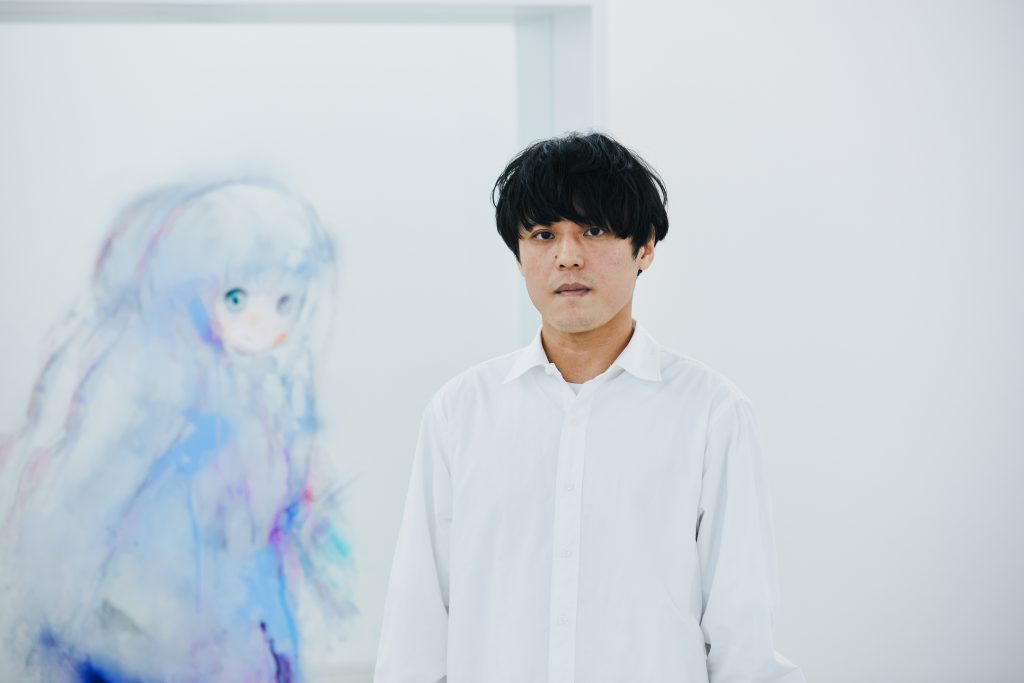 "Separating the material and the image and showing them at the same time"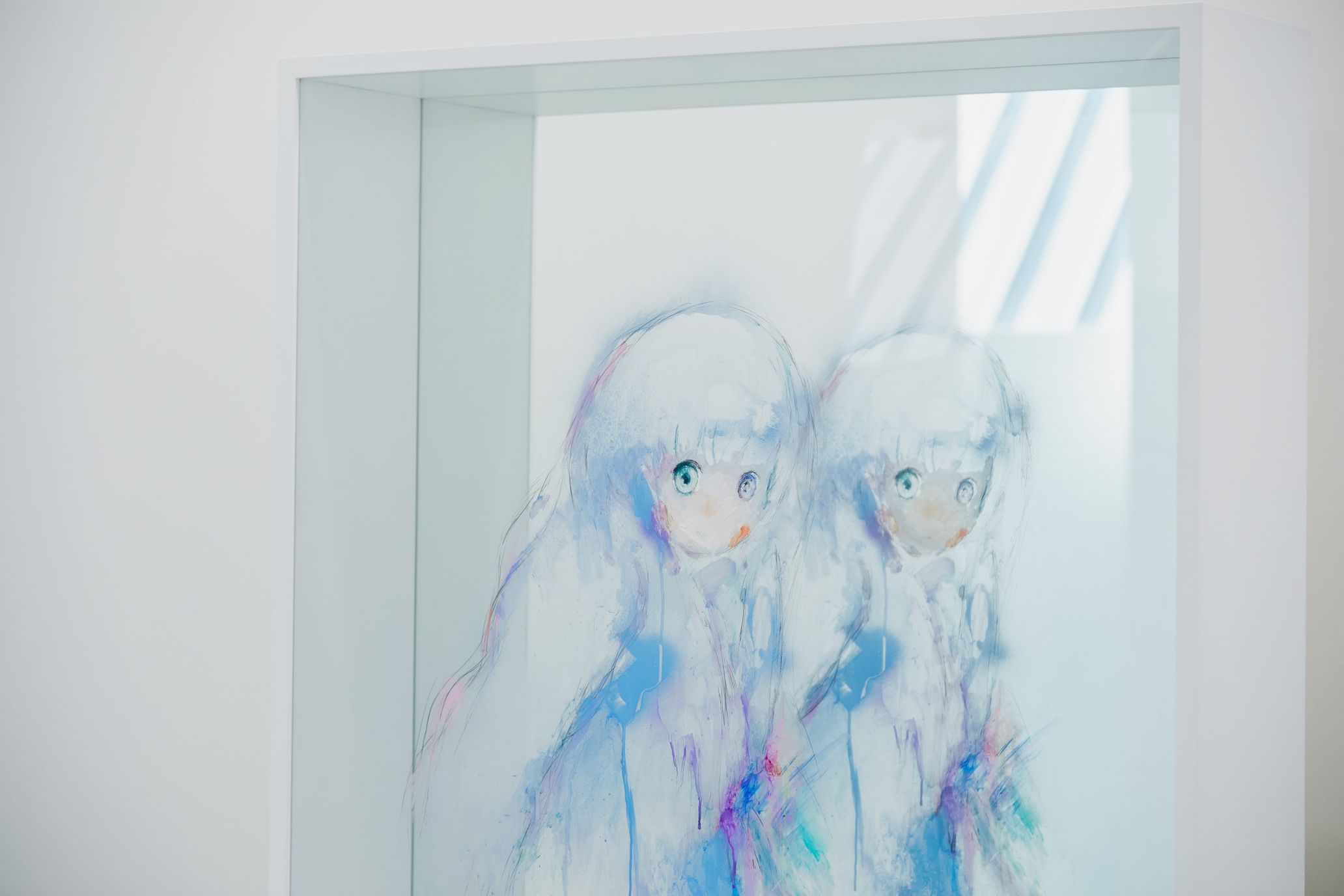 –Your new series of work shown in this exhibition uses an acrylic plate and a mirror to simultaneously show the image of a girl and the paints applied to the plate. They are box-shaped, and the drips of paint and other details made me think that the painting was done on an acrylic plate after assembled. How were these actually produced?
Makoto Taniguchi (hereafter, Taniguchi): Sometimes I paint the acrylic panels before the box is assembled, sometimes I paint after the box is assembled; in my early work around 2006, the acrylic panels and mirrors were not combined to form a box-like structure. When I paint after constructing the box, I do it while looking back and forth between the reflected image on the mirror and the paint on the surface of the acrylic plate. However, there are no particular rules for how I paint or how I work.
–In your early works, the acrylic plate was covered with a thicker layer of paint, and the visual difference between the painting on the acrylic plate and the painting reflected in the mirror seemed to stand out more clearly. Did this change happen naturally at some point?
Taniguchi: For me personally, I am not conscious that I have changed it that much. One of the things that originally inspired this series of works was the mystery of why people try to find something more than paint in a painting, even though it is just a lump of paint. I have always been interested in the act of separating "paint" and the "something" found in the paint and presenting them simultaneously. Perhaps my style is changing naturally on that basis.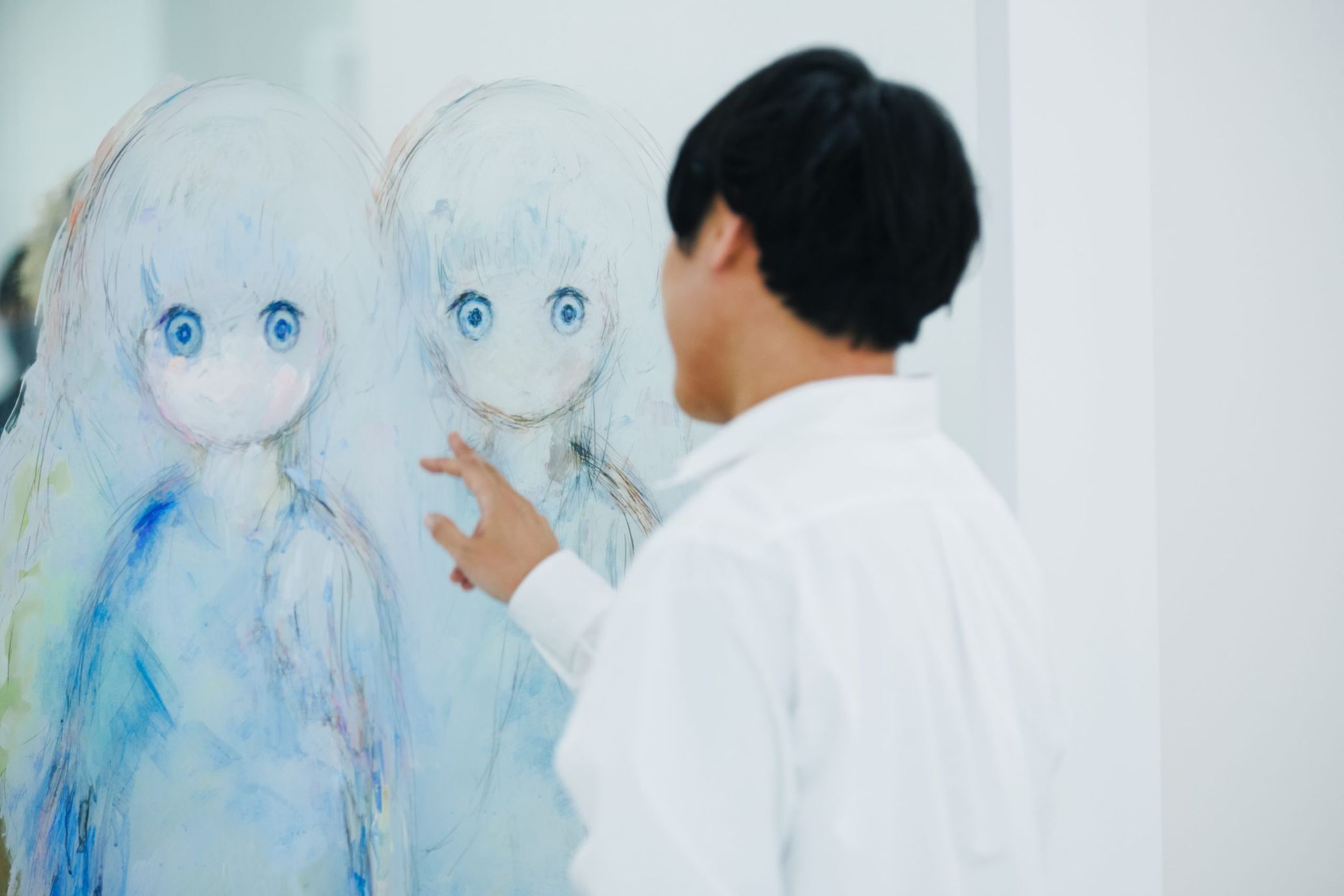 –The box-shaped form is also impressive. I can associate various things with this shape, such as a grave, a cathode-ray tube TV, or a monolith from the movie 2001: A Space Odyssey. Have you been creating box-shaped works since your early days of your career?
Taniguchi: I created the prototype for this work in 2006, but it was not box-shaped at that time. I placed a transparent board on the legs and a mirror on the floor. Later on, I created one with a frame. And long before those two, I had begun to create such works in the process of creating a performance. When I was painting, the more I tried to get closer to what I wanted to paint by layering or shaving paint, or redrawing image itself, the more I felt that I was getting further and further away from what I wanted to paint. So I wondered if I could show this act as a performance. But I did not actually do the performance, it ended up unfinished. But triggered by the idea of "showing the first state and the last state of work at the same time" within the performance, it became what it is today. If what is visible on the surface of the acrylic plate is the "latest state" of the painting, and the bottom layer of what is on the acrylic plate (the bottom layer of the painting material), or what is reflected in the mirror behind it, is the "first state," then I wanted to show both of them at the same time.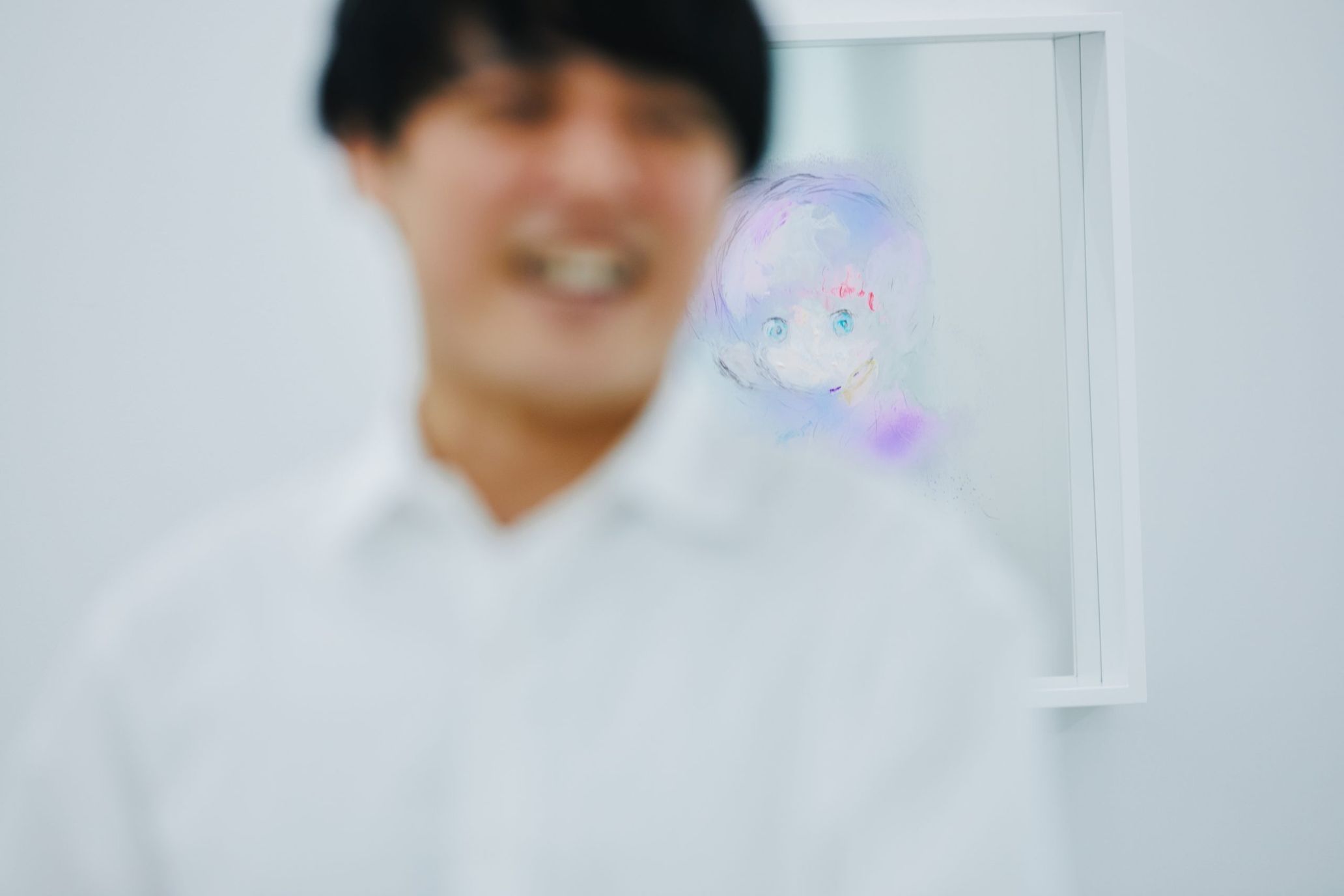 —I think this work stands out within the history of painting in that it is "box-shaped" and "shows the beginning and the end of the painting simultaneously." How conscious are you of the notion of painting itself? Do you think of your works as "paintings" in the first place?
Taniguchi: I think there have been many different views on painting and what a painting is, and many different people have thought about it. Rather than focusing on the concept of painting, I have been thinking about picture. What I have been thinking about is why people try to find something in a picture, or why the creator tries to put something in it, as I mentioned earlier, rather than whether a painting is good or bad from artistic point of view.
"There are moments when I feel a sense of presence, as if what I have drawn suddenly begins to come alive."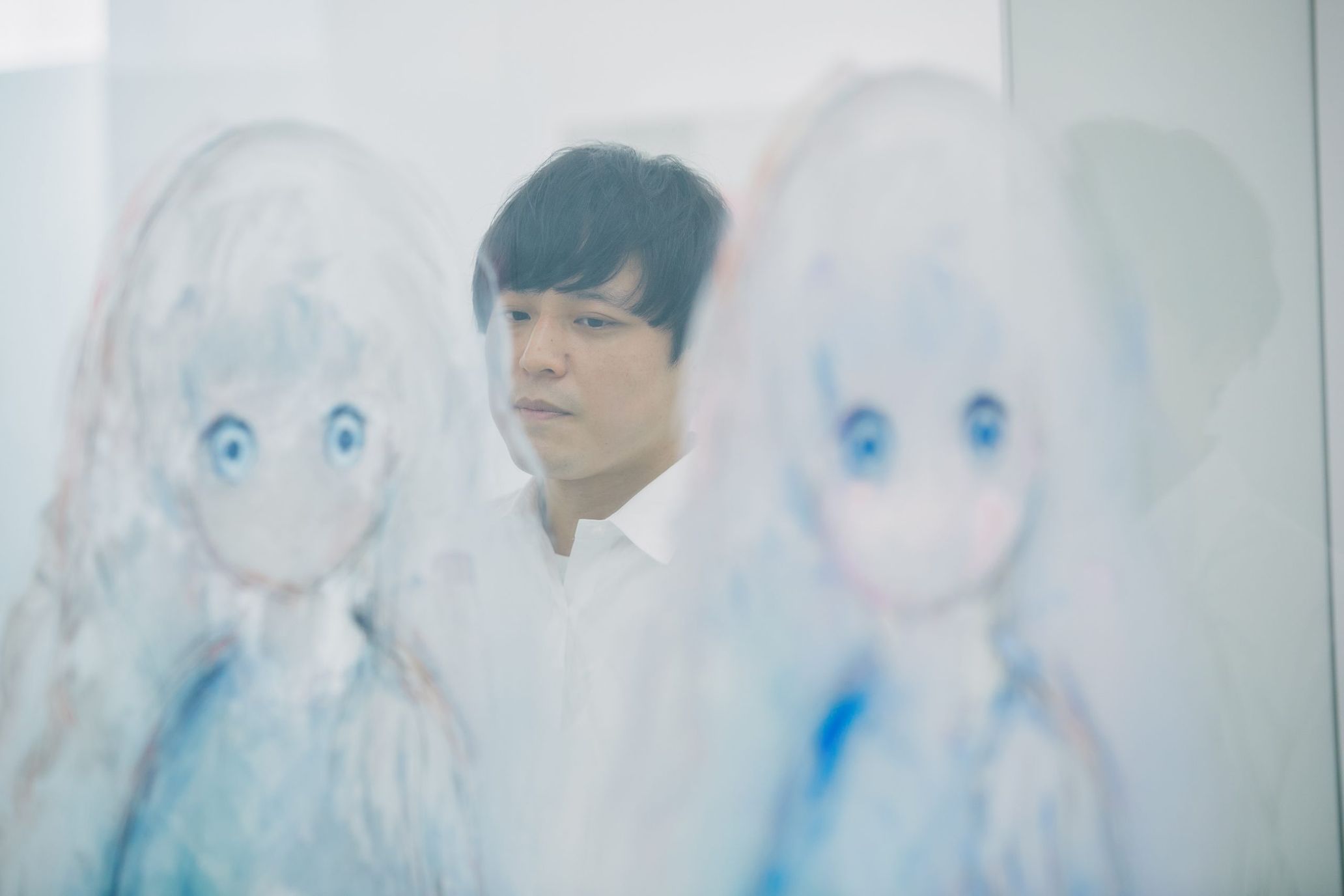 –Please tell us about the motif. This girl seems to be unfinished work, compared to the characters in the cartoon. I think this imperfection is another point that attracts the viewer's attention. What does this girl mean to you?
Taniguchi: For example, when I am doodling casually, there are moments when I feel a sense of presence, as if what I have drawn suddenly begins to come alive. It may be closer to "a picture of such a moment" than to a picture in progress or is incomplete. I also believe that humans, in many cases, do not necessarily perceive or remember everything in front of them clearly. It's like there are clear parts and blurry parts. I myself don't really think of them as girls. They are more like symbolic forms, with eyes and a human-like shape.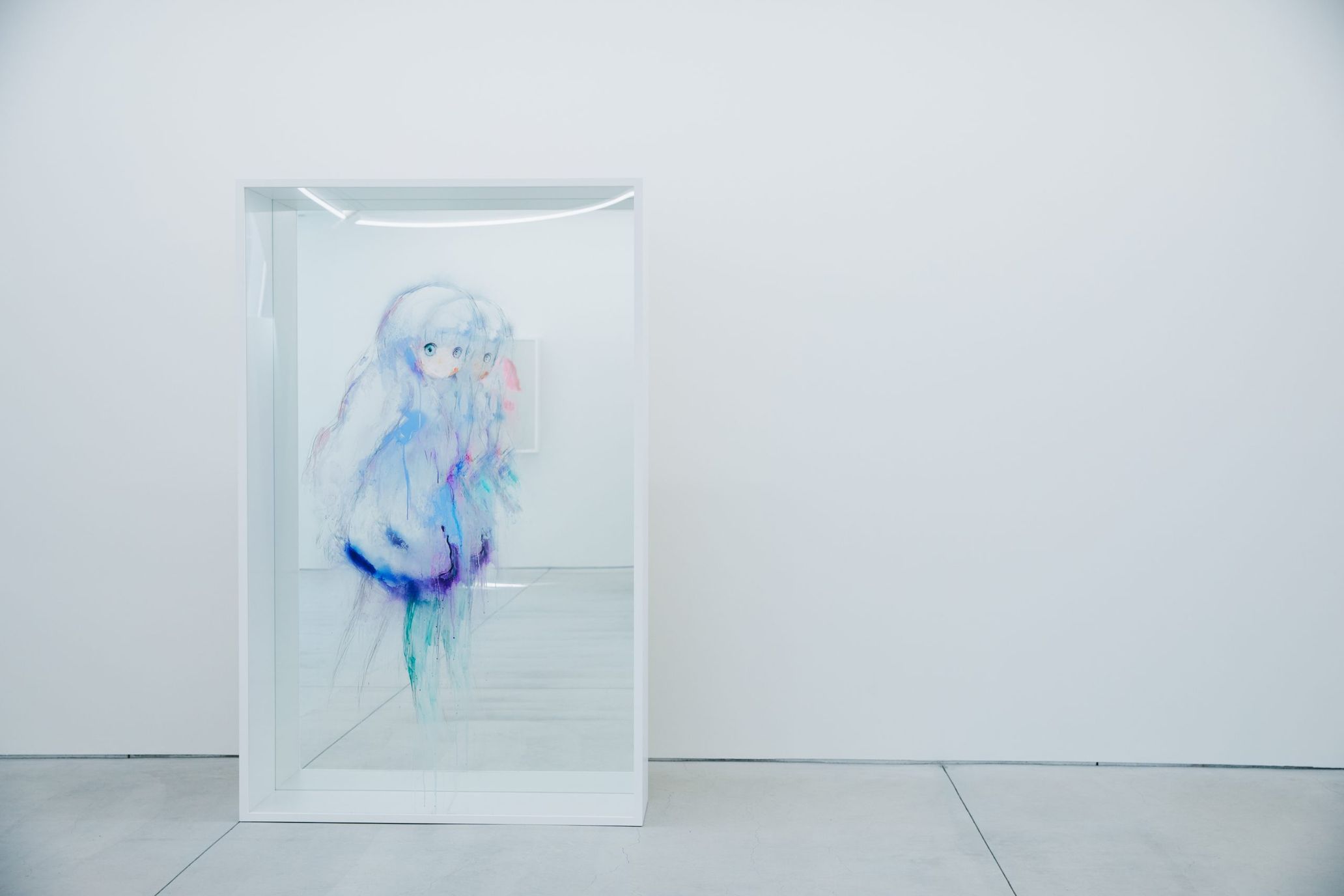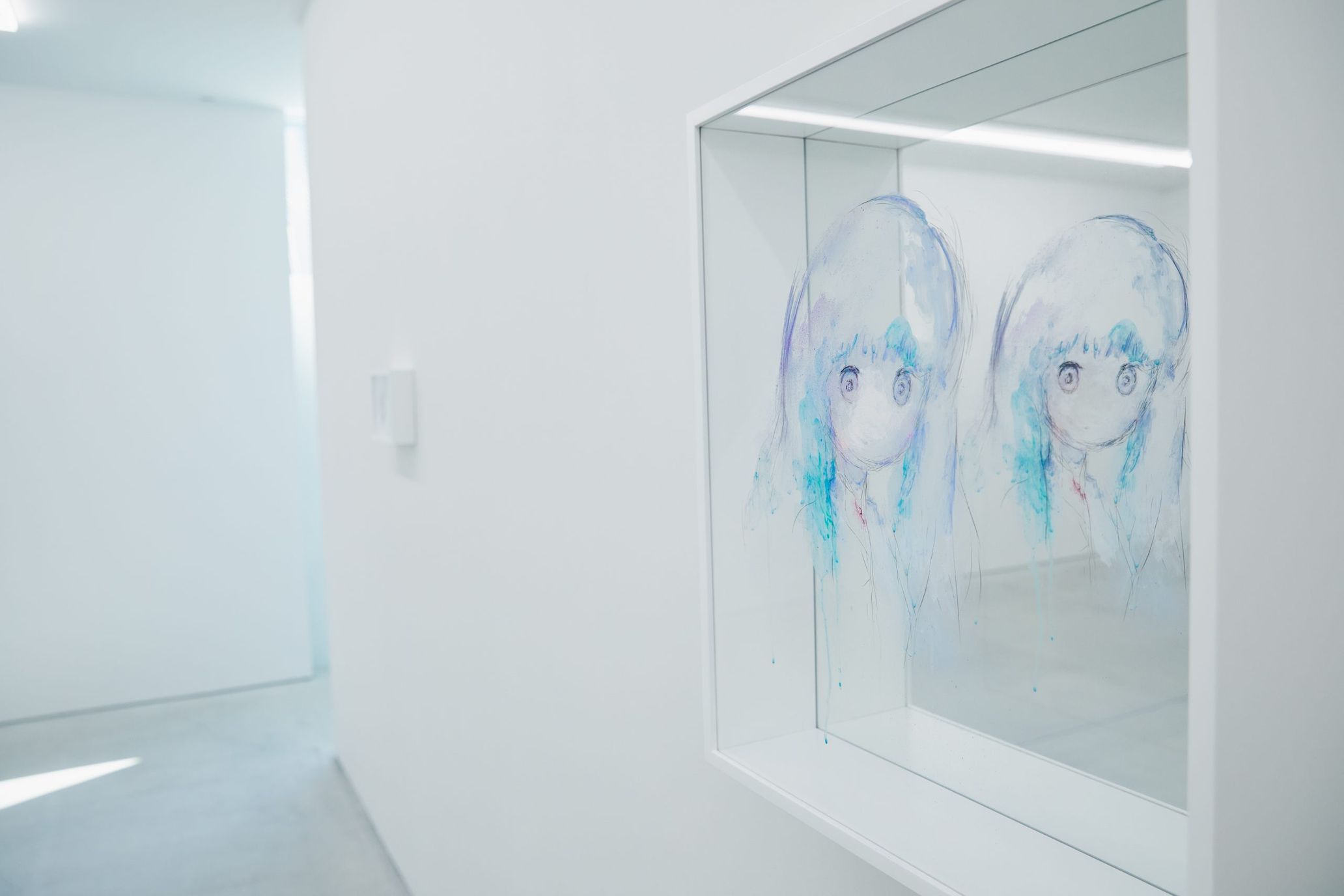 –This exhibition shows your newest body of work. Is there anything you have
tried for the first time, including the method of display?
Taniguchi: For this exhibition, there are two large works in which the depicted
images are approximately the same size as viewers. I placed them away from
the wall, thinking of making the paintings look as if they existed in the middle of
space, or as if they were standing there.
"I am interested in the imagination that changes and the imagination that does not change."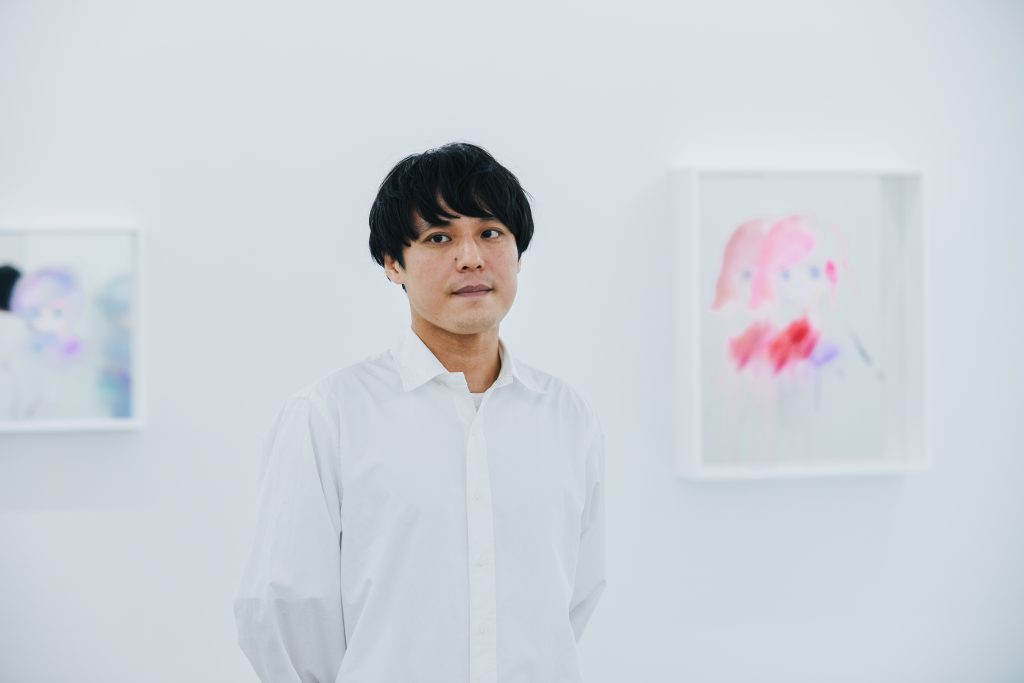 — This is a different topic from this exhibition, but since COVID pandemic, things like video communication, Vocaloid, and Vtuber have attracted a lot of attention. How do you see the current situation in which images that are separate from matter have come to be accepted in a physical senses?
Taniguchi: I don't know what these technologies will actually become in the future, but I am interested in how they may or may not change the human imagination. I think that the spread of various technologies has changed the way human imagine in the past. People today, for example, use a different imagination than people did hundreds of years ago, and conversely, there are some form of imagination we no longer have. I am interested in such changing or unchanging imagination.
The title of this exhibition uses ♡. That does not mean that the works are directly about the heart or mind, but rather about something much broader. I wondered what would happen if I used the heart as an entry point at this time of the age, so I titled the exhibition "Where is your ♡?" The word "♡" does not only mean "heart" or "mind," but also includes many other significations. A sentence, "Where is your ♡?" evokes a variety of meanings.
I believe that the way "heart" exists has changed through the ages, and humans must have lived in times when there was no concept of the heart. I have heard many theories about the shape ♡, like "it is derived from the shape of the heart" etc., but nowadays, for example, it is used as a symbol to represent a cute image or a "like" on a social networking service. on social networking sites. Perhaps people's hearts are changing little by little, even by repeatedly adding a heart to someone's post on the Internet, though this may be an exaggeration.
I once saw an old portrait of a man and thought he looked different from the way people look today. I thought that it might have been painted that way, not because of the way it was drawn or the technique, but because they really have that kind of face and expression. Perhaps people's faces have changed as the state of what we call the mind has changed, or as the shape of our imagination has changed.
Or maybe things like avatars, Vtubers, or image filters could be seen in later years as the faces of our time. That would be interesting to see.
Where is your ♡?
Dates: July 23 ~September 4, 2022
Venue: NANZUKA UNDERGROUND 2F
Address: 3-30-10 Jingumae, Shibuya-ku, Tokyo
Hours: 11:00-19:00
Closed: Mondays and national holidays
Admission: Free
Official website: https://nanzuka.com/ja/exhibitions/makoto-taniguchi-where-is-your-heart/press-release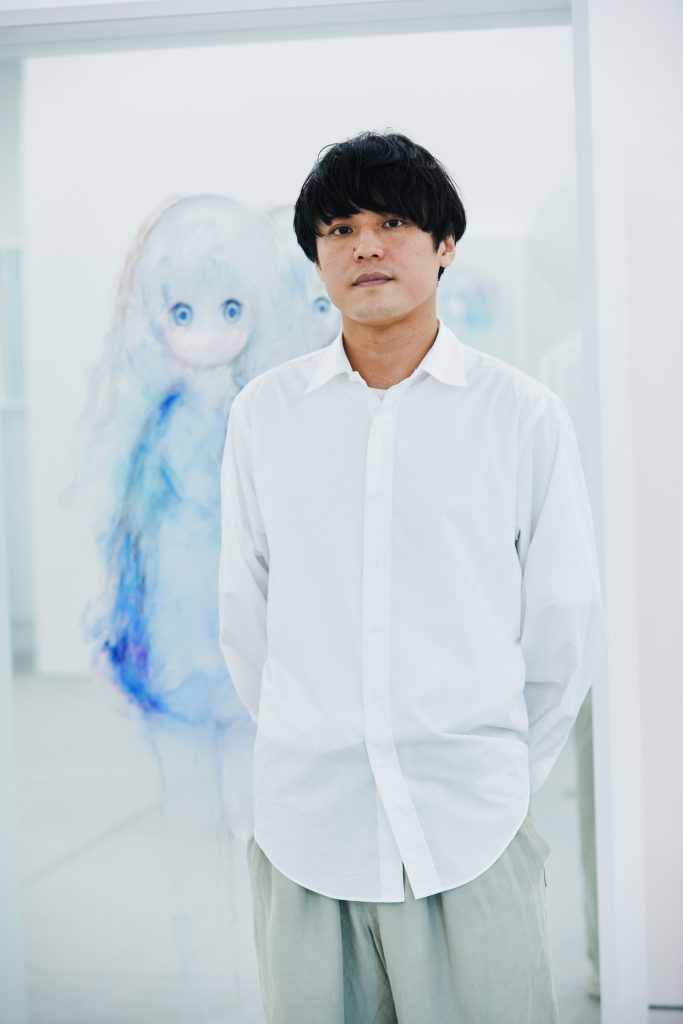 Makoto Taniguchi
Born in Tokyo in 1982, Taniguchi graduated from Tokyo University of Arts, Intermedia Art Course. He has participated in 美少女の美術史(Art History of Beautiful Girls) (Aomori Museum of Art, Aomori / Shizuoka Prefectural Museum of Art, Shizuoka / Iwami Art Museum, Shimane / National Taipei University of Education Beishi Art Museum, Taipei, 2014-2015, 2019), Takahashi Murakami's Superflat Collection – From Shōhaku and Rosanjin to Anselm Kiefer- (Yokohama Museum of Art, Kanagawa, 2016), TOKYO POP UNDERGROUND (Jeffrey Deitch, NY / LA, 2019) and other exhibitions in Japan and abroad.

Official website: http://makototaniguchi.com
Twitter: @makototaniguchi
Instagram: @makototaniguchi
Photography Kousuke Matsuki