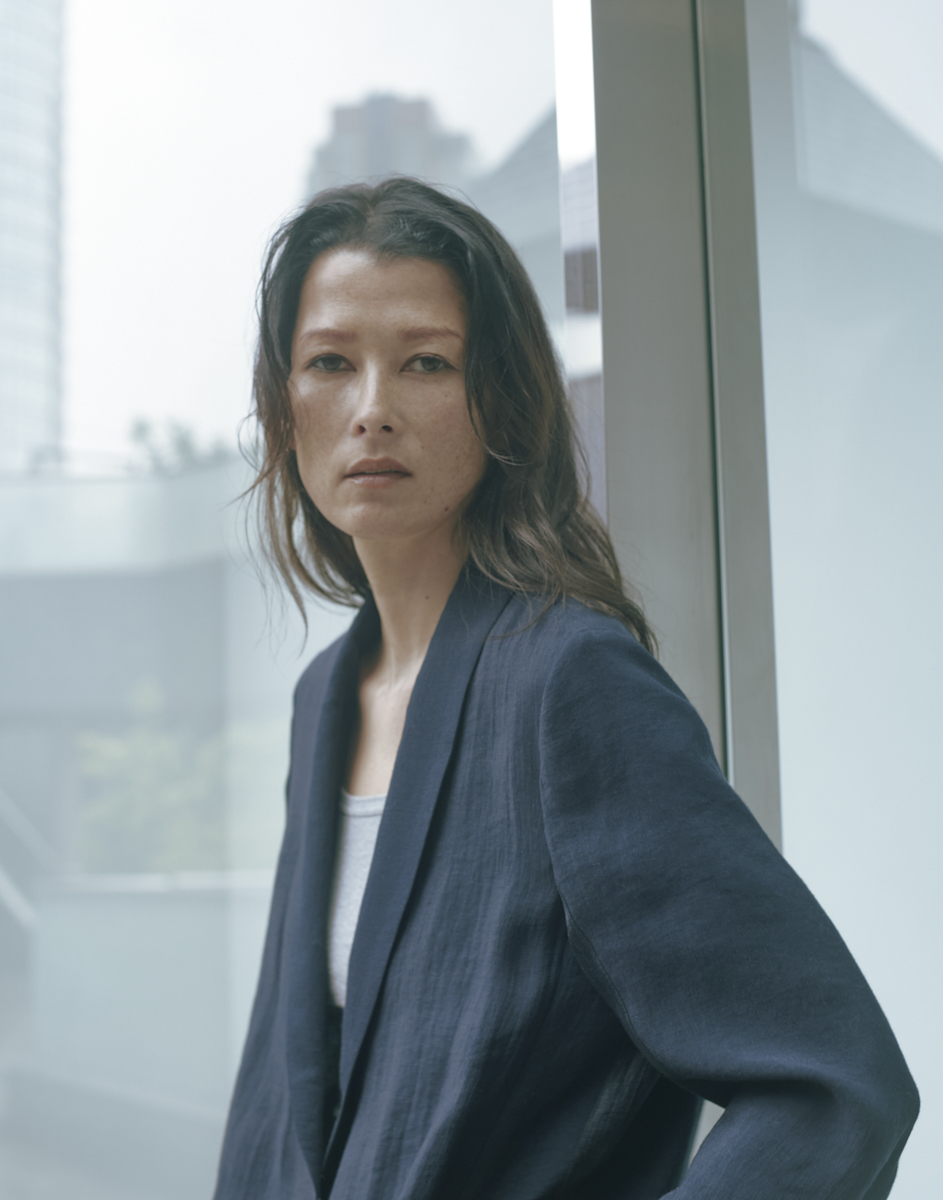 Fashion model Angela Reynolds currently acts as Director for contemporary art gallery PERROTIN Tokyo. She started her fashion modeling career at the age of 14 and later relocated to London, England at the age of 20. She has appeared in numerous magazines including Vogue Italia, British Vogue, Jalouse, Dazed & Confused, Numero Tokyo, Harpers Bazaar Japan, and Ryuko Tsushin, as well as runway shows and advertisements for Shiseido, Nike, and Uniqlo, and others.
Following her successful career as a model, Angela ventured into freelance journalism. It was during this period that her encounters with the world of contemporary art left a profound impression, propelling her to challenge herself in yet a new world, despite lacking prior experience in the art industry. We spoke with her about her motivations in pursuing a career in the art world, especially after transitioning from a different industry.
–What made you step into the world of art from modeling?
Angela Reynolds (Angela): It all began when I started feeling uneasy about receiving compliments at every photo shoot, as a model. At the age of thirty, I felt a sense of crisis and felt that my inner self would stagnate unless I had more challenge and discovery in my life. If I was going to continue on my path as a model I knew I needed to explore new avenues of self-expression. I became involved in various Not-for-Profit Organizations, began writing articles, and collaborated with brands in jewelry and fashion design. I particularly loved writing, and decided to venture into freelance journalism. I preferred to write for foreign magazines where I was not recognized for my identity as a model.
As I interviewed creators in various fields such as architects and designers, I often found them discussing fine art. Despite my extensive research prior to conducting these interviews, time and again I felt my knowledge of art and artists was insufficient to dig deeper during the precious time I had with my subjects. I immersed myself in study so I could better understand the individuals I was interested in. The more I frequented galleries and museums, the more captivated I became. Even if I initially didn't feel a strong connection to a particular artist or style, I often discovered a profound connection once I saw the artworks in person and gained some knowledge about the artist. Within this process of discovery, I felt the tremendous potential and energy of art, leading me to yearn to be involved in this industry.
–How did you learn about art?
Angela: I actually had no prior background in art. However, my English ability gave me the opportunity to speak to visiting artists and art professionals at gallery openings, especially at SCAI THE BATHHOUSE gallery which I regularly visited. I attended many of their openings and sometimes did some translating for them. One day at the gallery, I was struck by a work by Apichatpong Weerasethakul, and, completely captivated by its magic, I found myself asking the gallerist for an opportunity to be more involved in the gallery. After some persistence on my part, Mr. Shiraishi, the gallery owner, kindly agreed to give me a trial period. Without any formal training nor prior experience working for any company, I started out by taking on miscellaneous tasks. Gradually, learning on the job, I built up my skills through lots of trial and error. I failed again and again, but I knew I had to pull through. Those were days of intense training.
Challenging a new world in her 30s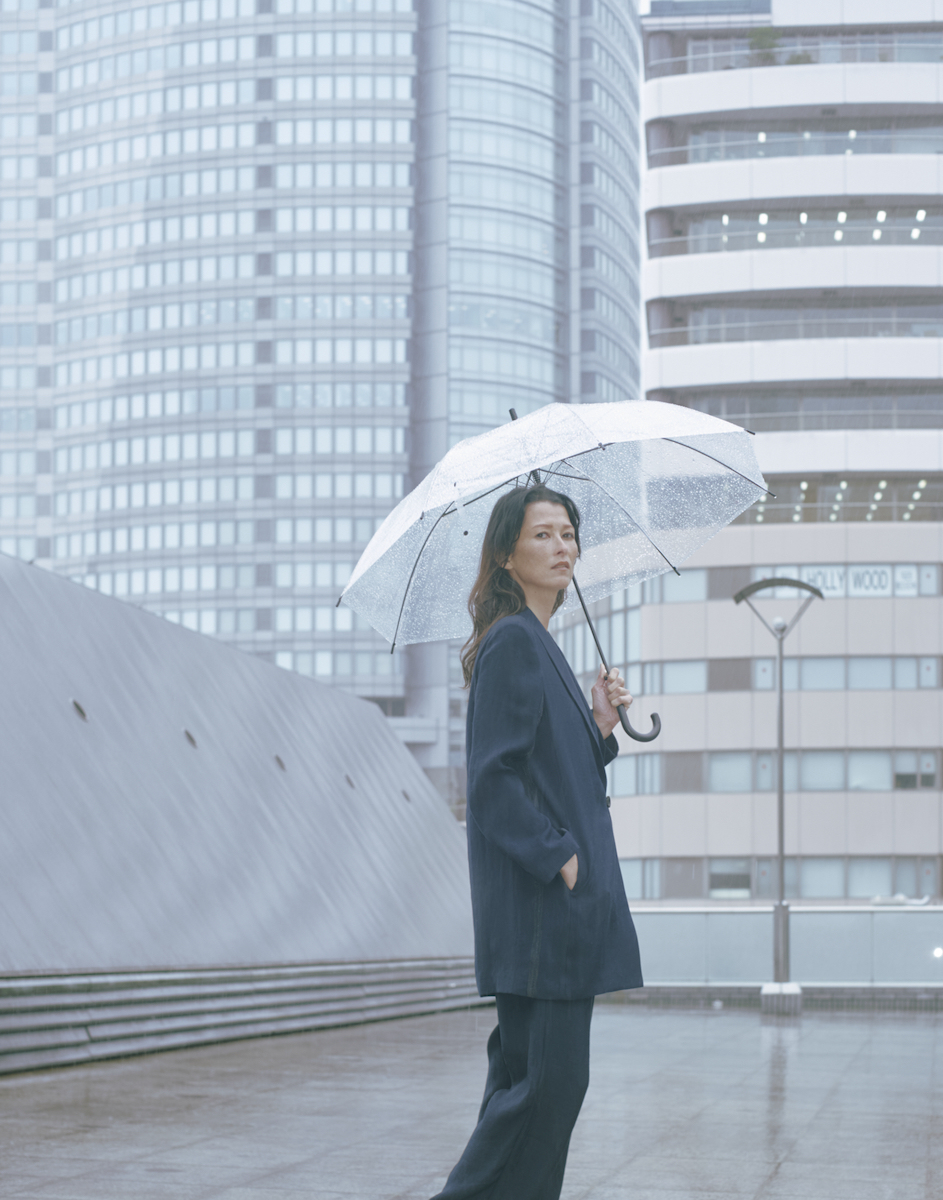 –As you get older, don't you feel uneasy about taking on new challenges?
Angela: On the contrary, I aim to remain active well into my seventies, so I don't have any hesitation about pursuing new ventures. In fact, I am the type of person who thrives on taking on new challenges. Before I entered the art industry, I visited UNHCR refugee camps, traveled to Rwanda as an ambassador for Table for Two – an initiative that provides school lunches to children in developing countries — and journeyed to Bangladesh for a project with the fair-trade clothing brand People Tree. I've learned that if you don't challenge yourself, you cannot fail; if you don't fail, you don't experience the deep joy and learning that comes from growth. Learning fosters gratitude, humility, and an understanding of the struggles faced by others. What I find through constant self-reflection and challenge is to me more meaningful than the stability of a familiar environment. This is what propelled me to dive into the art industry.
–Along with being Director, you act as an artist liaison at PERROTIN. Could you tell us about this work?
Angela: An artist liaison's role is similar to that of an artist manager. We take a long-term approach to view and manage artists' careers, creating presentation materials to introduce them to museums, clients, and institutions, determine prices on artworks, facilitate connections with various individuals, assist with production research, attend exhibition openings, and so on. We try to provide comprehensive support in any way necessary to each individual artist. At the moment, I am responsible for three artists at Perrotin — Eddie Martinez, Barry McGee, and Mark Ryden.
–What criteria is applied when selecting the artists you work with?
Angela: The selection process involves extensive discussions among PERROTIN's global directors. We approach the decision-making process with a long-term commitment in mind, as the relationship with an artist is intimate and formative for both sides. Therefore, we invest significant time and consideration in assessing various factors before finalizing our selection.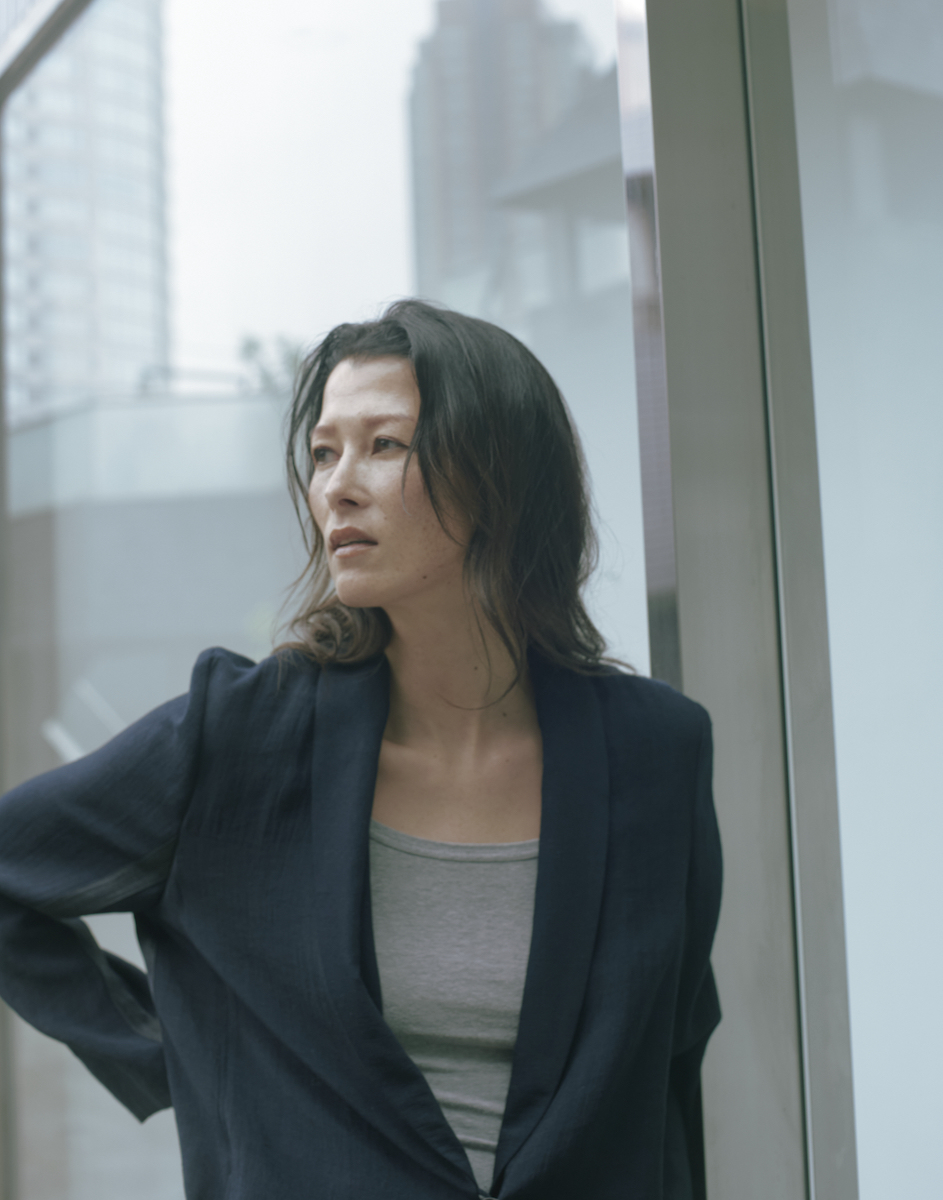 –What is important to you in building a relationship with an artist?
Angela: One primary aspect I prioiritise is understanding the boundaries of an artist's creative territory. It's crucial to determine early on which areas I am allowed to navigate and which areas I should avoid. Drawing from my experience in modeling and having support from a manager, I've learned how to be attentive to the sensitivities and preferences of individuals. Artists often possess a heightened sensitivity and a rich and unique worldview, and it is important to respect their natural way of being and honor their personal space in order to foster a strong trust relationship.
–It shows how sincere you are working with artists.
Angela: Thank you for your kind words. When it comes to working with an artist, I truly believe in treating them with utmost love and respect. Every artist I've had the privilege of working with pours their heart and soul into their work, and it's only fair that I reciprocate that dedication. This mindset extends into my daily life, especially in interactions with people and situations that seem unfamiliar or complex to me. This is something I strongly felt during my battle with terminal cancer in the past. While I was recuperating in London, the effects of anticancer drugs caused my hair and nails to fall out. However, with the help of a wig, I could conceal my illness from others. This experience reminded me that even the person assisting us at the supermarket or our neighbor may be silently struggling with their own health issues. It's a powerful reminder that many people around us are enduring immense hardships, even if we are unaware of their battles. Since I realized this, I make a conscious effort to approach others with empathy, remembering that everyone carries their own pain, experiences, and something they deeply cherish in their life. We are all fighting and striving to survive.
–In your personal life, you are a wife and mother; how do you maintain a work-life balance?
Angela: Navigating life's transitions and deciding how to move on to the next chapter is a deeply personal journey. When one starts family life, one's relationship with work significantly changes. While I hold immense value and passion for my work, I've learned the importance of setting clear boundaries that allow for dedicated time for myself and my family. At first, I grappled with finding this balance, but eventually I discovered that equivalent (sometimes better) results can be achieved even under restricted conditions. Until then, I had believed that relentlessly dedicating my waking hours to working and studying was the only way I could fulfill my responsibilities – especially given that I had been granted the opportunity to work in a remarkable gallery with exceptional colleagues despite my lack of experience.
–I got the impression that you are a person of such a strict self-discipline.
Angela: Oh, really (laughs)? I actually think I have quite a laid-back personality, but perhaps I've developed a knack for pushing through adversity. In life, we all experience moments of feeling inferior, thinking we're not good enough or comparing oneself to others. But that self-image is merely a selfish illusion, based not on actual results but judgements derived from unchangeable past experiences. It's important to drop that critical image and simply act constructively towards the next step. Creating a favorable environment can completely reshape our experience and the value of our contributions.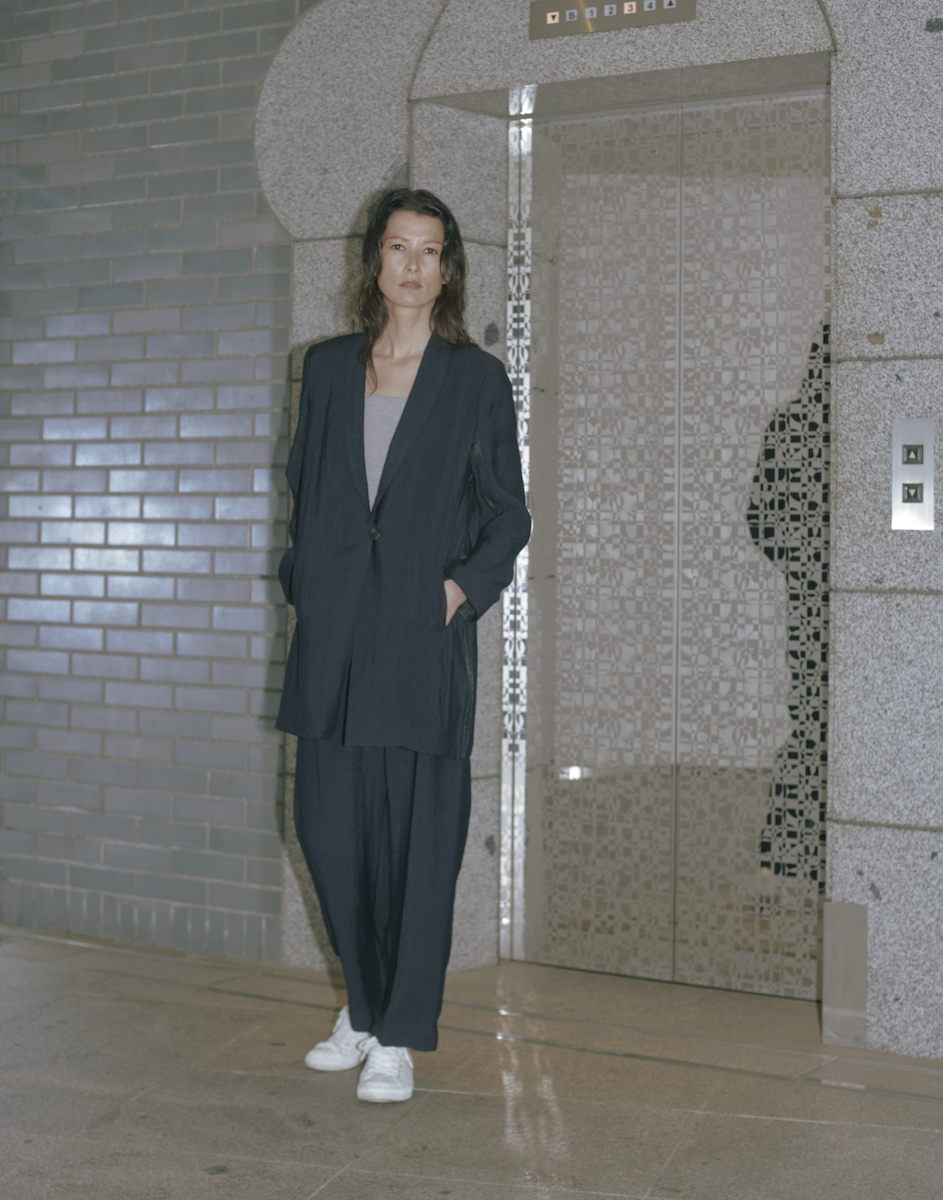 — Finally, what do you think is the power of art in times of turmoil, when we have pandemics, wars, and earthquakes?
Angela: Art plays a vital role during uncertain times. Even in times of peace, people feel pain and emptiness, search for meaning, and experience conflict. Art in its various forms can rescue us from such suffering, either for a brief moment's solace, or sometimes definitively shifting one's perspective. For instance, sitting in front of your favorite painting, the tears flowing down your face can save you. The same can be said about music, movies, theater, and other artistic expressions. Connecting with the oasis of the heart through artwork revitalises our energy, offering respite from the challenges we face and giving us the courage to go back and confront them.
Photography Anna Miyoshi(TRON)
Hair & Make-up Mikako Kikuchi(TRON)

Jacket ¥29,000, Pants ¥19,000 / supplied by styling/ (styling/ Lumine Shinjuku 1/ 03-6302-0213), other items worn by Angela are her own