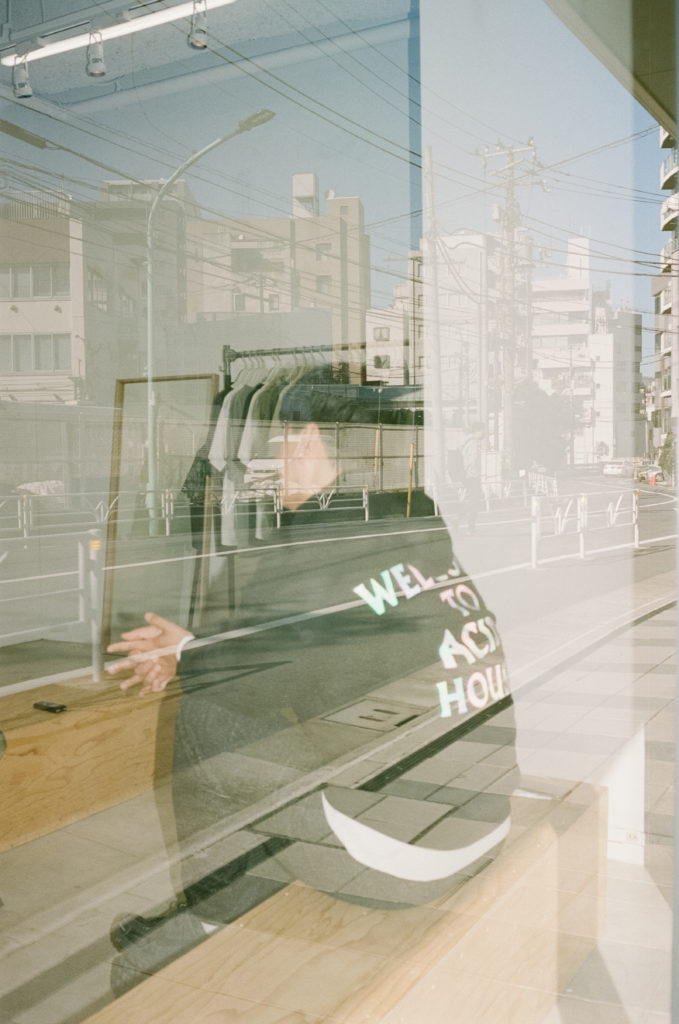 Designer Tsukasa Kudo of kudos / soduk doesn't usually make media appearances, but when I chat with him in person, he's actually quite charming and a great conversationalist. He was raised in Naha, Okinawa by his grandmother, who he used to accompany on trips to the tailor. In high school, he studied abroad in America, where he was encouraged by his host family to follow his dreams. After a long, winding road to becoming a fashion designer, these days, he works out of Tokyo as the designer behind men's brand kudos and women's brand sudok. 
At every fork in the road, one person or another has been charmed enough by Kudo's personality to guide him out of the dark, bringing out more of his potential. And in a time where it's become commonplace to wear many hats, Kudo imagines people through clothing as a fashion designer, and preserves memories through moments as a photographer.
——After being born and raised in Naha, Okinawa, you found yourself in the US, Antwerp, and Paris, before finally returning to Japan three years ago and launching your own brand. I heard that you first encountered fashion as a child, at the tailor you went to with your grandma.
Tsukasa Kudo: That's right. My grandma loved clothes, and we often used to go to a tailor on this old shopping street in Naha. At the time, I didn't even know what a fashion designer was, but even at a young age, it was like magic. I was shocked by the fact that something started as a piece of fabric, but if you came back two months later, it would be an article of clothing.
——That experience sparked your interest in fashion, and since then, you've worked in various countries. In spite of all the twists and turns, why didn't you give up on the road to becoming a fashion designer?
Kudo: Because of my experience with the host family I met while studying abroad in the US for two years in high school. When I lived in Okinawa, I was diligent and thinking about getting a job. But when I lived with that host family, and I confessed that I liked fashion, they were really supportive. That was a big turning point for me, where I was able to free my mind and realize that having something you really want to do isn't a bad thing.
——16 to 18 is around the age when our core interests and outlook on life are determined.
Kudo: My host family also influenced the way I put graphics on my spring/summer collection hoodies and long-sleeve shirts. When I was in Japan, I liked J-pop idols. But my host family loved hip hop so much that they would play MTV in every room 24 hours a day, and thanks to that, I got into hip hop and R&B. Even now, that culture is at the core of who I am, and kudos puts out items that are inspired by that culture. So people ask me if the brand universe is "street" or "trendy," but I like both, and hip hop culture is the foundation of my brand.
——So with the encouragement of the host family you met as a teenager, you graduated high school thinking you'd enroll in fashion school, but then there were some twists and turns.
Kudo: I was inspired by this American drama, Project Runway, and I was planning to enroll at Parsons, but my parents convinced me to come back to Japan. At first, I thought I'd enroll at Bunka Fashion College, but when I toured the school, I was overwhelmed by how high-level it was. In the end, I enrolled at Waseda University, but I couldn't get used to the Tokyo university atmosphere, and didn't get into Waseda University's Seni fashion club. But I still couldn't abandon my dreams of becoming a fashion designer, so I thought that once I graduated, I'd study abroad again to study fashion. So after I graduated, I was able to enroll in the Royal Academy of Fine Arts in Antwerp, Belgium. And when I got to the school, I looked around and realized that I was the only first-year student who couldn't make any clothes at all.
——A difficult experience, but even more so at a competitive European school…
Kudo: That's what I thought, but my friends from class were supportive. For example, when I was submitting an assignment, Rushemy Botter, the designer behind BOTTER, would always help me out. (laughs) Of course, my teachers could see right through it…Even during a presentation assignment that was a final for the whole year, about 10 friends from class all came to my house to help. I couldn't make anything, so I basically just offered them tea, snacks, and encouragement. Looking back on it now, I've been dependent on others since then. (laughs)
How Kudo's experience at Jacquemus influenced his image of a designer
——You're very charming. (laughs) Later on, what led you to work at Jacquemus and Y/Project in Paris, as well as JW Anderson in London?
Kudo: Ultimately, my teacher found out that I hadn't made what I submitted myself. When I was deciding whether to quit or repeat that year, I thought about the kind of designer I wanted to become and remembered the tailor I would go to with my grandmother. So I decided to go to pattern-making school in Paris, and started an internship at Jacquemus. After that, I worked at Y/Project as a pattern making assistant, and JW Anderson as a design assistant.
——You've worked with a lot of brands. Which brand had the biggest influence on you as a designer?
Kudo: That'd be Jacquemus. People often say that the first brand you work at determines your personality as a designer. At the time, Jacquemus was just starting to garner attention after the 2016 spring/summer season, and there were only five people on the brand team. The designer, Simon [Porte Jacquemus] would keep coming up with ideas, occasionally buying us coffee. It really felt like a family. Since we were only five people, I had to work really hard. So it was a place to put everything into practice, and I learned more there than at school. And as a designer, I think I was influenced by Simon's personality.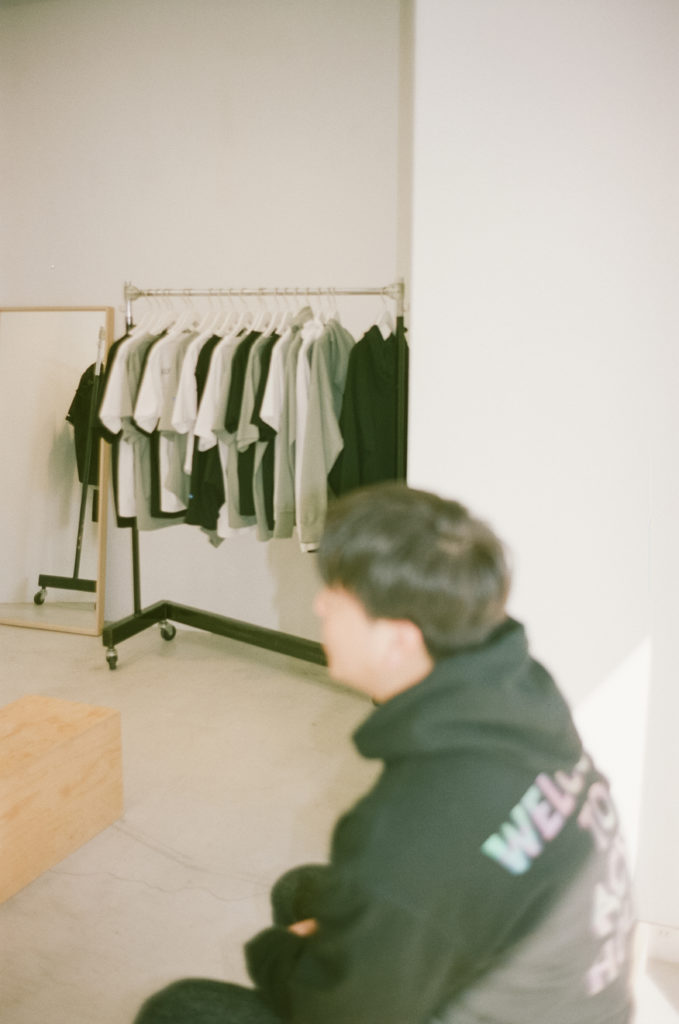 ——That was a time where Paris was going through various changes, like the rise of VETEMENTS and starting to street cast models through Instagram.
Kudo: Yeah. It was a time when small brands were in friendly competition. I witnessed people criticizing a raincoat that said, "VETEMENTS," and then half a year later, that same raincoat became valuable. And I was surrounded by other fashion designers such as Mao [Usami] of Sirloin, who was at Louis Vuitton, Hashimoto of Yuki Hashimoto who was at Maison Margiela, Gushiken of Kota Gushiken who was at Dior, and Wataru of Wataru Tominaga who was doing a residency at an art museum. Everyone's life was based around brands and work. Looking back on it now, it was a hot place to be. Everyone is working in Tokyo and other places now, which is nice.
——With that inspirational environment, were you already thinking about launching your own brand from the time you were in Paris?
Kudo: It was the opposite. I became exhausted by the fact that there were so many people who were naturally more talented fashion designers than me. I started to think that rather than start my own brand as a designer, it'd be nice to be able to be involved as an assistant. On the other hand, I'd been taking photos since I was a university student, so I thought maybe through that, I'd be able to work at a fashion magazine. So after I came back to Japan, I first went to show Junsuke Yamazaki of FREE MAGAZINE my photo portfolio. I started talking about how I made clothes, and he ended up liking my clothes much more than my photos, so he contacted a PR agency right then and there. And even though I didn't even have a brand name at that stage, it was decided that I'd have a show. (laughs) I started without a name, and stylists would use my clothes for magazine shoots, but I had no idea how to mass produce or sell clothes for the first six months.
———But this was another instance where you received support from everyone, and your dreams came true.
Kudo: That's true. Until then, I mainly helped make clothes that other people designed, so I hadn't thought I'd be a designer. So although I was embarrassed, at the same time, it gave me confidence.
The difference between completing a photo and clothing
——Listening to you talk about your career until now, I get the sense that as a fashion designer, communication with people influences your final decisions. On the other hand, taking pictures is quite spontaneous, something you do with the click of a shutter. Is there any difference in the way you feel when making clothes versus taking picture?
Kudo: When I look back on a photo, I think about how beautiful of a moment I spent with this person, in this place, and I sometimes feel like I'm going to cry. In that sense, sometimes I get sad the moment I click the shutter button. That it's already in the past. (laughs) It's completely different from how I feel during the creation process with clothes. With both, there's a commonality in that they both require you to think about another person or have an object in mind, but there's something pure about how when you take a picture, you're deciding to complete it at that moment.
——When do you consider clothing "complete"?
Kudo: You can't see the final result of clothing, so it's not common that you get to see the process up until someone is wearing it. There's a sense of luxury in that abundance of imagination, and on the other hand, sometimes there's a sense of excitement. Once in a while, after some time has passed, I see someone on the street wearing something I made, and that makes me feel the same as when I complete a picture.
——You took the photos for kudos' season visuals yourself. I can tell you're very particular about your style, like casting people who aren't professional models.
Kudo: If the models aren't people I know, or people I have some relationship with, I can't take good pictures. When I take pictures, communication is important to me, and the casting is also very important. That might be what creates the kudos style.
——You make both men's and women's clothing, but what kind of shared aesthetic do you want to have with your clothing going forward?
Kudo: Clothing that still has traces of personality. I'm the type of person who goes to Tanpopo house [Japanese thrift store] or Paris' thrift store Guerrisol to pick out what I like from the miscellaneous items rather than from high-end brands. For example, I've had customers wear clothes from my first season in a way that fits their personal style. So in the same way, I'd be happy if someone really owned my clothing to the extent that a few years down the line, even I would ask them, "Where is that from?"
——In part due to the influence of the coronavirus, I feel that after this year, we'll see even bigger changes in the span that clothing travels. How do you plan to develop your collection in the future?
Kudo: I understand that fashion is a fragile system, but I'm currently trying to figure out what to do going forward. Honestly, even more so because I was thinking of doing a show overseas for my next collection (2021 spring/summer). While I think that we'll stop saying spring/summer, fall/winter in the future, I'd ideally like to release a few styles every month depending on the season.
——You witnessed the past few years in Paris, where luxury and street brands alike went through changes. Since returning to Tokyo, how do you feel about the fashion scene here?
Kudo: Normcore and casual styles were common for a while, but recently, I feel like there are more kids in their early twenties who are interested in fashion again. Japanese models who were street casted through Instagram, walked in Paris for brands, and then after coming back to Japan, started creating culture here with their other young friends, partying until the morning. With the coronavirus, it's still unclear what the future holds, but I have a feeling that good old Tokyo is making a comeback.