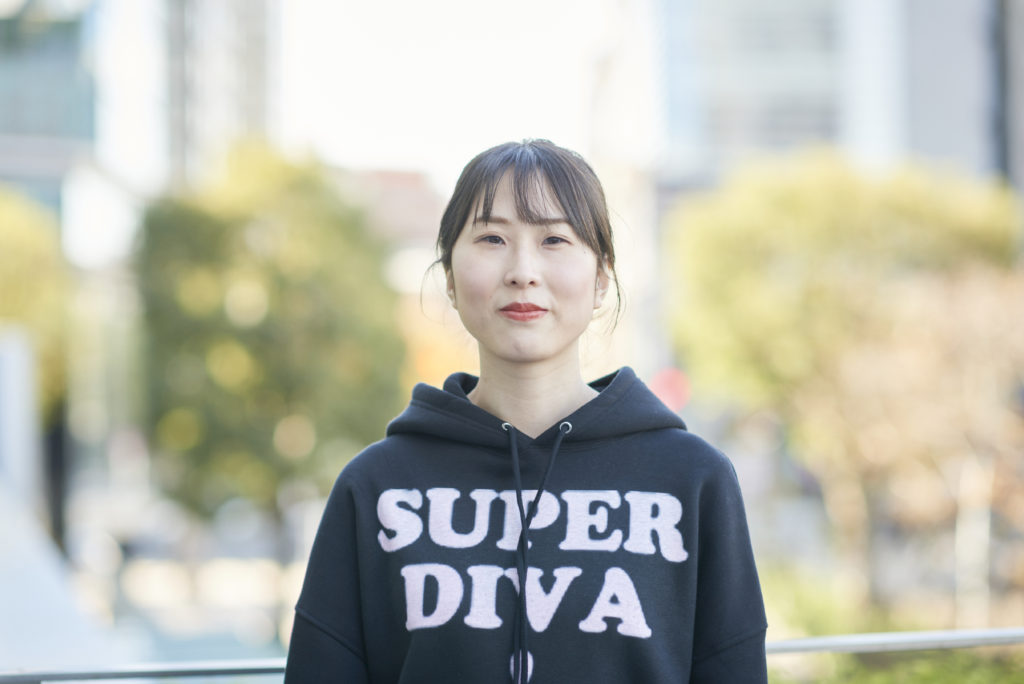 Waffle CEO Sayaka Tanaka and co-founder Asumi Saito are working to close the large gender gap in the tech industry and STEM fields by providing educational opportunities in IT for middle and high school girls. Their work has been attracting attention, winning the Special Award (SDGs Partnership Award) in the 4th "Japan SDGs Award."
In Japan's tech industry, under 20% of engineers are women. Japan also has the lowest share of female undergraduates in STEM fields among 37 OECD member countries. Starting this year, programming has become a mandatory subject in Japanese elementary schools. So why is there such a large gap? TOKION talked to Sayaka Tanaka about the relationship between education and the gender gap in the IT/STEM fields.
The impact of parental gender bias
――How did you start Waffle?
Sayaka Tanaka: I went to a liberal arts university, and after graduation, I worked at a TV production company. Then, after two years as a freelancer, I started working for the NPO Minna no Code [Code for Everyone]. They offered programming education geared towards elementary school students, and I noticed that although elementary school boys and girls both enjoy programming, the girls stop participating for some reason after entering middle school. So we started programming and career events for middle and high school girls. Through that, I got to know Asumi Saito, who was working as a data scientist, and in November of last year, we established Waffle as a company.
――Had you always been aware of gender inequality?
Sayaka: To be honest, I became aware of feminism when I started working. I realized the uneasiness I'd been feeling was caused by gender roles and the gender division of labor. For example, when I studied abroad in Canada, I saw fathers co-parenting and thought, "If this is ideal, why wasn't my family like this?" And my first job was in the TV industry, where the directors are all men, so I felt limited as a woman. The lack of women in the tech industry is also an effect of gender bias. When you notice one thing, you start noticing all kinds of things, one after another.
――What are the main causes of the gender gap in the tech industry?
Sayaka: Gender bias is a primary factor. It's common for the only adults a middle schooler comes in contact with to be parents and teachers, so it's easy for just a few adults to have a strong influence. Some of our parents' generation are still focused on education or qualifications, and it's not uncommon that they hold unconscious gender biases like, "You're going to get married and become a housewife, so you don't need a high level of education." We've had students tell us, "I want to become a data scientist, but my parents say, 'Can a woman make ends meet with that job? If that's the path you're going to take, I'm not paying for your tuition.'" Parents sponsor our career paths, so that kind of thinking has a big effect on women's futures.
――So our parents' generation has to update their beliefs too.
Sayaka: Data shows that mothers have a big influence on female students in particular. When I spoke at the event, "How does parental advice impact girls' futures?" by the organization Hahaoya Update Community, many people commented that they realized they had their own biases, or that even seemingly insignificant things can have an impact.
The education gap isn't just an economic issue
――Waffle's work targets girls in middle and high school. Why is it important for girls to learn at that age?
Sayaka: In America, you decide on a major after you enter university. But in Japan, to some extent, you pick whether you'll go into liberal arts or science in high school, and you have to choose your major by the time you enter university. So girls need to have the option to pursue work in IT from the time they're in middle and high school. I believe it's important for them to experience it firsthand, and then make the connection between what they're learning and jobs. Waffle has an online program called Waffle Camp that offers coding lessons and community.
――In a world where many people don't feel any connection with technology, how do you get people interested?
Sayaka: We create opportunities through free events. Recently, Amazon Web Services (AWS) held an online programming event for girls 8 to 24 years old called "AWS Girls' Tech Day." We partnered with them on finding attendees, and several hundred people participated. Also, we held a free "Technology x Art" event with Sputniko!, and about 150 female students joined.
――What kind of female students participate in these events?
Sayaka: The events are online, so there've been many people from places outside of Tokyo like Okinawa, Iwate, and Miyagi. It's important to be able to reach people in the countryside, but the girls who know about these events already have an interest and are able to look into the events on their own. There's an opportunity gap for girls who don't know anything about the tech industry in the first place. It would be more accessible for some people to get information if it came from local governments, so I'd like to partner with local governments in the future. There's also the challenge that if we only have people who are already interested in participating, the participants will only be people who are financially well-off. So I'd like to bring this to public schools that have people from all walks of life.
――Do students ever talk to you about their financial concerns?
Sayaka: People have talked to us about not having a computer at home. The international app-building competition, Technovation Girls, that opens next January is free to join, but you can't participate if you don't have a computer. I'd like to partner with a company to rent them out.
Also, students come to us not only about financial concerns, but also gender concerns. We say that we're geared towards middle and high school girls, so there are people who are worried that they can't apply because they're not sure if they identify as female. So in the application requirements section, it says, "Those who identify as female, transgender, non-binary, and gender nonconforming," but there are still times when I'm unsure of the best way to word this.
The realization by girls that "they can pursue whatever they want."
――Are there any mental hurdles preventing middle and high school girls from learning about technology?
Sayaka: One time, there was a student who was incredibly high-performing, even from an adult's perspective, but she said she wasn't going to pursue IT. When I asked why, she replied, "I don't feel like I can be like my older or younger brother, who love programming as much as I do." There are times when the girls don't personally feel it's an issue, but they quit because of the influence of the people around them.
――Is the lack of female role models an issue?
Sayaka: In other countries, they often say, "You can't be what you can't see." You don't often see women in the tech industry, so it's hard to imagine. So at Waffle Camp, we have real women working in the industry talk about what they do. A lot of girls told us they had the profound realization that it wasn't just about the job search, but the realization that they could pursue whatever they wanted.
Also, even if you don't necessarily pursue IT as a career, if you learn about it, you have the option of combining it with something you like. For example, there are students who want to help people with disabilities, and although they'll major in that in university, they want to use technology to help people with disabilities.
The industry's gender gap "is also bad for men."
――What is the state of the tech industry's gender gap globally?
Sayaka: The gender gap is an international issue, and even the percentage of female engineers at GAFA (Google, Amazon, Facebook, and Apple) is around 20% [Amazon's numbers are undisclosed]. But there's widespread awareness of the issue. In Japan, the government also understands the importance of educating people in the tech field, and various universities are putting together curriculums that integrate the humanities and sciences. For example, even if you're studying liberal arts at Ochanomizu University, they'll issue you a certificate if you complete classes in a data science certification curriculum. So even if someone is a liberal arts student, it's easier to try working as a data scientist, and they have the option of working in IT. It's great to have the option, isn't it?
――What kinds of tangible problems are born out of the lack of women in the tech sector?
Sayaka: There are a lot of things in the world, not just in tech, that were made from a male perspective. In the past, seatbelt tests used male dummies and clinical trials used male subjects, so sometimes things weren't suitable or could be dangerous for women or pregnant women. When women aren't included in developing technology, that process can become unintentionally centered on men. Also, some women working in the industry feel that sexual harassment is prevalent and that it's difficult to have their opinions heard.
――Is awareness of this issue increasing within the tech industry?
Sayaka: I feel like even men are becoming more aware of this issue. Anri Samata, who founded the venture capital company ANRI, is a great example of that. Around the summer, Nina Ehara, a female associate at ANRI, pointed out that there were structural issues around the gender gap in the business world. And in response, ANRI announced that they would increase the percentage of women-led companies to at least 20% of all investments in the fourth fund they were managing. I get the impression that entrepreneurs are starting to become more aware too, partly due to Samata's influence.
Also, at the companies that Waffle works with, even many of the men are aware of this issue. And at first, my partner was like, "What's the gender gap?" but he has a deeper understanding after I've educated him on various issues, and it seems like he's started to think this is also bad for men.
Creating change by working with local governments, federal governments, and our parents' generation
――You're not only doing work geared towards students, but also making appeals to local and federal governments. You made some public comments on the draft of the fifth basic plan for gender equality. What were the reactions like?
Sayaka: In order to close the gender gap in the tech sector, we need to change the culture and structure of our society, and change our society on a fundamental level. In the recent youth report*, Waffle put together public comments on the fourth area, "Gender Equality in Science and Technology, and Academic Fields." To give an example of something we included, there's a trend that 70 to 80% of science and math teachers are men, which can potentially give girls the impression that "Science and math is something men do." Actually, at girls' schools with many female teachers, it's more likely for a higher percentage of girls to pursue science and math. So as part of our plan, we wrote a statement asking for the addition of an initiative for a teacher-training curriculum that increases the number of female teachers in science and mathematics.
In the recent November formulation of the fifth basic plan for gender quality, the report actually included recommendations from the youth! For example, in "Training the next generation of women in science and technology," they added the line, "1) Strengthen education in AI, IoT, and other IT fields to realize Society 5.0."
In the area of gender equality, the Minister of State for Gender Equality, Seiko Hashimoto, and the people involved have been more attentive to young people's opinions than I imagined, and I've realized that we can change our world if we work hard enough.
――What kind of work do you plan to do in the future?
Sayaka: It was really valuable that within a year of starting our organization, we were able to work with large corporations like Google and Oracle, as well as make policy recommendations. Next year, I want to reach people who are economically disadvantaged or have fewer opportunities, so I'd like to work in collaboration with local governments and schools. Also, we're basically the only people doing this kind of IT-related work in Japan. Instead of doing everything from start to finish on our own, I'd like to expand and create a system that makes it easier for all kinds of people to get involved.