When we look at the relationship between music and fashion, as well as between fashion trends and youth culture, we get a clearer understanding of the times we live in. In this series, Tsuya-chan, the writer behind the article, "2010s Analysis: A Look at Trap Music, Fashion Trends, and More," analyzes current cultural events by examining contemporary music with a focus on Japanese hip-hop.
Following Tsuya-chan's previous article, the subject of her sixth installment is Chanel. Through the lens of contemporary hip-hop and while referencing lyrics, Tsuya-chan gets to the bottom of Chanel's "unexpected partner" that rappers have been rhyming about.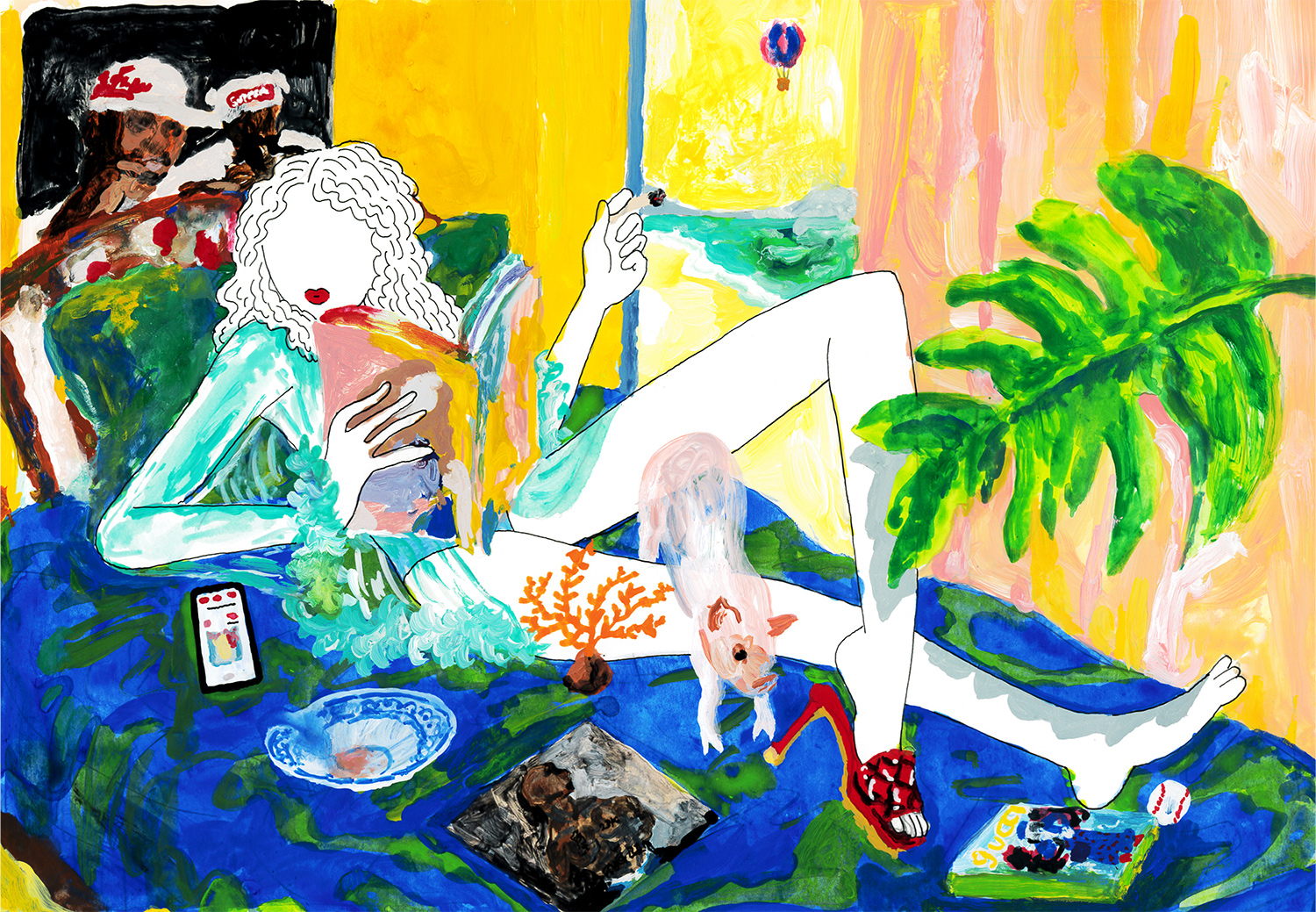 In my previous article, I explained how Chanel is a fashion house that has celebrated women, expressing its metaphorical and hedonistic nature through its shows and collections. These elements are also expressed in lyrics by Frank Ocean and BAD HOP, artists who are popular in today's street culture.
This time, I'd like to take my analysis one step further. In the fourth volume of this series, I discussed the intimate relationship between Gucci and the word "bitch," but there is also a word that goes hand-in-hand with Chanel; in the context of today's hip-hop, the word "cocaine" is unavoidable when talking about Chanel. The two words "Chanel" and "cocaine" may seem unrelated at first glance, but they aren't far from one another at all. In fact, they actually have an interesting connection.
Another meaning behind the word "Coco"
Back in the day, there were many songs about cocaine, such as Eric Clapton's "Cocaine." Meanwhile, in recent years, rap music, and especially cocaine, bring to mind several songs by O.T. Genasis. And in particular, the hit song "Coco," which Lil Wayne responded to with a freestyle, is named directly after the slang word for cocaine. The word "coco" has become recognized throughout the world as not only referring to the name "Coco Chanel" or a charming girl but also a broad term that can mean "cocaine."
The spread of this definition of "coco" began to pop up in Japanese rap music as well. DJ PMX's 2017 release, "MAKE MONEY" feat. ONE-G, Kayzabro (DS455), KOWICHI (From "THE ORIGINAL III") contains the following lyrics:
"Wearing Chanel, Fendi with French Dom Peri/Go ahead envy me/And Kush or cokies cokies/Bae from Cali/Real good Woo Wee/Wait a sec hold on/Already at the top/How about rolling up a hundo/I'm in love with the Coco"
The "coco" in "I'm in love with the coco" refers to cocaine, and putting "Chanel" in the same verse beautifully ties the two together, overcoming the seeming distance between these words. While these bold lyrics condense the wide range of meanings contained in the word "coco," Elle Teresa's "Chanel" featuring Yuskey Carter & Yurufuwa Gang, which dropped around the same time, takes that idea even further. As the title suggests, the song is about Chanel, but it has a complex structure that uses a clever metaphor to equate Chanel and cocaine.
The metaphorical and hedonistic nature of the lyrics by Elle Teresa and Yurufuwa Gang
At first glance, it seems like Elle Teresa is rapping about a colorful Chanel wallet with the lyrics, "Chanel wallet/4D pocket…Pink, blue, purple, yellow." But throughout the verse, the metaphor gradually unravels: "The coco that cute girl wants/The coco that's dangerous if overused/The Chanel that gets you high, not the stylish kind/The coco that's dangerous if you're too hooked." Yurufuwa Gang continues, "The important thing I put in my wallet/Of course Tarantino is my favorite director/Yeah I'm the main character of Pulp Fiction/You're crazy Mia Wallace/A princess dancing in the white snow." The lyrics refer to the scene where Mia Wallace snorts heroin after mistaking it for cocaine, causing an overdose.
The song's title is "Chanel," and the Chanel wallet represents the 4D pocket [Doraemon's magic pocket]. The white snow hidden inside, cocaine, is called "coco." This verse fully incorporates "Coco Chanel," while the 4D pocket is a metaphor for cocaine, which can get you high at will just like Doraemon's tools. Meanwhile, the music video illegally cuts and pastes Chanel's logo and Doraemon animations, further emphasizing the illegality of cocaine.
In addition to the layers of constructed metaphor, we can also see Chanel's characteristic celebration of women and hedonism in this song. Coco Chanel has built up a brand perception of empowering women, as seen in the following quote: "It would be very hard for a man to live with me, unless he's terribly strong. And if he's stronger than I, I'm the one who can't live with him." This is also the case in her garment creation, as mentioned in the previous volume. With an unprecedented and radical hand, Coco Chanel has historically adopted designs and materials that make it easy for women to move about. In this song, the protagonist is described as "Aspiring to be a mature woman/Standing a little taller with Coco Chanel today." Meanwhile, the man calls her "A princess dancing in the white snow/Of course she's high, looking intense/I'd die for you in a heartbeat." Behind the story where they're high off cocaine is the story of a man who becomes addicted to and falls for Coco as a woman, singing the praises of women. At the same time, the simple, rhyming lyrics and the hollowed-out trap rhythms, which seem to express a body destroyed by cocaine, lure the listener into an infantile regression and the ultimate pleasure. The song exudes a charm that leaves listeners in a state of shock, as if being continuously drugged.
The right way to pay homage to Chanel
In discussing this song, I'd like to talk about another brand marketing achievement by Chanel. This may come as a surprise today, but Coco Chanel didn't mind having her products imitated by her competitors; in other words, it's said that she approved of copy products. While it's completely just reasoning to say that "She wasn't afraid of being copied as long as she maintained a high level of quality," (Naomi Yokota, "20 Seiki Kara no Fashion shi Revival to Style," Hara Shobo, 2012) this stance also comes from an accurate understanding of the truth behind the brand business; even if copies are widely available to the masses, the brand's value as the top of the hierarchy will continue to grow. Similarly, I'd like to focus on this aspect of "counterfeit products" while looking at "CHANEL" feat. Yuskey Carter & Yurufuwa Gang. This song is a freestyle over the beat from Kodie Shane's "Drip On My Walk," but it's truly a copy. They not only borrow the beat, but also the flow from the style that was popular in the US at the time. To set the song's theme as Chanel is a fantastic tactic; an extremely on-point move that touches upon Chanel's aforementioned essence.
Lastly, for the reader who has made it this far: As you surrender to the stimulation of your brain and the pleasure of your body, you may want to lend your ear to Awich's widely talked about 2017 song, "WHORU?" feat. Anarchy. The lyrics go "All the wars that I incite/All my friends got strikes/I know the hysteria well/A girl possessed by Coco Chanel/The same ol' shit for days/Good things hidden in shades" Once again, "Chanel" represents both the brand and cocaine. To become addicted to the materialistic desire for brand names, to become addicted to drugs, that toxicity, an addiction that cannot be escaped. Increasingly, "Chanel" is transforming its meaning in hip-hop and on the internet, lending a narrative to works of music.
In any case, what kind of contribution has Chanel made to music in terms of sound? In the next article, I will analyze the rhymes associated with Chanel in detail, and attempt to uncover the secrets of the sound hidden in the many songs that add color to this era.
Latest articles of TOKION MUSIC