Kenta Cobayashi is an artist with a unique creative style. His work, which resembles abstract paintings, doesn't fit neatly into the existing framework of photography. He's attracted attention around the world, including a collaboration with Dunhill on the Spring/Summer 2020 collection and shooting the campaign visuals for Virgil Abloh's Louis Vuitton 2019 Autumn/Winter Menswear Collection. In this interview, Cobayashi reflects on his career and how his current style came about. He also speaks candidly to TOKION about what he's realized is important as a creator through his work in advertising.
From contemporary art to photographic expression
——Your work doesn't entirely fit into the framework of photography. What do you tell people you are?
Kenta Cobayashi: Sometimes I call myself a photographer, and sometimes I call myself an artist. I use a camera, but when I explain what I do, it's easier for people to understand if I just say I'm an artist. Plus, I'd like to create work without a camera in the future.
——You were originally interested in contemporary art, right?
Kenta: I went to Tokyo Zokei University for college, but when I first entered school, I wasn't thinking of doing photography. I studied painting in the Department of Fine Arts, specializing in "Wide Area Expression." Basically, it was a department focusing on the study of contemporary art, and the professors were people who made contemporary art, too.
My interest in contemporary art started after meeting a friend who liked contemporary art at my fine arts cram school. When I went to a party at Shibuhouse in the summer of my second year of high school, I thought contemporary art seemed interesting. And then I felt like in order to study contemporary art, I had to learn painting first, so I was doing a lot of drawing and oil painting at my cram school.
——When did you get into photography?
Kenta: I was uploading my work, like paintings and photographs, to my blog from around the time I started college. I was inspired to do this because I'd seen Yuki Ishida, who I met at Shibuhouse, upload photographs to his blog. At the time, I was taking pictures not out of any desire to become a photographer, but just as one form of media out of many.
I didn't actually start thinking about it until I met [Kohei] Oyama and [Daisuke] Yokota through a college class in 2012. They had a zine workshop, and at the time, I'd made a zine with photos I'd shot on film. Kohei told me that my zine was interesting. I gave him the URL to my blog, and then he invited me to a group show in 2014. That was the start of it all. In terms of age, I was around 20 or 21 years old. At the time, I was shooting on film.
——What do you shoot on now?
Kenta: A Nikon D800, a Sony α7 III I got from work, and an iPhone 11. Back in the day, I used to play around with Photo Booth on Mac. iPhone and Photo Booth pictures have a unique texture, which I find interesting.
A digital representation of the brush strokes from abstract paintings
——Did you always have the same style that you do now?
Kenta: At first, my photos were just snapshots. In 2015, I made a "Megazine" that was 1.6 meters tall and 2.3 meters wide. I'd read Thomas Ruff's thoughts on contemporary photography and thought size was important. I put together A3 copies of black and white prints to make a zine, and that's when I started seeing photography as an art form.
From the time I created that "Megazine," I started heavily manipulating photos in photoshop, and that was really interesting. That was right around the time I was looking at [Gerhard] Richter's "Overpainted Photographs," so I thought that finishing off those small, painted photographs in Photoshop would be interesting. Those kinds of experiments led to my current style.
——Your work is quite abstract. Do you work with a final image in mind?
Kenta: No, I don't. I think it's interesting to use photographs to create something that resembles abstract brush strokes. So I'll try manipulating a photo, and if the brush strokes take on an interesting shape, I'll go ahead with that. If they're not quite right, I'll erase it and start over. I take the base photo without thinking beforehand about how I'll manipulate it, and then I decide how to play with it afterward.
For me, the element of play is important, so rather than making calculations beforehand to create a specific thing, I use the photographs I have on hand and think about what I can do to make them interesting.
——How is the digital manipulation itself done?
Kenta: I use the smudge tool on Photoshop. It's originally a tool that blurs borders, and I change the settings on it. What I do is similar to what I used to do when I studied painting.
Exploring the beauty of human movement
——Your work blurs the lines between graphic art and photography. How would you define photographic expression?
Kenta: This starts to touch on something like cognitive theory, but thanks to the birth of the photography medium, we can visualize what we see and share it with others. If you reduce human cognition to the sense of vision, I think photographic expression is what allows us to reproduce that externally. Maybe that's why within software like Photoshop, our visual cognitive activity is reflected through bitmaps and layers. I think exploring that leads to an exploration of photography.
——Do you think that someday, you'll express yourself through methods that don't use photos?
Kenta: Yeah, I do. I feel like there's a limit to visual perception. I like the word "shashin" [Japanese for "photograph"]. The word "shashin" is written as "reproducing the truth" in Japanese. But what is the truth, anyway? I think it's "reality lived vividly." Photos can only express one thing: our sense of sight. So I think in the future, I might create work that can be experienced through all five senses.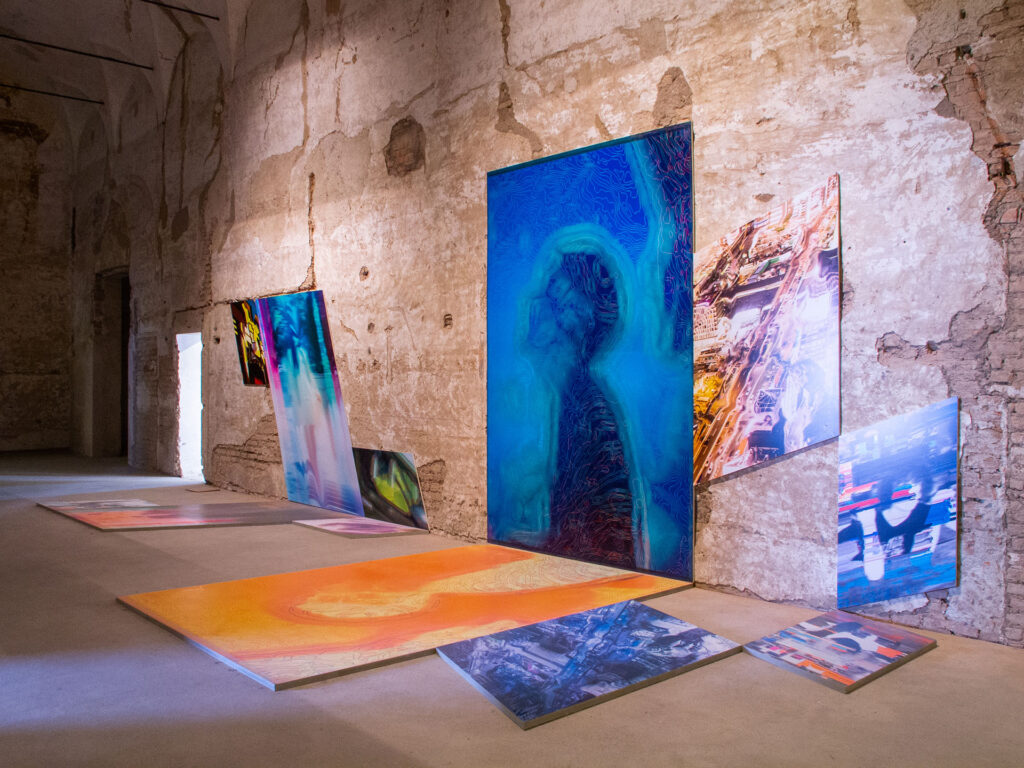 When you look at calligraphy, if you think about where the beauty comes from, it's not the meaning of the words, but the movement of the brush [brushstrokes] that's important. That's the beauty of human movement. My work is digital, but I still wanted to express that kind of beauty.
If you zoom in on a digital image, it becomes a bitmap [a grid], right? I think there's something interesting about how when I manipulate that, I cross over the grid and change it.
——It's a way of thinking that's unique to digital technology.
Kenta: I think I have a background in pursuing digital expression. I had a Mac at my house from the time I was born, and I used to play with the drawing tool and such, which influenced me. As I grew up, the technology evolved with me. That's why I feel that if I focus on digital technology, I can create new and interesting work.
——In the early days, you could tell that your work was originally a photograph. But recently, you have work that's covered entirely with brushstrokes.
Kenta: I've liked abstract paintings from the start, so I've always wanted to make work like that. But if I did that from the start, I thought that no one would recognize that the work was based on a photograph, so I gradually increased the level of abstractness. People are starting to recognize my style, so recently, I've been able to express myself in the way I'd always wanted to try.
——The colors are unique, too.
Kenta: When I change the saturation and white balance, colors that the human eye can't perceive come out. I like how during the color correction stage, I can start to see colors that I couldn't before, and I edit based on the colors that appear. When I paint, choosing colors comes first. But when I create colors based on the photograph, it's decided by chance, which I think is interesting.
——Although coronavirus has made this difficult, recently, you've been doing live performances where you digitally manipulate photos on the spot using your iPhone.
Kenta: The reason I was doing live performances was because I wanted people to recognize that physicality is important to my work.
On the impact of his work and the importance of being self-aware
——You've taken on more international commercial work, including Dunhill and Louis Vuitton. Do you have a different mindset when it comes to commercials versus personal work?
Kenta: Advertisements have detailed restrictions, but my mindset towards creation isn't any different. With Dunhill, I was able to have my work actually printed on clothes, and with Louis Vuitton, I got to try my hand at three-dimensional expression. They were opportunities to try new things and broaden my range of expression.
This is a bit off-topic, but after working in fashion, I started to rethink the meaning of coolness, and how people who can make cool things should utilize their power.
I think art [including clothing], whether consciously or not, reflects the creator's idea of what kind of society they hope to create. So I think we should be self-aware of how our work impacts others. If you're not aware of that, a lot of people could receive a message you didn't intend for them to, and that unconscious influence may not necessarily be a good one. We should understand that danger, and I think we should have a concrete idea of what we want to present when we create. That's the responsibility of being a creator.
——I think it's true that rather than just looking cool, it's the thought put into the work that's important. Lastly, what do you want to do in the future?
Kenta: Dunhill was a collaboration with the West, so next, I'd like to try a collaboration with Japanese culture——like kimonos, shoji, or Japanese sliding screens. I want to try making super cool Japanese clothing or something.
I think we're starting to reach a plateau on what we can do with Western ideas alone, so going forward, it's time for us to reexamine our own culture. I want to be involved in some way with traditional Japanese culture, which is often thought of as old-fashioned, and create something that becomes an opportunity to rethink Japanese culture.