Musicians had no choice but to put their careers on hold because of coronavirus. What did BIGYUKI feel and think when he experienced lockdown in New York? I asked him to look back on his recent past, where he faced the music and started performing and producing again. Our conversation then moved to how his time in America made him feel compelled to give back to society, his community, and the music scene. Finally, BIGYUKI touched on his obligation to reach people who live in Japan.
(Editor's note: This interview was conducted at the end of February while Biguyuki was temporarily in Japan.)
Living in New York during a pandemic, looking back on the music scene
—Were you in New York during the pandemic?
BIGYUKI: For the most part, yes. I went everywhere until March 2020 because I was on tour, but I stopped moving around at once.
—You didn't meet up with your musician friends?
BIGYUKI: I occasionally had recording sessions in New York, but I didn't meet them at all in March and April when the situation was at its worst. Different states were providing financial support, and there were various mutual aid groups such as the American Federation of Musicians making donations, so I had several lifelines. My musician friends and I had prepared equipment like mics and monitor speakers to share music from our homes.
—Did you have to be active online with your music to receive financial aid or donations?
BIGYUKI: The aid wasn't for my future career. We got judged on how much we had contributed to the music industry at that point. They ask you questions like what album you've been a part of and what sort of tours you've done. I [wrote] everything on my application.
—Were you able to keep your motivation for music under those circumstances?
BIGYUKI: During March and April, I was not motivated whatsoever. We were told staying home was crucial and not going outside would save the world. Frankly, a part of me was content with that message. I stayed at home all day, watched Netflix, cooked for myself — I was merely consuming every day. It was a complete lockdown at the time, so New York was dead silent. Eventually, other musicians asked me to partake in videos with my keyboard. There was this movement where we were like, "Let's raise each other's spirits!" My music [muscle] memory started coming back slowly.
—You're in José James's online live show. Was this around the same time?
BIGYUKI: We did that show twice, with the first one being in August. It was a great opportunity. It was my first time playing as a band since lockdown, and it was an excellent experience. I felt rejuvenated because I went from the gloomy, eerie vibe of the city to meeting my close friends and talking [about our experiences]. I performed after not doing so for a long time, and it was my first time playing with that band. I'm not satisfied with my performance, but it was a wonderful experience.
—I heard it's going to be released (New York 2020).
BIGYUKI: Really? Oh, I mean, it's been a while. Let's put that aside (laughs). There's one thing I believe is going to happen, and I'm excited about it. Once the pandemic settles down a bit, economic activities would go back to normal, and people would [go out and] make art. I think we're going to see this explosive energy spread everywhere, like an art renaissance. New York underwent a lot of stress, so I think the response will be immense. I want to contribute when the time comes, and I want to share something with meaning. I'm feeling motivated again, with that as my focus.
—Even though musicians in New York usually work separately, I feel you all have the power to come together and support one another when necessary.
BIGYUKI: Right. We received so much support from mutual aid groups, and we shared a lot of information. What's interesting about what's going on online is that successful producers use the power of YouTube and Instagram to have the audience send their beats so that they could judge them. Thanks to that, talented and unknown beatmakers could get new gigs and get acknowledged by the scene. The producers are trying to give major opportunities to these people. It's so healthy and great to get other people involved and support the scene. Seeing this phenomenon makes me constantly think about how I could also contribute.
—You partially feel that way because you feel accepted by the music scene in America.
BIGYUKI: Around 15 years ago, when I was in Berklee, I developed an interest in gospel music and had the chance to play at a church thanks to fate. Before I knew it, I was in that community, and I started playing without knowing how it functioned. I felt like the people there had the heart to accept something different. I'm not sure if that was America or Black culture, but they had this notion of not rejecting those who came to them. I also felt like as long as you show you want to learn about the culture and that you love it, they'll return their feelings to you.
2099, BIGYUKI's latest album born from his change in preferences, collaborating with CHAI and Miho Hatori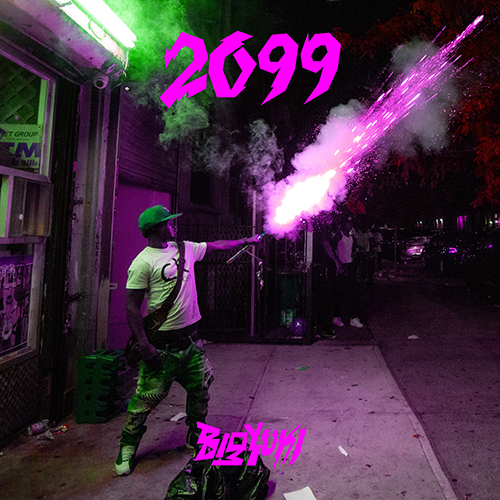 ——昨年リリースした『2099』はコロナ禍の状況を反映したものですか?
—Is 2099, which you released last year, an album reflecting on the pandemic?
BIGYUKI: I think so. Not to talk about contributing again, but I wanted to express how I survived 2020 and what I genuinely felt during those times. The music I listened to changed a lot because I was under stress. I used to like music that went from tension to relaxation: music that made you liberated from unpleasant feelings. The way I listen to music has changed now. I just wanted to release something in 2020, including new songs and songs I had within myself.
—I got the impression that 2099 isn't limited to one genre, but it's also not necessarily trying to make big crossovers. You knew what kind of music you wanted to do clearly.
BIGYUKI: Yes. I went on a radio show that Goro Inagaki hosts, and he asked me if the music I make is jazz. I said, "It's Black music." What I should've said was, "My music is my own interpretation of Black music, which I'm inspired by." But I don't know what that exactly looks like yet.
—You produced the beats and everything, but you also improvise as a keyboard player. I felt like these things connected naturally.
BIGYUKI: That makes me very happy. Thank you. That's what I'm striving for. I enjoy producing a lot. In a broad sense, I feel the same when I put a band together. I want to create music with people with interesting insights, and I want to perform with people who can unlock a door inside me. I value this sort of sensibility when I make beats and work with other producers too.
—Your production on CHAI's new song came as a surprise.
BIGYUKI: That song came about through my friend from Berklee. That friend is also involved with producing their music. They noticed I wasn't releasing any music after the pandemic started and were worried about me. I told them about how I was using my time to begin producing complete tracks by myself, which I hadn't taken too seriously before then. They told me to send something once I came up with a good idea. One of the songs I polished became "Maybe Chocolate Chip." It makes me pleased to think I completed a song like that. The music video is cute too.
—It's also interesting how there's a gap between the song and CHAI's image as a band.
BIGYUKI: The person who produced their previous single, "Action," is a producer called Ruben, with whom I make music often. His productions are ornate, and his programming is so elaborate, so I was honestly worried if it was okay for me to produce [for CHAI]. I would like to think the bad but good vibe matched how they looked at the song (laughs).
—You were also involved with the making of Miho Hatori-san's album, Between Isekai and Slice of Life.
BIGYUKI: She became interested in my musical sensibilities when I got asked to play at the Brooklyn Museum. I played the synthesizer for that. I arranged it my way, made suggestions, and experimented with them like, "I think it might be nice to add this sound." She took a liking and contacted me afterward. I brushed up the sounds and added my arrangements to her production.
American society today and tomorrow, thoughts on the Japanese music scene
—Do you think it'll be crucial for you to continue working in America?
BIGYUKI: Before coronavirus, I came to Japan for a show and saw a performance with musicians younger than myself. I spoke to the musicians, who were in their 20s, and the drummer was especially intriguing. It's as if he had rhythm in his bones. He liked the music scene in Dallas and had known about musicians I play with in New York [through the internet]. Thanks to YouTube, people can now research things visually. Compared to when I was in my 20s, people have many ways to absorb cultural information now. There are fewer geographical disadvantages than before. Of course, it's vital to build relationships in real life because that influences your music, but you can make creative exchanges and environments online more and more. So, I don't think I need to live in New York. When I graduated from Berklee, my options were Japan, New York, or Los Angeles. I chose New York because I wanted to challenge myself. But I'm not sure about the future. I want to live flexibly and fluidly.
—Do you mean it's better to be unsure of the future?
BIGYUKI: It gets quite comfortable to work after you get recognized in one place to a certain degree and gain respect. If you change your environment, meet new people, and take some risks, then you could ultimately discover a potential that you've never noticed before. After all, I'm an artist, and it's not like I'll stop being one at a determined date. My whole life is a process of discovering myself. That's why I want to go to as many places as I can, meet people from diverse backgrounds, and expand my worldview beyond my imagination — such experiences are imperative. In this sense, it's a positive thing to move to another place.
I'm a Japanese man when I'm in Japan, so I'm part of the overwhelming majority. However, I found out how privileged I was for the first time when I went to America and became a minority. As a student, I was at a socially low point and couldn't speak English. My experience informed me about how important it is to have empathy during the Black Lives Matter movement. In America, murders that would unquestionably be in history textbooks in the future were taking place. When I researched Japanese news and reactions via newspapers, websites, and social media, I realized how difficult it is to truly and accurately understand the situation. Because Black people fought for their rights, laws were made to "control" racism and prejudice, which were deeply carved into the history of America, and on the surface, it seemed like things were becoming equal. However, racism meticulously and carefully turned into systemic racism, and that's how it hides in modern society. That's what I think. When people say, "Asians are discriminated against too," in response to the Black Lives Matter movement, I think they miss the mark completely. I must talk about the roots of that, as someone who lives and experiences it. Some people try to empathize and understand the situation, but it's not as though everyone tries to confront it seriously. Wait, what were we talking about again (laughs)?
—It's alright. I wanted to ask you about this anyway (laughs).
BIGYUKI: I have a sense of duty to talk about this. I don't have influence or anything, but I was given the chance to discuss this, and I also have a platform I can use. I'm starting to be aware of my responsibility to use my platform in this way. I might only have a small amount of influence, but I need to think about what a person like me can do to make things better. I also need to talk about the things I see or experience and topics about race and human rights.
—What do you think about the mainstream music scene in Japan? Young musicians are now able to break into the industry more than before.
BIGYUKI: I watched the Music Station special (a Japanese music TV show) the other day (laughs). There are more interesting people now. People have an environment where they can learn about and look into as much information as possible, and they're curious about things happening elsewhere because they're physically apart. I think many people try to consume things voraciously. Also, many places are now in need of musicians who can express themselves freely with the tools they've earned, and the level is higher. I'm excited. I predict there will be more ways for people to express themselves at whatever level they please; the quality will get better.
Latest articles on TOKION MUSIC