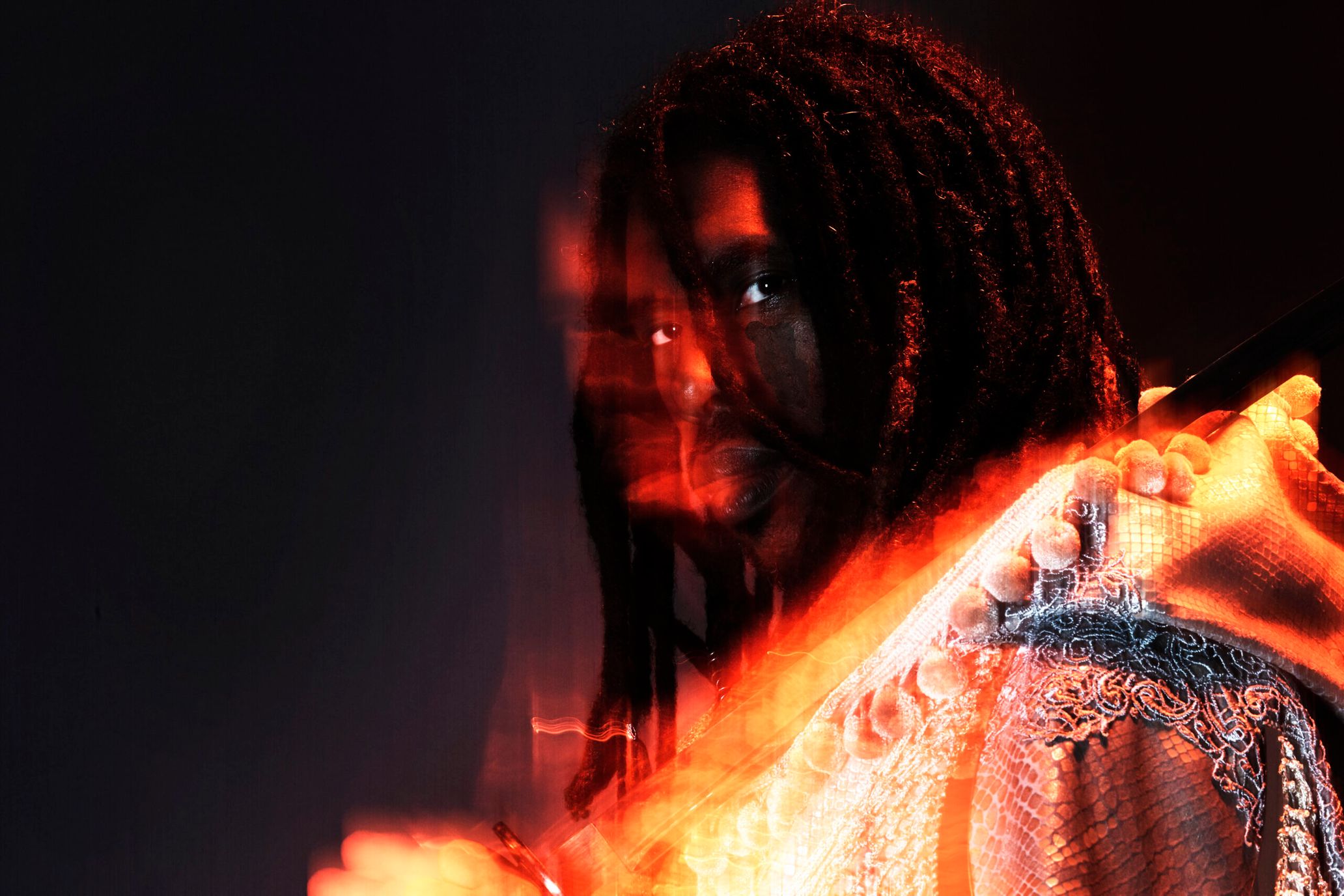 Flying Lotus is known as the mainstay of Los Angeles' beat scene and among jazz collectives and owns one of the ultimate labels Brainfeeder that houses artists including Thundercat, Louis Cole and Hiatus Kaiyote.
The past 6 studio albums he has released have been evidently lauded worldwide and the record he co-produced recently, Thundercat's It Is What It Is, had won the Best Progressive R&B Album at the 63rd Grammy Awards—all of which shows that the man is ceaselessly at the helm of the music scene.
This time, Flying Lotus himself took part in Netflix original anime series YASUKE as an executive producer and music director. The fantasy period drama, which reconstructs a story based around a real historical African samurai who served under Nobunaga Oda, was produced with MAPPA which is the same creator team as popular anime series such as Ushio and Tora, Attack on Titan, and Jujutsu Kaisen; and it is garnering attention as a bona fide collaboration feat between America and Japan.
As a music director, he designed the anime's soundscape from the opening theme to incidental music score. He finished the original soundtrack for YASUKE by taking a subversive approach than conventional anime music.
Continued from Part 1, Part 2 reveals the behind-the-scenes of Flying Lotus's challenge in producing music for the anime and new ideal anime music he conceives in his mind.
Nobody has heard an anime score that of a Blade Runner, right?
——I heard that you had agreed to join the project saying, "nobody has heard an anime score that of a Blade Runner."
Flying Lotus: Yeah, that's correct.
——You wrote the entire soundtrack including the opening theme song and incidental music score, but was there a certain theme, concept or ideas for the soundtrack?
Flying Lotus: I really wanted this to be the opportunity to work very closely with synthesizers. In the past, I've worked with synthesizers, but I've never thought that as a foundation of the project. But with this, I wanted it to be me alone with a very limited amount of synthesizers.
——I think the process of making the soundtrack was quite a different experience from making your own album. So, what was the process like producing the soundtrack?
Flying Lotus: There were a lot of very different things. I just didn't have enough time, and the process was more intense. I usually take a lot of time in order to get it just the way I want it. It was stressful but it was the most fun I've ever had making a samurai music and beat.
But with this, as time was limited, it forced me to step up my production workflow and commit to an idea quickly.
——So you mean, you tried not to second guess. I mean, obviously, you are a meticulous person, and I don't mean you're a rough type.
Flying Lotus: That's exactly it. I tried not to second guess. If I felt right, I had to just pursue it and finish it— so instead of waiting around, I told myself to just finish the idea.
Subverting the conventional theory of anime music
——Also, it seems like you took a different approach as oppose to the standard theory of anime music making. So, what kind of approach did you take?
Flying Lotus: What I understand about the process of making anime music is that composers don't usually get to work to pictures of the anime. They have to make and submit the music before animation.
——Oh, is that really so?
Flying Lotus: Yeah. It's a very strange thing. But I didn't want to score without seeing the animation at all. I had to see how it moved and how it felt to understand the genuine pace of the story.
——In YASUKE, some scenes show quiet and beautiful sceneries, and some are fights and battle sequences. Would you say you were able to score the music more accurately by understanding these actual feelings of the scenes?
Flying Lotus: Yeah. But I tried not to get too far ahead, so I watched an episode and that was it. Once I figured it out and saw how the flow was going, it kind of made sense. Anyway, musically speaking, I tried to stay exactly where Yasuke was, so that I would be in his emotional state.
Well, MAPPA studios and everyone were kind enough to change a little bit to accommodate how I work. Unfortunately, this time, they had me as a music director [laughs].
This anime made me hear my music differently
——So, you wrote the music by seeing the footage, as well as by working up your own imaginations.
Flying Lotus: Exactly. Because when I started writing the music it wasn't fully animated, and some scenes were only storyboards. So, it was kind of difficult, but it was still a lot of fun. Once I got to imagine what the vibe is, I was able to start imagining and playing around with sounds. Sometimes there were things that didn't work out the way I expected. But still, I was able to think, "these might work somewhere else."
——So that decision of fitting the music in the respective scenes was made by LeSean and MAPPA.
Flying Lotus: Yes.
——Were you actually surprised when you saw the final work?
Flying Lotus: No, because I was pretty much part of it all. But I was very surprised at some moments where LeSean would place music that I didn't expect. He would see some things and be like, "this should go over here" and I was like "what?" But it totally worked that way, and made me say, "okay, I was totally wrong about that!" [laughs].
——Usually, you produce your records based on your own judgements, so I'm sure it was sensational working with him like that.
Flying Lotus: That was kind of the beauty of working with him. He made me hear my music differently. Sometimes, I'll create music for a certain scene, and he'll use it for like a battle scene, and I'll be like, "I didn't imagine it that way!" [laughs] It was just so strange.
——In the press release, you mentioned, "I have my own recipes for this YASUKE soundtrack. Because I thought of how J. Dilla would sample Isao Tomita or Vangelis." So, what was your secret recipe?
Flying Lotus: That's exactly it; what J.Dilla was doing was the secret recipe.
——So, the sounds and sonics you used were the secret recipes.
Flying Lotus: Correct. I think those very specific synthesizers and reverb, and stuff like that is what I think is a recipe. Or it was more like "a palette." And this was something new to me and became a signature of this album.
I didn't want to make a parody of Japanese music
——In some of your interviews, you were saying that "it's inevitable that some people will compare YASUKE soundtrack with other anime music." What kind of ideas did you put into YASUKE in order to establish its own musical identity and make it distinguishable from other animations, such as Afro Samurai, Cowboy Bebop, Samurai Champloo?
Flying Lotus: I think those titles depended strongly on sampling tracks. A lot of them leaned heavily on old-school hip-hop aesthetics and samples. So, what I wanted to do was "to try making the soundtrack with synthesizers instead."
——And that approach led to the uniqueness of the music.
Flying Lotus: Yeah, because I've never heard anyone doing that. No one has been using analogue synthesizers. Some people say they use synthesizers, but they don't mean it like I do. I used the ones from the 70s to 80s, and these pieces of equipment are very rare. And it gives the kind of quality you just don't hear anymore.
——Apart from the vintage synthesizers, which instruments or sounds did you want to particularly feature in this YASUKE soundtrack?
Flying Lotus: I wanted to use Japanese percussion like Taiko drums. I wanted to have an element of Japanese sound in there. But that doesn't mean I could do it casually. I didn't want to make a parody of Japanese music and do something that you (Japanese people) would feel offensive [laughs].
——I've seen some works from abroad that were conveyed in a Japanese style, but felt somewhat off [laughs].
Flying Lotus: Yes. So, the best thing for me was to get the vibe across with the percussion. I thought one of my signatures is how I do drums, and I figured if I use Japanese percussion and do my thing with that, it will just have my own style. Though, it was actually a lot of experimenting. It felt like I was trying to find a rabbit hole that I can dive into.
Back then, I would've said "no" as I wasn't confident enough, but now I would say "bring it on"
——Which of your previous experiences or methods, that you have developed over the years, were useful when making music for YASUKE?
Flying Lotus: Music theory to recording techniques, and just everything I've ever learned was used for this show. I learned so much about chord progressions…Anyway, I just used everything I had.
——It seems like all your knowledge is reflected in every one of your albums.
Flying Lotus: Yeah, I try to just give it my honest truth.
——Were there anything new you've discovered or gleaned from producing theYASUKE soundtrack?
Flying Lotus: One of the discoveries is that I don't have to take 2 years to make an album.
——That's a huge discovery [laughs]
Flying Lotus: That was huge [laughs]. Regarding what I've gleaned, I was able to gain confidence in composing and scoring, which I think I was feeling nervous before. Maybe "nervous" isn't the right word, though.
Anyway, back then, if someone had asked me to compose for Star Wars, I would be like "no way." Since it's such a big franchise, it would be a lot of pressure and you wouldn't want to do things too weirdly.
But now I would be like, "bring it on." I'm actually down to challenge. I feel like I have a better understanding of what it would take to bring it. So, I'm down. I want to keep moving forward and keep challenging myself.