Keiichiro Shibuya is a gifted musician who has continuously created fresh sounds by crossing different boundaries and evolving. In his android opera that had its world premiere last August, "Super Angels," he constructed songs and soundscapes that freely traversed genres, including contemporary Western music, pop, electronic, and noise. With this opera, he successfully transcended the conventions of opera.
This series, "Massive Life Flow," explores Shibuya's mindset and what he envisions for the future. In our fourth installment, we report on the private concert, "Mirror in the Mirror," held in Dubai in early December 2021 in collaboration with Shingon Buddhist monk Eizen Fujiwara. What kind of musical universe was revealed in Dubai when the piano, electronic music, and shomyo (Buddhist chanting) from Mount Koya intersected? We find out in a report by Ai Kikuchi, a jack-of-all-trades based in Dubai and Tokyo.
Despite the program's cancellation, Shibuya went to Dubai and made the performance happen.
On a weekend evening in early December, it was suddenly decided that "Mirror in the Mirror," a private concert by Keiichiro Shibuya and Shingon Buddhist monk Eizen Fujiwara, would be held at the Bin Shabib residence in a chic Dubai neighborhood. "Mirror," a musical work composed by Shibuya, was originally scheduled to have its world premiere on December 11th as the main program of the Dubai Expo's Japan Day. The performance featured Shibuya, the android Alter3, Shomyo (Buddhist chanting) by five Mount Koya monks led by Fujiwara, and a UAE orchestra. However, due to concerns over the global spread of the new Omicron variant, the Ministry of Economy, Trade, and Industry drastically reduced the scale of Japan Day. Thus, the program was canceled just before the scheduled date.
But because Shibuya had already prepared for the performance for nearly a year and poured his soul into it, he still wanted to perform during the Dubai Expo. Thus, immediately after hearing about the cancellation, he decided to go to Dubai on his own dime to negotiate in person and ask for a chance. Shibuya had previously worked in the UAE, and brothers Ahmed and Rashid Bin Shabib were old acquaintances of his. When the brothers heard about Shibuya's dilemma, they offered up the backyard of their home as the concert venue, making the concert possible. Ahmed and Rashid are influential figures in the UAE's cultural policy, even having been involved in deciding on the Dubai Expo's central concept: "Connecting Minds, Creating the Future." In addition to being well-versed in Japanese culture, the two also understood and sympathized with Shibuya's work and had been looking forward to "MIRROR" at the Dubai Expo.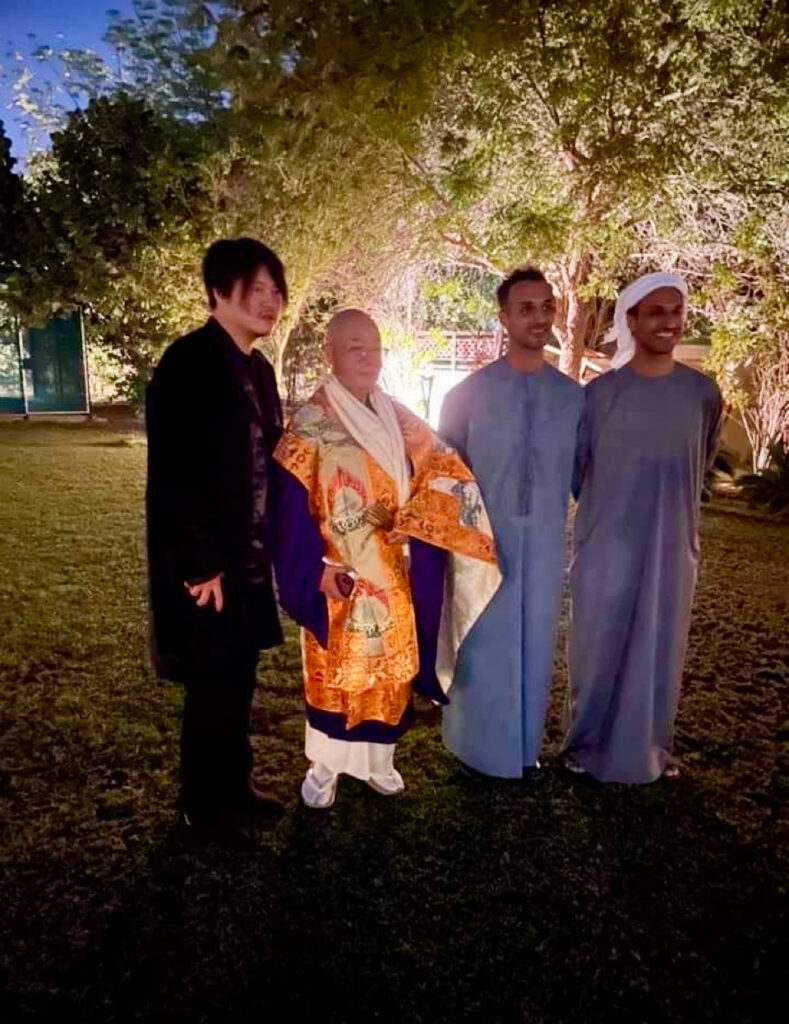 Piano, electronic sounds, and shomyo intersect to create a revolutionary harmony.
On the night of the performance, people from all over the world gathered in the large yard. Under the moonlight-lit venue, Fujiwara, wearing a brocade monk's robe, played a conch shell that echoed through the night sky. The audience looked ahead, mesmerized. As a higher pitch reverberated from the conch shell, an electronic sound rang out in response, and the session began. The deep vocals and unique tones of shomyo, the electronic sounds, and assorted piano notes intertwined to create a complex progression. It was hard to tell how much of this progression, which featured Shibuya as both a performer and conductor, was composed in advance versus improvised. The performance gave birth to a revolutionary harmony and a tension so powerful it gave me goosebumps. Even from the front row, I could tell that the rest of the audience was astounded and overwhelmed.
After the performance, which lasted a little over a half-hour, the audience began to gather around Shibuya and Fujiwara, eagerly sharing their feelings and asking them all kinds of questions in various languages: "This was a completely new experience." "I want my friend who couldn't come today to experience this." "If a session between just the two of you is this intense, then how powerful is 'MIRROR,' with the addition of an orchestra and an android?"
Fujiwara commented, "I'm happy that in a Muslim country like Dubai, people were accepting of Buddhist music (prayers from a different religion). The people here are truly so peaceful and kind. One of the concepts behind my shomyo is world peace. And for some reason, shomyo, the oldest form of music in Japan, fits well with modern Western music/electronic music in the context of this project. Division and discrimination occur because we all have different languages and customs, but as the human race, we are all one. I express that through music—in other words, the music embodies world peace. I respect this country, which welcomed 'MIRROR' into the Dubai Expo…To be honest, I was nervous about performing in a Muslim region, but when I went to the venue and witnessed the Al Wasl Plaza, where we were supposed to perform, I was so disappointed that I cried."
Shibuya has consistently asked questions about humanity and life. What vision does he portray?
Shibuya started working on his android opera after his 2012 Vocaloid opera starring Hatsune Miku. Since then, he's been proactively creating new work. With the help of Professor Hiroshi Ishiguro, a leading authority on robotics from Osaka University, he began a process of trial and error that started with a small performance. Then, Shibuya roped in Professor Takashi Ikegami of the University of Tokyo, a leading researcher in complex systems. In 2018, "Scary Beauty" premiered at Miraikan (The National Museum of Emerging Science and Innovation). Starting in 2019, Shibuya began incorporating Alter3, an android developed in a joint research project with Mixi that specializes in musical performances. Finally, in August of 2021, Shibuya made headlines with "Super Angels," a piece the New National Theatre commissioned him to compose.
Through the medium of music, Shibuya has consistently expanded the potential of coexistence between robots and humans. In the same way that the Vocaloid moves people with melodies impossible for humans to sing, the robots do not replace the humans; instead, the robots have a powerful presence entirely different from humans. Alongside the humans, they breathe life into the opera. If you take a closer look at Shibuya's work, it asks universal questions like: What does it mean to be human? What does it mean to be alive? Shibuya's latest work, "MIRROR," which was meant to be a centerpiece of the Dubai Expo's Japan Day, incorporated Shibuya, an android, an orchestra, and a group of five shomyo performers led by Eizen Fujiwara. This performance was supposed to express coexistence with cutting-edge technology in a way that no one had ever seen before. It could have been a symbolic program that satisfied the theme of the Dubai Expo—"Connecting Minds, Creating the Future"— as well the Japan Pavilion's vision, which was to create a space "Where Ideas Meet" on a global scale.
However, even the session between the two performers was a moving experience that exceeded my expectations. Without a doubt, the full-scale "MIRROR" will be an intense and memorable experience for visitors from all over the world. Unfortunately, this performance was canceled right after the UAE was reported to have best balance between economic activity and infection prevention measures in the world, thanks to its testing program, vaccination/booster rollout, and mandatory masking. I'm praying that the situation will improve by March and that MIRROR will be unveiled at the Dubai Expo.