Hashim & Akiko Bharoocha emigrated from Tokyo to LA in 2007, and while working as a journalist/translator and photographer/visual artist respectively, they launched the Plant Bass Records label, organized events, and currently produce music and DJ as SunEye.
The ELECTRONIC KUMOKO cloudchild compilation was conceptualized and created by the duo and was just released in January of this year. It is a sequel to the KUMOKO Vol. 1 compilation released in 2016 and the new compilation features 21 artists from the US and Japan. As SunEye, they created an imaginary character called "KUMOKO," and asked a star-studded cast of artists such as Carlos Niño, Sam Prekop, and Money Mark from the US, as well as Mioko Yamaguchi & Hideki Matsutake, Takashi Kokubo, and Tentenko from Japan to compose music inspired by the character. We interviewed them about the compilation, which is an intersection of the electronic and alternative music scenes in the US and Japan. The article will be published in two parts, and in Part 1 of the interview, they talked about their involvement in the Japanese magazine FADER, their work in Japan, and their move to the US, as well as the background of this compilation.
The Tokyo music scene from the late 90s to the early 2000s and making the move to LA
— What are your memories of living in Japan and why did you both decide to move to LA?
Hashim Bharoocha (Hashim): After graduating from college, I joined HEADZ (A collective and music label founded in 1995 by journalist Atsushi Sasaki), where I worked as a writer and translator for FADER magazine (A cutting-edge music and culture magazine that published 11 issues between 1997 and 2005). I was also involved in bringing artists from the US and Europe to Japan for tours during that time. The scene around HEADZ and the underground music scene in Tokyo in general from the 90s to the 2000s was extremely eclectic even compared to other scenes around the world, and it was an environment where we were into everything from experimental music, hip-hop, post rock, free jazz, ambient, and noise all at the same time. My genre-less approach to music came from being brought up in that scene for sure, and it influenced my approach to DJing and music production.
During that time, I was interviewing artists from Chicago, Berlin, and LA, and worked as a tour manager on their tours in Japan, and those connections later really helped me as a writer, promoter, and our label after moving to LA. While I was living in Tokyo, I got to know the people from the LA-based internet radio station Dublab and the people from labels like Stones Throw, so I felt that if I moved to LA, I could expand my work as a journalist, DJ, and in other business ventures, which is why we decided to make the move. I had lived in California up to my teen years, so it was an easy decision to make.
Akiko Bharoocha (Akiko): Before moving to LA, we lived in the Shimokitazawa area of Tokyo. I was already working as a freelance photographer back then, and I felt that moving to LA would help me to expand my work and relationships, so we thought it would be a great opportunity and made the move to the US in 2007.
After living in LA, I realized that there is a lot of freedom to express yourself here. In Japan, there is a tendency to express yourself within the limits of certain boundaries, but after moving here, I realized that I don't have to limit myself in my expression. Obviously, there are a lot of things like the racism and gun violence in the US which I don't agree with, but the fact that there is a lot of freedom for expression is something that makes it comfortable for me to be here.
— Please tell us the background of how you started the Plant Bass Records label.
Hashim: When we moved to LA in 2007, the LOW END THEORY club just started, and it was just before artists like Flying Lotus and the whole beat scene blew up. I became friends with a lot of artists in the scene, and I started organizing the LOW END THEORY Japan tours. The LA beat scene became very influential around the world, but after the LOW END THEORY club ended in 2018, I felt that people's attentions shifted in LA from beat music to jazz, ambient, and New Age music. After the pandemic hit, since it was difficult to have indoor club events, a lot more outdoor events in places like parks started to pop up.
We've always loved the outdoors and nature, so we started shifting more towards reflecting natural elements in our music and label. When we started Plant Bass Records, we realized that we have a lot of friends making incredible experimental and improvised music, which made us want to release it. We've been friends with Carlos Niño for a long time, and he's key figure in the LA jazz, improvised music, New Age, and ambient scenes. We released his Espacio Especial project with Farmer Dave in 2017.
カルロス・ニーニョ&ファーマー・デイヴ『Espacio Especial』
Jesse Peterson has a project called Turn On The Sunlight with Carlos Niño and we traveled to Japan with them when they toured over there. We released their Warm Waves album, and it's also another record that is heavily influenced by nature. The concept of our label is to release music made by our friends that we want to hear, and to take our time with the releases.
ターン・オン・ザ・サンライト『Warm Waves』
— Why did you start the SunEye project?
Akiko: We started SunEye in 2015 before we launched Plant Bass, and it was inspired by our love of nature and our experiences from our travels. At the time, we traveled to places like Monument Valley, Mt. Shasta, Sedona, Hawaii, and Joshua Tree, and the epic natural environments and scenery we experienced in those places inspired us to start SunEye. We wanted to translate those experiences and the sounds of nature into music, so we used a lot of field recordings from our journeys. I personally get more inspiration from nature than from people. When people think of LA, the beaches usually come to mind first, but after living here, I realized that we could drive a short distance and visit amazing deserts and forests that people might not know about.
While living in the US, we became more conscious about our health, the environment, and about animal rights, so we've been vegan for about 10 years. "Plant based" is another way to say "vegan," and "Plant" symbolizes "nature" in our label name, while "Bass" is the low end in music, so we thought Plant Bass is a great representation of what we want to release musically.
Hashim: When I started DJing in LA, I was already mixing in Japanese rare groove and City Pop with rare groove from the US and other countries. That led us to reaching out to the Japanese artists we were playing in our DJ sets such as Ryuichi Sakamoto, Haruomi Hosono, Yukihiro Takashi from YMO, Hideki Matsutake, Mioko Yamaguchi, Taeko Ohnuki, folk musician Sachiko Kanenobu, and interviewing them on our SunEye radio show on Dublab. We wanted to expose this great music from Japan to worldwide listeners. The artists we got to meet through our radio program definitely influenced the direction of our compilation.
How the KUMOKO character and compilation came about
—The new ELECTRONIC KUMOKO cloudchild compilation is the sequel to the first KUMOKO compilation that was released in 2016. Can you tell us about the concept that is at the foundation and why you decided to create a sequel?
Hashim: When we visited Maui in 2011, we were blown away by the beautiful clouds we saw on the plane over the islands, and for some reason I said, "Wouldn't it be cool if there was a character called KUMOKO that lived in the clouds?" I started writing some ideas about the character on an airsickness bag I found. I actually don't remember much about what I said that day, but luckily Akiko had kept the airsickness bag with my notes on them. (Laughs)
Akiko: I brought home that airsickness bag, and we started discussing ideas to develop the KUMOKO character. It was a process of trial and error, but I used color pencils and started drawing KUMOKO. We started developing a world based on the character, where KUMOKO was born from a big eye in the sky, that she was an artist who created art using clouds and paints the sky in vibrant colors. This story doesn't have an ending and we're still continuing to develop it.
Hashim: We first talked about writing a picture book, but since we have so many friends that are musicians, we thought it would be interesting to have our friends interpret the KUMOKO character and create music using that as a theme.
Akiko: Right around the time we launched the KUMOKO cloudchild project, there was a 40th anniversary Hello Kitty event in LA. I worked up the courage to go talk to Yuko Yamaguchi, who is the designer of Hello Kitty, and I told her "I'm trying to create a character called KUMOKO," and she said, "You can do it." Her words really motivated me to work hard on this project.
Hashim: We tried asking artists that might take an interest in the KUMOKO concept. We were surprised that a lot of artists actually took an interest in the project, and we were able to get 25 artists from LA, Japan, Berlin, and New York to participate in KUMOKO Vol. 1. We invited people like ACO, Yoshimio from Boredoms, Chocolat & Akito, Natural Calamity, glitch pioneer Oval from Germany, LA electronic music veterans Dntel and Daedelus, Carlos Niño, string player Miguel Atwood-Ferguson, and we released this compilation of 27 songs in 2016.
V.A.『KUMOKO VOL.1』
Akiko: It was our first time doing something like this, and it wasn't easy coordinating the 25 artists, so it took us 5 years to recharge and release the next KUMOKO cloudchild project. (Laughs) During that time, we worked on our SunEye Radio shows for Dublab, and we played at our DJ events at Zebulon. Besides that, I participated in group art shows and was busy with my other work as well, so five years went by pretty quickly. While we were taking a break from the project, I was unsure if we should still continue with the KUMOKO concept. But since we gave birth to this character, in 2020, we decided that even if it's at a slow pace, that we wanted to continue with KUMOKO.
Hashim: Around that time, there were a lot of modular synth and ambient events happening outdoors in Los Angeles in parks and by the river. There's been a movement of DIY electronic music happening here which is experimental and difficult to categorize, and it's a lot different than EDM and mainstream dance music. The pandemic hit shortly after that, and I think a lot of people started getting more interested in ambient and Japanese environmental music because it is very healing during these stressful times. We also got deeper into those types of music as well.
Akiko: After going to those types of events, we started to realize that we wanted the theme for KUMOKO cloudchild Vol. 2 to be electronic music, but in the broader sense of it. In 2020, we interviewed artists like Mioko Yamaguchi, who released the Tsukihime album in the 80s which has been getting worldwide attention again, as well as Hideki Matsutake, a pioneering synthesizer programmer who also worked with YMO for our SunEye Radio show. After those interviews, we started thinking how awesome it would be to have them on our compilation. We started formulating the theme for the compilation two years ago and narrowed down our selection of the 21 artists, but it took a long time to gather all the songs.
A conceptual album featuring a star-studded lineup of 21 artists from the US and Japan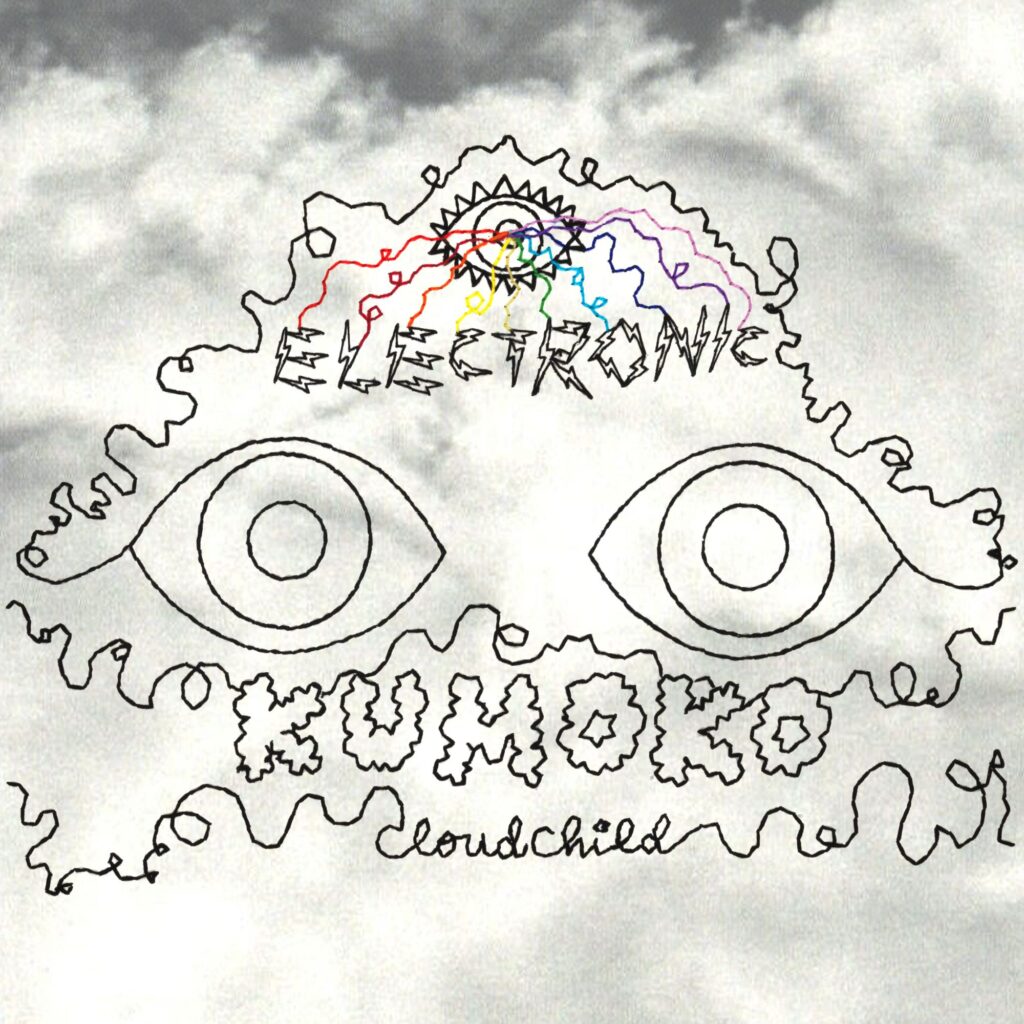 —The ELECTRONIC KUMOKO cloudchild compilation features 21 artists from Japan and the US. What was your criteria and process in selecting the artists?
Akiko: Since the theme of this compilation is electronic music, we asked artists that we thought would understand the KUMOKO cloudchild concept, and who would make music that would expand on the concept. When we reached out to the artists, we told them, "Please create any kind of electronic music based on what you imagine the character and world of KUMOKO to be."
Hashim: The artists we asked are people that we have personal relationships with, as well as artists we were purely just fans of. Some artists we met through going to their shows, or artists that we interviewed, and some are old friends. YOKUBARI is my younger brother, so we really have a wide array of artists on this record. At first, we were thinking of having the focus of the compilation to be on modular synthesizers and ambient music, but we felt the pull to feature a broader spectrum of electronic music, so we asked artists from all types of genres.
Akiko: People might be surprised by the selection of artists we have on the compilation because they are so diverse, but we asked people who we thought could expand the KUMOKO world in unexpected ways. Whenever we received tracks from the artists, we were always happily surprised by what they created, because their tracks exceeded our expectations and stirred our imagination. One thing that is unique about this compilation is that we have artists gathered here that might not usually get to work together.
I created the artwork, and I sent the musicians my artwork so it could inspire their music. I wanted the artwork to have continuity with KUMOKO Vol. 1, but I also wanted to express the energy and waves of sound visually. I also wanted to imbue the artwork with a message of peace, where music and people transcend borders to come together, which is why I created the artwork using yarn that is used to make Misanga bracelets. The rainbow-colored sound waves coming out of the third eye were inspired by modular synth cables.
(Continued on Part 2)