From business to science, the number of situations where people advocate for the necessity of art is dramatically increasing. Although the world doesn't look different under the influence of the pandemic, people's minds are changing; under such change, how does everyone's perception of art transform? Gallerists, artists, and collectors are now researching and predicting what kind of art will appear in the post-covid generation.
The 11th installment is about NFTs. NFT art utilizing blockchain technology is breathing new life into the market both in cryptocurrency and the art world. But only a minority of people may have a firm grasp on the reality and function of NFTs. It's not surprising, as blockchain technology and NFTs are still growing. The following is a conversation between Junya Yamamine, who demonstrates the social potential of art with the media and corporations using his experience as a museum curator, Taihei Shii, a contemporary artist and pioneer who commercialized the use of NFTs in art, and artist Sputniko!, whose iconic piece titled "Menstruation Machine – Takashi's Take" was sold at 50 ETH (around 15 million yen at the time). In the first part, they talk about the potential of NFT art based on examples.
The sudden appearance of a crucial missing piece in the age of information
Sputniko! : I'd like to hear from you, Shii-san, about the current state of NFTs.
Taihei Shii (Shii): This might sound aggressive, abstract, and holier-than-thou in a way, but I felt like there was a demand in the art world for a market or distribution system that's appropriate for this age of information. I saw signs of it but felt frustrated because it didn't go mainstream for 15 years. Here's my summary: regarding the virality of NFTs in the age of information, I feel like a crucial missing piece suddenly came out of nowhere. Those who ask why people buy NFTs are the type that questions the very act of buying art, while for those of us who regularly do that, NFTs are relatively easy to understand. I'll say that art in the coming age of information has arrived. But of course, I sometimes feel wary that art has quickly become popular.
Junya Yamamine (Yamamine): I stopped working for art museums around the beginning of the pandemic, and there was a phenomenon in which the number of Japanese art collectors suddenly increased. When it comes to the connection between the market and academia, not museums, art has partially become commodified while the base of art is supported and nurtured because of the birth of a new marketplace. Because society's interest in it has increased, the anticipation of diversified works has become too high, which does cause some confusion. But I think people will become reasonable with time.
I try to view NFTs objectively, and many people consult me, but all the practical things are yet to come. Instead of NFTs being a separate thing as they are now, I hope we'll see a cycle of not dots but tangible actions so that they'll merge with real-life contexts that were always there.
Sputniko!: As an artist, I had always felt like something was missing in the art world. Today, more and more people discover and view my works online, and I work and communicate digitally more than otherwise. Until now, though, whenever I wanted to sell my artwork, everything happened in the traditional galleries and art fairs in the physical, offline world. I felt a little uncomfortable about that. So, I think "a crucial missing piece suddenly came out of nowhere" is an apt description. Like a sudden storm, NFTs emerged in 2021 and resolved all problems.
Last fall, I sold "The Moonwalk Machine" at Shii-san's SBI Art Auction, and it felt revolutionary. Like Yamamine-san says, the art world is in a period of chaos. Much like the dot-com bubble, an unknown entity came out of nowhere, and although there's a lot of speculation, it was the missing piece. There's no doubt that the way art exists will change in the future thanks to this new infrastructure where people could collect works online and exhibit them in a metaverse. I can't speak to the current instability of the NFT market, but the internet has grown for sure. It hasn't picked up in Japan yet, so compared to America, I feel like curators and artists alike are just getting started. It's like we're both waiting to see what will happen. I'm sure some artists and galleries don't want to make mistakes, but I want to keep exploring.
Shii: It was valuable for me to experience Spu-san's mentality and be there when artists presented their works at the SBI Art Auction. I realized once again that people with a mentality like hers pave the way for the future. Spu-san has a cautious side and does a lot of research, but she also dares to take risks and make a move at the right time.
Sputniko!: Thank you so much. Shii-san, you work with many artists and view art objectively, so I always wanted to talk to you about the circumstances surrounding art and NFTs. I'm also not sure about the word "risk". I want to be careful and do my research, but I didn't consider working in the NFT space as a risk. It was just a crucial decision.
Shii: I agree.
Sputniko!: It doesn't feel like I'm taking a risk.
Shii: Innovator is the apt word. The commanding officer of making the leap.
Sputniko!: Right, you don't know anything until you make the leap.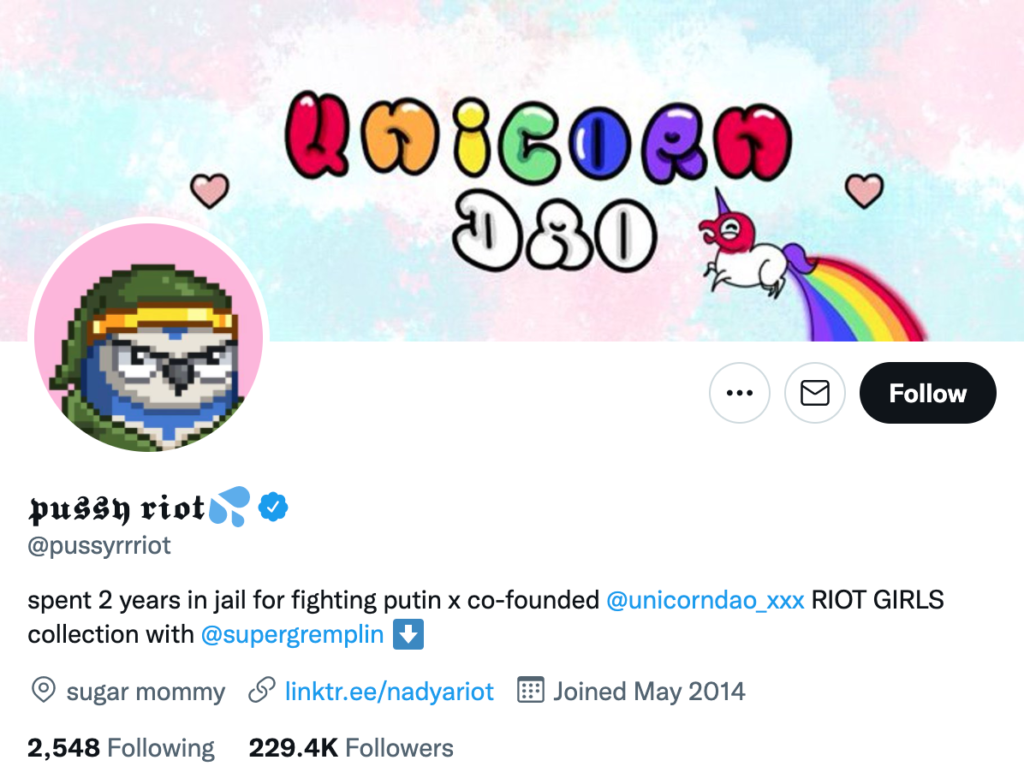 Shii: The first digital NFT we worked on was with Ryoji Ikeda-san. He's not a part of the market and is uninterested in the NFT bubble, but when he saw the technological paradigm shift and said, "I want to take the plunge before everyone starts using NFTs," I felt that he was very aware. There's a feminist activist art collective called Pussy Riot. They gained attention because they raised funds for their activism by selling NFTs on Foundation, an NFT marketplace. Ikeda-san said he felt the potential of NFTs when he saw what Pussy Riot was doing, and I think that overlaps with what Spu-san does. I believe the foundation of NFTs could be built the more artists with discerning taste utilize NFTs.
Sputniko!: I've always loved Pussy Riot. They're a radical, feminist art collective and are also musicians. They're cool. They recently launched Unicorn DAO, a DAO (decentralized autonomous organization) that supports women and LGBTQIA+ artists, and I became one of the curators. Right now, Pussy Riot is a central, symbolic figure among NFT artists, but they were previously quite distant from the conventional art market.
Shii: They became famous after barging onto the field during the World Cup, right (laughs)?
Sputniko!: I've been a fan of them since they were arrested for their anti-Putin performance in 2012, but perhaps the World Cup was when they became famous in Japan. Through Foundation, which you brought up, they raised funds by selling works and donated part of the profits to a shelter for women who are domestic violence survivors. In an interview, they said that artists with political statements are able to raise funds via NFTs. If some people are biased and think NFTs are just for business, I want to tell them that's not the case.
Shii: If anything, it has a real anarchist essence.
Yamamine: That hasn't been acknowledged in Japan yet. Here, people picture the NFT bubble and think it's tied to the economy within the art scene. I feel like that makes people feel unsure. But I see its potential. In terms of DAO and anarchism, an authoritarian structure preserves the art world, which determines the value and distribution of art. Overseas, buying and selling are at the core, so as someone with a background in filmmaking, I've felt that it's difficult for artists working with social and political issues to thrive in the conventional art market.
Sputniko!: I'm so happy you understand (laughs)!
Yamamine: There are many opportunities for artists because through anarchism, an ideology about being liberated from central authoritarian powers, people built a community and created an ecosystem. It's great how it's possible to make a community, but I hope more people in the country could see the precedents it took to get here.
Sputniko!: Yeah. To share an example, Unicorn DAO was founded by a group of collectors who share a mission to collect and promote art by LGBTQIA+ and women artists as an antithesis to the patriarchal world of technology and crypto. I love all the artists supported by UnicornDAO. There's an artist duo who creates art that looks like female genitalia with clay, and 200 of them are sold out now on OpenSea.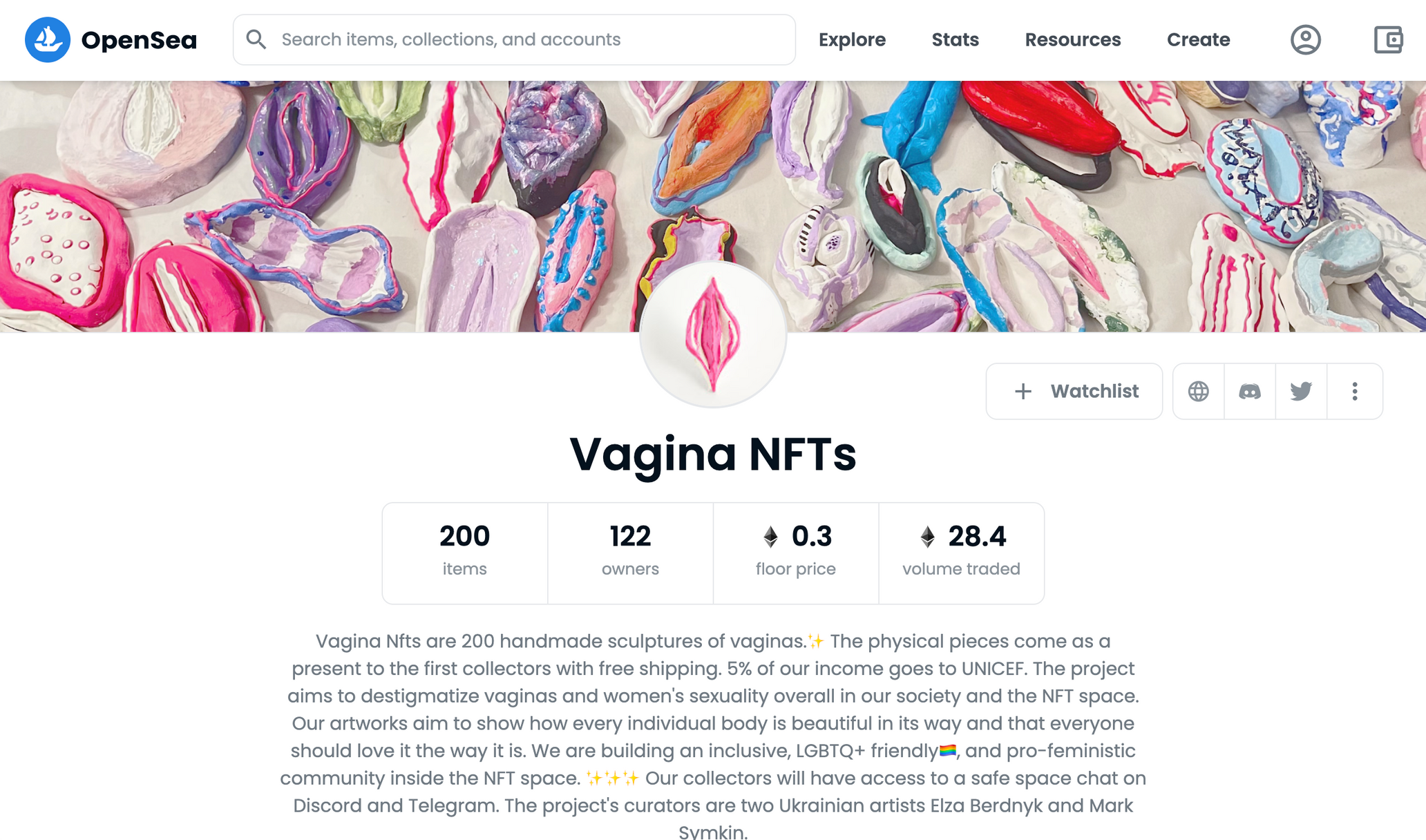 Shii: I like it. Maybe I should buy it.
Sputniko!: UnicornDAO is trying to collect art from LGBTQIA+ and women artists to get more attention to their works and raise their value. Artists can make money from NFTs now, but it's not like they're trying to take advantage of the situation out of self-interest. If anything, they're trying to distribute their profits.
Shii: Is the mechanism like, you use the DAO to raise funds and decide what to buy by voting?
Sputniko!: The members of the DAO decide what to buy. UnicornDAO believes if they buy art, the community could feel empowered.
Yamamine: I didn't know there were different types of NFT artists like those who make physical ceramic art or activists who perform.
Sputniko!: I also wonder what sort of people will join the DAO. I want more people to know about this movement.
Creating a space where people can get together through common interests regardless of region
Yamamine: I want to ask your thoughts, Shii-san. I assume many socially significant artists had a tough time selling their works upon creating a community. They couldn't carve out their own space. We should be talking about people like that. Artists at the Venice Biennale may have the ability to say something about society, but it's hard for them to sell their work within the market, so things were hard for a while. It looks like they buy NFTs to share a narrative and space where they could get together with others with similar values, thoughts, and attitudes. I think that's where artists who have struggled thus far will emerge. Also, thanks to the digitalization of cultural assets, we're bound to be able to preserve tangible things. I can see so much potential, like NFTs being the solution to many things. It's about how we view DAOs, NFTs, and metaverses and what we can do within those relationships.
Shii: I think there can be a scenario where artworks unappreciated by the marketplace could be at the forefront through DAOs and metaverses. I spoke about how NFTs came onto the scene as a solution to the information society. The trigger was covid. I touched on that first because although NFTs are just a form of technology, what you valorize is imperative. I believe you can create a rhizomatic society where people appreciate diversity in an information society. But looking at the data about the art market pre-covid, close to 80% of sold art by Black artists was by Jean-Michel Basquiat, and I heard that if Yayoi Kusama weren't a woman, her art would've been dealt at a different price.
This is slightly off-topic, but an intelligent person predicted that a massive social issue related to discrimination would occur right after the covid breakout. Just like they predicted, the BLM movement happened. After that, a Black person became the chief curator of the Guggenheim, and people started talking about whether they were off the hook if they hired Black people for everything. This applies to #metoo, but anti-discrimination movements are closely related to an information society. This information society progressed due to covid, and the social structure, which has a synergetic relationship, made itself visible too. What I thought was interesting in this sort of situation is CryptoPunks. 60% of the 10,000 characters are male, and 40% are women. Nine characters are AlienPunks, and a few have hats on. Unlike the real world, in the CryptoPunks ecosystem, the value of the male characters is the lowest even though they're the majority. That way of thinking stands out on DAOs. Rare things, not popular things, are seen as valuable and powerful. I reached out to Spu-san when we were having our first NFT sale at the SBI Art Auction because it was when international male entrepreneurs were going to the moon. When I was organizing the event, I felt that "The Moonwalk Machine," in which Sputniko! leaves her footprints behind on the moon, was in tune with the times. More than anything, she matched the statement of the sale. Her post-human ideology was timely too. Even before NFTs became popular, Spu-san was a good match because there was an underlying potential of NFTs in her concepts. That struck me. In general, I think her kind of world goes well with DAOs, NFTs, and metaverses.
Yamamine: There is the issue of language, but communities that can speak English could create a space where like-minded people could get together beyond national borders. It's interesting to cross countries, regions, fields, and other boundaries we couldn't prior. We can expect the economy to follow.
Sputniko!: Until today, patrons of the arts and culture were the rich during times like the Renaissance and Industrial Revolution. These past two decades have been the era of technological innovation, but I think there wasn't a sufficient infrastructure for tech billionaires to support the arts. NFT feels like a platform that solves some of that problem. But from the perspective of the conventional art world, it might seem like the tech world has come to exploit it. Platforms like Napster, YouTube and Spotify made the previously CD-dominant music industry struggle. The new technology of NFT might create a paradigm shift in the art world.