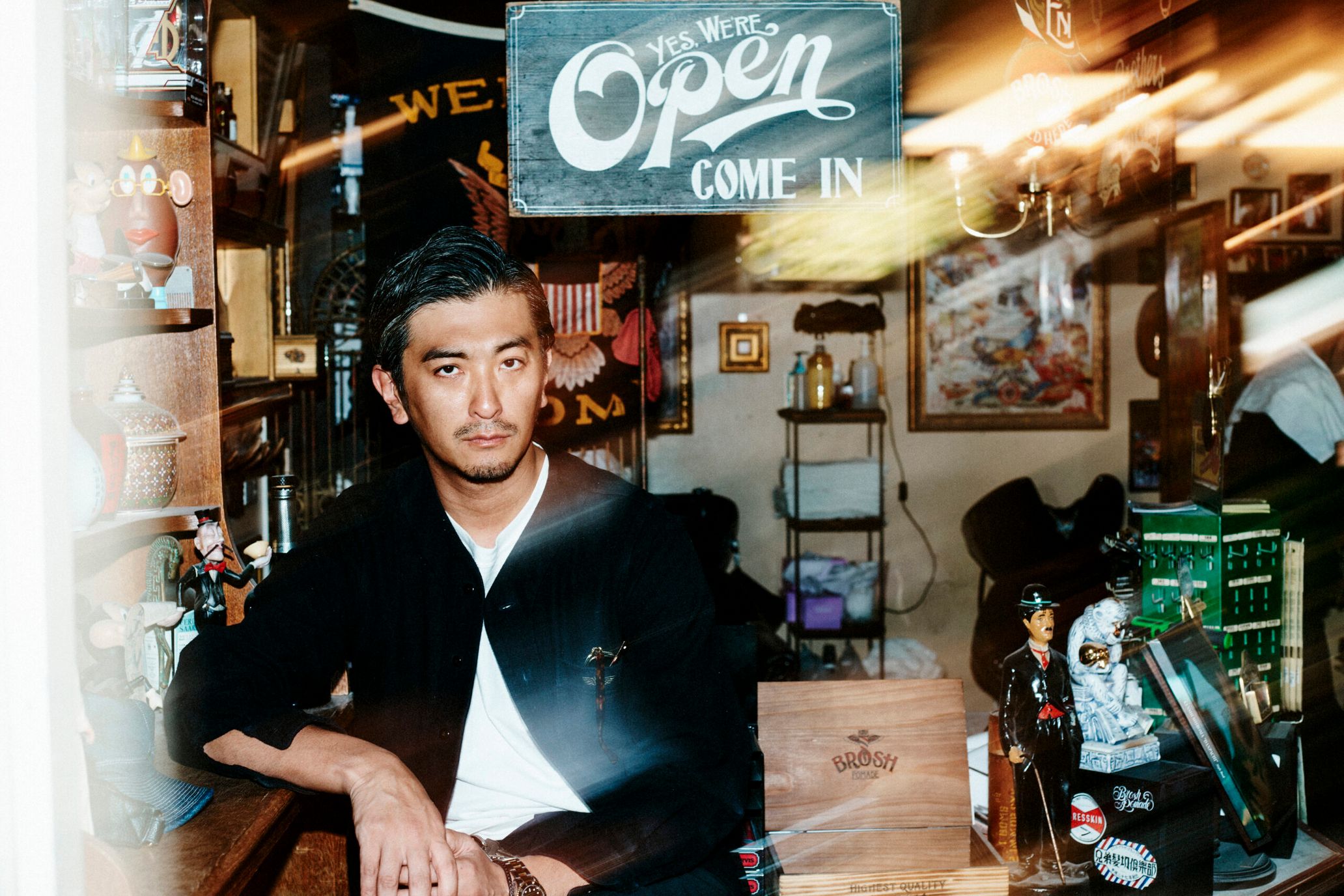 In 2015, Mr. Brothers Cut Club started a barbershop wave with its flagship shop opening in Harajuku. They have a close relationship with Schorem, a famous Dutch barbershop, and are well-known in Japan and beyond. As they rose in popularity after opening their first shop, so too did the number of shops. Mr. Brothers Cut Club has two shops in Harajuku, one in Nakameguro, and two in Osaka. Moreover, they opened another one in Los Angeles this March, marking their first barbershop abroad. They haven't stopped turning heads since. We spoke to Daisuke Komatsu, the CEO of Fireworks, the company that runs Mr. Brothers Cut Club, about how he met Tomoya Nishimori, opened a branch in LA, and plans on taking the barbershop global.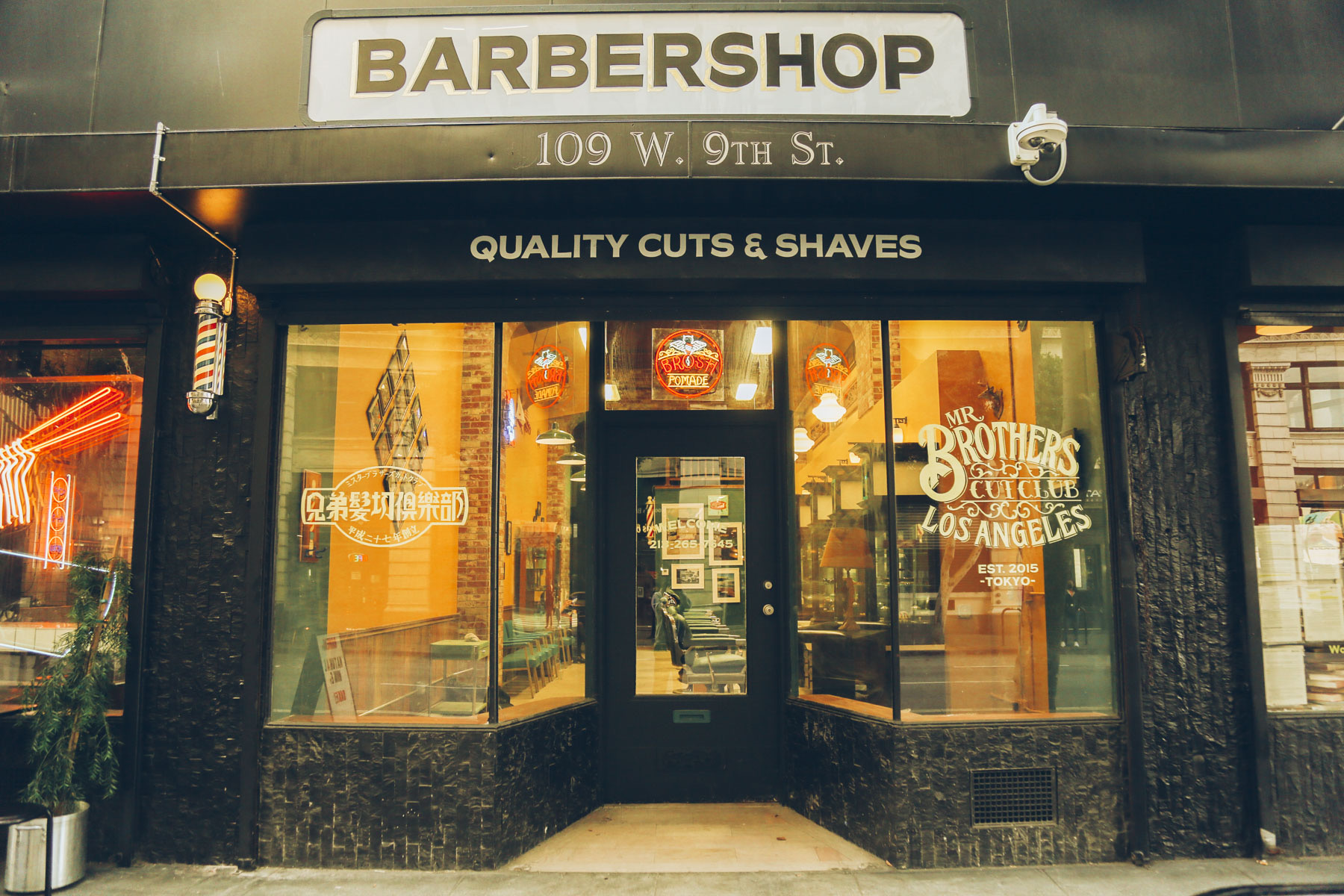 –Back in March, you opened the sixth Mr. Brothers Cut Club shop, this time in LA, making it your first one abroad. I heard you founded Mr. Brothers by approaching Nishimori-san. What prompted you to do that?
Daisuke Komatsu: Initially, Nishimori and I had a hairdresser and customer relationship. He used to work at another hair salon, where he happened to cut my hair. I think that was around 2012. Only a few hairdressers understood fade haircuts, the hairstyle barbers specialize in, but Nishimori got it right from the start. He cut my hair in the way I wanted. I felt I could trust him, and he's been cutting my hair ever since. I only worked with clothes then, and although I hadn't done any hair-related work, I knew barbershops were a staple in America and Europe. Hip hop was having its moment in Japan, and fades started becoming more prevalent. I figured people in Japan would embrace barbers, so I got Nishimori on board and opened Mr. Brothers in 2015. I was willing to put my all into the barbershop and virtually used up the company money. I'm glad it paid off (laughs).
When I told friends and acquaintances that I was going to start a barbershop, they were against it. They said it wouldn't be popular. But I had confidence in my marketing skills and believed we could make it popular with Nishimori's personality. When it came time to open the shop, we split our roles. I let Nishimori be in charge of everything at the shop, and I became responsible for back-office work like branding and marketing.
–You opened the first shop in Harajuku in 2015. Did you land on the location quickly?
Komatsu: I knew it had to be in Harajuku if I wanted to create a culture, but Takeshita Street and Urahara didn't click. I was looking for a place on the street at the end of Tonchan Dori that leads to Sendagaya, and I found it. I had no choice but to go with it.
–It's a great location. People in the know will understand. Did you reference American barbershops upon launching Mr. Brothers?
Komatsu: I love American culture, but it wasn't like I focused solely on America for Mr. Brothers. I just wanted to make a cool barbershop. Nishimori then showed me a cool photo of Schorem from the Netherlands. We spoke about how we wanted our barbershop to be like theirs.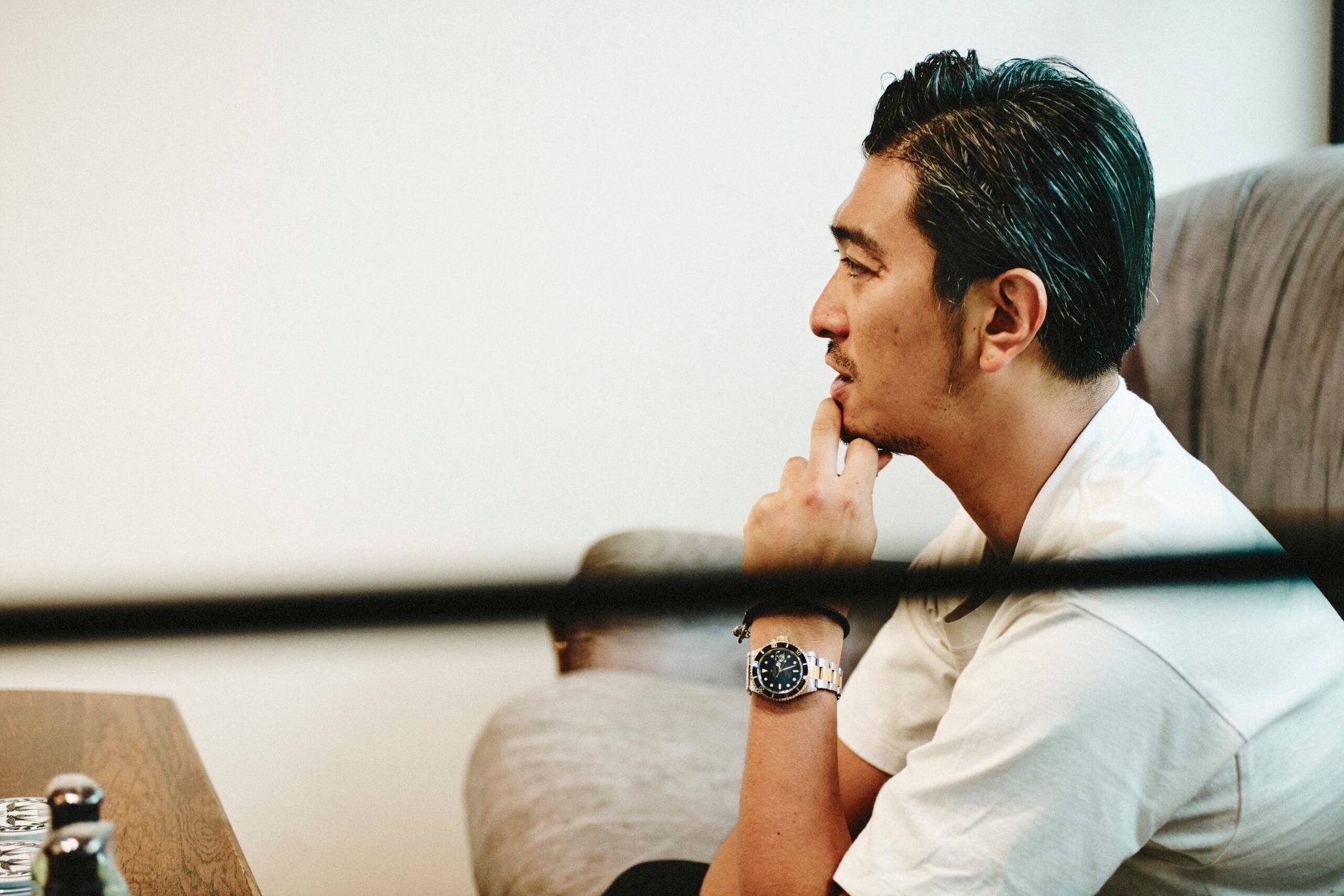 –In terms of sales, did you do well right from the start?
Komatsu: Nishimori had a decent number of loyal customers, so we did have sales, but the other barbers didn't have any. They did their best to get more. They would go somewhere every day and hand their business card to people. Many of them still do that to this day.
Thanks to their efforts, our sales went up. People started knowing our name largely due to an event we had with Schorem on November 9th, 2015. Around 1,000 people came to a venue that could hold 300 people. It was so exciting. Our staff hung out with Schorem staff members and became friends. Since then, whenever they come to Japan and Asia to go on tour, we join them. It's been a wonderful experience for our barbers.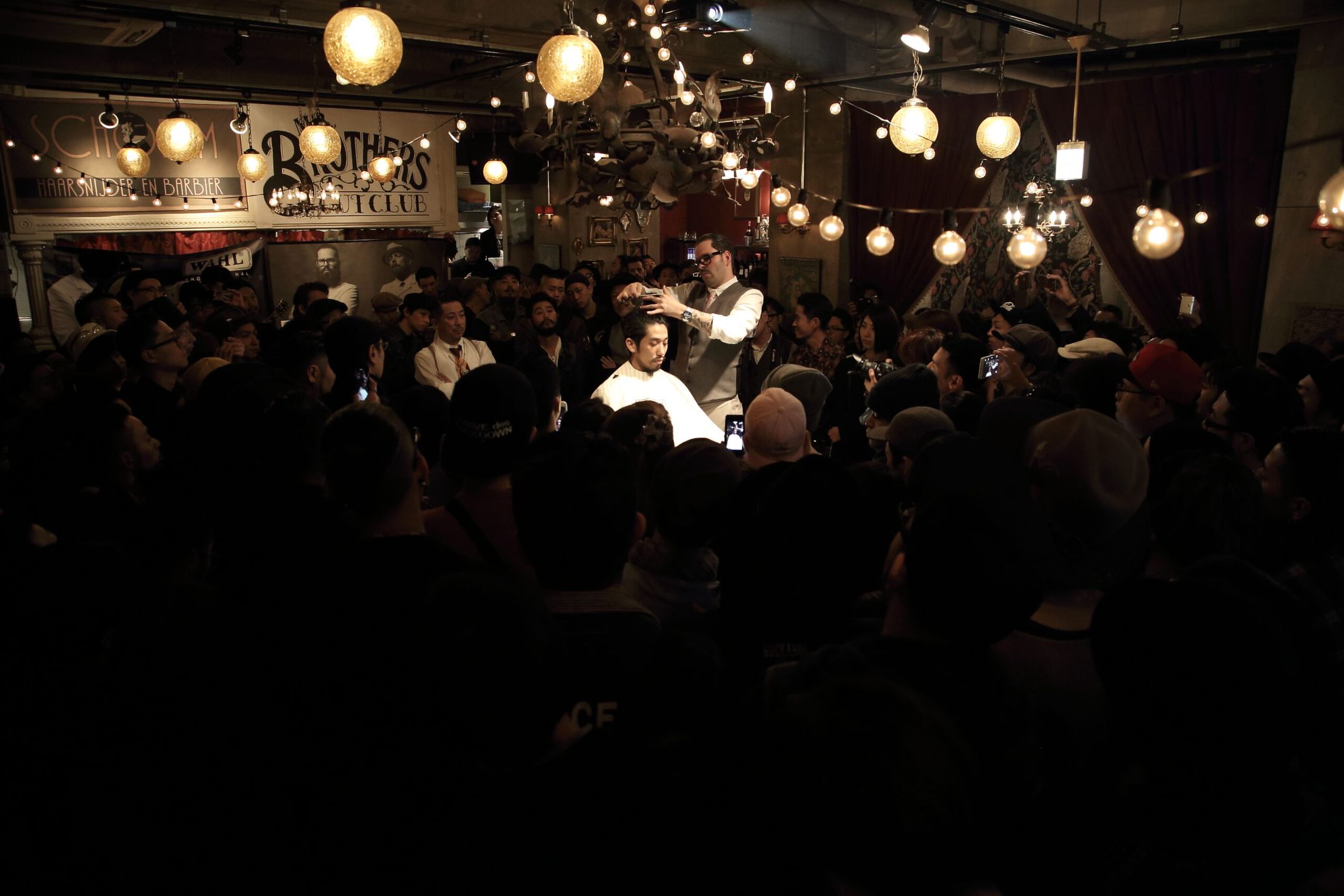 The undeniable skills of Japanese barbers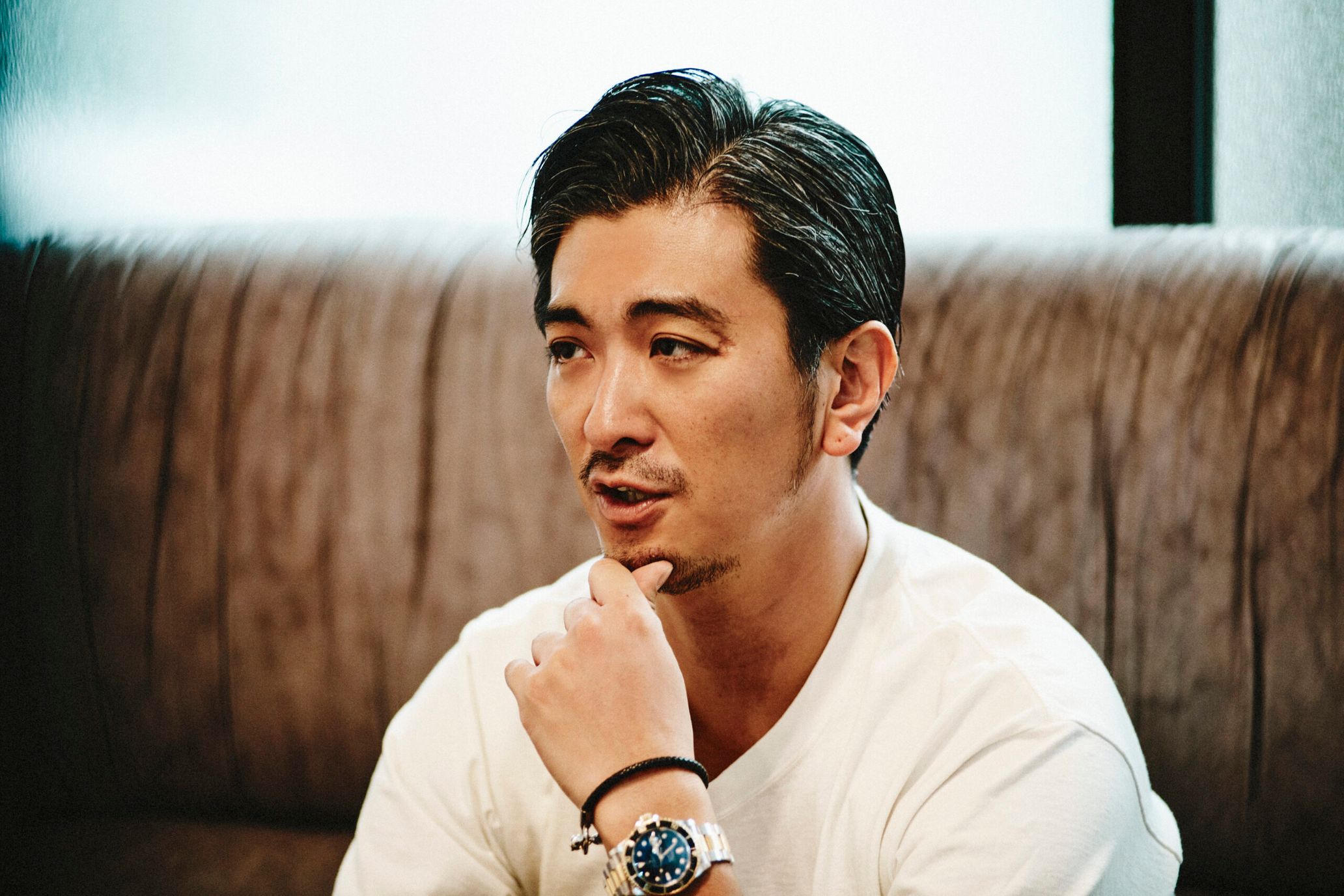 –When did you begin thinking about opening a shop in LA?
Komatsu: I wanted to open a shop abroad since Mr. Brothers started. If you have money, anyone could open a shop abroad, but I wanted to make a barbershop that locals could get behind, so I was looking for the right time.
I started getting to work around two years ago. The person who booked Evisen Skateboards ゑ when PIZZANISTA! opened in Japan was this Japanese person called Masa-kun in LA. He's an important person who's brought various LA brands to Japan; he connects the streets of these two places. When I spoke to Masa-kun about my wanting to open a shop in LA, he told me I should visit there first, so I went in March 2021. I view barbershops as dagashiya (a Japanese candy shop) for adult men. Different people get together there and exchange information. Unless you can adapt to the locals there, you won't be able to succeed. That's why I want to work with a local who knows a lot about the place rather than manage it directly. When I went to LA and asked Masa-kun if he'd like to run the shop with me, he was initially hesitant. But LA was in lockdown, and most restaurants were closed, so I invited him to drink with me in Koreatown day after day and persuaded him until the early hours of the morning (laughs). He caved in, and we decided to do it together.
Around June, Masa-kun contacted me, "I found a nice spot." I went there, and it was in the fashion district, so I decided to open it there right away.
–Was there a reason why it took you over half a year to open it?
Komatsu: It used to be a photo studio, so we had to change the entire interior. We were aiming to open it in October, but the people there were lax. So the date got pushed back. Just when it looked like we could open it around December, omicron started going around. It seemed like it wasn't going to happen for a while, so we postponed the date to March.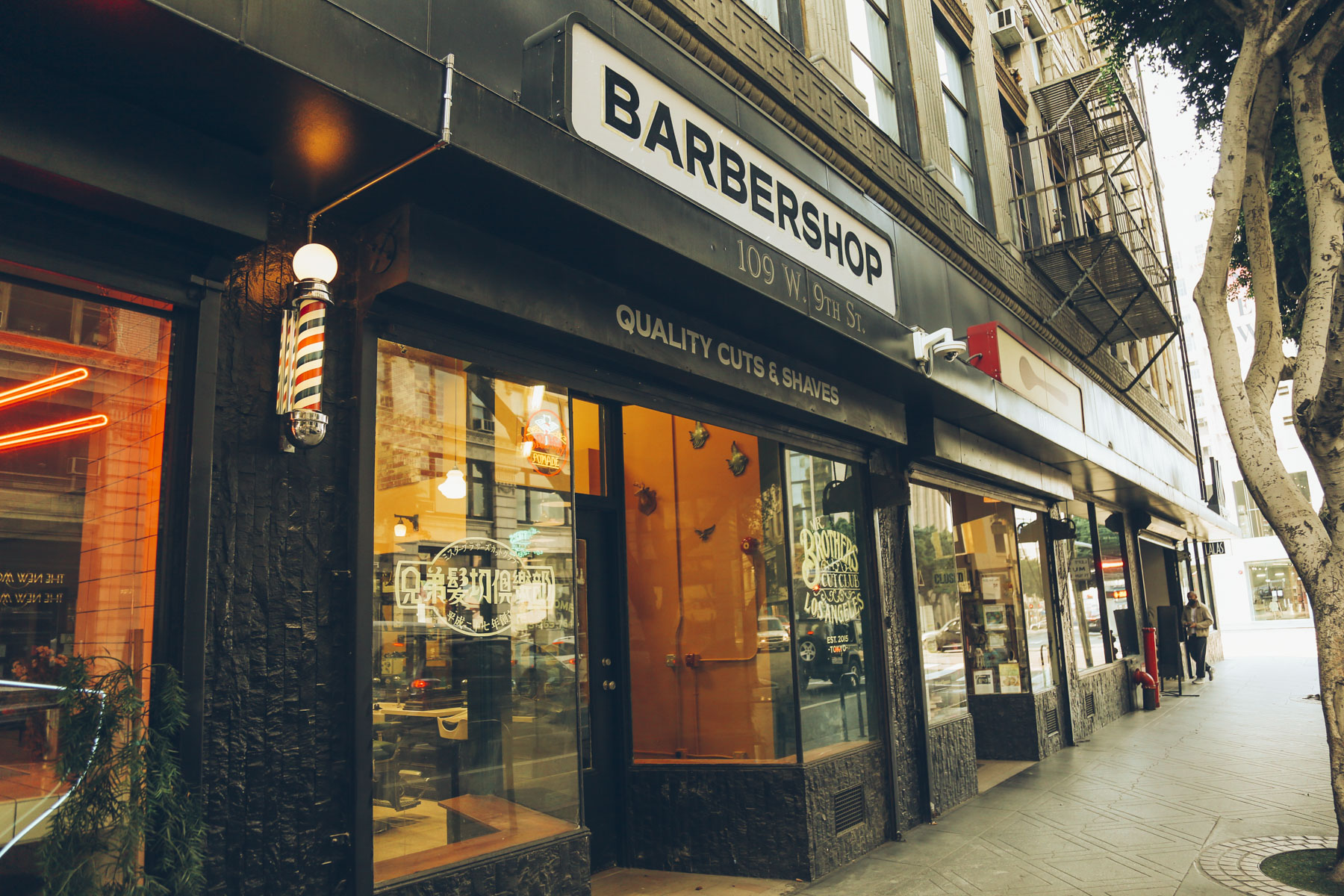 –I didn't know that was the backstory. Did any of the staff from Japan move to the LA branch?
Komatsu: The vice CEO, Keishiro Hara , said he wanted to work at the LA shop, so he works there. The rest are from LA. The majority of the customers are Americans from the area. There are quite a few Japanese hair salons there, but they're geared toward Japanese people. I hope our shop could change that.
–Have there been any business opportunities at the LA shop?
Komatsu: Many people told me it would be hard to succeed, but I've found opportunities. We have an original pomade called Brosh, and we had different haircut shows in many countries before covid. Japanese barbers are overwhelmingly good at what they do. There are a lot of barbershops in LA, but we can make it if we have the skill set.
–Are you considering opening more branches abroad?
Komatsu: I am. One in Taiwan and one in Singapore are already in the works. Ultimately, I want to open a shop in New York. I'm thinking about opening barbershops and schools together. Many countries don't have hairdresser and barber licenses, and I believe graduating from our school would be considered a major qualification.
I'm planning on starting a school in Japan too. We've already made several textbooks, and we've prepared the curriculum. We're just waiting for the right time.
We also have a gallery in LA, and are planning on showing works by Japanese artists. Japanese people care so much about the artist's background, and of course, some people are like that in America, but there are way more people there who can look at an art piece and appreciate it as it is. That's the American dream. I hope the gallery can become Japan and the world's hub where we help people get closer to the American dream. I'm thinking of making artists' art available on our website, like through VR and selling NFTs. I'd be happy if Mr. Brothers could be a place where art feels approachable.
The strongest asset is people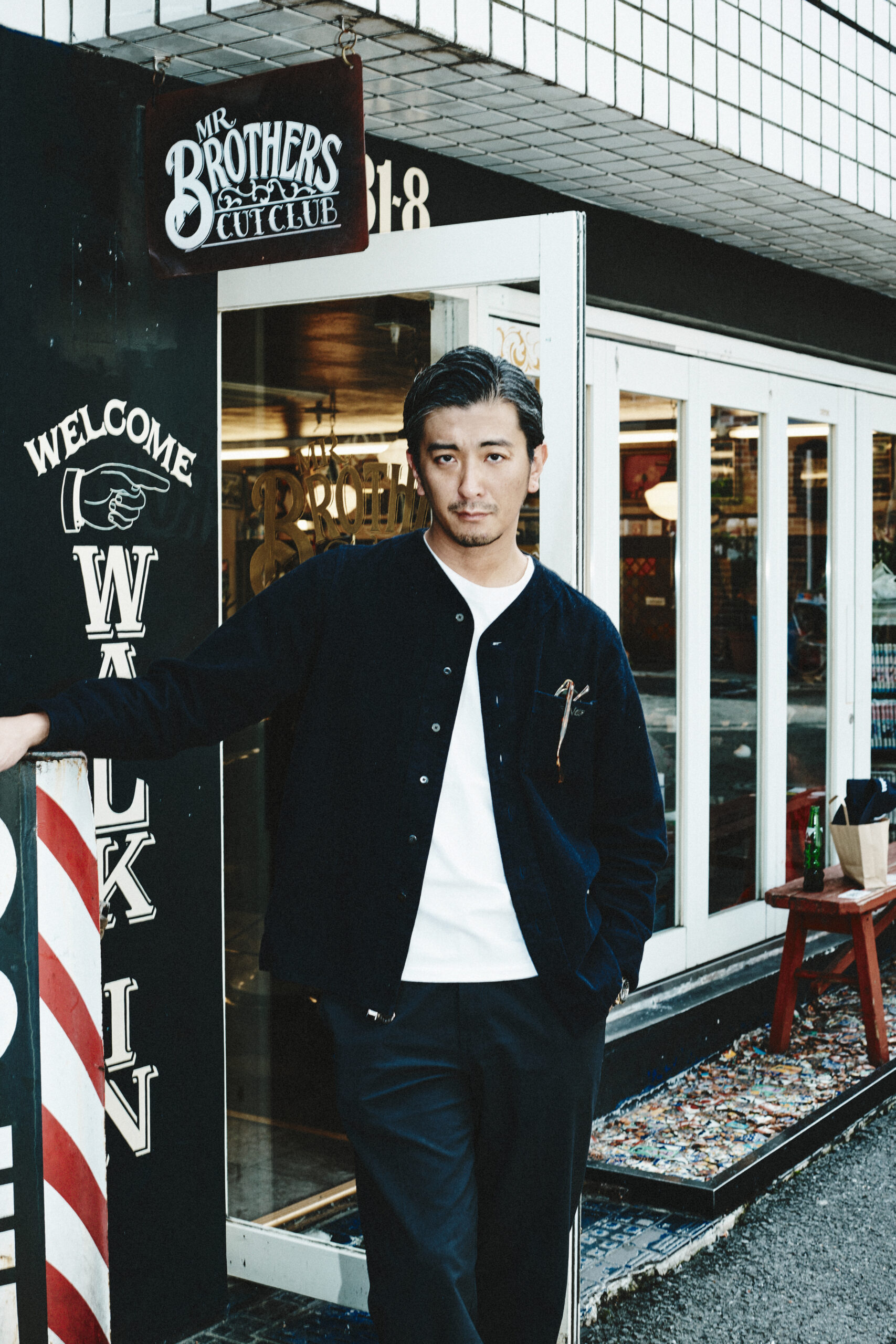 –Are you thinking of opening more shops in Japan?
Komatsu: I'm not thinking of opening more shops here, but I'm thinking of opening some in big cities like Fukuoka and Nagoya. I need to be cautious not to bring the quality of our branding down.
–Brosh's collaboration with Wacko Maria caught people's attention.
Komatsu: I'm grateful we can collaborate with many different brands. Not many barbershops have collaborations like that, so we plan on doing more. More stores abroad carry Brosh now, and I want to host more haircut shows in different countries once the pandemic subsides.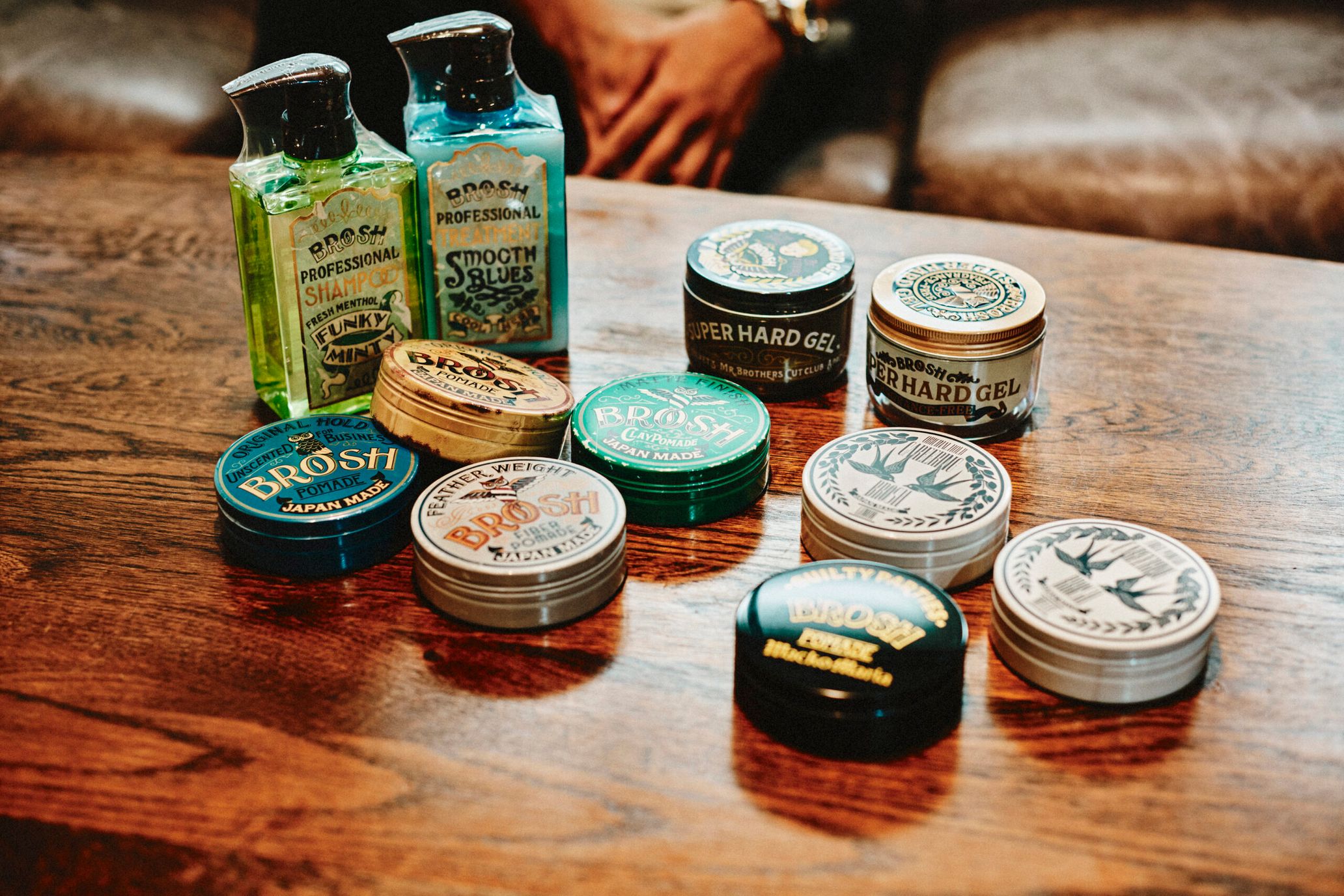 –How will you differentiate yourselves from other barbershops now that there are more?
Komatsu: I feel that our biggest asset is our staff. Each one is unique and supported by customers. When our staff is asked what they do for a living, instead of saying they're a hairdresser or barber, they say they work at Mr. Brothers. Our shop is going strong because we have barbers that love their workplace. The customers become fans of Mr. Brothers, and they go on to convert more people to fans. I feel responsible to think about how the staff can dream and feel like they genuinely love working at Mr. Brothers.
A lot of hair salons have owners who are also hairdressers, so it's hard for them to work on branding that takes the future into account. At Mr. Brothers, Nishimori and I have different roles, so I think that's our strength too.
–It doesn't bother you to see more barbershops opening up?
Komatsu: Well, in my view, there should be more barbershops if we want barber culture to spread even more.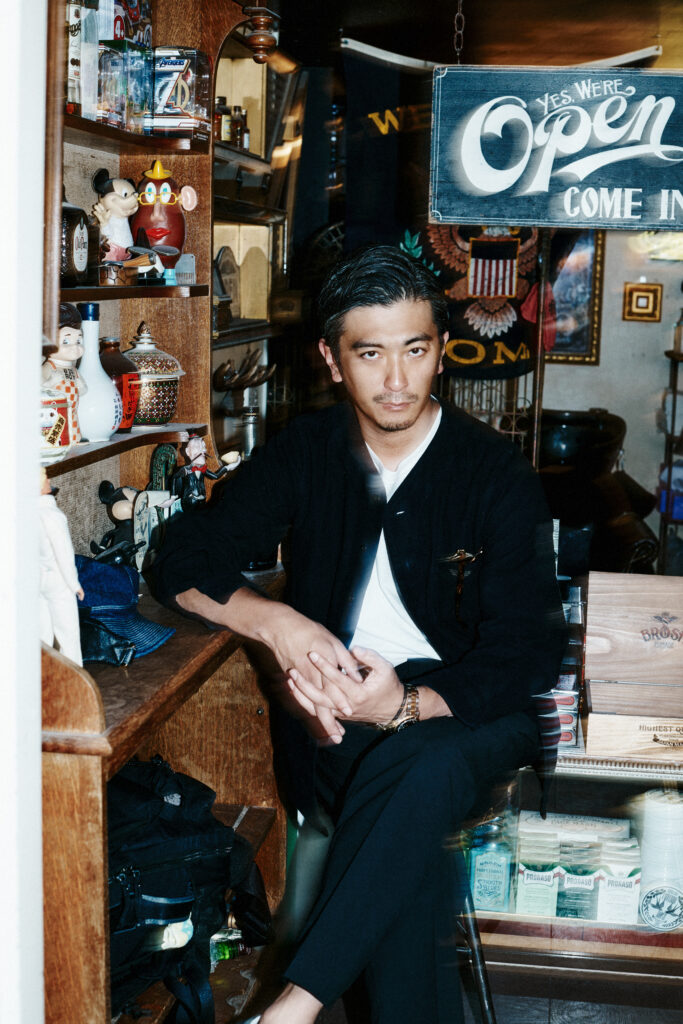 Daisuke Komatsu
CEO of Fireworks. Aside from running Mr. Brothers Cut Club, Daisuke Komatsu works on many businesses such as Brosh, an original pomade, vintage store Hedy, and the Japanese development of Pabst Blue Ribbon, the iconic American beer brand.
https://www.fireworks-japan.jp
http://mr-brothers-cutclub.com

Photography Hironori Sakunaga
Translation Lena Grace Suda