Okinawa-based artist Tomomatsu Gima uses discarded cardboard boxes as material to create artworks reimagining sneakers, vinyl records, and other symbols of American culture. His artistic practice has attracted attention both inside and outside of Japan.
With cardboard, Gima has re-envisioned sneakers newly released by Gucci, a fashion label actively contributing to the development of sustainability in the fashion industry. The sneakers, made of the sustainable material Demetra, are part of the "Gucci Basket" collection.
Through this collaborative work, we aim to take a closer look at the intersection of the worlds of Tomomatsu Gima, an artist working with the themes of "distribution" and "consumption," and Gucci, a brand which believes in the merit of sustainability.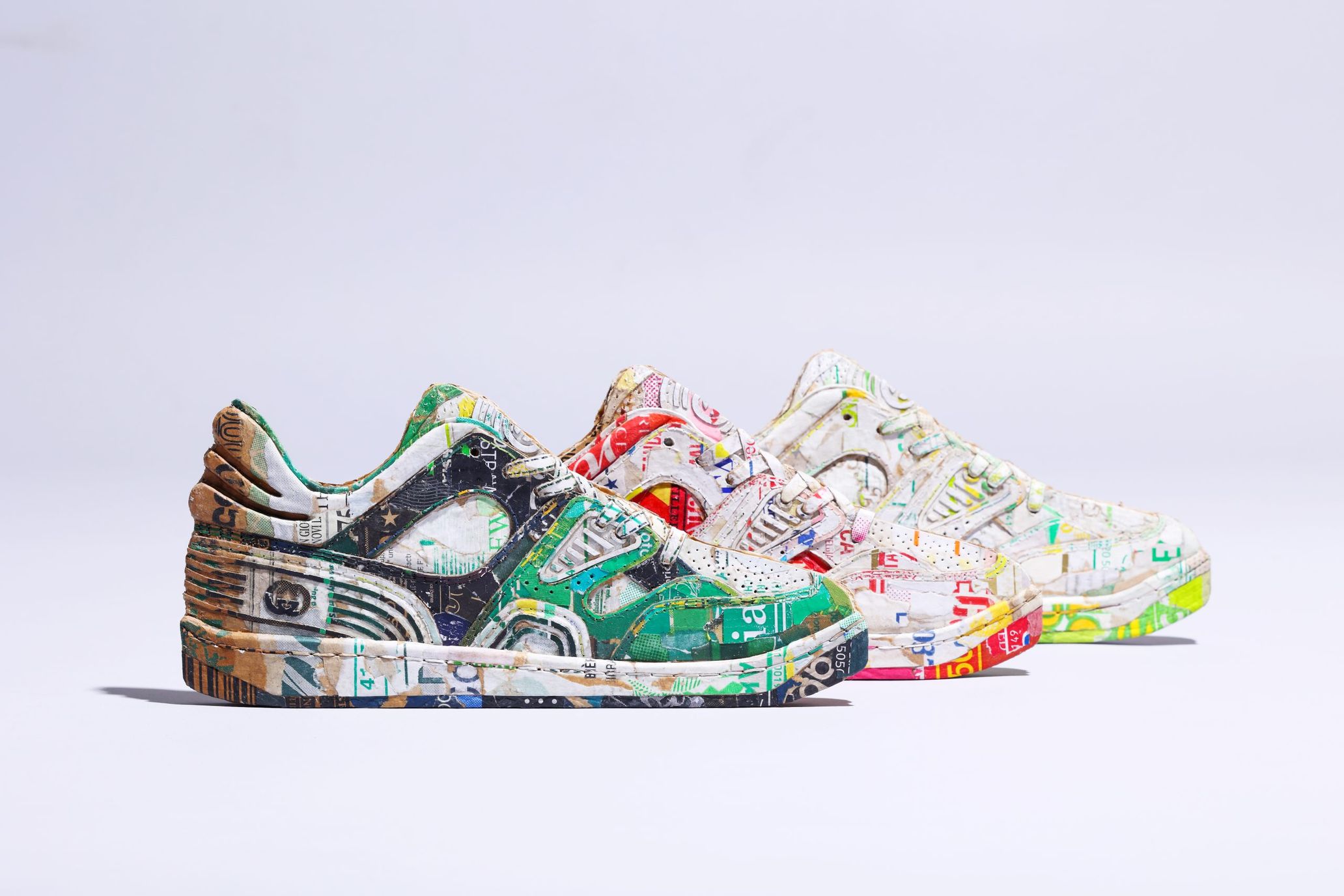 Different people experience the same sneakers and records differently
——What led you to to become an artist who creates artwork out of cardboard?
Tomotatsu Gima (Gima): I had been going to art school since I was a high school student, and I chose an art college as my university, so I had always been in an environment where art surrounded me. So I was naturally thinking that it would be nice if I could make a living by creating something as an artist. I'm doing collage now, but there were various courses in art school, like painting and sculpture. Since I was in the painting course, I had confidence in my painting skills and initially wanted to become a painter.
But I eventually came to feel that I had done everything I could do with painting, and was no longer able to create new work. I felt like I was at rock bottom. At that time, I found a lot of discarded cardboard scraps near where I lived, so I started making stationery and notepads out of them. [Gima currently continues to work with the project rubodan, creating employment opportunities producing stationery out of cardboard.]
One day, I tried making a collage using cardboard as if I was painting. When I applied pieces of cardboard paper to a picture I had painted with leftover paint, I thought, "This is it!" Then I immediately set about making a picture of Campbell's Soup, which was the prototype of my current work. The moment I finished it, I felt that something new had been born.
——You started with a picture of a Campbell's Soup can, and now you've created many pictures of sneakers and record jackets. Are these motifs an important part of your style?
Gima:I think that it's consequently become a strong point of my work, but basically most of my art is based on things found in my home. So they tend to come from my hobbies. Among those, I just love sneakers so much, and now I'm glad that I love them so.
What I felt when I started making my works was that although both sneakers and records are mass-produced, different people experience the same sneakers and records differently. This song, for example. could be something somebody listened to in junior high school, or these sneakers might be the first thing someone bought with their own money. Even with the same products, each person has a totally different emotional attachment to them. So even though I'm only exhibiting works created from my personal memories, each viewer looks at them and talks about their own memories too. That makes me feel so delighted. Also, even though I only use things I have at home as subject matter, I think it's interesting that my tastes and preferences become visible through my body of work.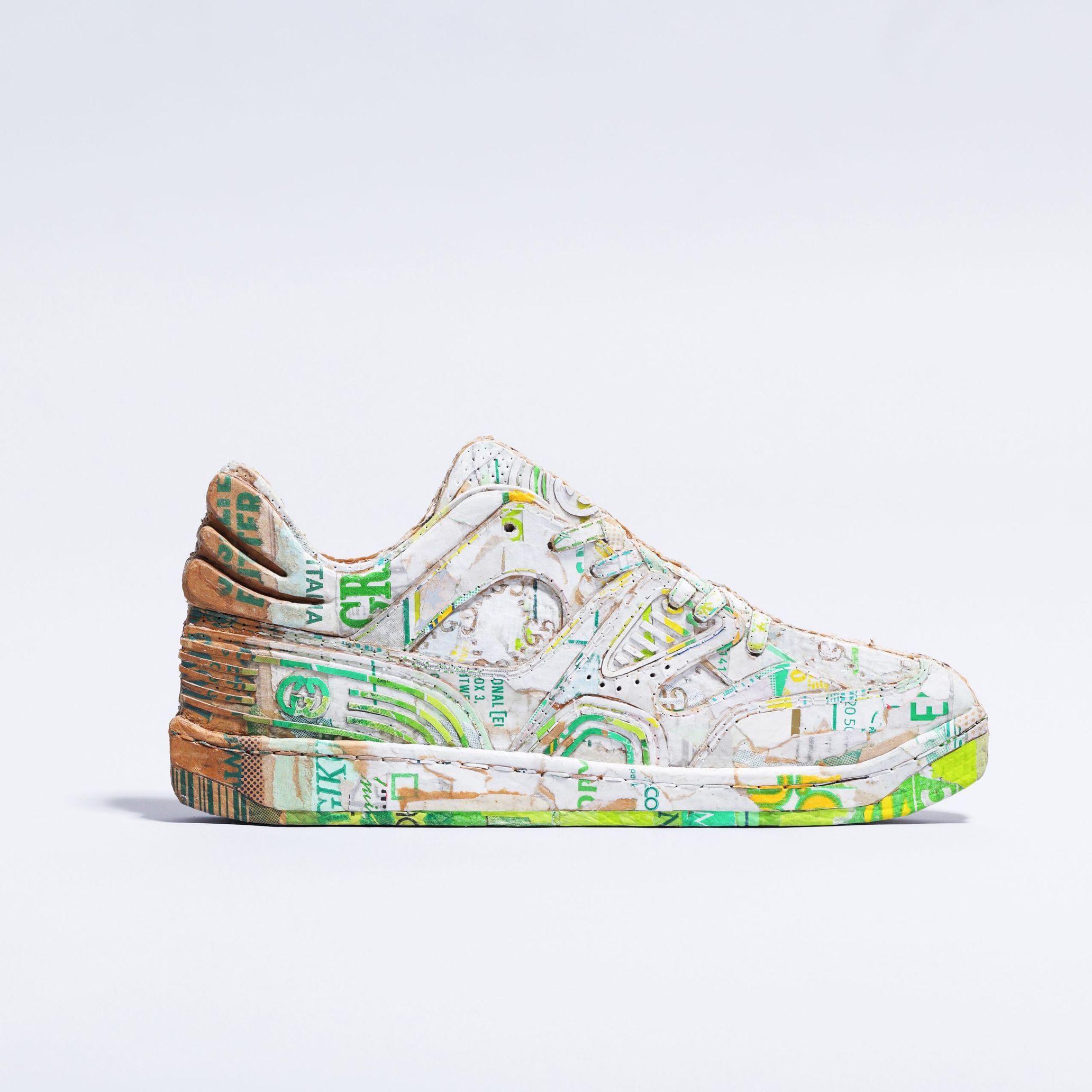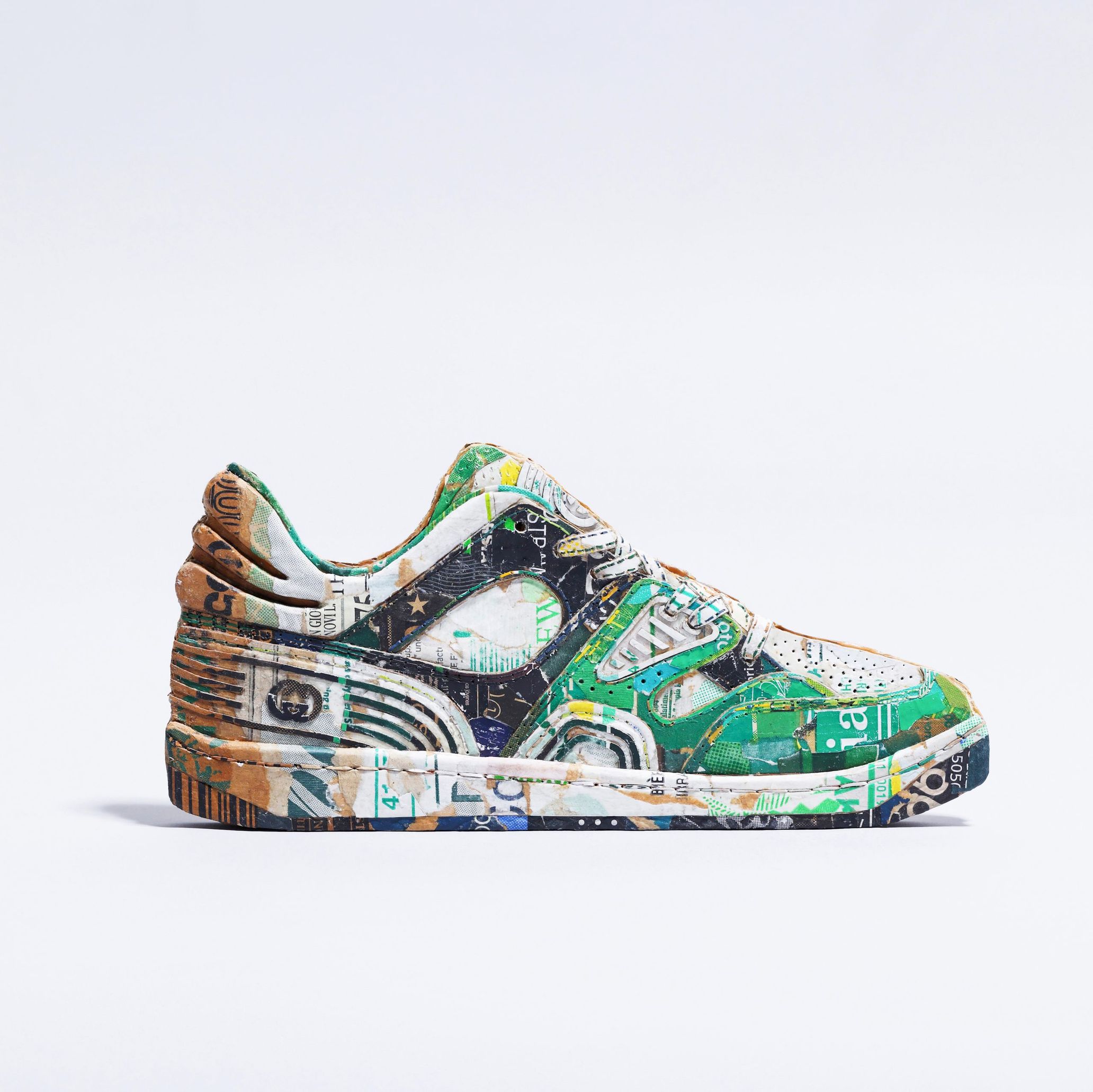 Original works made by Gima
I hope my work will inspire viewers to think about how things at home were brought in cardboard boxes from somewhere else
——I think the notion of "distribution" and "consumption," key themes under which you're developing your artistic practice, have a close link to this collaboration with Gucci. In terms of your creation, do you focus on sustainability?
Gima:When I started working as an artist in my current style, I didn't often hear about things like SDGs and sustainability. So, if I were asked whether I've been working as an artist with sustainability as my objective, I would say no. I feel that my way of expression became relevant and happened to fit with the times.
The themes of "distribution" and "consumption" came from my imagining how the items in my house were brought in from somewhere in cardboard boxes. At the same time, I have also seen a lot of those [cardboard boxes] become garbage. But I'm not trying to say that we should be looking at things more factually. What I value most is the coolness of the work as a piece of art.
It would make me happy, though, if people who see the work start a conversation with the question, "What is this made of?" and get inspired to look around home and wonder where this and that came from.
——So you hope your work will make people think about sustainability, rather than advocating it squarely, is that right?
Gima: Yeah, that's right. My style stems largely from the fact that I live near a market in Naha, where cardboard boxes are readily available. I've been collecting cardboard for almost 10 years, so I'm able to express my works with all sorts of colors, but I think it would be difficult for someone else to start collaging with cardboard tomorrow.
——In reimagining the new Gucci sneakers as a work of art, was there anything different from your previous sneaker work?
Gima: The sneakers themselves had a taste of basketball shoes from the 1980s and 1990s, which I like, so I felt that Alessandro Michele must be a big sneaker fan. That's probably why the design is loved by sneakerheads. I also like making sneakers from those eras, because they're neither too difficult nor too simple. I also like that sustainable materials are utilized in many parts of the shoe. It was fun to recreate the sneakers because of those details.
I attach a different number of pieces of cardboard on each part of the piece to create different thicknesses and make the whole thing three-dimensional. It takes time to cut out the cardboard for each part, but I get it done well, the work turns out wonderful.
What I did differently this time from my usual work was to put similarly-colored pieces of cardboard on the areas of the shoe that have same color. What I usually do is to apply letters or small fragments of contrasting colors to add an accent. But this time, I dared to use similar colors to unify the tones of respective parts. I was intentionally creating a calm but gorgeous look. I also created shaded parts of the heels in a way that lets you see the cardboard as a material, which is slightly different from my previous works.
——Nowadays, sustainability has become a keyword in the fashion world as well. What are your thoughts on the trend?
Gima: I have a limited knowledge of sneakers from the 1970s to the present, and I know the designs, production methods, and materials have changed with the times. So I think it's natural that the keyword "sustainable" is coming up as a change. It's important, of course, to be environmentally conscious and to reduce wasted materials and energy consumption. However, it's also important to consider how people can work more efficiently, or how we can reduce working hours from, say, 10 hours to 6 hours. I believe that improving efficiency is also linked to sustainability.
I think it's significant not only for the fashion world but for the entire planet to have a leading brand like Gucci communicate that it uses sustainable materials in the creation of its products. I hope the brand will continue to lead this trend with such a movement. Its impact will surely reach the general public as well.
"Among all sneakers, I particularly like basketball shoes, and I often recreate them in my work. The plastic parts commonly used in the 1980s and 1990s were reborn through the sustainable material Demetra, and it was fun to think about how to replicate this with cardboard as a material. This time, I focused on ming gradation with similar colors to express the color of the shoes." (Gima)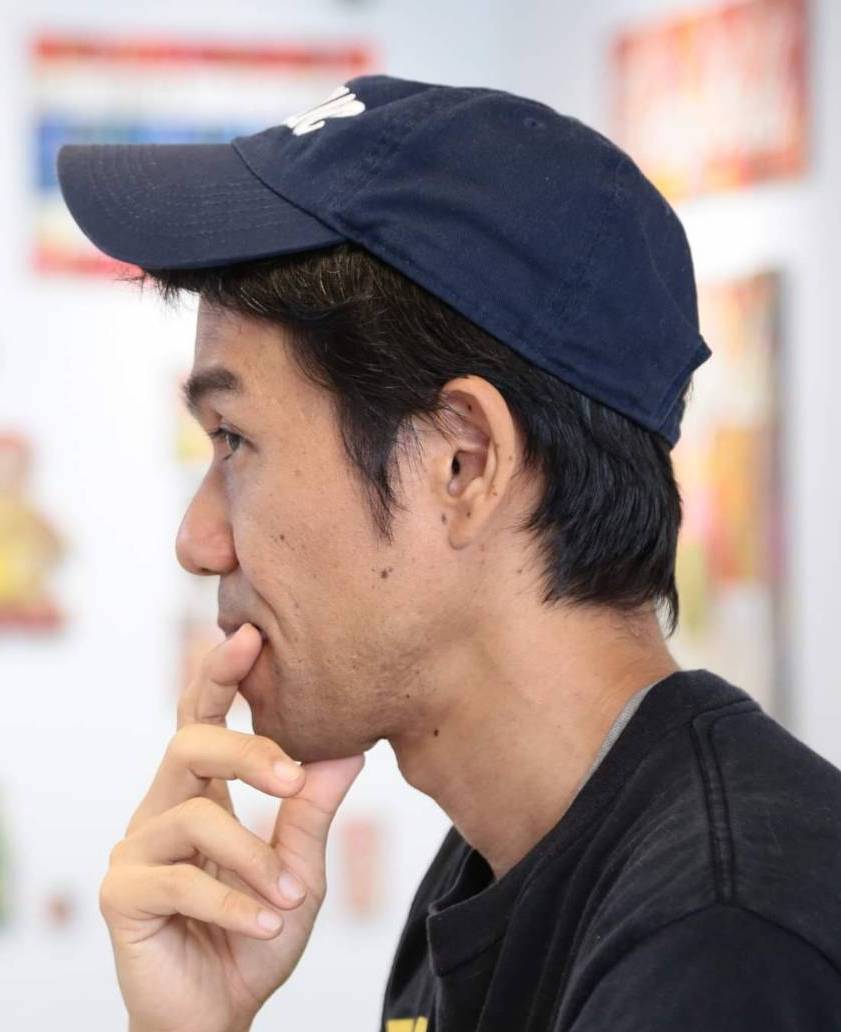 Tomotatsu Gima
Tomotatsu Gima is an artist who creates collages from cardboard boxes under themes of "distribution" and "consumption." He has primarily been presenting his artworks at exhibitions, but has also been involved in the creation of magazine co-vers and advertisements both in Japan and abroad.
The Gucci Basket sneakers are made of an innovative and sustainable new material to reduces the burden on the environment
Gima's cardboard sneakers are based on the new "Gucci Basket" models, designed by Gucci Creative Director Alessandro Michele and inspired by basketball shoes. The three models, with different color hues and fabrics, make use of the original material "Demetra," primarily composed of bio-based materials that are non-animal derived and renewable. An ID tag is attached to each respective item.
Gucci has been carbon neutral throughout its supply chain since 2018, and continues to make efforts to create positive change in the natural environment by protecting and restoring forests and mangroves, and investing in regenerative agriculture. In July of this year, the company announced that it has become a strategic partner of the Ellen MacArthur Foundation to accelerate its efforts in the circular economy.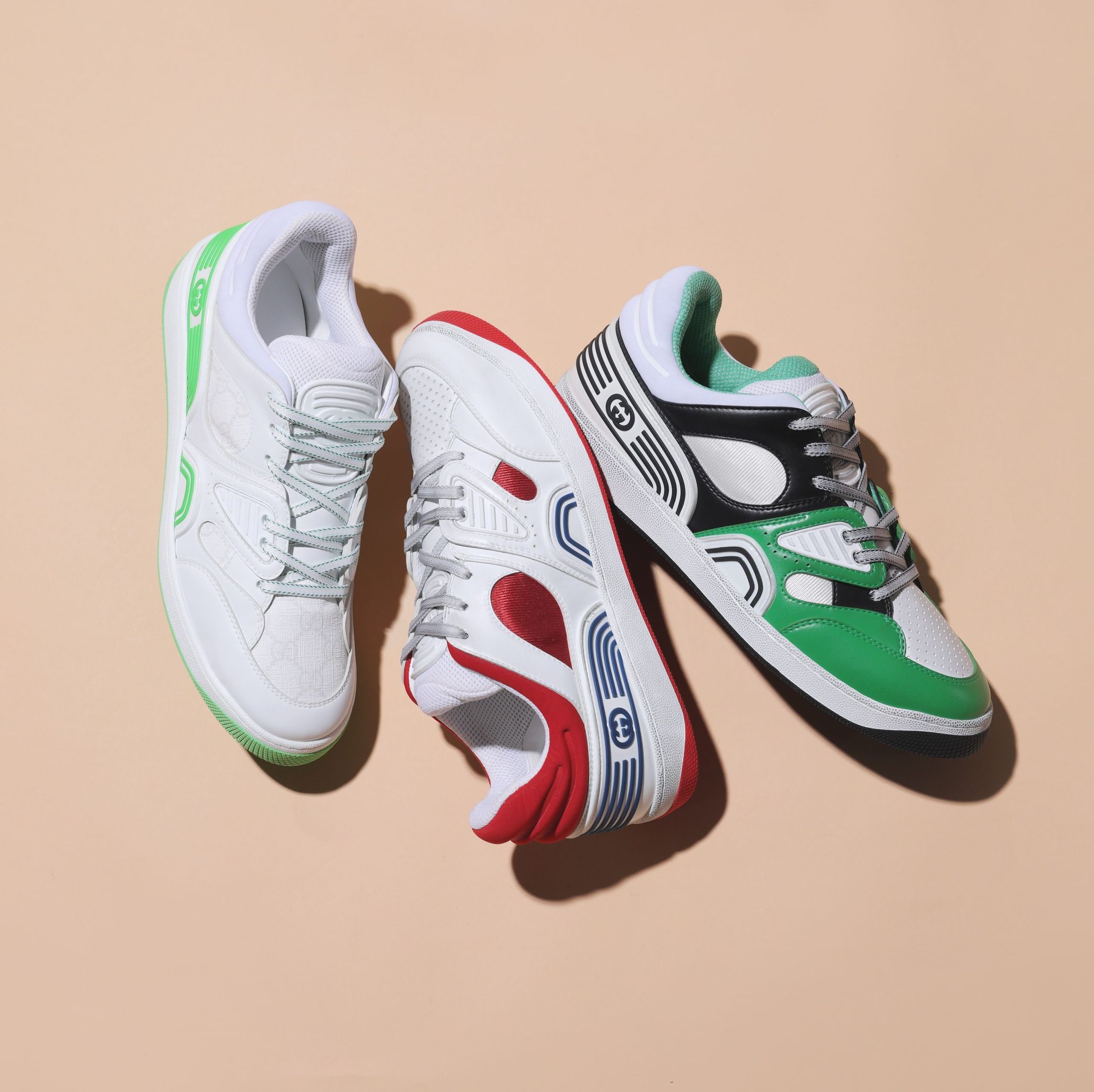 Gucci sneakers ¥134,200
Gucci Japan Client Service
0120-88-1921
Photography Shinpo Kimura[STILL]
Edit Wataru Matsumoto (PineBooks inc.)
Motion & Sound Shigeru Suzuki (THE ME)
Translation Shinichiro Sato(TOKION)
Produced by TOKION for GUCCI