Gucci, a brand which continues to actively contribute to sustainability in the fashion industry, has introduced a lineup of items in new colors for the "Gucci Off the Grid" Collection as a part of Gucci Circular Lines, the brand's sustainable production initiative.
Coinciding with the launch, Gucci collaborated with the photographer So Mitsuya on a special project. This interview explores how Mitsuya, a photographer who creates a unique sense of "discomfort" by combining fiction and reality in his photographic images, perceives and expresses himself through "Gucci Off the Grid".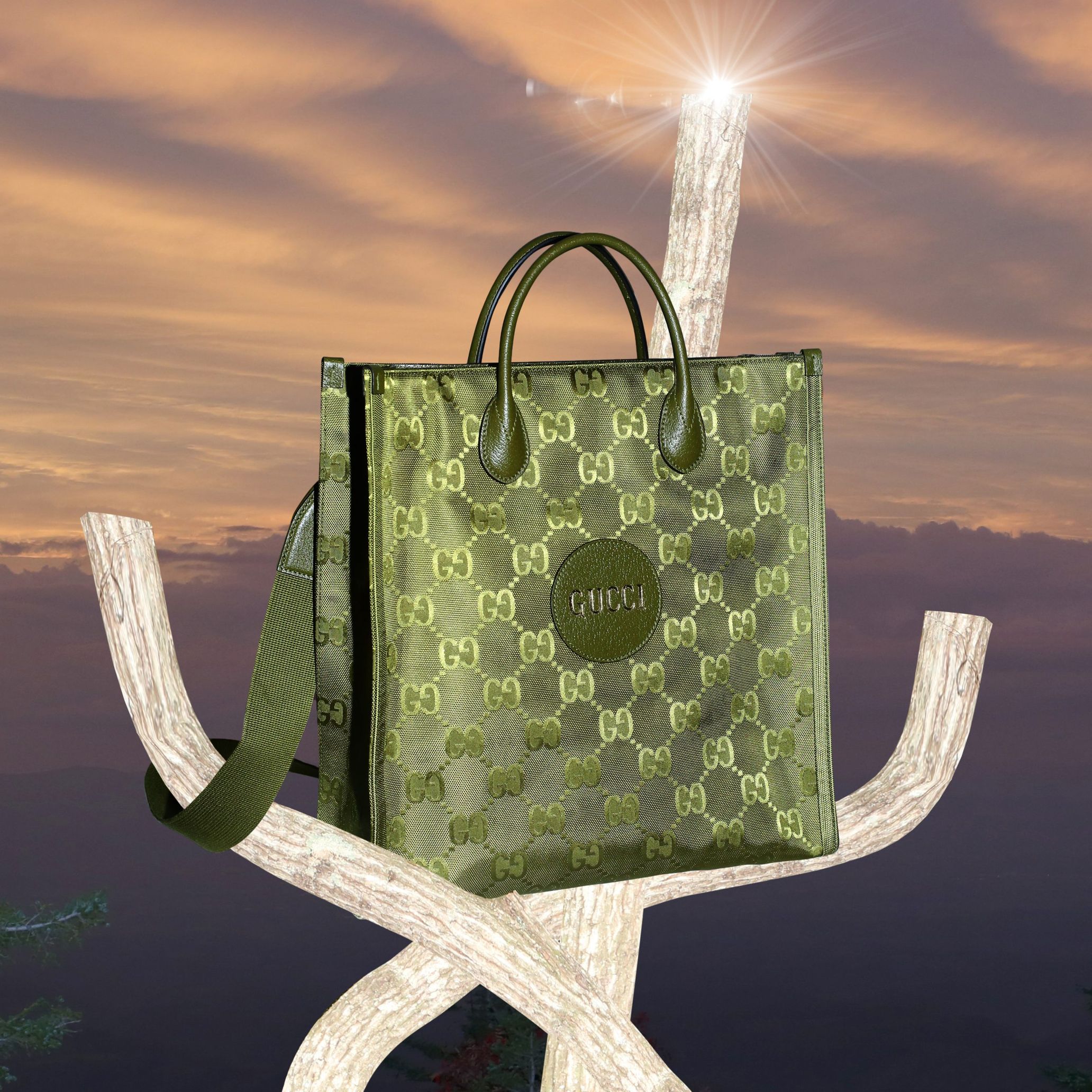 Collage is interesting because I can create any image I want— it's like painting with photographs
——What made you start working as a photographer?
So Mitsuya (Mitsuya): I started out as a musician. My girlfriend at the time was working at a museum of photography, and when she saw the photos I took, she told me that I should do photography. Then I came to know the culture of photobooks and photo exhibitions within the world of photography, and decided to give it a try. When I told her, she said, "Sell the music equipment you have at home right away and buy a camera!" [Laughs]. So I actually sold my instruments and bought a camera. At that moment, I reached a point of no return.
——So then when did you first come to think of yourself as a photographer?
Mitsuya: I became aware of myself as an artist when London-based media found my work and featured it. That gave me confidence that my work would be seen as art. After that, I started sending my work to international art magazines and taking pictures to show to people.
Just when I began to think that I wouldn't be able to continue work as a photographer unless I won an award or something, I won a prize in a competition called the JAPAN PHOTO AWARD. This led to people in Japan seeing my work, and I began to get client work. Looking back, I guess I wanted to escape from music, which wasn't going well for me, and I was eager to try anything new.
——Was your first work recognized abroad a collage like the one you're working on now?
Mitsuya: No. Back then, my works were straight photos of critical moments on the street. But as I went along with it, there were times when I felt that my work could have been improved through editing and manipulation, so I digitized the photos I'd taken on film and edited them. Originally, retouching is a process of removing what you don't need, but I tried adding something else to the images. For example, I placed a person in an empty mirror. By doing so, it became what I wanted it to be, and it was interesting because it felt like I was drawing a picture. I shifted focus from film to digital because my photography became more about the manipulation after the shoot than the shoot itself.
——Do you think the technique of retouching is a part of your own style?
Mitsuya: Yes, I do. I consider my style as one long process of releasing the shutter. I take a quick shot, bring it back to my workshop, and edit it on the monitor. In the editing process, a slight noise appears in the picture. I make a large print of the photo so that the noise can be seen, check it, then erase it. I feel as if the camera shutter stays open until the end of this editing process.
However, collage photography is already common around the world. Overseas, fashion photography and art photography are at the same high level and are fused together, but in Japan, there is a big cultural divide between the two. So I think what I'm doing stands out more in Japan. From a global perspective, collage photography needs more advanced elements in addition to the technique itself, and I'm constantly experimenting in order to reach a higher level.
——I feel like the collage technique can be used to realize anything through editing, like there are no limits to the images that can be made. In the case of fashion photography, where you already know what you're going to shoot, how to you come up with the ideas and materials for what you'll combine?
Mitsuya: I don't come up with ideas from scratch. For example, a telephone pole with an interesting curve in a photo I've already taken can be a source of inspiration. I develop my ideas from that kind of starting point. For fashion shoots, though, I draw from elements like the model's pose, styling, hair and makeup, and then work to find things to combine from my personal archives. So I don't think about anything while I'm shooting. When I bring home the photos I shot and refer back to my archives, they often miraculously come together. This way, I'm able to maintain a feeling of life in the images without stopping to think.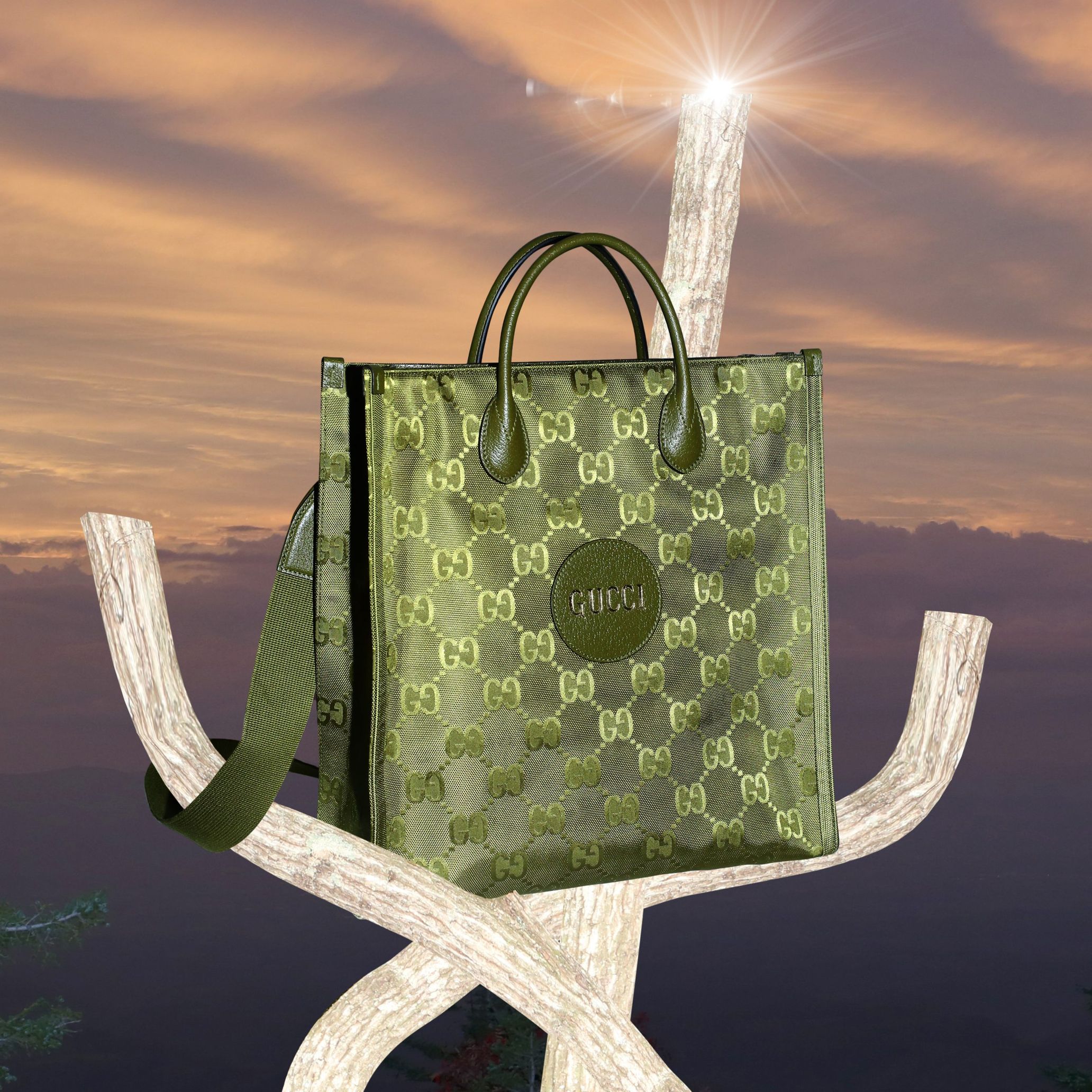 Original works made by Mitsuya
Digitally transforming the indestructible natural world can result in a humorous image
——When you were working on the "Gucci Off the Grid" pieces, did you have any particular theme in mind?
Mitsuya: First, I chose "nature" and "sustainability" as my themes from the existing keywords associated with the items. In the mountains behind my parents' house in Kyoto, there's a forest I love that hasn't changed a bit since I was a child. I created all the images on the theme of sustainability by repeatedly using one tree from a photo I took there. The same tree is repeated in the four images, the look of the tree is changed little by little through manipulation on the PC. So I'd like the viewer to see the process of gradually building a relationship between the product and the tree.
——It's really the kind of world that only you can create. The products in the "Gucci Off the Grid" collection, which was the focus of this collaboration, are made from sustainable materials. Are you involved in any sustainability-conscious activities yourself?
Mitsuya: I don't think there is anything in particular that I'm doing on purpose with an awareness of sustainability. However, as I mentioned earlier, when I go to the forest near my parents' house I pick up trash the trash that I find, and I ride my bike most of the time in Tokyo. So, I haven't yet ventured to take "sustainable" action, but I sometimes think afterwards that what I have been doing in my daily life might be connected to such practices. The important thing is to protect the environment that surrounds us all.
——Is there any difference between working with brands and manufacturers and creating your own works?
Mitsuya: I basically take the same stance. But the process of creating a work of art is different from that of creating work for a client. In the case of my own artwork, the subject may or may not be in the picture, but in the case of commercial work, motifs such as models and clothing have to be in the picture. This difference is massive. When there are things that must be in the picture, the work has less freedom, but there are also ideas that can only be born from such limits. By being forced to look at something with a certain gaze, I feel like I'm in a training session. I also make use of these experiences in my own work where I have a higher degree of freedom. I'm now able to come and go between my own work and client work, enough so that I'm able to balance my mind as an artist.
Ever since I was a child, I felt weirded out with the fact that everyone was doing the same thing without question. Like, I felt uncomfortable with only being able to paint a certain color in arts and crafts class, and the same goes for chorus. With photography, I can express a sense of "discomfort." Also, I think collage might suit my personality because it expresses something that doesn't look the same to everyone. I feel that my work is like a picture of something that comes from within me.
——Finally, can you tell us about anything you'd like to do as an artist or photographer in the future?
Mitsuya: Photography is basically something that is shown on a flat surface. But to show a flat surface, you need space. So recently, I have been thinking about three-dimensional modeling and how to show photography. I'm thinking about how to make a two-dimensional object look three-dimensional. In other words, I'm thinking about how to combine three-dimensional objects and collage within a certain space.
And I would like to continue to explore as an eternal theme whether I can make use of ideas that I have never thought, to open up my thinking and create works of art.
"Nature and greenery have always been my favorite motifs— I grew up in a place with lots of greenery nearby, so I want my favorite place to exist forever, never fading away. So I connected this work with the nature preservation that "Gucci Off the Grid" aims for. It was interesting to process an image of single tree over and over again while trying to create harmony between it and the green items in the collection." (Mitsuya)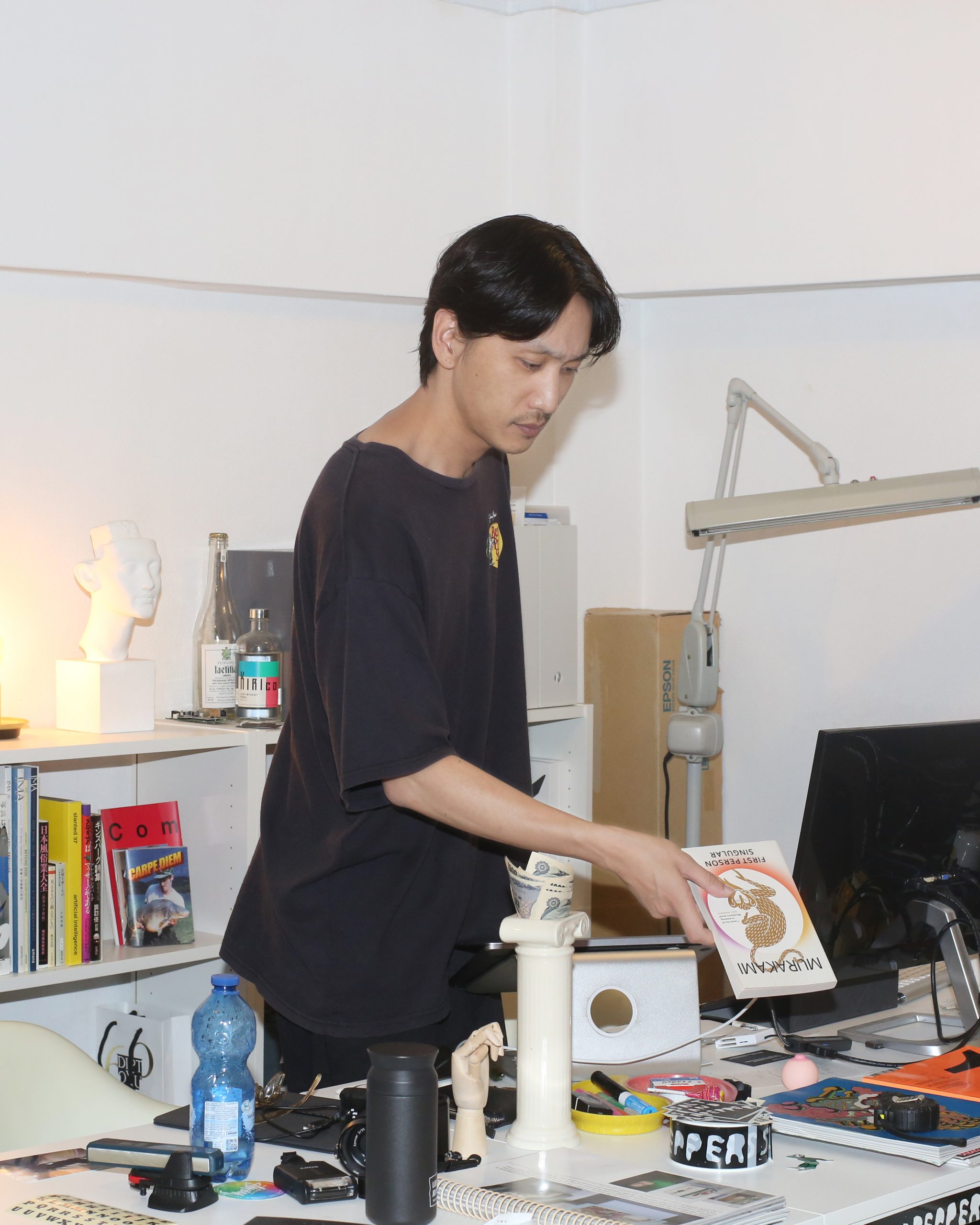 So Mitsuya 
So Mitsuya is a photographer, born in 1990 in Kyoto. He switched from a career in music to photography and has attracted attention from around the world. In addition to doing work in media and advertising, he has also held solo exhibitions. In 2018, he received the Charlotte Cotton (Editor) Award and David Toro (DIS) Award from JAPAN PHOTO AWARD.
Gucci's sustainable collection using sustainably sourced materials
The items Mitsuya has played with in his work this time are from the new "Gucci OFF THE GRID" collection, which makes use of special sustainable materials. Each product uses the recycled nylon yarn "ECONYL," made from scraps, waste, organic and bio-based materials, and is characterized by environmentally friendly designs. The new Khaki collection will be released first in Japan, ahead of other countries.
Gucci has been carbon neutral throughout its supply chain since 2018, and continues to make efforts to create positive change in the natural environment by protecting and restoring forests and mangroves, and investing in regenerative agriculture. In July of this year, the company announced that it has become a strategic partner of the Ellen MacArthur Foundation to accelerate its efforts in the circular economy.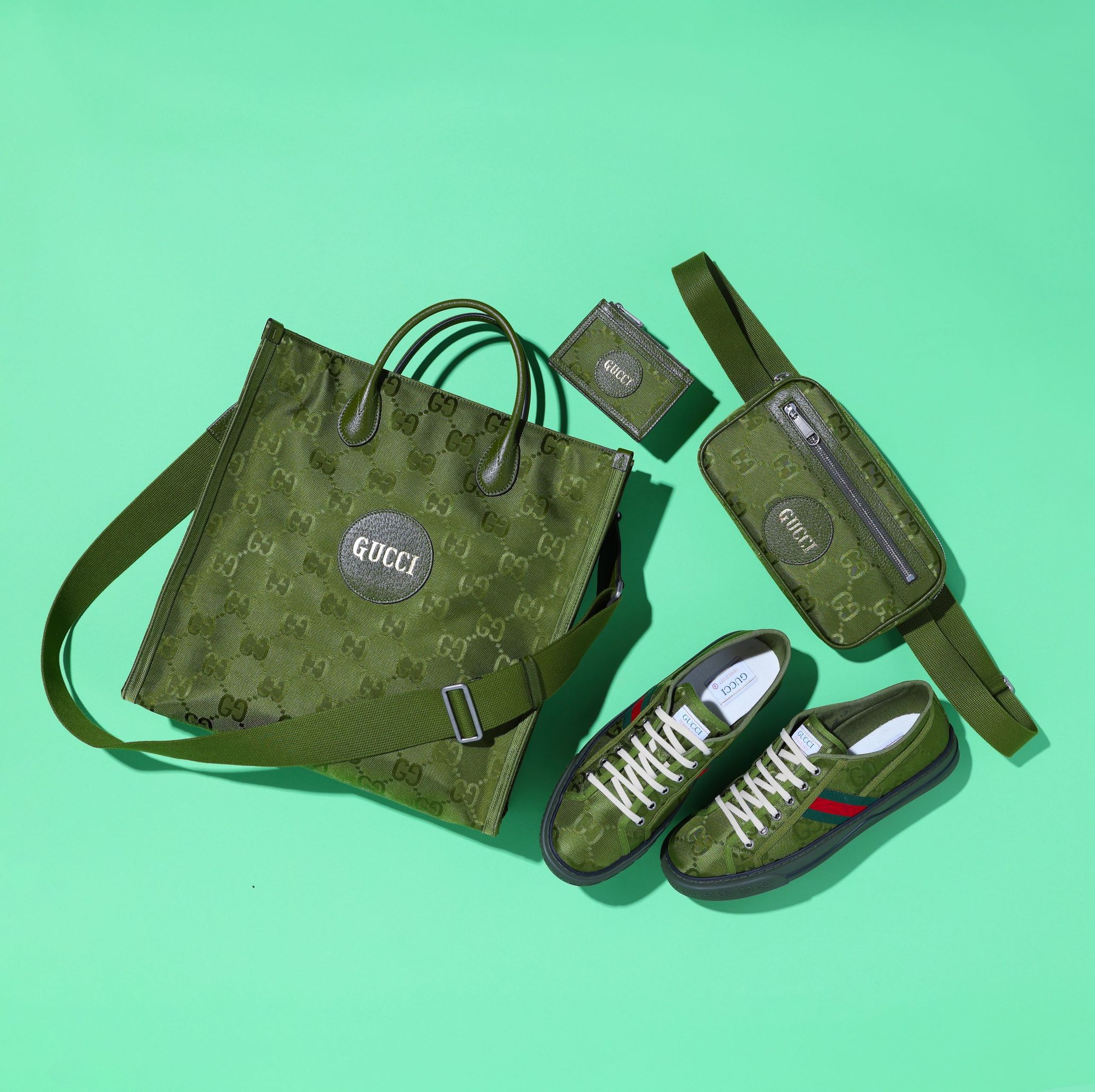 Clockwise from left: Gucci tote bag ¥217,800, belt bag ¥129,800, card case ¥47,300, sneakers ¥99,000
Gucci Japan Client Service
0120-99-2177
Photography Shinpo Kimura[STILL]
Edit Wataru Matsumoto (PineBooks inc.)
Motion & Sound Shigeru Suzuki (THE ME)
Translation Shinichiro Sato(TOKION)
Produced by TOKION for GUCCI