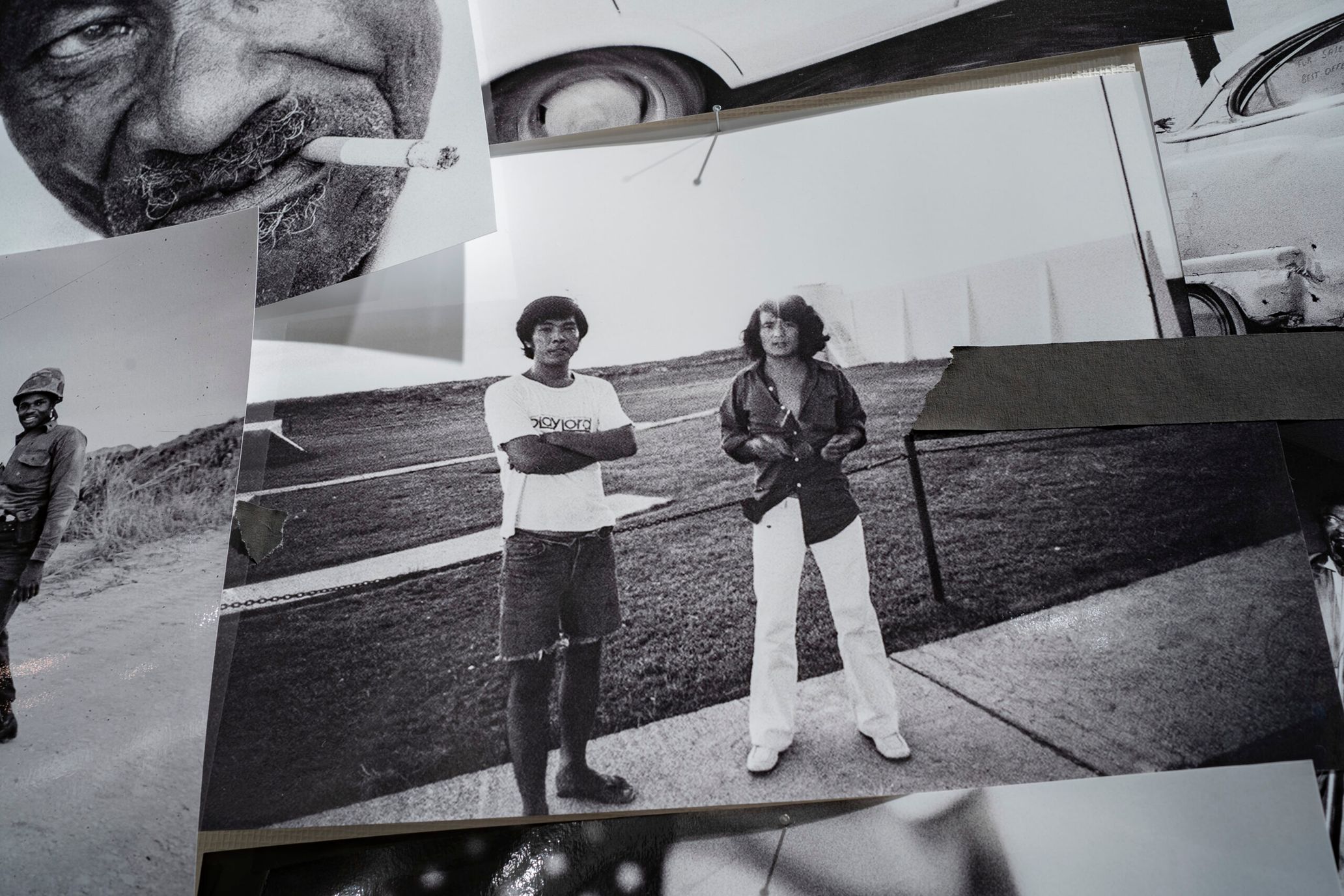 The exhibition 50th Anniversary of the Reversion of Okinawa to Japan, 1972-2022 TOMMAX and Osamu Nagahama: Two Men's Okinawa and America, presented by PLAZA HOUSE x MOON HOTELS & RESORTS, was held in Okinawa for about a month beginning on May 15, 2022, the 50th anniversary of Okinawa's reversion to Japan.
This second part of the interview focuses on the exhibited works and the exhibition venue.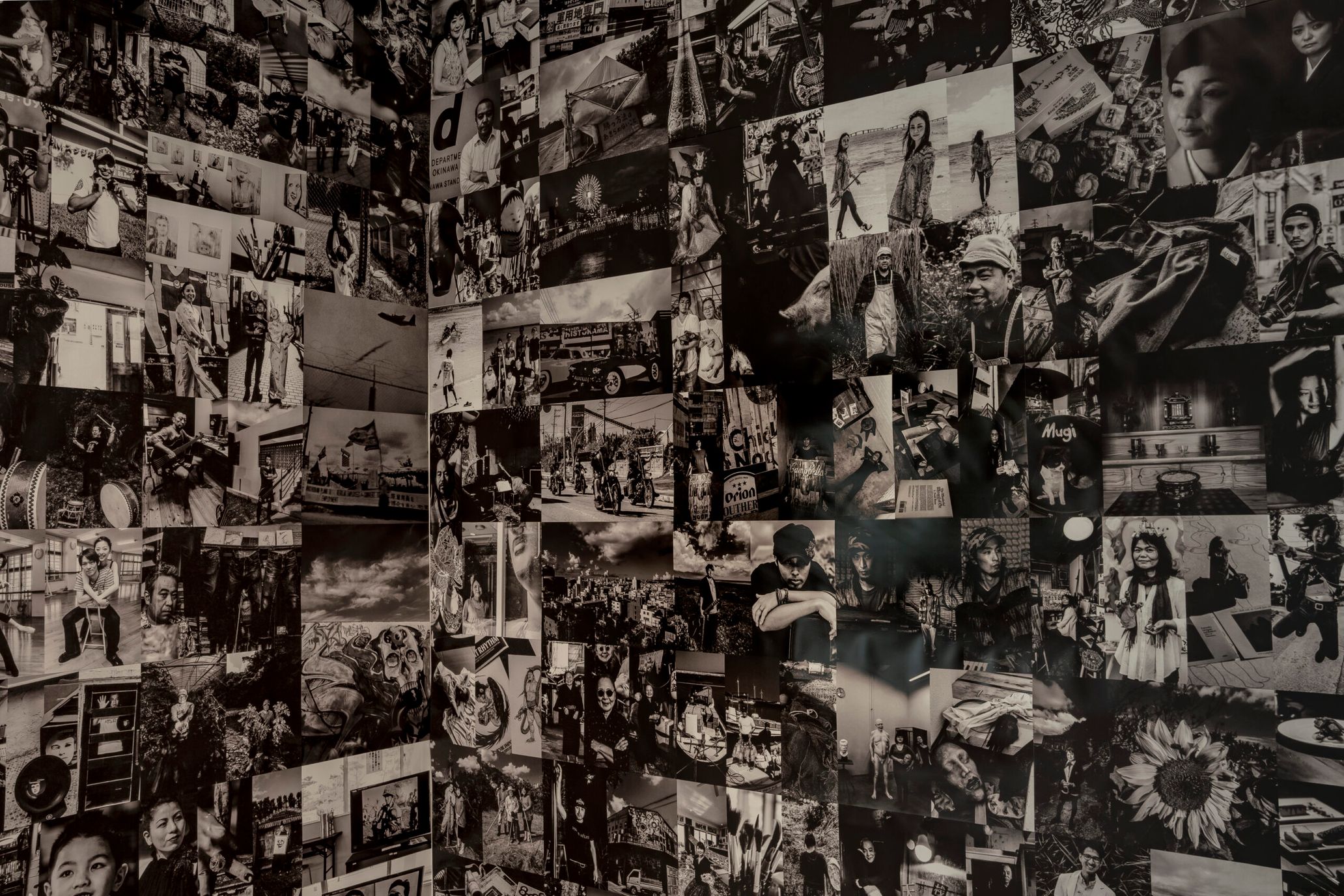 The exhibited works in 1972-2022 TOMMAX and Osamu Nagahama: Two Men's Okinawa and America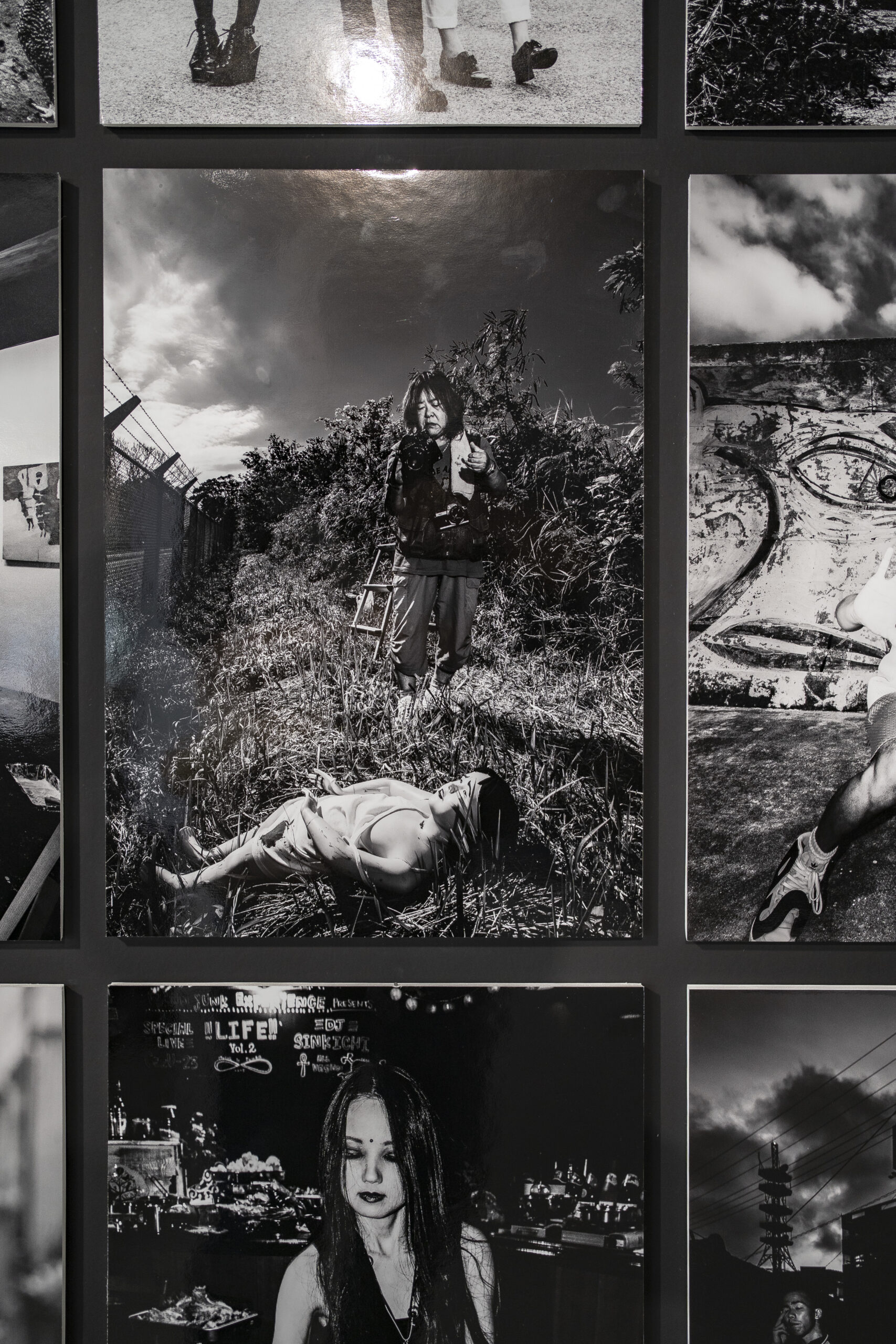 This is a photograph of Mao Ishikawa, a photographer and activist based in Okinawa. Nagahama deeply admires Ishikawa as a photographer who continues to photograph people around Okinawa and rigorously captures a variety of aspects of the land.
"Mao Ishikawa is a truly amazing photographer. She covers all sorts of historic events that happened in Okinawa, and these photos recreate actual incidents from the past. The barbed-wire fences of U.S. military bases are a theme for her work. These fences are set at an angle of 120 or 130 degrees to prevent people from getting inside," says Nagahama.
The doll lying on the ground stands for the body of a young Okinawan girl who was killed by American soldiers and left outside the fence of a military base. As a photographer, Ishikawa has chased the incidents of Okinawa, which we cannot allow to fade away, nor should we turn away from.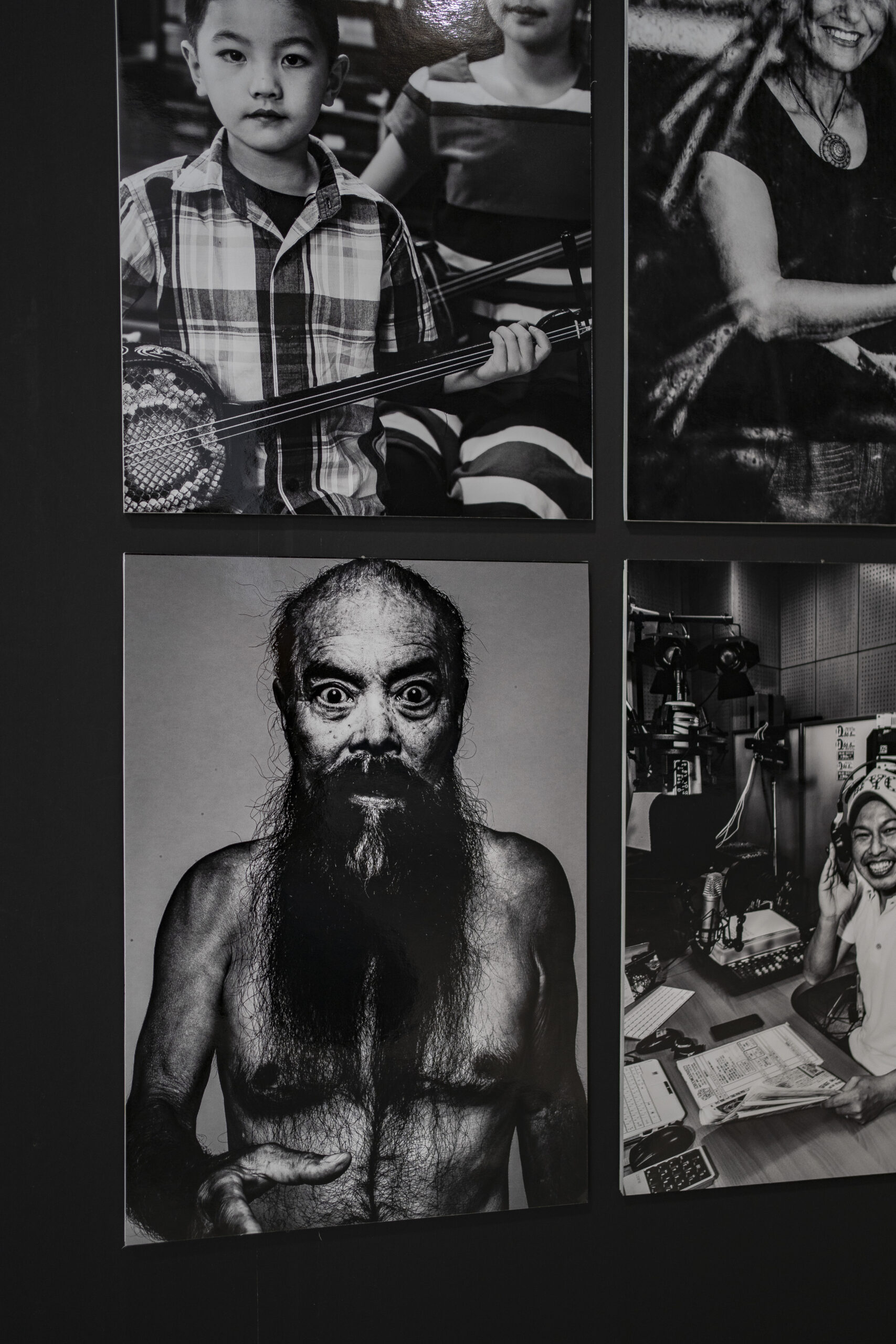 When Okinawa was still a part of the United States, American soldiers stationed at U.S. military bases were captivated by the types of music commonly known as "Okinawa Rock" produced by Okinawan bands. Centered in Koza (now Okinawa City), which at the time was heavily affected by the Vietnam War, the unique groove of Okinawan rock music that emerged in 1964 was indispensable to the lives of Marines who had come to Okinawa on a one-way ticket from the U.S. Among the Okinawan rock bands that originated in Okinawa, Condition Green was particularly remarkable.
"The vocalist Kacchan [Katsuhiro Kawamitsu] was legendary. He mostly worked in Koza, but he was really so great. I once saw him perform in Kincho, and he chopped off a bird's head, slit the body of snake, and even filled his cowboy boots with beer from American soldiers and told them to drink it up," recalls Nagahama.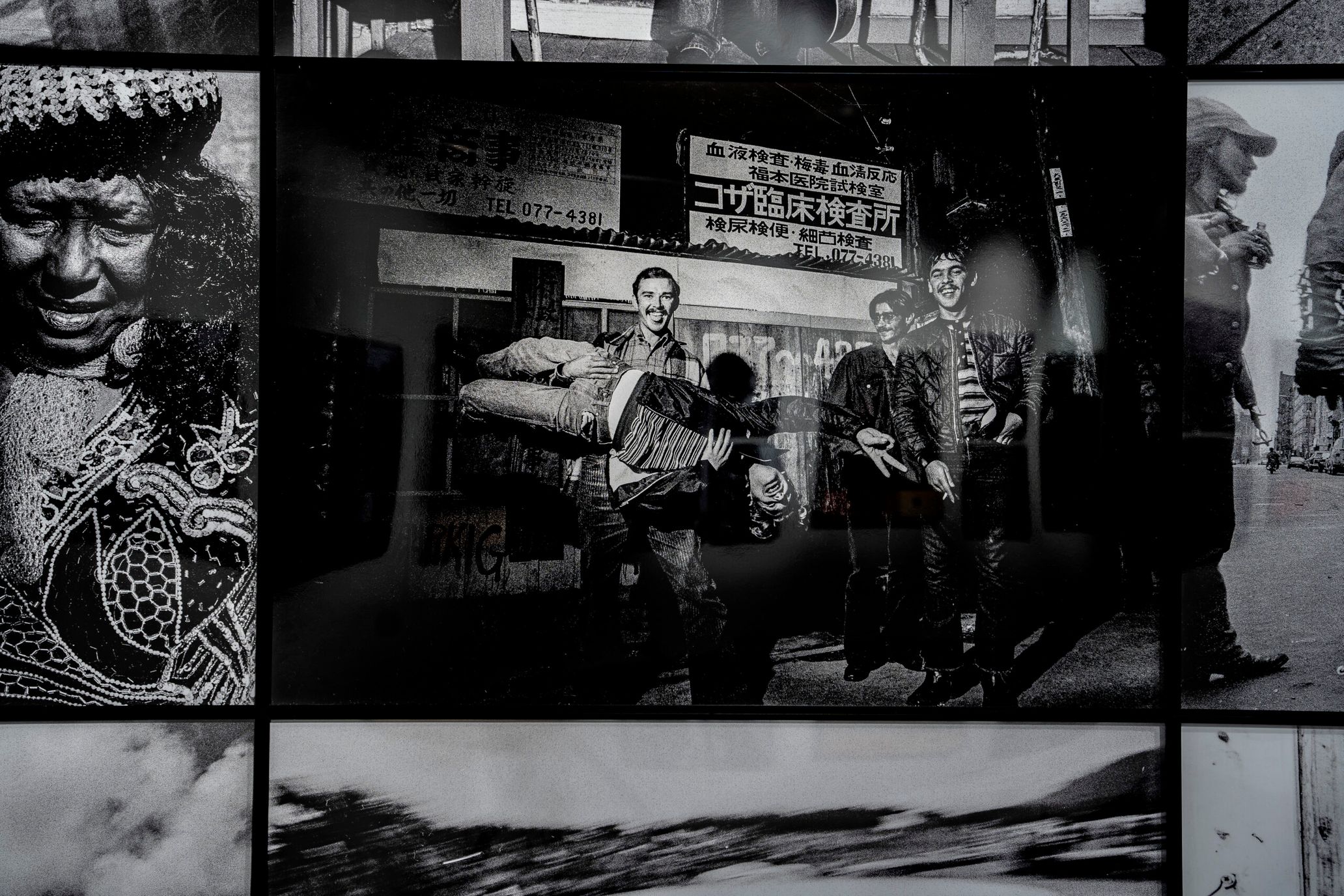 Nagahama took this photo of young marines in Koza City when he visited Okinawa in 1969. They're hip young men with smiles on their faces who seem to be enjoying their weekend nights. "Syphilis," written in Japanese on the sign in the background, however, is telling of what life was like in Okinawa back then, and the smiles on the young men's faces suggest that they were enjoying their last night of rest and relaxation before leaving for war the next day.
"The Marines who came to Okinawa on a one-way ticket were young men who were barely out of their teens. I had heard that about half of the soldiers who went to Vietnam at the time didn't come back. When people are in a situation so extreme, where they might die the next day, they can only smile. And when those people gather, a momentarily upbeat atmosphere is created. So when I said "Let's take some pictures!", they smiled cheerfully. But as I was taking the pictures, I couldn't get those smiles out of my mind, wondering why they were so cheerful. I felt the horror of war."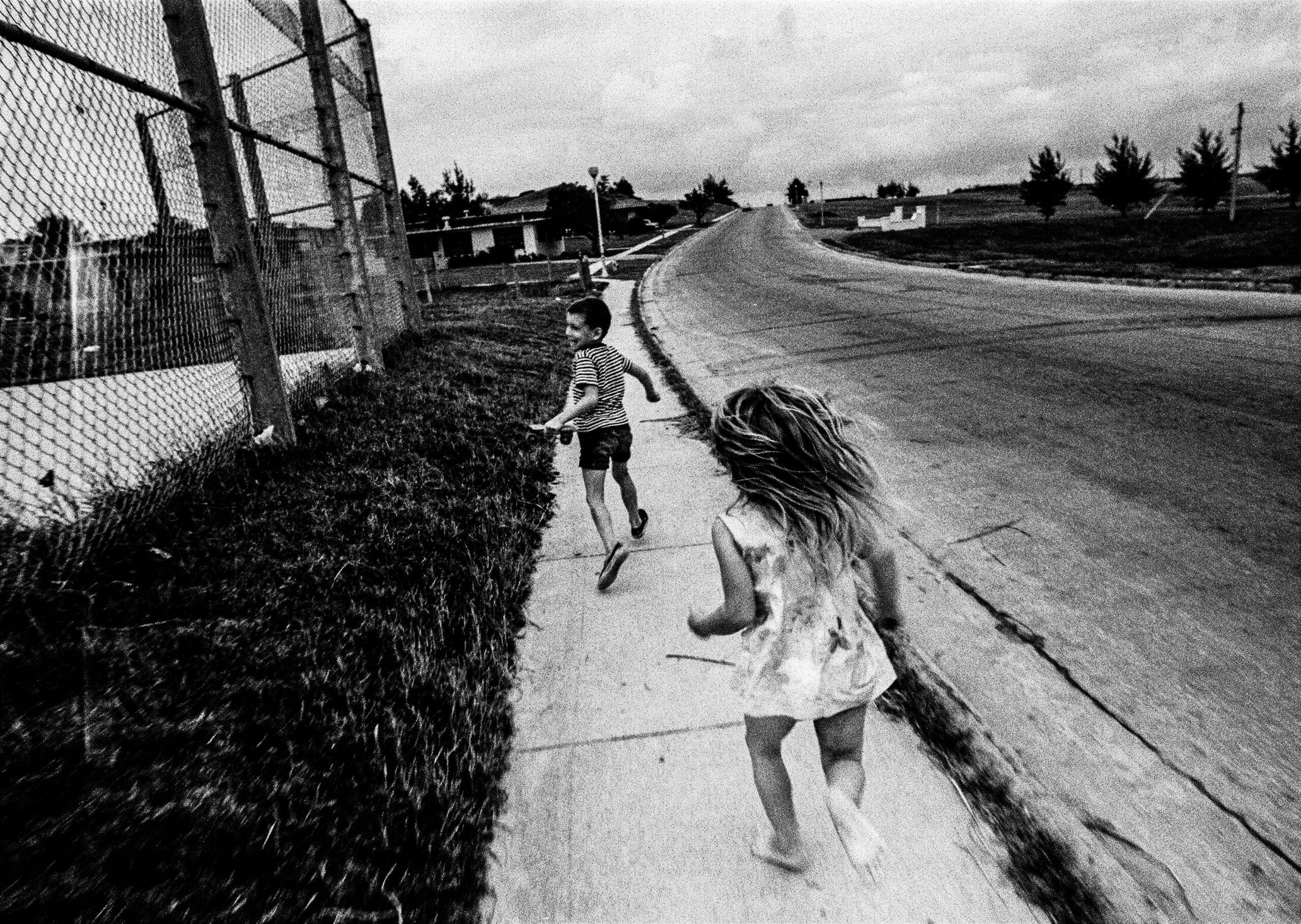 Children running along the road inside the U.S. military base before Okinawa was returned to Japan. The girl in the front chasing after the boy is barefoot.
"This photo is nice. The children running barefoot in the U.S. military base are happy. But beyond the wire fence, as Yoko Uema's book 裸足で逃げる 沖縄の夜の街の少女たち (Running Away Barefoot: Girls in Okinawa's Night Streets) shows, even today, 50 years since then, girls from unhappy family backgrounds have no choice but to flee barefoot in the streets of Okinawa at night. I wanted to convey through this photograph that there were, and still are, two worlds of barefoot girls."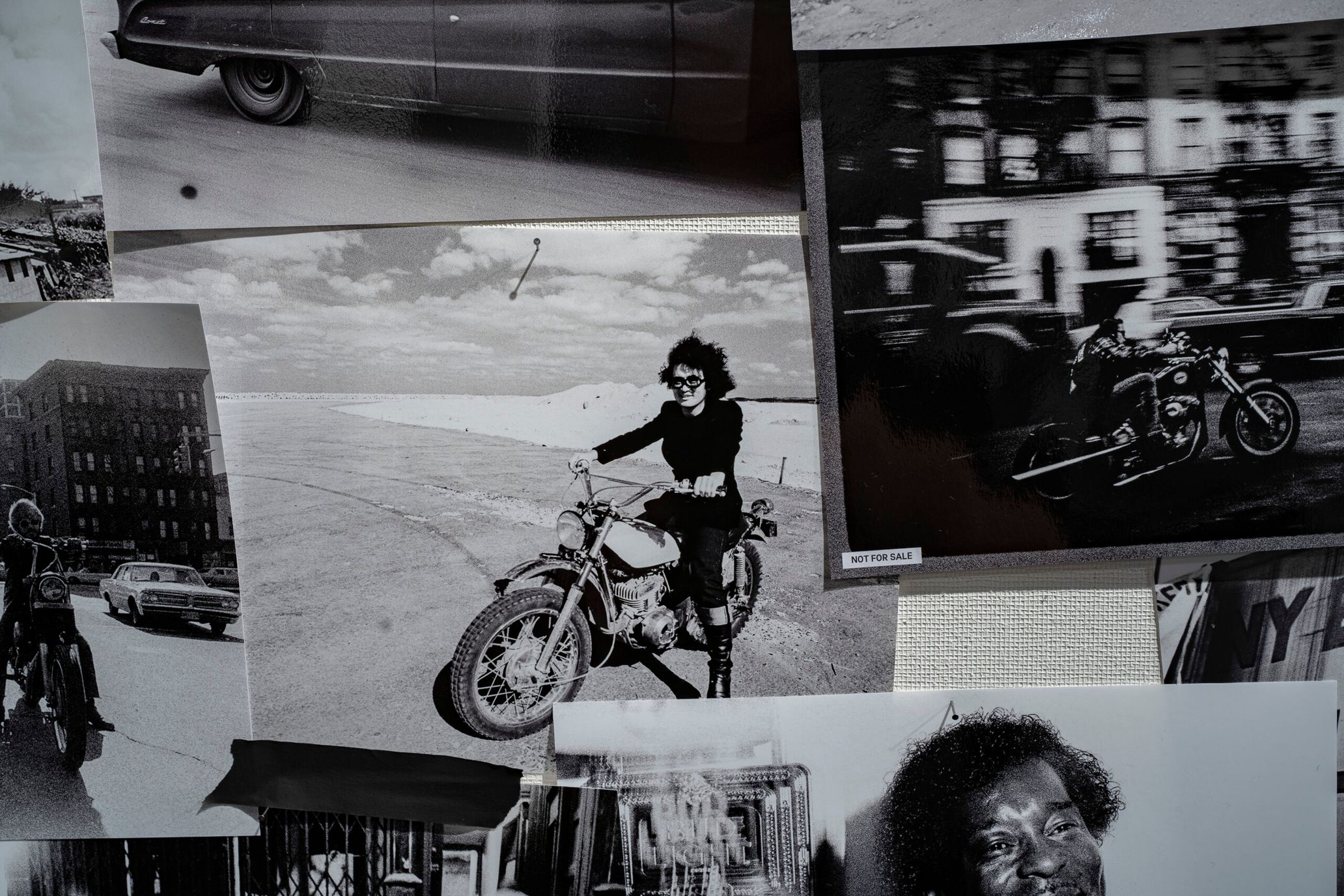 Nagahama, a motorcycle enthusiast, riding a Yamaha at the location of the photo shoot.
"Me when I was a delinquent. I was photographed in Mississippi by Kenji Miura, a photographer who was my assistant," Nagahama says.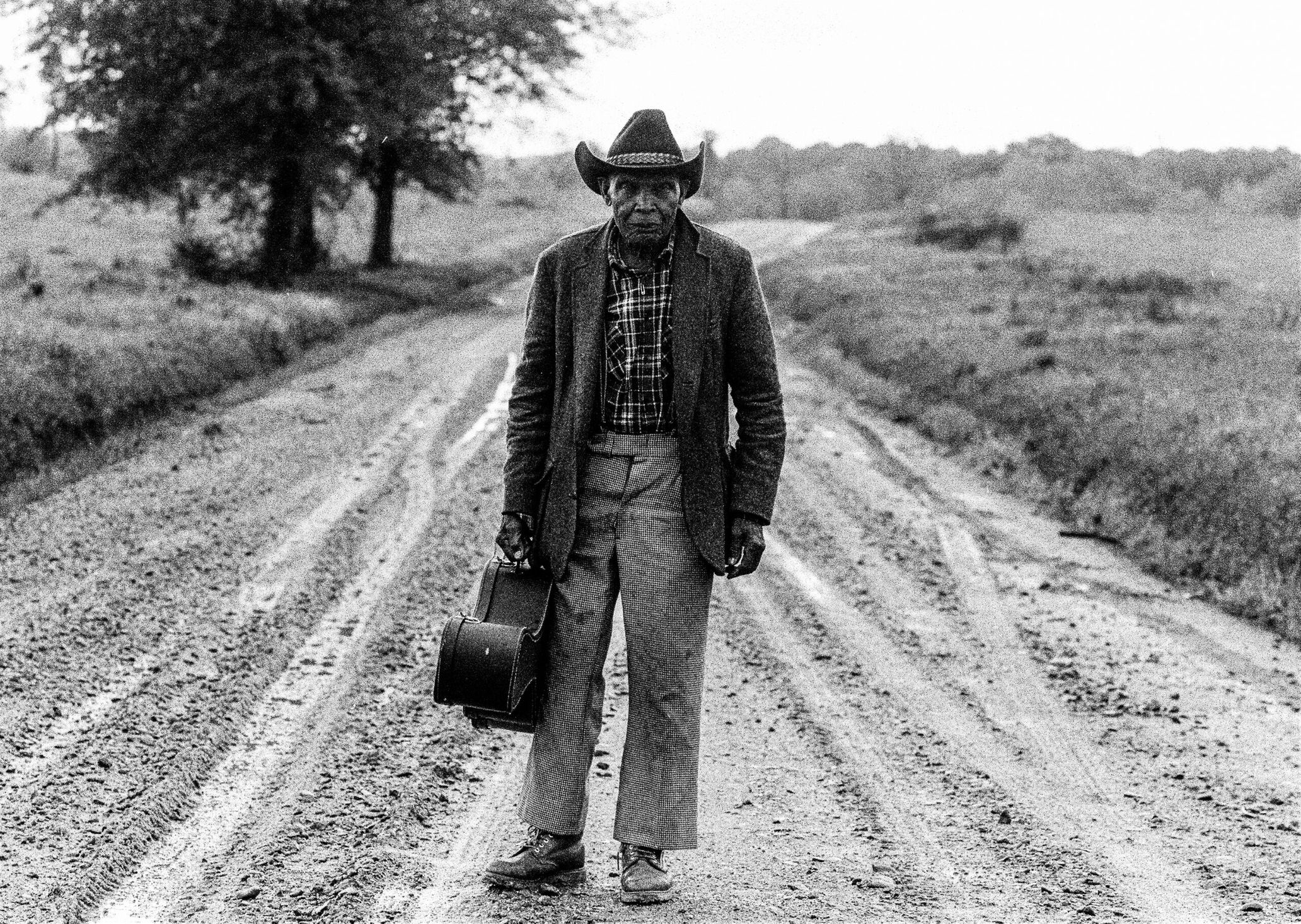 In the late 1980s, Nagahama headed to Clarksdale, Mississippi, the holy land of the blues, to photograph musicians playing the Delta Blues he adored. Without making any appointments, Nagahama went to visit famous musicians and take portraits of them. Pictured here is bluesman Jack Owens, who also appears on the cover of Nagahama's book Cotton Fields. Many photographs of blues musicians were also on display at the exhibition.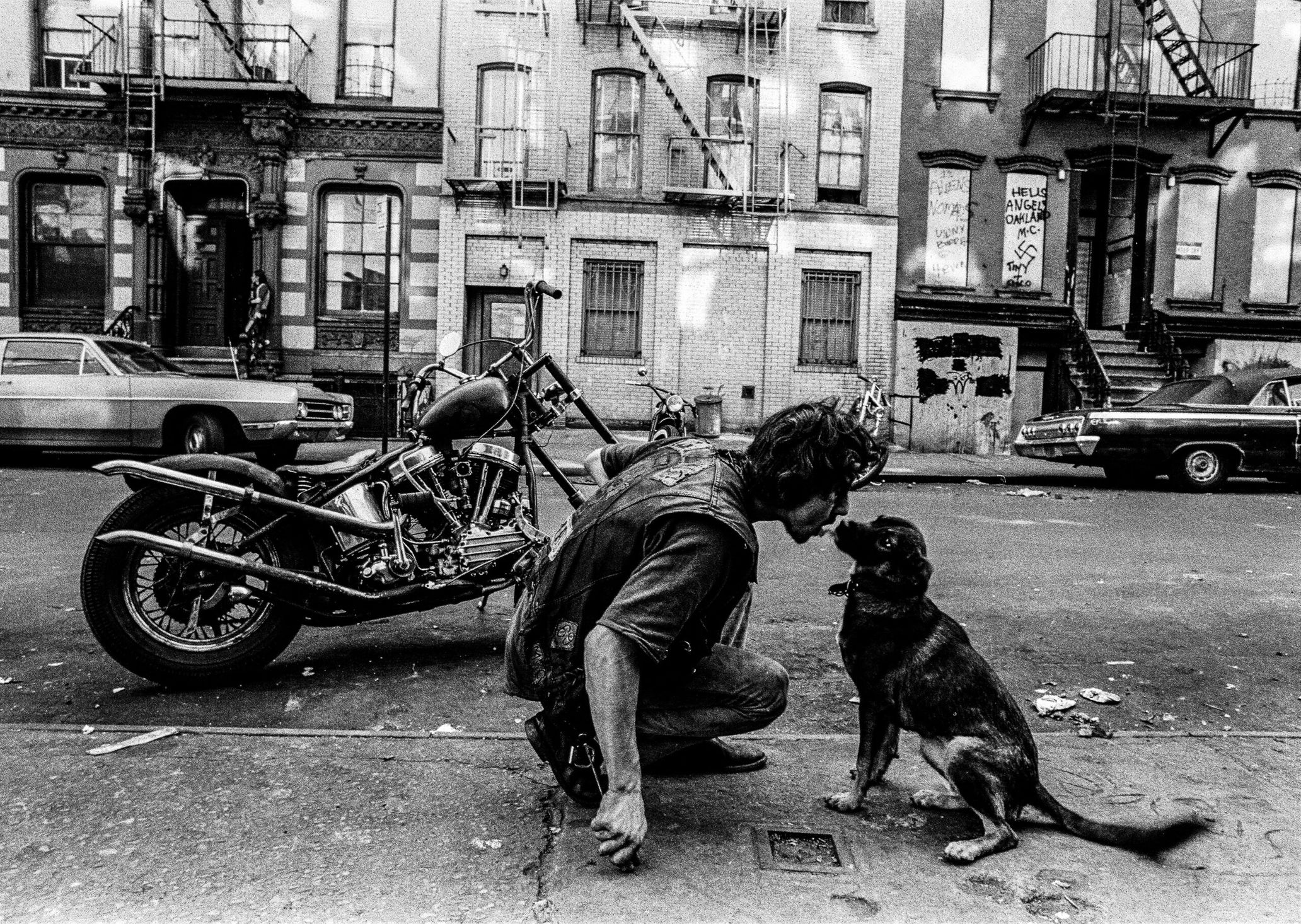 The exhibition also included photographs of the New York Nomad Aliens (later the New York Chapter of the Hell's Angels), a roving motorcycle group with a hideout in Manhattan that appeared in Nagahama's legendary photobook Hell's Angels. Nagahama had an astonishing encounter with the Hells Angels in San Francisco (see Part I for details) and became fascinated with them. He later found out about the Nomad Aliens based in New York, and for 10 years from 1969 to 1979, whenever he had a chance to visit the United States, he visited their hideout in New York City and photographed their real faces. It would be no exaggeration to say that Nagahama was the only Japanese person to approach the Hells Angels.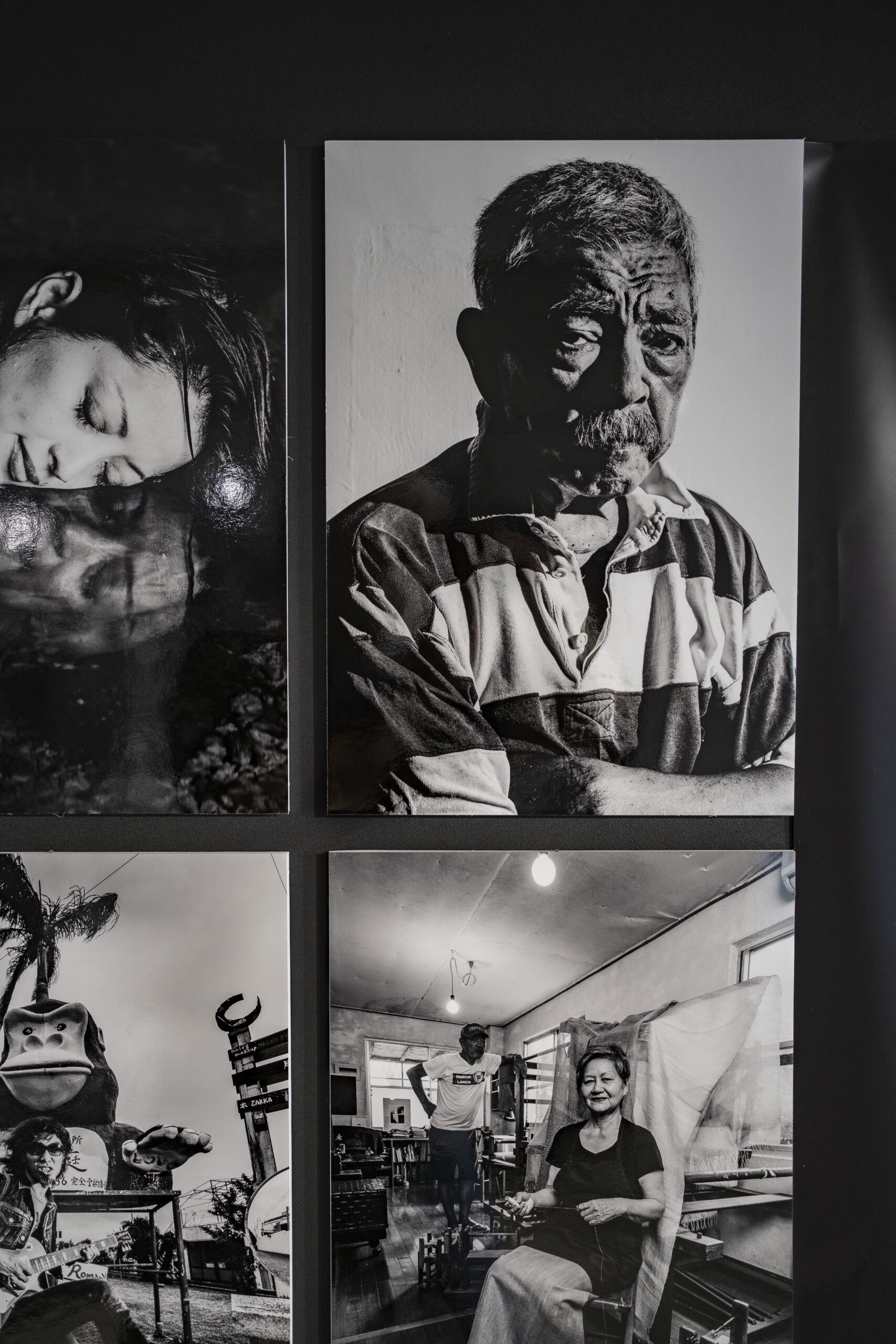 The artist Tsutomu Makishi is known by the nickname TOMMAX. Both he and Nagahama attended Tama Art University, where Makishi entered the Western painting department and Nagahama the sculpture department, and the two hit it off over a shared love of jazz and the blues. While in school, they went to see many jazz musicians' shows together. After graduating from college, Nagahama went to Okinawa in 1969 to visit Makishi, who had since returned to the land. Their close relationship lasted until 2015, when Makishi passed away. This portrait was taken by Nagahama several months before Makishi's death. Makishi also appeared on the cover of Osamu Nagahama's 暑く長い夜の島 —長濱 治 沖縄写真集 (The Island of Long Hot Nights), a photobook published in 1972.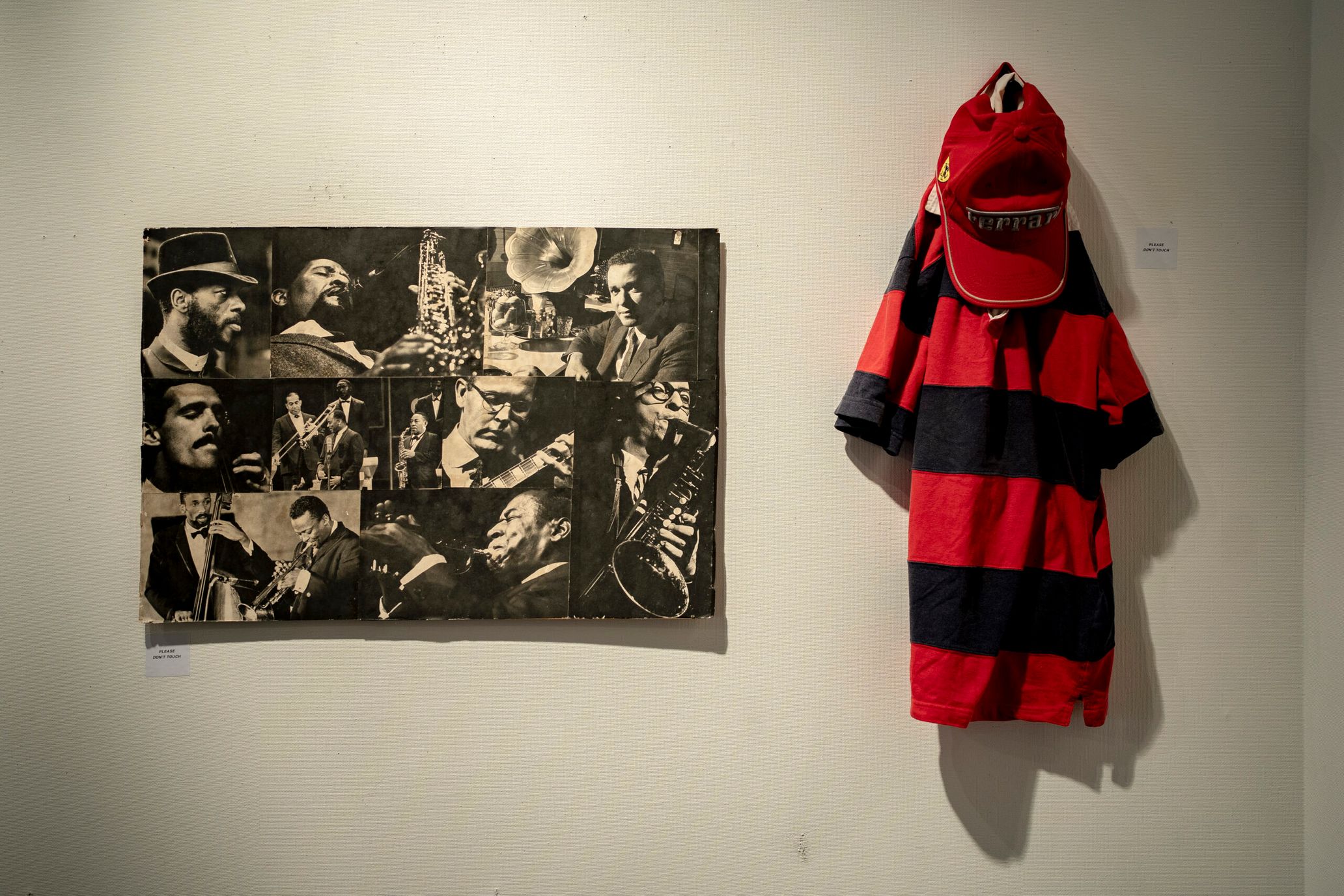 Makishi's favorite striped rugby shirt and Ferrari cap were on display at the exhibition. After graduating from college in 1963, Makishi moved to New York in the 1970s and stayed there for about a year. In New York, he immersed himself in jazz, working part-time as a dishwasher at the famed Village Vanguard, and was exposed to the contemporary art of the time, such as pop art, minimalism, and conceptual art. After returning to Japan, he resided in Okinawa and developed his artistic practice to portray the social situation of postwar Okinawa, addressing issues related to U.S. military bases through pop art. In 1995, he won the grand prize of the Okinawa Times Art Award. He also ran a painting school called "Penthouse" to train young artists.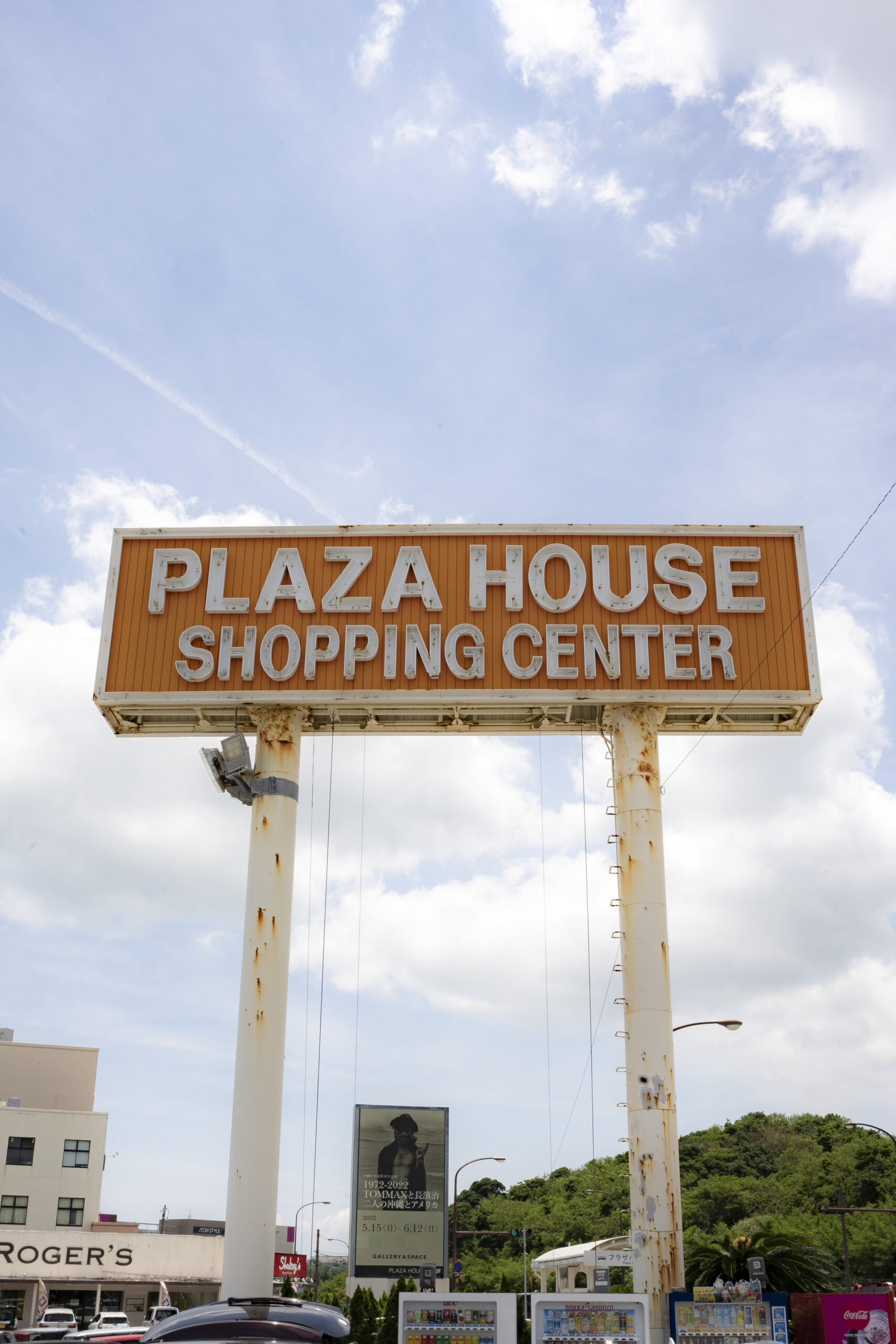 The exhibition was held at two locations: PLAZA HOUSE, Japan's oldest shopping mall in Okinawa City, and MB Gallery Chatan by The Terrace Hotels, on the waterfront area in Chatan. PLAZA HOUSE opened on Independence Day in 1954, when Okinawa was still under U.S. rule. The building and the stores in it were built in typical American style because they were aimed at the U.S. military and their families in Okinawa. 68 years after its opening, the mid-century modern architecture still stands today. In the past few years, the building has undergone renovations, and new style stores have been opening one after another. Among them, RYCOM ANTHROPOLOGY on the third floor exhibits black-and-white photographs of Okinawa when it was a part of the United States, as a "gallery that conveys the knowledge and sensibility of Ryukyuan-American culture to the present." 1972-2022 TOMMAX and Osamu Nagahama: Two Men's Okinawa and America was the highlight of their project.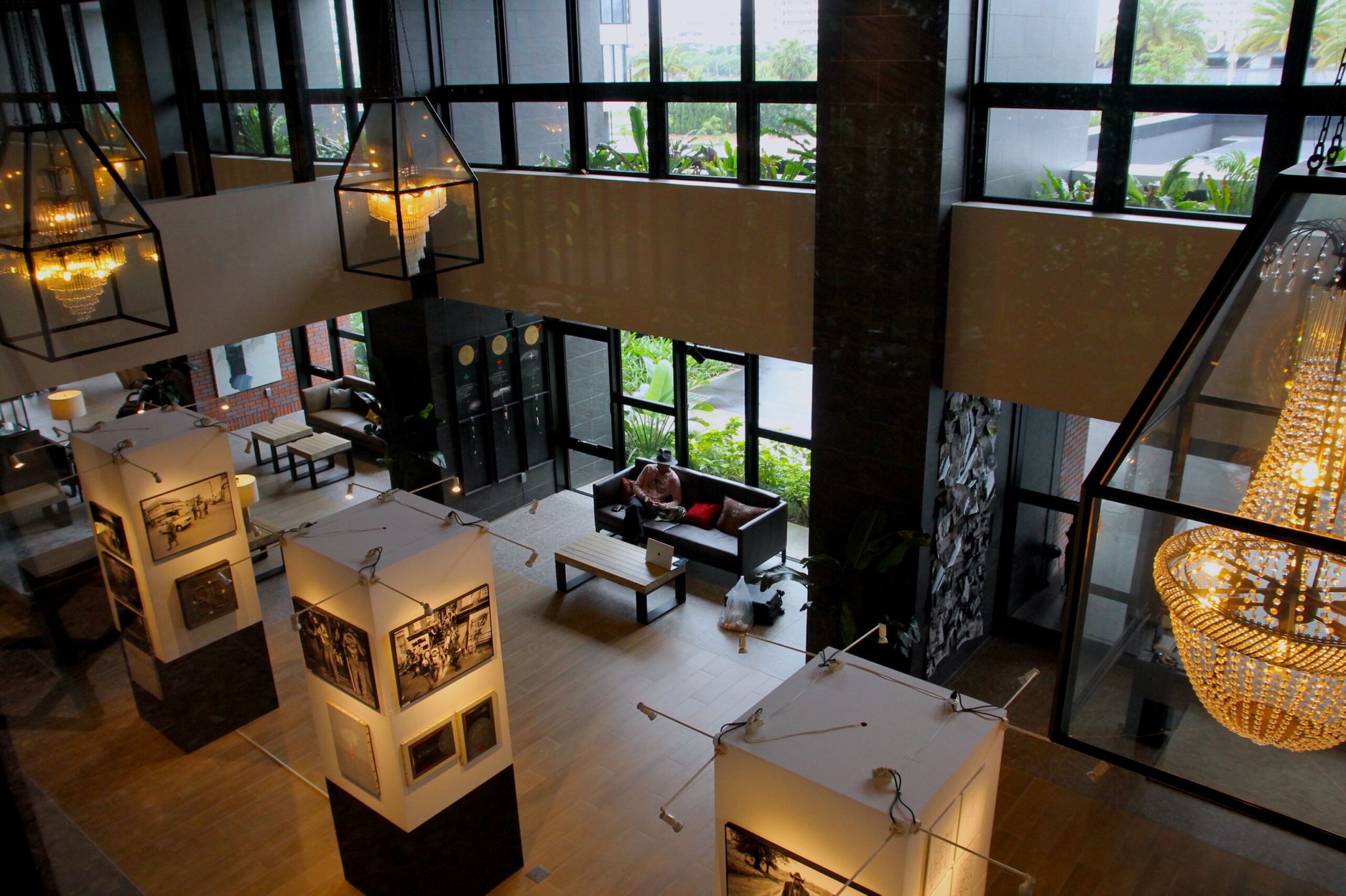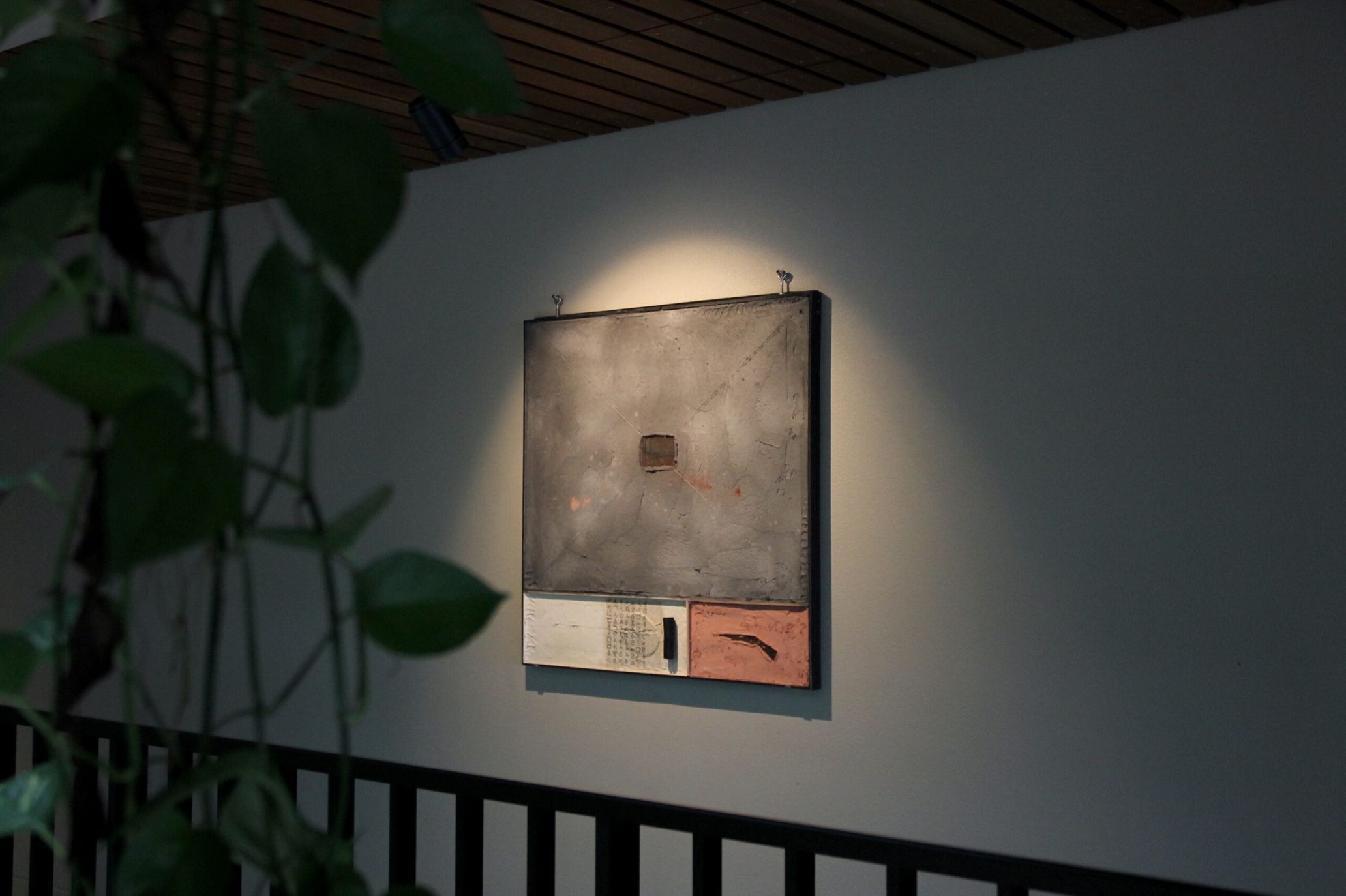 The other exhibition venue was MB Gallery Chatan by The Terrace Hotels. This hotel, opened in the spring of 2021, exhibits works by artists from or residing in Okinawa in the lobby, around each floor, and in guest rooms. Among them, many of Makishi's works, along with works by Julio Goya and Toshiro Sumi, are on display. Although it has only been open for a short time, the hotel is attracting attention as a modern-style hotel with Okinawan art in the exotic resort town of Chatan. For this exhibition, the lobby was used as a gallery space to display the works.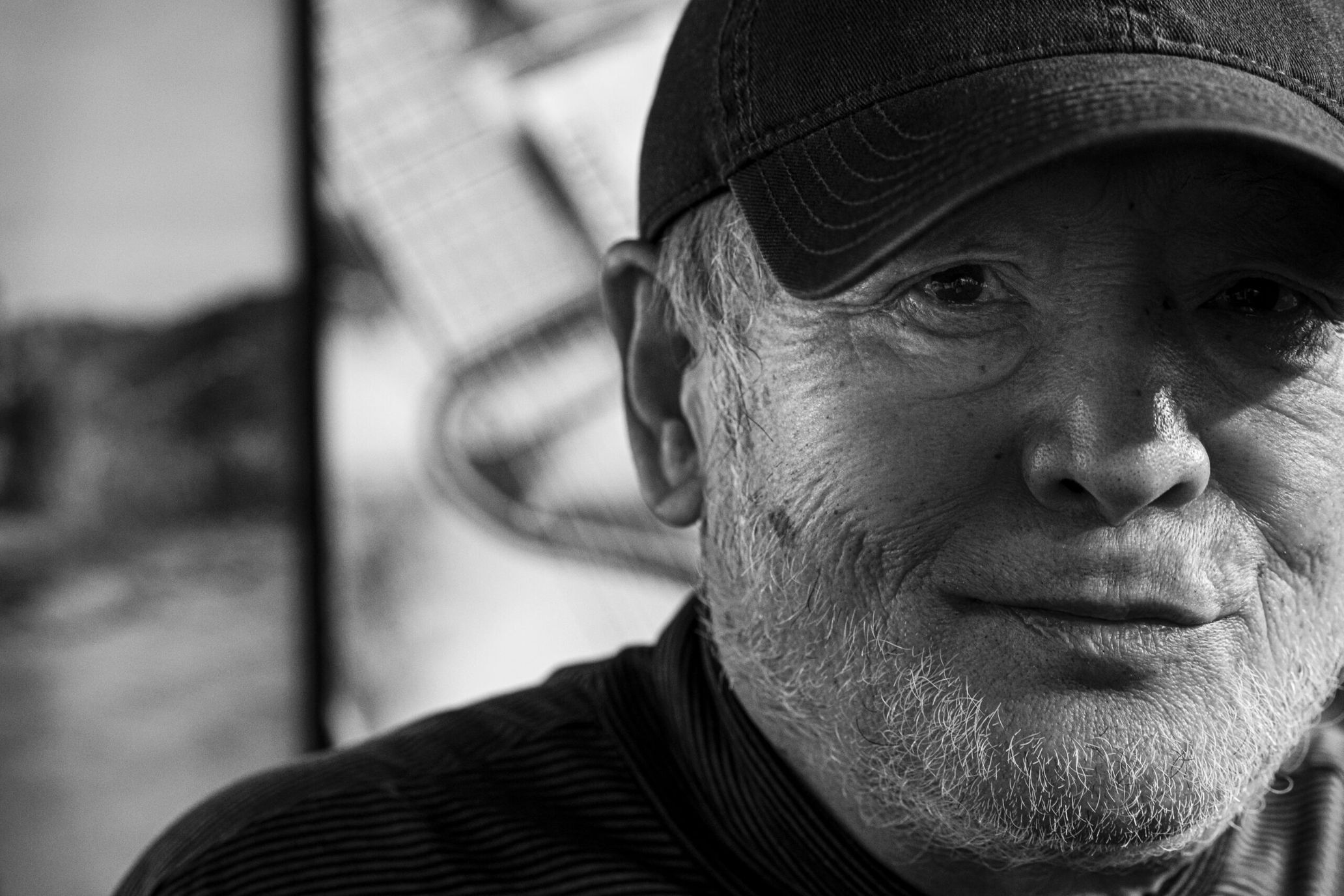 Osamu Nagahama
Born in Nagoya in 1941, Nagahama first worked for an advertising production company after graduating from the sculpture department of Tama Art University. After working as an assistant to the photographer Yoshihiro Tatsuki, he became a freelance photographer in 1966. He has been active in the fields of fashion, advertising, and portraiture, while mainly photographing overseas rock festivals and counterculture. He has also photographed bikers in New York, blues musicians in the southern United States, Japanese men at the forefront of their respective industries, and the Okinawa n people over the years. He is also known for his close relationship with the fashion brand NEIGHBORHOOD. His major works include 暑く長い夜の島 —長濱 治 沖縄写真集 (The Island of the Long Hot Night: 1972), HELL'S ANGELS (1981), 猛者の雁首 (The Faces of Strong Men: 2005), THE TOKYO HUNDREDS: A Portrait of Harajuku (2014), 創造する魂 沖縄ギラギラ琉球キラキラ 100+2 (The Soul of Creation: Okinawa Gira Gira Ryukyu Kira Kira 100+2 :2018), and Cotton Fields (2018).