In a world where "compliance" and other such issues are a big deal, the California Store souvenir shop in Nakameguro, Tokyo, stands out with its unique selection of products.
The owner of the store, Takahiro Akiyama, earnestly tells us that he is "more of a butt person than a boob person" during our. Upon stepping into the store, we were greeted with hand-printed T-shirts by Mr. Akiyama, who has been in the retail industry since he was a teenager. What does "cheerful and fun eroticism" entail at a store filled with erotica and humor?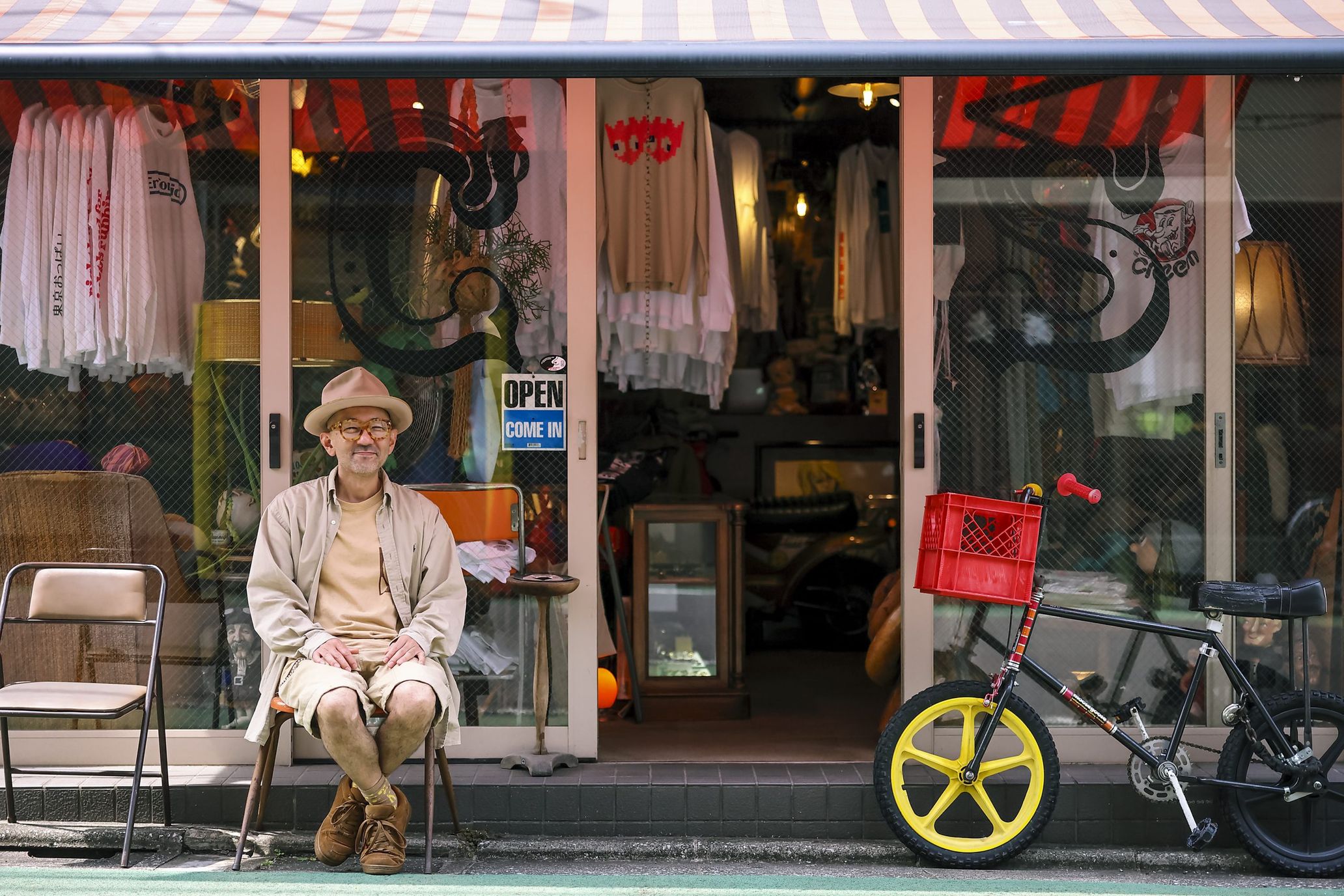 Takahiro Akiyama
Akiyama has been gaining experience in sales and marketing since he started working in the retail business as a teenager, and developed the Loud Color brand of T-shirts and accessories in 2005. This year marks his 14th year as the owner of California Store, a souvenir shop in Nakameguro that sells clothes with original prints and sundries under the theme "cheerful and fun eroticism." He has been the owner of the business for 14 years, and is recognized as the "super pervy old guy" by the neighborhood elementary school students.
Instagram:@california6969
What's important is whether it can make you laugh or not. By that definition, "boobs are pop"
——California Store's theme is "cheerful and fun eroticism," but I had assumed from the atmosphere of the interior that it was a thrift store.
Takahiro Akiyama (Akiyama): The products we carry are mainly antiques, and the clothes are new clothes with original designs that we've been using since the store opened.
——I have a vague image of the west coast of the U.S. being open to different cultures. I thought that could have something to do with the name of the store.
Akiyama: The origin of the store name comes from the fact that we originally purchased our products in California, and because California is said to be the birthplace of printed T-shirts, according to various theories. The interior is influenced by the interiors of boot stores in San Francisco, 1970s motels, and a touch of my parents' house thrown in for good measure. Maybe that's why my older customers find the place nostalgic and reminds my younger customers of their grandpa's house.
——Is it true you like "erotic" things?
Akiyama: Well, of course I do (laughs). In the past, dolls, stuffed animals, tableware, and sundries with erotic motifs were often displayed in thrift stores and antique stores. But whenever I asked for the price to buy them, I would always be told that they were for display purposes only. The items were always priceless, and couldn't be sold. When I started my own store, I thought, "I have to sell something that isn't sold anywhere else!" So I decided to start my own shop, and somehow ended up selling this (erotic) genre of stuff.
——Is "eroticism" a common genre in the vintage clothing and antique industry?
Akiyama: It's always existed as a genre. Erotic products from the 1950s and 1960s are considered art pieces. For example, mugs with erotic handles usually come in sets of five or six and cost as much as $1,500 in the U.S. In terms of market value, I'd say that "eroticism" is an established genre. But there aren't any specialized dealers even in the U.S., which means I have to do a lot of legwork to find my products.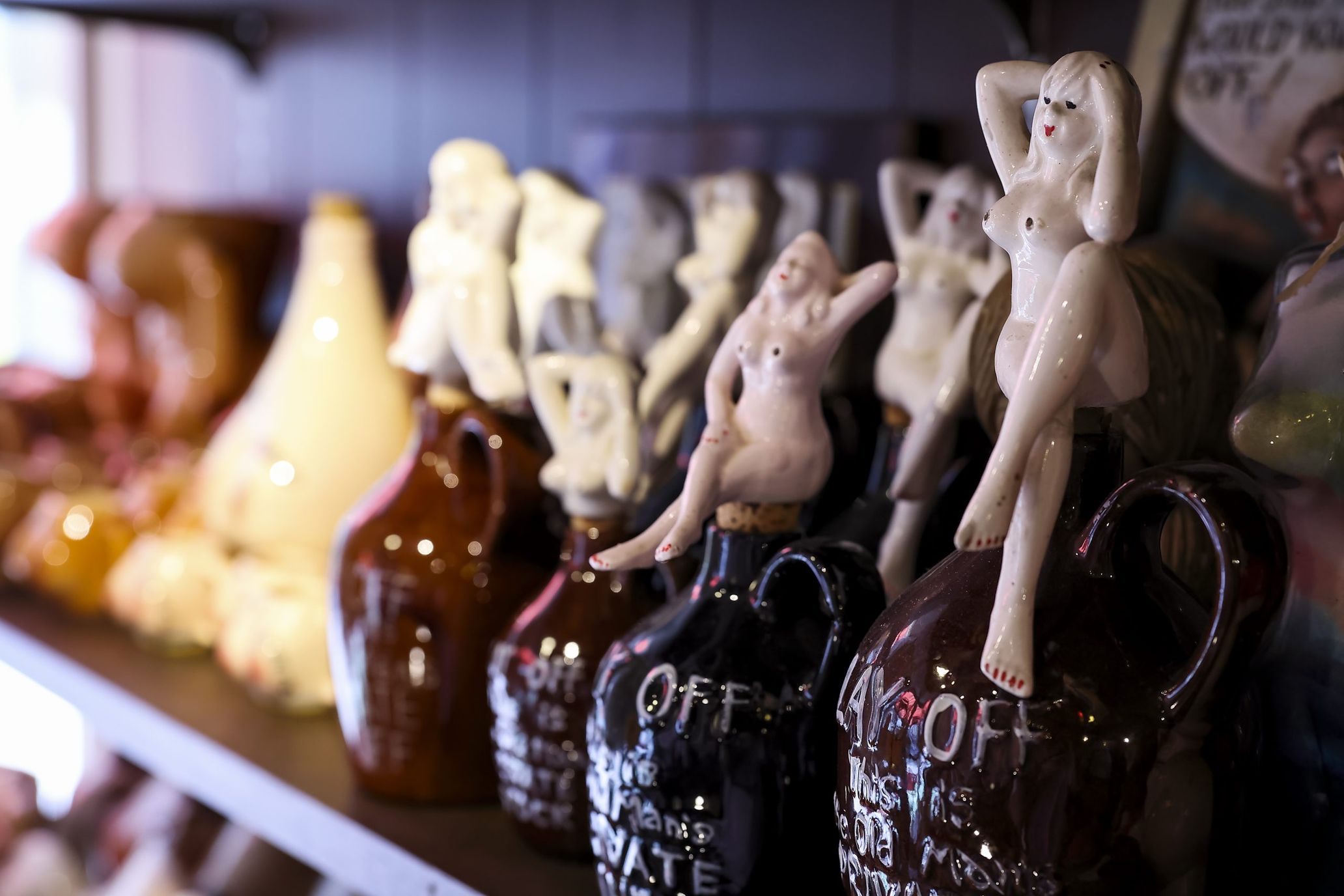 These boob-shaped mugs are "fancy goods" in the modern sense of the word. And this is a milk pitcher. You can serve milk from its boobs (laughs). For these, I basically collect whatever I can get my hands on. Most of them are from the 1980s. Each era used different coloring styles and materials. The ones currently in circulation are made of more solid materials and are sturdier, but they don't stand out much. That's why I only buy products that were made up to the 1990s.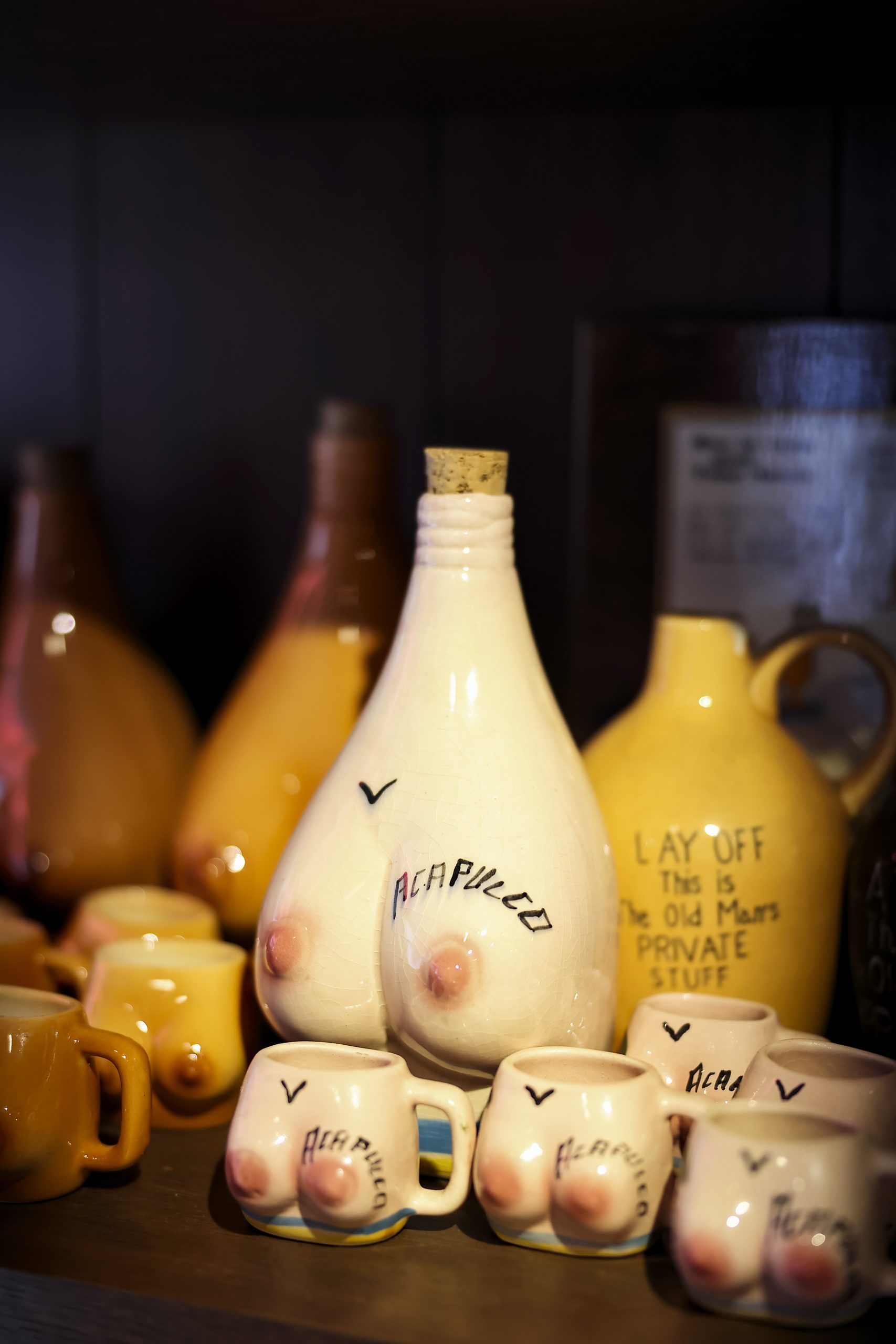 ——Most of the products you buy are American-made?
Akiyama: Actually, the products from the 1950s and 1960s are all Japanese-made. This doesn't mean that they originated in Japan, but rather that Japan was selected for our excellent craftsmanship. In fact, you can find many well-made Japanese-made products from this period.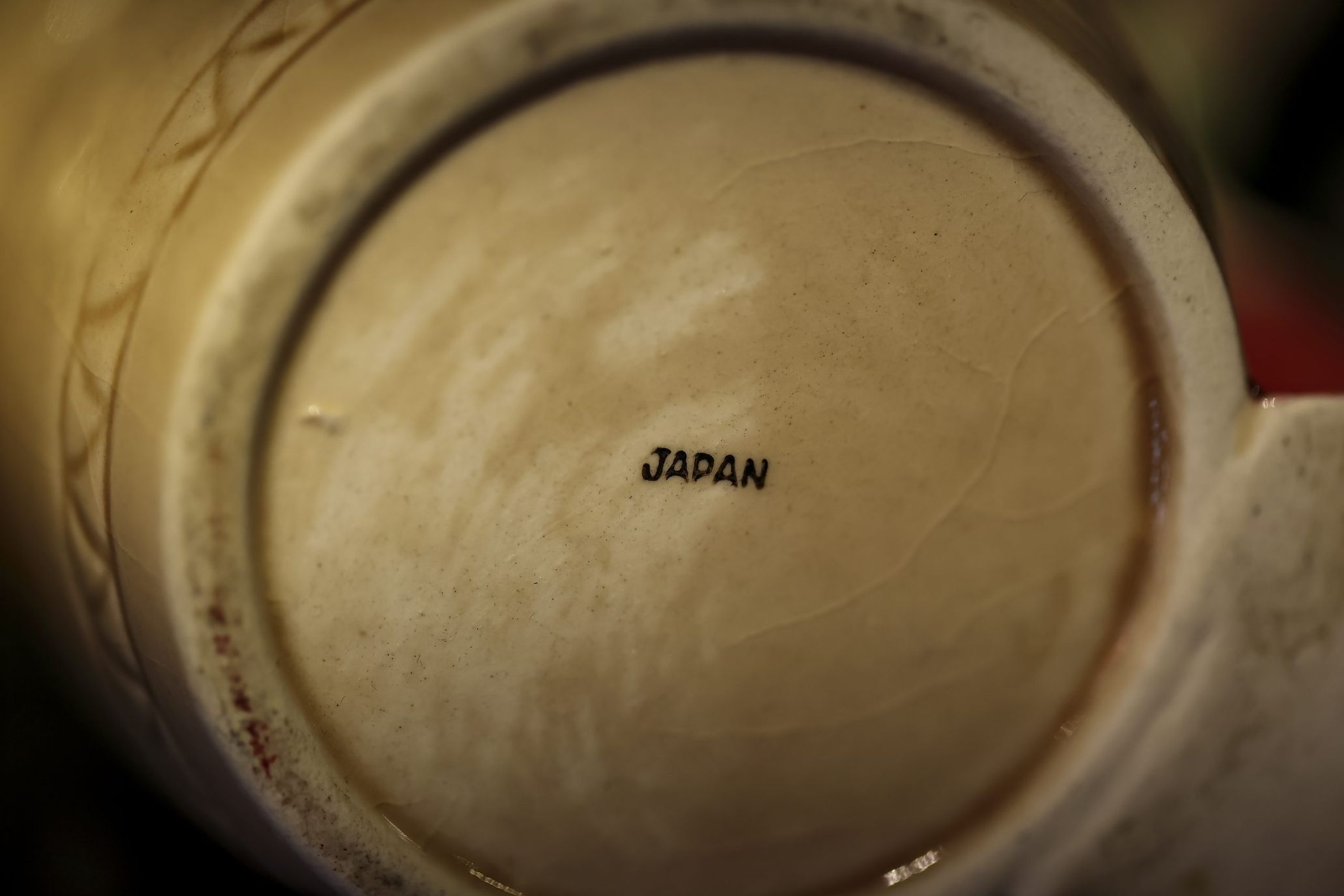 ——These handcrafted dolls are very cute.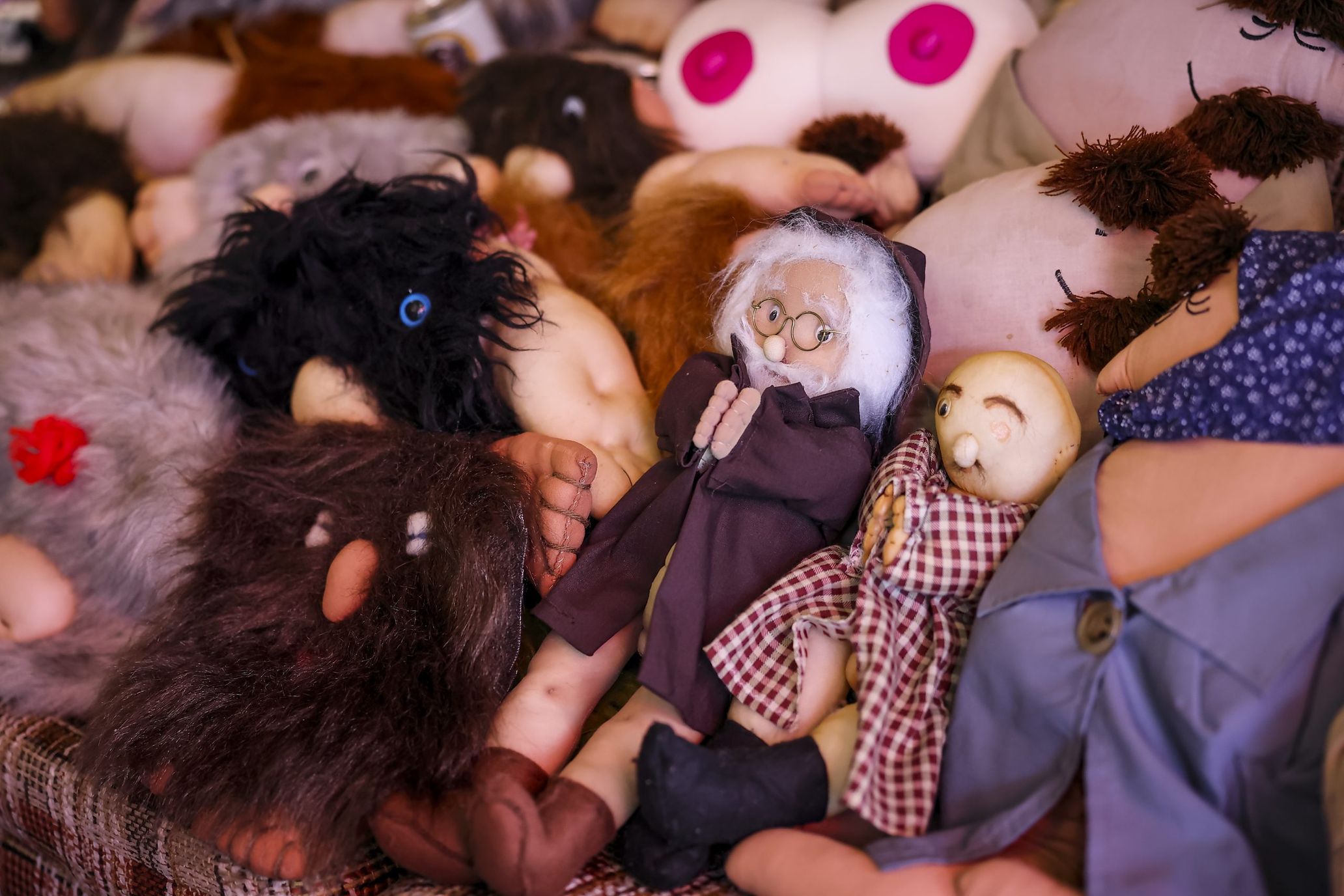 Akiyama: On the far right is a flasher doll modeled after a character from a TV show. Some people may recognize it because it's famous. This hairy doll has a pen●s attached to it if you lift up the furry part (laughs). Most of the dolls are in pairs of men and women, and were made around the 1970s, but some of the stockings and other parts of the dolls are thought to have been remade. This one was apparently modeled after a hippie man with a bushy beard who always had his lower body exposed. It's still a mystery why they would make such a thing (laughs).
——These caps with boobs on it are so stupid that they're great.
Akiyama: These are 1980s snapbacks. They used to make a lot of other silly, non-erotic caps.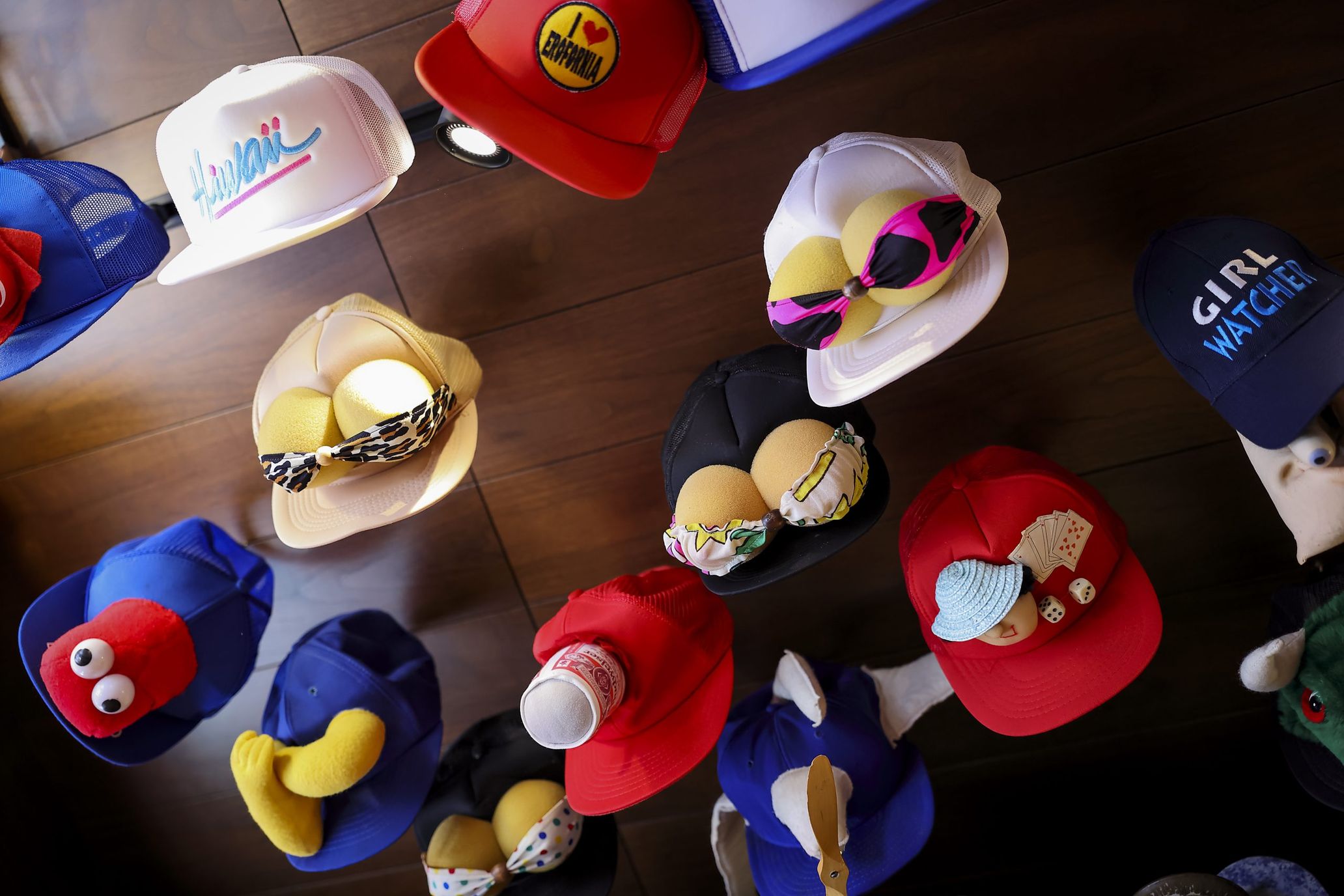 ——It's clear at a glance that this store focuses on erotica. The wall behind the cash register with its large collage of nude photo clippings filled with boobs makes that particularly obvious.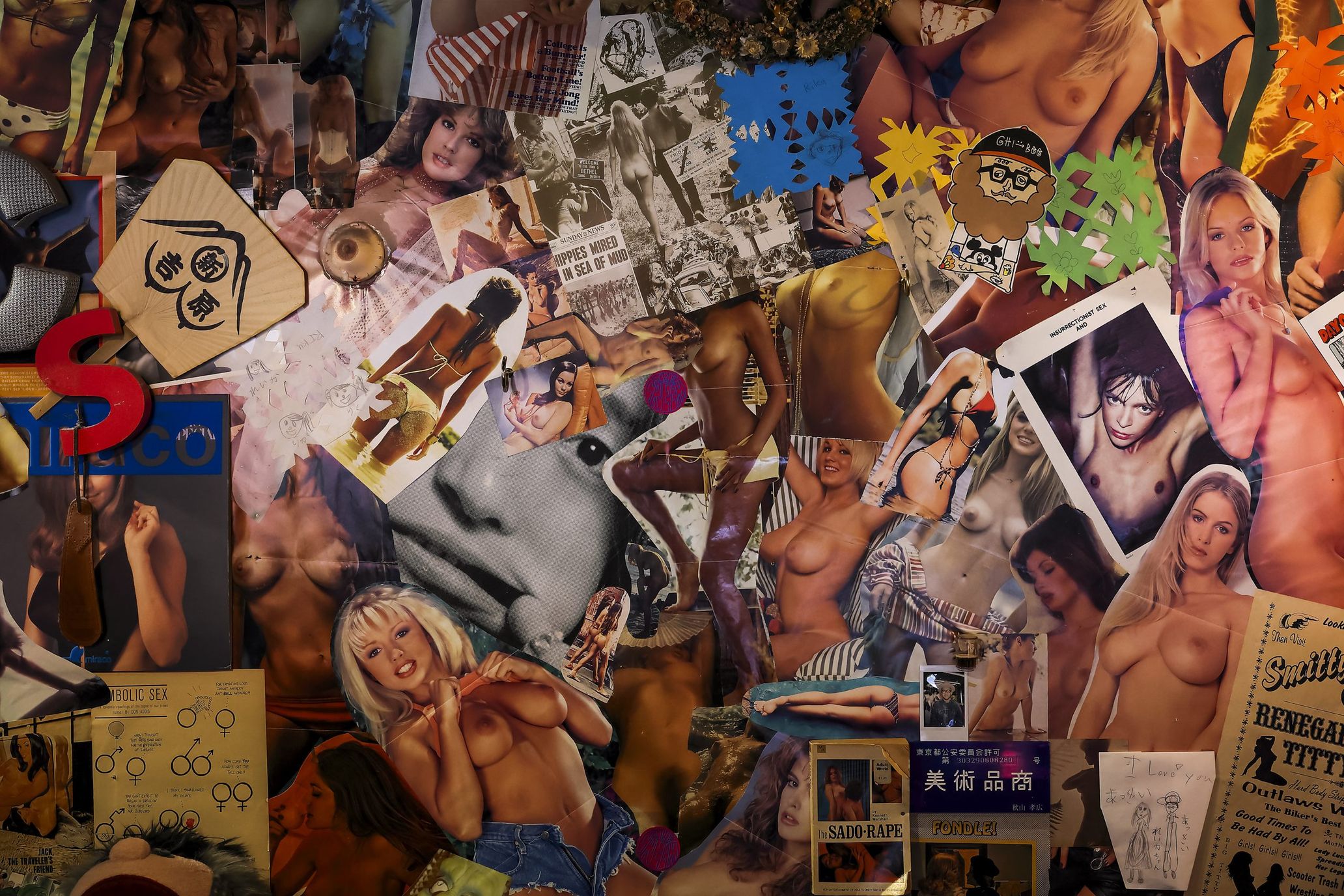 Akiyama: Thank you (laughs). But I'm actually a butt guy, and have no interest in boobs. Even this wall was initially centered around butts, but that eventually got too graphic… even the customers started to pull away (strained laugh). So I rushed to change it to boobs, then even girls started liking it. When I thought about why that was, I figured it's a matter of whether something's funny or not. By that definition, boobs are pop. The fact that there are surprisingly few antiques with butt motifs proves this theory.
——Are most of your customers men?
Akiyama: No, 70~80% are women. I feel like the percentage of women has increased in recent years. Compared to a decade ago, I think more ground has been covered for eroticism as a culture. The fact that I'm being interviewed by the media is proof of this (laughs). Although there are many instances in which couples visit our store but the woman doesn't come in. I also sometimes get banned if I post a picture of this wallpaper on Instagram (laughs). But it seems that our store is famous among the neighborhood elementary school students.
——Interesting, what do they call the store?
Akiyama: They call it "the super pervy guy's store" (strained laugh). Whenever I tell the elementary school kids who pass by the store to come in, they always run away. In the old days, there was always at least one store in town run by a weirdo older guy. That's California Store (laughs).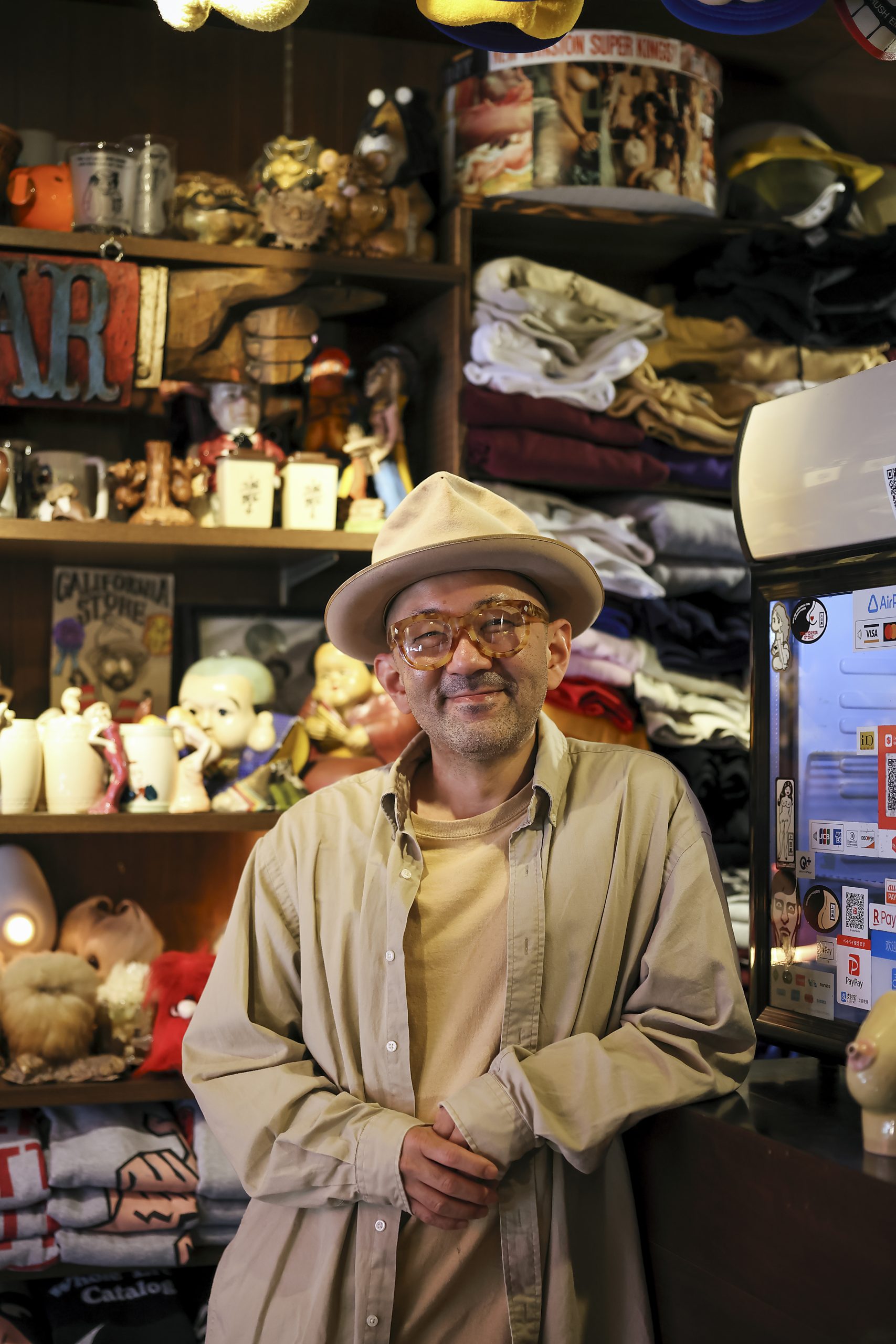 Most of the items in my store have their own original stories, I just "add nipples to it"
——The original clothes you sell are all hand-printed. When did you start selling those?
Akiyama: I've always liked erotic T-shirts and used to collect them. I decided to make my own because collecting started to get too expensive. I used to print them at a factory, but things happened and all the factories I had connections with went out of business… One day, my friend suggested I print them myself, which is how I started hand-printing.
——Your customers can choose the body, size, and their favorite design on a selection of T-shirts, sweatshirts, and hoodies, have it printed on the spot, and picked up on the spot once it dries. That's an interesting service you provide.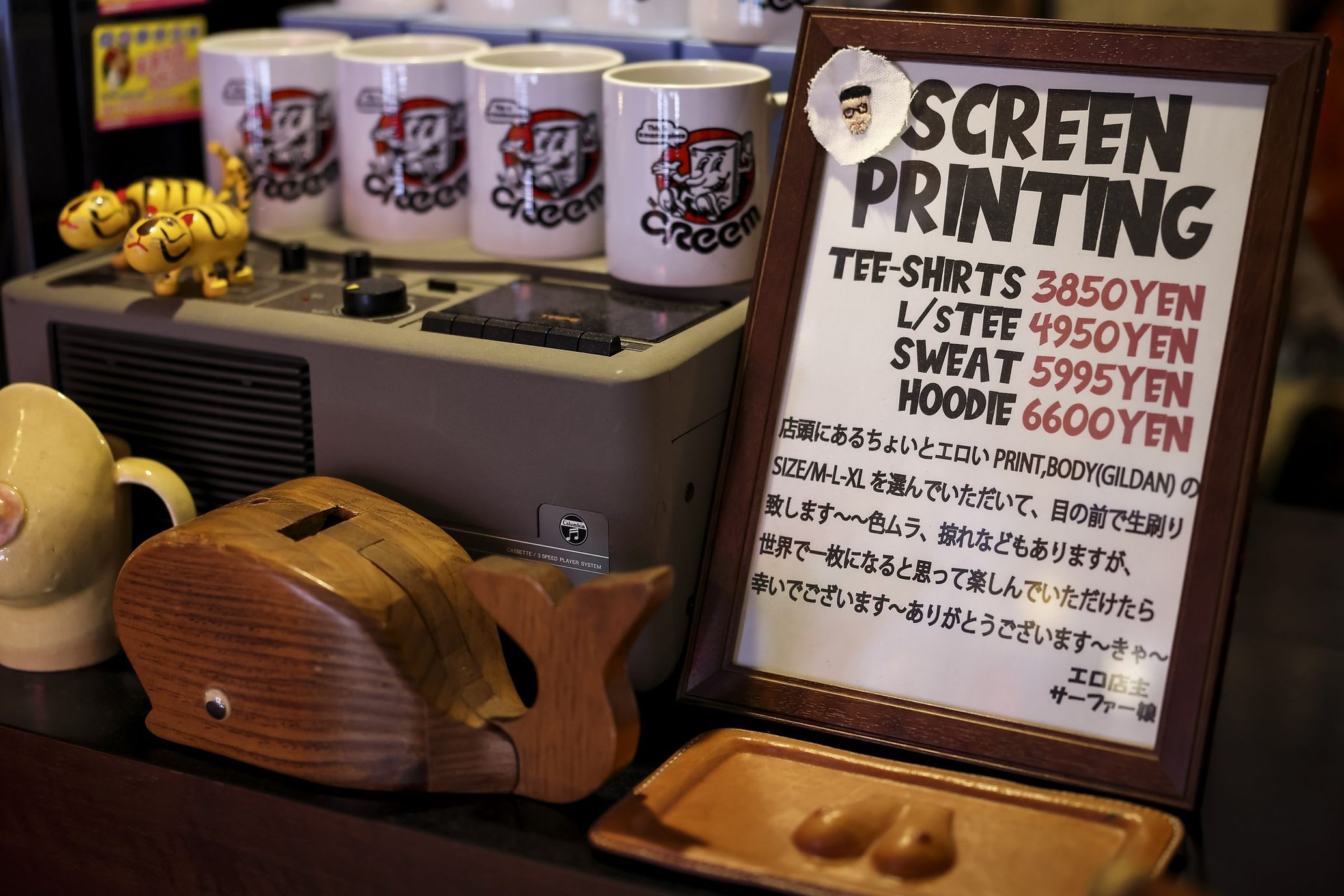 Akiyama: The process takes 10~15 minutes. I'm particular about the fabric because I want it to have a cheap, souvenir-like look. I don't use an outer frame to print the designs. I place a silk-screened plate on top of the T-shirt so customers can enjoy a different finish on each piece instead. A free beer also comes with a purchase of a T-shirt. We even have customers who stay and drink until the store closes (laughs).
——You also have a wide variety of designs. What's the most popular?
Akiyama: The most popular one is "Mr. Mouse in Dreamland," but I would definitely get in trouble if it was posted here. We have a lot of designs that can't be sold online (strained laugh). On the other hand, if everything was sold online, that would take away from the fun of coming to the store. We purposefully don't list all of our items online for that reason.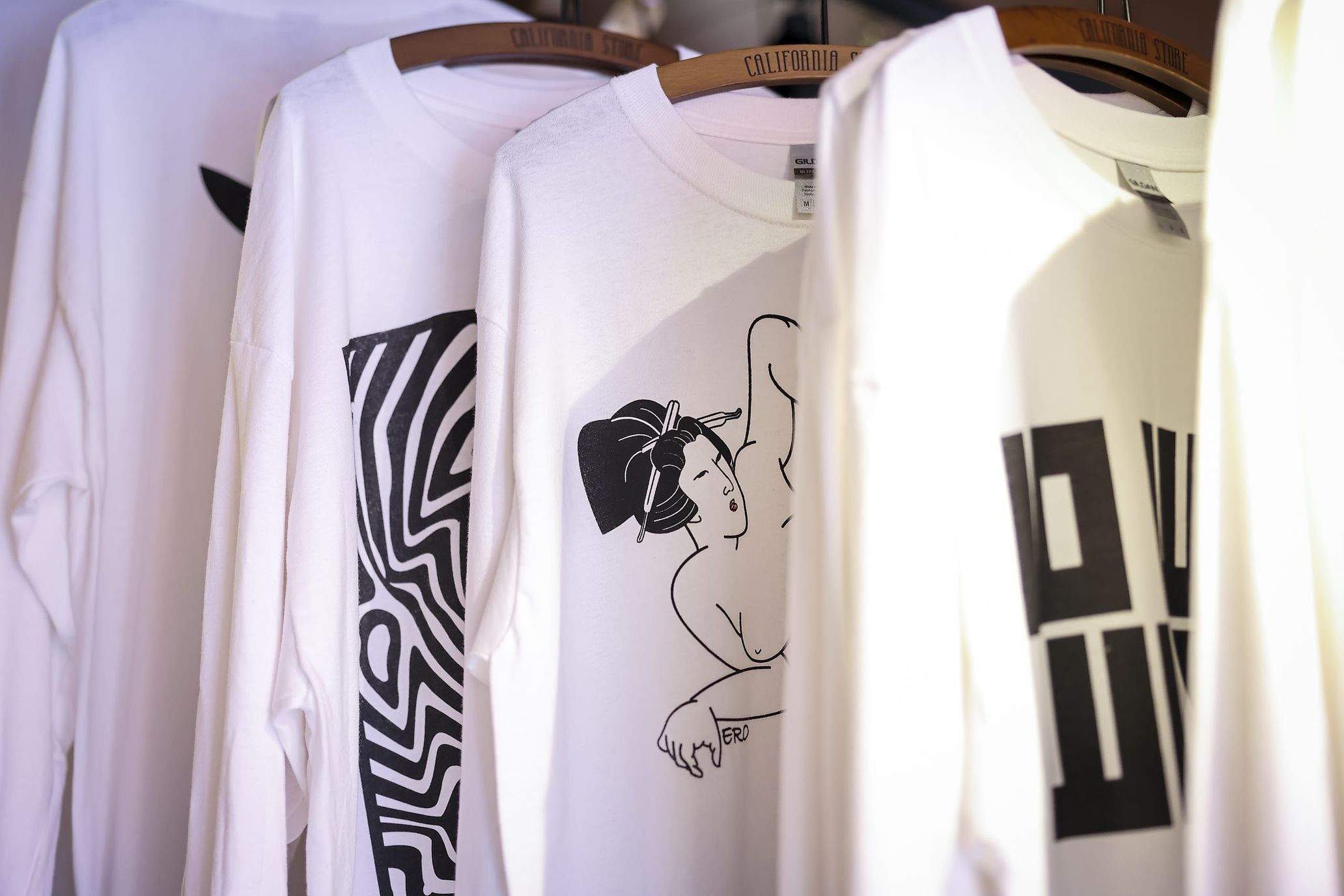 —— I'd like to know which ones are your favorites, out of the ones you can show here.
Akiyama: This one is called "Hawaii is Hiwaii." This is an adaptation of a design that existed in the 80s on souvenir caps. The key here is that we made sure the silk screen was off-center at the data production stage, which is another method to create that cheap feel. I also made the donuts look like boobs, the crotch like the "v" in "love," and the hat like a butt. These are all favorite pieces of mine, but that doesn't mean they sell. In fact, I have trouble selling the designs that I'm most fond of…… (strained laugh).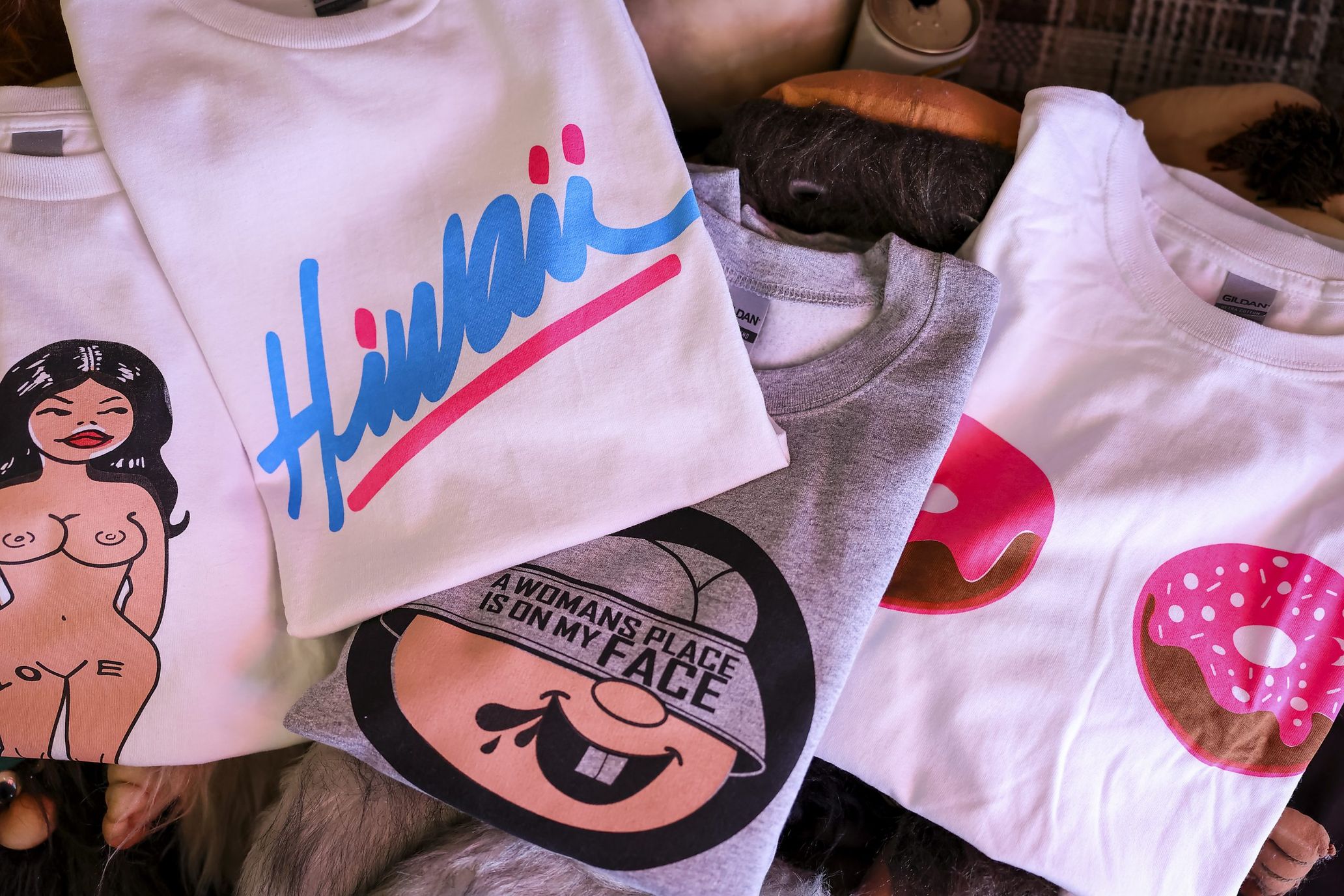 ——What do you keep in mind when expressing erotic, pop designs?
Akiyama: Only that you can't tell what it is upon first glance. Most of the designs have an original story behind them. I just "add nipples" (laughs). Once I find that sweet spot, it's good to go. This one has nipples on the hearts. I often see designs with it on butts, but putting it on boobs makes it original to me.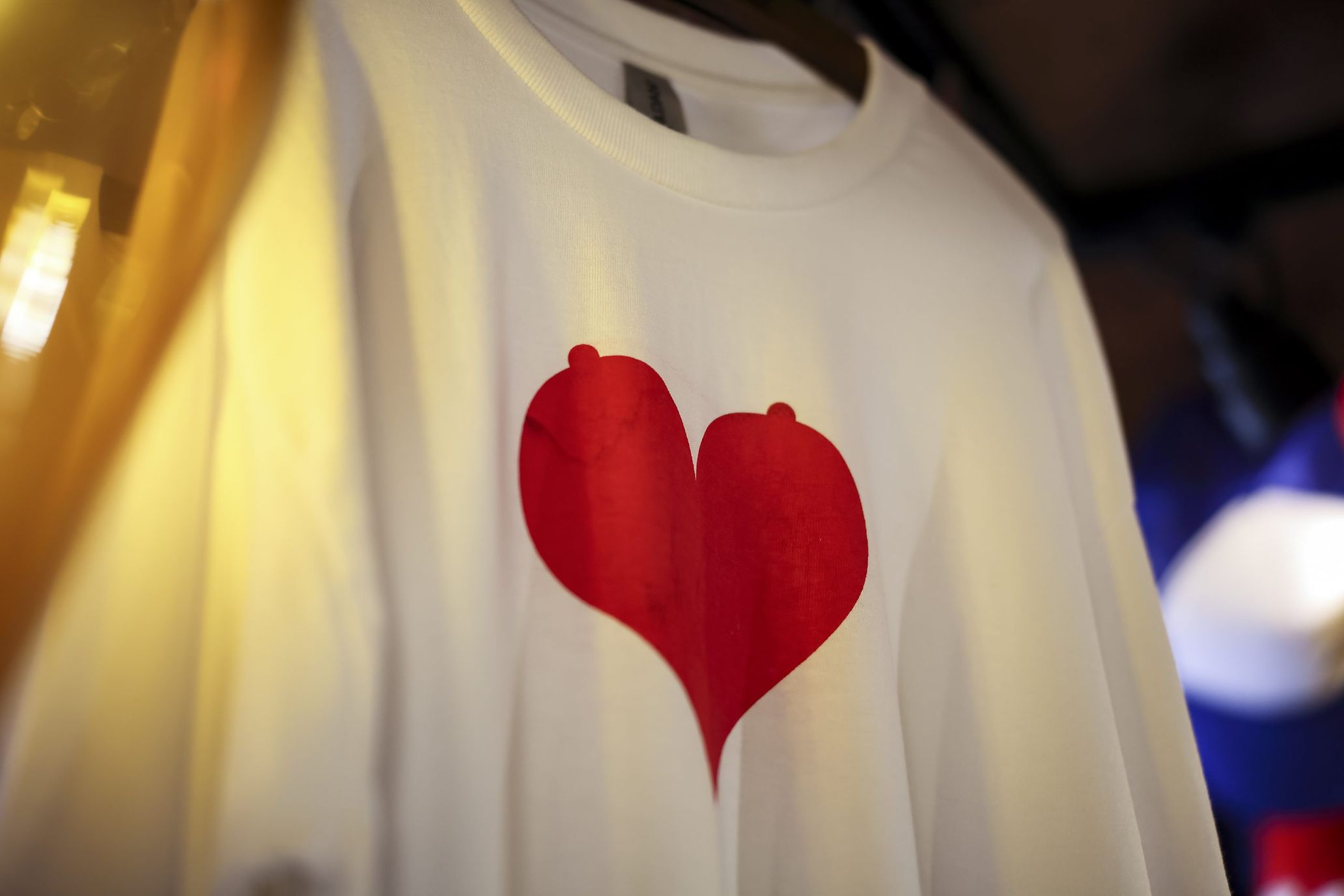 ——Around how many designs do you have?
Akiyama: I have a space in the back of the store where I keep all the silkscreen plates I've made. They're hard to part with, so they just pile up. I probably have around 230 different designs. I used to release a new print once a week, but I slowed down my pace once COVID hit. Now I'm down to about two prints a month.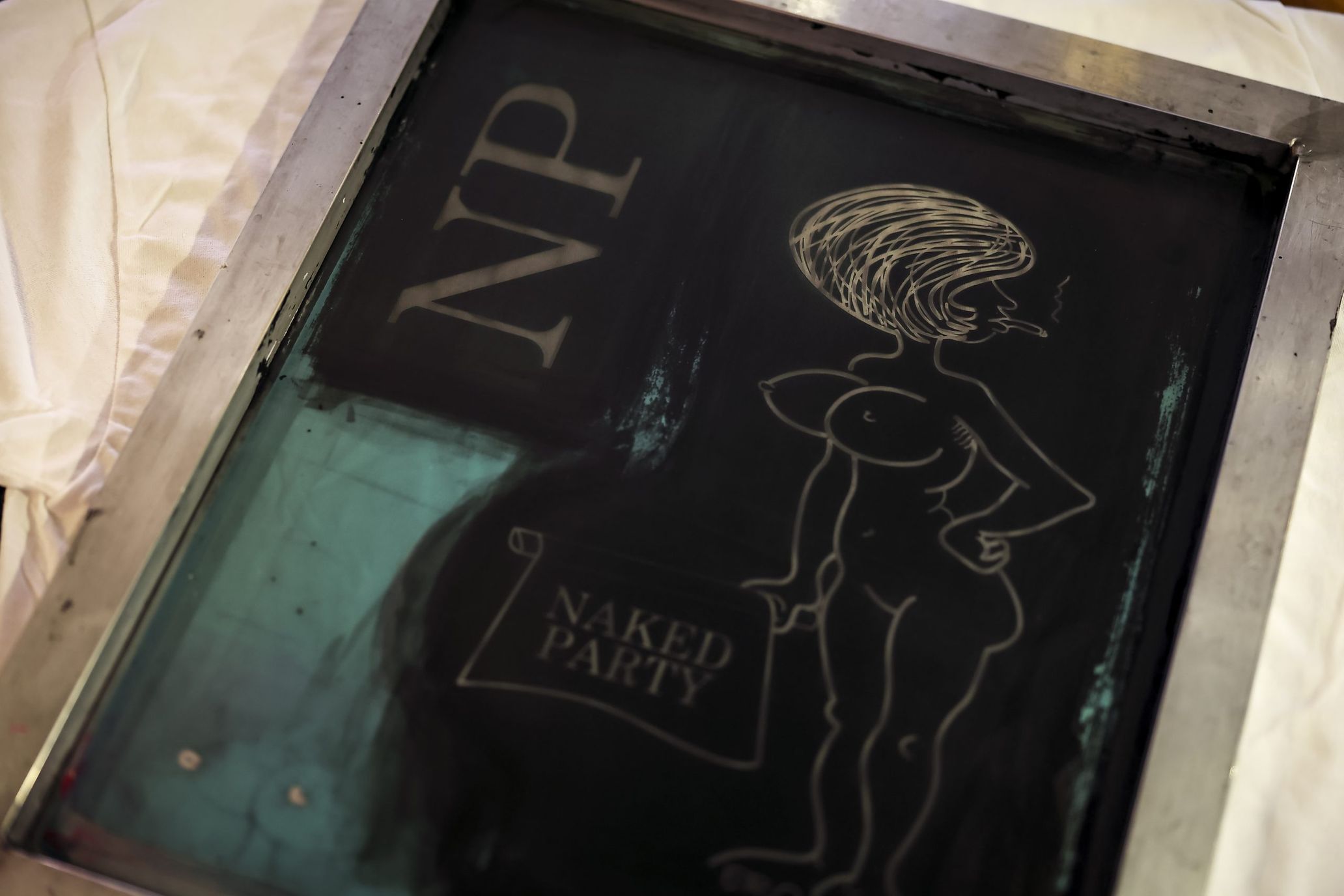 ——Do you have a desire to make these prints for any specific type of person?
Akiyama: Not at all, actually. I just keep making what I find funny. Eroticism is "pop," but it's difficult to find the right balance. Although if I think too much about it, I'm unable to come up with anything, so I purposefully don't think too deeply. I don't even explain the designs to customers unless they ask. I don't really do customer service in general. It's a little creepy to have an old guy talk about the beauty of his erotic T-shirts, right? (laughs)
——You've been actively doing pop-ups outside of Tokyo, as well. I'm curious what the customers' reactions have been like.
Akiyama: Ah, the "live printing show." People would invite me to their store or restaurant and I'd print a design of their liking with my mobile silkscreen plate. Of course, all of the designs are erotic. People assume that it's hard to gather an accepting crowd outside of urban areas. On the contrary, we've always had more customers come than expected, and they're usually happy with our services.
——You opened your doors in 2008, which means that California Store is in its 14th year. As you mentioned earlier, the conversation around erotica continues to change around the world, along with compliance issues. Are there any changes that you've experienced firsthand?
Akiyama: There's a YouTuber who owns a store around here. Ever since they were interviewed once, their clientele has become much younger. It seems like my surroundings continue to change, but I personally haven't changed much, and am sometimes overcome with anxiety (laughs). The only thing I know for sure is that eroticism is peace and that I will always be the erotic owner. If you can continue to do the same thing even after you're 70, you're the real deal.
——So your goal is to become the Katsushika Hokusai of the erotica world.
Akiyama: Might as well go all the way. They'll make fun of me in my old age, saying "that old man's still printing erotic T-shirts" (laughs). I turn 53 this year, but the way I relate to erotica hasn't changed. Maybe that's why I'm able to keep going. I wouldn't be exaggerating if I said,
"my motivation for erotica keeps increasing, if anything!"
Photography Satoshi Ohmura
Translation Mimiko Goldstein
Text Tommy