Primal Scream has had an immense impact on the indie rock scene since then by striking the perfect balance between rock 'n' roll and dance music. What was the role of this band that was consistently at the forefront of the scene and continued to evolve with each new release? We asked Kenji Takimi (Crue-L/Being Borings) to educate us on Primal Scream's appeal. Takimi organized the legendary event at Shimokitazawa ZOO/SLITS on a regular basis and brought the Madchester and shoegaze movements into Japan to share with the people of Tokyo.
First encounter with Primal Scream
–– Mr. Takimi, how did you like Bobby Gillespie's autobiography, Tenement Kid?
Kenji Takimi: I got pretty sucked into it. It's more than a musician's autobiography. It's a fascinating road novel about a naive and sincere life that affirms the beauty of working class culture while looking at the greedy music listener's objective persistence and insight into detail. It pursues musical tradition while being filled with self-contradictions. It's a must-read for all young people, especially those who listen to music, those in bands, and DJs. I think a film adaptation is inevitable.
–– When, at what point in your life, did you discover Primal Scream?
Takimi: I initially bought their 1985 debut single "All Fall Down" at either UK EDISON or Eastern Works (both record shops) because the drummer of Jesus and Mary Chain was in the band. I just thought, "this band's songs are crude but good," and remember the sweetness of the vocals being quite memorable. But I preferred the B-side, "It Happens." I think I bought most of Creation Records' 10" and 12" records at the time as they started to arrive in import stores. There was something that drew me to them, even though they all sounded bad and crude. I also preferred the B-side, "Velocity Girl" over their second single, "Crystal Crescent."
–– What were you doing at that time?
Takimi: I was an editor at a music magazine. But because I was in my late teens/early twenties and it was right when CDs were starting proliferate, I was following new UK music without capturing the entirety of its history. Or rather, I wasn't being tied down.
–– Can you give an example?
Takimi: My first exposure to Western music was new wave/post-punk. I went to discos in Shinjuku to chase that music as I learned about how the industry functioned and about editorial perspectives.
New wave/post-punk artists on labels like 4AD such as Bauhaus included bands like Killing Joke and The Cure that were pointed and possessed dark worldviews. At the same time, there were bands like The Smiths and Aztec Camera, that seemed to have more positive and natural guitar sounds, and industrial bands with more of an experimental spirit. But for an adolescent male like I was (laughs), "date music," from artists like Sade and blue-eyed soul bands from that same era, was also something I listened to. It felt like I had learned to experience two musical worlds at once. Also at the time, I had no idea Bobby had joined The Wake. It felt like the bands on Creation Records and the textures of their sound were all part of the "next generation of youth."
–– Within that context, what was your opinion of Primal Scream?
Takimi: I remember writing reviews about their singles and their first album Sonic Flower Groove, but I hadn't yet met anyone around me who appreciated them at the time. Bobby's look and style stood out, though. My experience was that bands back then that were copying styles of bands from the 60s and 70s were never regarded as more than a revival band no matter how accurate, skilled, or conceptual they were. I think Primal Scream and their label mates Weather Prophets and others were at the forefront of the revival/recycling phenomenon that occurred in the 1990s and beyond, even in fashion. It felt like the arrival of Lenny Kravits and The Stone Roses forced a transformation for recognition of that genre.
The release of Loaded and how it marked a turning point in music
–– Did you go see Primal Scream's first Japanese concert in 1990?
Takimi: Of course I did. I think it was at Shibuya CLUB QUATTRO. I know they would never do this now, but back then, my friends and I would watch their shows and hope they'd play "Tomorrow Ends Today" (a bootleg tape of this unreleased track was circulating back then) or "All Fall Down" (laughs). Their setlist was mostly songs from their second album, but I think they did actually play "Loaded" and "Come Together."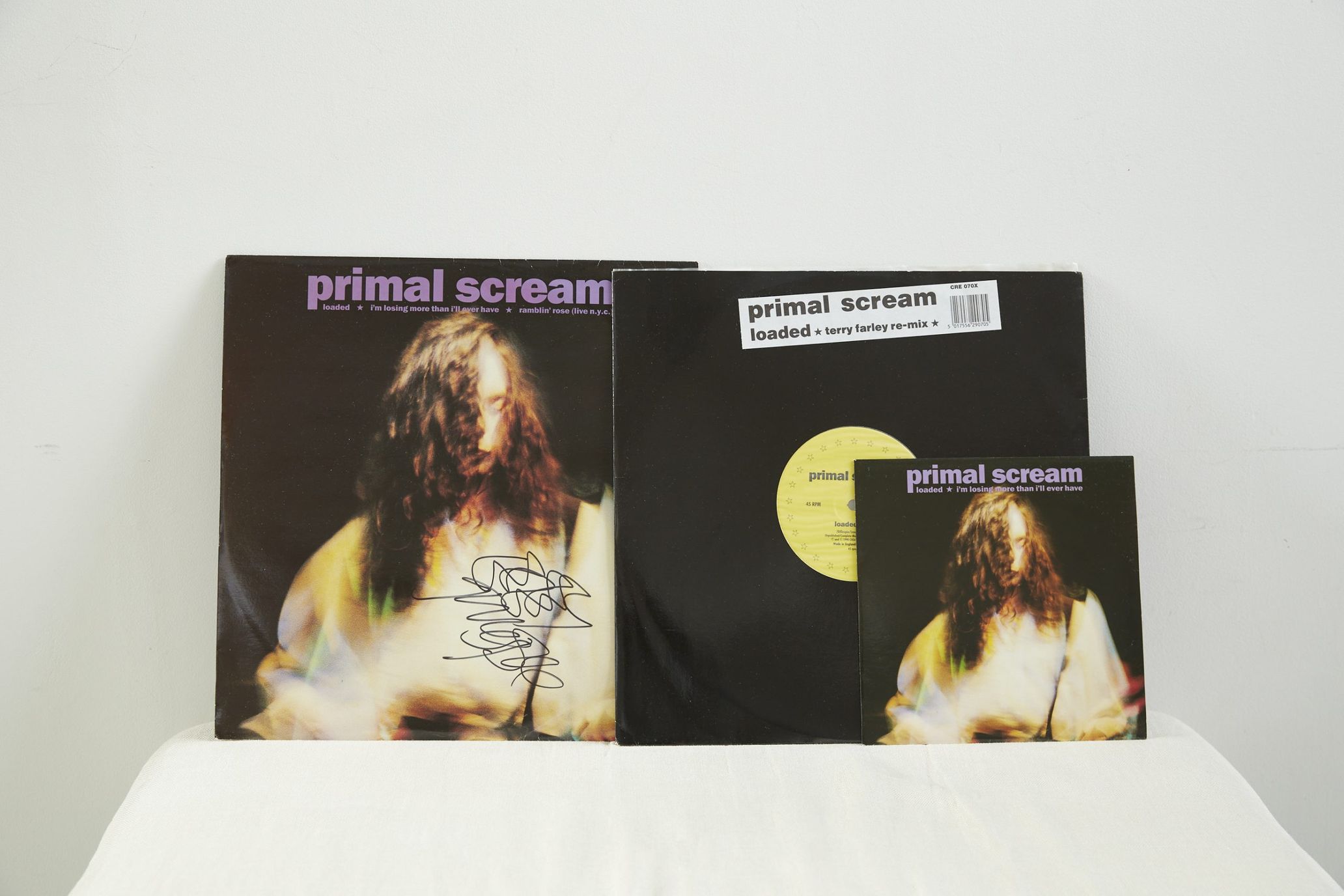 –– That song "Loaded" was a huge musical turning point in the band's career. What was your impression of this song and the singles that followed, such as "Come Together" and "Higher Than the Sun" at the time?
Takimi: The release of "Loaded" was definitely shocking because it didn't include vocals (laughs) and had programmed drums. It may not be the right analogy (laughs), but it was as shocking as if a new BTS or BLACKPINK song was an instrumental track played with only one acoustic guitar.
–– I see (laughs).
Takimi: And unlike today, you had no information about a record before listening to it. It's hard to convey the sense of shock when I bought it and placed the stylus on the record for the first time. I remember being quite stunned, as were people in the music scene. When I started DJing at the end of 1988, I played new wave and post-punk-type records at the same time. People got excited over The Smiths, of course, but also by Primal Scream's "It Happens" and "Crystal Crescent," My Bloody Valentine's "Strawberry Wine," as well as McCarthy, BoDeans, and others. Naturally, fans were excited when "Ivy Ivy Ivy" was released in the summer of 1989, too. At that time, Madchester was getting a lot of attention in international media, and Adamski and 808 State records were also beginning to appear in large numbers on the walls of imported records stores.
–– The release of "Loaded" was six months after "Ivy Ivy Ivy," at the beginning of 1990.
Takimi: In the scene and among friends, the B-side "Ramblin' Rose" was initially more popular. However, "Madchester Rave On" by Happy Mondays and "What The World Is Waiting For" by The Stone Roses came out at about the same time, which changed the atmosphere of the scene quite a bit. The relationship between "Fools Gold," which was originally the B-side of "What The World Is Waiting For" (later replaced and re-released), and "Loaded" is an interesting glimpse into what was happening in the local scene at the time. It was as if you could see the tension between A&R and the members of the band.
I believe I recognized Andrew Weatherhall's name because he was credited as a producer, not a remixer, and because his remix of Happy Mondays' "Hallelujah." Terry Farley almost immediately released a remix of "Loaded" with vocals, which then helped that sound feel familiar to me and to the scene. The rhythm of "Loaded" is sampled from the Edie Brickell & New Bohemians bootleg that was released at the time, although that in itself was taken directly from Soul II Soul, as it samples one of their songs (laughs). And the fact that the groove is subtly stripped down and therefore doesn't connect itself to the Ground Beat style is also what makes it so good. Considering the studio environment at the time and the time constraints they had, they probably decided whatever record that they brought to sample that seemed to fit with the track would be acceptable. Leaving it up to chance like that is what I think led to a miracle (laughs).

–– Not to mention"Come Together" was released six months later. I used to frequent the <Love Parade> event you organized at Shimokitazawa ZOO, and I remember it was always very exciting when "Come Together" would play.
Takimi: That year, the summer of 1990, was extremely hot, and "Come Together" came to symbolize that heat. As Bobby himself cites William DeVaughn's famous song in his biography, this is a great song that combines the heat of the times and the universal soul/rock feel of that era. I was able to listen to it before its release because I started getting promo copies around this time. I can definitively say that the moment I heard it, I had bodily fluids coming out of every hole in my body (laughs). Terry Farley and Pete Heller's production, which made the most of the original, was also brilliant, and I remember it having an explosive impact on the scene instantaneously.
That year, the 12" records that came out every month were truly incredible. My Bloody Valentine's Glider EP Remix, Soup Dragons' "I'm Free," Electronic, EMF, Flowered Up, The Mock Turtles, World of Twist, and others were simultaneously transforming from guitar bands to bands putting out indie dance hits.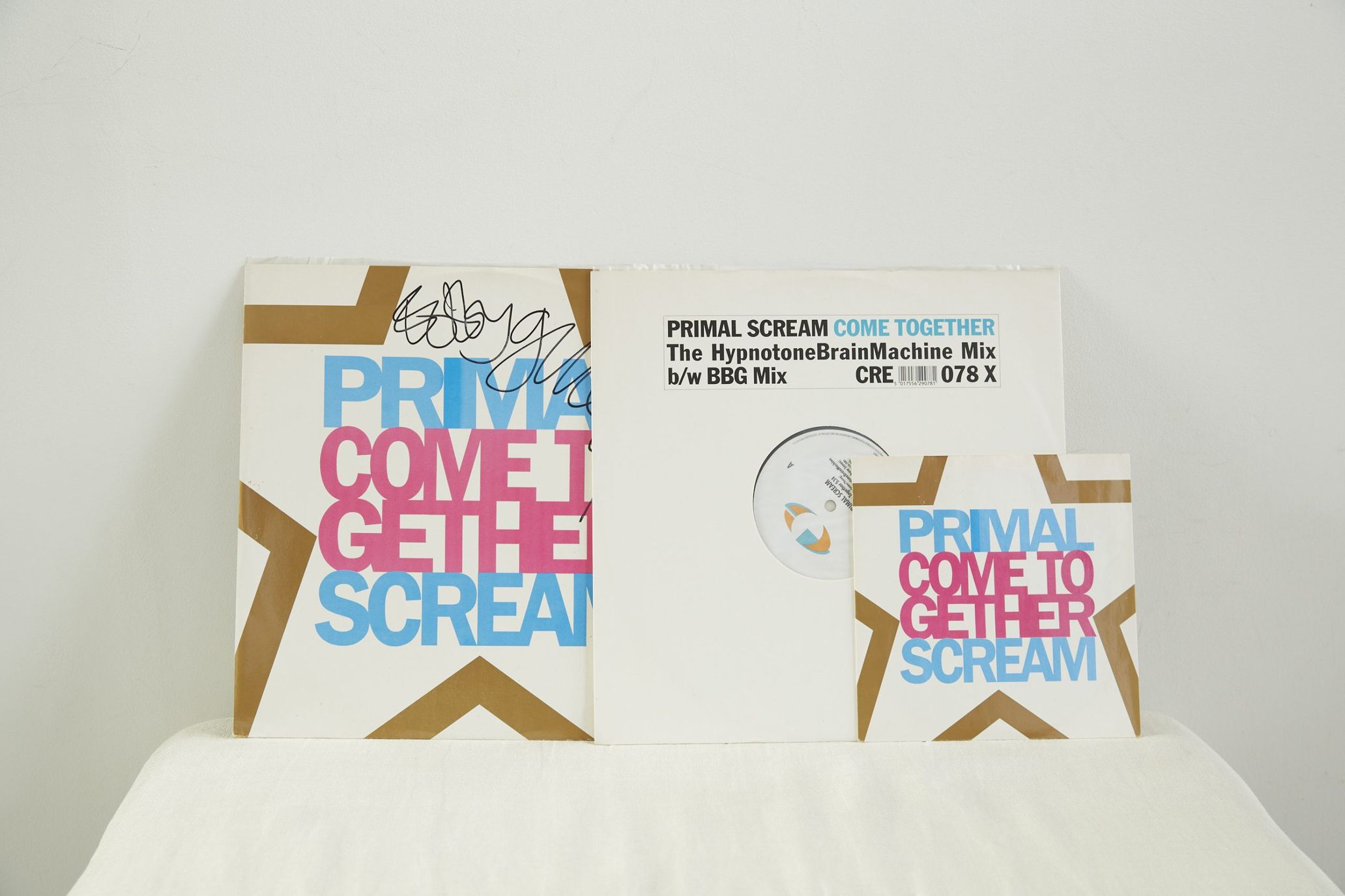 –– It really felt like everyone and their mother was introducing a 16th-note feel into their music.
Takimi: Most songs were around 100 BPM. It's a mystery why all these band people who wanted to try their hand at acid house made songs that were slower in tempo than normal house music. Perhaps everyone was influenced by "Loaded" or "Hallelujah." The first time Primal Scream released a track in the so-called house format was for the remix version of "Come Together" (Hypnotone Brain Machine Mix) by member Andrew Innes and Hypnotone. The track is at 112 BPM, which I remember feeling very fast at the time.
–– Your perspective as a DJ is very valuable.
Takimi: I lost my "house music virginity" around '87 to '88, a little before those other records, to a series of 12″ records by Blow Monkeys, Fine Young Cannibals (under their alias Two Men A Drum Machine and a Trumpet), The Style Council, and Pet Shop Boys. At the time, I thought that house was "a fast four-on-the-floor digital drum beat with a good female singer on chorus and vocals" (laughs). So when Primal Scream released "Don't Fight It, Feel It" the following year in 1991, I remember being satisfied but also having mixed feelings.
During this period, many artists did what many dance acts do. After the release of their 12", they would release a second 12" of the same song along with a remix or another version of that song, packaged with a different design of the same cover art. Partially a tactic to get on the charts, this was a popular release format back then.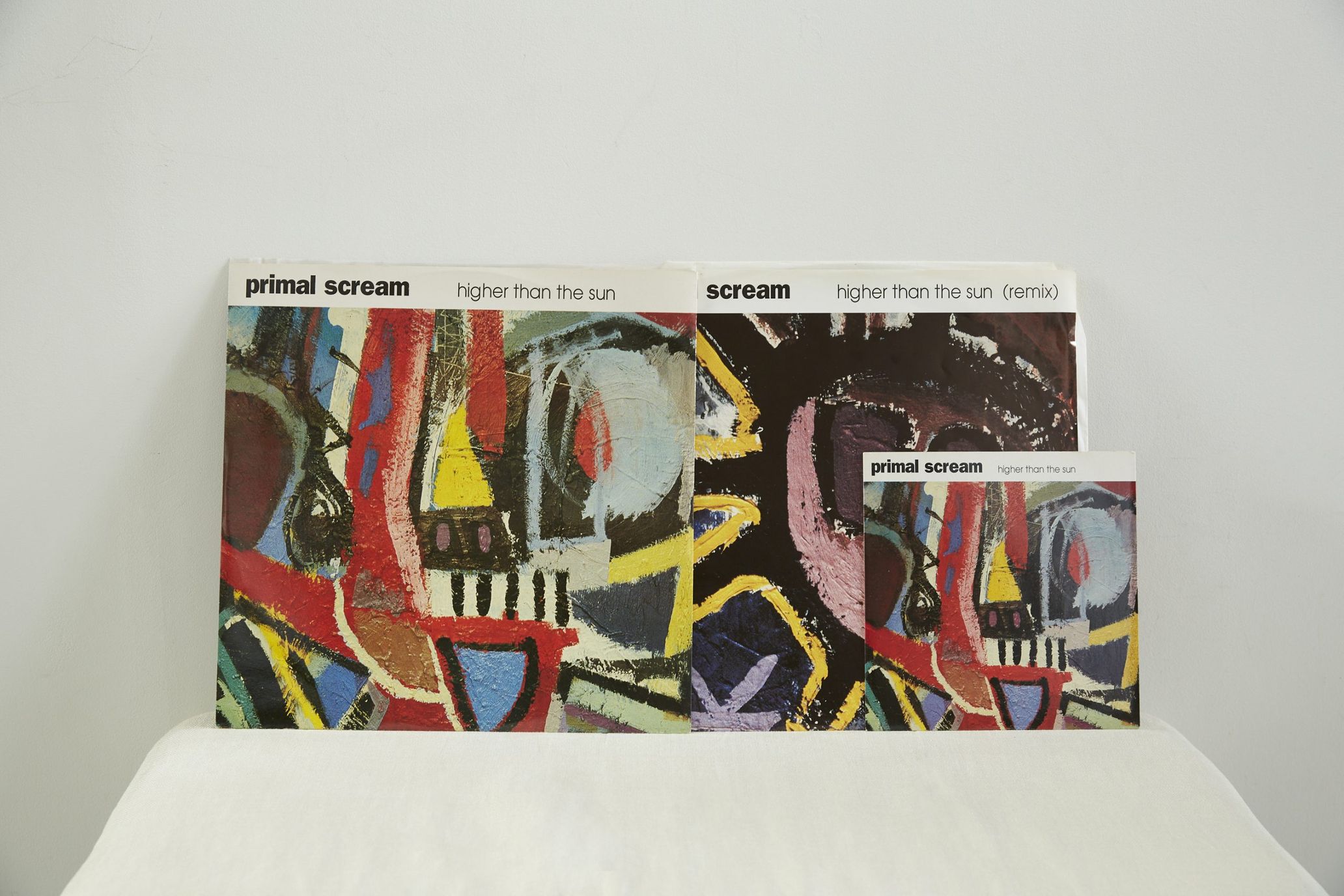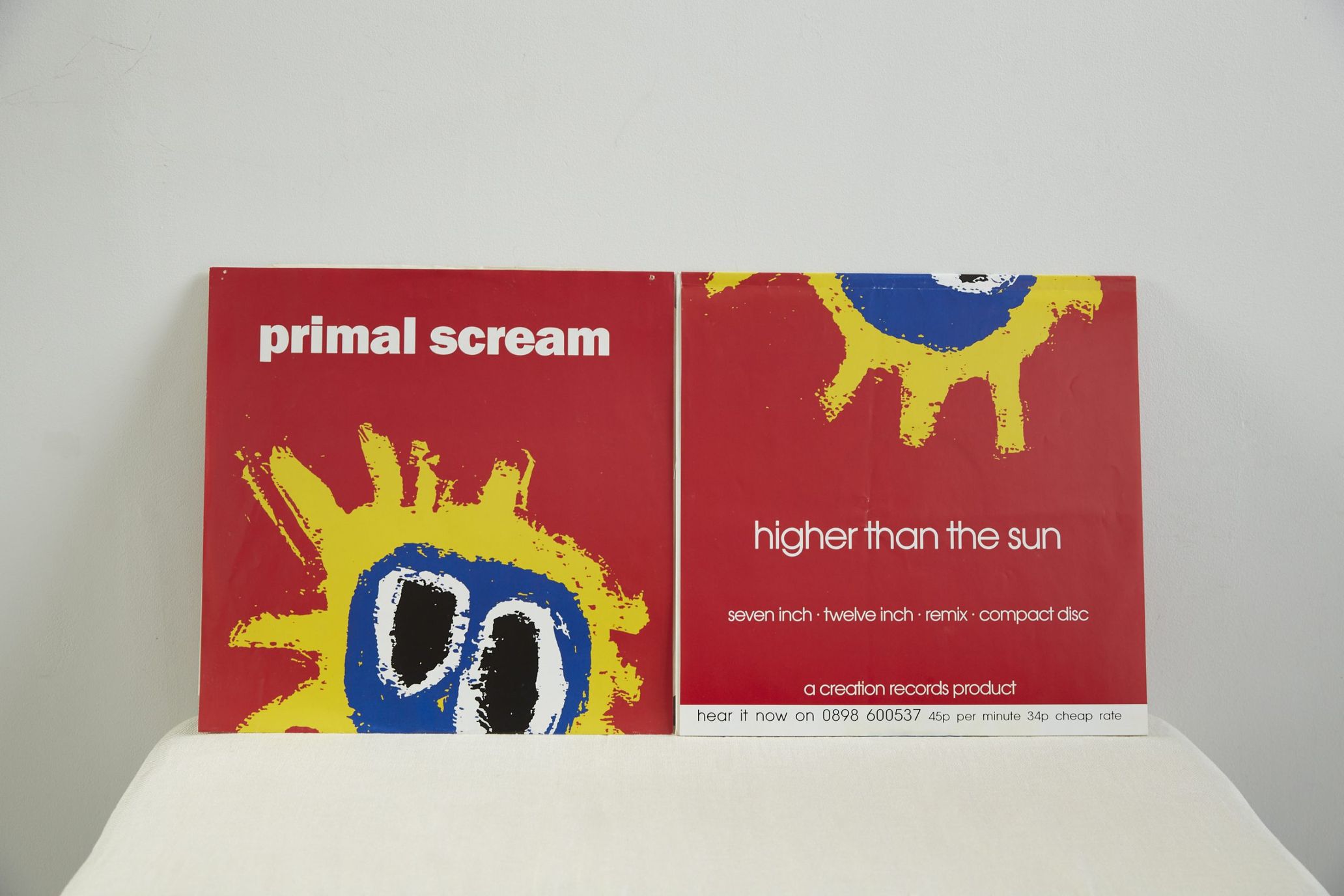 1991, the year of mass production of historic masterpieces
–– Since around this time, we see Flipper's Guitar, for example, being strongly influenced by Primal Scream, bands like Venus Peter being born, and the UK indie scene beginning to gain popularity in Japan. You were watching these developments up close, weren't you?
Takimi: This is neither good nor bad, but there was a lag in when we were exposed to this music in Japan. Perhaps we enjoyed the music because we didn't understand the history behind it. I feel like the club and record shop scenes helped fuel a joint illusion; we got excited because it felt we were meant to. That was the driving force behind these scenes, because we were assuming the context purely based on the information provided on the records. These bands had adopted the dance music format as an arrangement, and never more than that. If they had continued with it, they might have been able to become something unique like their predecessors, but it didn't continue as a phenomenon. The records in Udagawacho were ecstasy for us (laughs).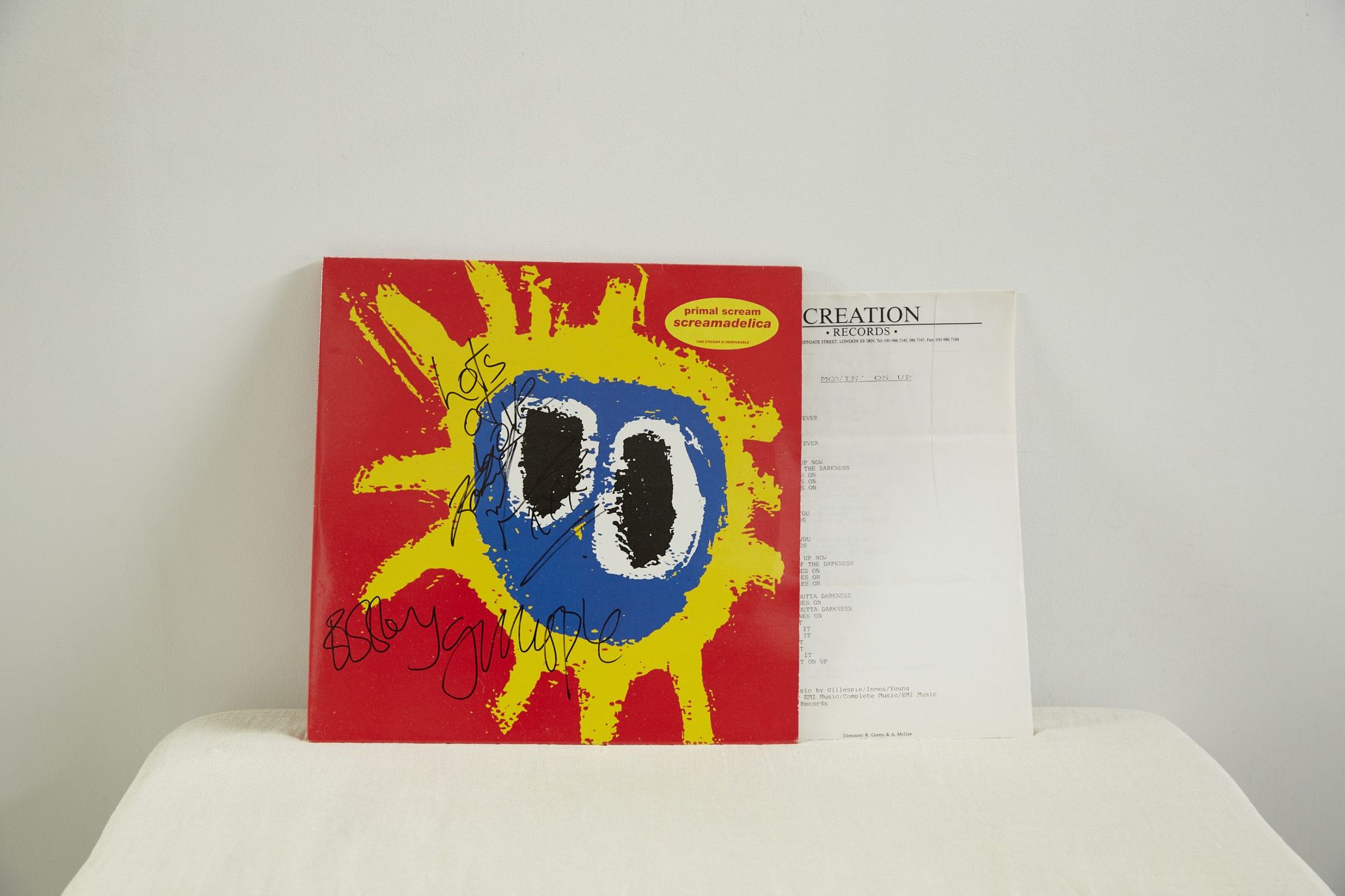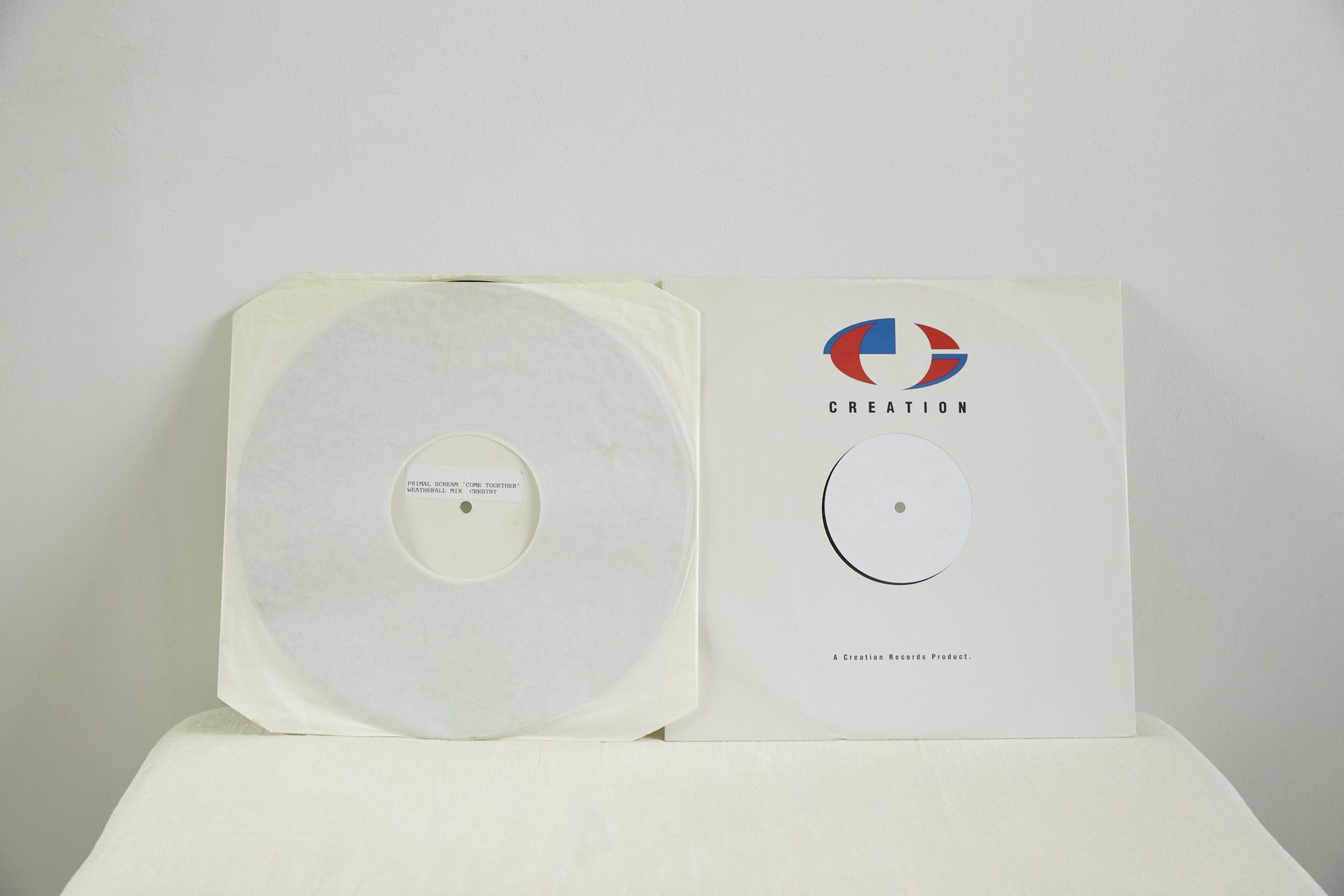 –– That's a great analogy. What was your opinion on Screamadelica, which was released in 1991, at the time?
Takimi: The explosive popularity of "Loaded" and "Come Together" in 1990 made the following year feel very long. Afterwards, "Higher Than the Sun," "Don't Fight It, Feel It," along with two different remixes of each song were released, and the album was released in September. In my opinion, the key to its success was that "Come Together" is an over ten-minute long Weatherall mix that doesn't include Bobby's vocals, and that the two versions of "Higher Than the Sun," included "A Dub Symphony in Two Parts" with Jah Wobble (P.I.L.) playing bass, both of which are placed perfectly in the album.
From a normal A&R perspective, this would be impossible. In fact, "Come Together" on the US version of Screamadelica was replaced by a version with vocals by Terry Farley. In other words, the focus on and obsession with serving community over one's own ego, a foundation of dance culture, makes Screamadelica a rare entity, relative to "Inner Flight" and "Shine Like Stars" as other key players. The tracks "Movin' On Up" and "Damaged" also help strike a miraculous balance to help the record remain regarded as a rock album.
–– You've perfectly verbalized Screamadelica's distinct characteristics and charm.
Takimi: A personal memory is that I lost the liner notes… I'm so sorry! On their second tour in Japan immediately after the release of the album, the first rave-style all-night show was held at CLUB CITTA' in Kawasaki with a band and DJ double bill, which I DJ'd. I heard that the band members in the green room were happy to hear me play the original to one of their covers. But Weatherall, who was supposed to be there, didn't show. I still don't know who the DJ they had sub for him was. It's also sad to think that three of the founding members, Robert Young, Andrew Weatherall, and Denise Johnson, have passed on.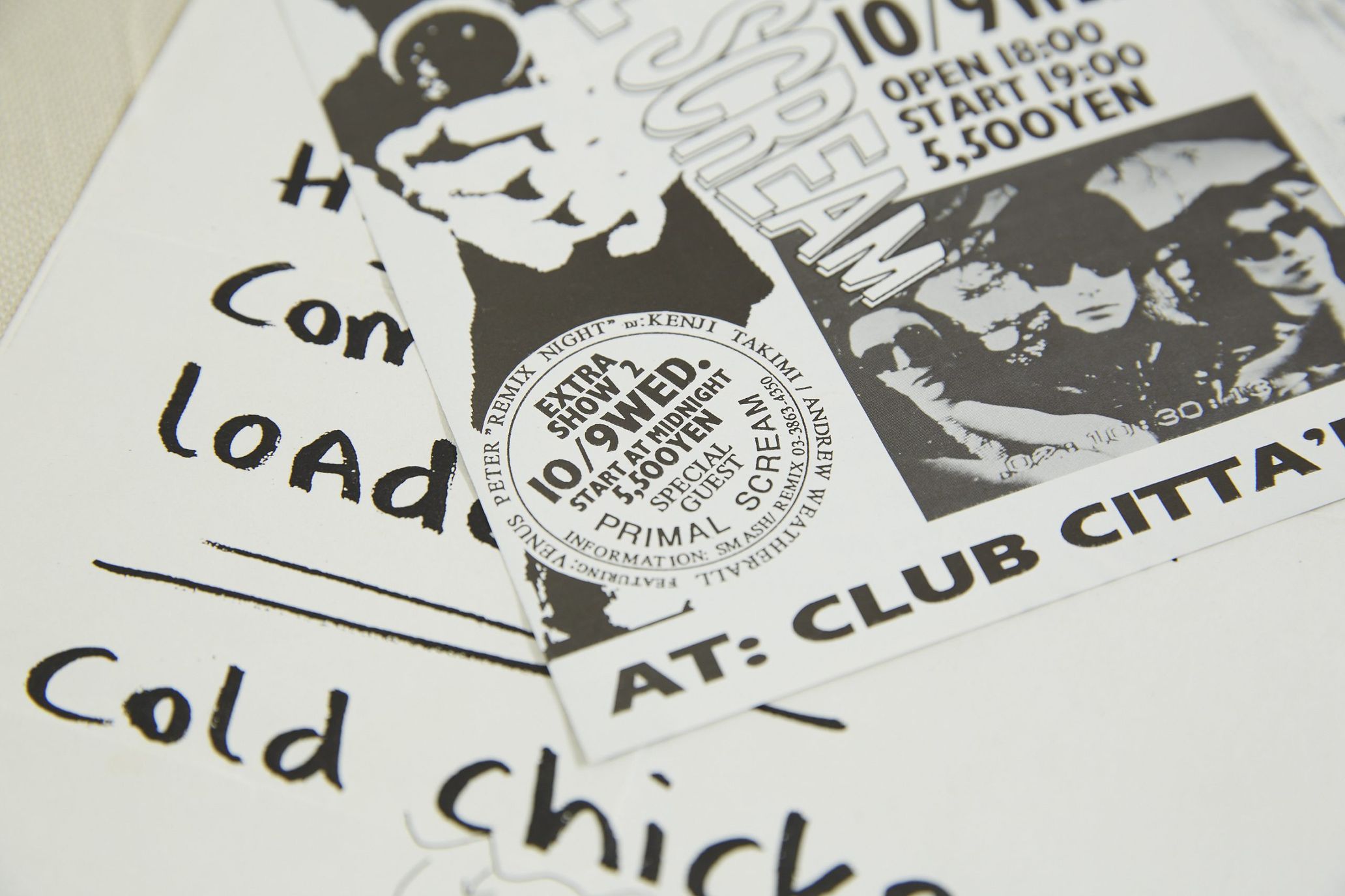 –– The album has been treated as a monumental moment in the relationship of rock and dance music. To what extent do you think it has actually influenced dance music in the years that followed?
Takimi: This album is very much of its time. Although you can see the album's big picture, each individual musical component doesn't feel complete. I think if they kept going, they could have created their own unique musical tropes and textures. A glimpse of this is evident in their song "Screamadelica" (Dexie-Narco EPrecording) that ended up not making it onto the album. If you consider the influence of My Bloody Valentine's "Loveless" and how it created a template that then went on to influence various scenes, or the fact that the dance industry became a major industry in the UK a few years later, the impact Screamadelica could have had is obvious. If you listen to Demodelica (a collection of demo recordings made during the production of "Screamadelica"), you'll make some very interesting discoveries.
–– There were many historic, classic releases from Creation Records in 1991, like Teenage Fanclub's Bandwagonesque, My Bloody Valentine's Loveless, and Slowdive's Just For A Day.
Takimi: 1991 is such an unforgettable year because there were so many historic projects that were released. In my mind, if 1987-1988, when Momus, Felt, and My Bloody Valentine all moved to Creation Records, was the label's second golden age, there's no question that this era was their third. Ed Ball was part of the production team, as was Jeff Barrett, who went freelance and released a number of classics on Heavenly Recordings one after another. The 1991 Creation albums that are most important to me are Love Corporation's Lovers and Momus's Hippopotamomus.
–– How do you feel about Primal Scream's post-Screamadelica albums?
Takimi: Considering the situation in the UK, they could've followed the Screamadelica methodology by working with artists related to the rapidly growing Boy's Own crew for the next album, but I think the decision to go to the US was a turning point for two reasons. The band itself needed to chill out both mentally and physically after several years of immersing themselves in the dance scene, and they need to return to their songwriting roots.
–– Interesting.
Takimi: The culmination of that is reflected in the fact that the Dexie-Narco EP and the "Shine Like Stars" Weatherall remix were planned to be released but never were. I think they were also bound to have to change modes mentally. They actually asked The Dust Brothers (later The Chemical Brothers) and Portishead to remix the single from their next album, Give Out, But Don't Give Up, using the same methodology as when they did this with Weatherall. I think that if they had stuck to the methodology they used when they collaborated with Weatherall and kept true to their original tracks, the differentiation between high-intensity and low-intensity tracks could have reflected the current state of the UK a bit more. Instead, the band went back to their rock 'n' roll roots. Certainly, if they proceeded with the prior methodology, the need to be a band would diminish, and the question of how to reproduce the tracks live would arise, which is why I think Bobby decided to focus more on band management, although these are just my assumptions (laughs). Considering the Give Out, But Don't Give Up label and the Screamadelica sun symbol on the hype sticker, anything is possible.
I don't think I'm far off, though, especially after reading Bobby's autobiography containing various anecdotes from his childhood about his unerring obsession and love for his origins and community. He may look like a rock star, but I think he's someone who understands what it feels like to be a beautiful loser.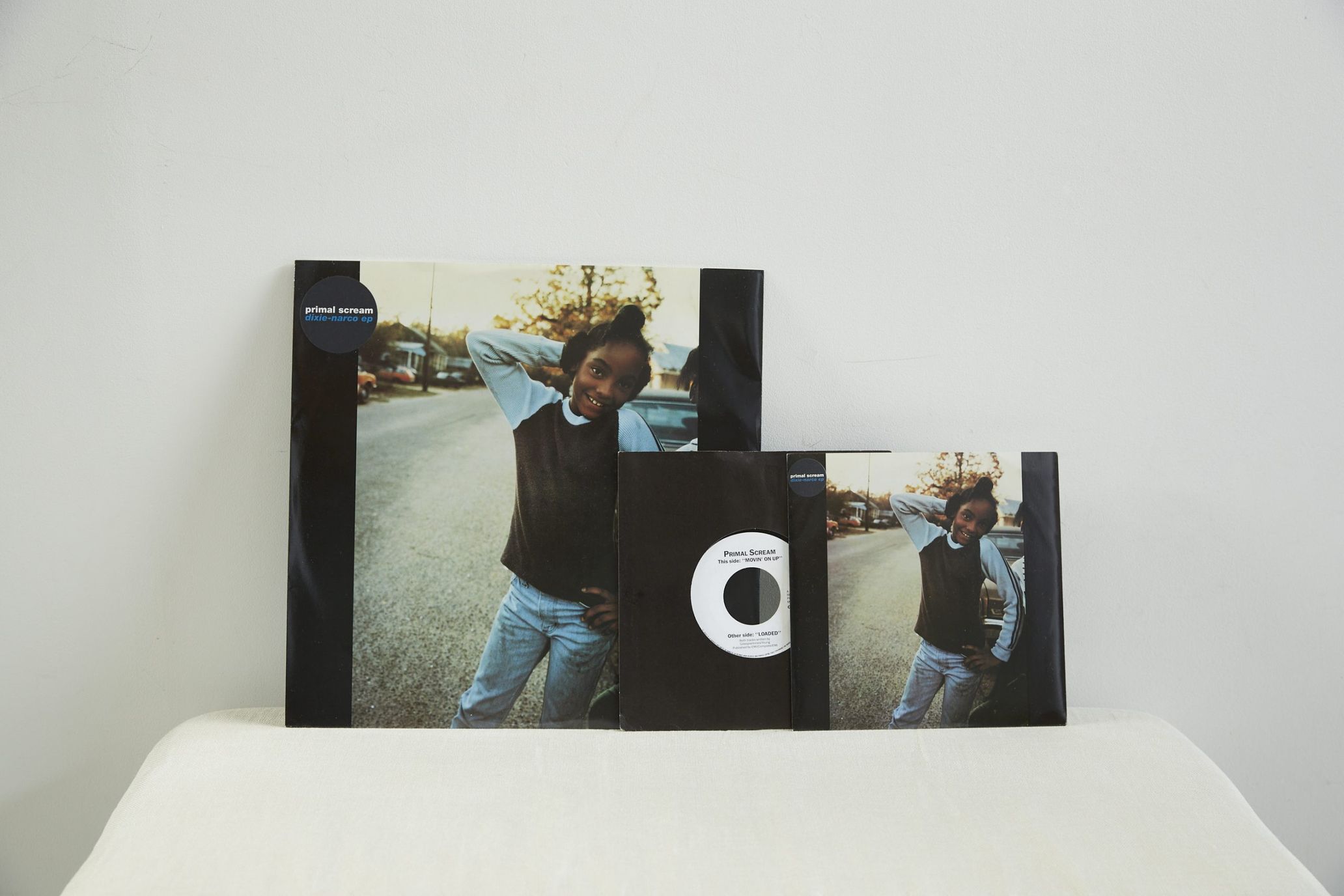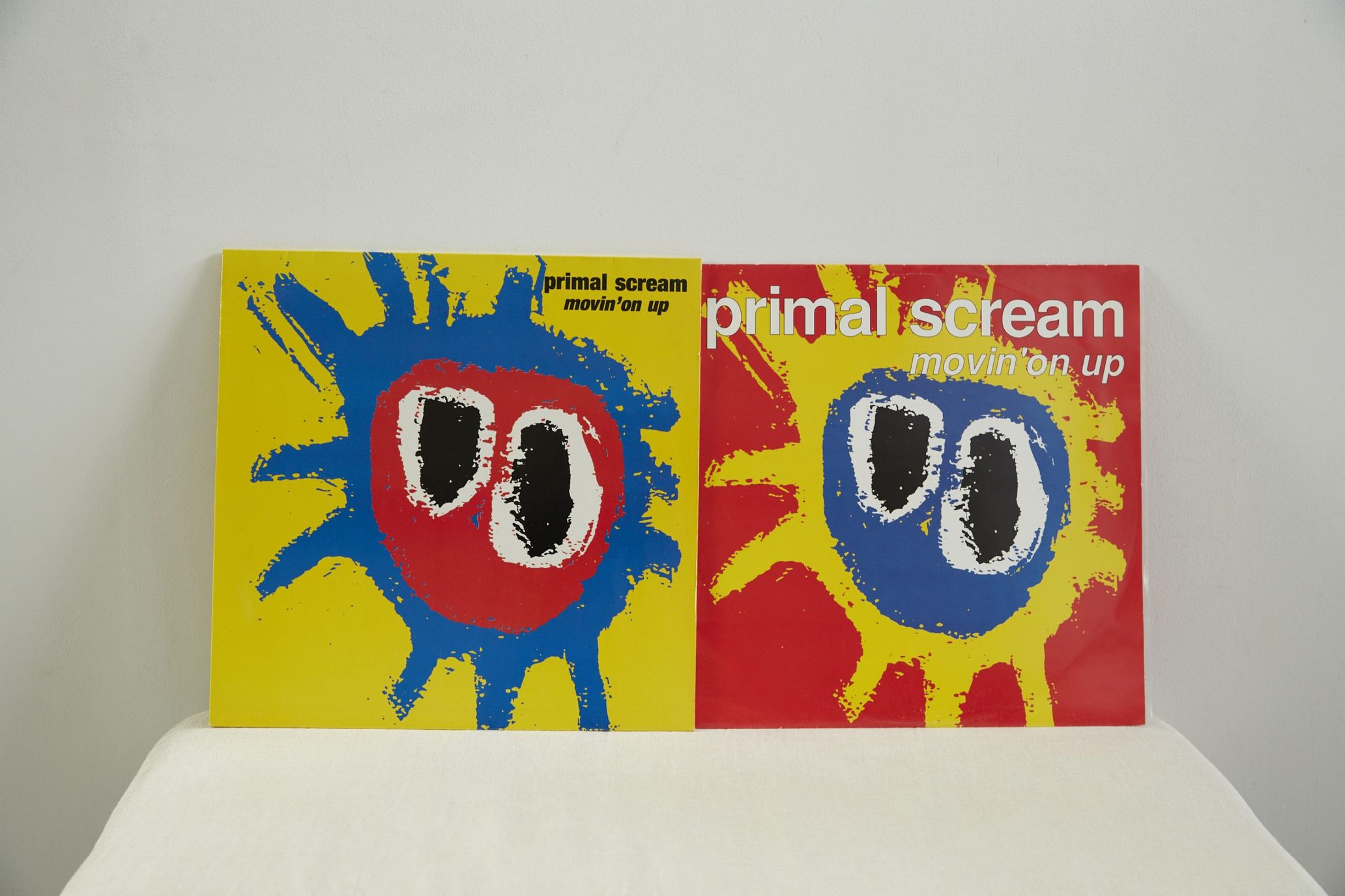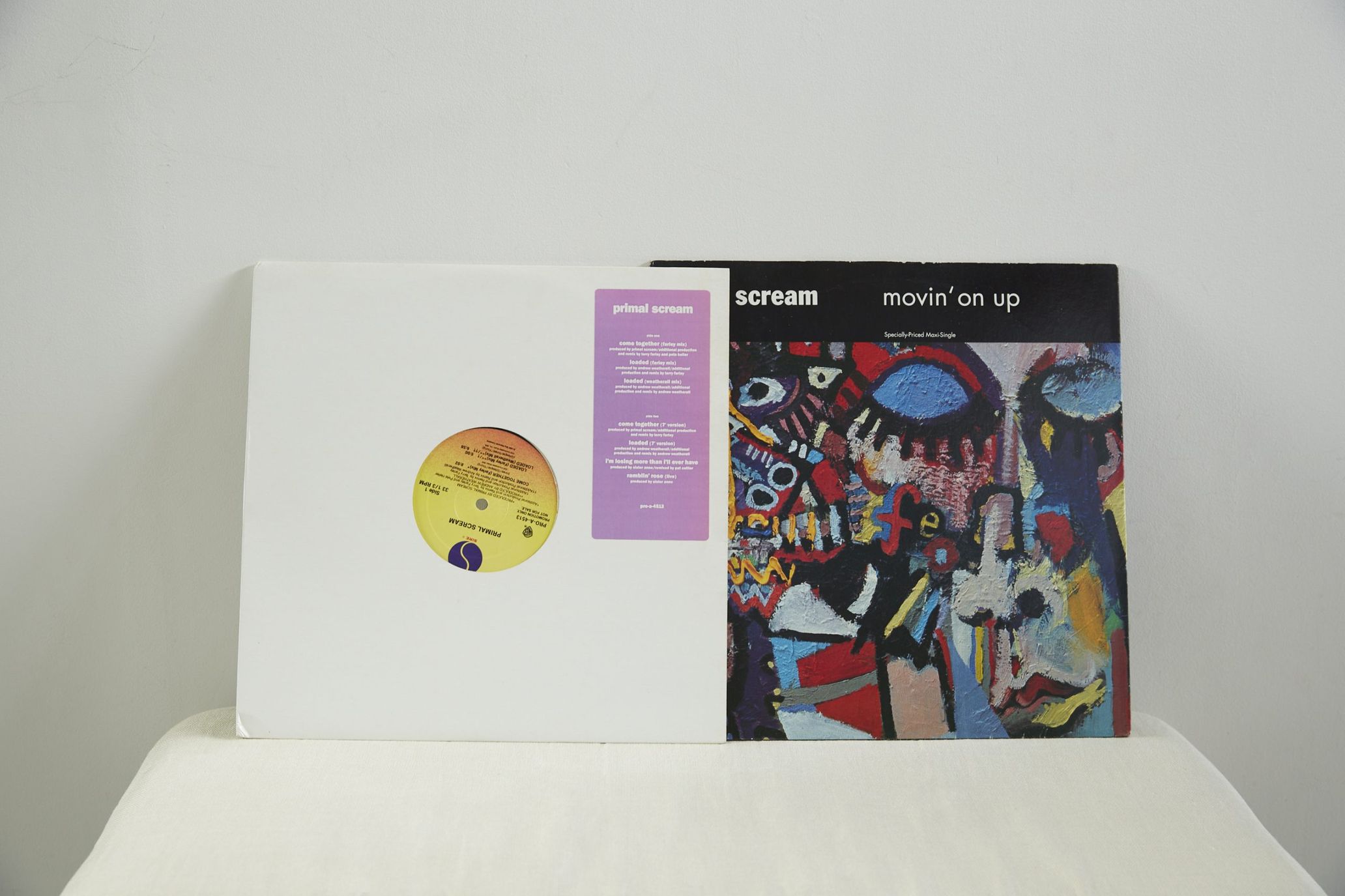 –– Primal Scream will play at "SONICMANIA" and "SUMMER SONIC" this year and have solo shows in Osaka and Nagoya performing "Screamadelica Live." What do you expect from Primal Scream now, and do you have any recommendations for young listeners who are thinking about listening to their music?
Takimi: As for the band, I don't think they'll ever break up, so I want them to continue as long as they can. As for recommendations to the young generations, I want them to find their versions of Screamadelica and Loveless, because listening to sounds of an era in realtime is only possible at that moment.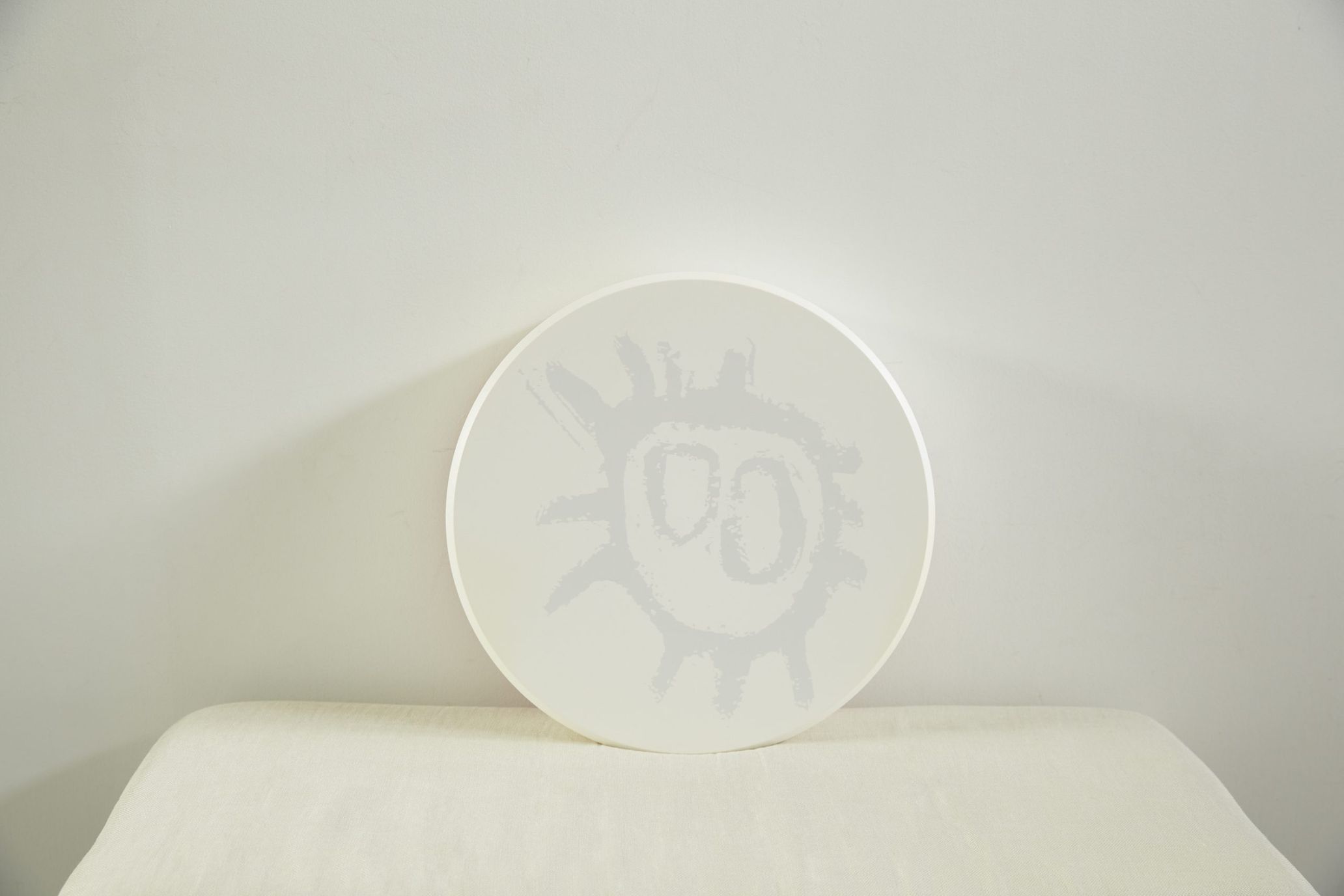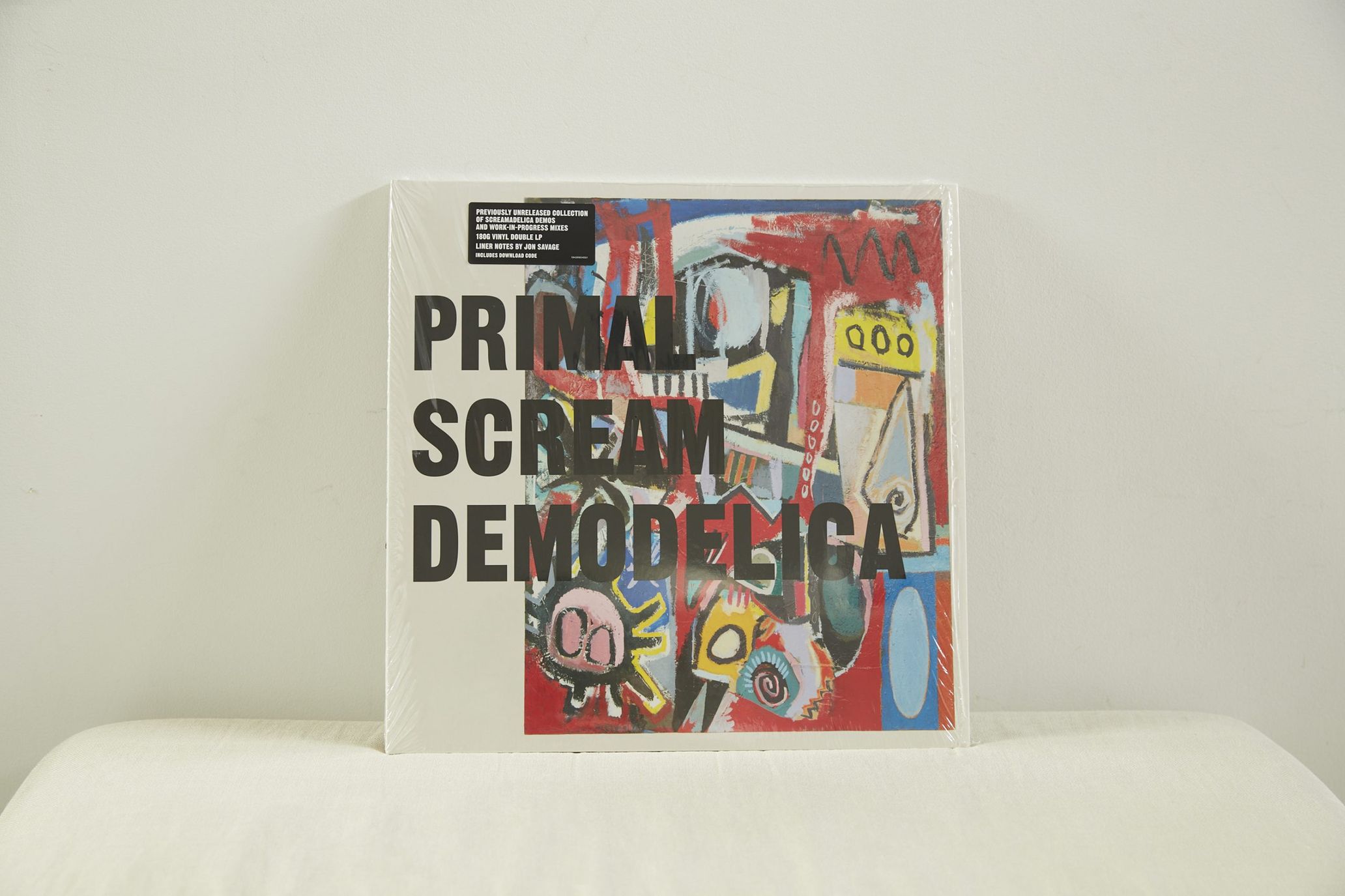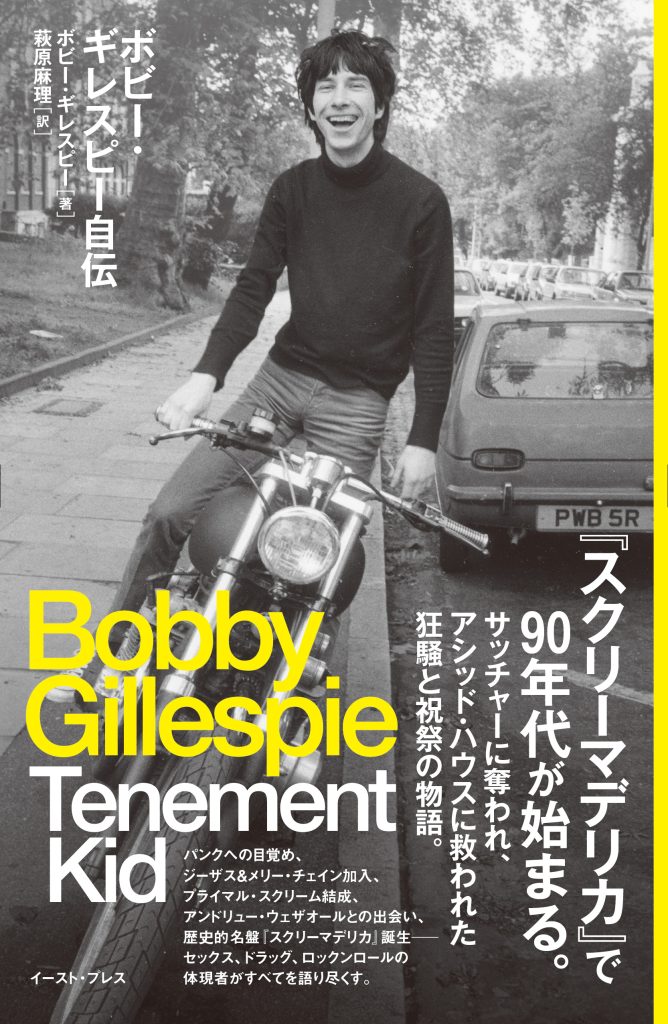 ■Bobby Gillespie autobiography Tenement Kid
Price: ¥3,000
Publisher: East Press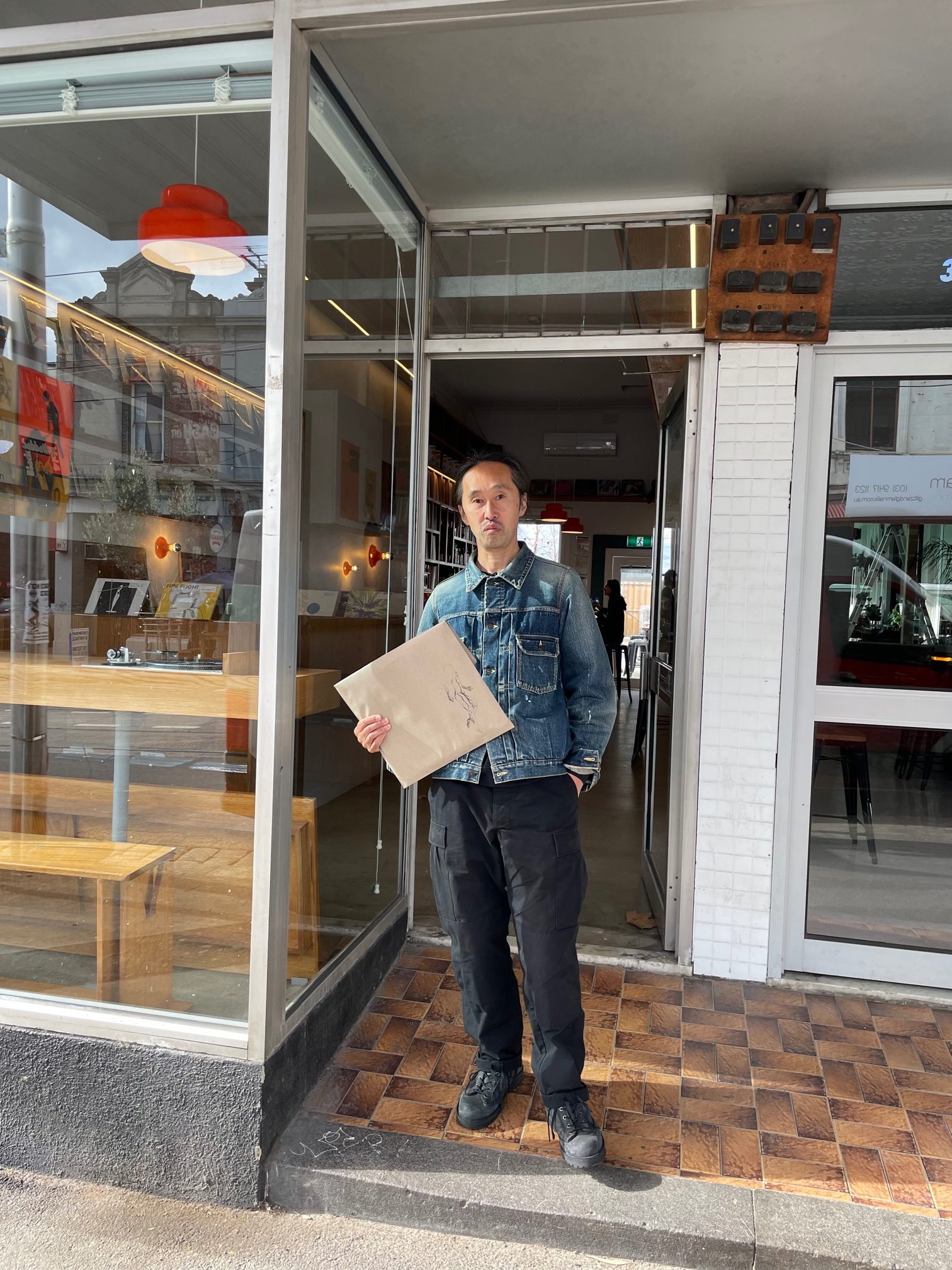 Photography Masahiro Arimoto
Translation Mimiko Goldstein