I still remember the fashion film Children of the discordance presented for its Spring/Summer 2021 collection. In it, two skaters glide through the streets surrounded by skyscrapers. The film shows them doing awe-inspiring tricks and falling dramatically over and over. It's as though the message of showing both successes and failures is that being your authentic self is cool.
At the film's end, the skaters skate on the midnight roads with "Lone Wolf" by Zacari playing in the background. The hem of a black coat flies in the wind. The shot of their backs struck me as beautiful in an ephemeral way.
This streetwear-centric fashion film was shown at Milan Fashion Week—where sexy, tailored clothing reigns—making designer Hideaki Shikama a heretical figure. How did he get here? What's his story? We spoke to Shikama about his Spring/Summer 2023 collection to learn about what goes into his creations.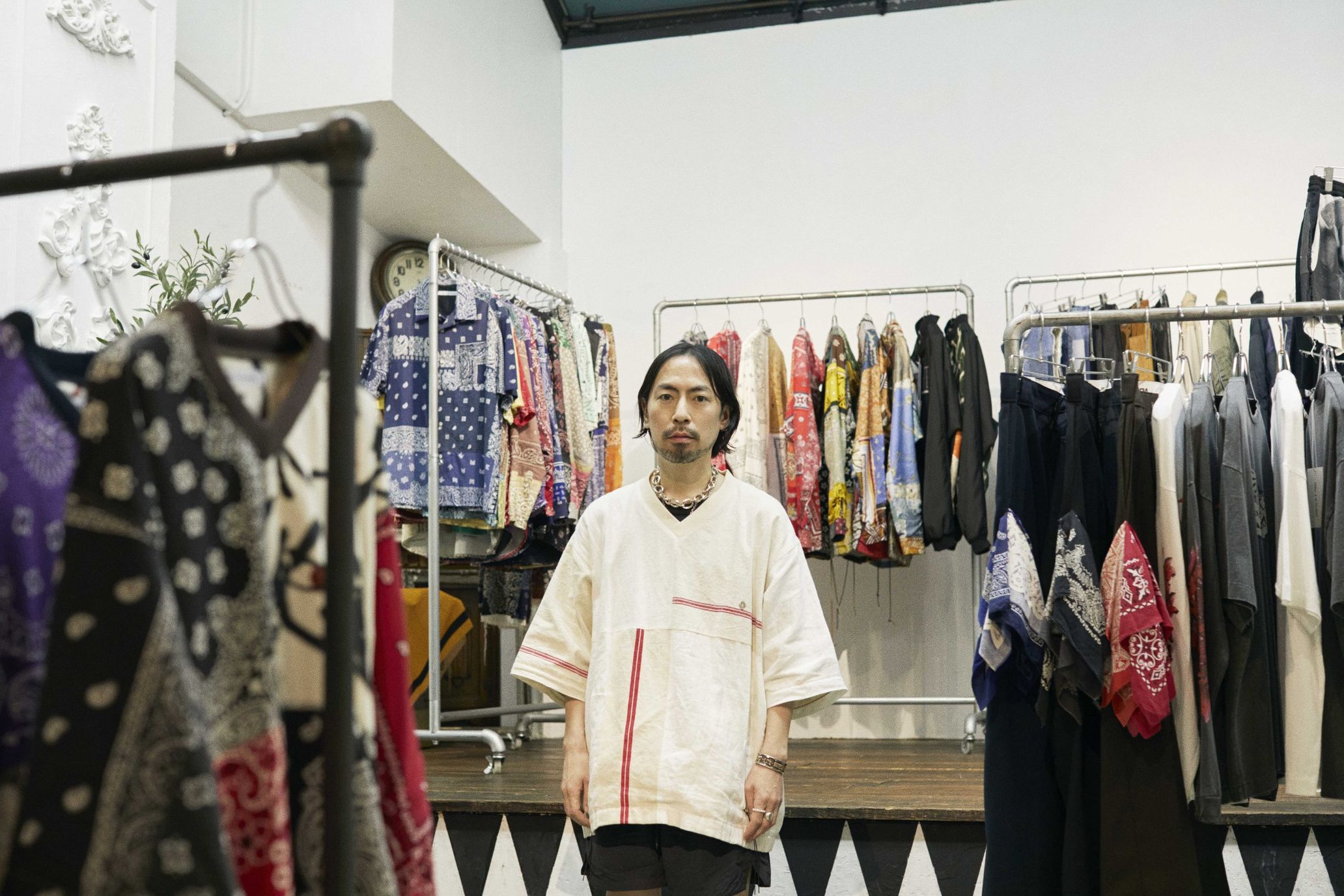 Hideaki Shikama
Born in 1980, Hideaki Shikama founded Children of the discordance in 2011. In 2018, he won the Tokyo Fashion Award. Born and raised in Yokohama, Kanagawa, he came into contact with various cultures as a child. This experience plays a central part in his collections. He presents a fashion film every season, each full of his love for music. The intersection between dynamic graffiti and loose silhouettes that don't restrain the body produces an impact akin to avant-garde streetwear.
https://www.childrenofthediscordance.com/
Instagram:@children_of_the_discordance
Growing up in Yokohama and the real streets of New York
——I'd like to know about your formative years. What was Yokohama like growing up?
Hideaki Shikama (Shikama): Back then, you had to be resilient to survive Yokohama. You had to be prepared and understand the risks if you wanted to do something different from the rest. It was pretty serious
——Do you have any anecdotes to share?
Shikama: One day, my friend and I got out of the ticket gate of Yokohama station and saw students from another school waiting for us. There were about 30 of them. They started taunting us, then ran over and almost beat us up. I had hit someone with my skateboard to run away before, so this was nothing new. It happened all the time. It was like the Heisei era version of the manga Rokudenashi Blues because it was like, "I heard that guy got beat up yesterday" (laughs).
——Wow! I can discern different cultures in your collections. Does your experience in Yokohama play a part?
Shikama: I fell in love with clothes when I discovered Stüssy when I was 11. I felt inspired when I saw a friend of mine wear the brand. That made me interested in every culture related to clothes.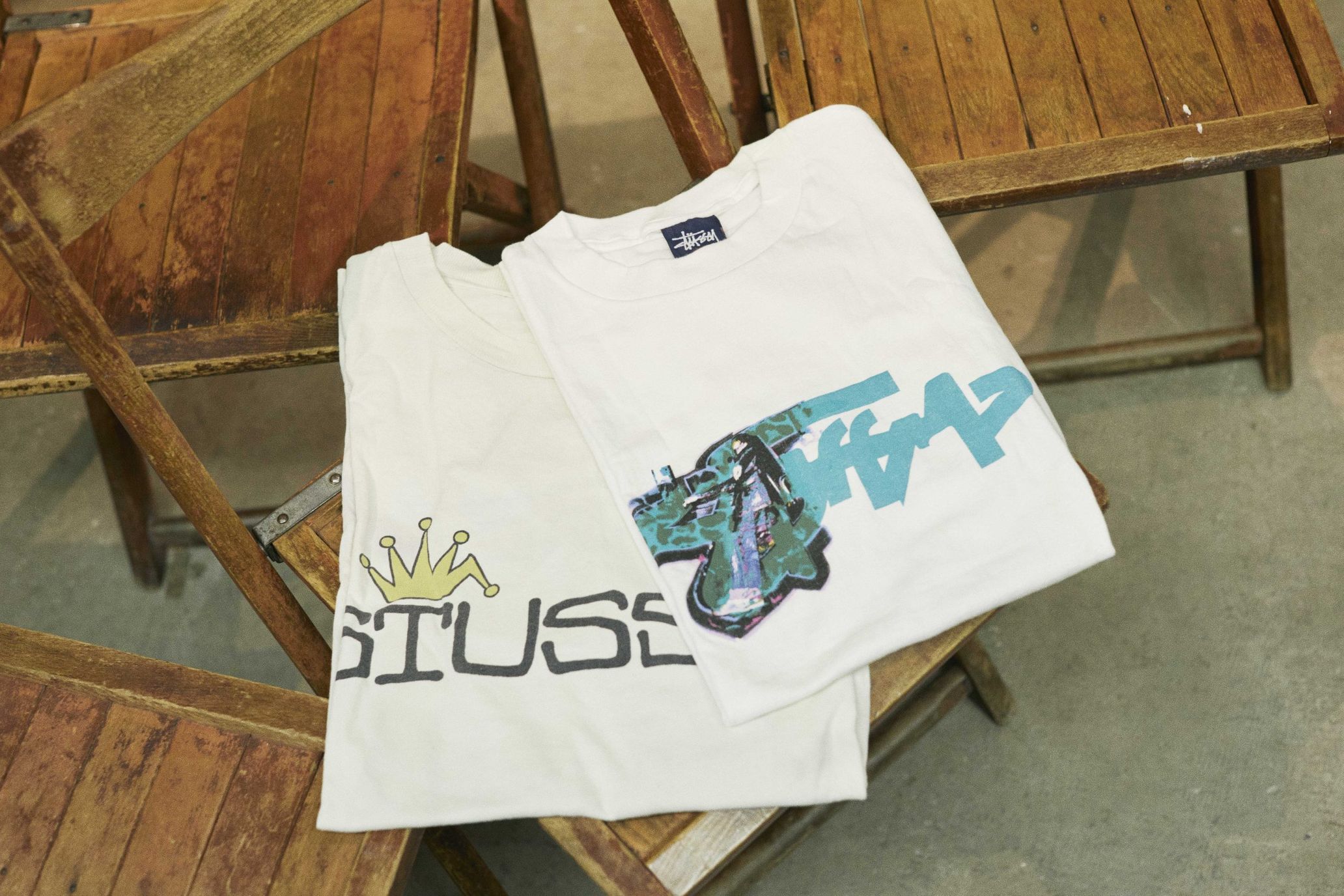 ——Your initial introduction to street culture was clothes, not hip-hop or skating.
Shikama: It was Stüssy for sure. I got into the brand, then experienced a crossover of different cultures in middle school. There were delinquents and kids who did street dance. I discovered skate culture in seventh grade, where people did flips and ollies. That was the start of my learning about other cultures.
——Which culture did you become interested in after skating?
Shikama: Skate culture wasn't only related to hip-hop; R&B, rock, soul, and hardcore were integral too. I learned about these genres from skate videos. I would buy skate videos at Murasaki Sports in Shibuya and check out all the songs used in the videos. I eventually got hooked on various types of music that way.
——Which genre were you especially hooked on?
Shikama: Yokohama has deep ties with dance music, so I became increasingly obsessed with hip-hop. My parents always had MTV on, and music videos would play on the TV after I came home from school. I found out about Japanese rap through that. When I was in seventh or eighth grade, I discovered Shakkazombie and was shocked by their early music videos. I got into this group called Lamp Eye and started DJing and rapping. That was around 10th grade.
——I didn't know that! I heard you spent some time in New York.
Shikama: I was in middle school. My friend moved there because of their father's job and invited me to visit them. I stayed in New York for two months a couple of times.
——What do you remember from your time in New York?
Shikama: It was around when Supreme and RRL stores opened, and I felt the momentum of street culture in New York. I encountered graffiti art and got influenced by and absorbed different cultures in a short period. I was around 14 or 15 then, but that passion didn't die when I returned to Japan. It still lives on within me to this day.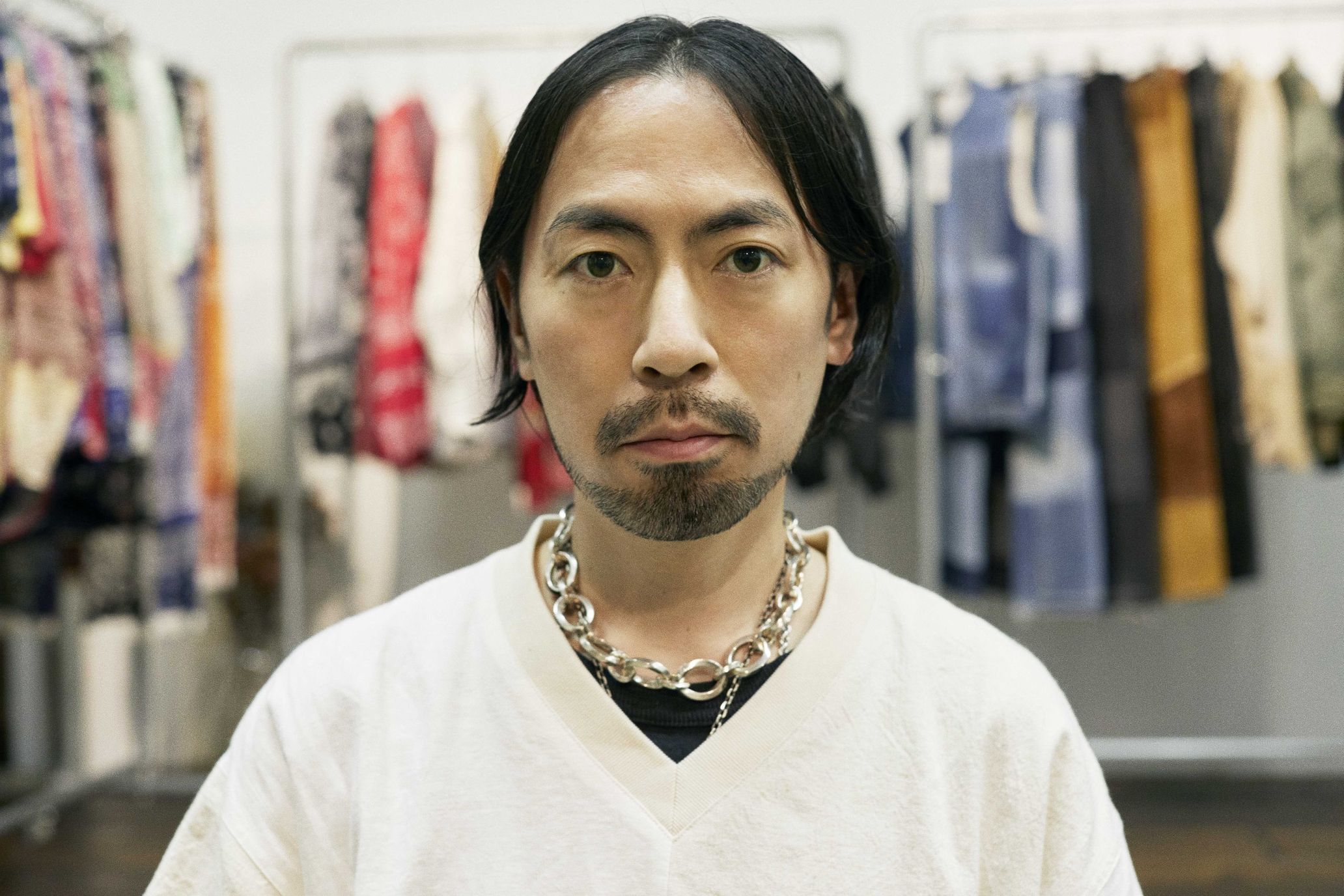 The origins that nurtured Shikama
——You were previously in charge of Acycle Ships Jet Blue, which you founded through Ships. Did you have experience in design planning before that?
Shikama: I went to a fashion school, but I didn't study at all. I always hung out in Harajuku, so I had no experience working in the field. I didn't understand how to make patterns or specification sheets.
——How did you earn those skills?
Shikama: An older co-worker told me, "You can look at my specification sheet after I go home." They would leave at 11 PM. After they went home, I'd make a copy of their specification sheet so I could study it until the morning. For a year and a half, I would go home on the first train, sleep for an hour, and go back to work. I understood how to make clothes thanks to that experience and started design planning for Ships.
——What sort of projects did you work on?
Shikama: I had a project where we made 150 different shirt designs in a year. Some designs were hits; we would sell 200 to 300 shirts per week. Thanks to such results, I could tell that people in the company started trusting me. If I did a not-so-great job, Acycle would've failed. I gave it my all regarding the jobs I was given.
——I feel like not only did you learn the foundation of making clothes at Ships, but you also were influenced by it in a big way.
Shikama: Yes, I learned a lot. I visited the place that produced fabrics and made an original one. I learned how to create graphics using Illustrator, too. I owe everything to Ships because I experienced so much during my time there.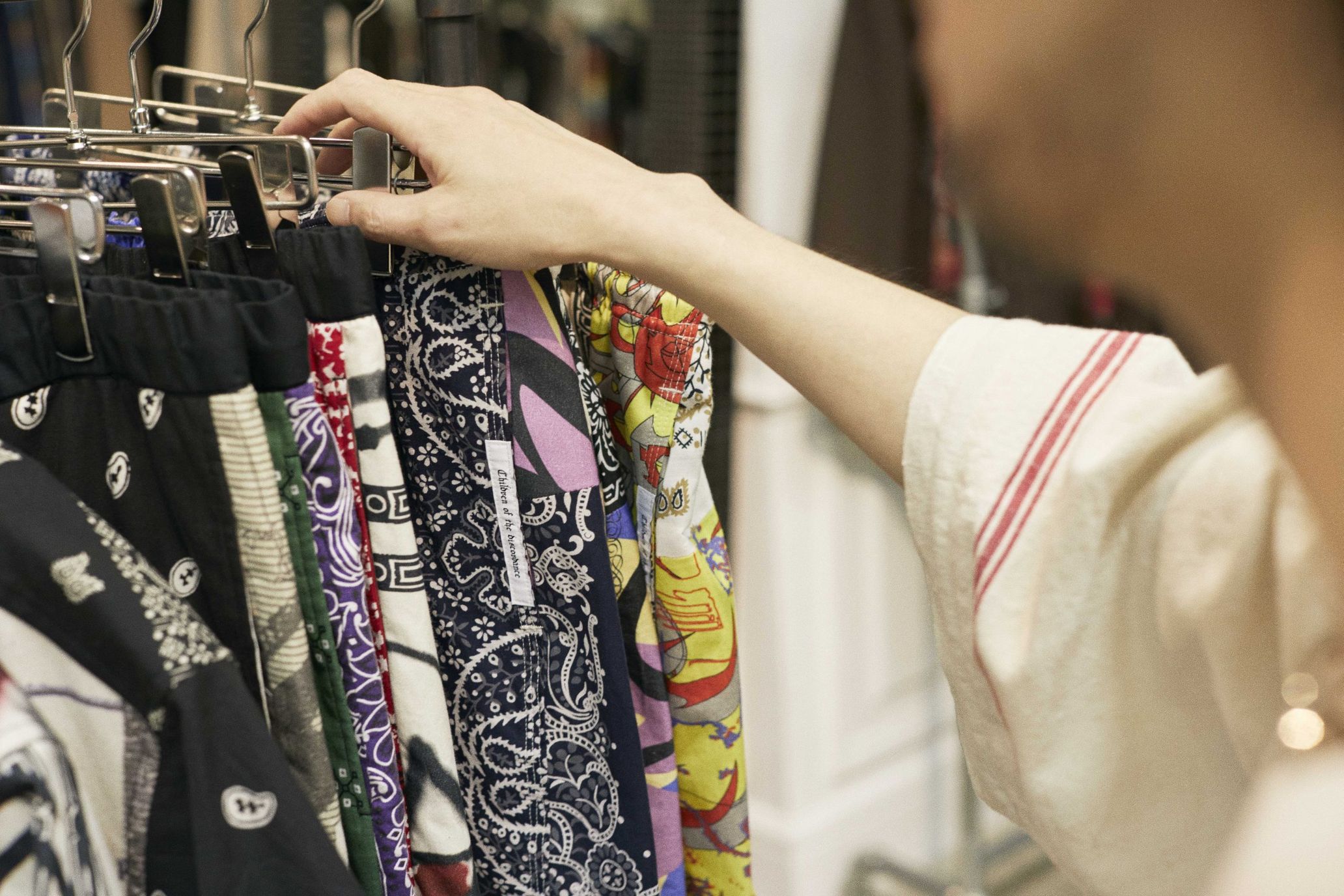 An exciting style born from returning to one's roots
——I heard Yokohama was the theme of Children of the discordance's Spring/Summer 2023 collection, which you showed in June.
Shikama: The title is "Area Area." The Yokohama I grew up in during my teenage years was a diverse city. Let's say I went to the park with a friend. I would run into a rapper friend and a DJ there. I would also see skaters, street dancers, and bikers.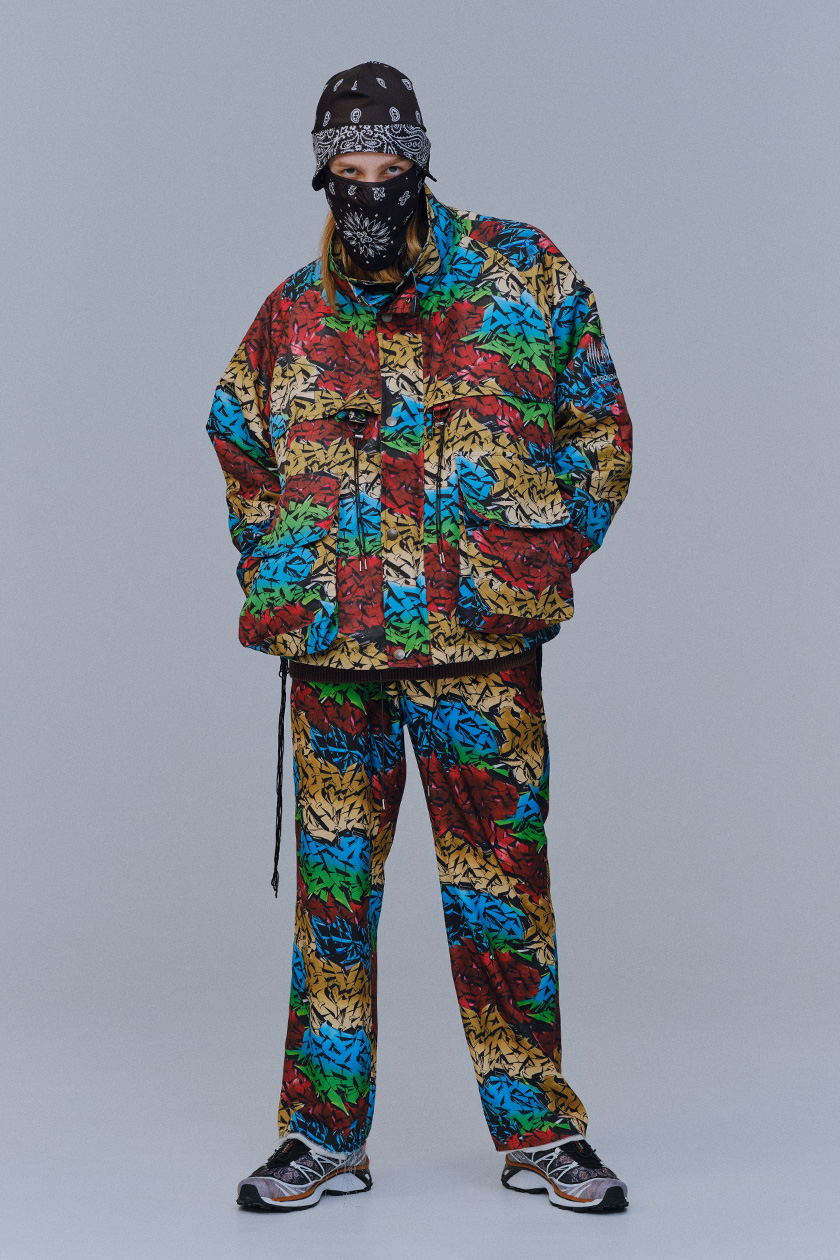 Children of the discordance, Spring/Summer 2023
——How did you get that sort of information back then?
Shikama: When making hip-hop music for fun, I would get other information naturally. I've never been on a bike before, but I know so much about different bike types. I also knew about bike customization because my friend told me about it. I learned a lot from the streets.
——Is the collection's theme based on your past self?
Shikama: I thought it would be fun to do that. The collection has a hip-hop mood, but it also has ravey tracksuit jackets. The vibe is Yokohama in the late 90s.
——–The distressed sweater caught my eye. The hem is frayed, and the graffiti looks like it was drawn on a real wall. Where did the inspiration for graffiti come from?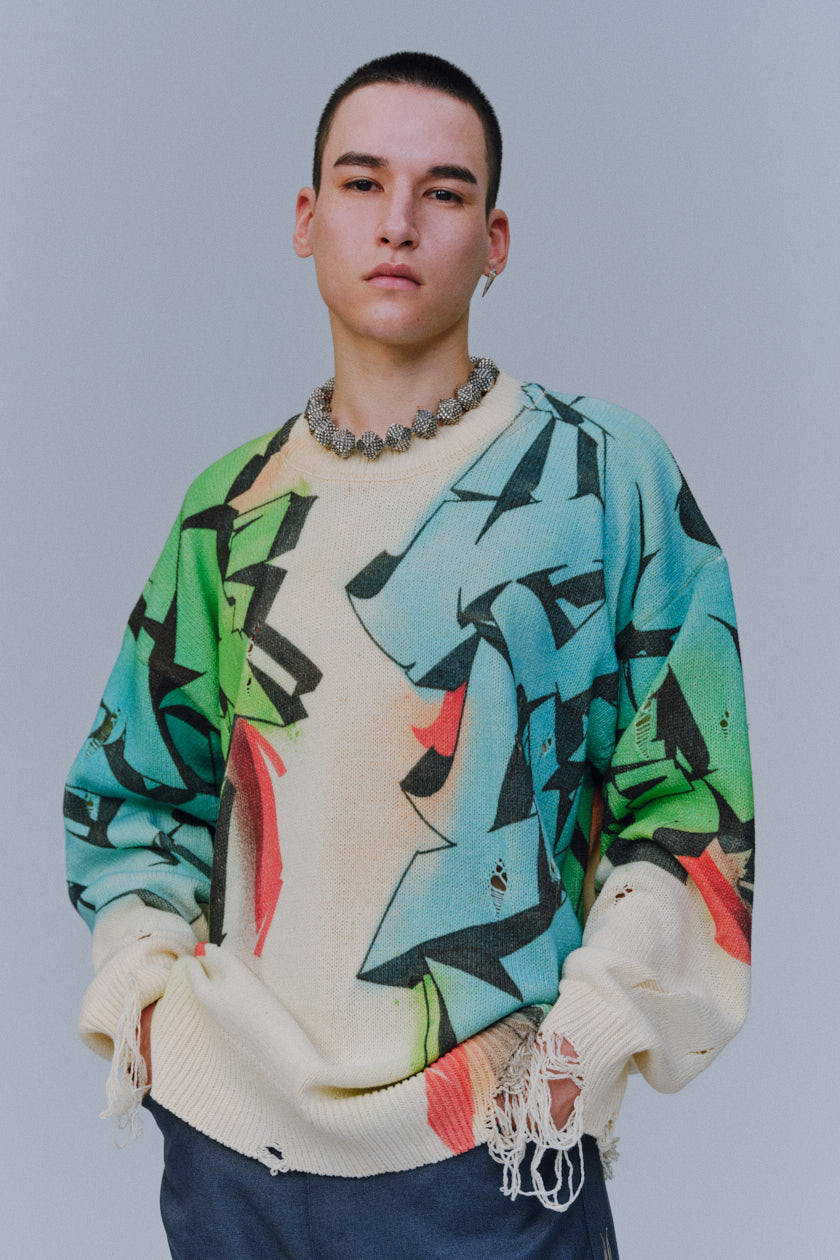 Children of the discordance, Spring/Summer 2023
Shikama: It's from a one-kilometer-long street under an overpass in Sakuragicho. From middle school until my twenties, I would go there to skate and hang out with friends at night. It's close to my heart, so I knew I had to recreate it. Sui, a graffiti artist and friend who lives in Kagoshima, did the graffiti.
——I would've never guessed you got inspired by a wall in Sakuragicho!
Shikama: The hem is distressed because I had a skater in mind.
——The details reflect Yokohama. It's fascinating. How did the clothes with illustrations by Jun Inagawa come about?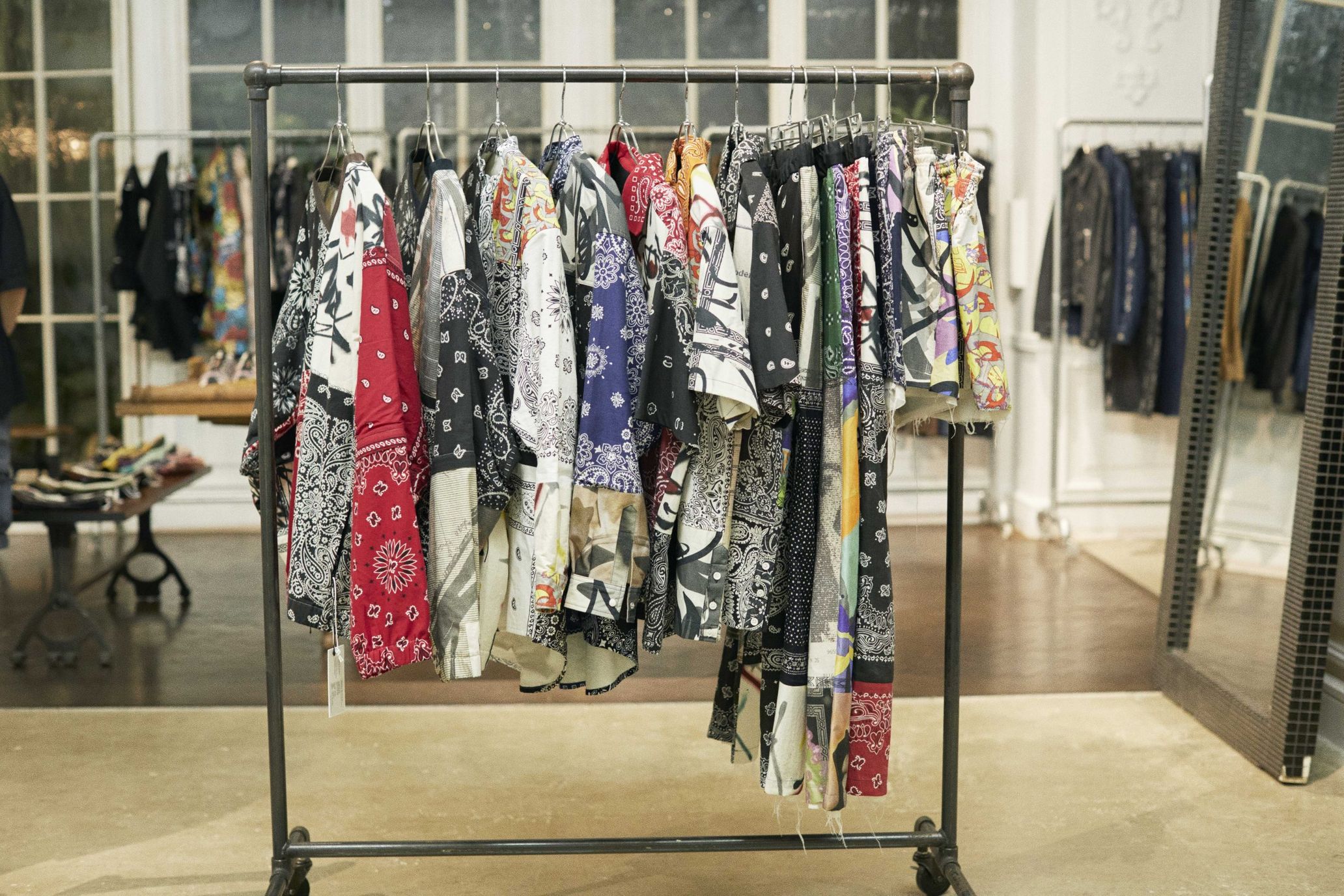 Children of the discordance, Spring/Summer 2023
Shikama: Reiji Okamoto-san comes to every show, and I spoke to stylist Teppei-san about wanting to work on something with Reiji-san. We then had a meeting that led to the brand's collaboration with Yagi, curated by Reiji-san, of which Jun Inagawa-san is a part.
——Usually, brands put illustrations to the front and center of their designs, but you mixed his illustrations with bandanas. It feels fresh.
Shikama: When I first shared that idea, they were like, "What's he talking about?" (laughs). But I thought it'd be cool to make original bandanna fabrics, add his artwork on top of them, digitally print them, and then mix that with other bandanna fabrics.
——What was everyone's reaction when the prototype was finished?
Shikama: They were like, "Damn!" It's challenging to harmonize vintage aesthetics with art. I feel like it's something only we could've done.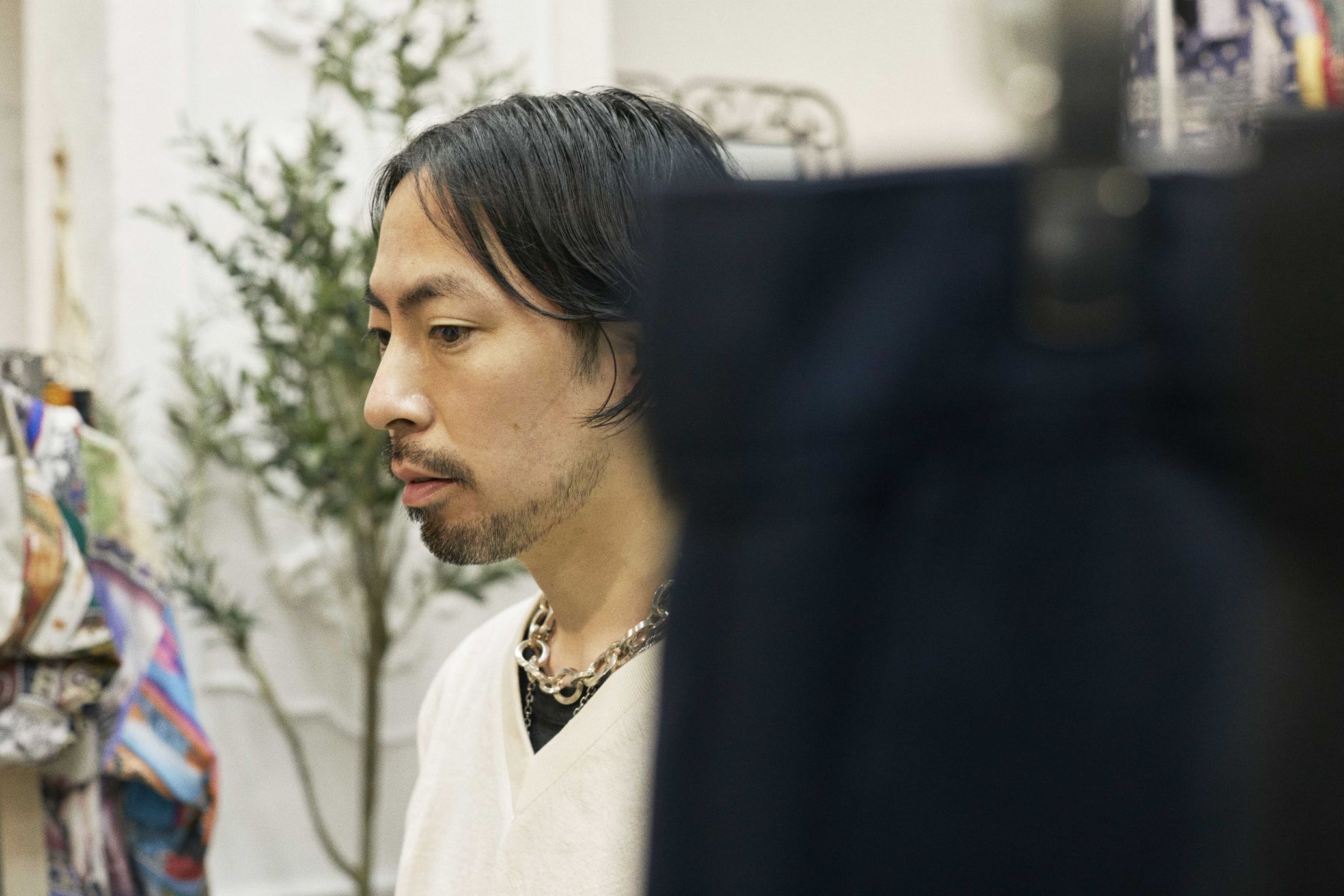 Thoughts and feelings behind the collections
——You use an impressive amount of vintage shirts in your collections. How did you start collecting them?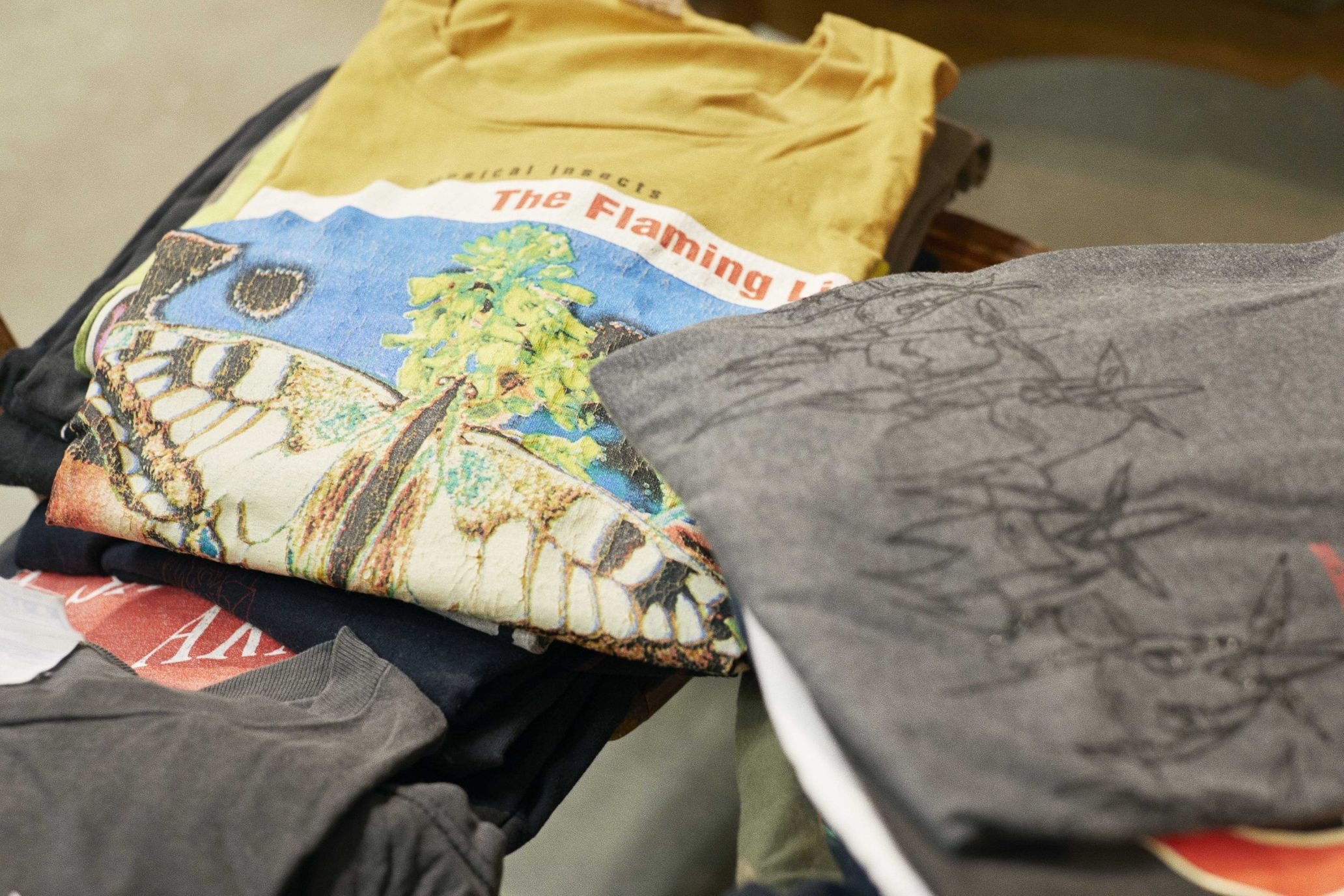 Shikama: Let's say a vintage shirt in extra large costs 60,000 yen. If that shirt's in size small, it'd only cost 10,000 yen, even with the same graphic. Especially abroad, small shirts are treated like garbage because people are like, "Who would wear a small-sized shirt?" It's such a waste, no? The print is the same! No one saves shirts like that; they get buried in other clothes. That's why I started collecting shirts with rare prints in size small.
——Would you say you collect things of low value and remake them into valuable items?
Shikama: You can break small-sized shirts apart and reconstruct them into an extra large top. You can make a super rare print for cheap. We can sell print shirts at a lower price than the market price. I started doing this because I felt like it was such a waste not to.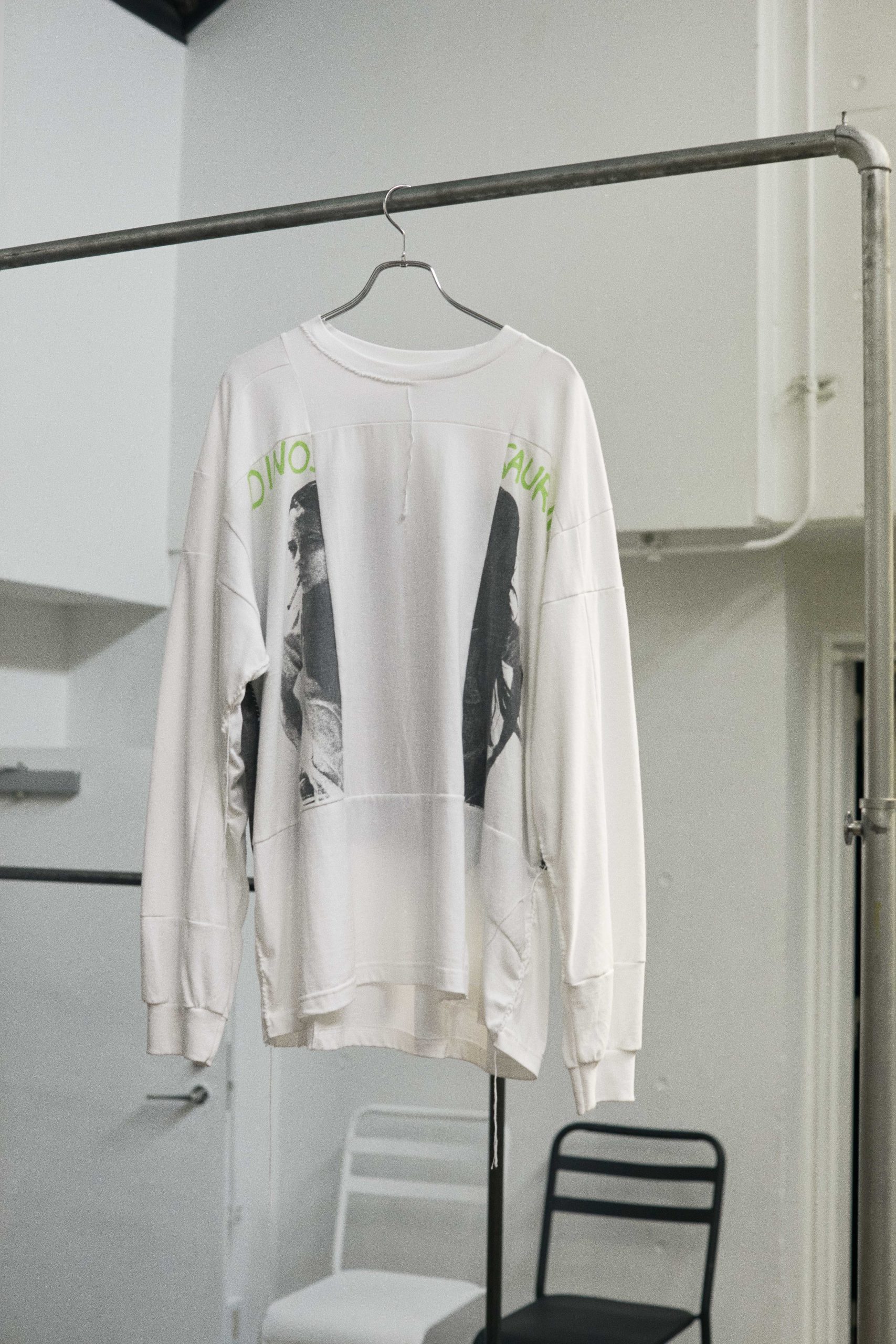 A reconstructed shirt from Children of the discordance
——Sustainability is an imperative topic in the fashion industry. Your clothes have a sustainable feel to them. What are your thoughts on that?
Shikama: To be truthful, I don't think about that concept. As my brand name suggests, I'm the type of person who doesn't want to dress like everyone else as much as possible. It took time, but I realized I could make original clothes by incorporating a vintage element. That was around 2014. That's when I started reconstructing vintage clothes.
——You mentioned how you started collecting vintage shirts because you felt like it was a waste not to, but hearing you speak, I think you had a strong desire to pursue originality through making unique clothes.
Shikama: For some reason, once people started using the word sustainability, my brand started being regarded as a sustainable brand. Some stores abroad buy our clothes as part of their sustainable category. They tell us, "Where are your reconstructed clothes? We can't buy anything else."
——You don't make clothes based on that perspective, right?
Shikama: Right. How can I say this? The things I'm concerned with differ from theirs. I never want to force myself to make clothes in a certain way.
——The music you use in every fashion film you present is memorable. Your Spring/Summer 2023 collection used Hideyoshi-san's "Live Forever" and "Shinpainai featuring Aklo." Why did you select these two songs?
Area Area, Children of the discordance's Spring/Summer 2023 fashion film
Shikama: People might have the impression that Hideyoshi-san writes negative lyrics, but when I listened to his latest album, I thought it was so cool. A lot of the songs are positive and empowering. I wanted to use those songs because of the positive lyrics.
——You show your collections at Milan Fashion Week. Why is that? Your vibe seems a little different from the rest.
Shikama: I'm assuming brands that show at Milan Fashion Week don't have a background in street culture as I do, so my brand stands out a lot. No other brands have clothes like ours.
——Not at Milan Fashion Week, no.
Shikama: I felt like it'd be amazing if we could be among brands like Zegna and Prada. We've been showing at Milan Fashion Week ever since we got the offer to do it.
——What's next for the brand? Could you talk about whether you're showing your collections and opening stores in other countries?
Shikama: I'm considering showing our collections in other countries. We're working on when and where to show our clothes. We've been working on it for a few years but stopped because of covid. But things are back in gear now, so I think we'd be able to show our collections in other European countries in a few years.
——Which moment has made you the happiest regarding the brand?
Shikama: Seeing people smile after handing them the clothes I designed or receiving good feedback from the media makes me happy. It also makes me happy when something I made gets rewarded somehow.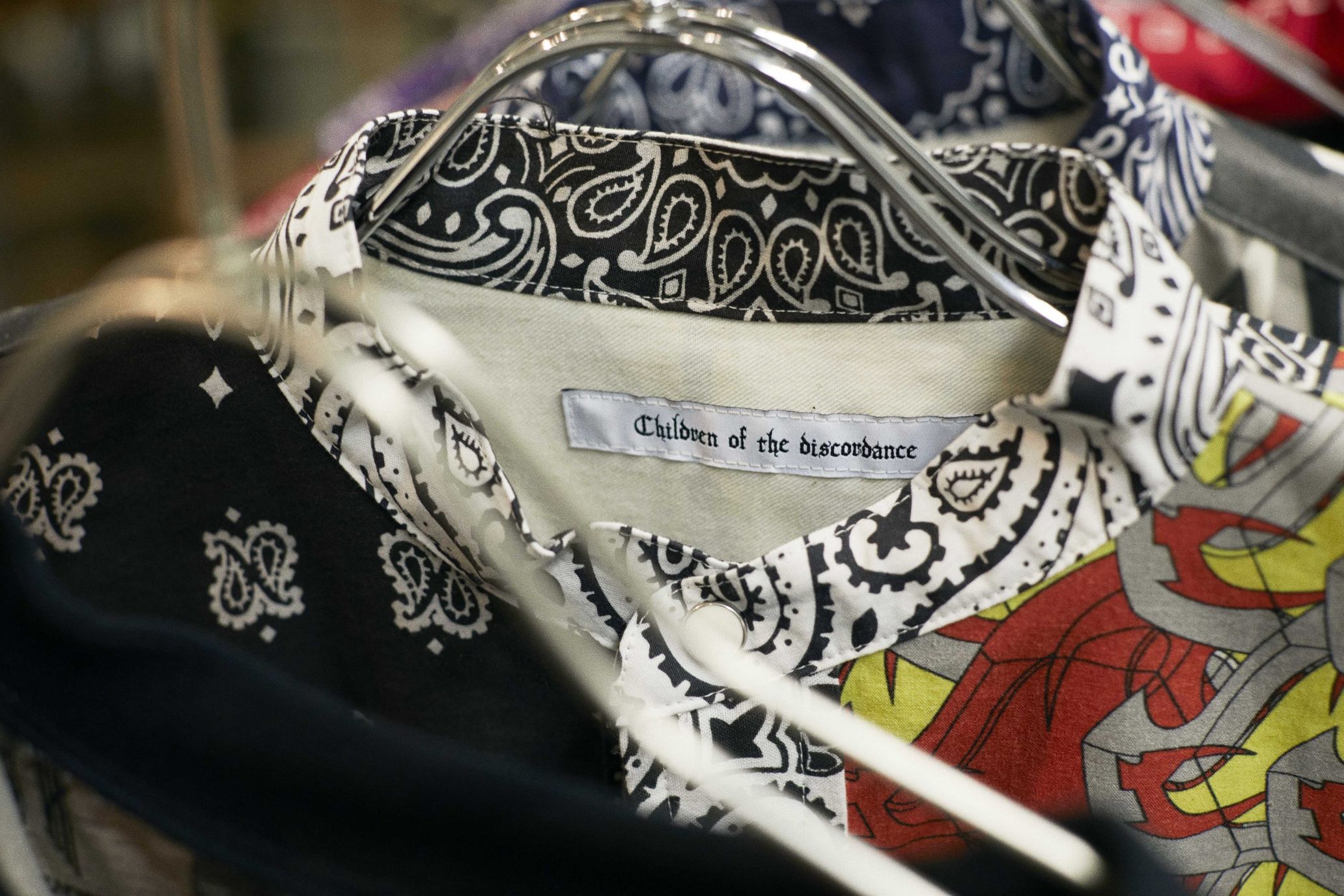 The most memorable part of this interview was Shikama's anecdotes from middle school. As I listened to how he absorbed many cultures in a short period, his collections started replaying in my mind. I got internally excited when I realized his beautifully chaotic clothes were born out of his turbulent teenage years.
Children of the discordance has an explosive style born from the melting pot of skate, hip-hop, reggae, and other cultures. There's no way Shikama can stop moving forward with the driving force of taking on a challenge set in front of him. Designer Hideaki Shikama will never recoil, even if the world turns against him.
Photography Teppei Hoshida
Edit Shuichi Aizawa(TOKION)