You can't help but want to touch beautiful furniture made from solid wood. Whether the wood is teak, mahogany, or beech, an amateur like myself can't tell. Nevertheless, the feeling that lingers on your hand the moment you touch it and the comforting aroma of the wood exudes a mysterious aura of not only luxury, but also warmth. Antiques that have been used for many years show glimpses of their owners' lives, thus making their deepened texture irresistible.
Antique furniture is an essential part of European life. It would be a dream to live surrounded by Hvidt & Mølgaard furniture, the pioneers of mid-century furniture, in an altbau over 100 years old that still retains its ceiling decorations.
I met Malene Hvidt at a party in Berlin. She is an elegant looking woman who works as an architectural designer for Spacon & X, a design studio based in Copenhagen, Denmark. Perhaps you recognize her name. Her grandfather is Peter Hvidt, a pioneer of Scandinavian mid-century architecture, and her father is also an architect. Hvidt started design duo Les Mains Des Soeurs with her older sister Barbara Hvidt.
She spoke to us about architecture from various perspectives, including her home that combines Japanese aesthetics and Scandinavian design, where she lives with partner and architectural designer Nikolaj Lorentz Mentze, who runs Studio 0405.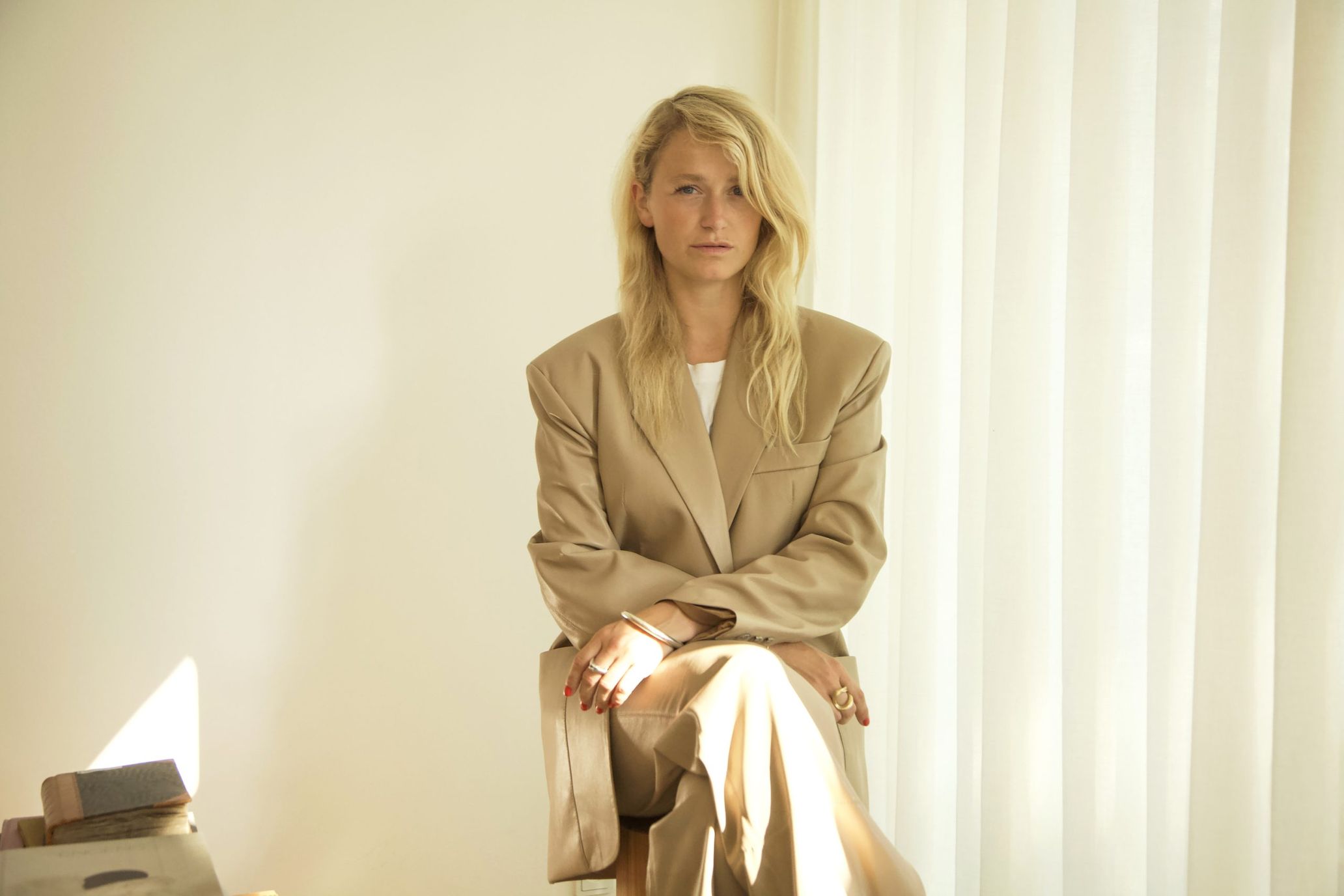 Profound influence from her grandfather led her from fashion to the world of architecture
–– What made you decide to become an architectural designer? Were influenced by your legendary grandfather, the late Peter Hvidt?
Malene Hvidt: I started my career not in architecture, but in the fashion industry. I worked as a fashion designer at Copenhagen-based Stine Goya for six years, but as time went on, I realized how much my family's achievements in architecture and design had influenced me. My grandfather, Peter Hvidt, founded together with Orla Mølgaard the architectural studio Hvidt & Mølgaard in the 1940s, which became known for its timeless furniture designs. My father is also an architect. My grandfather passed away the year I was born, but his legacy of achievement has always been omnipresent in my life.
After leaving Stine Goya, I joined Studio Mumbai Architects in India and taught architecture at both the Aarhus School of Architecture and the Royal Danish Academy of Fine Arts (KADK). Then, in 2015, I joined my current design studio, Spacon & X, as a partner.
I'm certain that I've already been greatly influenced by my grandfather in that it was he who inspired me to pursue a career in architecture. I spent a lot of my childhood at my grandparents' house, and I remember well how much I admired the furniture that my grandfather designed. Over the years, my grandfather built his home and garden with his own hands. When you enter the courtyard, you see the bonsai trees that my grandfather meticulously cultivated each season. Although I wasn't able to witness my grandfather tending to his trees, I can see the results of how he nurtured them.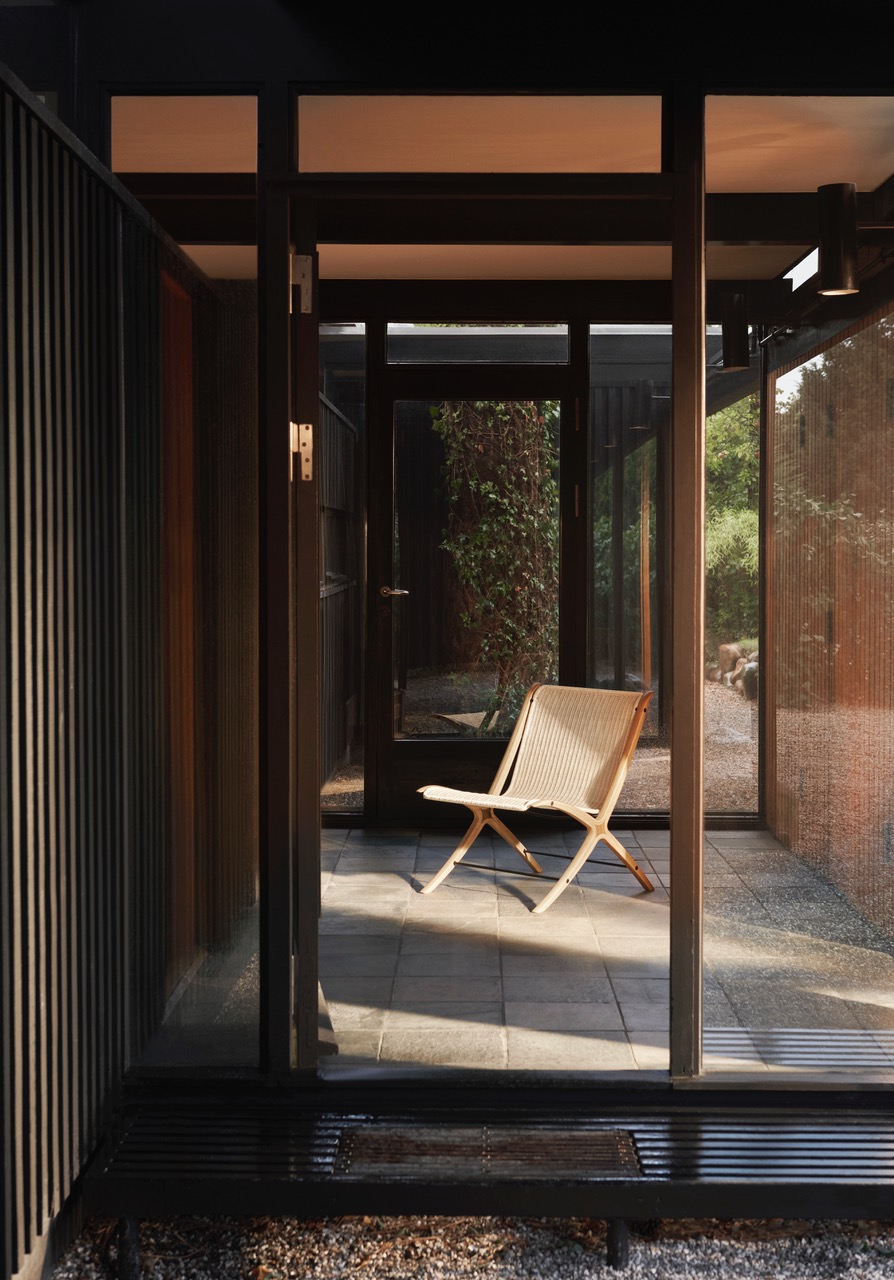 –– You grow bonsai yourself, don't you? What is it that attracts you to bonsai trees?
Hvidt: As soon as we moved into our current home, my partner Nikolaj and I went to a seedbed and bought a Scandinavian bonsai tree. The bonsai is a memory of my grandfather, and a thoughtful interior element that makes you feel love for bonsai. It's also an important source of inspiration in architecture and furniture design. It's said that a bonsai transmits emotions through a person, and I believe that my bonsai tree represents the memories and bonds between myself and my family, as well as a symbol for the future.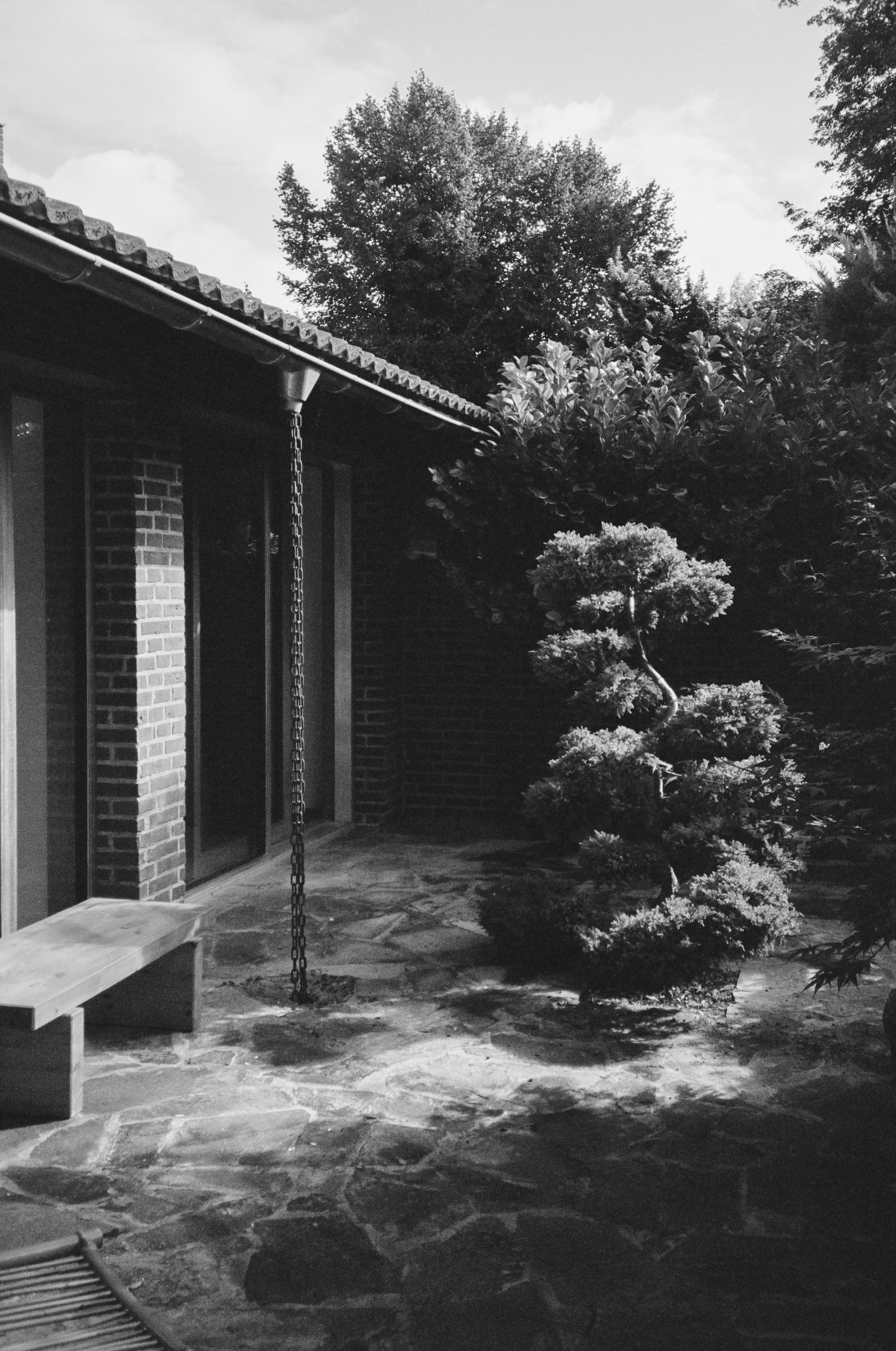 ––You said that the home you live in with your partner, Nikcolaj, was designed with reference to Danish modernism and Japanese aesthetics. Can you give us some specifics?
Hvidt: First, we wanted to create a house that could maximize the potential of both of us, so we searched for a property. What we found was a brown brick house built in the 1980s. It was unflattering and small, but we saw great potential the moment we saw it. It was an oasis on a quiet side street in the middle of the city. From there, we used a variety of knowledge and ideas to create a house that is modest but calming, a space that gives a strong sense of our identity. The space is comfortable to live in even after having children and becoming a family of three.
I based my designs on Danish modernism, including my grandfather's designs. I carefully studied materials and proportions and incorporated classical furniture craftsmanship principles. I also included some traditional Japanese aesthetics. I mainly used materials made from raw materials found in nature, such as wood, stone, and metal, which are characterized by their rawness and tactile qualities. Other design choices included opening up the entire facade and rebuilding the flooring, doors, fireplaces, and bathrooms. In doing so, we were able to create a harmonious design that blends Danish modernism with traditional Japanese aesthetics. In the 1980s, mixing bonsai and other Japanese aesthetic designs was very popular in Denmark. We've incorporated that idea from the 80s into our home.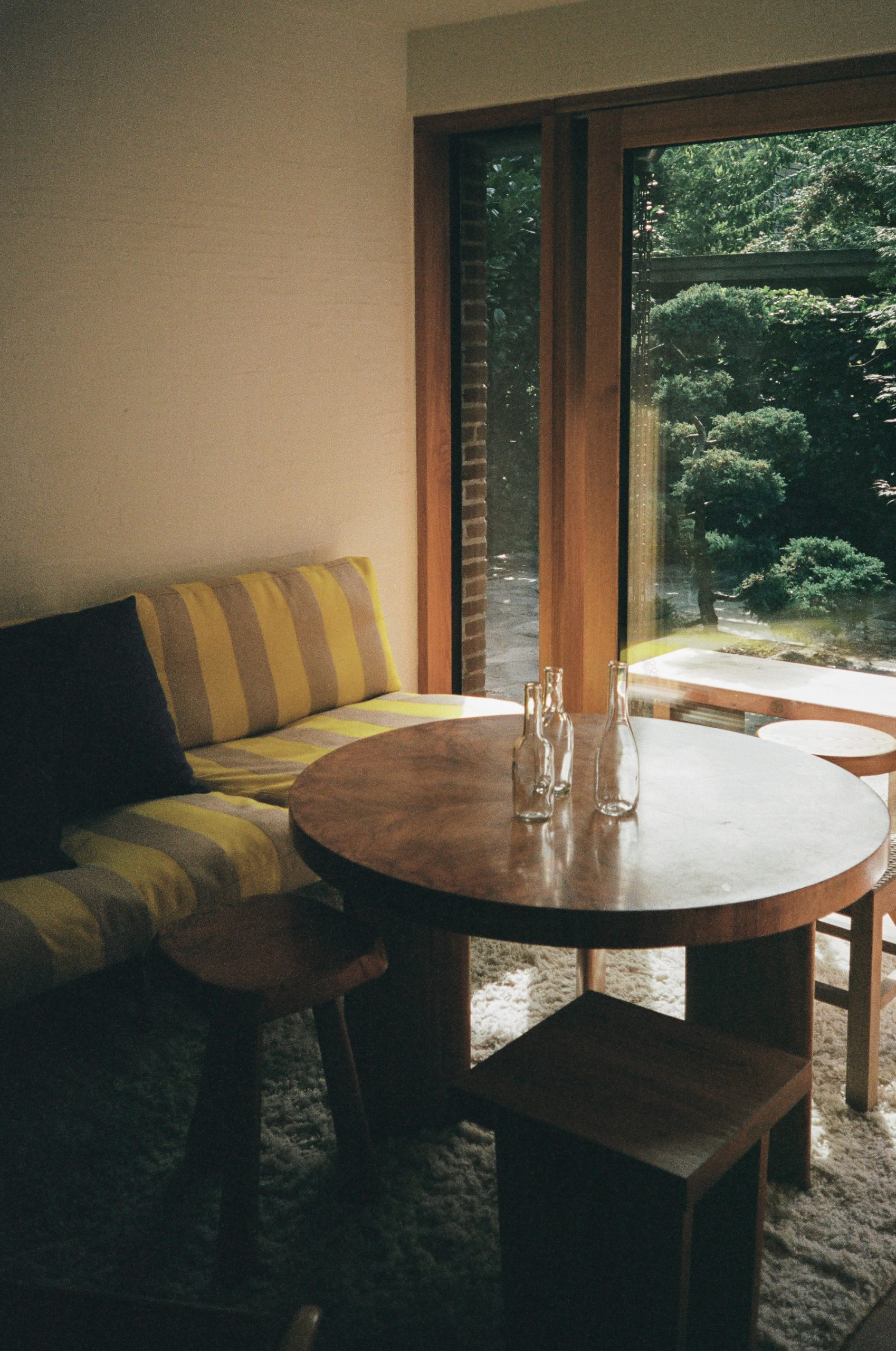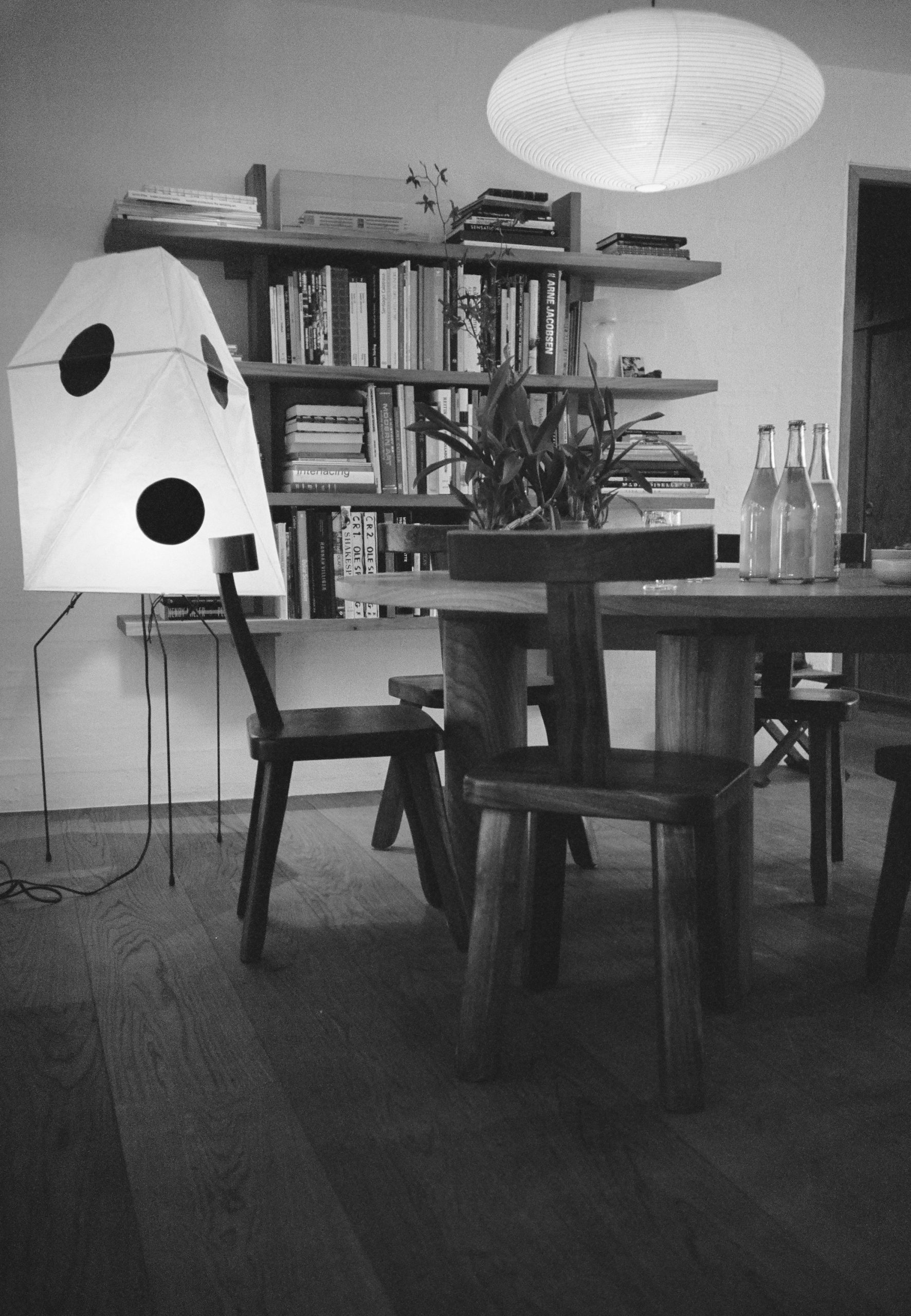 –– Where is your favorite place in your home?
Hvidt: My favorite place in my home is the bathroom. Bathrooms have always been my favorite place in the house, but I worked on my own design for the bathrooms in my home. It combines pebblestone, oak walls and floors, and is furnished with a Japanese wooden bathtub and steel sink. The window offers a view of the koi nobori and ferns in the courtyard, which is another favorite feature of mine.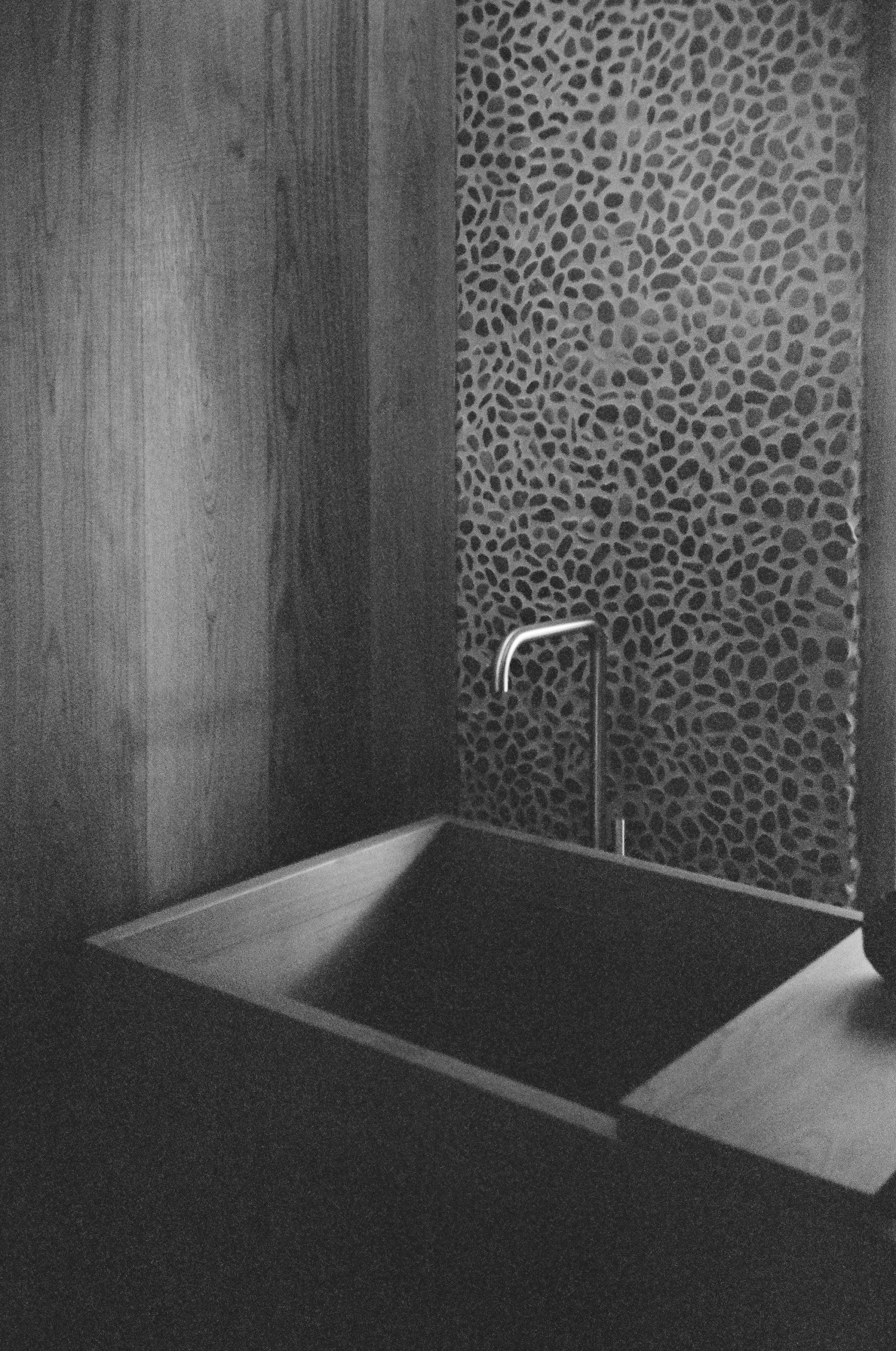 –– What was your impression of Japan when you visited?
Hvidt: I've visited Japan twice and it's one of my favorite countries. I'm very much influenced by the Japanese way of life, their humility, and their uncompromising approach to design, attention to detail, and craftsmanship. It's a great source of inspiration. I feel that the Japanese sense of aesthetics has produced designs that have not lost their value over time. It's a great point of reference for my growth as an architect.
–– At the pop-up exhibition held at BAM Kreuzberg in Berlin, we saw many pop and unique designs, such as wine bottles and furniture. Among them, the design named "SUGOI SUGOI" in Japanese was very unique.
Hvidt:"SUPER SUPER" and "SUGOI SUGOI" are furniture collections inspired by Scandinavian craftsmanship and traditional Japanese design. It's the result of a collaboration between Spacon & X and the creative studio Ironflag on an unconventional project for the lifestyle brand Vinsupernaturel and the Japanese restaurant Bento in Copenhagen. "SUPER SUPER" is named after the similarly named "Vinsupernaturel" and "SUGOI SUGOI" means "super super" in Japanese.
The "SUPER SUPER" furniture balances a simple, familiar, yet rigid industrial machine-like design. Bent and powder-coated aluminum is securely assembled with solid black anodized aluminum bolts and nuts, emphasizing the industrial look while expressing a sense of familiarity.
"SUGOI SUGOI" is a wood version of the same design, but in the tradition of Scandinavian design. Solid elm wood is inserted with smoked oak to resemble the iconic bolts of the "SUPER SUPER" collection, and natural linseed oil is used to enhance the dramatic grain of the elm wood. As the Japanese word "sugoi" suggests, the design honestly conveys an element of serenity and tactile quality.
Besides the Berlin pop-up, these two collections were also exhibited at the 3 days of design festival in Copenhagen.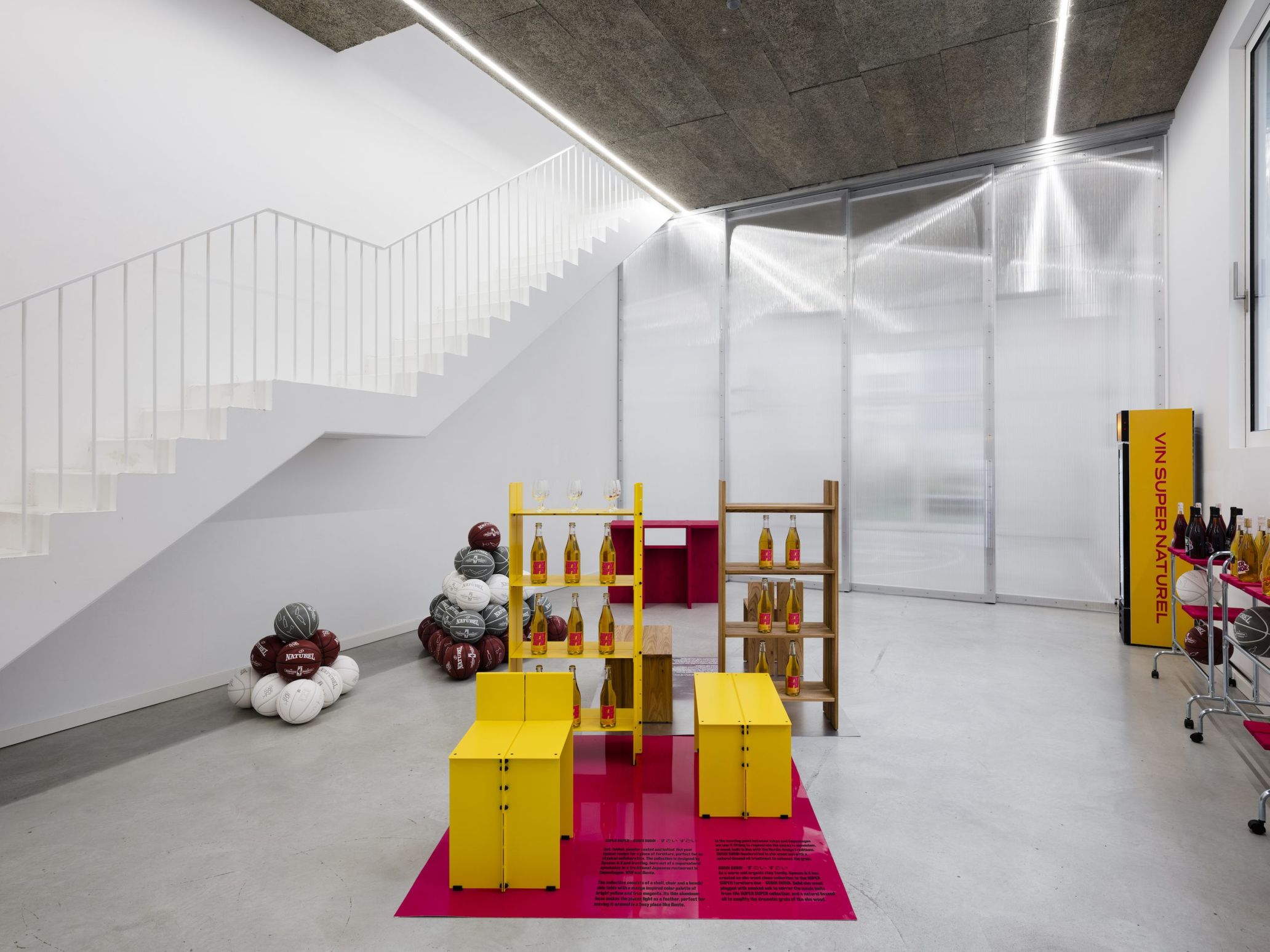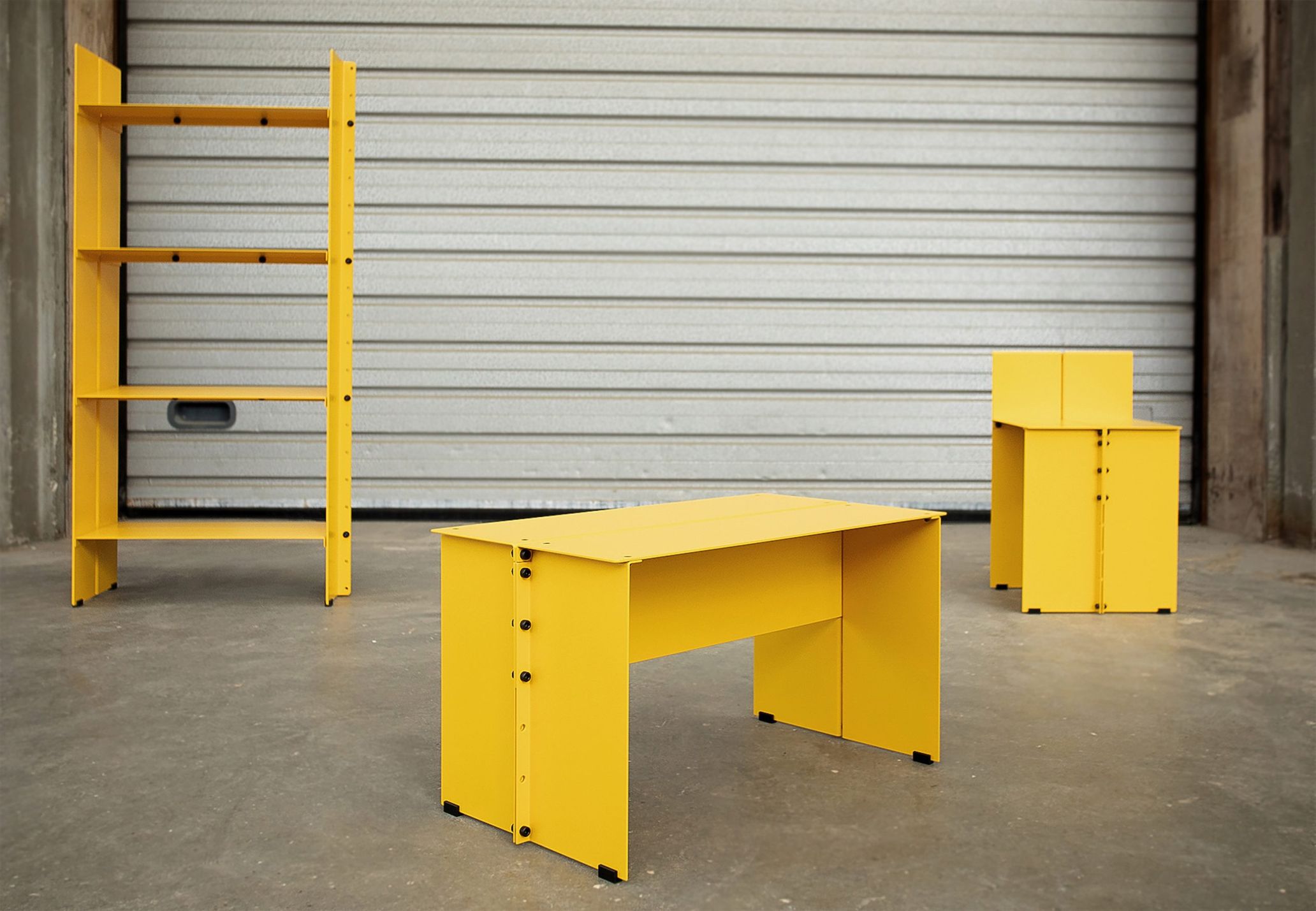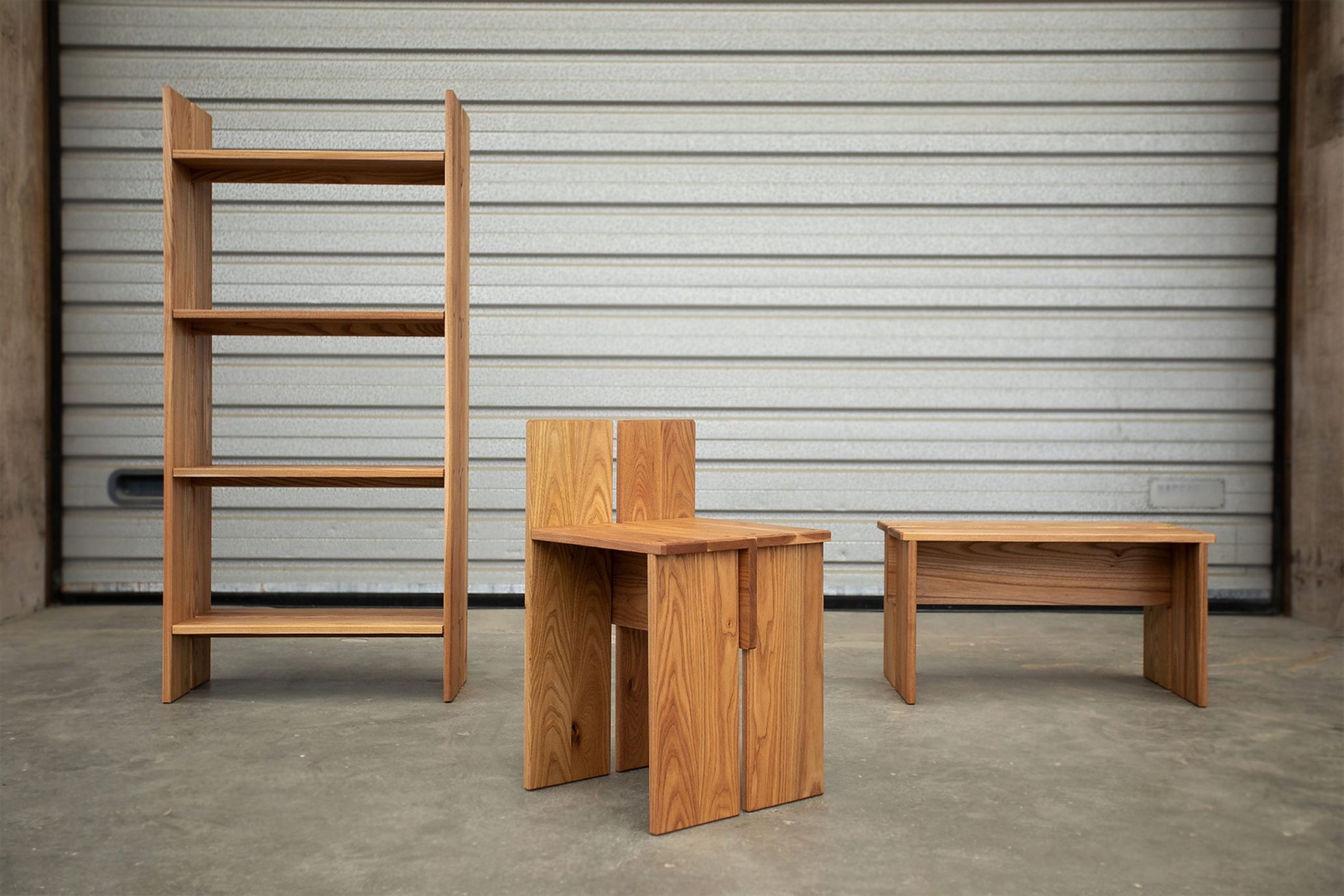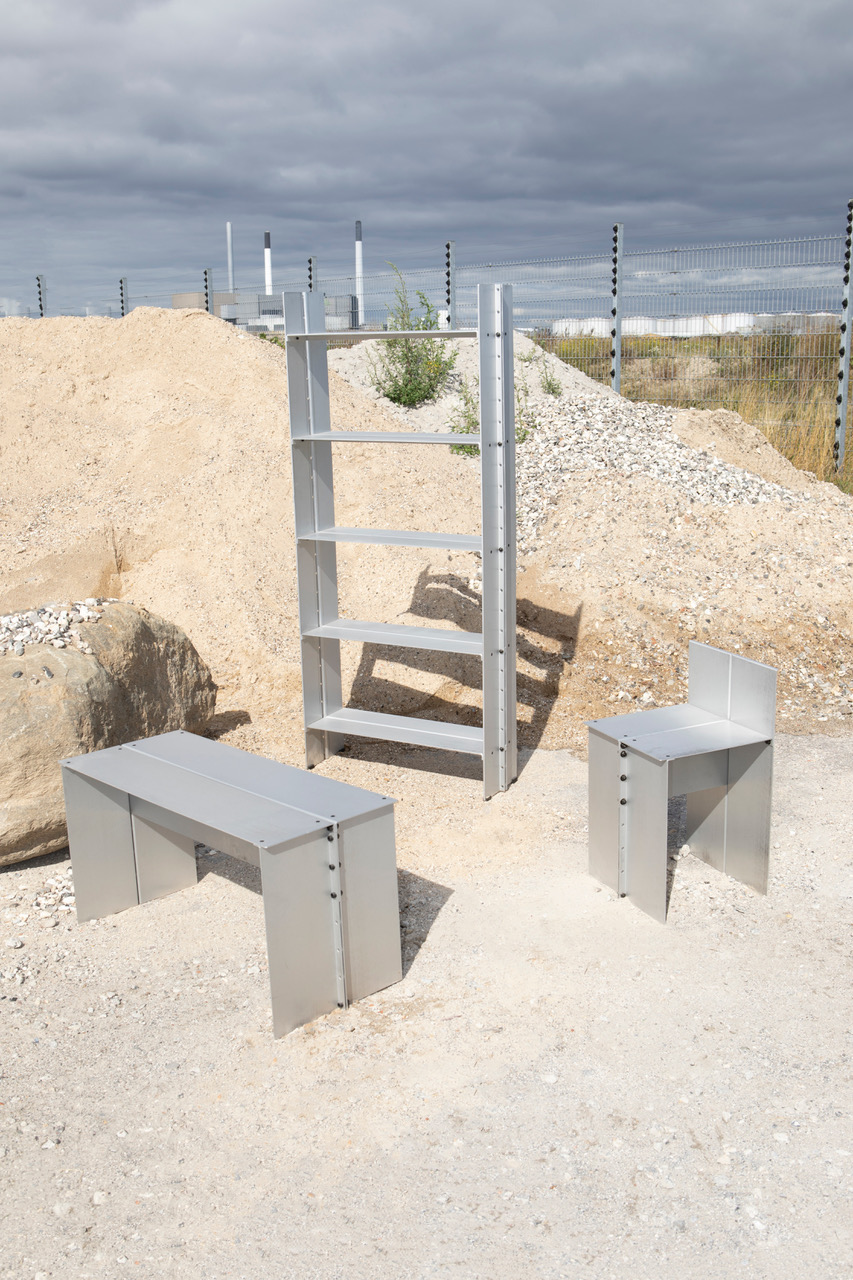 –– What are some of the projects you're currently working on?
Hvidt: Spacon & X is currently working on a large-scale project for IKEA, a furniture line called Gamar in collaboration with the German design studio E15, which was presented at the Salone del Mobile.Milano in April. We also designed a kombucha brewery called Folk Nordic Kombucha that opened in Copenhagen, worked on an installation design for George Jensen, took part in the Stine Goya fashion show, designed the Noma burger shop POPL, and have been involved in many other projects. In my private life, my sister and I started the design duo Les Mains Des Soeurs.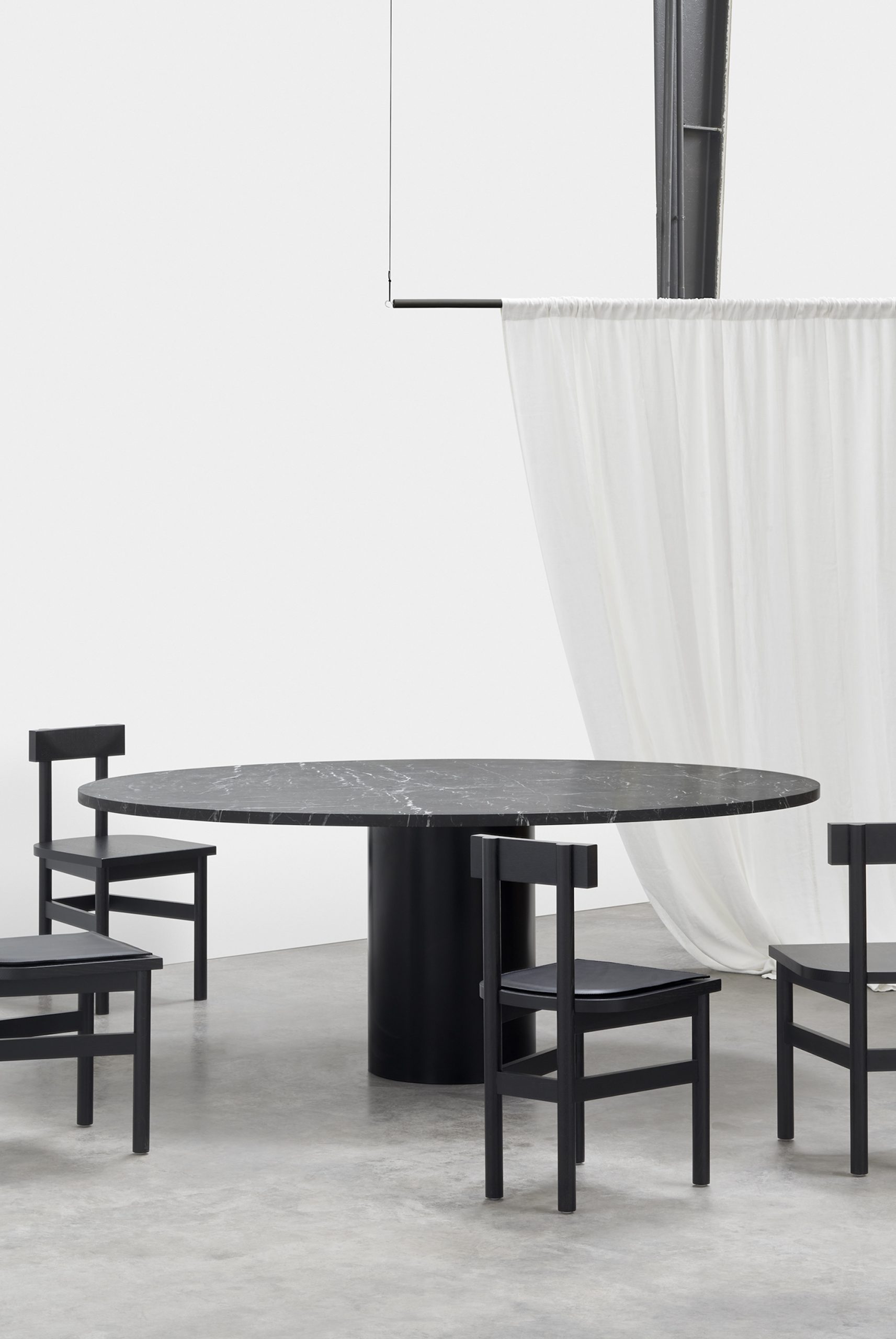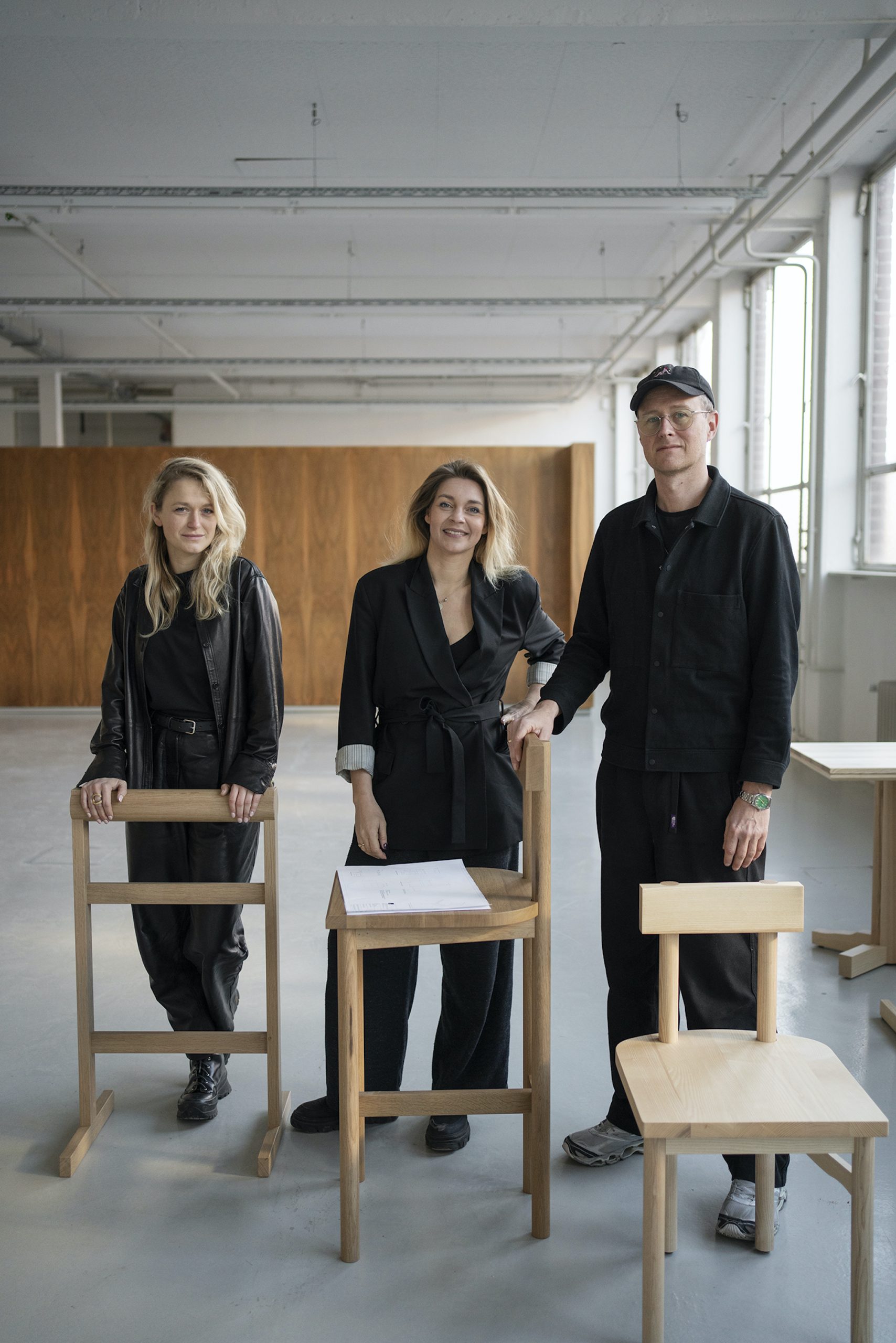 –– Please tell us specifically about the design duo Les Mains Des Soeurs that you started with your sister Barbara.
Hvidt: We've launched seven new jewelry pieces as a creative collection that we, as sisters, worked on. This is the first chapter of LMDS, a collection that explores tactile possibilities within the softness of amber and the hardness of silver. Sterling silver and Danish antique amber are the main materials used, all handcrafted by silversmith Andreas Jorgensen. Each piece also comes with a handmade jewelry box made of clay and ceramic materials by ceramicist Franca Christophersen. In addition to the jewelry and jewelry boxes, a marble table made of elm wood was displayed and a digital video by filmmaker Jan Gleie was played. In this way, LMDS presents a collection that combines contrasting materials and the intimacy of craftsmanship, exploring the intimate relationship that exists between hands and objects and the sisterhood of the two founders.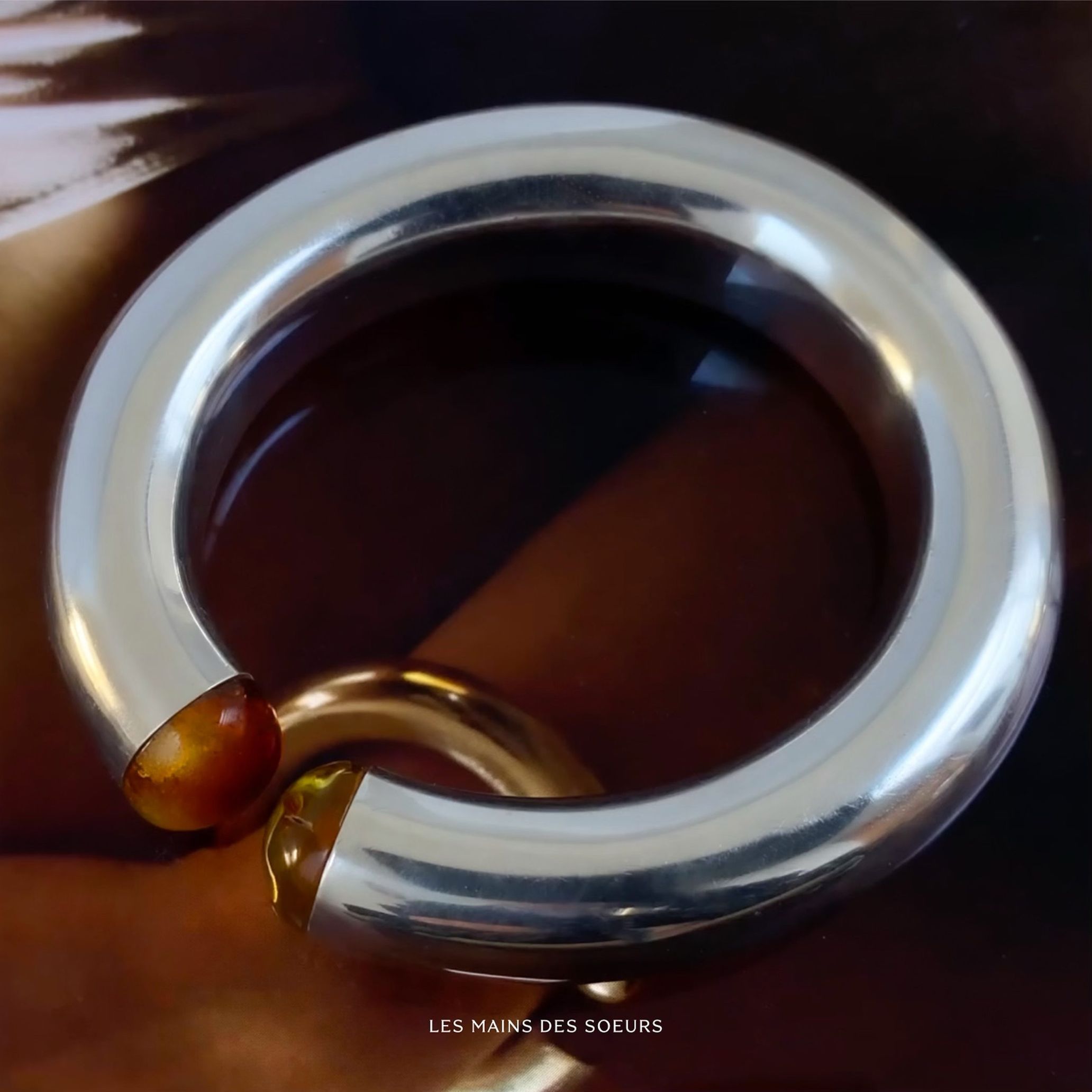 Malene Hvidt
An architectural designer and partner at Spacon & X, a design studio based in Copenhagen, Denmark. Co-owner of Hvidt & Mølgaard. Her grandfather was Peter Hvidt, a Danish architect and pioneer furniture designer in the 1950s. Spacon & X's clients include the restaurant Norma, Adidas, and others.
Spacon & X
https://spaconandx.com/
Hvidt & Mølgaard
https://hvidtmolgaard.com/
STUDIO 0405
http://www.studio0405.com/