Frank Leder. Whether you own his clothes or not, it is safe to say that more than a few of you recognize this brand. Since his first collection in 1999, he has received high acclaim while reflecting on German history, which constitutes a major part of his roots. His clothes are available at renowned Japanese multi-brand shops such as 1LDK or International Gallery BEAMS in Japan. With a focus on various historical backgrounds, the brand has fascinated people with innovative designs that blend authentic workwear and fashion, as can be seen from an example of the development of what is called German Leather. The brand has been presenting collections for over two decades. However, its momentum and creativity never find a place to end.
For the 2022A/W season, inspired by German film director Werner Herzog's 1979 film Woyzeck, he found Czech wool materials from a textile mill in the Silesia region. That led him to get heavy cotton fabric Moleskin or vintage blankets used in the Austrian Army or correctional facilities in Germany.
For years, Frank has been one of the leading designers with detailed attention to handcrafted manufacturing processes and his extraordinary obsession with vintage blankets and antique buttons. TOKION sat down with Frank Leder at his Berlin Atelier/shop in Charlottenburg to ask what drives him until today.
Frank Leder
Born in Berlin in 1974. After studying fashion at Central Saint Martins in London, he presented his first collection in London in 1999. In 2002, he moved back to Berlin and relocated his base.
http://www.frank-leder.com/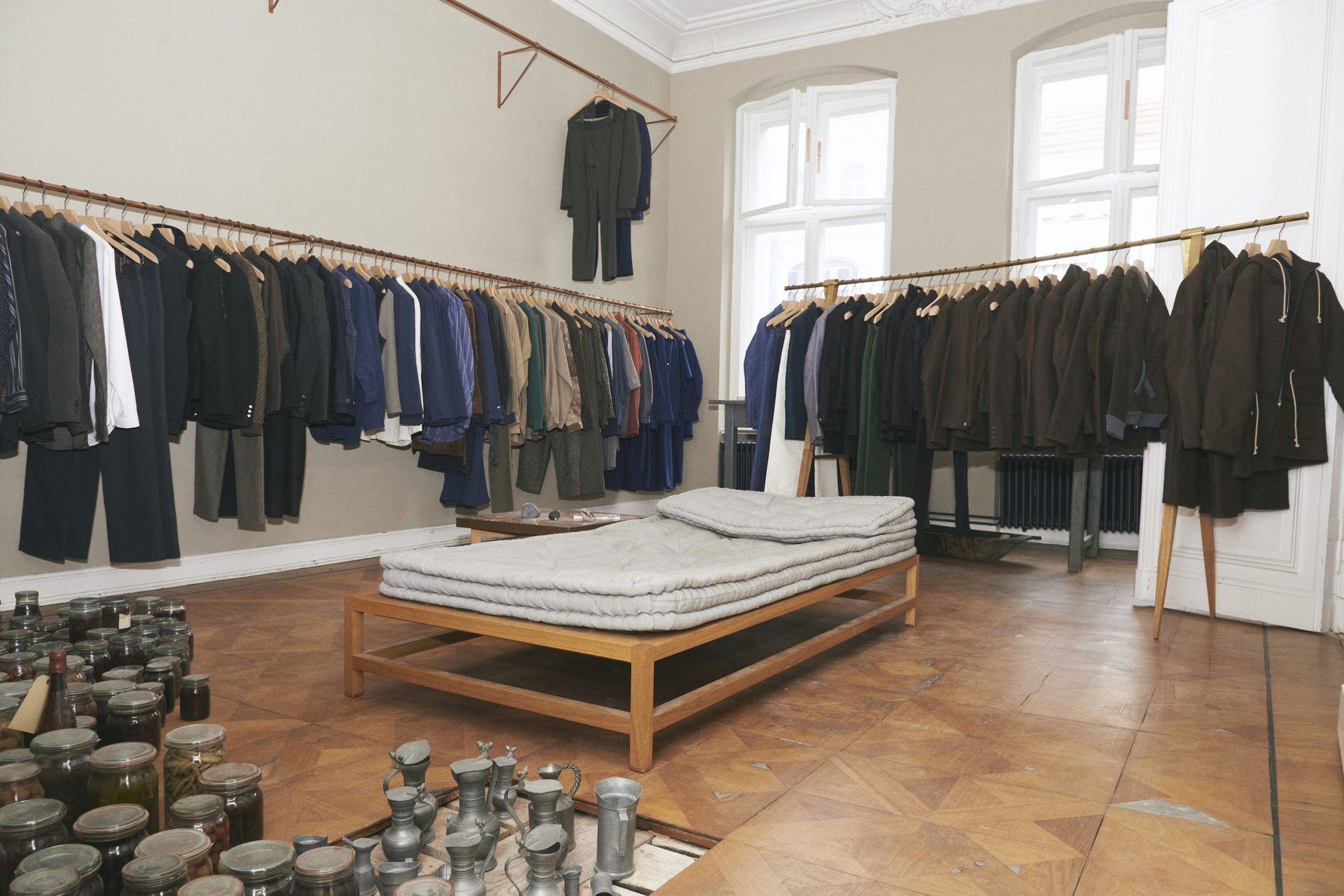 Longing for the historical background behind buttons and materials
――How did you come to use Werner Herzog's Woyzeck as a motif for this AW collection?
​​Frank Leder (Frank): In fact, rather than a film, it was originally inspired by a play by 19th-century playwright Georg Büchner. And the film "Woyzeck" made the story well-known across the world. Memories of when I saw it in high school suddenly came back to me, which triggered my motivation to use this work as inspiration to create a collection under the theme of "German history," a theme I've been working on throughout my life.
The story of Woyzeck is based on an actual event. It's about how a former soldier, played by Klaus Kinski, becomes mentally ill and commits murder. It successfully depicts the bizarre process that occurred while the former soldier subordinated himself to a nasty doctor. The film describes the former soldier's neurotic tendency repeatedly.
Apparently, Klaus Kinski was utterly exhausted by the previous film he had worked on before Woyzeck, and the film director Werner Herzog thought he was in a perfect state to play the role. That was an untold story about the reason Herzog cast him.
――Although German culture and history are often seen as a negative legacy, you get a lot of inspiration and ideas from there and incorporatey them into your collections. Why are these dark and heavy themes appealing to you?
Leder: Because I studied German literature when I was a student. My collections always deliver stories through photographs of clothes and their collection.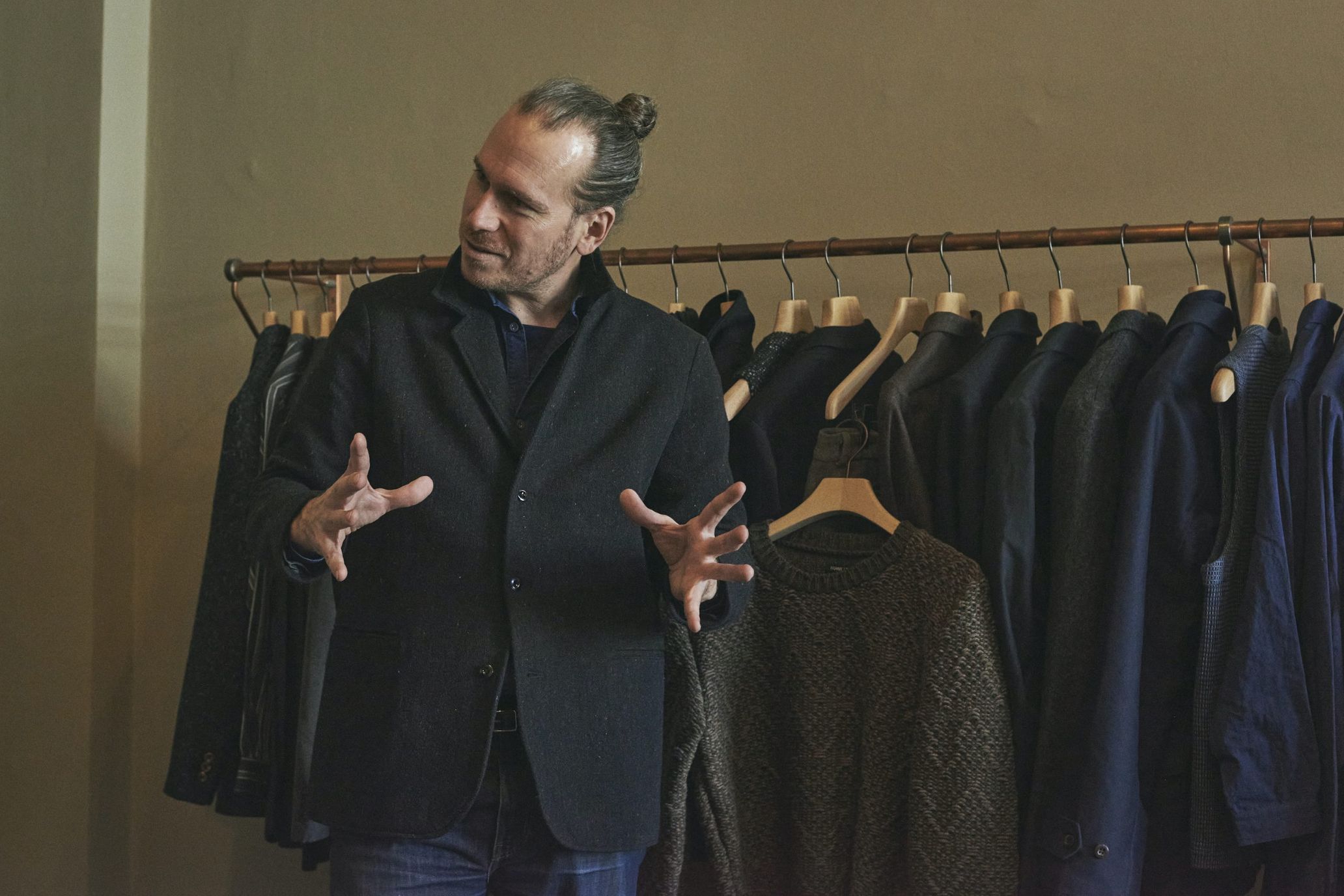 ――What's the process like to put these ideas into collections?
Leder: Looking into cultural backgrounds is the first thing to do. However, I also go on a journey to trace them if necessary. For example, this collection needed military blankets to embody the image of Woyzeck. So I went to Justizvollzugsanstalt, a correctional facility in Germany, to get military blankets used in the actual military. And I found them while I was still figuring out ideas for this collection, so I felt some fate.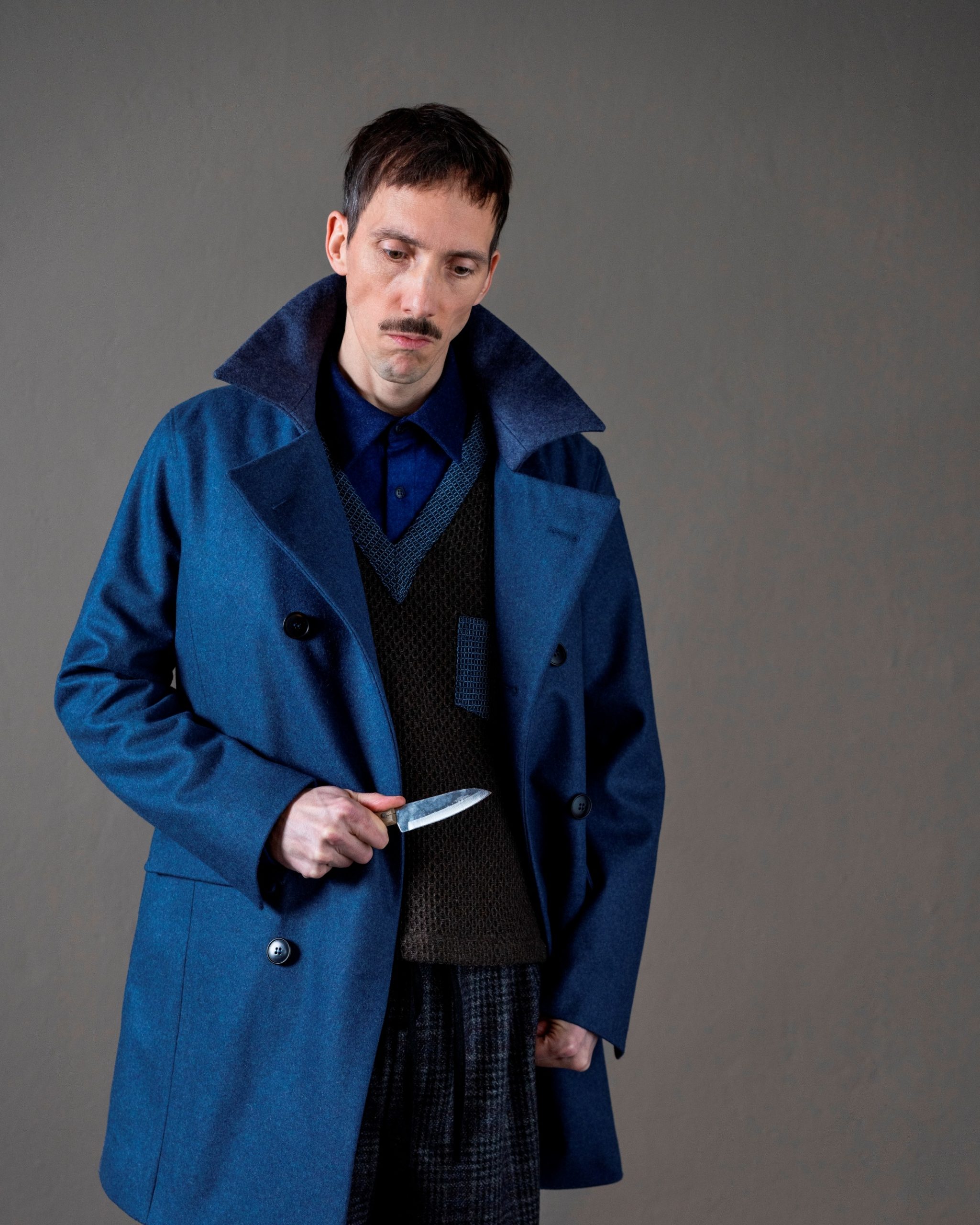 ――It does sound like it's meant to be. How did you find the blanket?
Leder: I saw a blanket covering a canvas when visiting my artist friend's atelier. My friend also told me that it came to him through someone working a government-related job, and it turned out to be a military blanket. I convinced him, the blanket's owner, to give it to me because I really wanted it. So I was lucky enough to get the blanket for my collection.
This story tells you enough, but looking for materials and selecting them is always filled with adventures and discoveries. I always feel an urge to make a jacket immediately whenever I find quality vintage materials because I know we rarely have this kind of a small lucky break.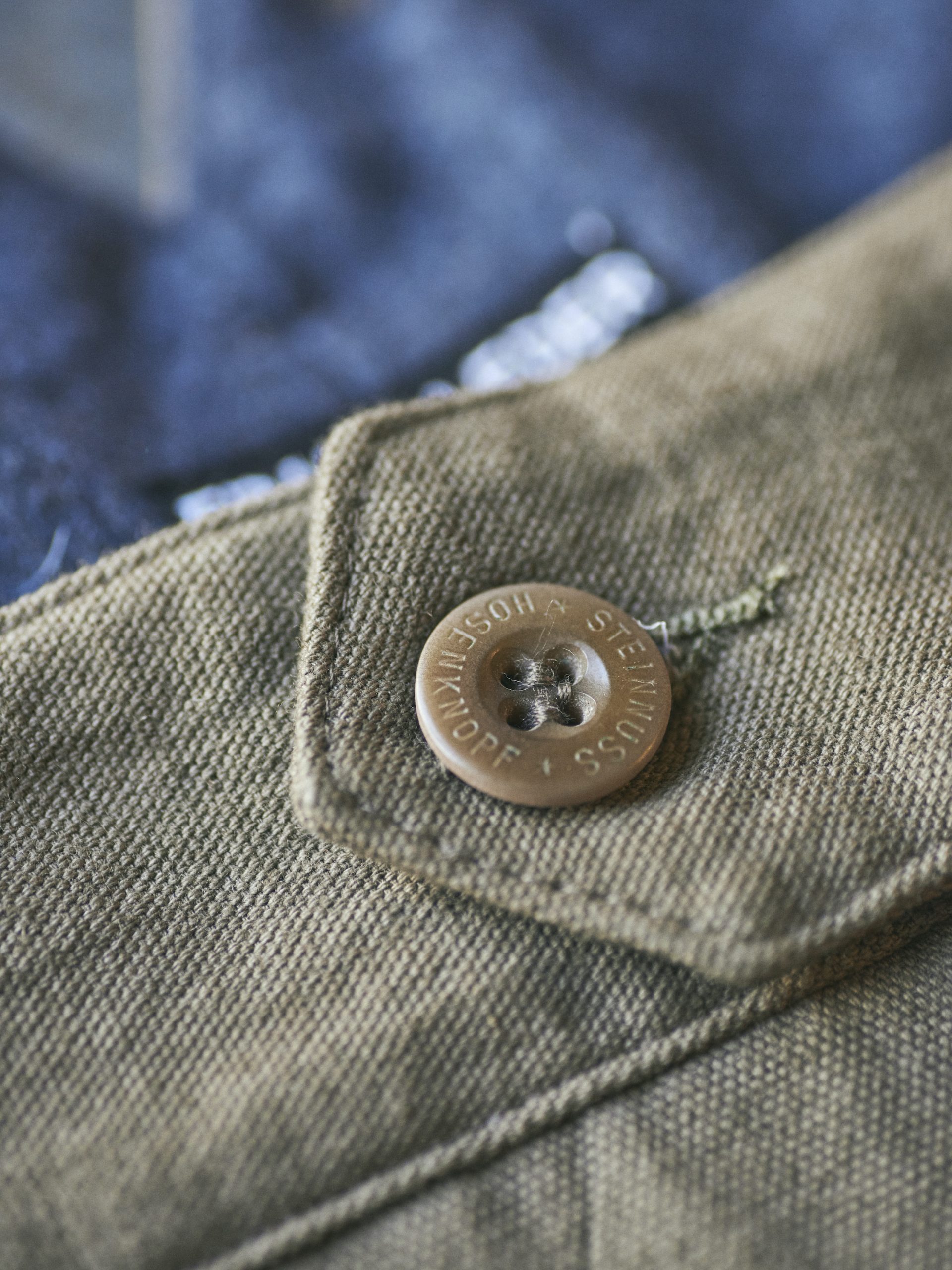 ――Could you tell us about the collection for this AW season?
Leder: Not particularly for this collection, but when I create a collection, I start by being thoroughly particular about "fabric" and "button selection." The origins of buttons or the background of how they were made are what I care about. Instead of using cheap and cost-effective buttons that we have no attachment to, I want people to know details such as buttons are what matters!
――Could you tell us why?
Leder: Because buttons are something you touch when putting on and taking off your clothes every day. A commitment to these details defines fashion. For this collection, I used vintage Czech and German buttons from the 1960s. The jackets with separate buttons are also part of this collection, which I always care about. So the point is each item has a historical story and is precious and irreplaceable.
――What's your favorite item in this collection?
Leder: My favorite material is this burnt moleskin. The machines that long-standing German wool manufacturers use steam and iron wool fabric, so they shrink and press them afterward. I found this moleskin fabric used between the materials during that process.
――One of the products that built your name, German Leather, is also included in this collection.
Leder: Yes. But unfortunately, this collection may be the last time to showcase new ones because the company making the German leather went bankrupt, and their workshop closed down, too. So all the significantly essential machines that weave these garments have been dismantled. But there's nothing we can do if that's the way it is.
――You already had been building your brand with that mindset even before" upcycling" became a real word.
Leder: Exactly. Every collection is a sequence of encounters and choices. If there is a workshop that produces quality products but doesn't have a chance to approach the world, I can be the one to give them an opportunity. I already came up with the idea for this collection before the Russian invasion of Ukraine. Still, weirdly it matched the flow of the current era. If you're a creator, it sometimes feels like you resonate with the spirit of the age.
――Where do you get inspiration for your creativity?
Leder: Things that inspire me are encounters with all types of people and reading about the environment. I always believe it's crucial to stay open to friends or things that happen, even if they are distinct from me. Of course, fashion is the foundation of my interest. However, on top of that, engaging with various genres of people brings me a lot of inspiration.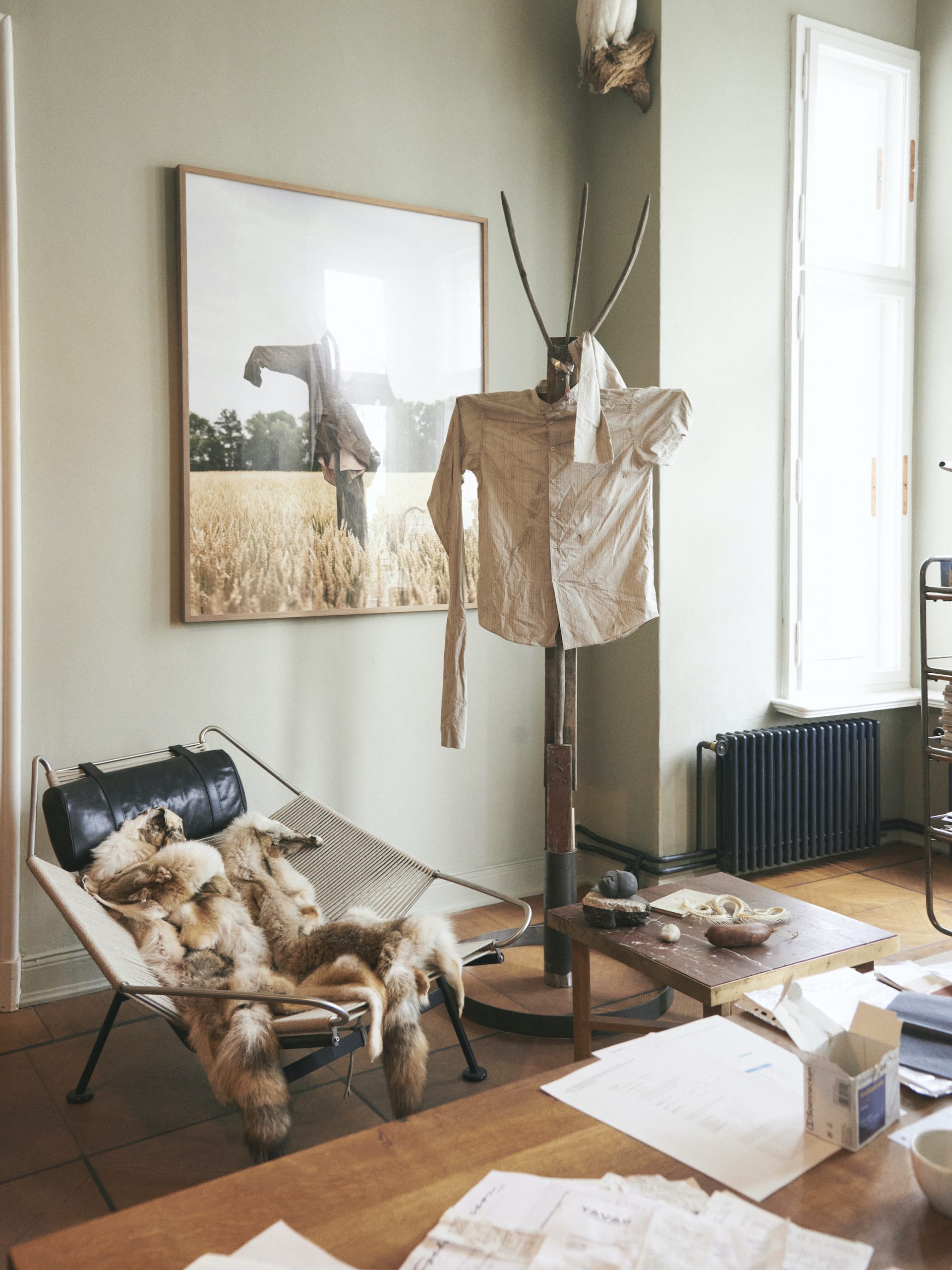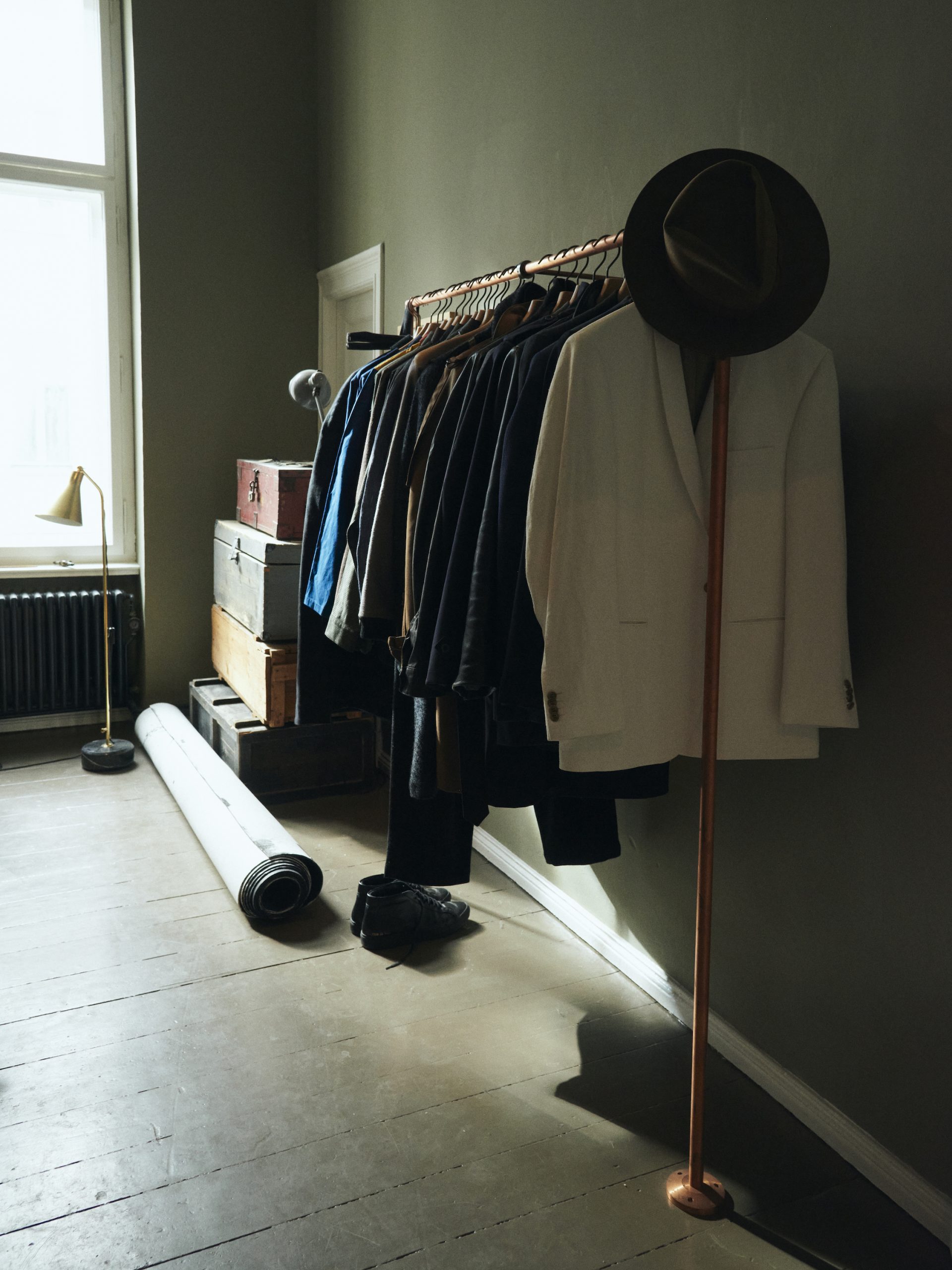 ――Any messages for your Japanese fans?
Leder: First of all, what I want to say is thank you very much for all the support you have given us over the years. Twenty years since the establishment of the brand was such a long period. It is rare for a brand like ours to be able to continue, especially in this era where work style and lifestyle are changing rapidly. I'm very thankful for customers supporting us every season. Being able to express my thoughts through fashion every season is a gift to all of you who support me.
Direction Kana Miyazawa
Photography Emi Iguchi
Tranlation Takahiro Kanazawa
Special thanks to: MACH55 Ltd.