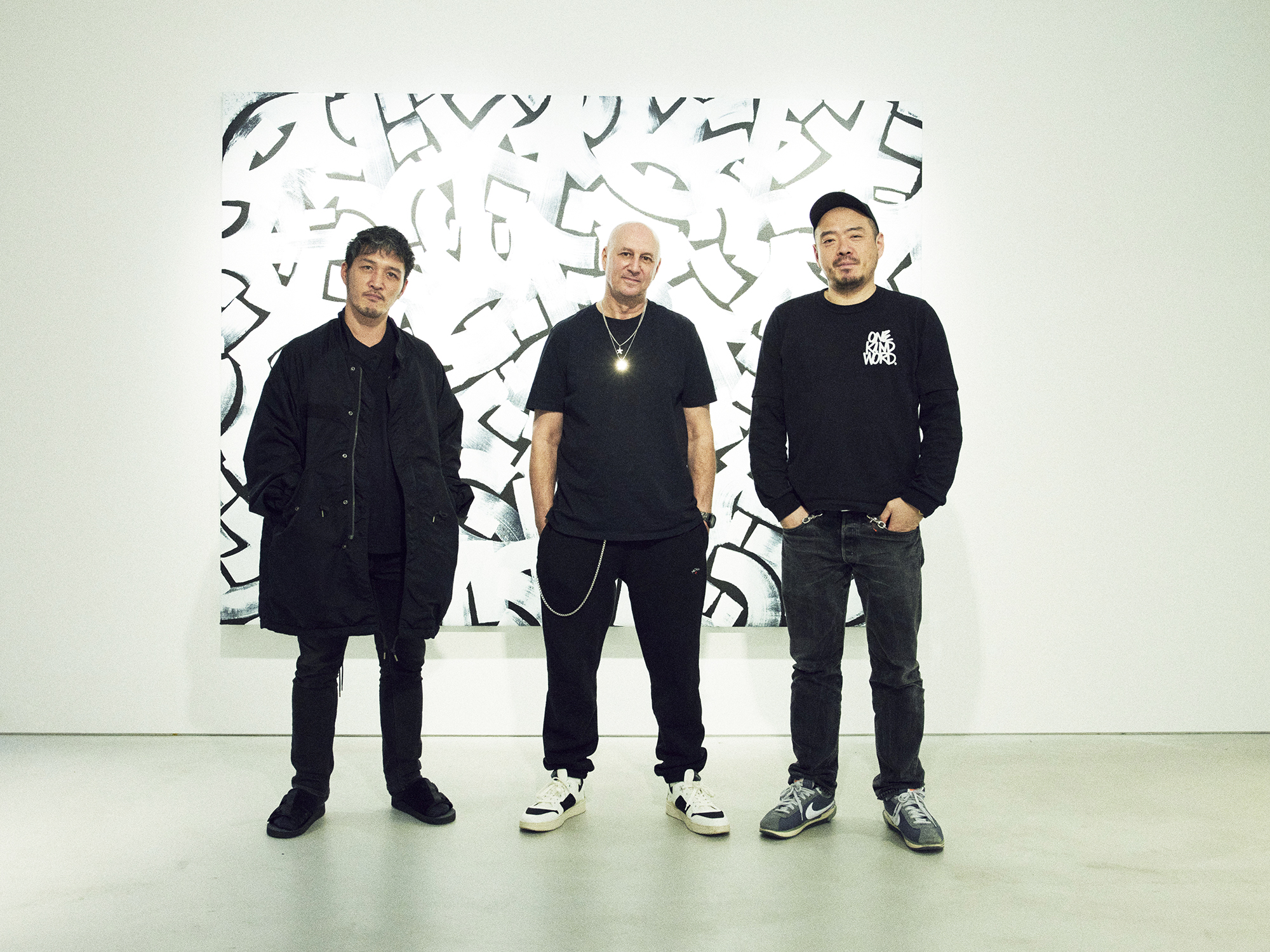 From left: en one tokyo Masayuki Nishimoto, artist Eric Haze, and sacai creative director, Daisuke Genma
Eric Haze, an artist and designer based in the U.S. since the 1970s, held his first solo exhibition in Japan, Inside Out, at gallery SAI in Shibuya, Tokyo. Eric Haze has been active as a graffiti and graphic designer and has had many links to street culture and ran an apparel brand in the past. However, with his new works, which reach the next stage while retaining his original powerful strokes, he establishes a new start in the contemporary art realm.
In his latest collaboration with the fashion brand sacai, Eric Haze has come up with a phrase embracing a message generated from his unique aesthetic, and during his visit to Japan, he performed live painting at the opening of Hello sacai at the sacai store in Aoyama, demonstrating a highly compatible relationship between fashion and art.
We sat down with Eric Haze, who is in Japan for the first time in several years, Daisuke Genma, creative director of sacai, and Masayuki Nishimoto, producer of en one tokyo and runs the gallery SAI, to talk over various topics stemming from the solo exhibition.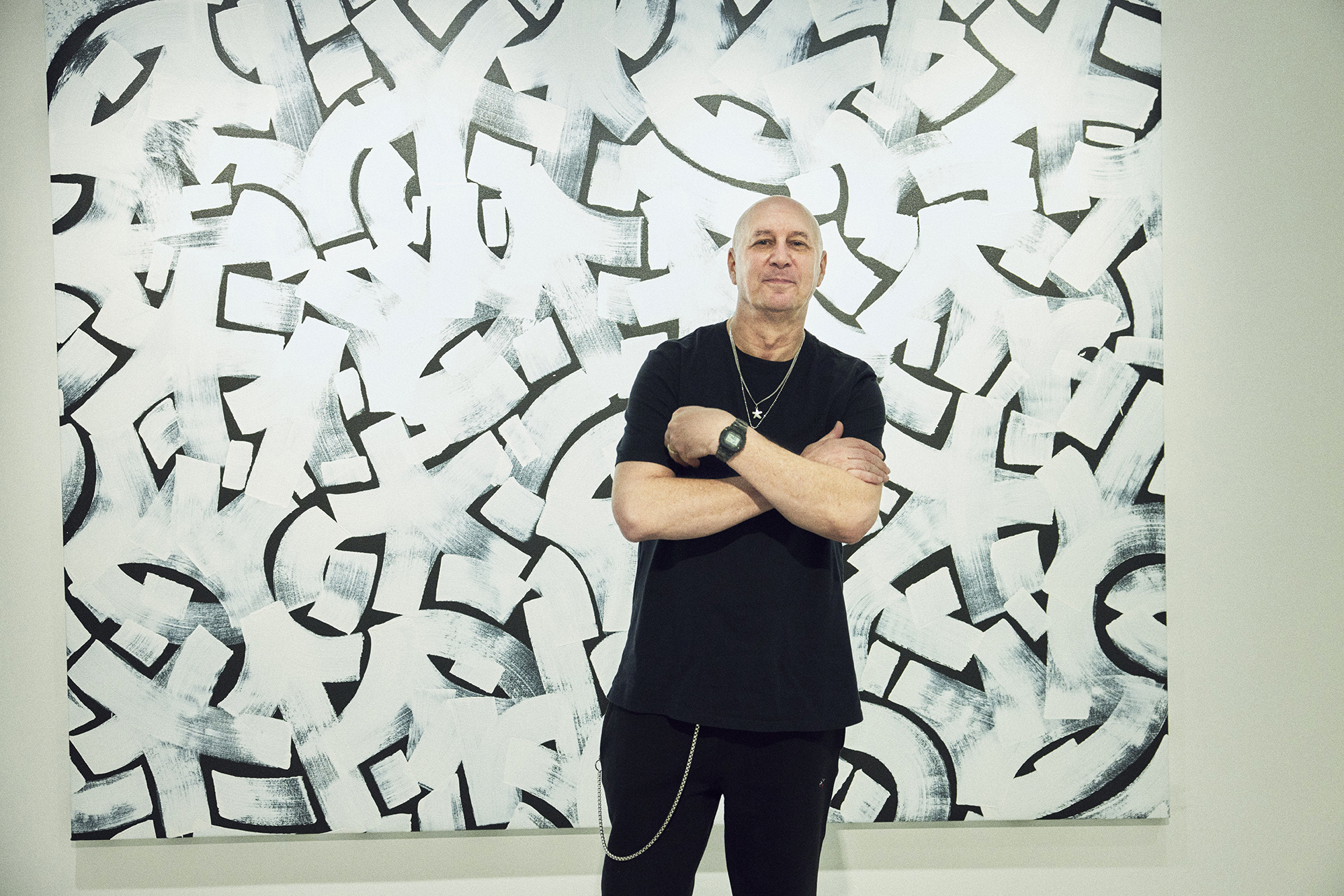 Eric Haze
Eric Haze is a New York-based artist and designer. In the 1970s, he started his career as a graffiti artist under the name SE3. As a founding member of the graffiti collective The Soul Artist, he spent time with Futura 2000, Lee Quiñones, Dondi, and others, establishing a career as a graffiti pioneer. He later shifted his focus to graphic art, creating the logo for the Tommy Boys Records and numerous album covers for Beastie Boys, Public Enemy, and otherwise. In 1991, he launched his own apparel brand, Haze, and has collaborated with various companies and brands. Later, he began dedicating his time more in creating artworks, and showcased his paintings and installations at street art-based art festivals including Art in The Streets in 2011 and Beyond The Streets in 2018. Currently, he has a studio in Brooklyn; active as an artist covering both fine art and street art, and in a wide range of fields.
https://erichazenyc.com
Instagaram:@erichazenyc

Daisuke Genma
Daisuke Genma was born in 1975. He moved to England in 1996 and joinedBrowns in London in 1997, where he worked as a buyer. After returning to Japan in 2002, he established the select shop Family in Nakameguro, and in 2007, he became independent and founded the Daisuke Genma Office. Currently, he is a creative director of sacai and active in various fashion-related fields.
Instagram:@daisukegema

Masayuki Nishimoto
en one tokyo.
Art pieces drawn in New York during the pandemic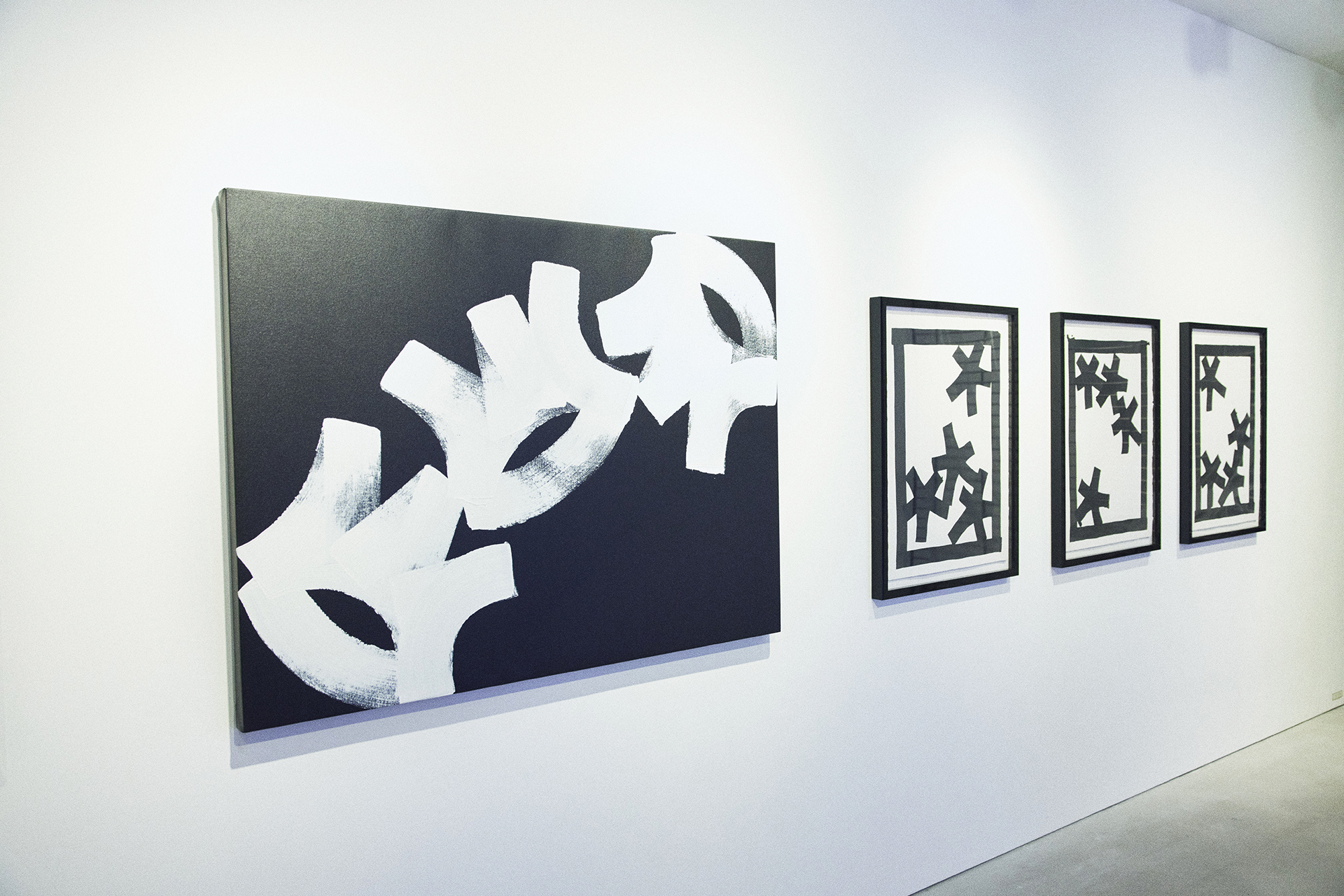 Inside Out exhibition
——Can you tell us about the concept of your solo exhibition Inside Out?
Eric Haze (Eric): The title "Inside Out" represents two different sides of the work. The abstract work you see in this room is from my inside—created from my spirit, head, and hand. And the portraits in the other room represent the outside world; it's what I see around me and the people who are familiar to me. It's exciting to combine reality and abstraction.
——What kind of people did you choose to draw for the reality pieces?
Eric: I drew from my own personal history. The people I've met are part of my life, part of my journey. In a way these pieces are a love letter to history. Numbers of my Japanese friends are in the paintings, but I didn't paint them for this show. I chose to draw them when I was considering my history and the journey. Japan has been a big part of my history and journey. I painted the pieces during the pandemic in New York.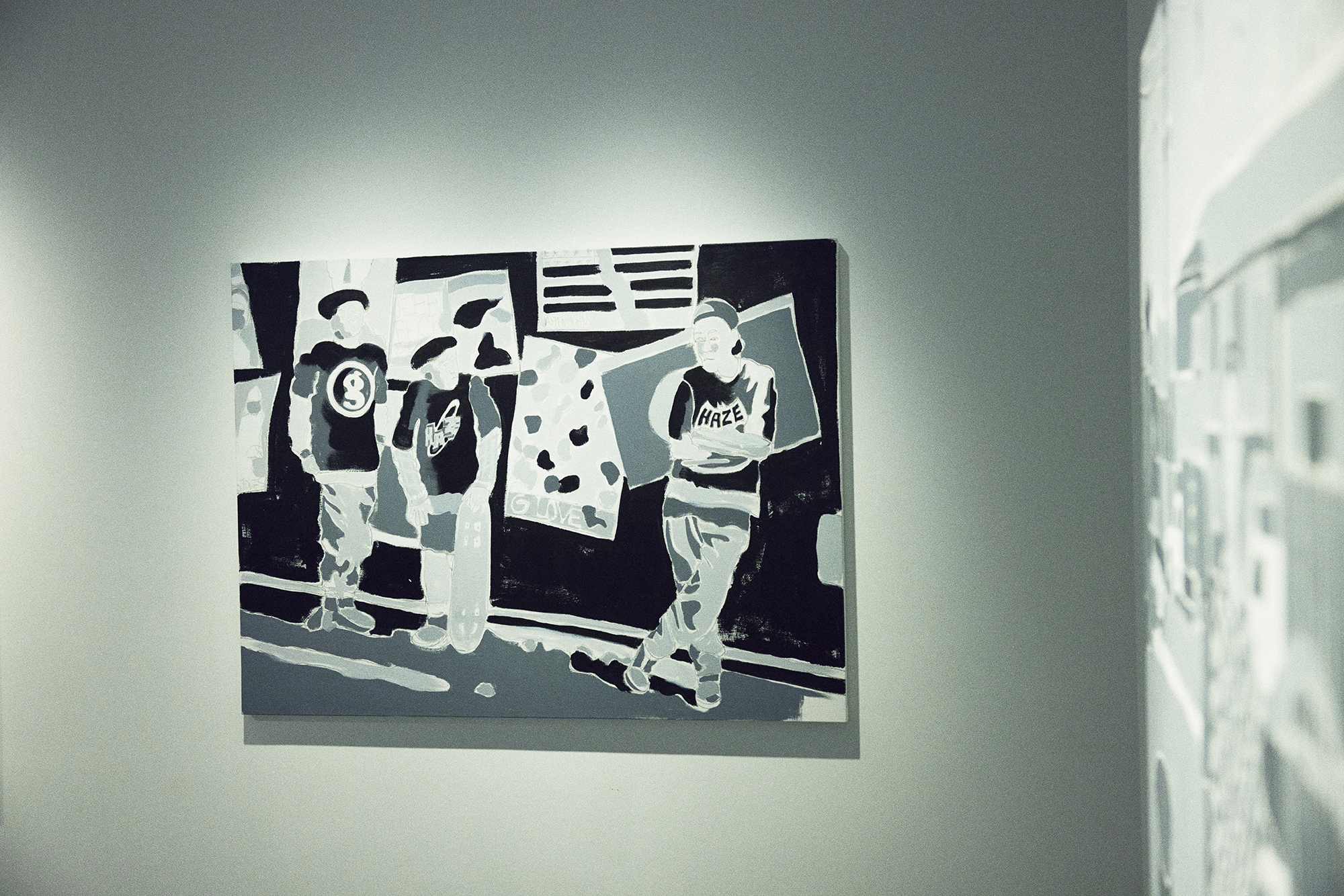 Inside Out exhibition
——Can you tell us about the people in the paintings?
Eric: I asked HAROSHI, Taku (Takaoka Obata), and Poggy (Motofumi "Poggy" Ogi) if they could send me a photo of themselves that best represent themselves, and I drew a picture based on the photos they sent me. Hiroshi's (Hiroshi Fujiwara), Skeshin's (SK8thing), and Murajun's (Jun Murakami) are probably the first in the series, and I drew them based on magazine ads from the early 1990s. The ads were from before I had met them. Next year will be 30 years since I first came to Japan, and in the early 1990s there was only one select store on Cat Street.
——What was your impression of Tokyo street culture at that time?
Eric: I don't think there was anything that could be called a street scene yet. But, one thing that strongly impressed me was that 30 years ago in the U.S., design and art were two different worlds, but I felt that Japan understood design as an art form and in a special way. And that was very attractive to me.
Keeping 1% to 100% grayscale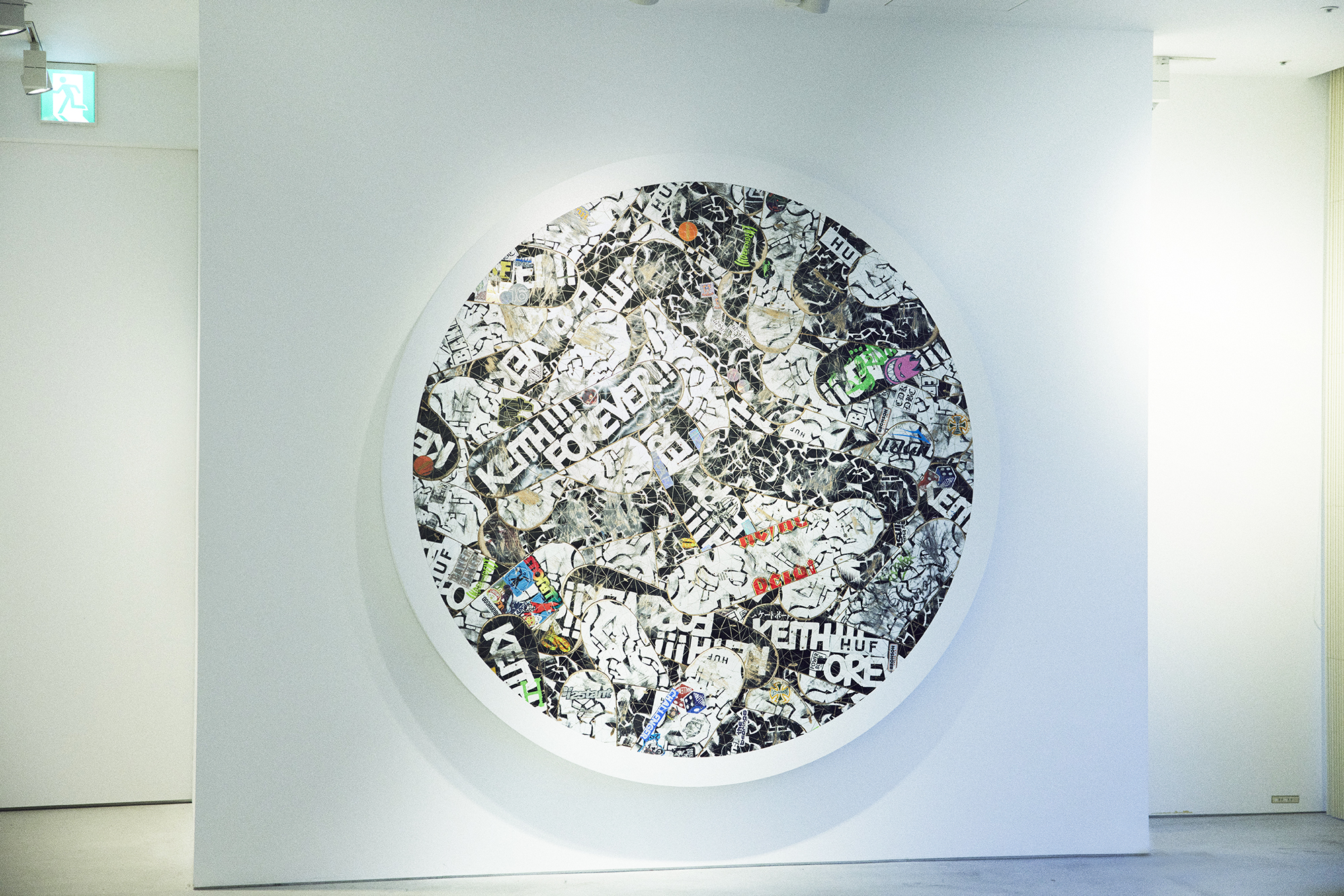 A collaborative work with artist HAROSHI
Inside Out exhibition
——You also have a collaborative work with HAROSHI. What was the process like for this one?
Eric: I only did the easy part, and HAROSHI and his wife did the hard work (laughs). Japanese skateboarders used the HUF skateboards that I had designed, and HAROSHI made a piece of work from the decks that they had used up.
HAROSHI and I have a strong spiritual connection. We are one of the few artists who have worked with Huff when Keith Hufnagel was still alive. So after Keith passed away, I felt the need to produce a memorial piece. This is a work of tremendous love, created to show all the connections in the community and to Keith.
Daisuke Genma (Genma): For this one, HAROSHI and I sat down together and Eric told us his idea, and we were like, "Okay! Let's do it!" HAROSHI seemed very happy to be working with Eric when we decided to do it. I think it was a dream come true for him.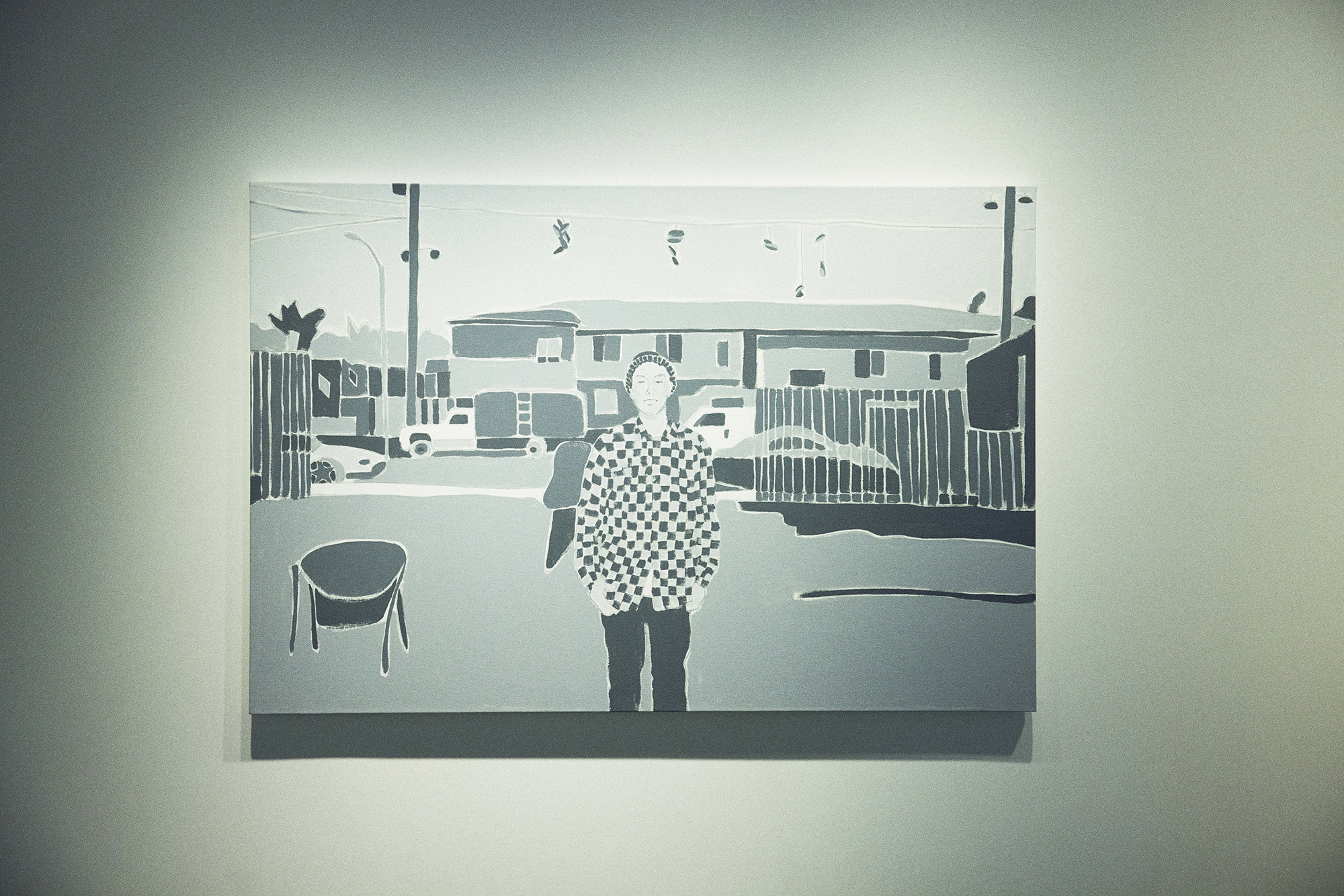 Inside Out exhibition
——Throughout your work, why did you use gray on black and white?
Eric: I don't really see this world in color. Maybe because I was born in New York and grew up in a gray, dirty environment (laughs). Also, when I started my career as a designer and art director, everything was low-budget, no computers, no jpg, no digital world. When I designed an album cover, everything was prepared in black and white and I would send it to the printer specifying the colors, and waited for them to come back with colors. So I had to learn and think in layers of back, white and gray. My mind goes from 1% to 100% black, which is the grayscale.
I've had a lot of people say to me, "Why don't you use more colors?" So, I've tried using more colors, but then I was like, "Wait a minute?" And stopped listening to them, because if I feel like I should go with gray and black, that's what I should do. My philosophy in design and logo is that if you build in color, you depend on color. Color is a personal choice and you can always add color if you can do well with black and white.
——I believe that your work was created in your studio in Brooklyn. How is it working in New York?
Eric: I now live in Williamsburg, Clinton Hill near Navy Yard. It's the waterfront. I've been using the same studio for about 15 years, but we bought the building of the studio two years ago. It changed how I feel and it's where I've made these pieces.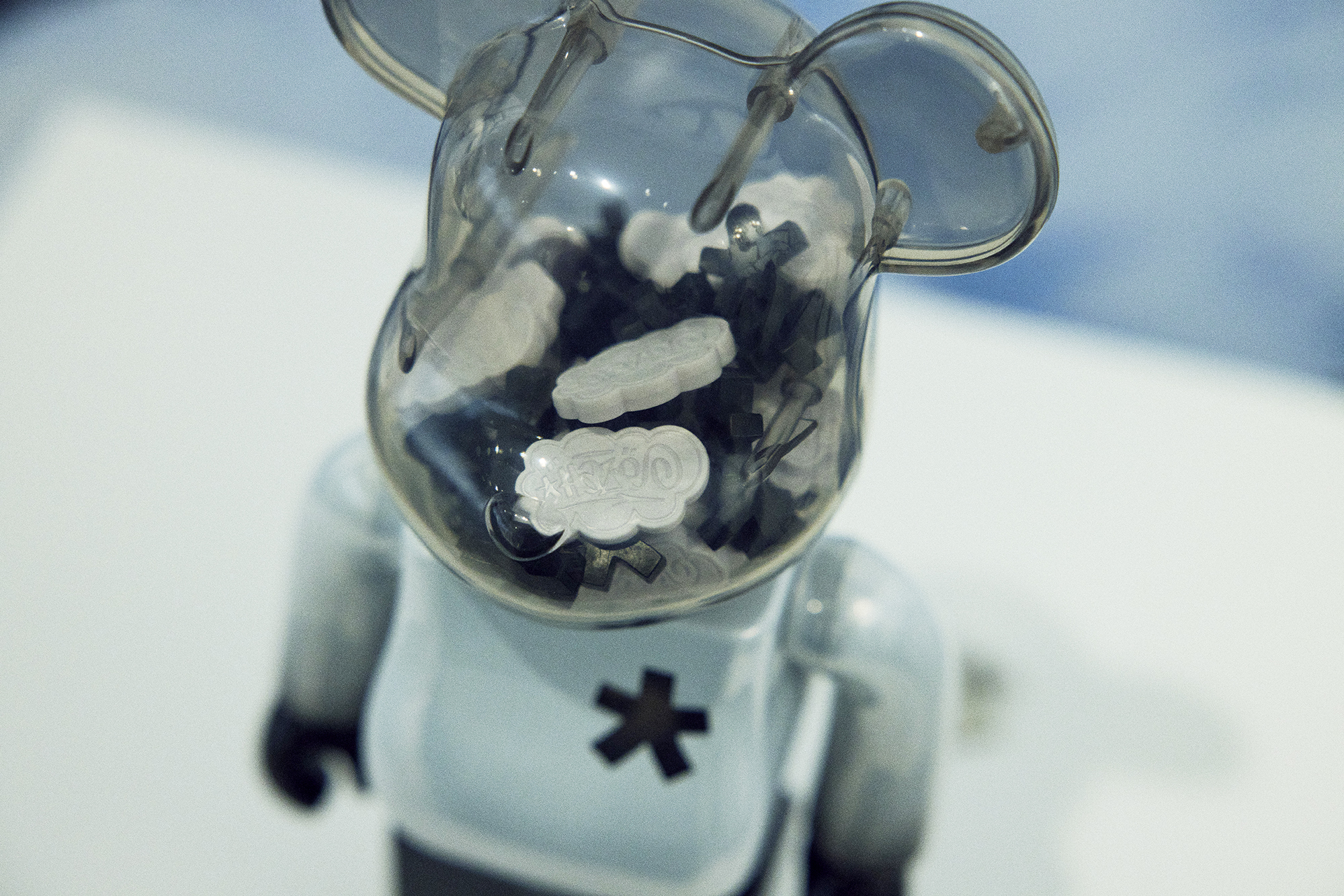 Inside Out exhibition
——How do you feel the gallery scene has changed in New York?
Eric: In the past, the only galleries in New York were Jeffrey Deitch and Jonathan Grant Gallery, but when I returned to New York in 2010 from Los Angeles, where I lived for 12 years, there were more good galleries. Coney Island is also like an art mecca, with many art walls created by Jeffrey Deitch.
Masayuki Nishimoto (Nishimoto): Talking about galleries in New York, I went to Brooklyn for the opening of Joshua Liner Gallery in 2008, and happened to be in the same elevator with Eric Haze, Futura 2000, and KAWS. I had only seen them in magazines before, but when I saw them together, I realized that they were real people. This memory is one of the formative events that formed a path for my future.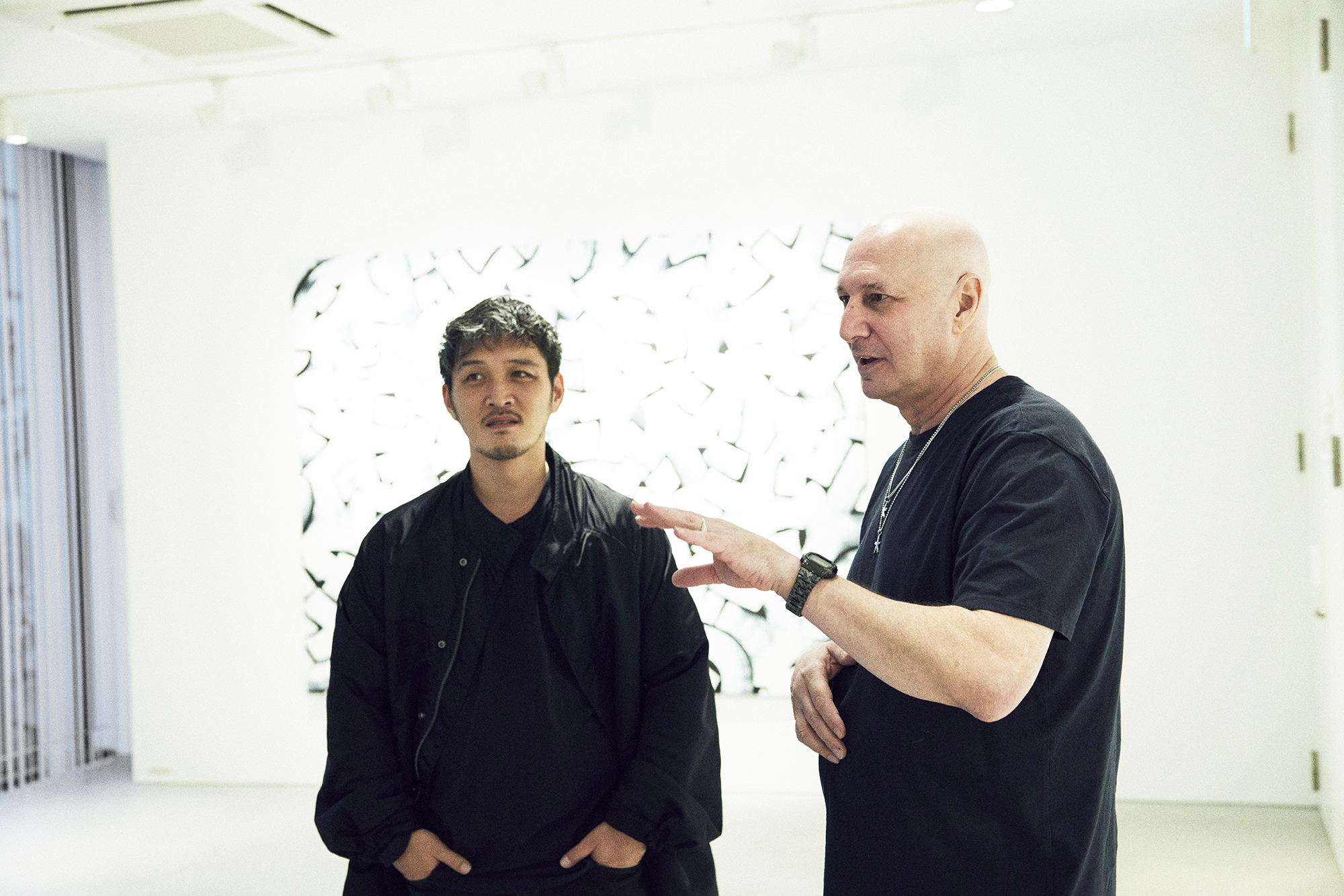 Life is all about balance
——Eric, what changes have you seen since you moved back to New York in 2010?
Eric: When I was in L.A., I attended so many clothing trade shows, but as the business got better, I got stressed out and wasn't happy. So I decided to go back to New York and took the risk to pull back and let go of everything, including the stores, business and responsibility. It felt risky to make changes at that time, but if I didn't take the risk I wouldn't be doing all this and have room in my life to do the things that make me happy. The interesting part is that after I backed off, fashion became interesting to me again, and I started to feel like I wanted to do something with it.
I think life is all about balance. To be happy, you have to achieve balance between your work and your relationships with other people. I got married 10 years ago and that also gave me a new balance. To me, this exhibition is well-balanced because the product and the work with sacai have the right relationship with art. I don't think I could've established this kind of good balance 10 or 20 years ago. It took understanding myself and finding the passion again to move on.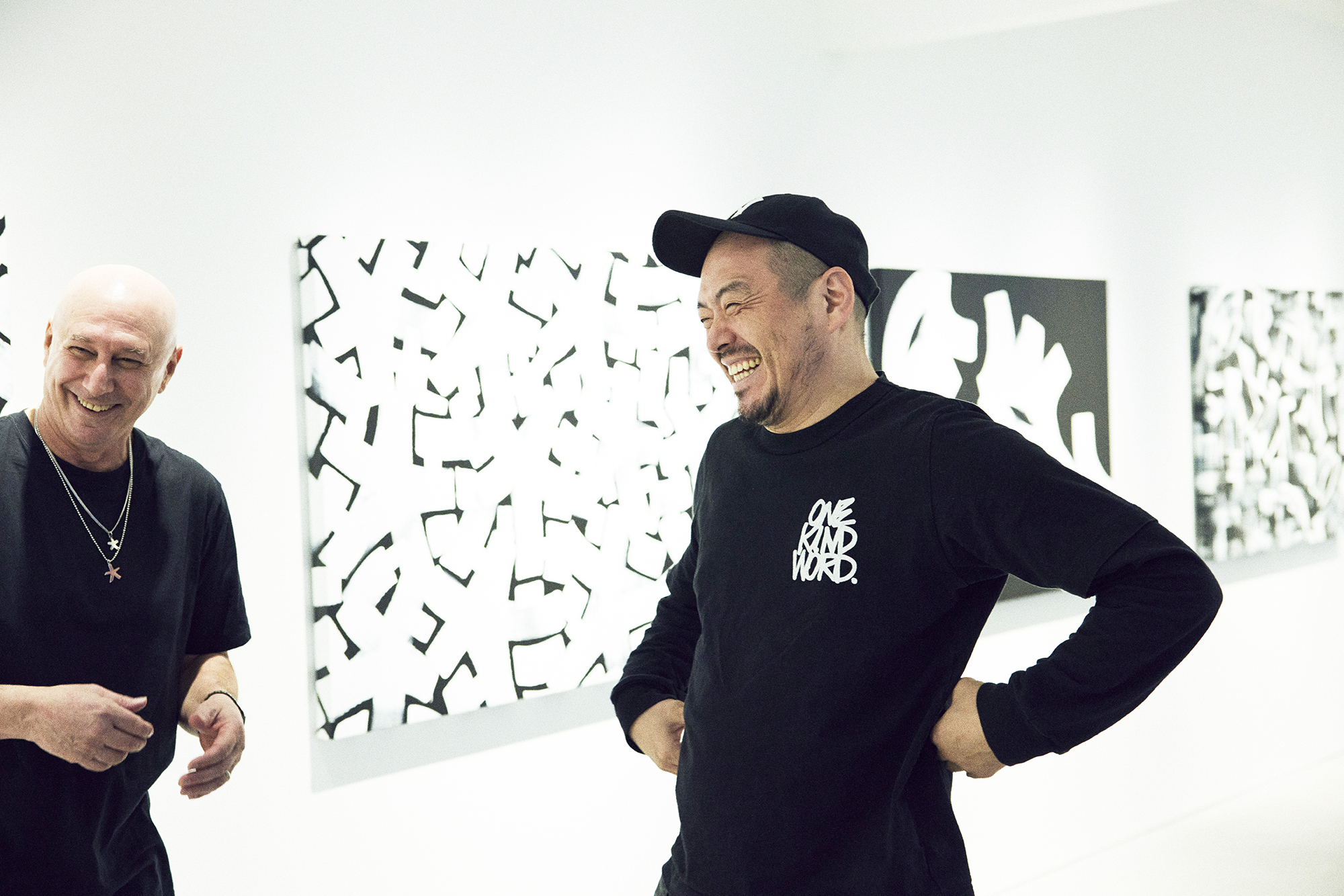 Genma: When I was in London, I saw the Mo' Wax products, and among them, the poster design was really amazing that it left a strong imprint on my mind. In the fashion world, we sometimes need outside help to put out a robust message of a collection, but since Eric has established history by linking it to music and culture, his message is always right on point. I really wanted to do something together with him.
Eric: And it's so special to me. In the last 5 years or so, a new generation of fashion has emerged, and it's very interesting. When I came back older with fresh eyes and looked around, I noticed that sacai, Virgil [Abloh] and others were doing something amazing and way beyond our generation. And that inspired me.
I told Daisuke [Genma] that I didn't want to go back to the past and that we have a really nice opportunity to re-enter the culture and the market from a different place, from an art place, from an organic place—not from graffiti, not from hip-hop, which everyone knows that's part of the history. I wanted to come back in an elevated way. So the opportunity to work with Daisuke and Chitose [Abe] (Designer of sacai) was exactly what I had imagined to do it. So it's really special to me to be able to participate and put my fingerprints on this.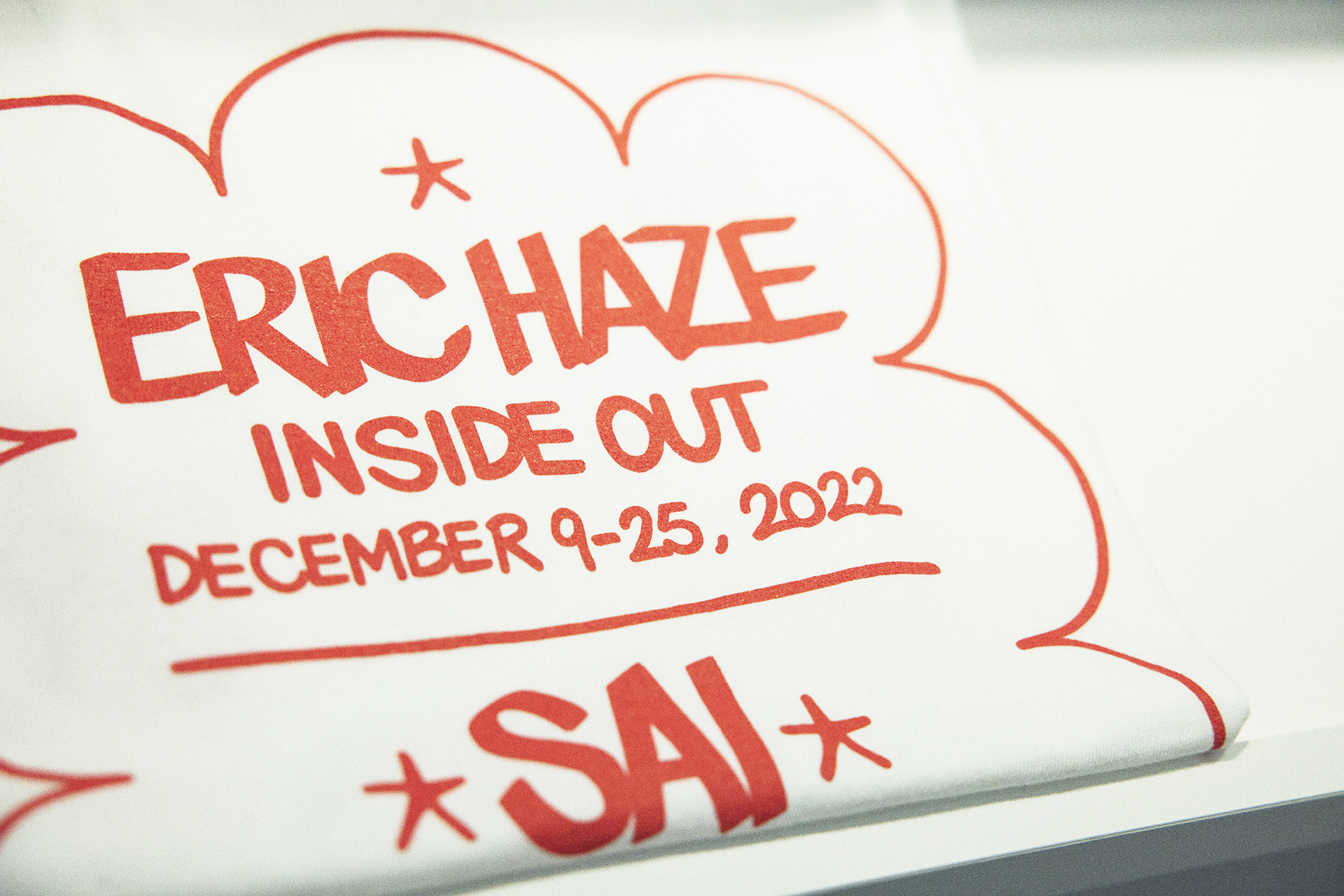 Inside Out exhibition
Genma: I wanted Eric to be recognized as an artist. He's always got brilliant concepts. There is a phrase that Eric drew for the 2021 collection, "One Kind One," which comes from a punk band. Abe and I were always discussing "love," and when we were looking for the right word for it, I asked Eric if he had any good words, and he came up with this one, and we were like, "This is it!".
Eric: My relationship with sacaiis built on trust. It's been a beautiful surprise to know that you reached out to me with trust.
Gemma: Truly a beautiful surprise. Nothing else but that.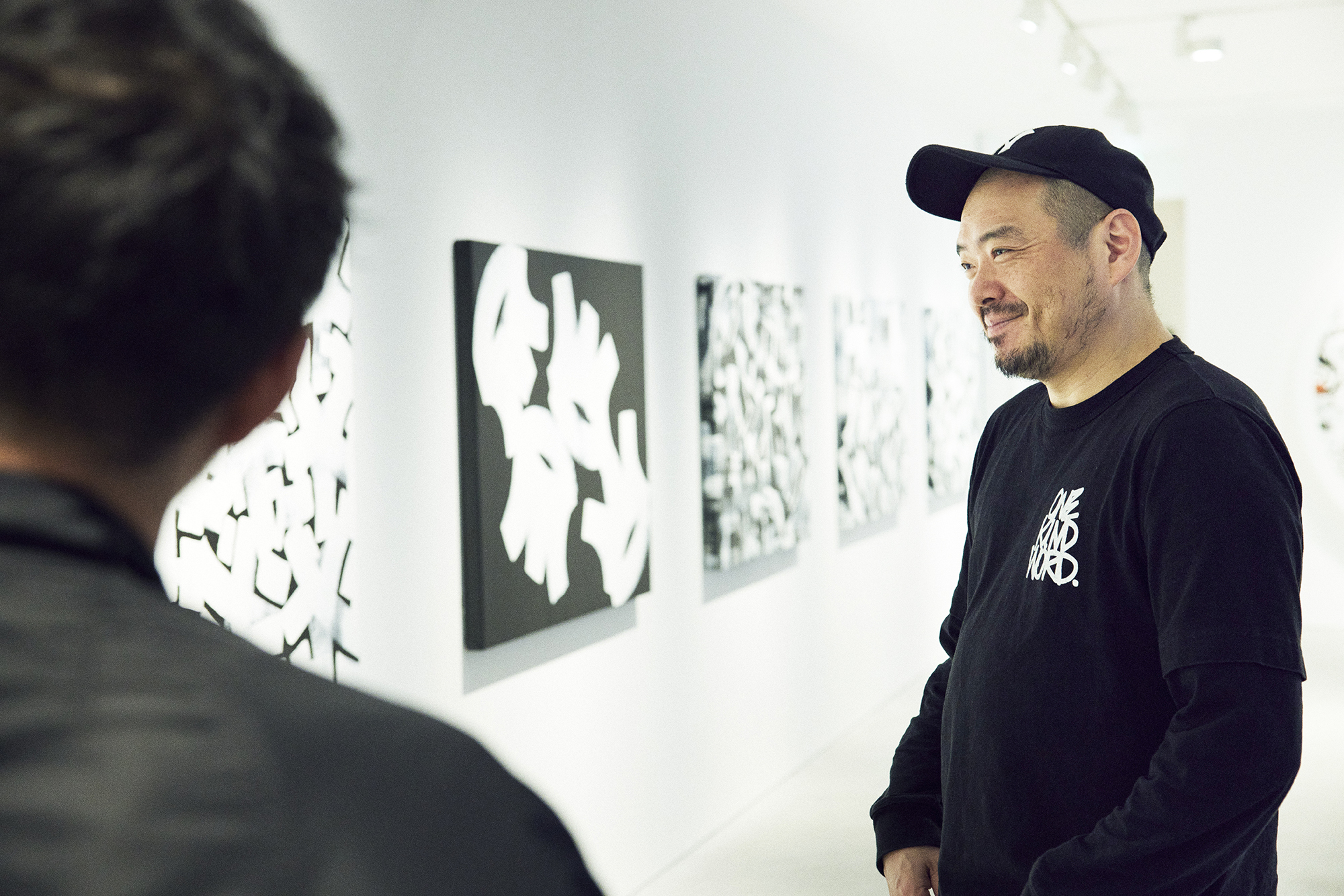 Having originality and perceiving with new eyes
——What kind of artist is Eric from your point of view as a gallery manager and art exhibition curator?
Nishimoto: I think being present in the art scene for a long time is one of the greatest things about him. People who know Eric's works from before can tell that it's his when they see his current work. This is not just about his character but also because his works have originality. Nowadays, when someone shows me an artwork, they all look similar that I end up asking, "Whose work is this?" But with Eric's work, you can instantly tell that it's his. I think that's his strength, his strong point.
Gemma: That's important. Nowadays, people often emulate others, but Eric has his own style.
Eric: When I started painting in the early 1980s, I wanted to do abstract paintings, but they were closer to the history, the generation before me. We had to beat that generation in order to find our own style. When it comes to art, I don't care about what's trendy or what everyone else is doing. I think that's why I never moved from my own booth when I was exhibiting at trade shows (laughs).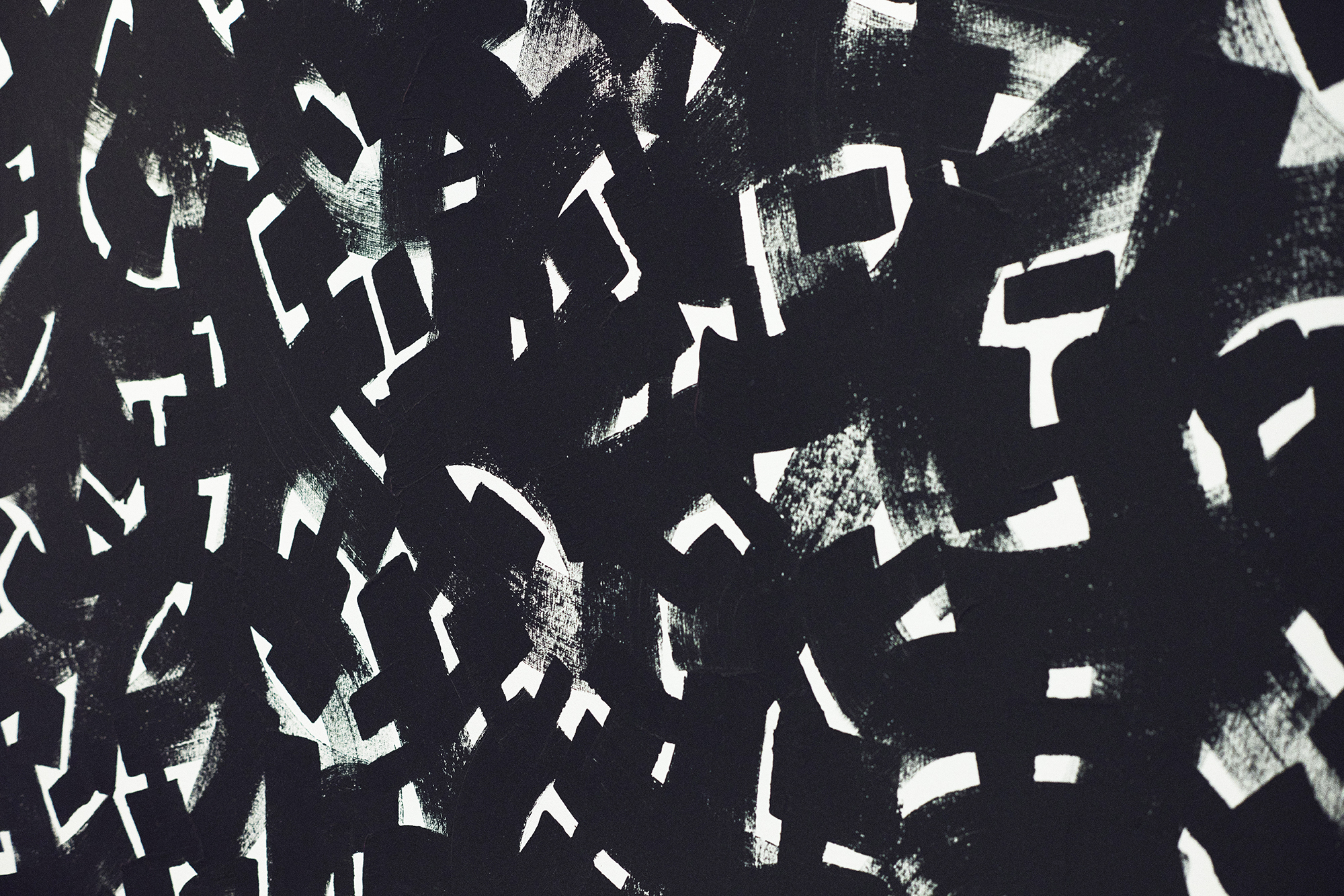 Inside Out exhibition
——How did you two feel about this exhibition?
Genma: As you can see, the energy of the real works is insanely greater than seeing them in pictures. So I would like people to see Eric's works for real and feel the energy.
Nishimoto: As Genma said, I would love for people to see Eric's works in real life. Everyone perceives things differently, but I think it's fun to see something we've never seen before. So, not only those who've been following Eric's works, but I also want people who are new to him to come and see his works.
Eric: I 100% agree. It's great that we have an audience that is built-in and we can trust, but it's very much about new eyes and new audiences and expanding from there, too.
Genma: New eyes, that's important.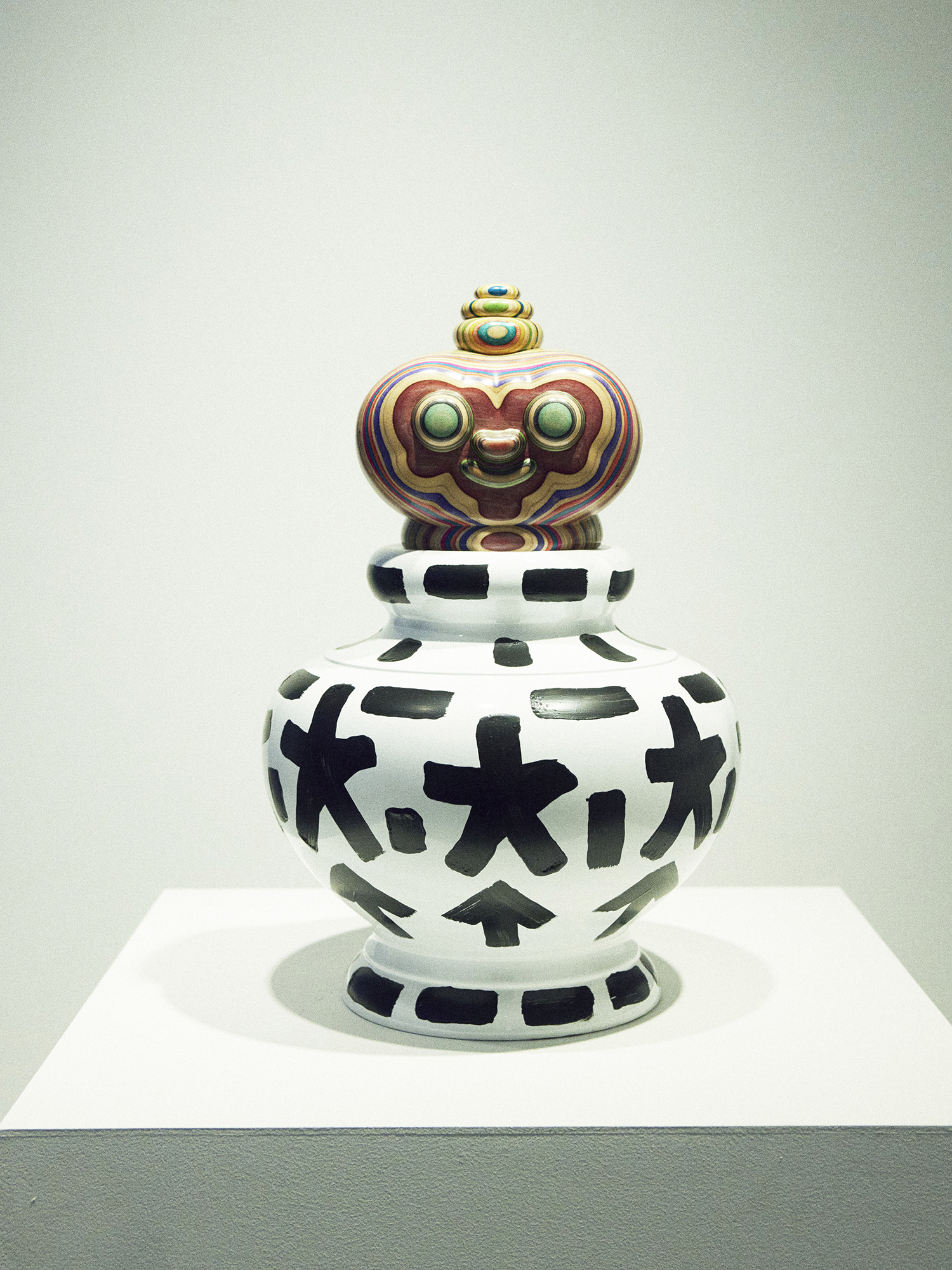 Inside Out exhibition
Eric: With the sacai collaboration, we bring the fashion audience into art and art audience into fashion. And they attract each other.
Nishimoto: And they influence each other.
——To wrap up, please give a message to the fans.
Eric: We are all unique people. To become a successful artist, whether in music, business, fashion, or painting, you have to learn to understand yourself, and find a way to express what is unique to you. I believe that is the only way to bring something special and unique to the world.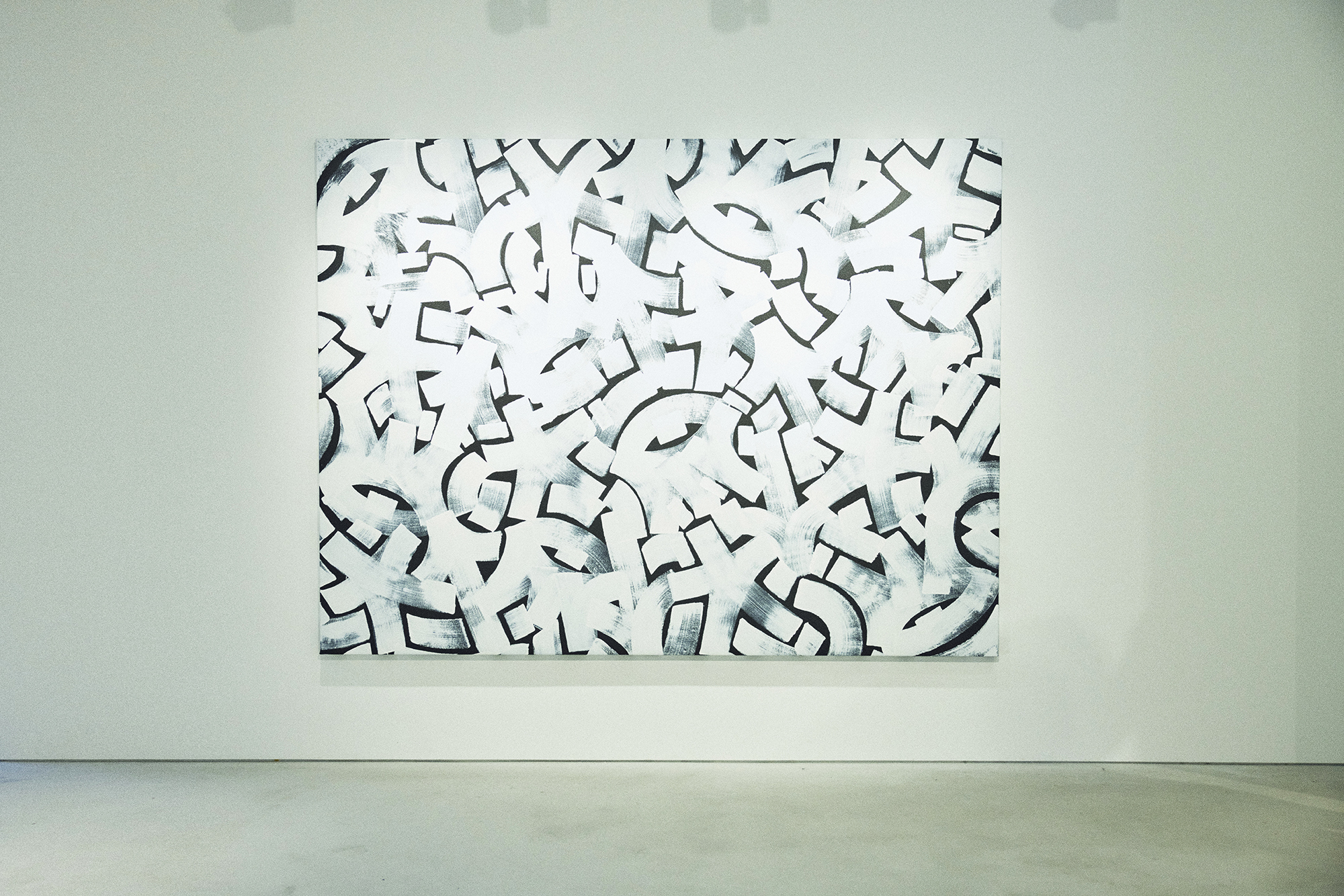 Inside Out exhibition
■INSIDE OUT
Dates: until December 25
Venue: SAI
Address: 6-20-10 RAYARD MIYASHITA PARK South 3F Jingumae Shibuya, Tokyo
Open hours: 11:00AM – 8:00PM
Entrance fee: Free
Website: https://www.saiart.jp
Photography Teppei Hoshida