Eye-catching pop illustrations on a canvas of cassette tapes and CDRs. It could be a cover art of a recorded album or an original drawing inspired by a favorite music artist or song. The illustrations by $HOW5, an illustrator who has been familiar with music from a slightly different angle since childhood, appear intriguing to music lovers of soul, hip-hop, trap, punk, new wave, and city pop.
Recently, he has expanded his drawing motifs to include cassette decks from the 1980s and 1990s, iBOOKs, computers such as the iMac, and music gear like the Roland 808.
His works have an underlying message that inspires a positive mood in those of us who live toward the future and embody $HOW5's life to date. In this article, we explore $HOW5's roots and his life today.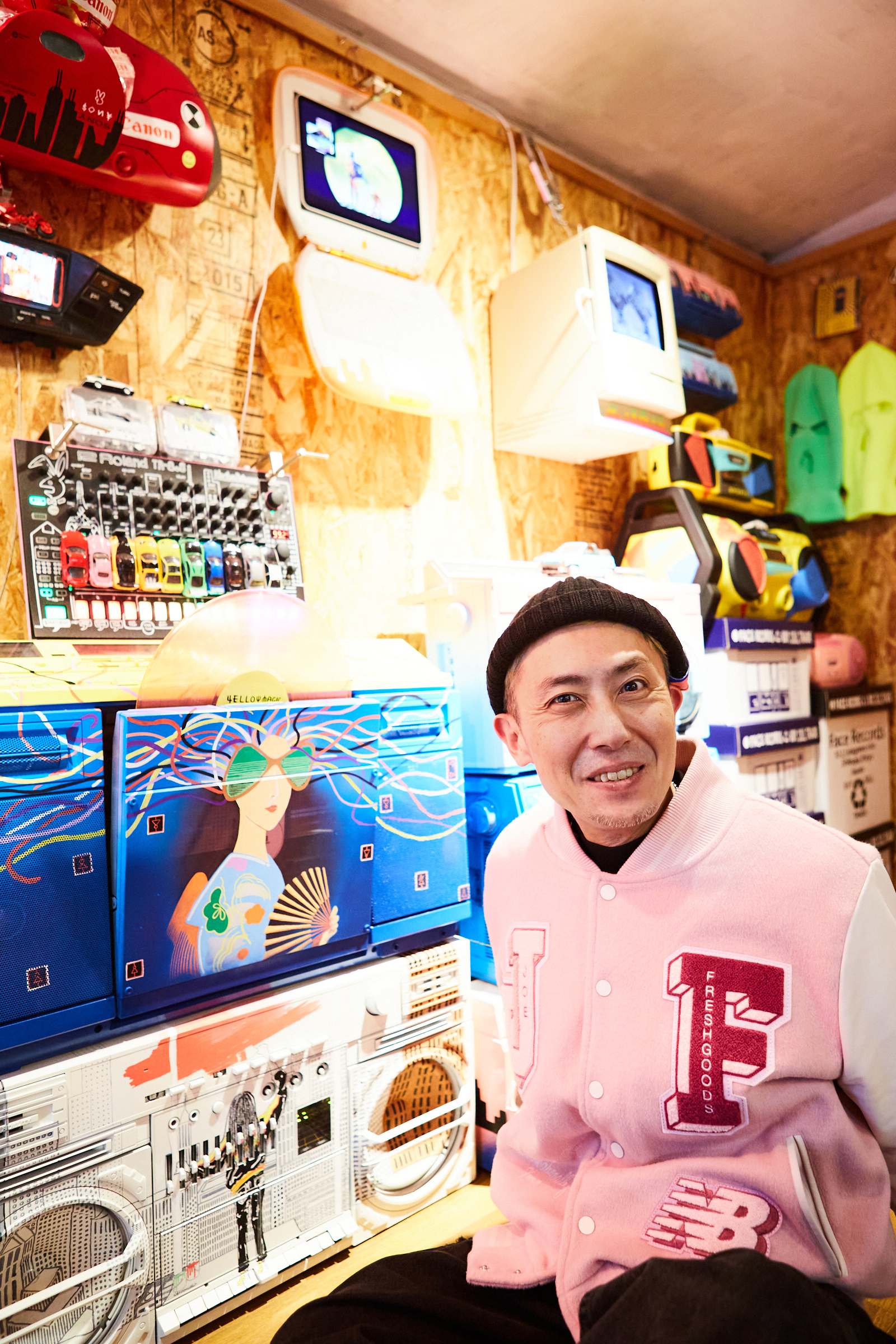 $HOW5 / TEGAKI
An illustrator and DJ. $HOW5 grew up in a family where both parents were teachers: his mother was an art teacher and his father was a math teacher who loved soul music. Since 1998, he has continued to produce more than 1,000 cassette tapes and CDR works, drawing record covers on them by hand. His recent works include hand-drawn Polo Bears and postcard designs for Ralph Lauren's holiday shopping bag event, illustration spreads for a special movie issue of POPEYE Magazine, and illustrations for Mitsutaka Mizutani's book, Wassup! NYC. As a DJ, he has appeared on DOMMUNE's bootleg specials. As a solo exhibition, car$$ette by $HOW5 was held at Fire King Cafe in Yoyogi Uehara in September 2022.
Instagram:@show5_original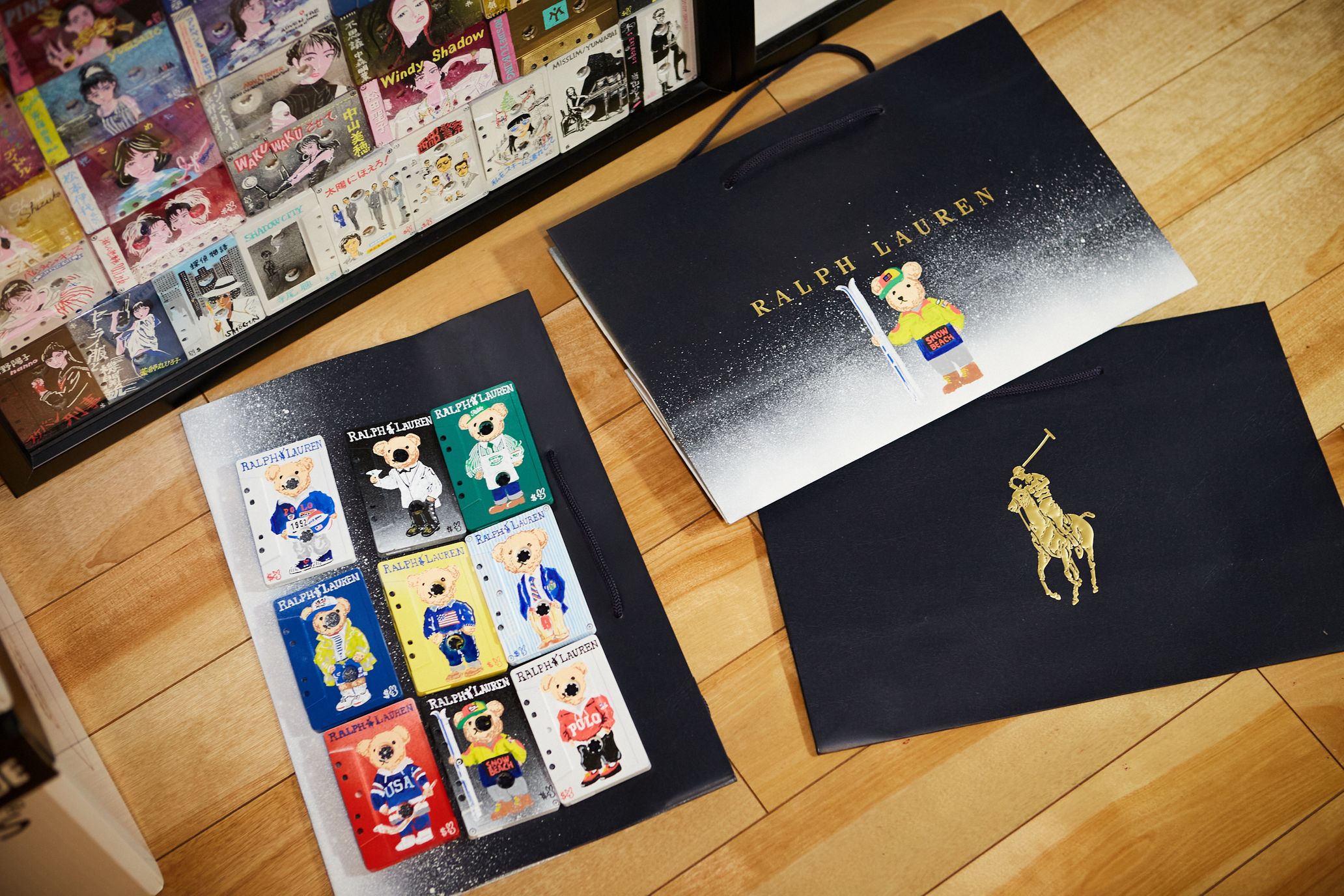 In my childhood, I was banned from listening to Japanese music and started searching for "what kind of groove is funky?"
——Let's start by talking about your artist roots. What was your childhood like?
$HOW5: I was born in Rokko, Hyogo Prefecture, then immediately went to Amagasaki and Itami from elementary school. I was born in 1979, and at that time, Amagasaki and Itami were quite rowdy. There were punch permed men (short and tight perm hairstyle for men) and bikers and people like that in the neighborhood for real. My father was an incredibly weird guy. He was a math teacher, but he was also a record collector and made a zine called Soul Fanzine From Osaka: Soul To Soul. The zine featured records that my father liked, like soul music and do-wop, but he never showed them to me as a child. But when I read it as an adult, I found that it contained a few of sexual undertones (laughs). As he was a school teacher, it had a "Check Your Soul Level" quiz page, which was fun.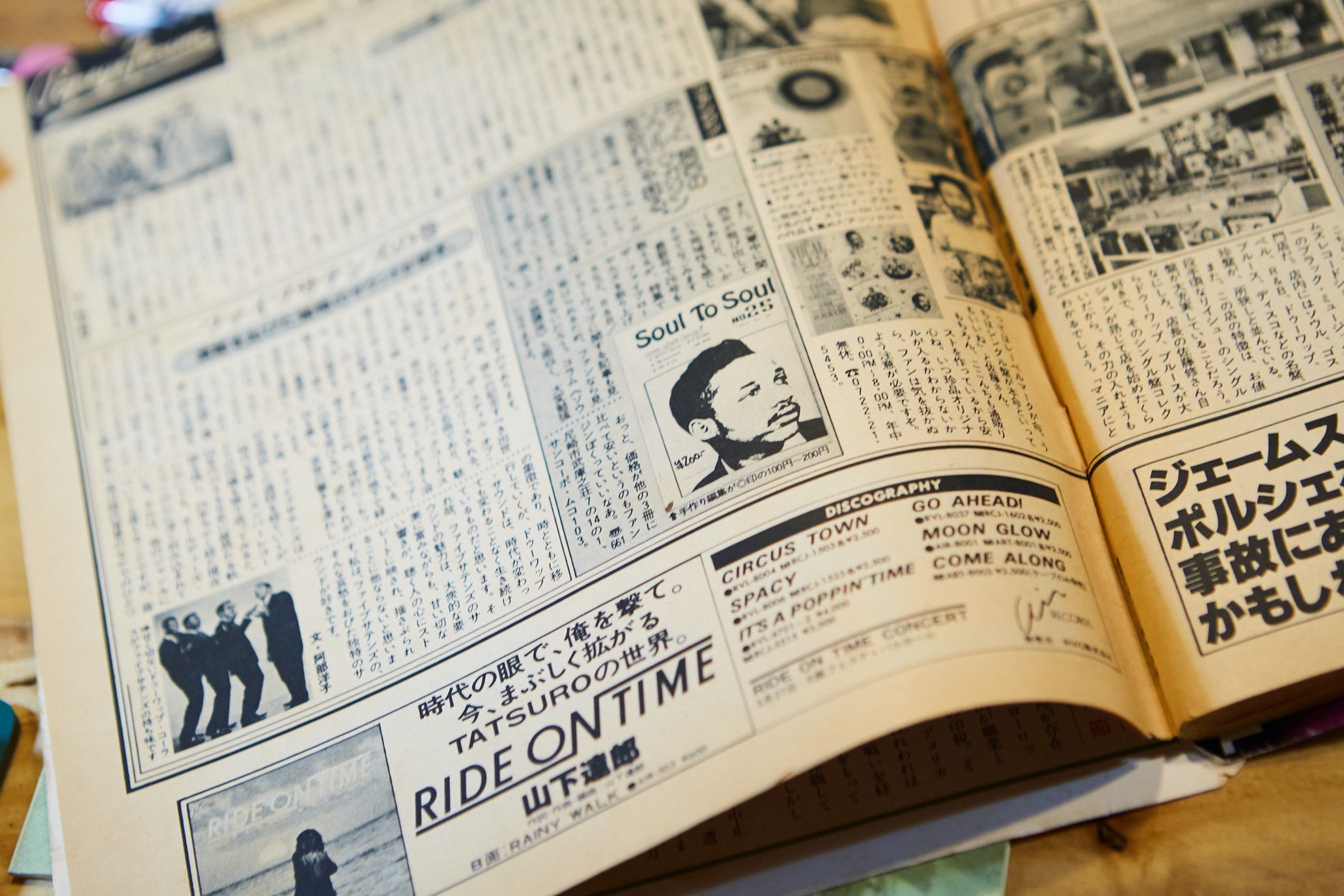 ——(Laughs). So, you have been familiar with soul music since you were a child because of your father's influence?
$HOW5: Yes. But when I was a child, I was forbidden from Japanese music at home. My father was originally in a band, and he said that Japanese music doesn't fit well on the 8-beat because of the characteristics of the Japanese language, so listening to it would make me lose my sense of rhythm. Because of this, I couldn't understand the hit songs my friends were talking about in school…. At home, it was JB (James Brown), and at school it was B'z (B'z). I thought B'z was cool, too, but since my parents wouldn't buy me their records, the only source I had was the TV show "Music Station."
It was hard for me because I didn't have a common topic to talk with my friends in school. My father was very much into rhythms invented by African Americans when it came to music. I could clearly recognize black and white just by sound, or ……. That black and white was the color of the skin. I was going the opposite way from what the general public was into; I didn't know the hit songs and lived based on a record store standard, which was all about finding a rare disc early that was later appreciated. I grew up strongly told and convinced, "Not the ones with a bad groove!"
——That means that African American culture has been a part of your life ever since you can remember. How did you get into music?
$HOW5: Teddy Riley, Bobby Brown, or the first Babyface. They were all urban sound. It had the synth sound of a Roland D-50. They've sampled James Brown and others, but they were completely different. There were cars like Fairlady Z or Mazda RX-7 FD with a Bobby guy (a guy dressed like Bobby Brown in the early 1990s) or a guy dressed in black with a lady in a bodycon-like dress, playing Teddy (Riley) type music out loud, and I was like "that's so cool!" I was around 12, and it made me realize, "Well, apparently, this is my thing!"
But when I saw Zoo on Music Station, it made me a bit confused. From my father's point of view, Zoo didn't make sense. My father was trying to get a funky groove going in a band with English vocals. So he told me, "Please don't listen to this (Zoo)." So I was like, "Ok, this isn't the right music either."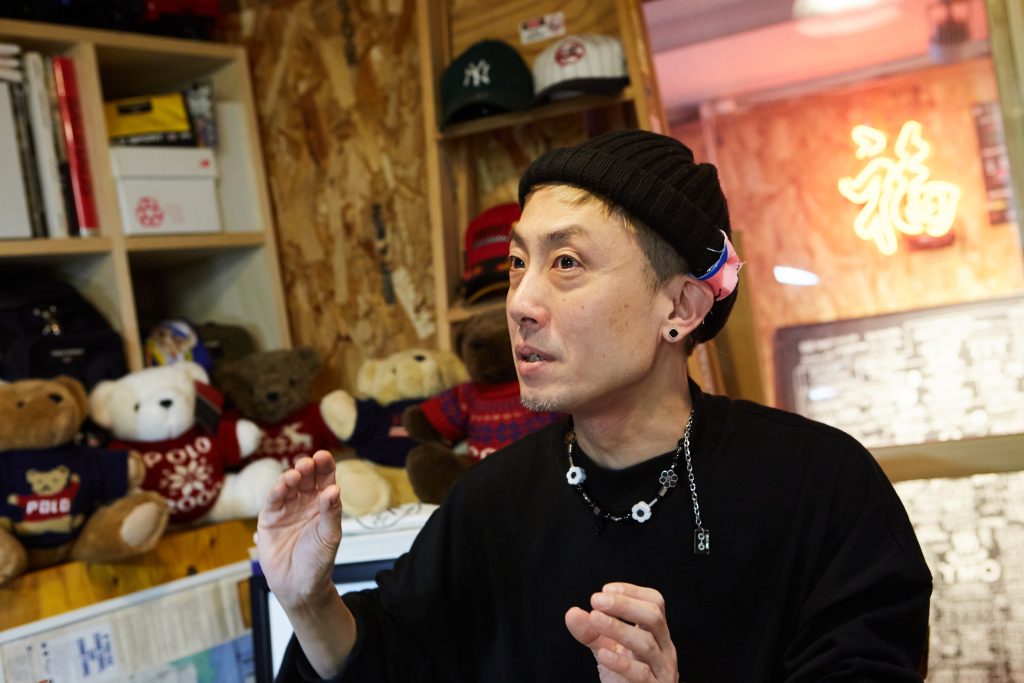 ——That's a big conundrum. I guess it varies depending on what you are trying to pin down.
$HOW5: That's right. From there, I began contemplating things like, "What is funky or groove?" and "What do people mean when they say groove?" Then I noticed that it's not only 8 beats, but 16 beats. In other words, I realized that there are almost no Japanese people who can dance with a sense of doubled rhythmic space.
——I had always thought there was something about your work, but I didn't know they had such deep roots.
$HOW5: I was a child between an arts and crafts teacher (mother) and a math teacher (father). Both of my parents worked, so I had to wait a long time for them in the arts and crafts room after school. I had a lot of free time, so I was looking at Van Gogh books and stuff and counting fern leaves (laughs). Maybe that's how I went a little crazy. ……
Also, people tell me that I have a good memory and remember many things from the past. For example, a scene from the Seibu Keisatsu (Western Police) I saw when I was a child. I was 4 or 5 years old at the time, but I remember clearly.
——Do those memories ever lead to anything?
$HOW5: Recently, I saw a Mazda RX-7 FD in a music video of a song by the Jackboys with Travis Scott, and I thought, "This is the one I really wanted to ride when I was in middle school!" How can a rapper who drives a 50 million yen Lamborghini use a few
million yen Japanese car in his video!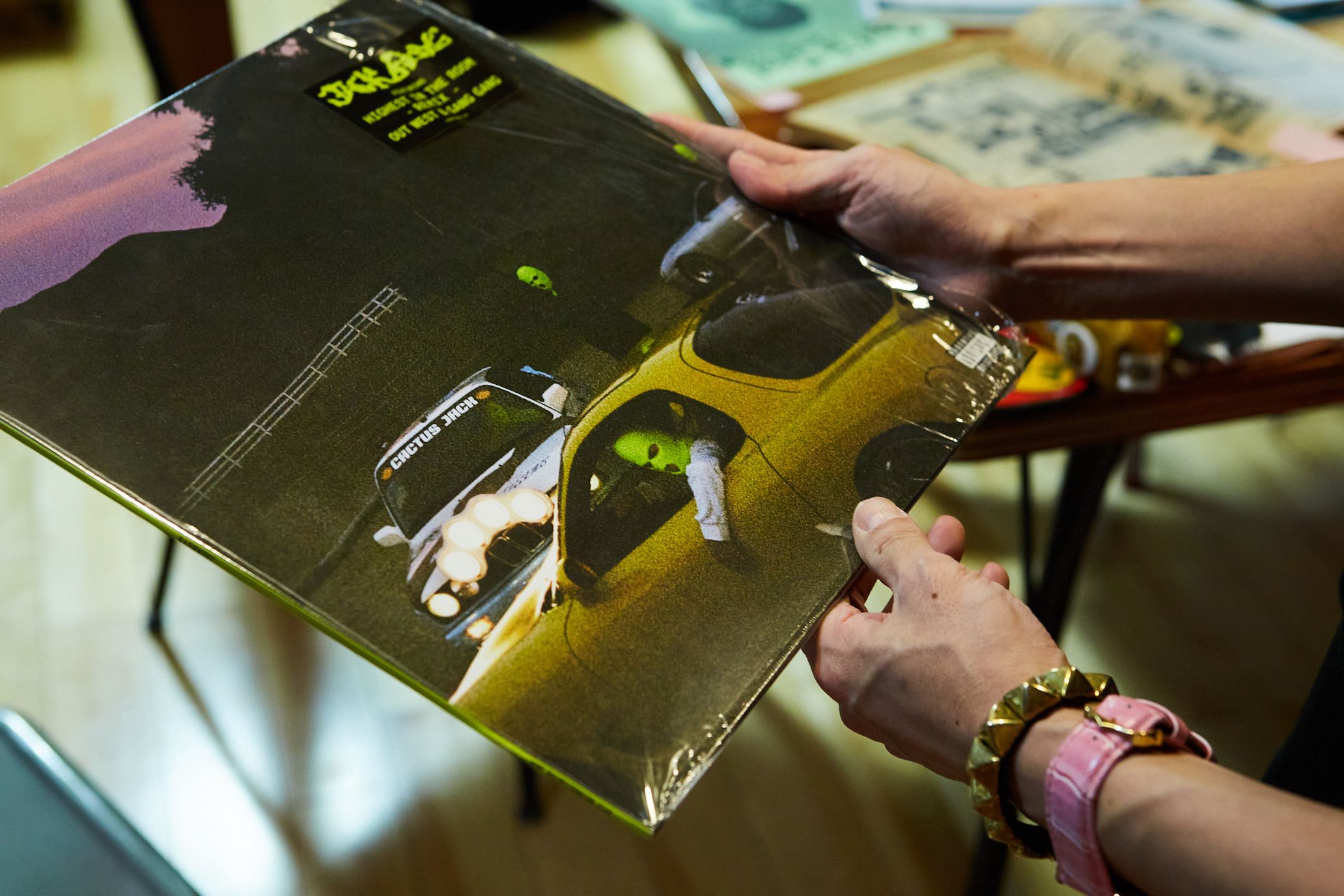 I wanted my own record and started illustrating on cassette tapes
——Now, tell us about your artwork. Did you self-teach how to draw?
$HOW5: I learned sketching and drawing techniques from my mother and ideas from my father. Then I went to art and design universities, but I had a lot of questions and felt a gap between me and the school.
At that time, Muro and Dev Large were often sharing stories and soul music in their magazines, and I happen to own all those records at home. From this, I realized that we could see things from different angles.
——How long have you been producing cassette artworks?
$HOW5: Since 1998. About the time MD came out in Japan? I guess. The records in the house belonged to my father, so while he was gone, I burned those records on cassette and built a sort of cassette record cabinet in my room. It was like, "I want to build my own record store!" I think that was the vibe. I also liked the faded colors of record covers, and the way the fonts differed depending on the age of the record. I learned art through these art covers. But I knew I couldn't make a living just with this vibe…. So I was DJing and rapping while I was figuring things out and eventually started thinking that making sneakers was so b-boy.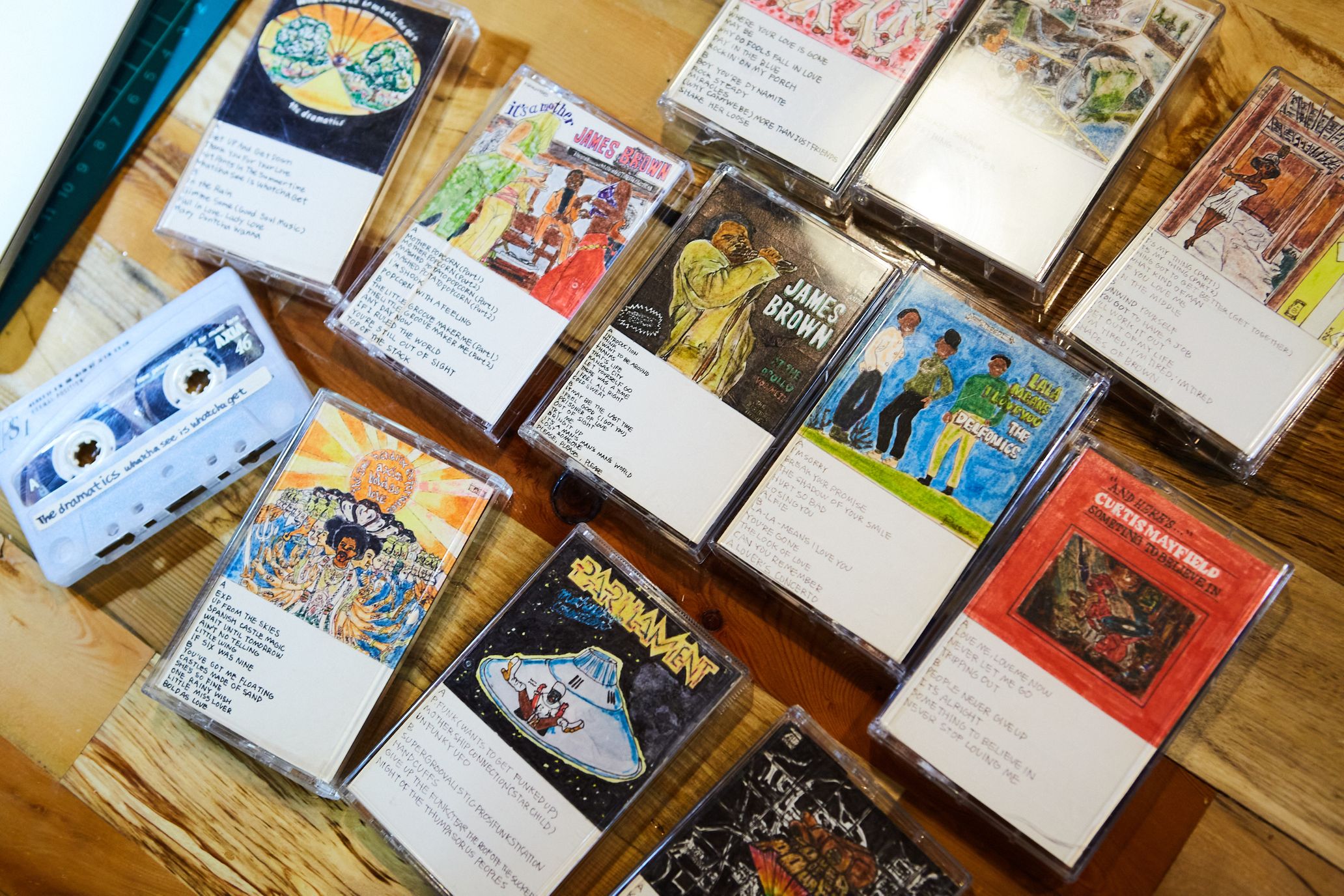 ——You were interested in making sneakers, too.
$HOW5: When I was in college, I had an afro haircut inspired by Soul Train (*a TV show that aired in the U.S. from 1971 to 2006), and I went to school with it, and my professor liked me because of my hairstyle. As I listened to the professor's story, I realized that he was a man who had lived in the postwar period when people had a hungry spirit, and I thought to myself, "These people must be the ones who changed the world in the postwar period." I thought that was really dope or cool, and it inspired me to think that making money was actually a very cool thing to do.
It was around this time that I began to think that while it was good to hone in on the niche field, there was something different about doing just that. It was also at the time when Japan was maturing after the Sanpin Camp (hip-hop music festival) was held. It was a time of great dreams, and I wanted to be involved in hip-hop in a new way that no one else was doing yet, and that was to make money by making sneakers. Yes, I wanted to get a proper job and make sneakers. So, after working at a small shoe factory in Kobe for several years, I got a job at my current company (New Balance).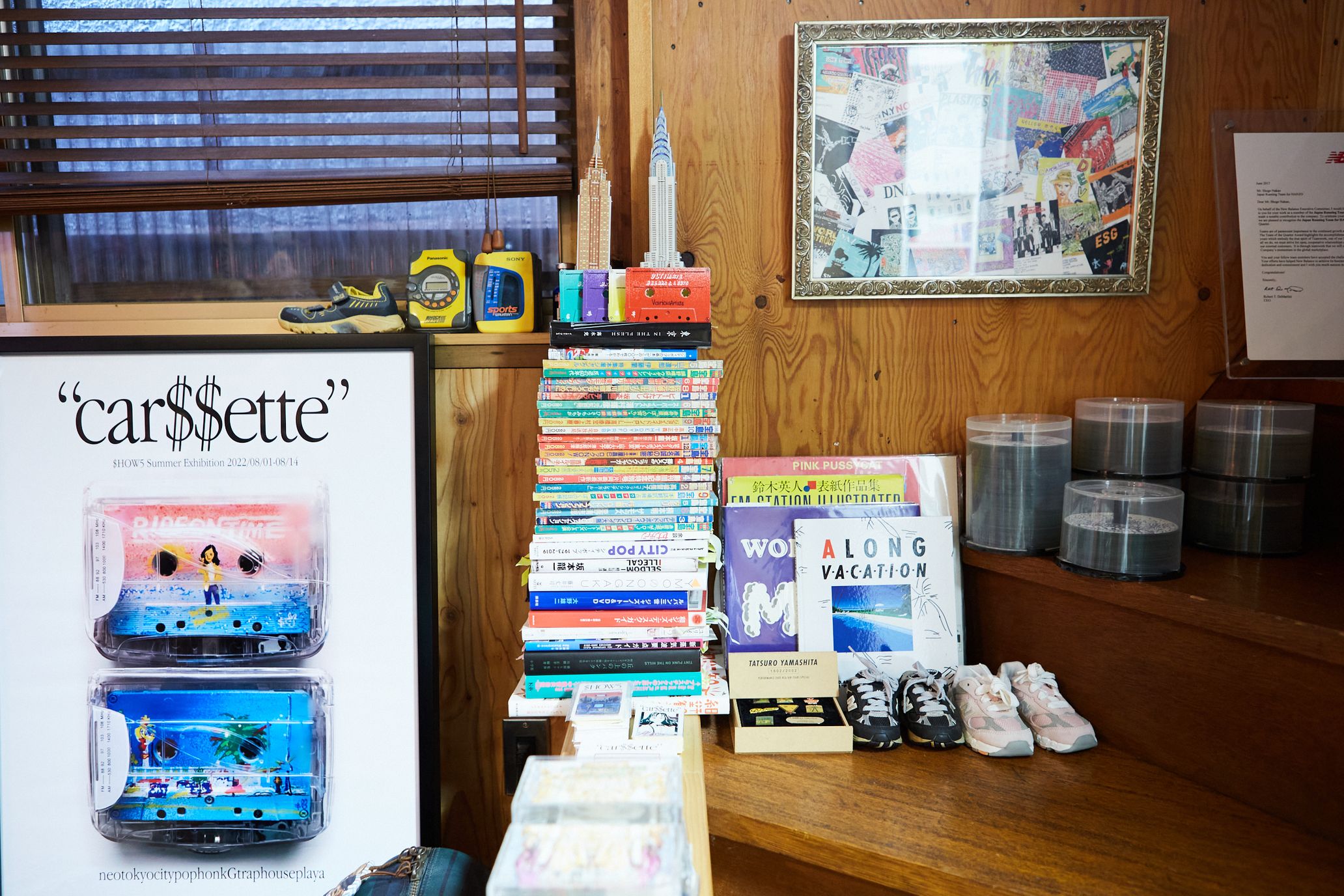 The underlying passion is "I want to make Japan a better place"
——What prompted you to hold your first solo exhibition?
$HOW5: After I moved from Hyogo to Tokyo, I used to go to KZA's and Shinco's (Schadaraparr) parties, and when I started to get to know them a little, they asked me, "What do you do?" So, I showed them the cassettes and CDRs I had made, and Shinco and Dev Large said, "You should do something with these!" Since they were the people I admired, I thought, "I have to do something with this," so I did an exhibition showcasing cassette tapes and CDRs of my works, first in 2014.
My solo exhibition at that time was mostly hip-hop works from the 1990s and 2000s. However, cassette tapes and CDRs are small, so it was difficult to fill the space in the venue. So I drew pictures on a boom box I had always loved and owned, stretched out small pictures, and exhibited them, which turned into my current form and style.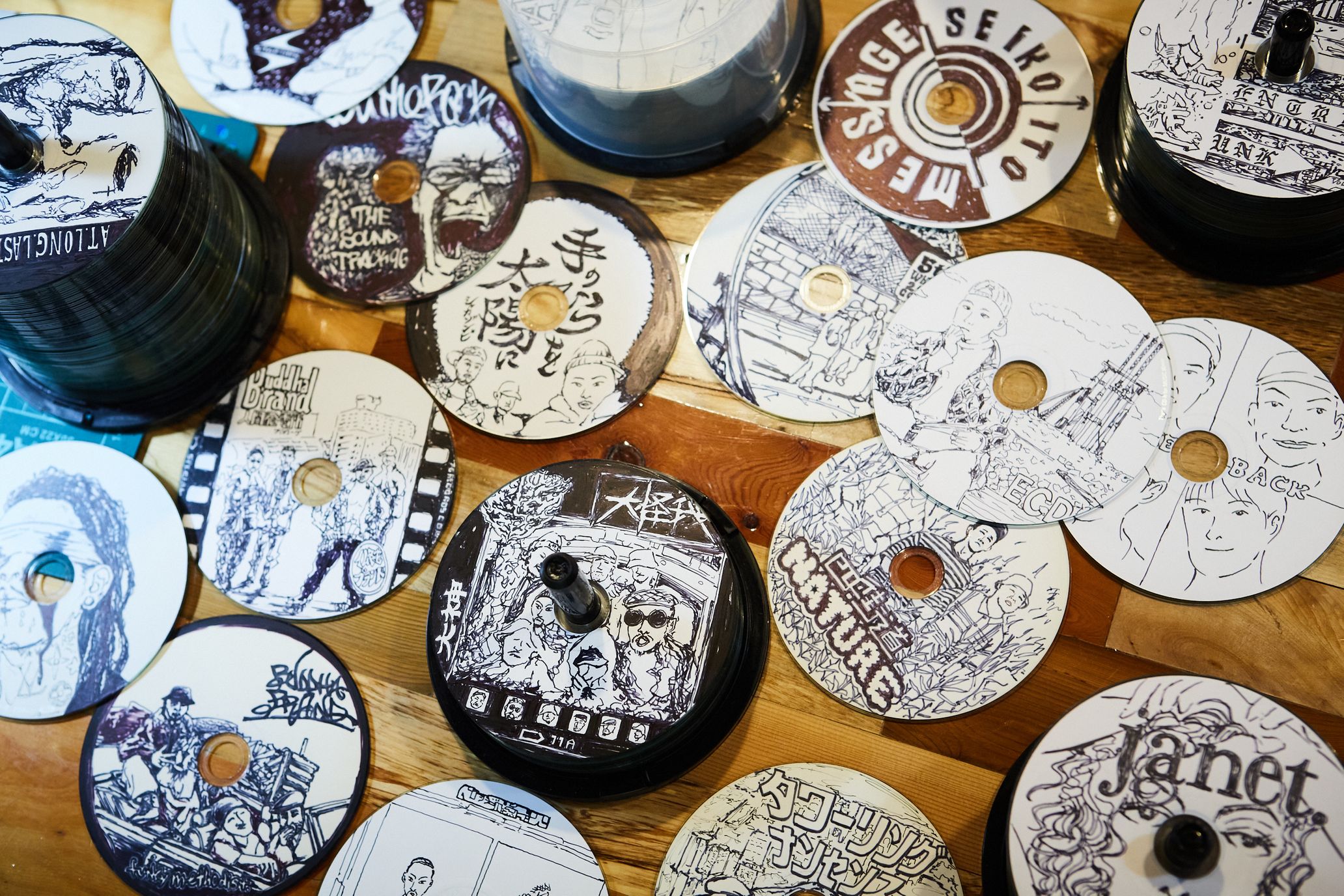 ——Looking at your work, I see that you like soul music and hip-hop as well as city pop and punk.
$HOW5: One day I was asked to exhibit at a punk store, A Store Robot. That's when I became interested in punk and Malcolm McLaren's clothing. Then, I found that Seditionaries was also worn by trap rappers, and Arto Lindsay of the post-punk new wave and no wave had some links with Ryuichi Sakamoto. And yes, I ended up looking into Nakanishi's Plastics feel, Blade Runner's sci-fi feel, and eventually including 1980's Tokyo, YMO, Happy End, Niagara, and more. I also portrayed city pop as Japanese soul music, and it was a major event for me when Minako Yoshida contacted me after seeing my work.
I then began to enjoy digging into Tokyo in the 1980s even more, and started to seek ways to present and convey Tokyo entirely from the 1980s to the eve of the genesis of Uraharajuku in a modern interpretation. The origin of hip-hop after cyberpunk with a sense of science fiction. I became interested in expressing "NEO TOKYO" in the sense of Afrika Bambaataa and Rammellzee.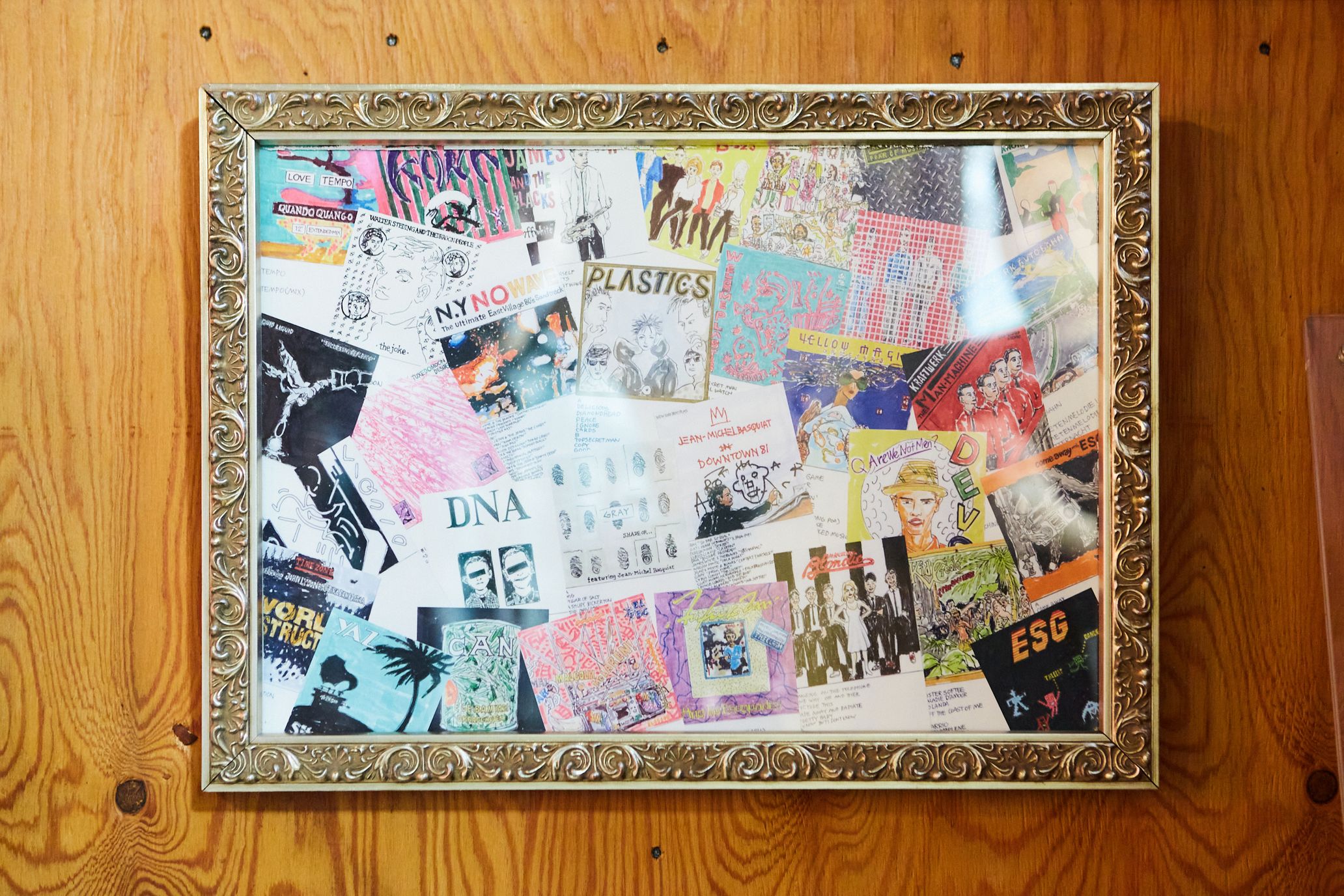 ——So it all comes back to hip-hop in the end. In your current work, you use a Roland 808, and when we think of hip-hop and trap, we think 808.
$HOW5: To use a Japanese car as an analogy, the Lexus is highly regarded overseas and was a swag car in the hip-hop world, and I think the 808 is no different. But 808 is not as commonly known as the car brand in Japan. It's sort of like "bring back the Japanese hungry spirit!"—the mood I felt from my professor back in college. I wanted to put out a Japanese expression that no one has done yet, and I conveyed it by integrating the car with the musical gear. There was a recent NHK special on 808s, and I think the fact that the sound produced from the Japanese gear that YMO and Plastics started using in the 1980s is still the mainstream sound of the global charts in the 2020s is very interesting and important.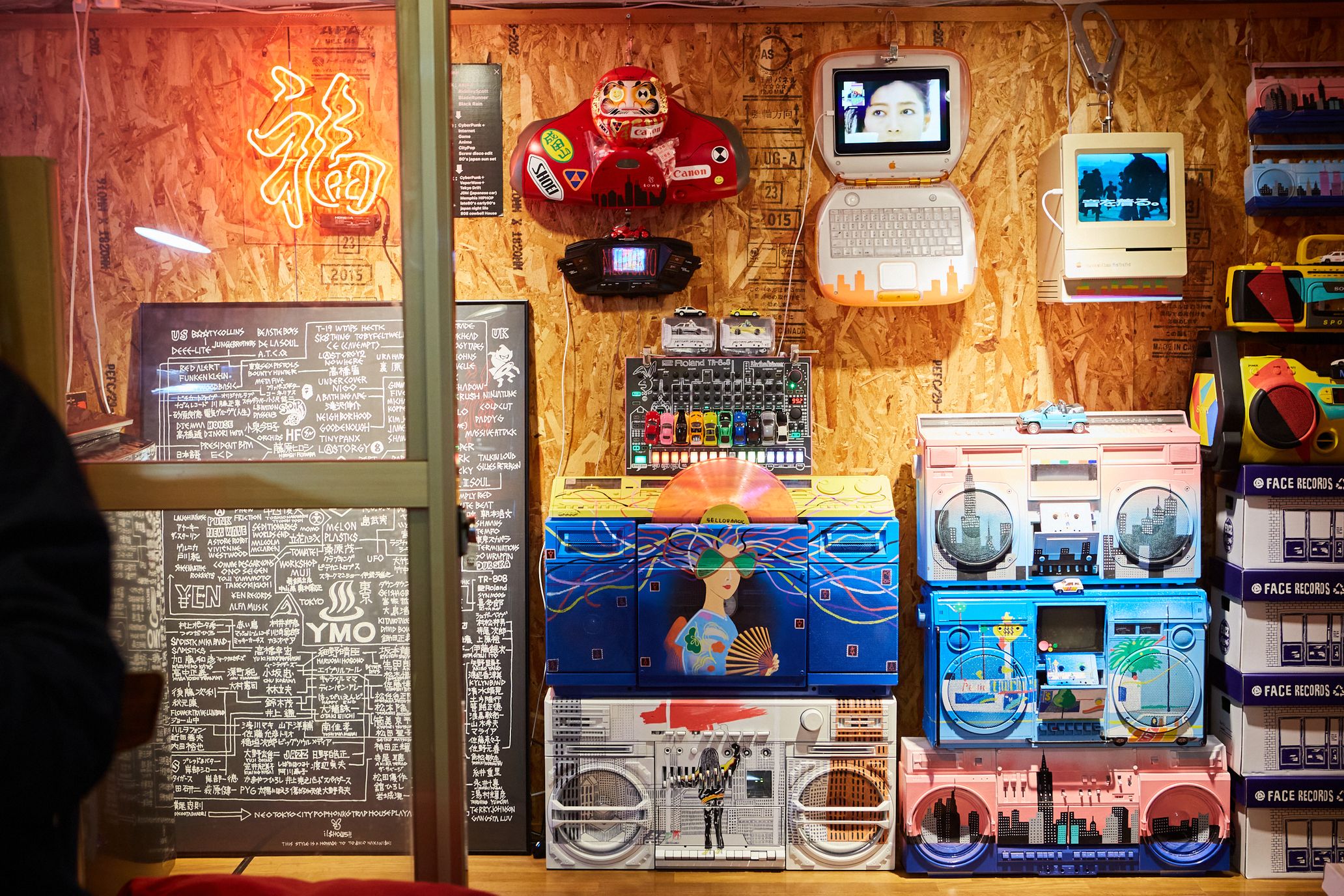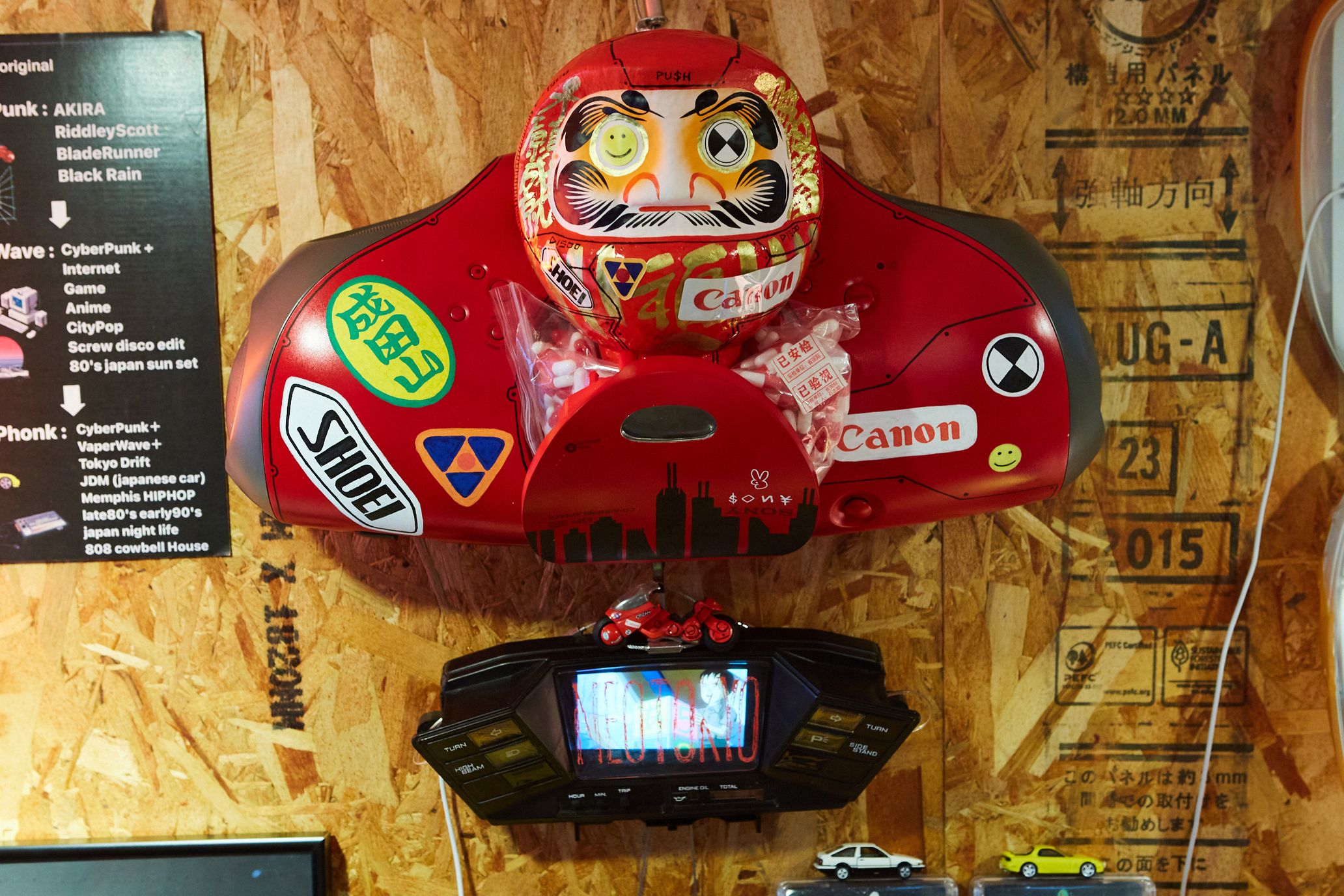 ——There are cases where things that originated in Japan have gone overseas and given birth to their own unique culture.
$HOW5: That's right. It may not feel right for Japanese people to have the anime AKIRA and city pop in the same space, but there are popular artists outside of Japan who do things like sampling Tatsuro Yamashita and Taeko Onuki, making 808 beats, and sampling AKIRA in their videos. I think the reason why people here don't see this is that Japanese people have lost interest in overseas countries. It's a shame because they're missing out on these very interesting phenomena, and it's become a one-way culture.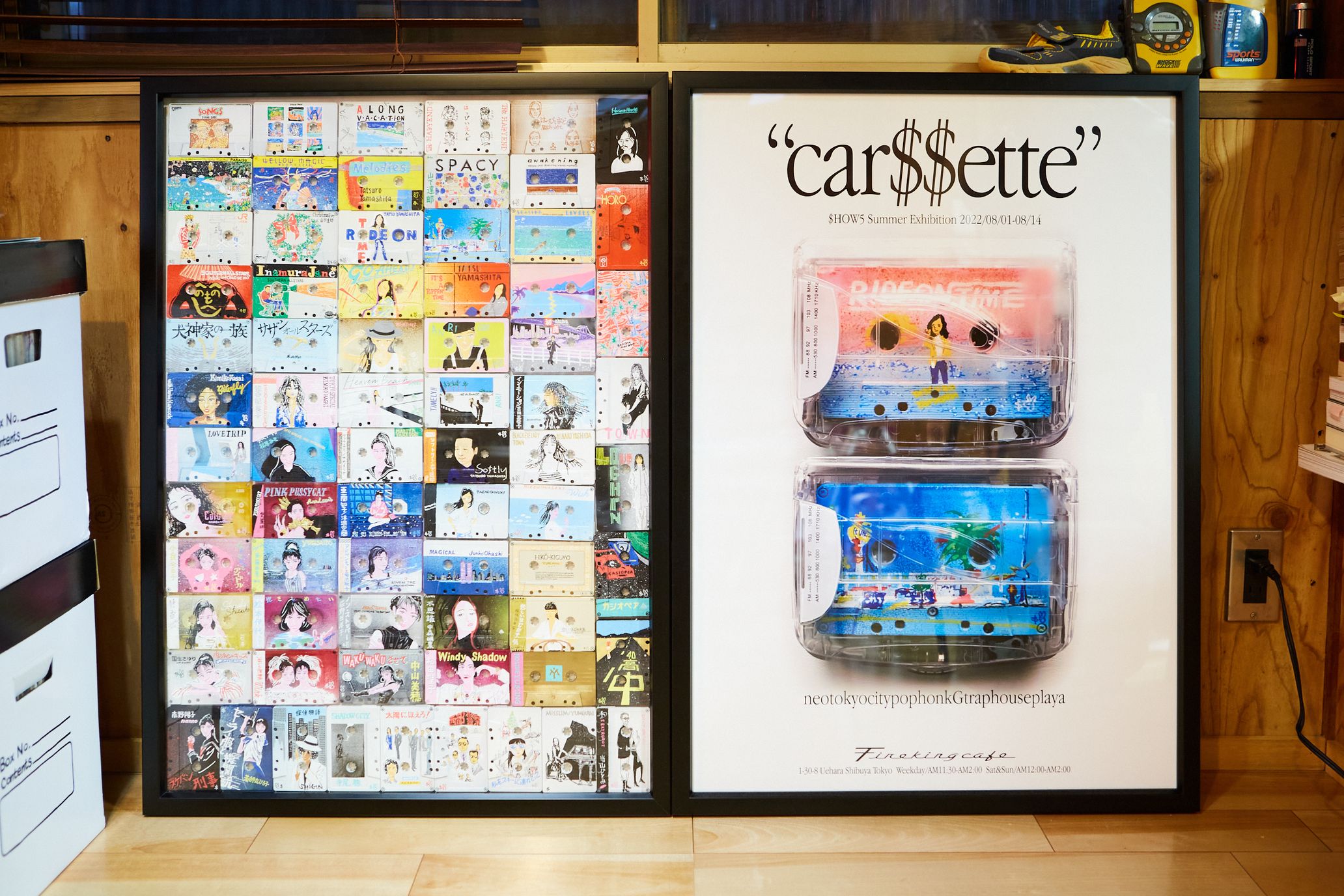 ——I think you just spoke for the Japanese creators out there with antennas. But there may also be many people who are not yet aware of it.
$HOW5: The footage I use in my work was edited by an overseas vaporwave guy, and even if it's done with the same cut, it's hard to make it look this stylish or cool. Masako Natsume also looks fresh, and my international friends say, "Japanese things are so popular over here, but how come Japanese people aren't interested?" In other countries, people are taking what's already been existing and evolving them with the contemporary rhythms, but they're like, "Aren't you interested in what's new?" As I was ruminating for ways to convey this feeling in my own way, including my own conflicts, a theme emerged that went something like "Let's make modern Japan progress in a jubilant manner (laugh)!" I have recently come to hope that more people with keen senses will see and notice my work and that more people will be interested in new perspectives.
——Do you want to continue creating such works freely in the future?
$HOW5: I'm not a culture volunteer, but I'm happy to see the spread of something I really care about. I want to invest time and money in these things, and by doing so, I attract people I like and enjoy living each day of my life. Over the past few years, people who resonate with me have gathered around me, and my life has finally become interesting. So I would like to continue to create freely. I don't want to force people to understand my work, but I want to be more mindful of how I should approach my work in the future, since it's difficult for people to understand new expressions at first.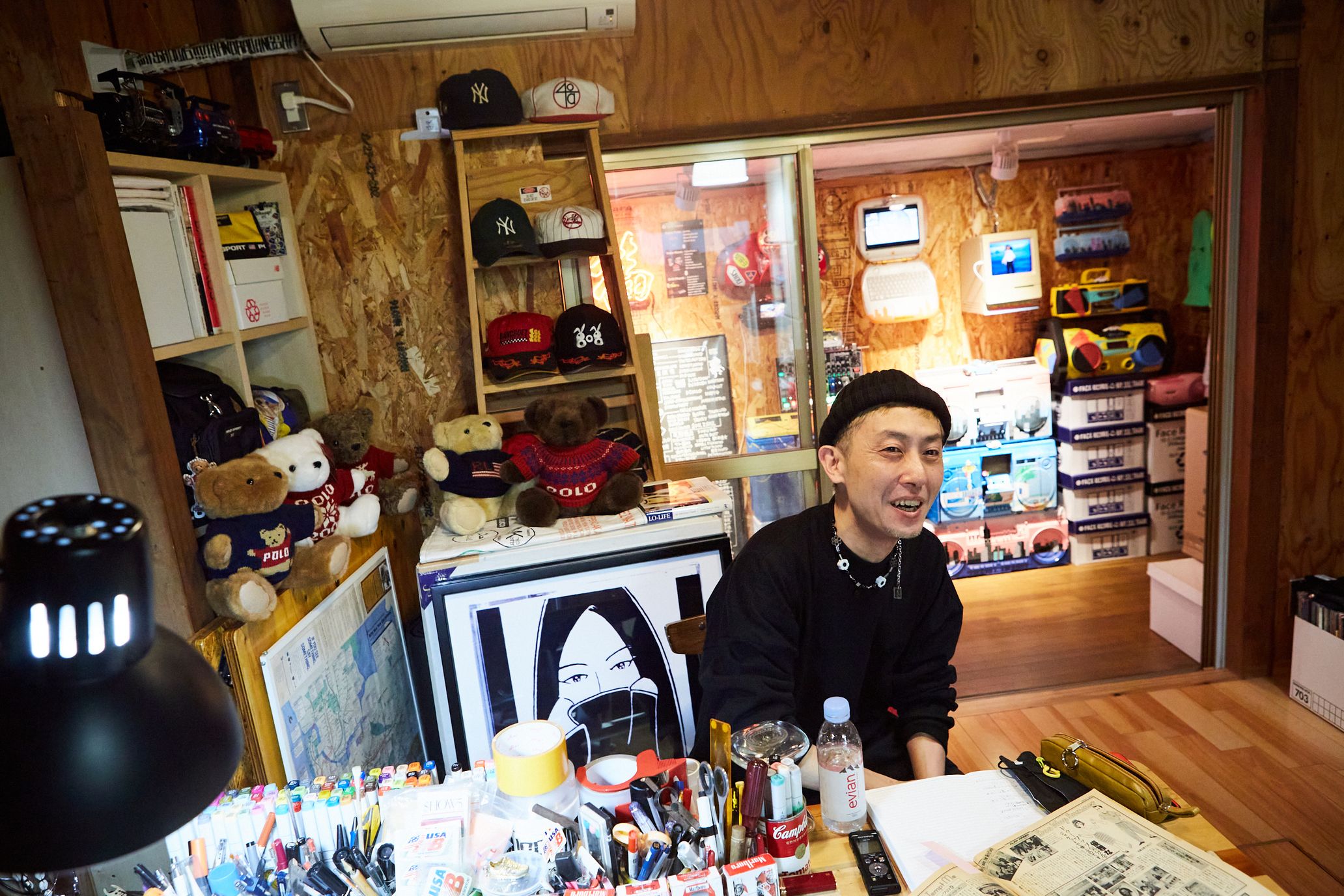 Photography Kazuo Yoshida
Translation Ai Kaneda