Shinpei Ueno, a professional skateboarder and director of TIGHTBOOTH, spent nine years working on LENZ III since the release of the preceding video in the series, LENZ II.
The film was premiered in Tokyo, Osaka, New York and London, with countless skaters in attendance. When the screening started, the audience cheered and applauded as if they were watching the skate tricks live in front of them. The space was filled with a raw excitement, more like what you would see on the streets than in a movie theater.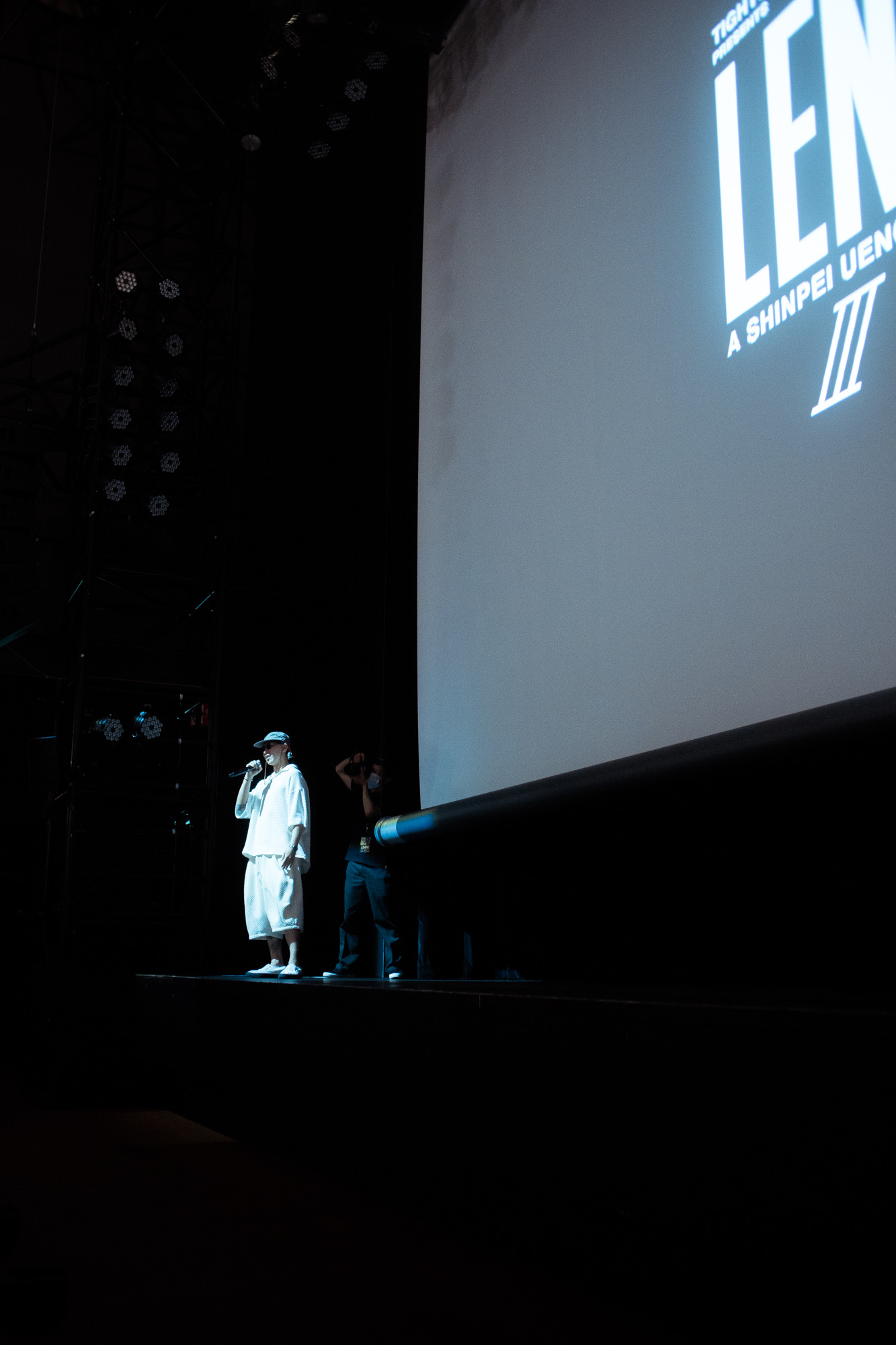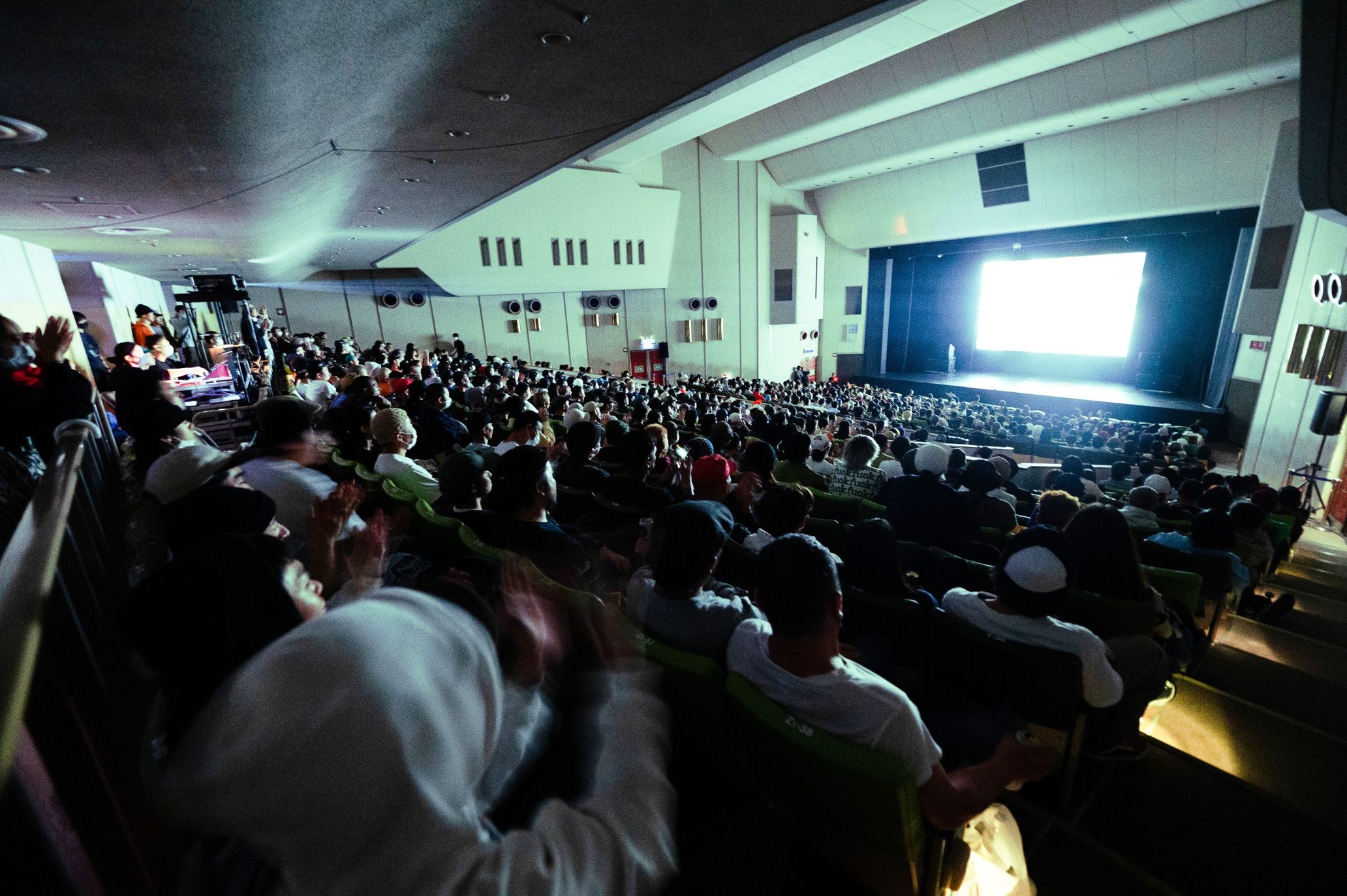 The aesthetic vibes presented in LENZ III are cool and humorous, not only in terms of the skating footage, but also in the computer graphics and background music. The video is filled with these characteristics that are inherent in skate culture. It is a collection of subcultures, just like all the famous skate videos that have been released in the past.
When you feel that something crazy is about to happen, and you know that you are about to witness that very moment, there's this tingling feeling of excitement that you can't ignore. You feel like your feet are barely on the ground and you're dancing inside. That is probably what everyone was feeling at the premiere of LENZ III. The film must have inspired so many people, and a lot of them even went skating on the streets right after the event.
This work, which documents the cutting edge of the contemporary as an independent company skate scene, will surely be passed down to posterity as a skate video that conveys the early 2020s in Japan. At first glance, many people may feel that producing a skate video isn't that special. However, it's quite difficult to create a full-length street skate video in Japan, and to do so on a D.I.Y. basis is a tremendous task, which makes the completion of LENZ III in itself an epoch-making miracle.
That being said, we asked the creator of the featured piece, Shinpei Ueno, his thoughts behind the making of LENZ III and its series, and what he thinks about the immense difficulty of making a skate video.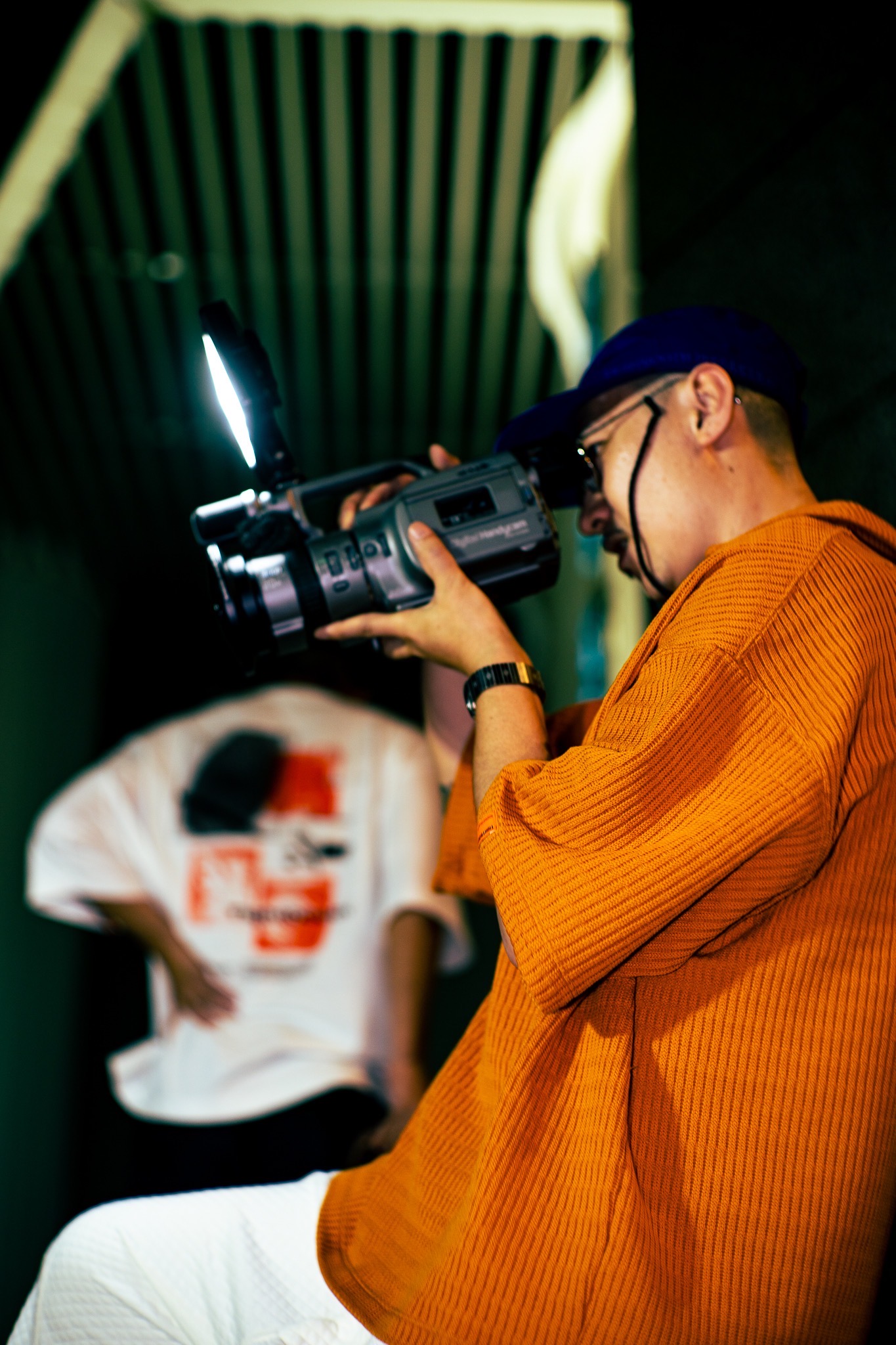 Shinpei Ueno
Born in Osaka in 1983, Shinpei Ueno is a professional skateboarder for Evisen Skateboards and brand director of Tightbooth Production, renowned for a number of independent skate videos put out over the years, notably his masterpiece "LENZ II" (2014). Other notable works include running an Osaka based skate shop, Shred, creating video content for brands such as Gucci and Moncler, design contribution to Supreme's inline collections and brand direction for the pizza franchise Pizzanista! Tokyo. In 2023, LENZ III the final piece of his LENZ trilogy is released worldwode.
https://shop.tightbooth.com
Instagram:@shinpei_ueno
I captured the best skaters in each generation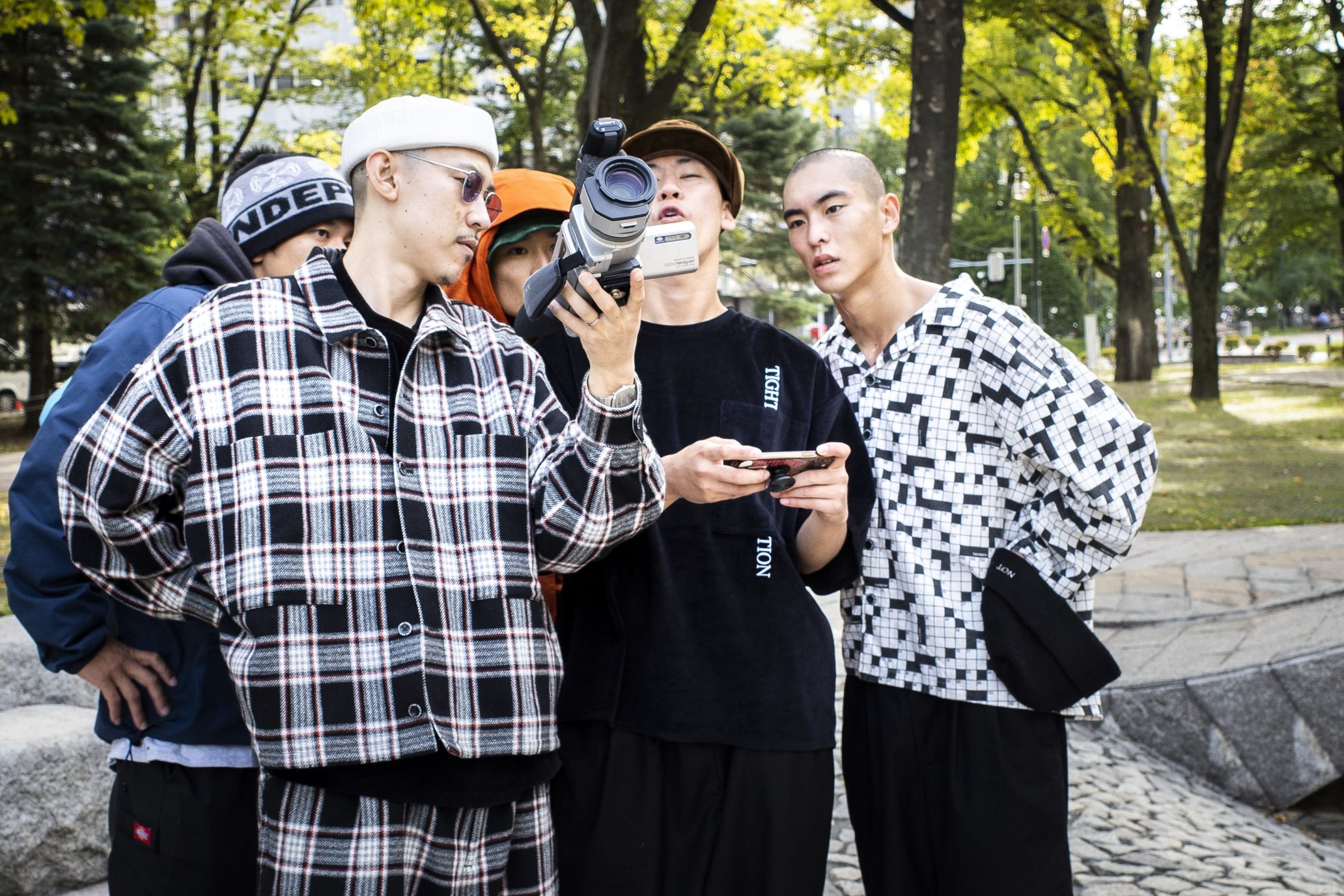 – On the stage of the LENZ III premiere, you said, "I dedicate this to the VX series and MK-1". First of all, please tell us about the equipment you used for filming and the reasons for using them.
Ueno: I use Sony DCR-VX1000 video cameras released in 1995 with CENTURY OPTICS MK-1 ultra fish-eye lenses, which have been coined "the ultimate skate video camera setting".
The distortion that the MK-1 possesses allows it to create a distinct sense of realism and speed, and the DCR-VX1000's unique dry microphone sound and film-like visuals also work great. We've been shooting with this setup since 2005, which makes it our nineteenth year of filming this way. For the VX1000, we've used more than thirty units in total and more than seven ultra fish eyes. The camera and lenses are no longer in production and can no longer be repaired, and the software for capturing the mini-DV tapes has been having some problems. Even with these issues, I've chosen to stick to this setting for nineteen years. I dedicate this work (LENZ III) to the VX series and MK-1.
– What is the concept behind LENZ III?
Ueno: The production of it is very simple. Basically, I direct the entire production while shooting talented skaters in prime locations. I captured the best skaters in each generation, also as a journalism point of view to broadcast the scene.
– I found the flow of this film, in which the CG animation accompanying the skaters transitions into the skating portions of the film, to be very interesting. How did you go about creating this format?
Ueno: For this project, we demonstrated how LENZ III was being made at the fictional research facility VX LABORATORY. The main camera, the VX1000, was modeled in 3D and created in full CG. We shot nineteen years worth of skate videos with the VX1000, so we wanted to create an opening dedicated to this video camera.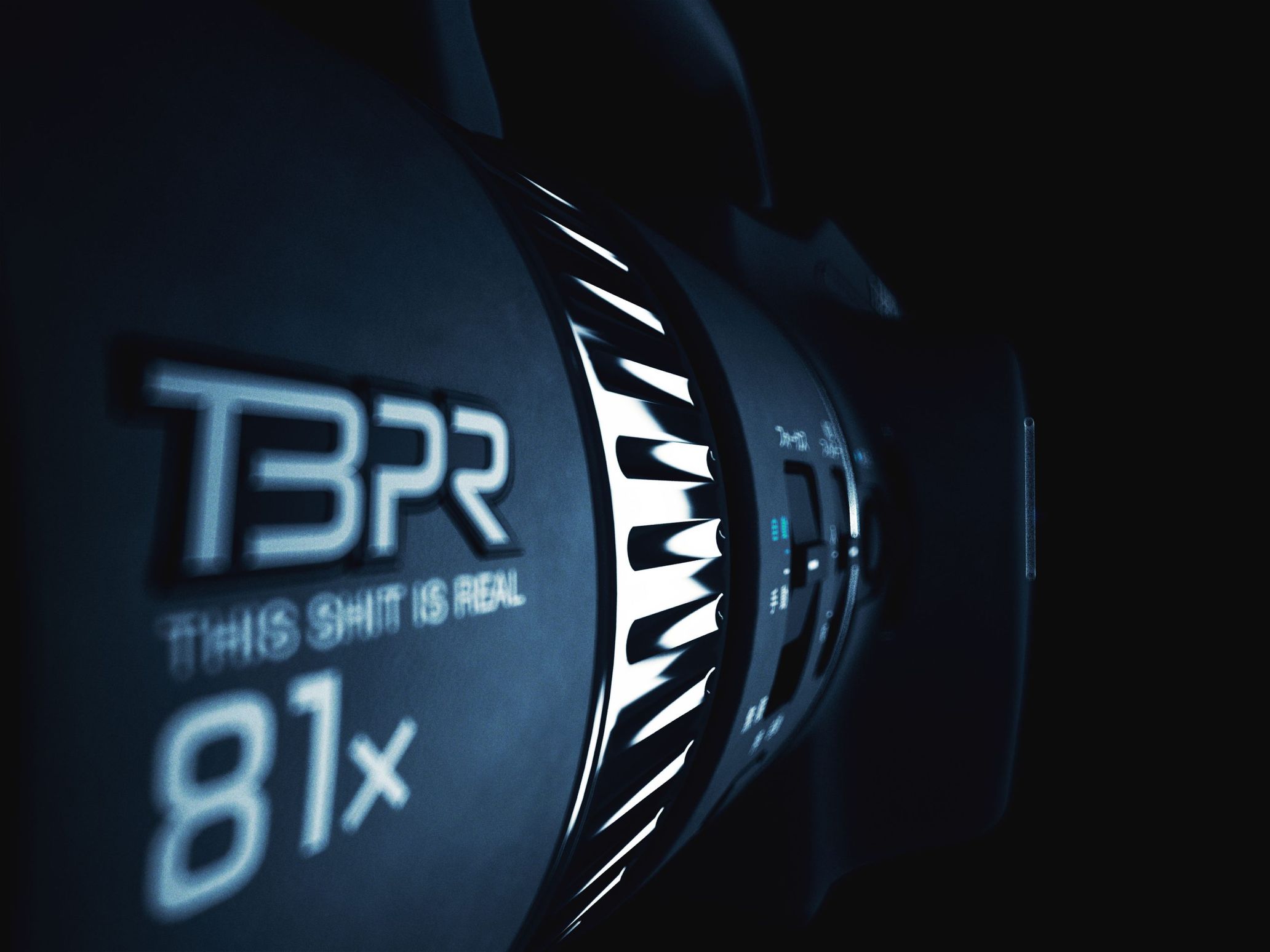 And in the VX LABORATORY, we created Rooms for each rider that reflect their personalities and their video parts, which was a try and error process. I would come up with a rough idea, and we would discuss with the CG team how we could make it happen. For example, in the case of the part of Kotora Mitani, a cage was placed in a Japanese-style room with tatami mats and video monitors scattered around to make it look as if a tiger was walking in the room (his name Korora literaly means a little tiger). But it was difficult to show the whole body of the tiger with CG due to the budget, so we discussed the possibility of using only silhouettes for it.
Also, the soundtrack for the JAPANESE SUPER RAT part was by GEZAN, so I stacked the monitors vertically in a bright red room and scattered equipment cables all around. Then, while concert footage of GEZAN was playing from the monitors, I let rats scurry around them. That's how we built it. The most difficult part of the project was the rendering, which took a lot of effort from conception to assembly. The CG for the intro of each part was limited to 15 seconds, but it took up to a minute and a half to render one frame, which meant it took a day to render one chapter if you included the work. And after checking the preview, it would take another day to make corrections, so I had to calculate how many more renderings I could do before the day of the premiere. We broke out in a cold sweat from the lack of time we had.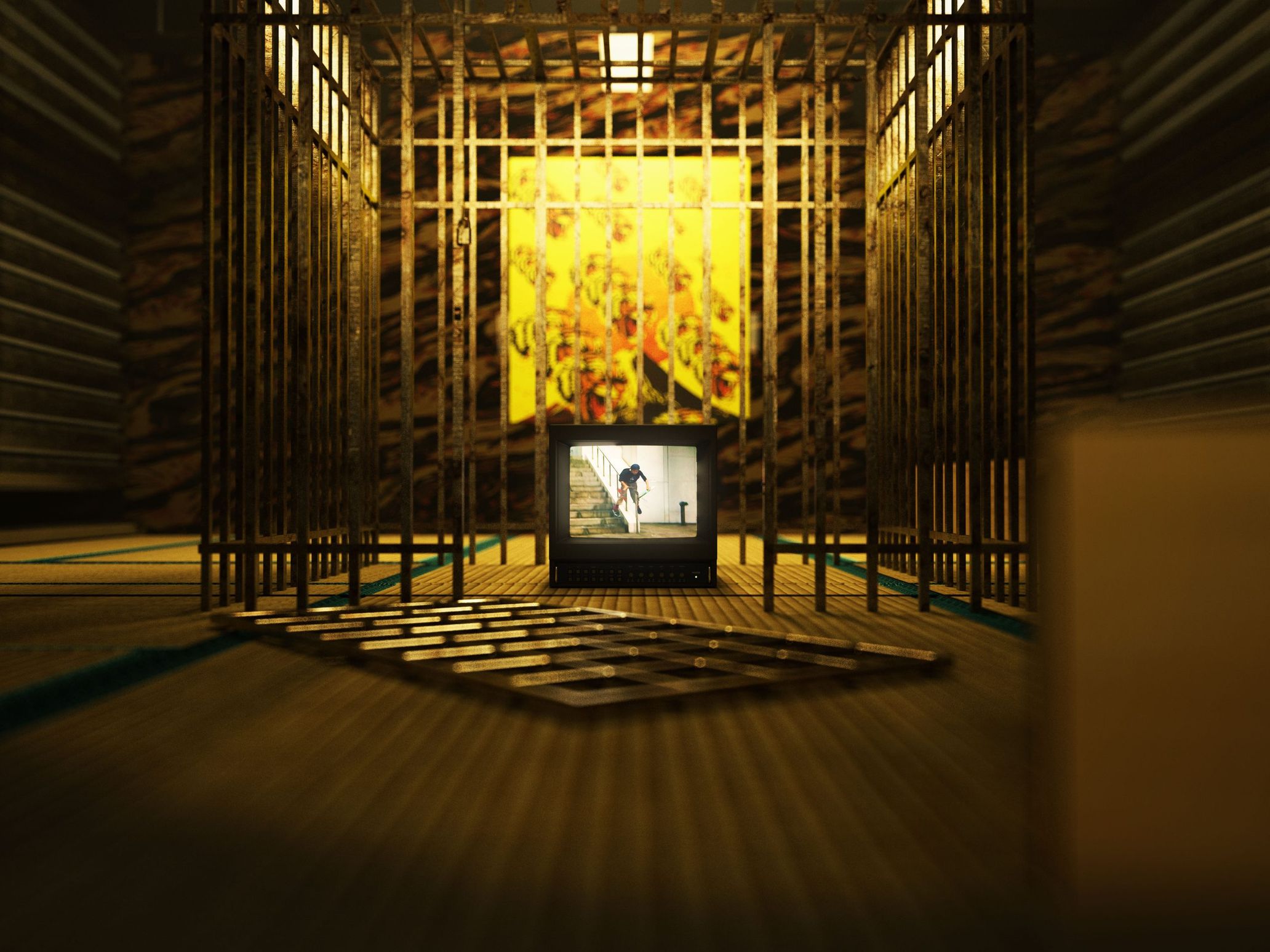 – It sounds like CG production is very difficult.
Next, I'd like to ask about the music assigned to each part. The music was very unique, ranging from hip-hop to techno to punk. For the ending theme, a song by Japanese Synchro System, a unit featuring ILL-BOSSTINO of THA BLUE HERB, was used, which I thought it really a reflection of you. How did you decide on the music?
Ueno: We made our decisions based on the concept of the part and the personalities of the riders. I also wanted to select a soundtrack from my musician friends, so I gathered a large number of songs, including existing songs, new songs before their release, and songs that were still in the demo stage. The closing song by Japanese Synchro System is one that I've been listening to since I was in my early twenties, And the verse really have pushed me and my friends to keep going for years and years. I wanted to make a feature film using this song as the ending theme one day. Now, some sixteen years after the song's release, I think I've finally created a work worthy of it.
– I felt that LENZ III focuses on skaters of a new generation. What attracts you to youth skaters?
Ueno: I think the best thing about these young kids is that they're freeform. Because in addition to complex technical ledge tricks, they're pulling off everything from gnarly transitions to unprecedented NBDs (Never Been Dones).
– More than a hundred skaters appear in the film. What are the criteria for your selection? And how did you connect to those skaters?
Ueno: The criterion is vague, but basically it's whether or not I, as the director, feels something special in them. I don't cast skaters simply because they're skilled or visually appealing. Perhaps it's because of my profession or maybe it's common sense. But when you're in the skate scene, you naturally know which skaters you should currently be shooting. Also, skaters are basically friends of friends, so they're easy to connect with. Many of the young skaters grew up with the LENZ series, so it wasn't hard for me to get in touch with them.
– I was also drawn to the fashion of each skater. Did you ever arrange the styling according to the shooting location?
Ueno: I sometimes styled the TIGHTBOOTH member riders myself. Also, depending on the location, the impression of the shoot can drastically change if the subject wears a white or black top, so we'd often bring three outfits to the shoot. I'd ask the rider to come up with three styling ideas in advance that they liked, and I'd make slight modifications from there.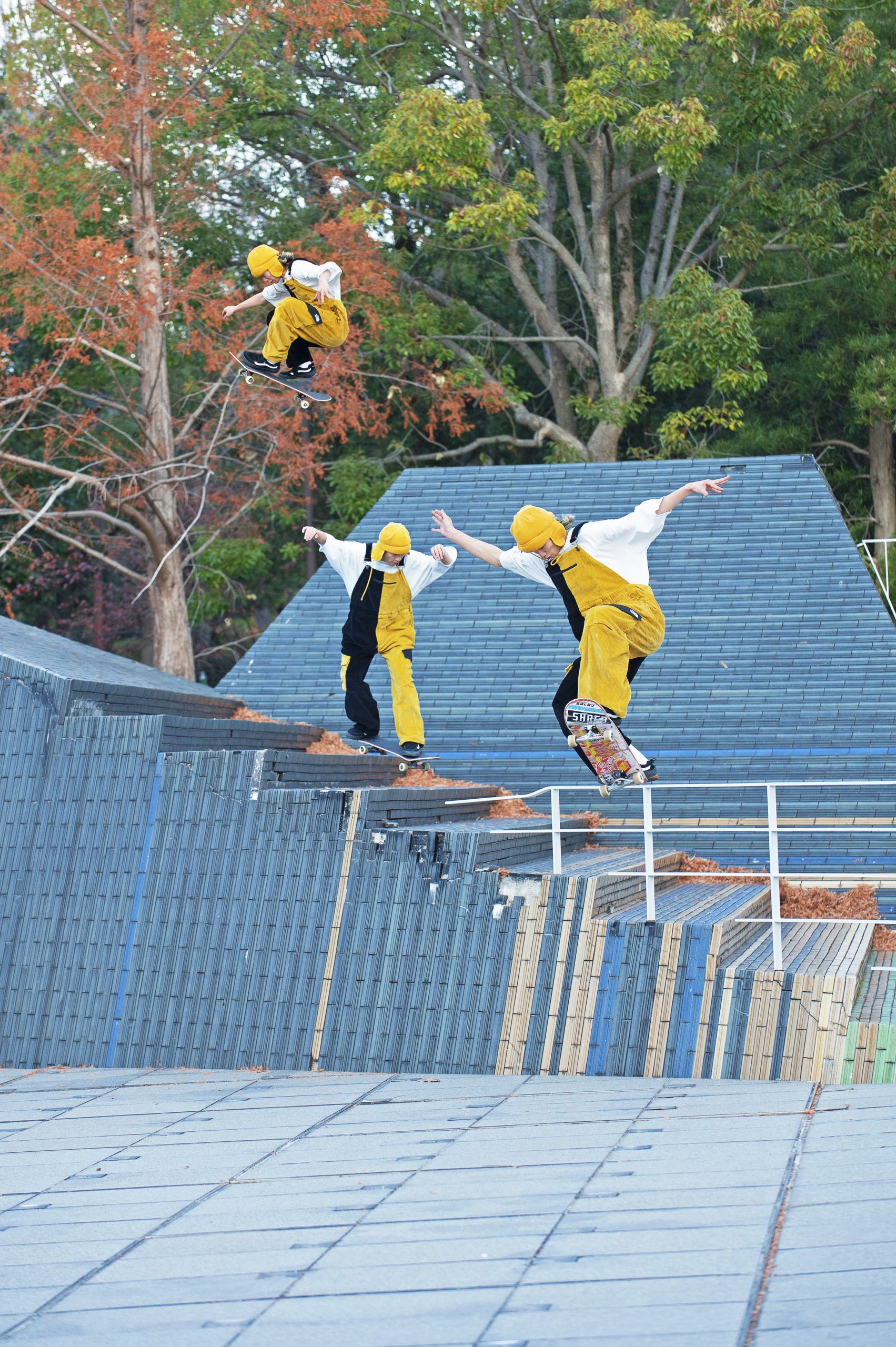 Skate videos contain all the charms of skateboarding
– What do you find difficult or interesting about producing skate videos in Japan?
Ueno: Japan is probably the second most difficult place in the world to film a skate video, number one being North Korea. In Japan, you'll see security guards and police officers at all kinds of spots, and they stop you instantly. Sometimes, even passersby call the police, which is a special phenomenon that happens here that I've rarely seen happen in the rest of the world. Even if they have nothing to do with it and it's not bothering them at all, some people call the police out of a strange sense of justice. I've been skating in many countries, but only Japanese people would do that.
Maybe it's the Japanese education system. Of course, part of it is that skateboarding is not part of the fabric of Japanese life, and sometimes skating can be a nuisance to others, which can't be helped… But that sense of skating being bothersome doesn't exist outside Japan. Most people don't care if there are people skating around them abroad. In fact, some even watch the skaters and give comments like, "that trick was really cool". In Japan, you're treated like a criminal just for skating. What's interesting about shooting skate videos in Japan is the scenery and architecture unique to the locations here.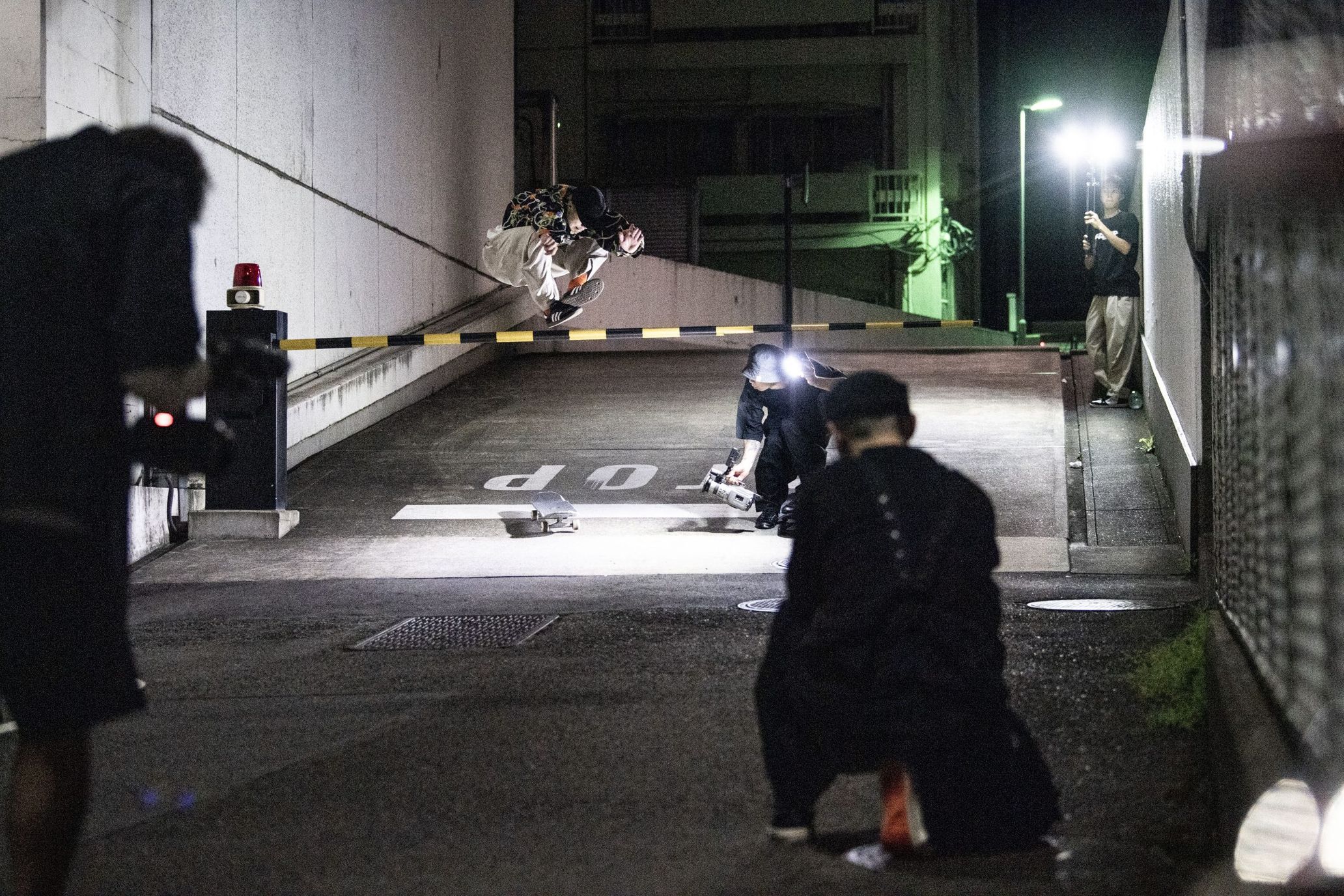 – From your point of view, what do you think is the current state of the skate scene in Japan today, and what challenges do you see?
Ueno: I think skateboarding itself has been recognized a little more due to the Tokyo Olympics. However, I feel that many Japanese people who watched the Olympics have started recognizing skateboarding as a sport, which is sort of aunfortunate thing because it has a huge negative impact on street skating that is the essential of skateboarding. For example, many people in the general public look at street skating and say, "those street skaters are getting in the way and bothering people who are trying to become a proper Olympic skateboarders". This is something someone actually told me. I think about this issue a lot, and I feel that this is a difficult thing to change because of the national mentality of the Japanese people.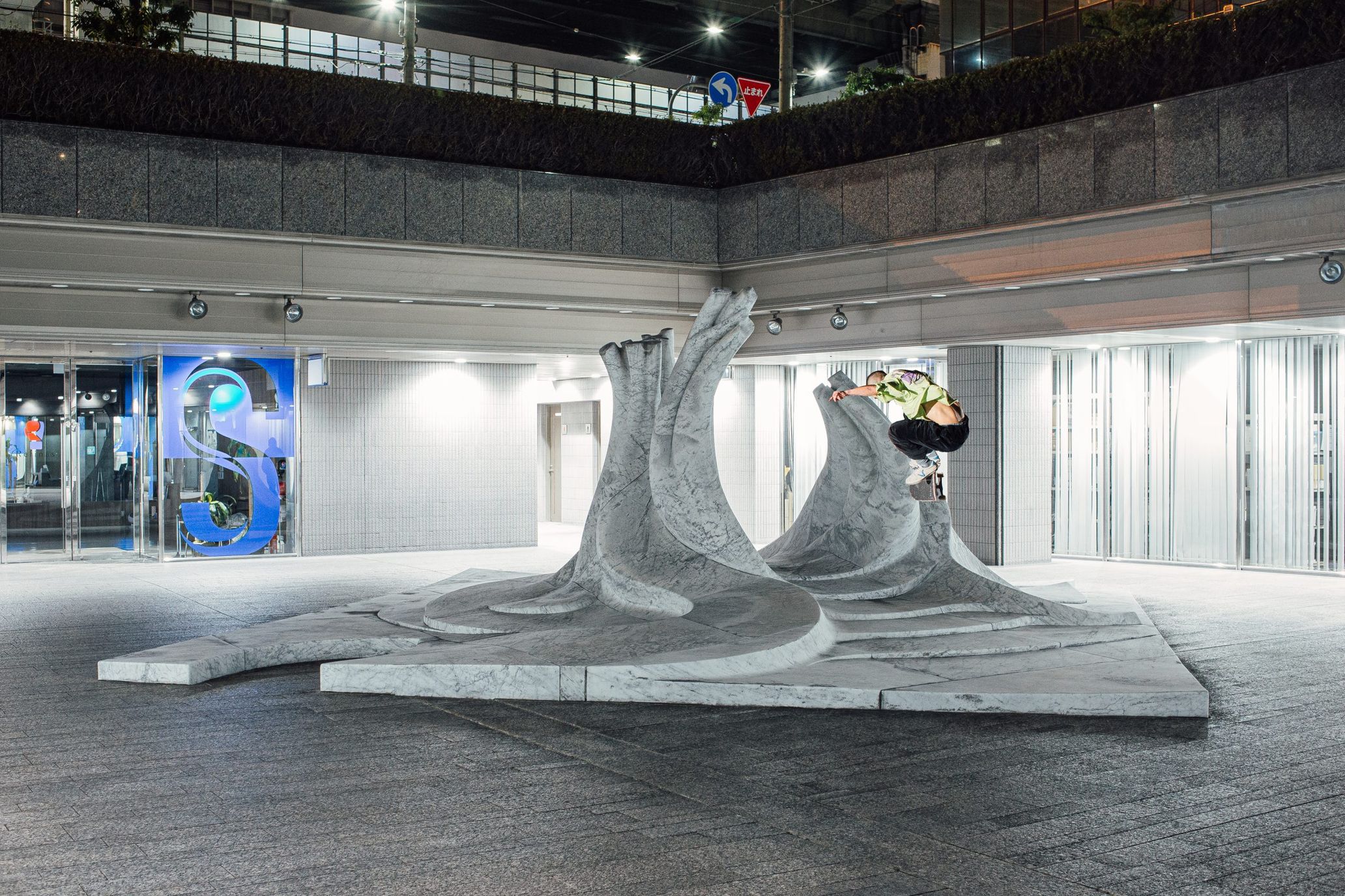 – I felt that LENZ III also attempts to bring the reality of the street skate scene in Japan to a wider audience. Was that your intention?
Ueno: I wanted to show the beauty of skateboarding, even to people who do not skate. I hope that by having as many non-skateboarders as possible watch the video and understand its allure, the current street skate scene will change for the better, even if only slightly.
– What do you feel is the appeal of skate videos?
Ueno: It's the best "visual groove" that shows incredible skaters making art in the architecture of a city that is not made for skating, accompanied by a high-quality soundtrack. It's not simply about conveying how cool skating is, but also about the love of creating a piece of art with your friends. Skate videos contain all the charms of skateboarding.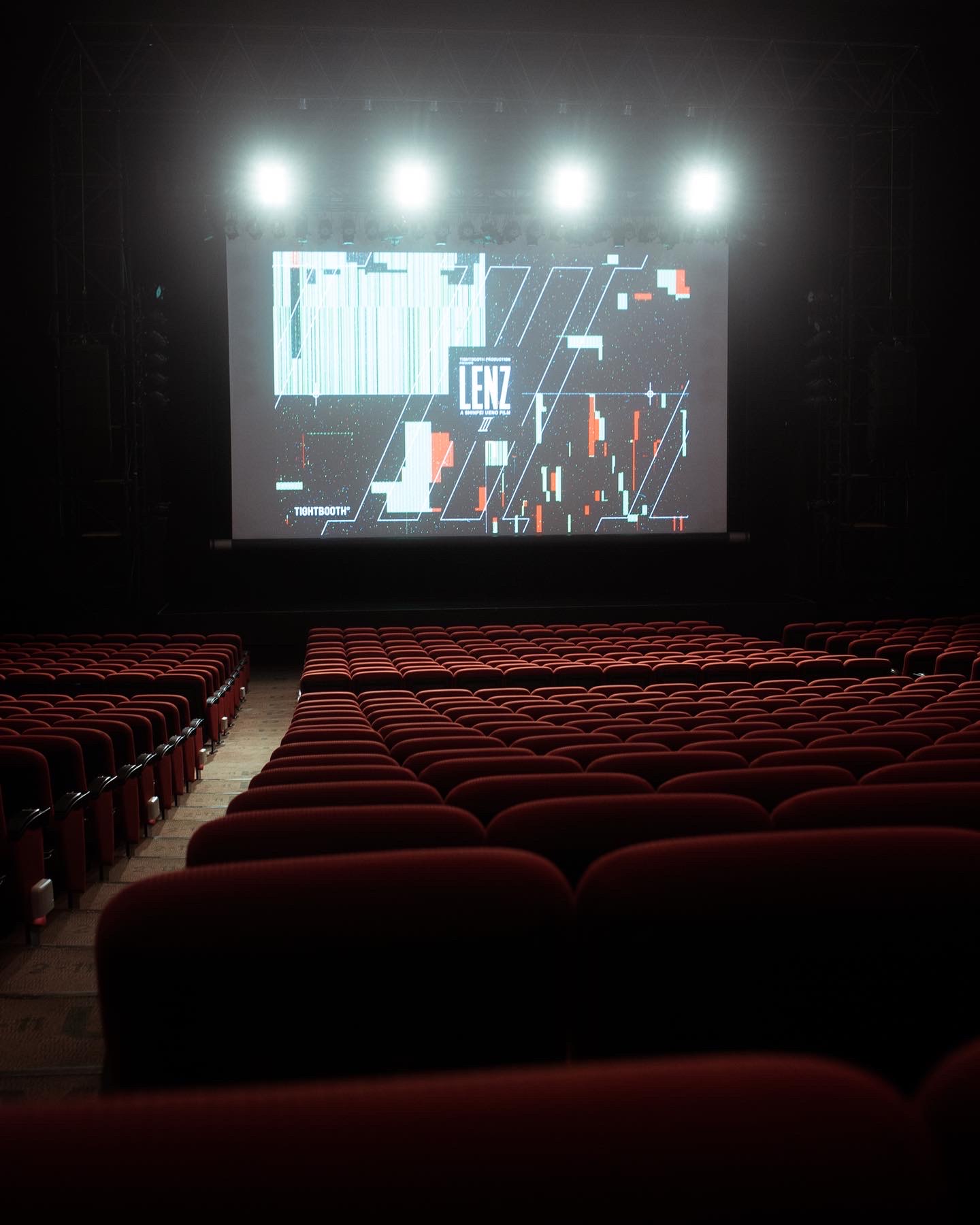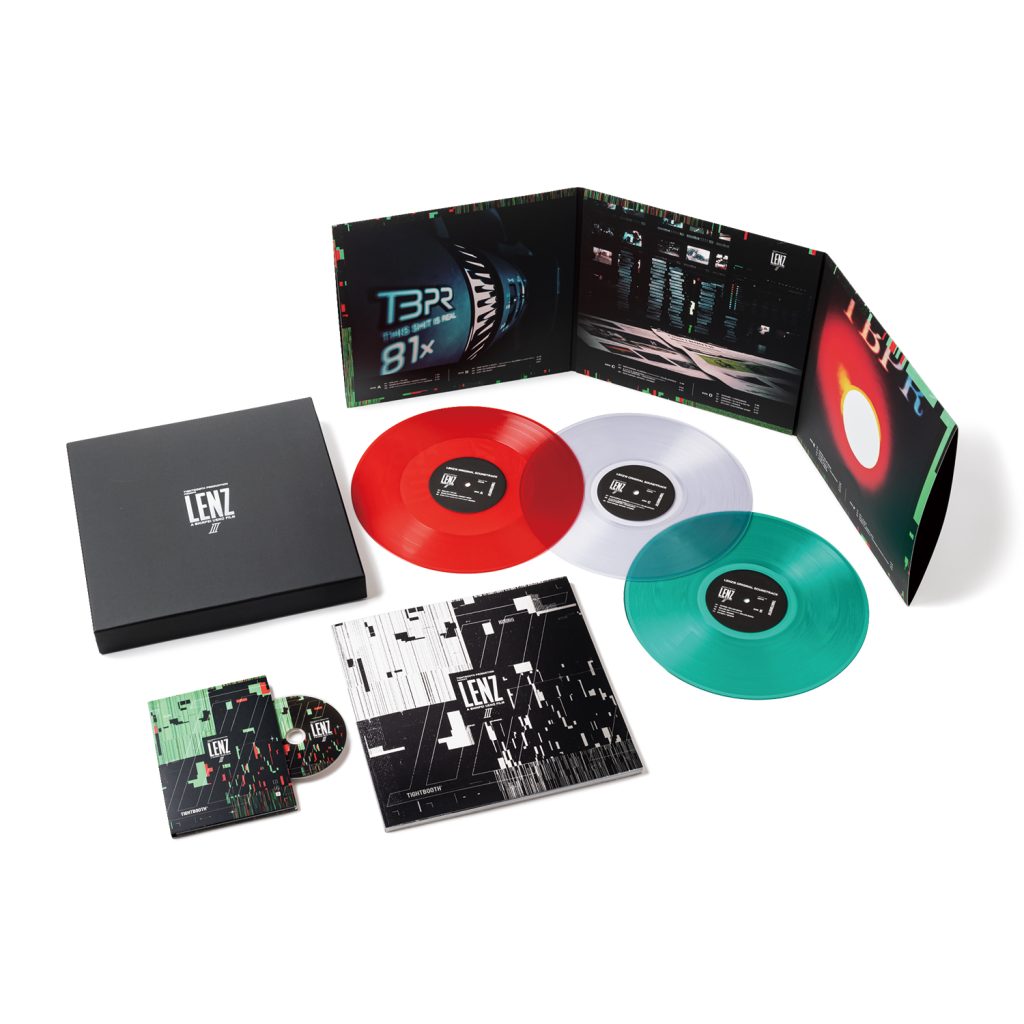 ■DVD LENZ III (Tightbooth Production)
February 18th release
¥24,200 (limited box set) / ¥4,180 (normal edition)
featuring full parts:RIO MORISHIGE, KOTORA MITANI, KYONOSUKE YAMASHITA, GLEN FOX, AYAHIRO URATSUKA, KENTO YOSHIOKA, RYUHEI KITAKUME, RINKU KONISHI
Text Ryo Tajima
Translation Mimiko Goldstein