Mattia Trani is an Italy-based DJ/producer who, after creating his own label Pushmaster Disc in 2012, has continued to build a solid career for over ten years. The sound he creates is modern techno that weaves together old school sounds reminiscent of 90s Detroit with futuristic textures.
Trani was probably still a young child when techno was popularized in Detroit in the early 1990s. However, he gained support after collaborating with true legends like Jeff Mills, Juan Atkins, and Derrick May. He also boasts a track record of podcasts on the Underground Resistance (UR) official radio program.
And on June 30th of this year, Trani released Scenery the Remixes, an album featuring remixes by fourteen artists including Robert Hood, Luke Slater, Marcel Dettmann, and Theo Nasa, on three vinyl and digital formats. This special edition album is a compilation of songs from his 2021 release Scenery remixed by legends from the hard techno scene selected by Trani. It took two years for him to complete this masterpiece.
Trani is undoubtedly the one and only person who has been handed the torch by the world's techno legends. You could say that he holds the future of Italy's techno scene in his hands. So who exactly is Mattia Trani? We asked him a variety of questions in this interview. Ken Ishii, a representative of the Japanese techno world who provided a remix for this record and who Trani himself reveres, also appears as a special guest.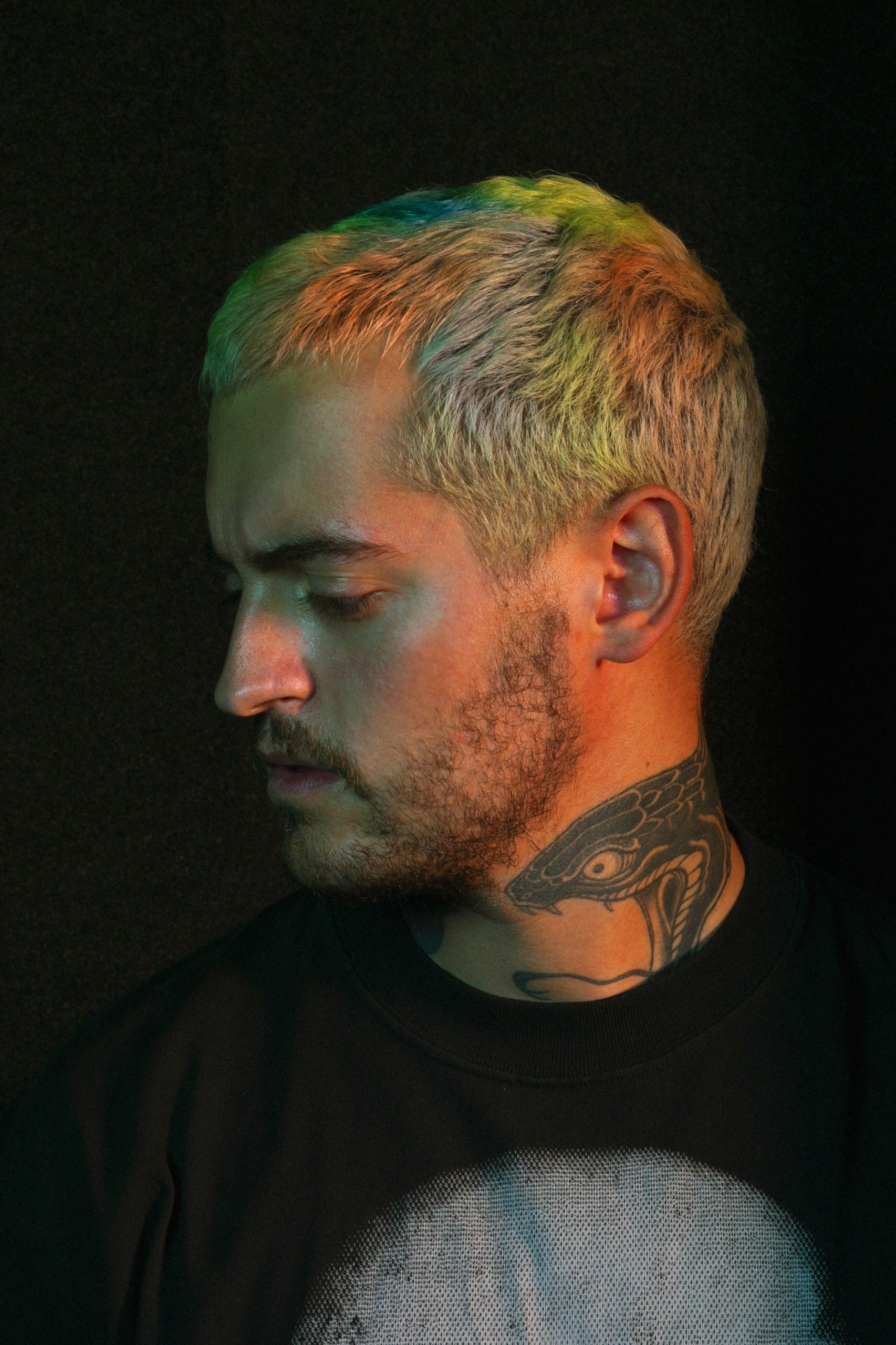 Techno legends from around the world gathered to create the pinnacle of remix albums
–– Tell us how you went about releasing a three-album remix record of your 2021 release Scenery, which features fourteen techno artists as guests.
Mattia Trani: This remix album became a very important piece of work for me. It started from wanting the world's electronic music scene specialists to rework my tracks. I ended up asking hard techno legends who I respected and who I had never asked for remixes to work on it.
–– They're all legends that are household names. How did you make your selection?
Trani: My sound is always connected to Detroit techno music. I've worked with Juan Atkins, DJ Stingray, Los Hermanos, Claude Young, and many other great artists. But for this remix album, I first wanted to ask Robert Hood… because he's the king! I thought it would be perfect if I could have his remix in my album. I selected other legends from all over the world to collaborate with, too. It was an honor to work with Luke Slater, for instance, who's one of my techno heroes. Marcel Dettmann is another great artist that I respect, and the way he reworked my song was fantastic.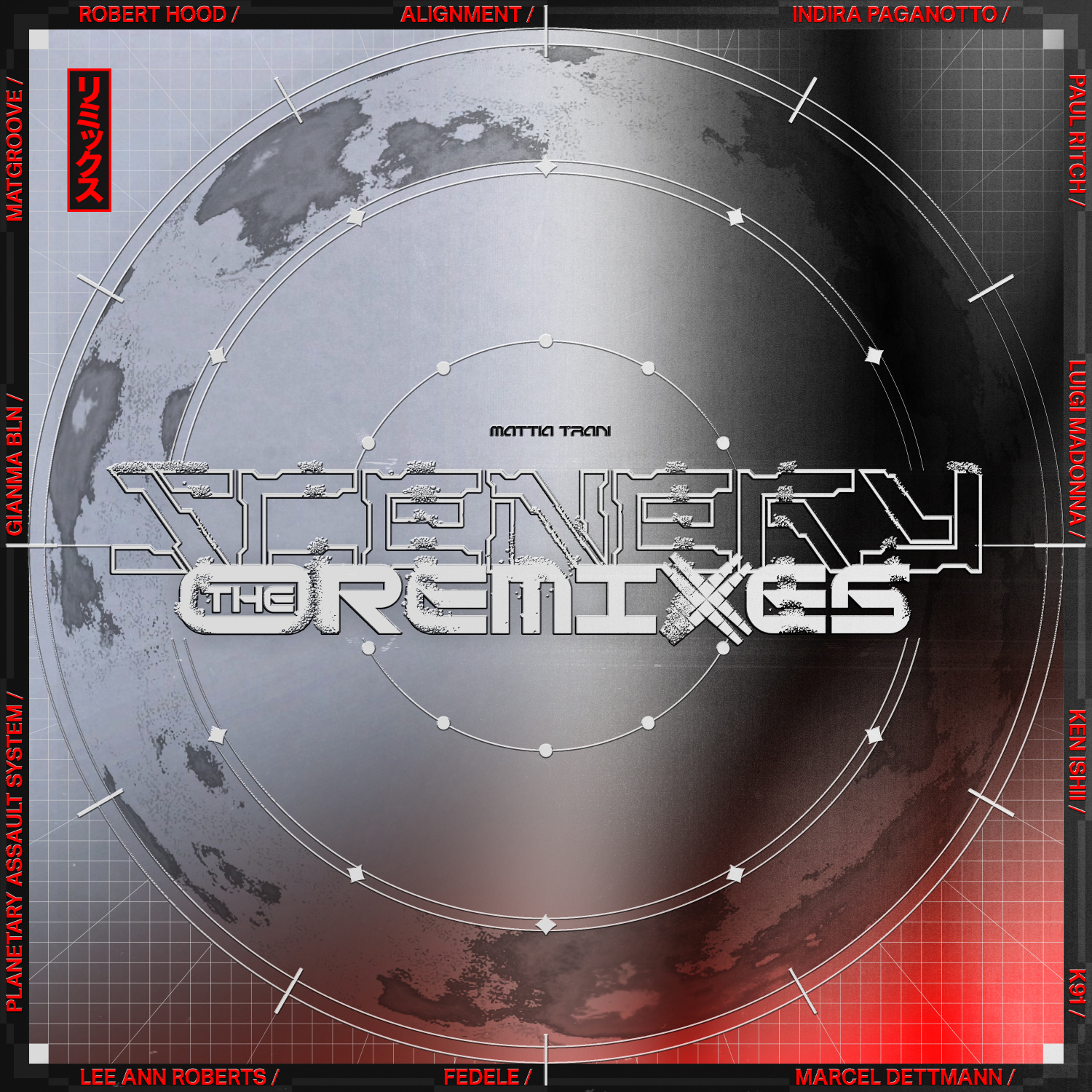 –– How do you feel about different DJs remixing your own songs?
Trani: I believe that collaborating with artists you respect is a very important and beautiful thing. Each artist has their own style and sound. By combining that sound with a track as a remix, a song is created. I started my own career as a producer creating remixes of other artists' songs, which is why I enjoy remixes by artists other than myself.
– – Is there a remix that was particularly memorable?
Trani: I'm constantly being influenced by new styles of music. Dax J's Berlin label Monnon Black is a great example. I'm a fan of the label and love its futuristic sounds. I also think LDS's work is phenomenal, and am a fan of Nina Kraviz's Trip Recordings, too. My love for different styles of techno is very important to me.
–– Your sound is an avant-garde and futuristic hard techno that employs bass music and other styles, but is also reminiscent of old school Detroit techno from the 90s. What do you keep in mind when creating tracks that mix the past and the present?
Trani: It makes me happy to hear you say that. I have a clear vision of what I want my techno to be.
What I strive for when making my tracks depends on the studio session. Sometimes, I start writing on a keyboard, and other times I start arranging harmonies, but I always try to find the right pads to create said harmonies. Sometimes, I even start from scratch. In that case, I start laying down a bassline or rhythm to create a powerful sound.
I was busy touring this summer, but once I have free time, I want to lock myself in the studio and create a new sound with a focus on power dub with drum 'n' bass and techno influences.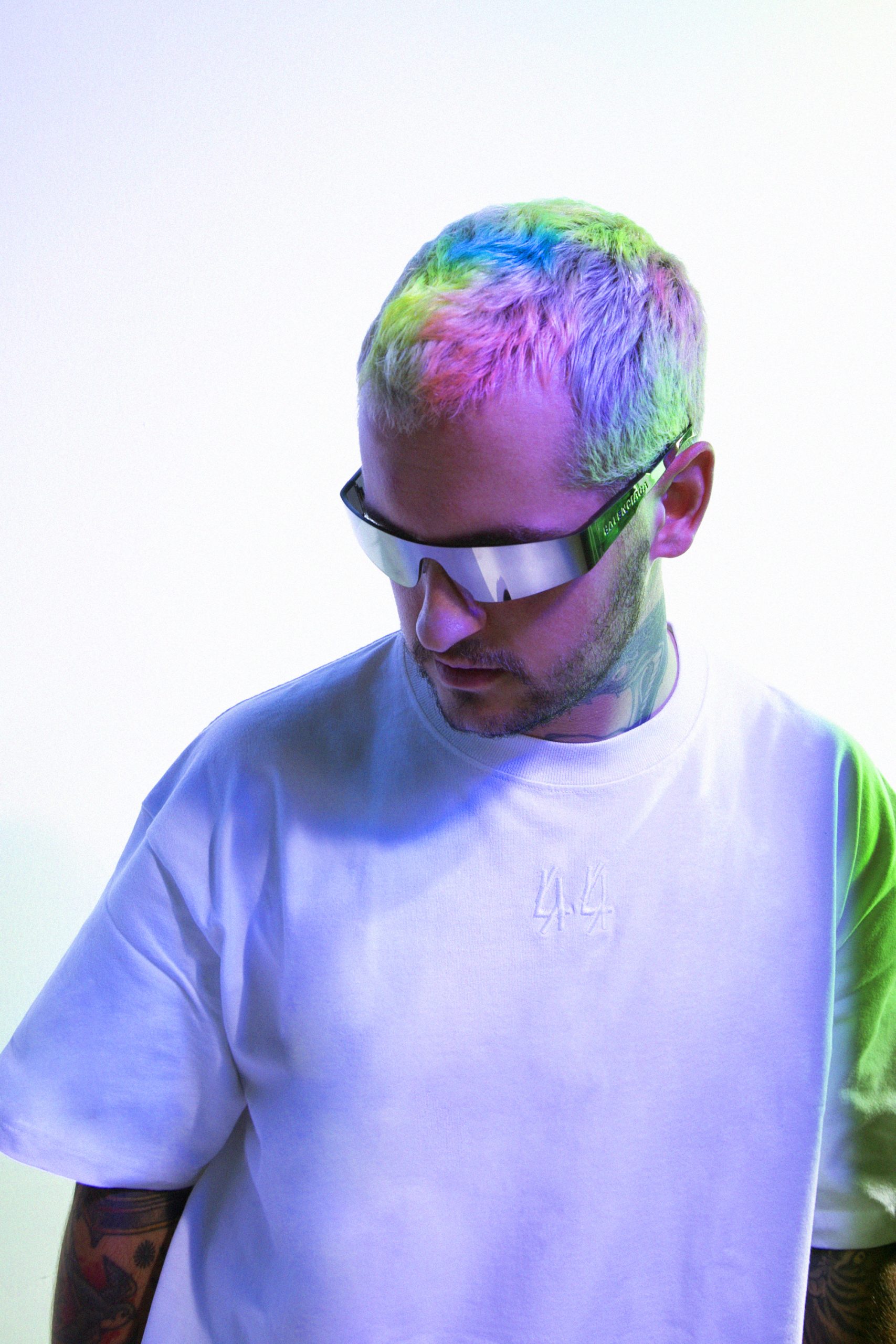 –– What does Ken Ishii, who you've always loved and who remixed one of your songs, mean to you?
Trani: Ken Ishii is my favorite producer from the 90s, and a true hero of the techno world in my mind. His masterpiece "EXTRA" is my favorite techno track. I have all of his tracks and records, but when I first heard his legendary album at R&S, I thought, "This isn't reality. This man is undeniably lightyears ahead of all other techno music producers. It's so futuristic". It felt like I was in a video game or a sci-fi film. I still feel like his music is in another dimension.
When I watched a collaboration video of him with Jeff Mills in the early 2000s, I thought Ken's DJing was so futuristic and ahead of its time. I was elated that he could remix the title song "Scenery". It was a dream come true.
– You're also close with Japanese DJs other than Ken Ishii, like DJ Shufflemaster. Are there any young DJs and producers you have your eye on? What is your impression of Japanese techno artists and the scene here?
Trani: Music is one of the most important aspects of human connection. That's why I believe it's crucial to speak to people from around the world with different perspectives.
I have a Patreon and a private academy, with a total of twenty students. As a mentor, I'm able to watch their work and their growth. Teaching is a challenge everyday, but there's always beautiful music playing at the school. We'll be releasing something from my label soon. I've been scouting people for my label, and I plan to continue to do that.
Unfortunately, I haven't been to Japan yet, so I don't know what the actual scene there is like. But because I have great respect for Japanese producers and DJs and like to see things for myself, Tokyo will probably be the first city I visit if I make it to Japan. I also like Japanese culture outside of music. I was drawing manga before I started music, I love video games, and I watch anime almost everyday. I'm quite the Japan addict (laughs).
I'm trying to make it out to Japan next year. Of course I'd like to DJ if there's an opportunity to. That's my current dream!
Who is the Mattia Trani that Ken Ishii has seen?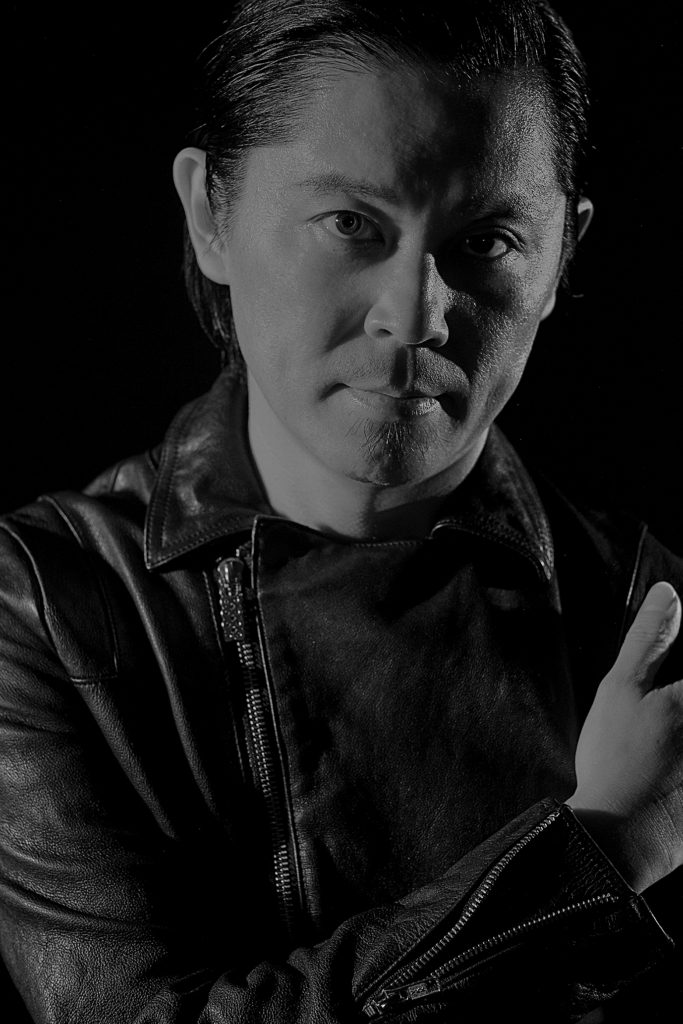 –– You worked on the remix for the title track "Scenery". What are the particular elements you focused on?
Ken Ishii (hereafter KI): I tried to use the most impressionable parts of his original track while adding my own flavor to it to create a nicely balanced remix.
–– How did you first meet Mattia? How do you feel about his DJing and his tracks?
KI: I've never actually met him, and have only communicated with him through email and social media. We first connected when he remixed my 2020 release "Landslide". Although he's technically part of the new generation of techno, his music reminds me of the history of techno and dance music, which adds depth to his work.
–– You've been at the forefront of the scene for many years and have continued to work around the world. What do you try to keep in mind most when playing alongside top artists?
KI: To continue making and playing music without losing sight of my own musical style and attitude as an artist, while keeping an eye on the ever-changing scene.
「Scenery The Remixes」
Tracklist

1.One More Step (Robert Hood Re-Plant)
2.Scenery (Ken Ishii Remix)
3.One More Step (Planetary Assault Systems Remix) 04. Videogame (Marcel Dettmann Remix)
4.No Future (Indira Paganotto Remix)
5.Biologic Horror (Paul Ritch Remix)
6.Inner Hardships (Luigi Madonna Acid Mix)
7.End Of Days? (Alignment Remix)
8.Biologic Horror (Lee Ann Roberts Remix)
9.Endless Optimism (K91 Remix)
10.Scenery (Fedele Re-Shape)
11.Endless Optimism (MatGroove Remix)
12.Inner Hardships (Luigi Madonna Remix)
13.Endless Optimism (Gianma Bln Remix)

Special Thanks Studio De Meyer