Thanks to the normalization of streaming services, watching films as a hobby has no longer become anything special. It's now easier to share one's thoughts about films and search for recommendations online. But it also feels like we are just consuming them. In this series of essays, each writer introduces and recommends a film they love.
Actor Minori Hagiwara has been building her career since her debut in 2013, but her name is everywhere now, more than ever. She has starred in seven films this year, such as Sasaki in My Mind and Underdog (out in theaters on November 27th), on top of Ginnan Boyz's music video, "Do You Like Me." We asked her to talk about one film she saw at a movie theater that affected her and one film she watches before filming. In both of the films she chose, the actors courageously bare their souls on-screen.
The film that shocked me the most was From Miyamoto to You. I saw it at a movie theater, and I was beside myself with emotion after I watched it. I remember staring at the ceiling for a while because the tears kept on rolling down my cheeks. The actors' acting was so real that I almost forgot I had been watching a film. It was as though it sucked me in, and it's an experience I won't forget.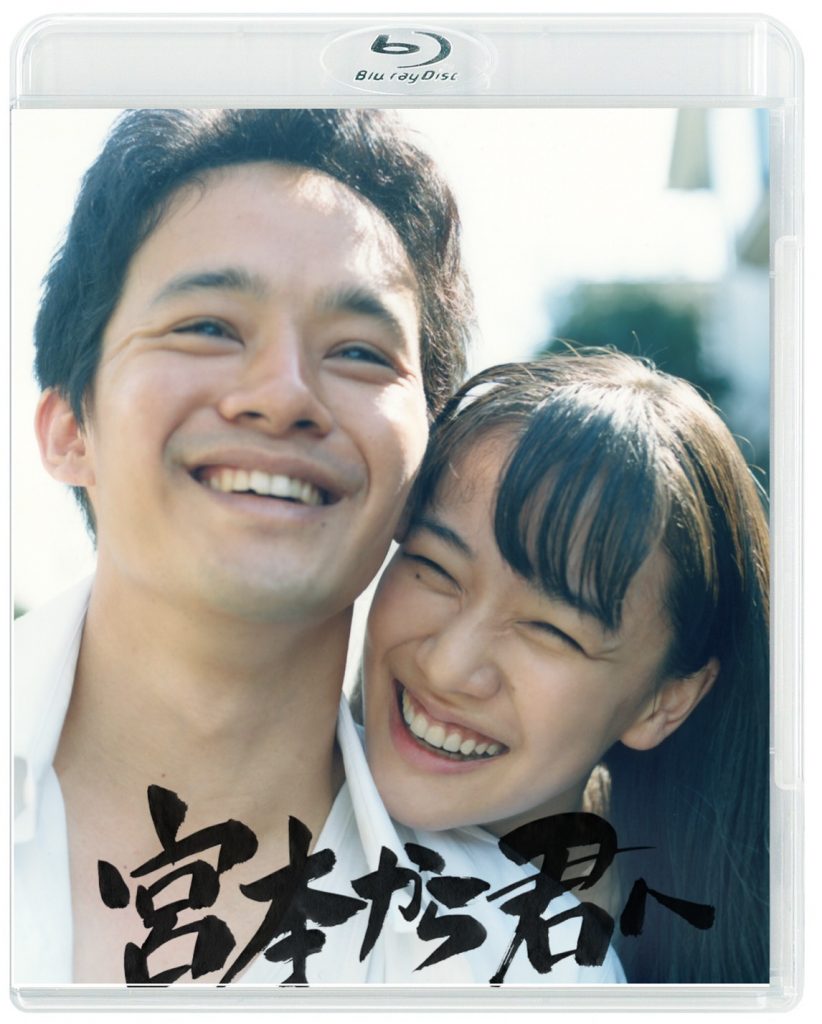 From head to toe, all the actors were playing their roles with complete conviction. This film is the ultimate example of how actors should act. It didn't look like they were acting when they were crying. There's a scene where Yasuko Nakano, played by Yu Aoi, cries after getting into a scuffle with Yuji Kazama, played by Arata Iura, and this scene left an impression on me. It's difficult for me to believe the actors turned their acting switch on, only when the director said, "action!" Her performance from start to finish touched me so much that words can't express how brilliant she was. It was just overwhelming. I'll never forget it, and I'll always strive to act as she did in the film; I can't help but feel this way. I shouldn't say this as an actor, but every time I'm on-set, Yasuko's face crosses my mind.
The fact of the matter is, it's hard to come by a role that is as expressive as Yasuko. It's still ideal to throw oneself into a role with full force, no matter what. Shooting the same scene multiple times from different angles is normal, and I have a habit of getting used to the emotions in the scene. My job is to squeeze every ounce of emotion out of myself when I am on-set, but it's so upsetting that I can't do that. Sometimes, that negatively affects my mood when we film. And I can't shake off that feeling of failure even when I get home. It isn't temporary either, because I'm bound to regret it for the rest of my life. I sincerely hope I can deliver a performance like From Miyamoto to You every time I work, so I would no longer have to experience this.
Whenever I'm about to shoot, I usually watch 100 Yen Love. This film empowers me, so I watch it repeatedly whenever I feel anxious about getting into a role. The thing is, I've always been insecure about how weak and vulnerable I am as a human being. Since I started acting, people somehow have this image that I, Minori Hagiwara, am this strong person, but that is not the case at all. I am so shy, and I even have this suspicion that people don't like me; I know for a fact that I'm more fragile than a soap bubble (laughs). That's why I look up to powerful women. I have this strong desire to be strong and remain strong like them. When I see how Ichiko, the protagonist of 100 Yen Love, becomes tougher, it makes me feel as though I can become tough too. The scenes where she screams all these cringe lines are great. I see myself in her. It's not like Ichiko is this cool woman; she picks up boxing one day, and that leads to her making decisions and taking actions that make her look cool, but they're fleeting. In the end, Ichiko looks nothing like the person who was fighting a boxing match with all their might. She gets invited to go out for dinner by this man that left her, and though she hesitates for a second, she ends up going with him. What she did is unbelievably uncool.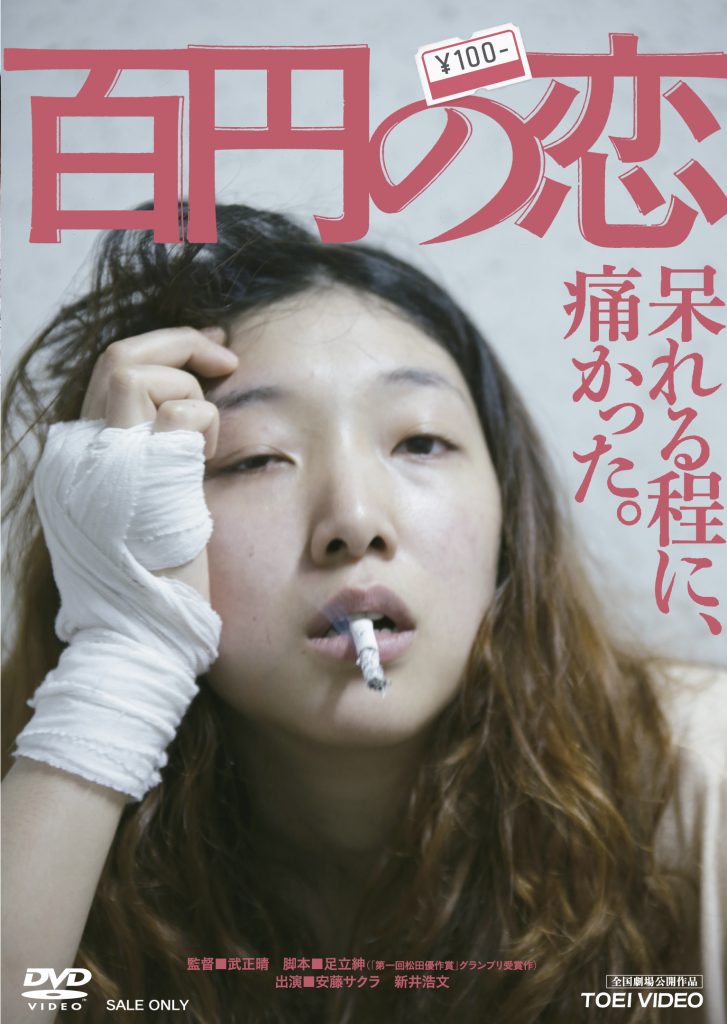 But then I heard the lyrics to the song (CreepHyp, "108 Yen Love") playing in that scene: "Forget me as I am/my life from this moment/doesn't have to be a movie/'cos a normal life is fine with me." I felt a pang of emotion, thinking about how Ichiko was going to return to her everyday routine before her boxing days came along. Watching her walk back into her former life saved me because it made me think, "ah, things are fine just the way they are." I can't be someone that's always radiating charisma, but what matters is being able to shine just for a tiny moment. Every time I watch this film, I could only listen to this song for a while, and it allows me to feel immersed in the film's world before I work. This film has saved me so many times.
I love my job as an actor. Acting was the first thing that made me go like, "I want to do this!" As someone with a lot of insecurities, I could feel more confident whenever I get a role and go to set. I believe it's important to remain real and raw as much as possible in front of the cameras. Of course, it makes me happy to see a shot where I look good, but I feel even better when I see a shot where I look uncouth and uncool. One time, my mom saw my crying face in a TV series I was in and said, "you have an ugly crying face. It's pretty funny," and when I re-watched it, I thought, "I can't believe they broadcasted my face." That's how bad I looked (laughs). But I got complimented the most in that scene. That experience made me think people feel moved when they witness actors in their most real, vulnerable state where everything crumbles apart.
Until this year, I felt nervous, frustrated, and suffocated because I couldn't act the way I wanted to, even though I loved the art itself. Now I feel like I'm having so much fun with it. I think a massive part of it comes from me becoming more comfortable talking with the director and staff. Instead of merely partaking in a project, I feel like I'm actively creating something with everyone. I felt this way while we shot Sasaki in My Mind, but it's so touching to feel like I'm a part of something. The lines came out of my mouth so naturally while we were shooting for this TV series this summer. I experienced that "zone" athletes feel. I get this sensation from time to time, but it's hard to get a hold of it, no matter how much I try. So, when I fully embodied my role and was in total synchronization with my scene partner — it was even like we were playing catch with our vibe and breaths — we got so excited over how major it was. It would be so ideal for me to develop the ability to do that again, and it gives me more motivation to improve my craft.
I suspected that the phenomenon I went through probably occurred in the shooting of both From Miyamoto to You and 100 Yen Love. Both films deliver a highly human performance; so unashamedly human that the actors look like they're crying or laughing depending on how you feel when you watch them. I think this is how people are. There's no way people could completely convey their emotions to the other person because they're not robotic signals. So, when that is communicated on-screen, it hits you in the heart. There's no need to verbalize films, and that's the beauty of it. These two films inspire me to become an actor that doesn't stay in one box.