The holding of the Tokyo Olympics is still unclear. The Tokyo Olympic Games held in 1964 had the significance of being the first Olympic in history in a "colored race" nation at that time, and due to the independence of colonies in Asia and Africa, the number of participating countries was the highest ever.This turning point in Japan, a Japanese performed a spectacular activity as a Latin music singer in South America."YOSHIRO Hiroishi / YOSHIRO ~ The legendary Japanese Latin singer who surprised the world ~" This book has valuable experiences that follows the spectacular and unique trajectory of the legendary Japanese singer that many of us do not know.
Author, YOSHIRO Hiroishi speaks about the book, published by Funsho-sha, run by DJ Sammo Hung Kimpo, Rokuon Saito, binding artist Tatsuya Kunieda, and music producer Souta Takagi of the Omoide Yaro A Team.
In precocious childhood, I believed that dying young was beautiful
――First of all, I would like to delve into your childhood memories.
YOSHIRO Hiroishi(YOSHIRO):My family was kind to me and I was too petted.I was aware of my sexuality as a minority at an early stage, and my parents let me do what I liked.In 1945, when the scars of the war still remained, I was an elementary school student and I was not good at group action.Even at the morning assembly, I said to the principal, "Please prove that you are a good student because you are a shaven," and I was a cheeky or precocious child.
At that time, there was no internet and there was little information about homosexuality.While looking up in the library or reading a book, it is beautiful to think that you are evil and wonder how you should live in the future, or to be influenced by the novels of Yukio Mishima and Ryunosuke Akutagawa, I believed that dying was beautiful.And I just wanted to get away from this place (Oita) and run away.
――You've been in cities such as Osaka since you were a student. How did you procure the transportation expenses?
YOSHIRO:At that time, my house was financially affordable, and I paid for travel expenses from my allowance, and even if I didn't have the money on the spot, my parents sent me money instead. At that time, I don't remember having trouble with money.I boarded Kansai steamboat from Beppu, and the ship that left the port at night arrived at Kobe Port in the morning, and from there I headed for Osaka by train. At that time Jazz records, bands playing live, and so on were collectively called Jazz cafe (Jazz Kissa).There are many such places in Tokyo and Osaka, and top-notch people are also appearing.I used my intuition to find Yukiji Asaoka at a jazz cafe, and when I asked the shop staff to sing, and they allowed me, because I was a child.It was not enough for applause, the kind customers clapped for me.I'm sure Mr. Asaoka was also watching. When I was in the first year of junior high school, I decided to head for singer I think my parents also realized that I was gay.There were many things before that, but he showed me that my determination was unwavering. I had such an obsession with what to do if my sexuality became known around me even when I went to school. I headed to Tokyo for escape.Wasn't sure I could enter the world of singing, but I wish I could be a ballet dancer.
――What was your life like in Tokyo?
YOSHIRO:I came to Tokyo in 1957. I went to Sanae Mizushima, who was a flower-shaped jazz singer in Shanghai in the early Showa period, and first learned the basics of walking and backbeats.At that time, I was aiming for a jazz singer instead of Latin. A person who was supposed to be on stage at a US military camp suddenly became ill and got a chance to sing as a pinch hitter before gaining experience at the US military camp. At Platters Night, I learned 5 Platters songs in a short practice and expanded my repertoire.
Guided by excitement and fate to South America
――The impression of your book is that you had very good luck. I think it took some courage to seize that opportunity.
YOSHIRO:I had no choice but to dive in, or I believed that there was no way to live without diving into the world of music.Adventures and challenges are very exciting, and I may have been guided by that excitement. Of course, I had a lot of trouble too.
――Did you have an interest in Latin music before you went to South America?
YOSHIRO:Actually, I didn't even know the Latin genre. In 1955, "Cerezo Rosa" became a big hit worldwide in the Perez Prado movie, and Mambo became popular in Japan, covering the three daughters (Hibari Misora, Chiemi Eri, Izumi Yukimura). But the Latin music was recognized as pop music.I sang at the Latin Night held at the U.S. military camp, where there are many Latino soldiers, and by the time I had chance to sing in Tokyo Cuban Boys, naturally I became active as a Latin singer.I made my debut as a Latin singer on NHK in 1960, but I wasn't good at Japanese songs.The songs at that time were too simple and unfashionable so not get along with my taste.For about 5 years, I was put on the market like a newcomer. Others were getting popular, but I couldn't make a hit, probably because I didn't sing Japanese pop songs.All of my stages at the US military camp were American customers, and the performance was very well received. I got advices that it would be faster to go abroad.
――What made you decide to appear on a popular Venezuelan TV show?
YOSHIRO:On the day I shared the stage with Edith Salcedo, the Queen of Coffee Rumba in the year of the Tokyo Olympics, I gave her a promotional flexi disc that I pressed at my own expense.So the next day, she suddenly contacted me. When you go to Uchisaiwaicho, where the old NHK is located, and talk, do you feel like going to Venezuela? Of course I wanted to go, but no idea how to get there.
She was a regular on the local super-popular Radio Caracas Televisión "El Show de Renny (The Renny Show)" and she was asked to scout a Japanese singer before coming to Japan.This would not have happened 10 years after the Tokyo Olympics. Japan lost to the United States in the war and was attracting attention from Latin America, which has an anti-American consciousness, as a country to recover. The economic situation in both the United States and South America is improving, and it must have been a good time.
Become a pop singer with a very unique performance that uniquely interprets Japan culture
――Your performance depicted in the book was very radical.
YOSHIRO:I thought that even if I did something normal, no one would pay attention to it. We asked people in the Kabuki to teach how to pull out costumes, and we incorporated various elements such as tap dancing and roller skating with clogs.Even if I compete with a song, I couldn't match the local singer and just wear a kimono and sing, I would get bored in a day. In a flashy costume incorporating Japanese elements, the viewer's expectations were betrayed in a good way by dancing while rampaging so much that the camera could not catch up.
Even if I compete with a song, lo with a local singer, and if you just wear a kimono and sing, you will get bored in a day.In gorgeous flashy costume that incorporates Japanese elements, she dances while rampaging so much that the camera cannot catch up. In a good way, I was able to betray the viewer's expectations.Princess Tenko also became popular in the United States, but it was very important to play the Japanese image that people envisioned there.When I was spinning the fan, I sometimes dropped it. Make a laugh with such a mistake.
――It's amazing to be able to respond instantly.
YOSHIRO:Failure could make you laugh, and above all, writing a success story in a book wouldn't be interesting to the reader.People's misfortune is the taste of honey, and failure stories should be interesting.I was successful, but even if I got a lot of money, I lost it immediately, and it was a turbulent experience. Japan is safe and we can walk with peace.In foreign countries, the other person may have a pistol, and it is dangerous if the discussion is overheated.
――Did you feel the difference in the attitudes of the local people toward work?
YOSHIRO:The concept of time is decisively different. It's surprisingly loose, an hour or two late is commonplace, and even live TV shows can be easily delayed by about five minutes. I think it's different now.In the case of Japan, the great people and politicians of the company are not interested in jazz, so it was hard to feel respect for the singers who sing in clubs and cabarets.Women such as hostesses take their seats, and the show is treated like a bonus rather than the main one. It was a hard environment for a professional singer.
――You have traveled to various countries in your life as a singer. Which country do you have particular memories of?
YOSHIRO:It changes with the times but Venezuela was the most successful and rewarded country.It's now the most bankrupt country in the world.At that time Venezuela relied on oil for 95% of its economic activity. I think it has become difficult since the country switched to socialism.
――How did you feel about the changes in Japan as you went back and forth between Japan and South America?
YOSHIRO:It was three years that I had been away from Japan for the longest time. The scenery of the city is changing all the time.I used to be in Shinjuku, but there was a cabaret in Dogenzaka in Shibuya. I never imagined that it would change like that from the black market after the war.Besides, there are very few places to sing. The guarantees of top musicians are also cheaper. Karaoke has prevailed in the world, and that kind of cheesy music are everywhere.Even if I'm invited to karaoke, I won't go. It's no fun to listen to the songs of non-professionals, and never get paid for singing there.Sometimes amateurs are better at singing.
――How many listeners are there in the current Japanese Latin music scene?
YOSHIRO:There is a certain number, but there are very few and I don't know the exact number. Nowadays, YouTube and online distribution are the mainstream, and sales of CDs are also declining.Under such circumstances, I am grateful that DJ Sammo Hung Kimpo(Funsho-sha), will release my 7″ vinyl.I re-recorded Lupine III's theme song and "Kamomeya Kamome" will be released with my own arrangement of rhythm and singing style. It seems that this book will be distributed in earnest, So I'm really excited like I used to be.The only thing that is a little difficult is age. I will be 81 years old in April.
――81 years old! It is amazing
YOSHIRO:In order to maintain a sense of rhythm and sharpness, training such as abdominal muscles is required as well as Olympic athletes.As for songs, as I get older, the astringency increases and the taste becomes better.Young voice has its own good points, but I think it was not very interesting to sing as much as I could.I used to live abroad and do show business, but unfortunately I had a time when I was forced to fight against tropical diseases, and I also experienced alcoholism.It may be because I knew that I was gay from the time I was aware of it, so I lacked a sense of self-affirmation.Still, I was right to choose the singer for her lifelong job. Being gay gives you an uplifting feeling and a delicate and erotic mood that ordinary people can't create.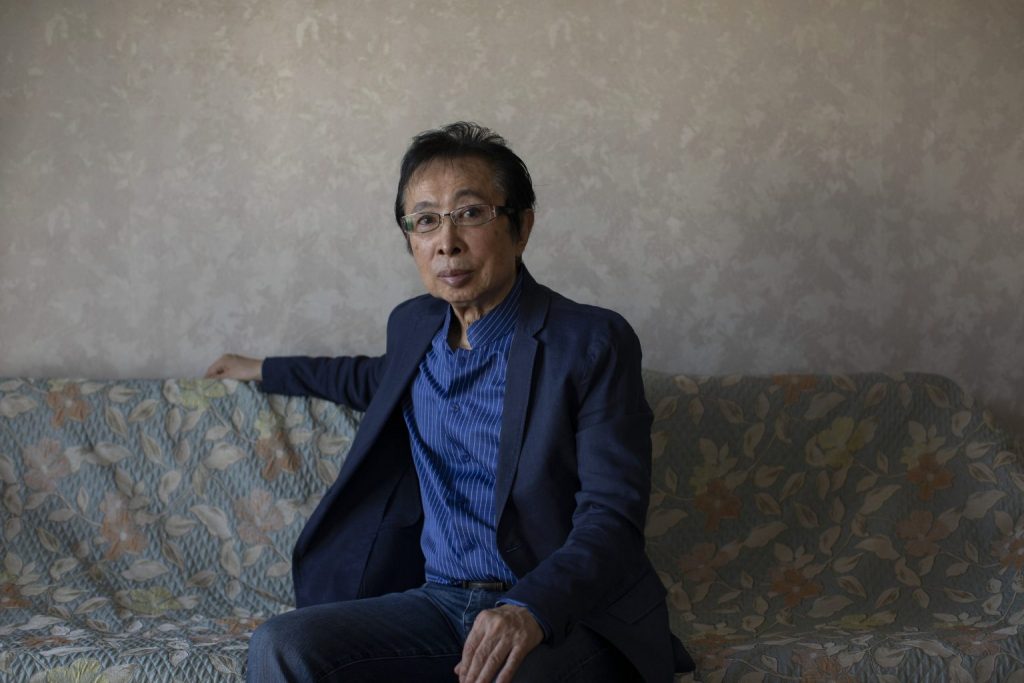 Latest articles on TOKION MUSIC