When we look at the relationship between music and fashion, as well as between fashion trends and youth culture, we get a clearer understanding of the times we live in. In this series, Tsuya-chan, an up-and-coming writer, analyzes current cultural events by examining contemporary music with a focus on Japanese hip-hop.
In the thirteenth installment, the subject matter is Balenciaga, which has been under the artistic direction of Demna Gvasalia since 2015. Tsuya-chan analyzes the notion of newness and criticisms against modern-day consumerism through the brand's blurring of various lines, such as luxury/streetwear and real/fake. She also examines Japanese woman rapper valknee's song about the brand.
Criticism on consumerism by four types of Balenciaga
Today, there are four kinds of Balenciaga.
1: The official brand. 2: Things that have been strongly influenced by Balenciaga. 3: Copies of Balenciaga. 4: Fake products made by the official brand.
To explain it further: 1 refers to the Balenciaga everyone recognizes. 2 refers to products that have been deeply influenced by Balenciaga's designs. 3 refers to faux Balenciaga products. 4 refers to the many recent fake-looking products created by Balenciaga. The market is oversaturated with such items to the point that it's difficult to distinguish one from the other. The emergence of the fourth category—the brand's endeavor to take cheap, ubiquitous, used items like reusable bags and gadgets for cars and turn them into luxurious accessories—has generated confusion regarding the relationship between authentic and counterfeit products. As a result, the contexts that support the four types of Balenciaga have become more complex. The borders have wavered, and the definition of what's real and what's realistically fake has collapsed. The brand has amassed many fans, which has led to more inspired and copied products. It strikes people as a symbol of consumption. Simultaneously, the more Balenciaga sells, the more the brand makes criticisms of our consumerist society.
The fashion house has its original roots in haute couture and has created intricate, high fashion garments that people would refer to as architecture made of fabric. This is precisely why the brand has evolved to be even more exciting today. The following is what history says about the era of Cristóbal Balenciaga:
"Accessing the salons of House Balenciaga involved passing through the strict control of the firm's receptionist. A personal invitation was needed and none of them were issued without the prior recommendation of one of the regular clients." ("Cristóbal Balenciaga: The Experience of Luxury," Google & Arts)
"People often said to Balenciaga that he could expand the business to the same degree as Dior. However, he cared about his image, and instead of choosing to expand the business, he chose to preserve [the brand's] top tier, elegant values. He was completely and proudly independent and became the owner of his perfume line. Balenciaga broke a promise from an external party and declined to join an haute couture association. With the support of wealthy customers and high price points, Balenciaga's the only store that could operate a successful business with a few people like other clothing companies, even if Balenciaga turns down orders." (Balenciaga (MEMOIRES) by Marie-Andree Jouve *This excerpt has been translated from Japanese to English*)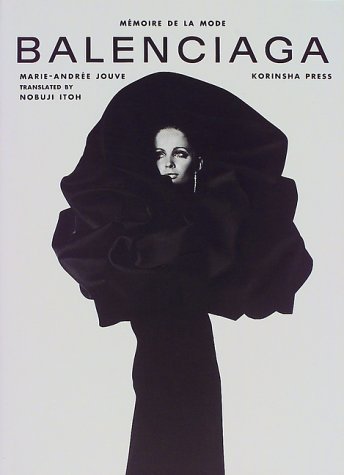 Balenciaga used to make one-of-a-kind pieces with finesse for a hand-picked group of wealthy customers. Now, half a century later, the brand's posing questions to the public by putting out fake-looking products.
The thrill of the brand became solidified when Demna Gvasalia resurrected Balenciaga's legacy that had been asleep in the FW 2021-22 haute couture collection. By sublimating everyday pieces like jeans, shirts, jackets, and turtlenecks into haute couture, he reconstructed familiar things like luxury items in the most formally luxurious setting.
The dirt that valknee digs up
In the fall of 2020, rapper valknee released a song with a bold title, "Nise Balenciaga" (Fake Balenciaga). It's a scathing diss track; it's as though she's addressing a friend who owns a counterfeit Balenciaga product. The song starts with "That girl's dirty/Don't you have pride?/Poor fake Balenciagas." She uses the word dirty over and over. This choice of words is intense. At the same time, because of the repetitive "e" sound in the lyrics, the song becomes more powerful:
"You're blurry to my eyes, bae/Don't get close, don't get close (yoranai yoranai)/Don't get close, don't get close (yoranai yoranaide)/Promi promi/Keep a promi promise/I'm not a teacher (sensei janaishi)/Or a boyfriend (kareshi janaishi)/I don't know what, I don't know what (donaidemo shiranai donaidemo shiranai)/You wet yourself again (kyomo tarenagashi)/What a dirty story/Melt this moment, this person must be sick (ima wo tokashite tabun koitsu byoki).
The continuation of the "e" vowel reinforces the dirtiness (kitanai) and unpleasant feeling.
This vile feeling is also reflected in the structure of the song: hook → first verse → second verse → hook → third verse → second verse → hook. The third verse is an anomaly. Rather than a variation of the first verse, it's a highlight that's equally important as the hook, as it's where the rhythm changes and the heat gets hotter. After the sudden appearance of the soft "yo" sound in "Hey, do you know?/People who "eat" more connections than rice?/I know you like eating (tada meshi sukinano shitteruyo)/I grill meat at a dirty restaurant (atashi kitane misede niku yakuyo), comes a passionate line also ending with the "yo" sound: "You take out your wallet, but I don't want to drink tequila (saifu dasushi tekira nomitakunaiyo). Then, she shifts gears:
"I won't invite you out for a drink (omae nomini yobanai)/Seems like you make the drinks taste bad (sakega mazuku narumitai)/You only order Japanese rolled omelets (dashimaki shika tanomanai)/Won't let you meet my friends (tomodachi ni awasenai)/I feel no respect (risupekuto kanjinai)/Nothing's in it for me (atashi nanimo tokushinai)/Don't use friends as dashi (dachi wo dashini tsukawanai)."
She switches from the soft "yo" sound to a rapid succession of "nai," which means "won't." At this point, valknee's emotions towards "that girl" with fake Balenciagas reach their peak. She expertly uses story development and contrasts and repeats "kitanai" and "nai."
valknee sets the "dirty person" as "that girl." Further, in "Look, my heart's dirty too/My room's so dirty/Walk a dirty, gloomy road/I'll always hold a grudge, I won't forget," she reveals that the dirty person isn't just a particular person. It's directed towards herself too, like "That girl's dirty, but I'm also dirty in some way. She wears fake Balenciagas, but I'm some form of non-fake Balenciaga too." Balenciaga is a symbol of consumerism. Balenciaga is nonsense. Balenciaga has "high sense." What's Balenciaga? What's true and what's not? What has value? What has no value?
Ryoko2000 put out a remix of "Nise Balenciaga" titled "Nise Balenciaga (RYOKO2000 SWEET 16 BLUES mix." On top of a harsh hardcore dance beat, a line from the film Love & Pop by Hideaki Anno is sampled. At around the 18-minute mark in the film, a frivolous and innocent line is said, emphasizing the underlying context and meaning behind "Nise Balenciaga." "That person's dirty, but maybe I'm dirty in some way too." Perhaps everybody is dirty in the first place. Perhaps, consumerism is manipulating me, and I'm the target of it. "Nise Balenciaga" unearths the "dirty, gloomy road" that we all ponder and embark on every day.
The third newness in fashion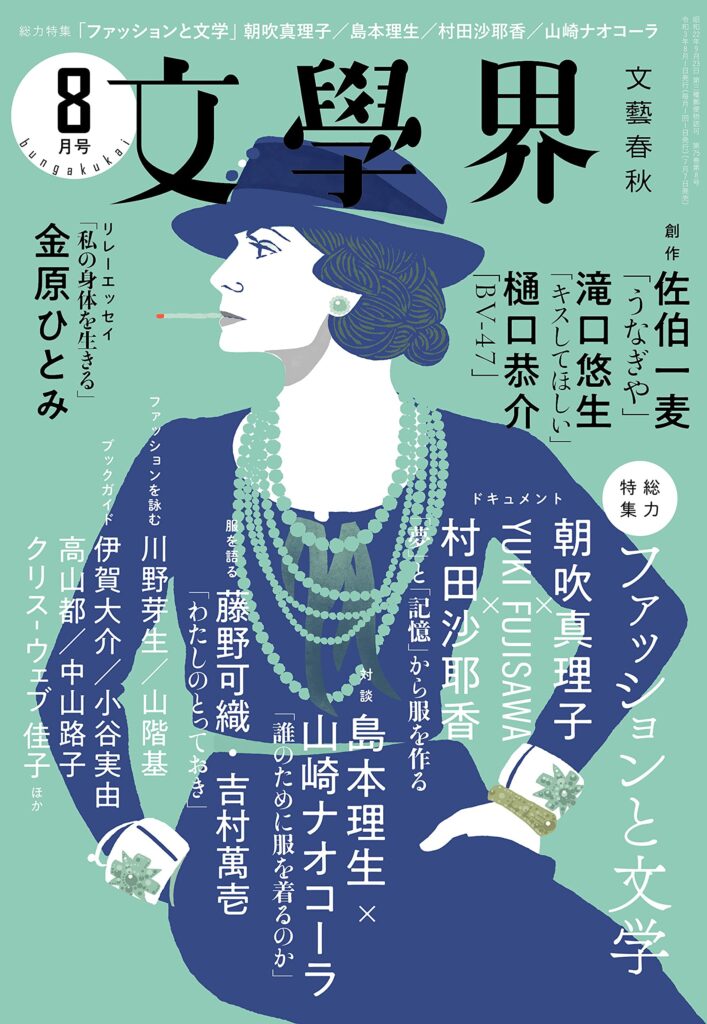 Fashion goes in circles.
Bungakukai published their August issue, an ambitious feature on fashion and literature. The designer of matohu, Hiroyuki Horihata, classified the newness of fashion into three categories in an essay called "On creating clothes while thinking about the universe." The first category is the newness of trends, which is the reinterpretation of things that were popular a while ago, and the second category is the newness of the avant-garde, which fundamentally creates new changes. On top of these, he points to the following type of newness:
"Every time the seasons change, the cherry blossoms bloom. In the summer, there is grass everywhere. When fall comes, the wind shimmers like the golden leaves scattered on top of ginkgo trees. In the winter morning, when snow piles up, everyday cities become different worlds.
I believe this change, born from how the seasons repeat and repeat and draw an infinite circle, is the universal newness that touches people. There's no beginning or end to this newness. The heart flickers for neverending changes."
Simultaneously, perhaps we're also going around in eternal circles down this gloomy, dirty road. You're dirty, and I am too. But amid the flow of time that keeps changing, our dirtiness incorporates various things and changes shape. And that dirtiness that becomes refined with time might capture a universal way of thinking at one point and suddenly strike a chord with someone.