Skating isn't just about doing a stunt-like hammer. There are other things to skating, like chilling with your homies as you watch people practice a technical style on a comfortable curb. Legendary skate videos, such as the Eastern Exposure series, Mixtape, and the film Kids, represent creative skaters in big cities on the east coast. They have something that speaks to the Tokyo skate scene too. I'd like to add Jonathan Rentschler's book, LOVE, to the mix.
Jonathan Rentschler is a photographer who documents the east coast skate scene in places like Philadelphia, New York. The Chiaroscuro quality (having a strong contrast between light and dark) created by his monochromatic photos do a brilliant job depicting the ups and downs of short-lived skate spots.
His cumulative portraits of people at said skate spots are equally as good as his photos of valuable, technical skate tricks. Even when the subjects aren't doing a trick, one could still call his photos "skate photos."
Skating at the plaza of Philadelphia
As a photographer, Jonathan's most famous piece of work is his 176-page monochromatic photo book, LOVE, published by Paradigm Publishing in 2017. The book depicts the protagonists of Philadelphia's former iconic skate plaza. Many skaters who dwell in the park and don't give in to social standards are in the book too. A policeman, reminiscent of Red Skull from the Marvel universe, tries to kick the skaters out in one of the shots. That adds a nice touch.
Jonathan's portraits and snapshots are like alluring photos with skate tricks. His world consists of a roughness and skate plaza-ness; the shots are lively, and the subjects are constantly engaged in something. They shout, chat, get angry, laugh, skate. They get kicked out. Fight. Resist. Smoke. Dream. Jonathan has continued to take such photos at LOVE Park. In the eyes of the park residents, Jonathan and the skaters must've seemed like they truly lived there. Skate plazas are parks where skating isn't allowed but have concrete floors, ledges, and marble curbs on benches and stairs, apt for skating.
Skate plazas differ from skate parks in that these places were built as regular parks first. Skaters share the space afterward. The idea of sharing is vital here. It's not like skaters, who are citizens themselves, try to take public parks away from others. They're not out to destroy these places chaotically. If anything, they try to shed light on a spot that's been left behind to decay. For us, the sounds of the wheels and tails are comforting, and we could use an open bench as a curb to skate on instead of letting it go to waste. The opposing side might think skaters ruin benches, which are resting spots for citizens, in a loud and noisy manner. Such is the state of things now. Although it's too late for LOVE Park, the disparity of values and understanding regarding skating is beginning to shrink, as seen in the Olympics and big corporations. Competition venues are imprints of plazas. If this is the hope of a new generation, then Jonathan's photo book, LOVE, is the light of Philadelphia's LOVE Park. Without relying on funding, he showed the culture of skate plazas to the world.
The photos are monochromatic, not gold, yet they're beautiful. And raw and bright.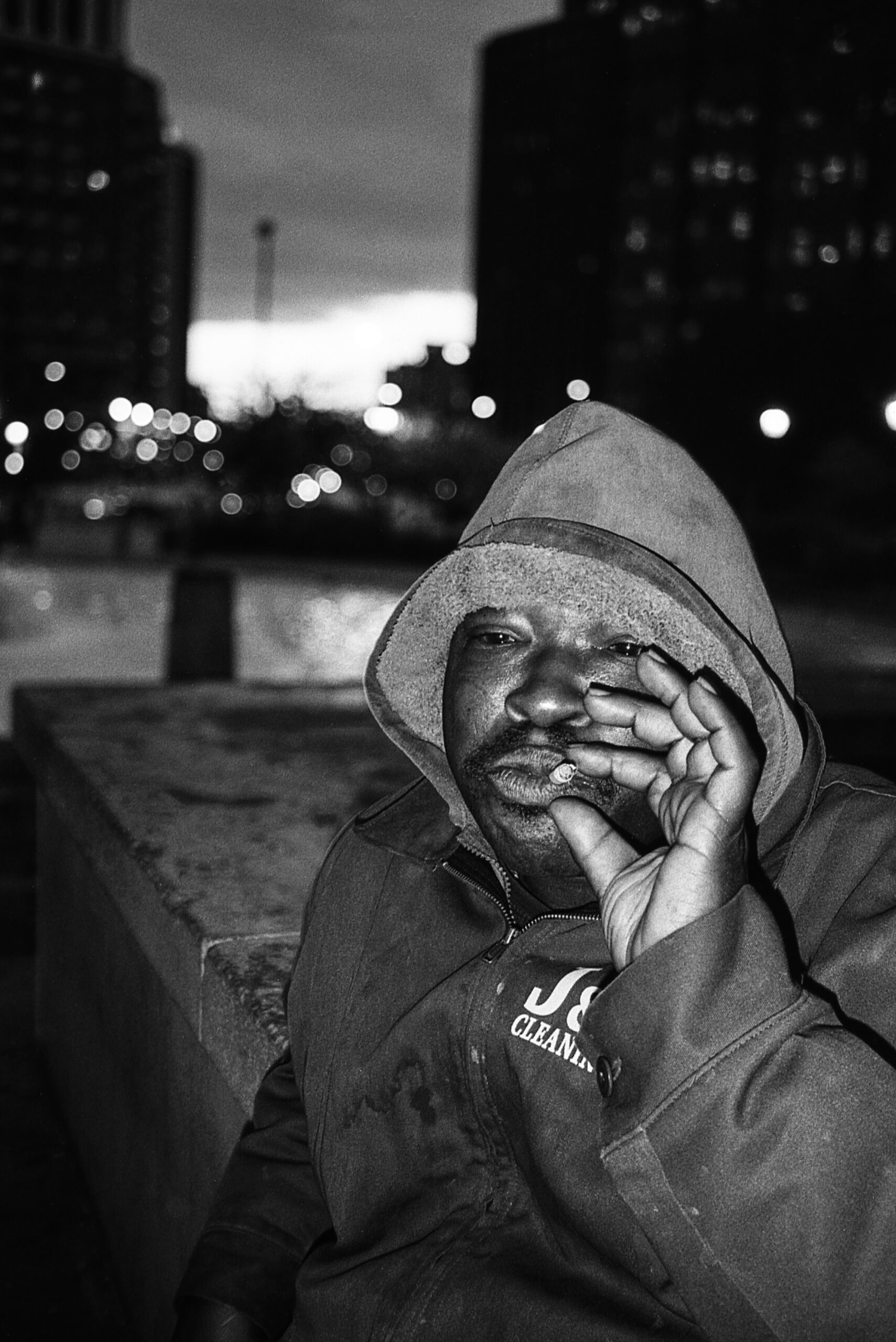 Jonathan Rentschler in Tokyo
Jonathan's came to Japan to show his work at a solo exhibition in Tokyo during the winter before the pandemic hit. His photos covered every inch of the hotel room walls. I knew about the show, but something, in particular, made me decide to go. Parisian photographer Benjamin, who was one of the subjects of Jonathan's photos at the show, emailed me saying, "Jonathan and I could make something together for Sb (Sb Skateboard Journal is a skateboard magazine I publish), so I think you two should meet." Benjamin brought us together like a dating app. He's a veteran photographer that I wrote about in the second installment of this series. I touched on this in that article, but Benjamin has a distinct aesthetic and style; he is also Jonathan's mentor. So, I knew I had to meet him. Besides, I had been interested in Jonathan Rentschler's photo book, LOVE, prior. It was my chance to see it in real life.
There was a symbolic photo at his exhibition: a portrait of a masked man that had been posterized. Perhaps it symbolized resistance against the authorities who built barricades and cracked down on the park. However, preconceived factors attached to masked men, such as intimidation, scariness, mysteriousness, and tendencies to rob banks, were dissolved. It was a cool shot; it entranced me.
I was fascinated by his work so much that I decided to make his photos of people skating (not photos of them doing skate tricks) the main story of an issue of Sb Skateboard Journal. Most of his pictures taken at LOVE Park are over six years old. I'm sure Jonathan wanted to capture familiar faces and friendships before the park closed down.
The light and dark shades of his monochromatic photos convey something crucial—what was an empty and boring plaza was brought to life thanks to legendary skaters and residents that gathered there.
After LOVE Park was demolished, Jonathan left Philadelphia and moved to New York. And then he flew over to Tokyo. Before me, there were people in Tokyo who understood the brilliance of his photographic style to hook him up. SALT AND PEPPER, a gallery, bookstore, and publishing house in Tokyo collaborated with Jonathan and published two photo books, Remembering The Future and Be There Soon. Masayuki Irishio, the owner of a skate shop in Kobe called Shelter and a skater who's been gliding the streets since the 90s when LOVE Park was thriving, has a close relationship with Jonathan. From the east coast to Tokyo in the far east, the most vital things in skate-related matters are aesthetic sensibilities, communication skills, and networking. Jonathan complements Tokyo very well.
His monochromatic photos and the skaters who weave through the complex streets of the big city go outstandingly well together.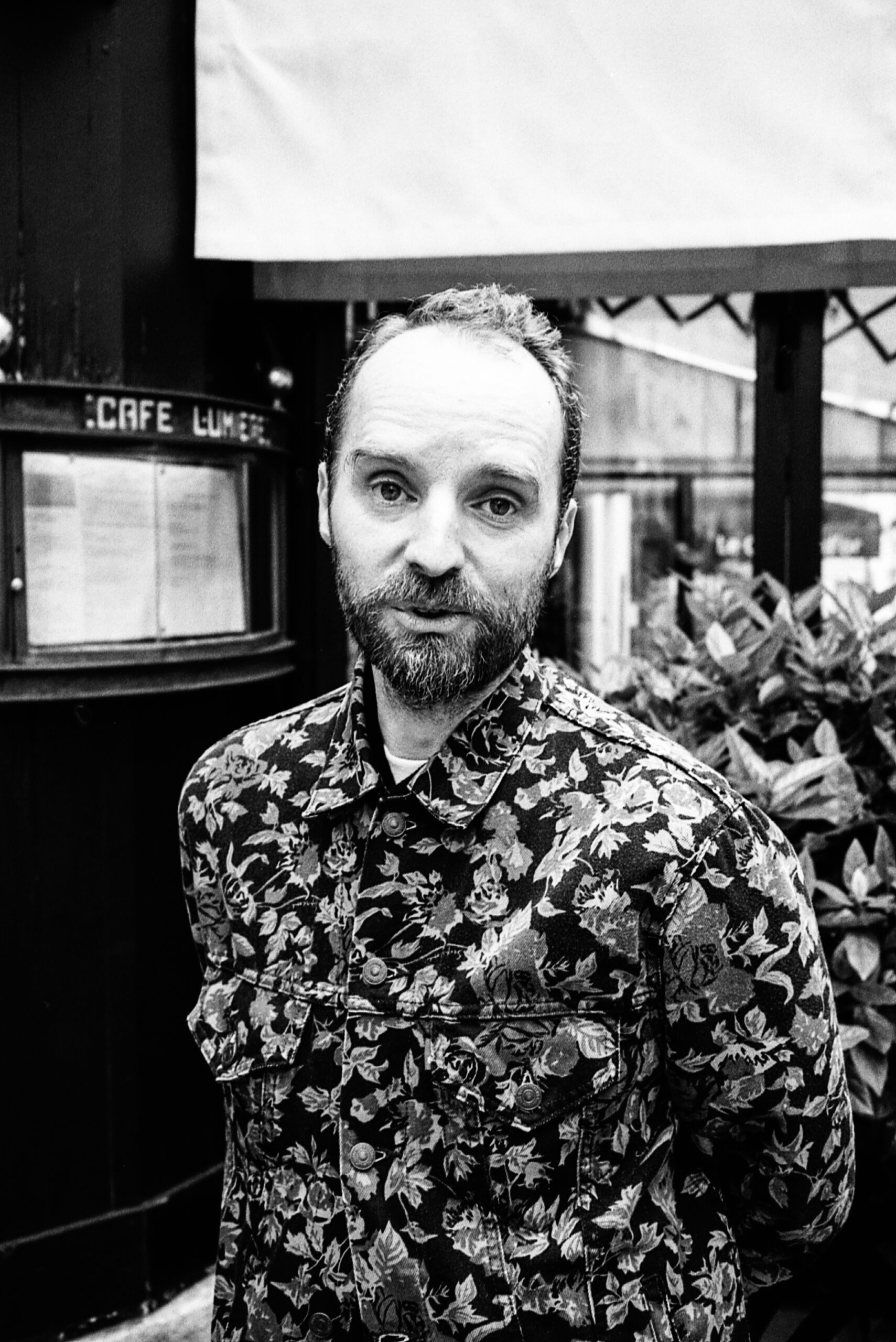 Not all photos are the same
"You'll never get it if you don't slow down, my friend"
"But they're all the same"
This is a conversation between Auggie Wren, an owner of a smoke shop performed by Harvey Keitel, and Paul Benjamin, a writer performed by William Hurt. In the film Smoke, Auggie takes one monochromatic photo at the same place every day at 8 am like clockwork. Before he knew it, he created a massive archive of photos he had taken for over a decade. Paul takes another good look at his pictures. And he comes across a shot that speaks to him and him alone. I feel like Jonathan's monochromatic photos have overlapping qualities with this film.
His photos depict people like skaters, which we don't see too many now, and Jonathan's friend went to Philadelphia because he had admired LOVE Park only to then go to Florida. Perhaps the homeless people in his portraits are missing persons. Perhaps a grandmother might look at a stern-looking policeman cracking down on the people at the park and boast that her grandson is doing a good job. In the film Smoke, the setting is at Prospect Park in Brooklyn, while in Jonathan's case, that was LOVE Park and the streets of New York. In both Auggie and Jonathan's photos, the location is always on the streets or plazas, and they're monochromatic. The more voluminous they are, the more we tend to flip through such archived photos in the form of a photo book. It's inevitable for us to find a rhythm when we do, and that's okay. Once we take the time to look at each picture closely, we'll discover something new. There are good, bad, happy, and sad things. All the photos are monochromatic, but not all are the same.
I carefully looked at the vast photos at Jonathan's exhibition in Tokyo. I found a portrait on the bottom part of the wall. It was Benjamin the Parisien. Jonathan must've taken it in the summer of 2011. It reminded me of how I met up with Benjamin right before that point in time. He had just released Le Circle with Mark Gonzales. When Benjamin showed me the original B0 size print (which Mark Gonzales drew on top) at his apartment, he told me that he was going to the east coast the next day. I think he said he was going to have a book signing at a bookstore in New York with Mark Gonzales and then take photos on the east coast. I figured he met Jonathan then. Because of his chronic illness and the covid crisis, Jonathan hasn't been to the east coast in a long time. However, he's publishing a photo book of photos he had taken in the past on his travels. It's ambitious. When I found that portrait of Benjamin at the exhibition, I understood that Benjamin wanted to say, "Go look for my photo at Jonathan's exhibition in Tokyo." I couldn't help but laugh.
Despite the efforts of Jonathan and others, LOVE Park was sadly renovated. Benjamin's portrait was displayed among such photos, and instead of being sad, I couldn't stop laughing because of it. Skate photos are fantastic indeed. Cameras are tools of documentation, yet they don't stop pushing forward. They'll continue moving no matter what. Jonathan's pictures are like that too.