SELF 07, an art project led by Saint Laurent's creative director, Anthony Vaccarello, was simultaneously held in six different cities on June 9th, 2022. One photographer per city showcased their photos in vaulted spaces surrounded by pillars. The mirrored outer walls reflected the environment, allowing them to merge with the city.
While Saint Laurent doesn't use many words to represent itself, the brand's connection to art runs deep. It has collaborated with numerous photographers, film directors, and artists. SELF 07 is a tangible manifestation of the brand's various connections and interpretive expression of its roots. The details of each exhibition space were highlighted, and they all had a tree planted in the center. In each of the six cities, photos surrounded the respective trees as though they were there from the start. The present state of Saint Laurent, which encapsulates complex elements such as countries, cities, cultures, individuals in said cities, and fashion, was brought to the forefront through the eyes of six photographers living in the city.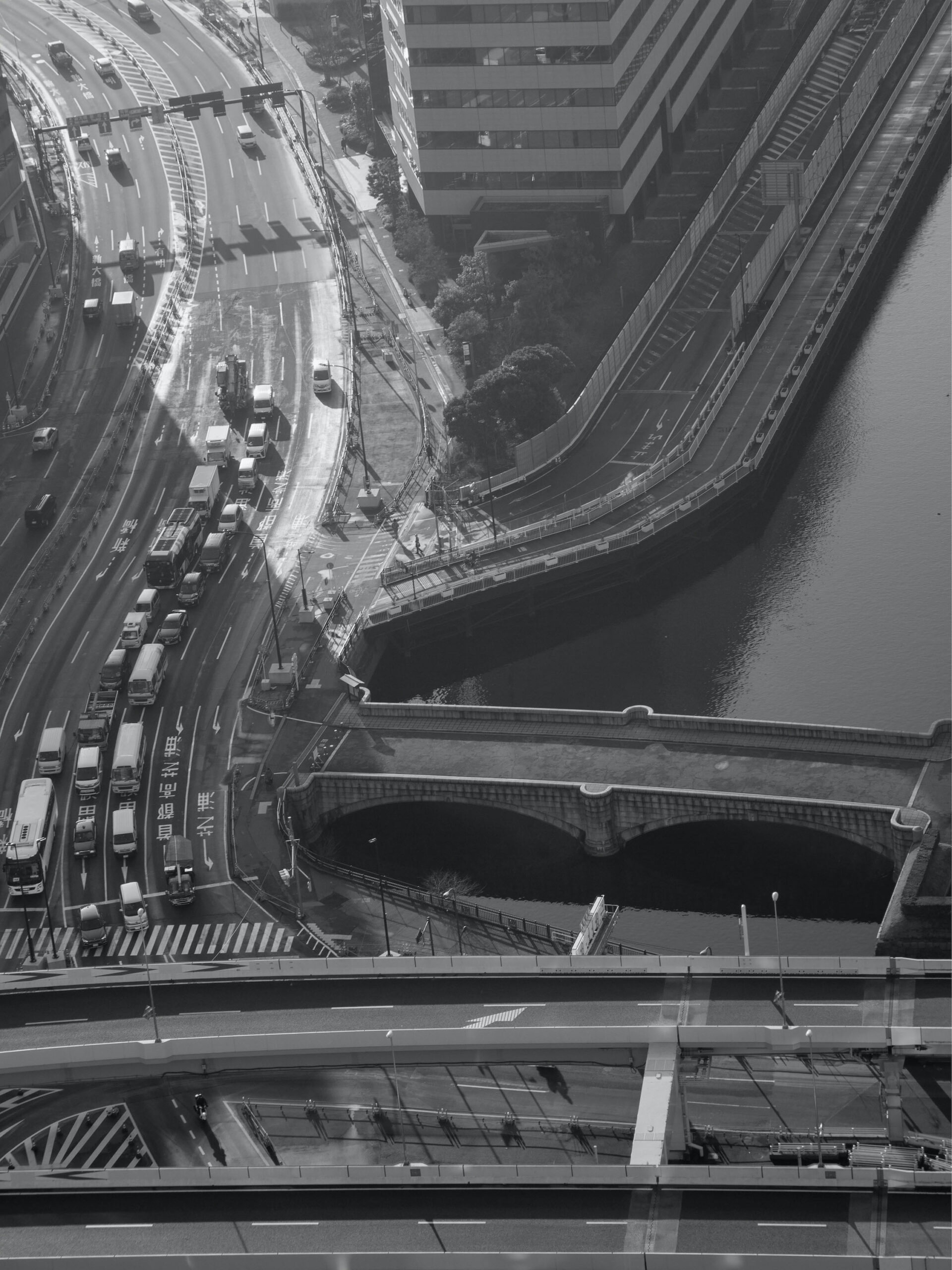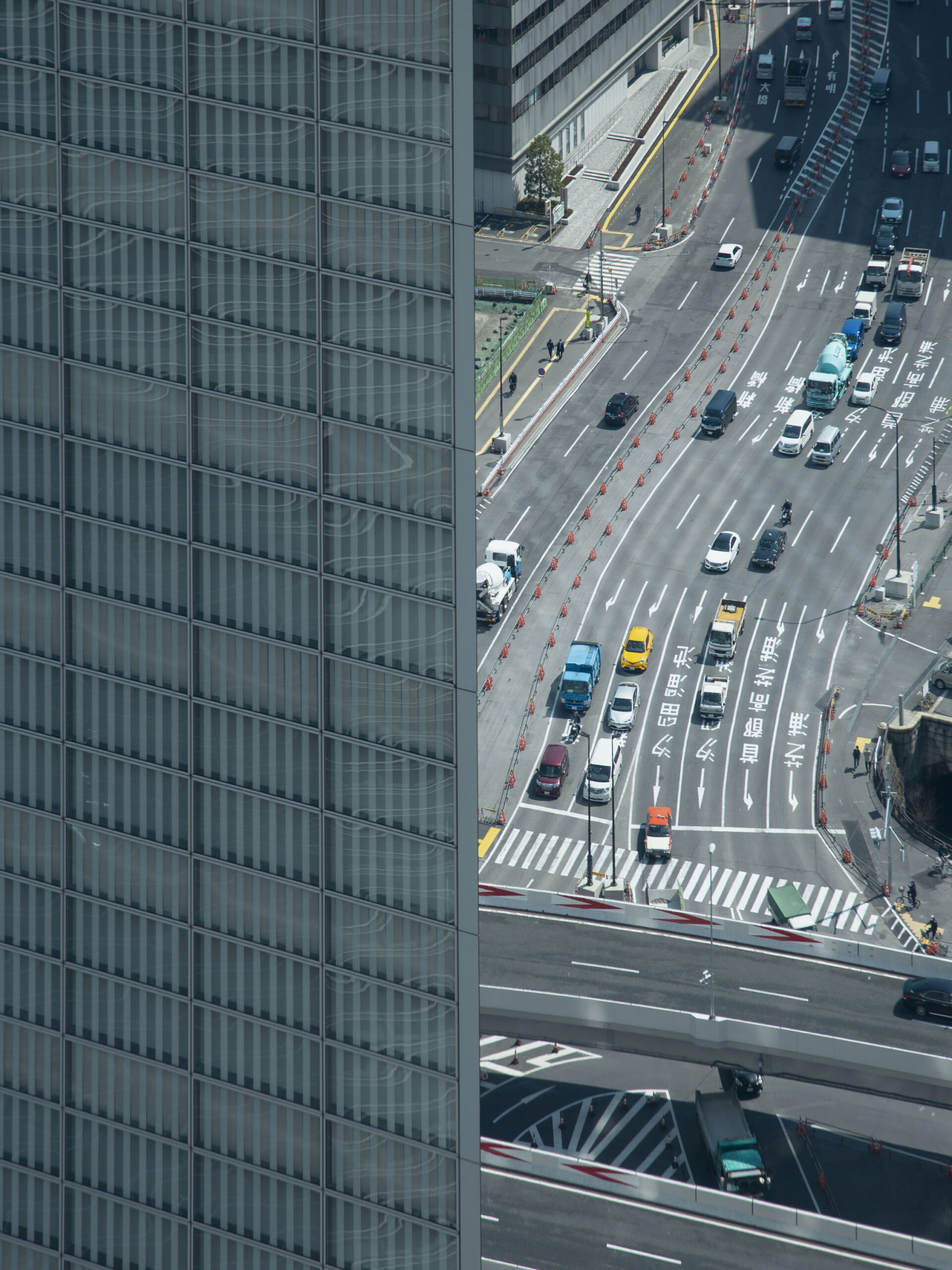 SELF is an art series curated by Anthony Vaccarello. It launched in 2018 with Daido Moriyama showcasing his photos at Paris Photo, and the seventh one was held this year in collaboration with Magnum Photos, a photographic cooperative. Takashi Homma partook in the project in Tokyo as a guest photographer.
The exhibition in Tokyo was in the middle of the grassy rooftop of Miyashita Park in Shibuya. Once you entered the circular pop-up space, on the left, you could see images of buildings projected onto the wall facing Shibuya station via a camera obscura. Since the beginning of his career, Takashi Homma has been implementing the camera obscura technique. For SELF 07, he used a hotel room in the city as though it were a camera to capture the scenery outside the window. For a brief second, I felt like the images taking up the room with zero light, aside from one tiny hole the size of a button, seemed to align with the rest of SELF 07's presentation. But the space didn't have a roof, so the big sky hovered above the camera obscura wall. It was sadly raining on the first day, but the bright sun illuminated the space on the last day, offering a view I had never seen before. On the opposite wall were ten photos of the cityscape and a man and woman modeling Saint Laurent's clothes, randomly exhibited without picture frames.
"I take photos of things I can only take in the present and will last for generations"
–The city and fashion coexisted in your exhibited photos; I could immediately tell they were yours.
Takashi Homma (Homma): When I was approached to participate in this project, the first question I asked was if I could take the photos in my usual style. They said, "Of course. That's why we chose you." It's not my style to take rock-ish photos with a white background. In that respect, Daido Moriyama-san's photos matched Saint Laurent's ethos.
–You've taken many photos focusing on Tokyo as a city.
Homma: I have. Whenever people abroad ask me to take photos, I get asked to capture a "story about Tokyo." I shoot the city and models wearing clothes and do the layout by myself. My style never changes regardless of the media platform or brand.
–It was refreshing to see you adding monochromatic photos to your exhibition.
Homma: That was a new thing I tried.
–I feel that symbolic elements stood out in your photos more than usual, such as roads, crossings, guardrails, and signs.
Homma: I said something like, "Our actions are limited and shaped by the pressure of the city of Tokyo" in the press release.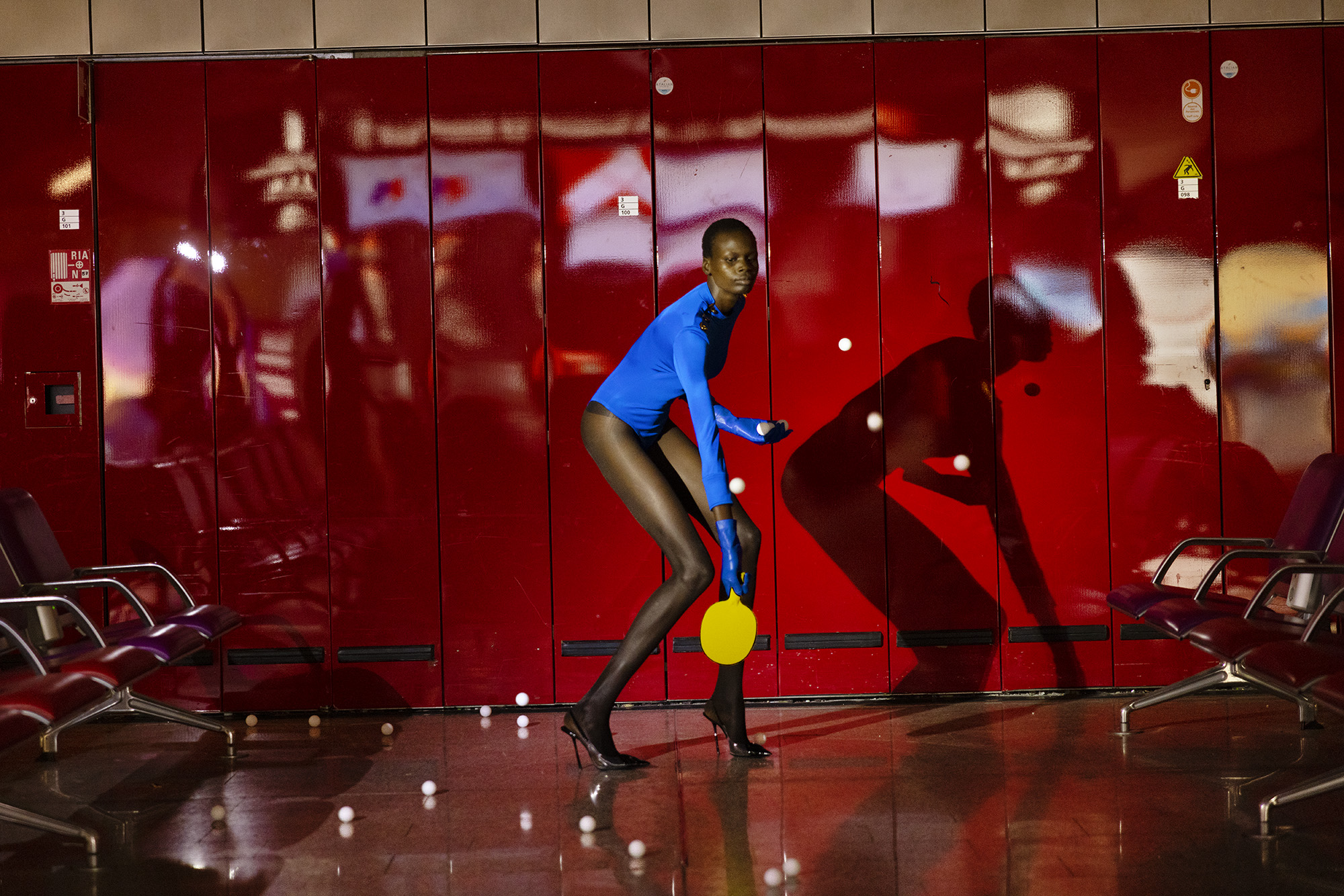 –Signs used to direct people caught my eye in Harry Gruyaert's photos, which he took at an airport in Paris. What do you think about the other participating photographers' city photos?
Homma: I was impressed by the photos taken in Paris because they were fully realized. It was interesting how the photos were shown in six different places simultaneously. The exhibitions were only for four days, so I wanted to go to each one and see the other photographers' works. Only if that were possible. It'd be fun if you could see all the photos together virtually.
–Because Magnum captures decisive moments in time while you welcome unpredictable factors that enter the frame, I initially felt that your approach was at odds with theirs. It was an unexpected match.
Homma: I wonder. It's not like our directions are entirely different. Fashion photography is documentary photography. I take photos of clothes and models in the moment; I take photos of things I can only take in the present and will last for generations.
Takashi Homma
Takashi Homma lived in London from 1991 to 1992 and worked for the culture magazine i-D. He received the 24th Kimura Ihei Commemorative Photography Award in 1999 for Tokyo Suburbia (Korinsha Press). From 2011 to 2012, Homma held a solo exhibition, New Documentary, in three museums in the country. His books include Tanoshii Shashin, and his recent collections of works include The Narcissistic City and Trails, both published by Mack. In 2019, Homma published Symphony: Mushrooms from the Forest and Looking Through – Le Corbusier Windows. He currently works as a visiting professor in the graduate school of Tokyo Zokei University.