The brand NISHIMOTO IS THE MOUTH, which is based on the concept of an imaginary cult club, has a very unique presence. The brand director, Katsutoshi Nishimoto, has tattoos all over his body and makes an appearance in the brand often. The brand has long been known among core fashion fanatics, but this year, Nishimoto himself rose to fame through his numerous appearances on popular YouTube channels such as "Gairoku ch" and "Neet Tokyo."
In part one of this interview, we asked Nishimoto himself about the decision behind his YouTube channel appearances and about the future of his brand.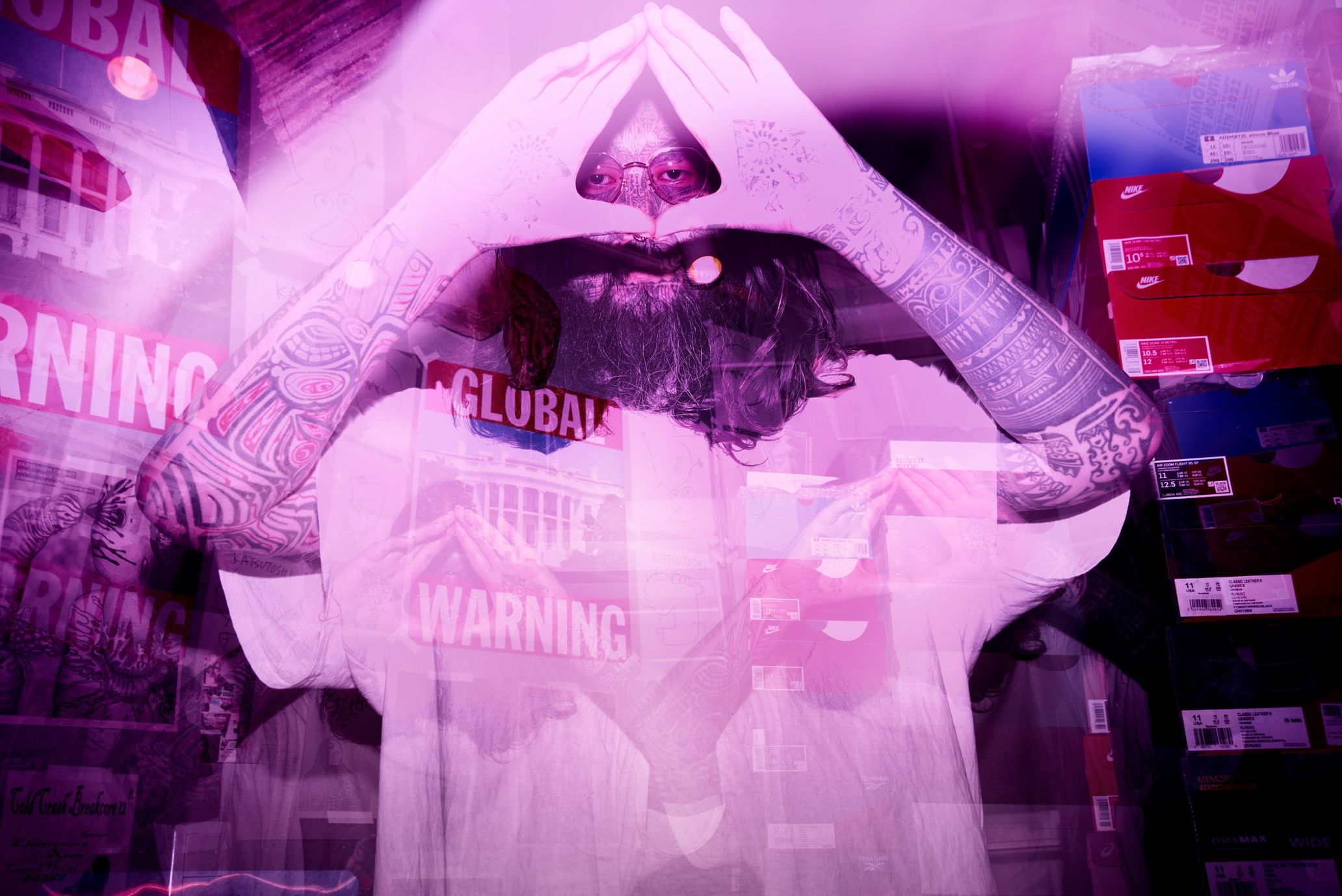 Katsutoshi Nishimoto
Born in Saitama in 1979. Director of NISHIMOTO IS THE MOUTH. Nishimoto started to take his NISHIMOTO IS THE MOUTH endeavor seriously after retiring from a popular apparel brand in 2020. He has made several media appearances, including on YouTube channels. Nishimoto started his own YouTube channel, NISHIMOTO IS THE YOUTUBE, and has been actively increasing his media exposure.
https://nishimotoisthemouth.com/
Instagram:@k_nisimoto_
Twitter:@Nishimoto6996
YouTube:NISHIMOTO IS THE YOUTUBE
I think I treat everyone like a God
——You've appeared in various interviews, but you've recently been featured on YouTube channels, as well. What was the impetus for your appearances?
Katsutoshi Nishimoto (Nishimoto): I make a bullet point list of new year's resolutions on a piece of paper at the end of the year every year. I wrote "make media appearances" as one of my resolutions for 2022, and was just putting that into practice.
——What other resolutions did you write down?
Nishimoto: Normal things, like "be kinder to people," "make money," and "get a girlfriend." I have another list titled, "bucket list of 10 things to do if I was terminally ill." I only have crazy things on that list, though (laughs).
——You made appearances on some popular YouTube channels like "Neet tokyo" and "Gairoku ch." How did you come to appear on these shows?
Katsuhiro Nishimoto appears on "Neet tokyo"
Katsuhiro Nishimoto appears on "Gaiiroku ch"
Nishimoto: I got an Instagram DM from "Neet Tokyo." I got the "Gairoku ch" gig through Shisonnu's Mr. Hasegawa. For me, Mr. Hasegawa is a point person, because he wore NISHIMOTO IS THE MOUTH clothes before it blew up. Mr. Kishi from Doki Doki Camp saw him wearing it and became a fan, too. And from there, Mr. Kishi introduced us to Koji Higashino, which connected us to Mr. Daisuke Miyagawa, and so on. Our goal was to increase brand awareness by appearing in the media whenever possible, and I think we were able to gain recognition thanks of these continuous chain of events.
——So the media appearances were a tactic to increase brand awareness.
Nishimoto: I no longer wanted to be told that Drake wore our brand. In fact, I hoped to put that image behind us. It's fine if other people talk about it, but since that happened almost three years ago, we don't want to mention it as a brand anymore. I also no longer want to bring up my previous position at visvim, because I have my own brand now.
——You've made many YouTube appearances so far. Would you appear on TV if you were approached?
Nishimoto: Now, I would 100% do it. For compliance reasons, I was told that TV was basically out of the question. I think I could just barely appear on a show on YouTube or Abema, but once "Crazy Journey" starts, I think my first TV appearance may be possible. I'd be lucky to be offered to be on a TV show.
——Are there any shows you'd like to appear on?
Nishimoto: I want to be on NHK, although I think that's definitely impossible. I don't watch TV so I don't know any shows, but if I get an offer that sounds interesting, I'd accept. I'm interested to see how they'd treat me on these shows.
——Do you have any plans for future appearances?
Nishimoto: I'm going to be in the Ashley feat Jin Dogg's music video. When I mentioned that a favorite rapper of mine is Jin Dogg on "Neet tokyo," LUNA, who is friends with Mr. Maric's daughter and producing Jin Dogg's music video, told me that they wanted me to be in the video. I'm happy I can collaborate with Jin Dogg, even though I know our interaction will be minimal.
——Will you continue to make media appearances?
Nishimoto: Depending on what my thoughts are at the end of the year, I'll consider whether to continue next year or not. Honestly, I want to quit at the right time. I think my existence itself is interesting right now, but it will gradually become less and less interesting. I want to quit at the right time if that happens because I know it'll have a negative impact on me. Like Hide Nakata (Hidetoshi Nakata) (laughs).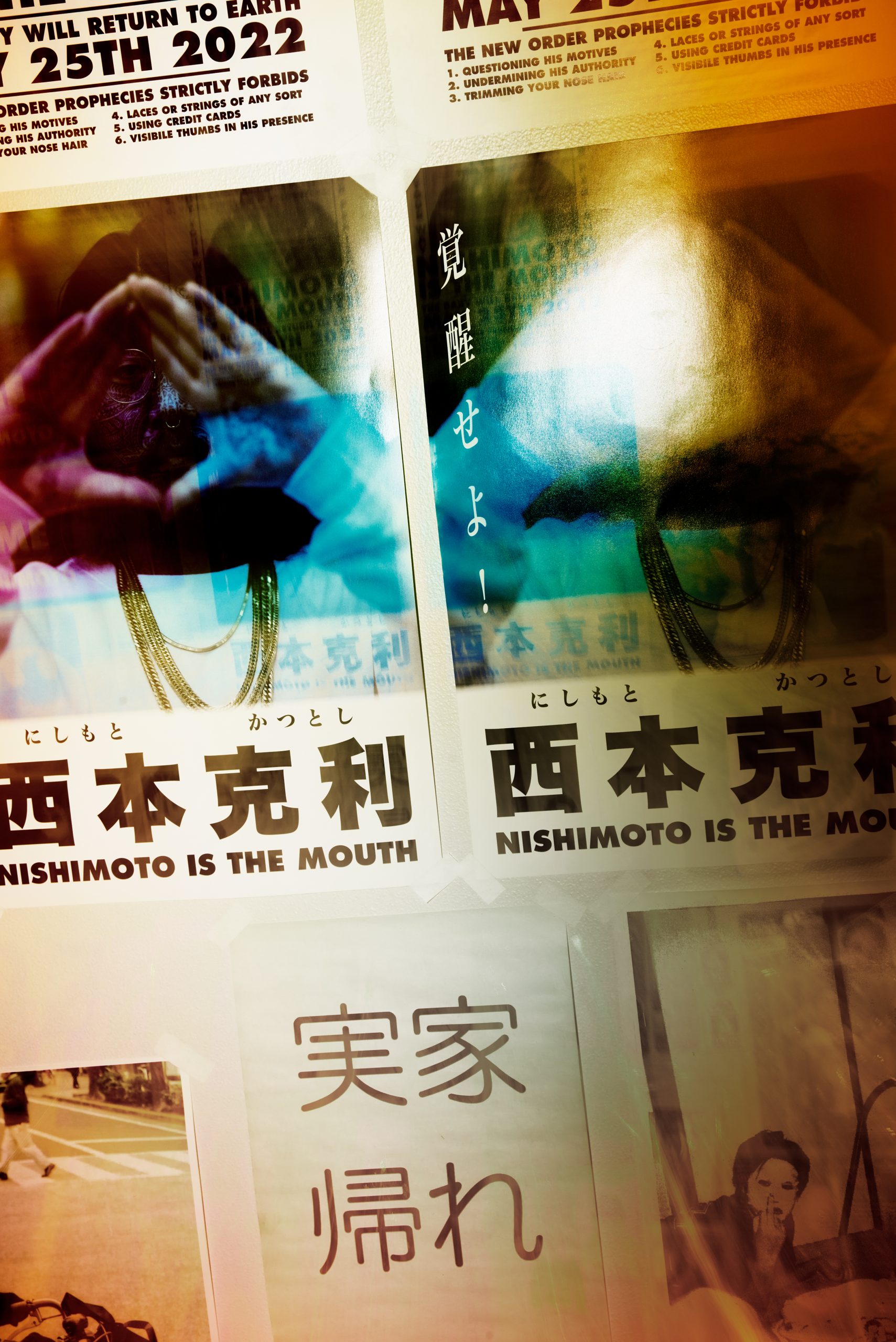 ——Have there been any changes since you started making media appearances?
Nishimoto: People ask me to take pictures with them now. It makes me really happy when people ask me things like that. I'm just a regular person, but I had to practice my signature because people would come up to me and say, "can I have your autograph?" (laughs). I try to be polite when I'm approached, and treat everyone like a God.
Before, mostly people in their thirties were looking at my Instagram. But after my appearance on "Neet tokyo," more people in their teens and twenties visited my Instagram page. I even collaborated on a T-shirt with "Gairoku ch," but instead of the usual price of ¥9,000, we lowered it to ¥4,500 and changed the manufacturing to made-to-order so that anyone can buy one. It felt like more people, old and young, of different genders, were buying the products, and people who aren't necessarily fashion lovers who just like "Gairoku ch" bought the shirts. I received DMs from people who purchased the shirts, and one woman even reacted saying, "it's finally here!" I want women to wear the shirts, too.
——Were there no female customers before?
ishimoto: My friends have told me they've seen women on the streets wearing my shirt, but I've never personally witnessed anyone with it on. Perhaps because I look a certain way and I look like I'm in a cult, people avoid me. But apparently there are people who purchase our products because they think the NISHIMOTO IS THE MOUTH clothes are cute, even though there's nothing cute about it (laughs).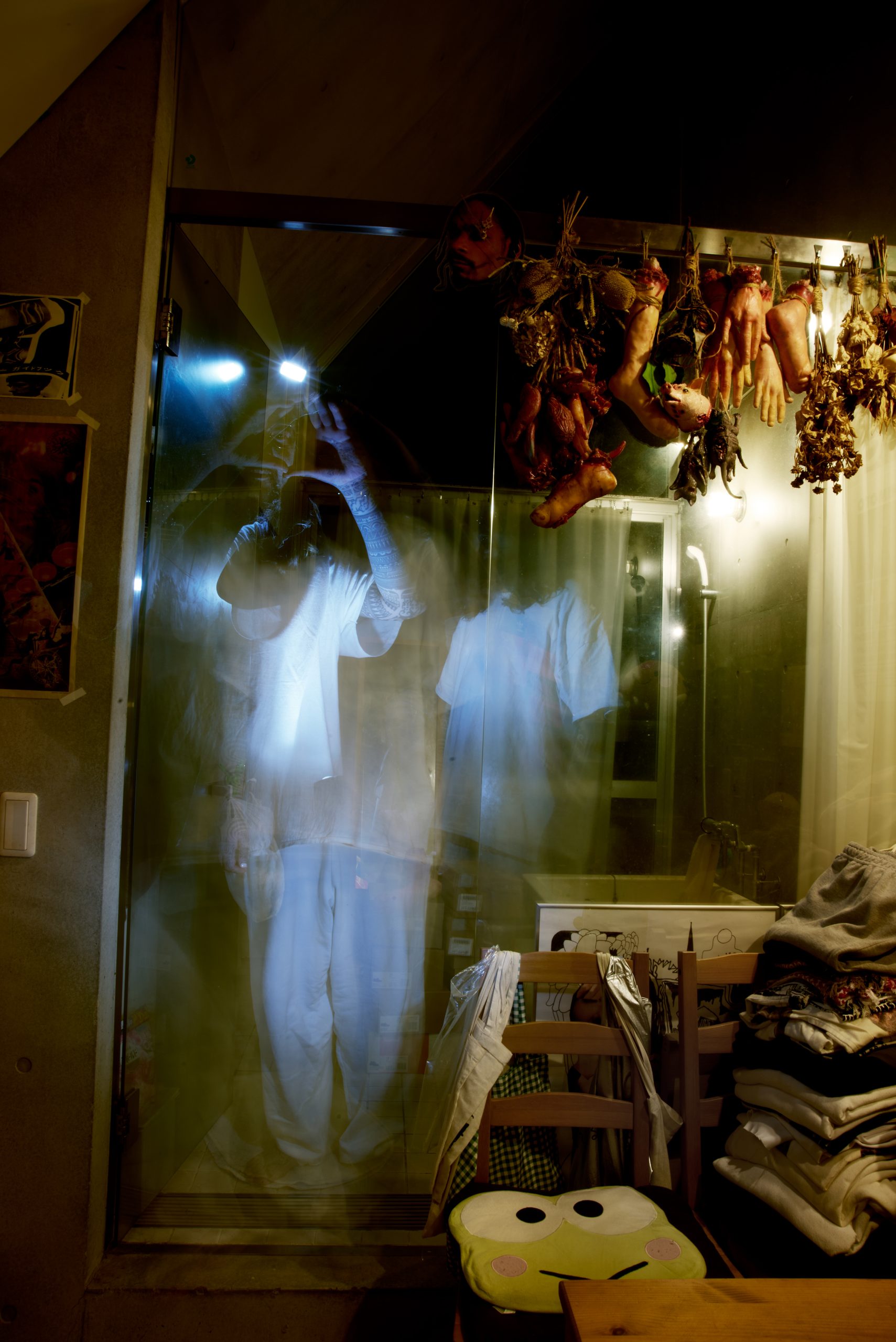 I'm just featured as the first chosen prophet
——NISHIMOTO IS THE MOUTH has gained popularity considerably, but it originated with you giving your friends T-shirts of your face printed on them.
Nishimoto: Around five years ago, a designer friend of mine living in the U.S. came to Japan. When the two of us went for drinks with the artist Joji Nakamura, we jokingly decided to make T-shirts. This friend of mine used to come to Japan often before COVID and brought dozens of T-shirts that he designed every time he came to Japan. I started giving those T-shirts out to my friends. We discussed making a cult-like product, so we joked around while drunk and included messages like, "don't take a cab" or "hide your thumbs when the hearse comes" (laughs).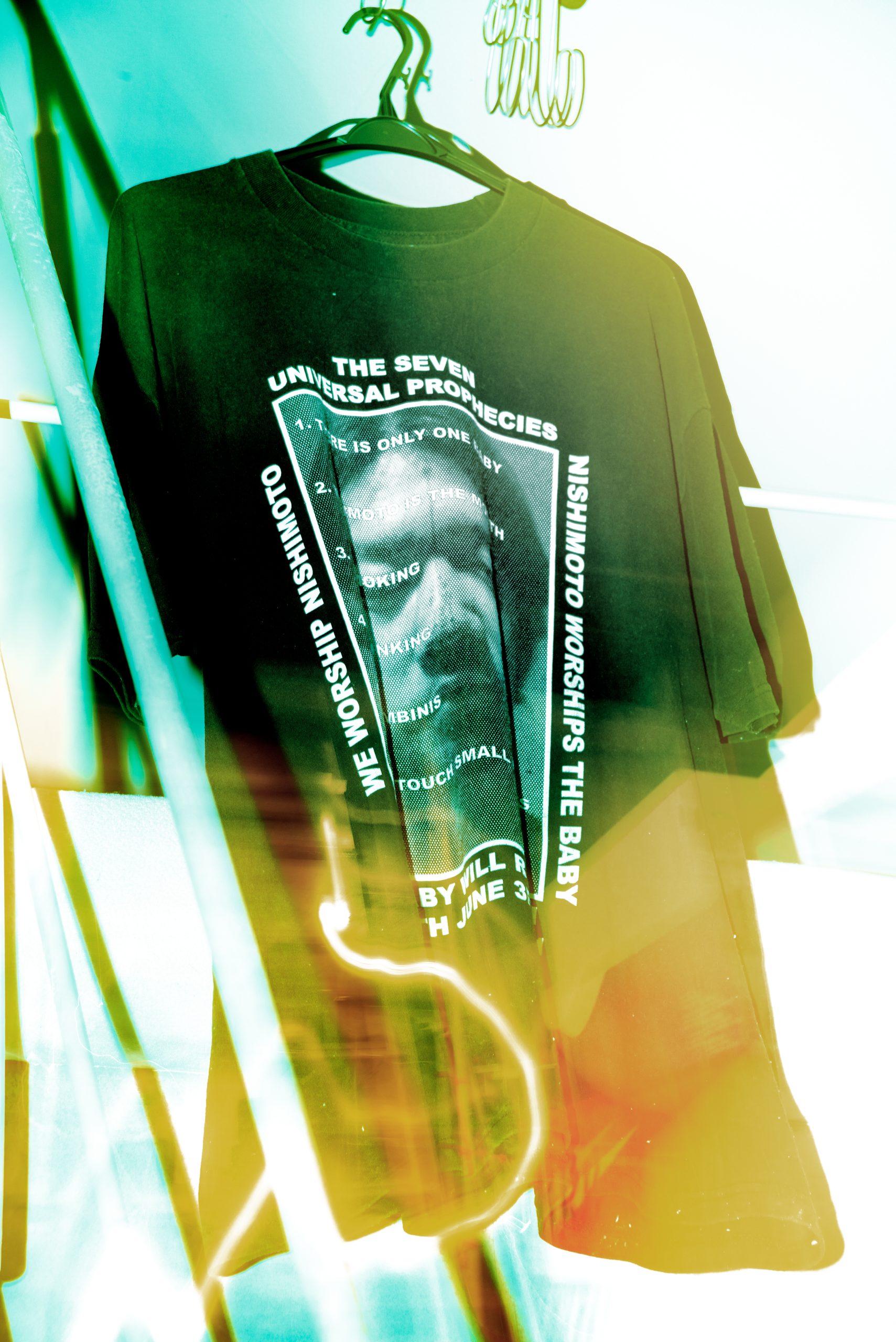 The first T-shirt made at the time of the brand launch
——How did you feel about your face being printed on the shirt…?
Nishimoto: I really despised it (laughs). It was also the version without my glasses. I hated it at first but I thought it would be fine if it was just between friends. I never imagined NISHIMOTO IS THE MOUTH would become this popular.
——Did the popularity of your brand skyrocket because Drake wore it, as you mentioned before?
Nishimoto: When we made the second T-shirt, my friend I mentioned earlier who lives in the US was distributing them to friends there. Through friends, they got Drake, Tom Sachs, Virgil Abloh, and others. When photos of them wearing my shirts surfaced in the media, people were like, "what is this?!" But at the time, I was still working at my previous job and was only distributing the shirts among friends. We weren't selling them yet.
——Tell us how you started selling them as a brand.
Nishimoto: We were making T-shirts as sort of a side hustle. My company accidentally found out that I was helping out with my friend's brand, so I quit the company since I was already partially fired. Two months later, an acquaintance introduced me to Common Base's Mr. Sugaya, who asked me if I would like to start a brand. I started the brand endeavor seriously in 2020.
——Was your friend in the US still making the designs even once you launched the brand?
Nishimoto: He's not involved in any of the current designs, but has the role of producer, and creates our stories. The stories aren't directly connected to the NISHIMOTO IS THE MOUTH clothes, but some designs are born out of these stories that he comes up with. In the future, we'd like to actually tie the stories into the clothes we make.
——So there are stories.
Nishimoto: There are. For instance, some T-shirts say, "something will happen on May 25th, 2022." Since I was chosen as the prophet who knows what will happen on that day, I go deaf. The story has only gone that far. I've also gained weight with age. Within the story, though, the reason I've filled out is because I've become more of a gold digger and I keep asking my followers for money.
I don't know what will come next, but there's a chance I'll die and become a God, or die and be reborn.
——Is there a possibility that the prophet will change?
Nishimoto: There is. It might even change to "SATO IS THE MOUTH" (laughs). I think that's fine, too, because I personally find it funny. I'm just featured as the first chosen prophet. I'm just playing the part, so I'm not the actual prophet (laughs).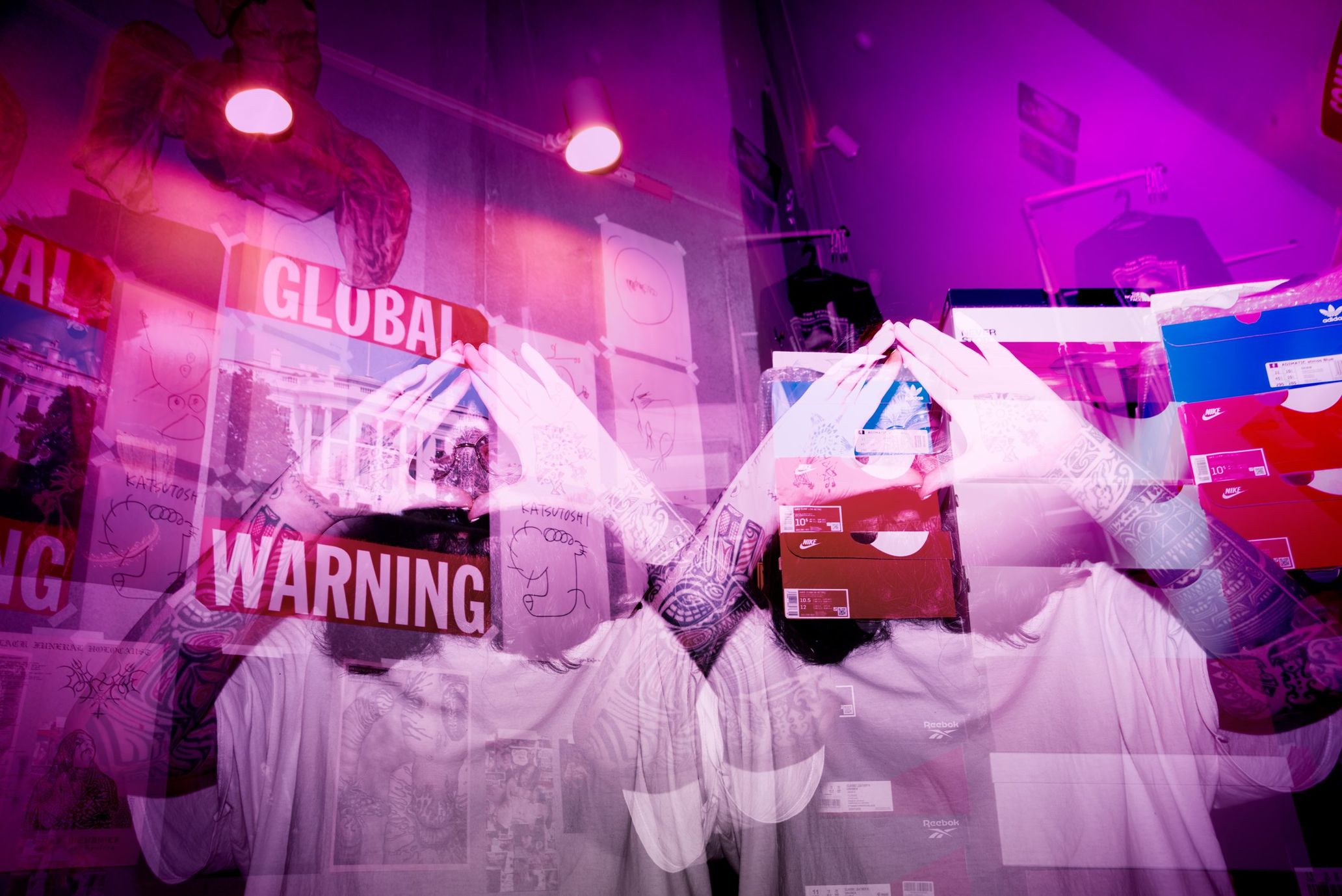 I want my customers to like my perverse items
——What products do you plan to release in the future?
Nishimoto: I want to do more collab releases. In the popup we did in August, I released a collaboration product of a manly avatar of Ken Kagami called "Kenny Kagami." There have been many Ken Kagami collaborations in the past, but I wanted to do something even more interesting. No one was doing "Kenny Kagami," so I asked Mr. Kagami if I could be the first one to use it.
This year, we also released collaborations with artists like HIMMA, doooo, and face, and with overseas brands like P.A.M.. In our collaboration with face, my soft vinyl doll makes an appearance. It's a bit chubby, or more so fat, so that's funny. Also, I love this old lady sex worker in Uguisudani, so I took a photo of her in a high school girl uniform, and have been wanting to release that as a photo T-shirt.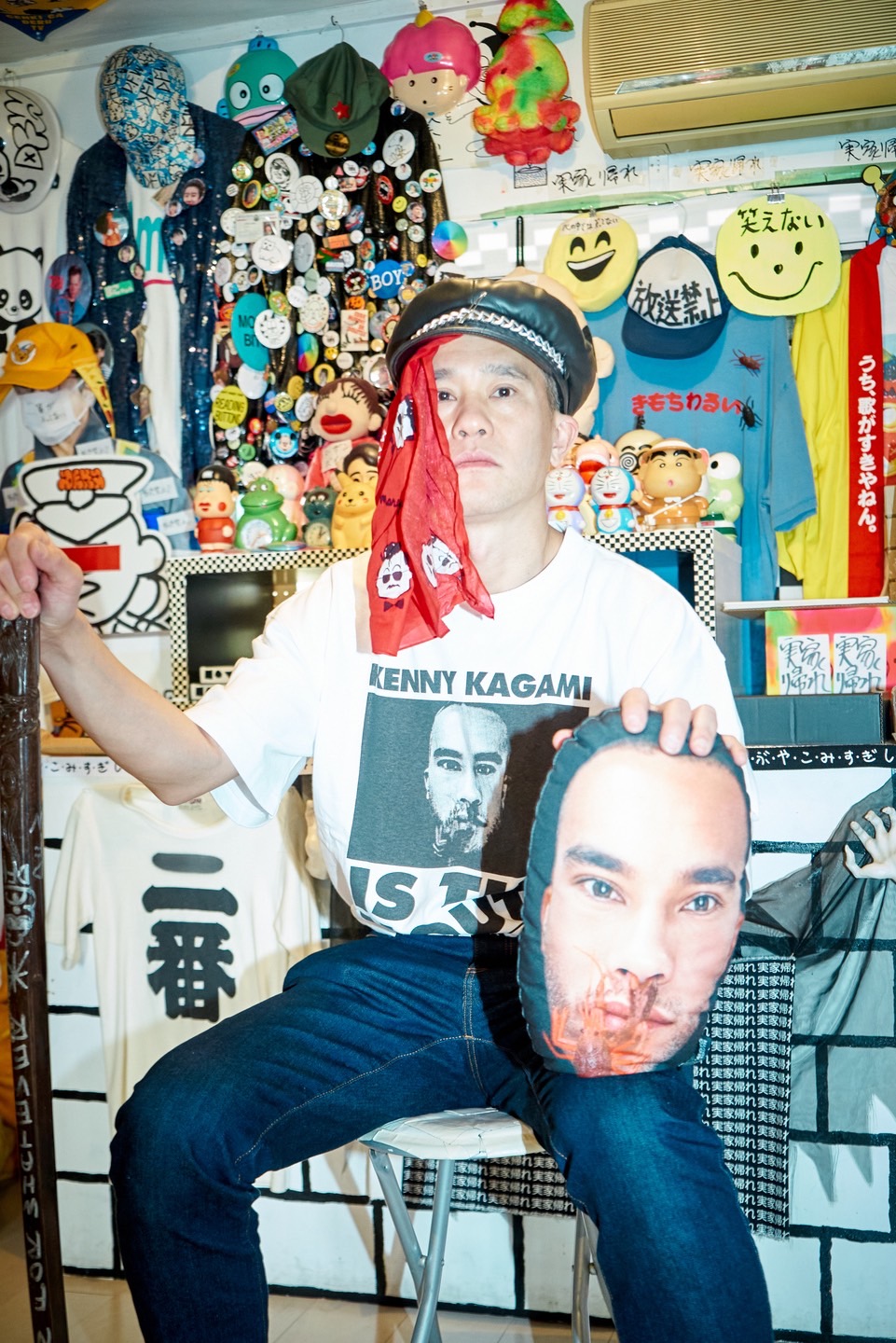 Collaboration with Kenny Kagami
——I see you're planning more new developments.
Nishimoto: We're finally gaining recognition in Japan, and people are starting to understand our work. We've been working towards building a good foundation here, with at least two collaborations in every release for this reason. Many people complain that our release dates are too close together, so we want to plan collabs with people who our customers won't expect, like Atsushi Otani and other people I like or admire. I've also been friends with Mr. SKATE THING since my early thirties until I was forty. He's a huge influence of mine, and I respect him, but it's hard to ask him now. I'd be happy if, ultimately, he could fulfill my dream to collaborate right before I die. I wasn't even able to invite him to my exhibition until recently.
——Because you're worried about what he'd think since he's someone you respect?
Nishimoto: Exactly. Mr. SKATE THING is like a father figure to me, so I'm a bit embarrassed.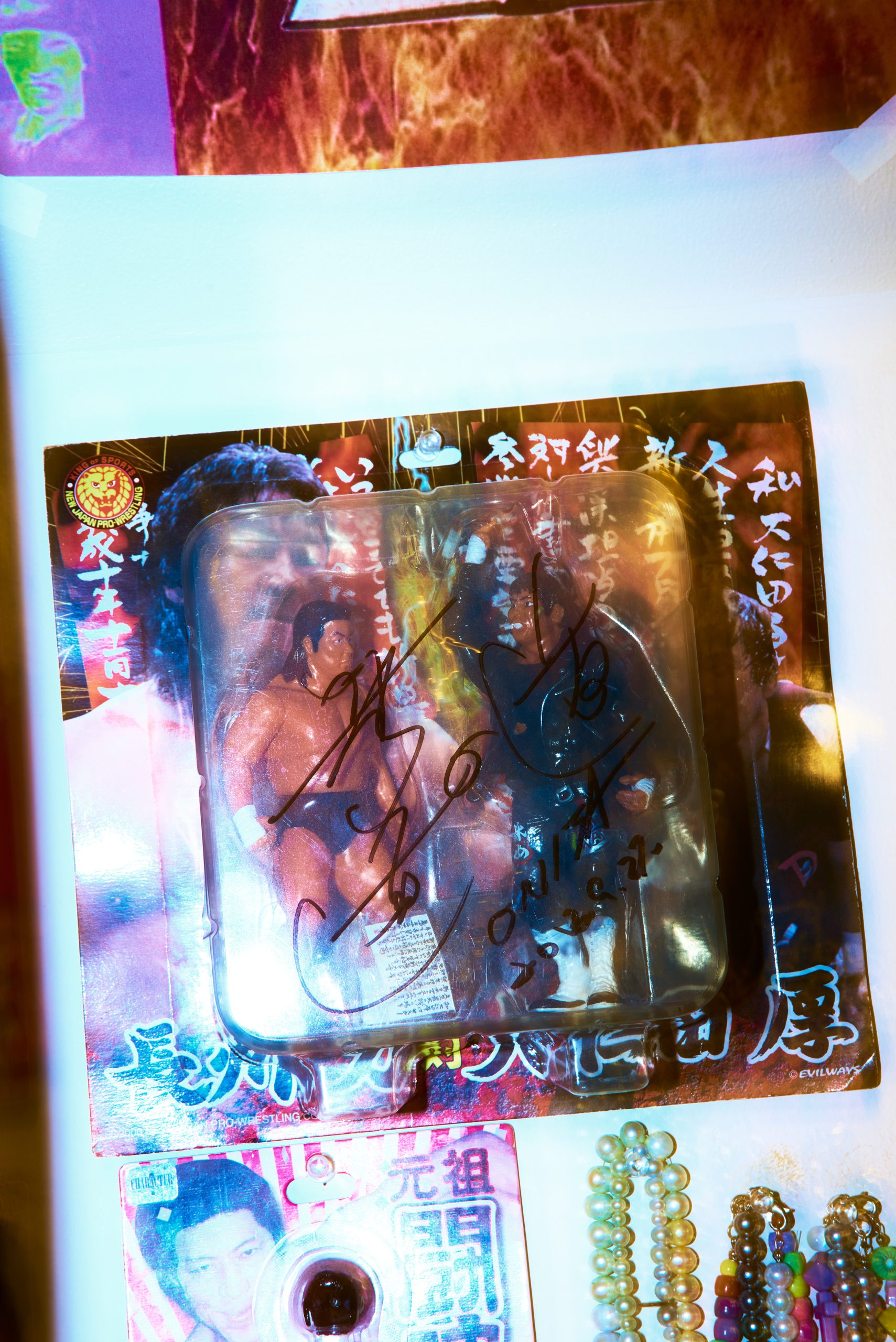 ——You must get offers to collaborate often.
Nishimoto: I get around two to three offers from different companies to collaborate with each month. But I only accept those I actually want to do. I get Mr. Sugaya to decline any collaboration requests with companies that we may not have good chemistry with. I'm not thinking about collaborations for monetary gain, though.
I just want to be able to sustain this lifestyle. I seek to do something much more interesting, something that only I can do, and I want to keep collaborating with people in the art scene because I love art. I wanted to do a photoshoot in Ueno Zoo with Ika Ryu, a female cameraman from Mongolia, and Mr. Hirate, a cool artist who had this crazy exhibition in Ginza the other day. We thought we could make one of those photos into a T-shirt if it went well. It's less like a work collaboration, and more like we're playing around taking photos and making them into products. Everyone is happy. It's sort of like the old Urahara way of doing business; make something and just sell it.
——So you don't make anything from the catalog?
Nishimoto: I wanted to get rid of the concept of seasonal releases starting next season. I don't think there's a need to make outerwear just because it's winter. My brand doesn't release any draped jackets, so I thought a lightweight cut and sew or something would be perfect. Also, for collection brands, I believe it takes about six months from exhibition until delivery. But to be honest, people forget about products from half a year ago. So at NNISHIMOTO IS THE MOUTH, we aim to make the items our customers want quickly, and deliver them in two to three months, and any item that doesn't make it in time for the exhibition will be sold at popups. We also plan to do new product launches. We often get DMs from people living outside of the cities, so we make our products available online to make sure every customer can buy our products.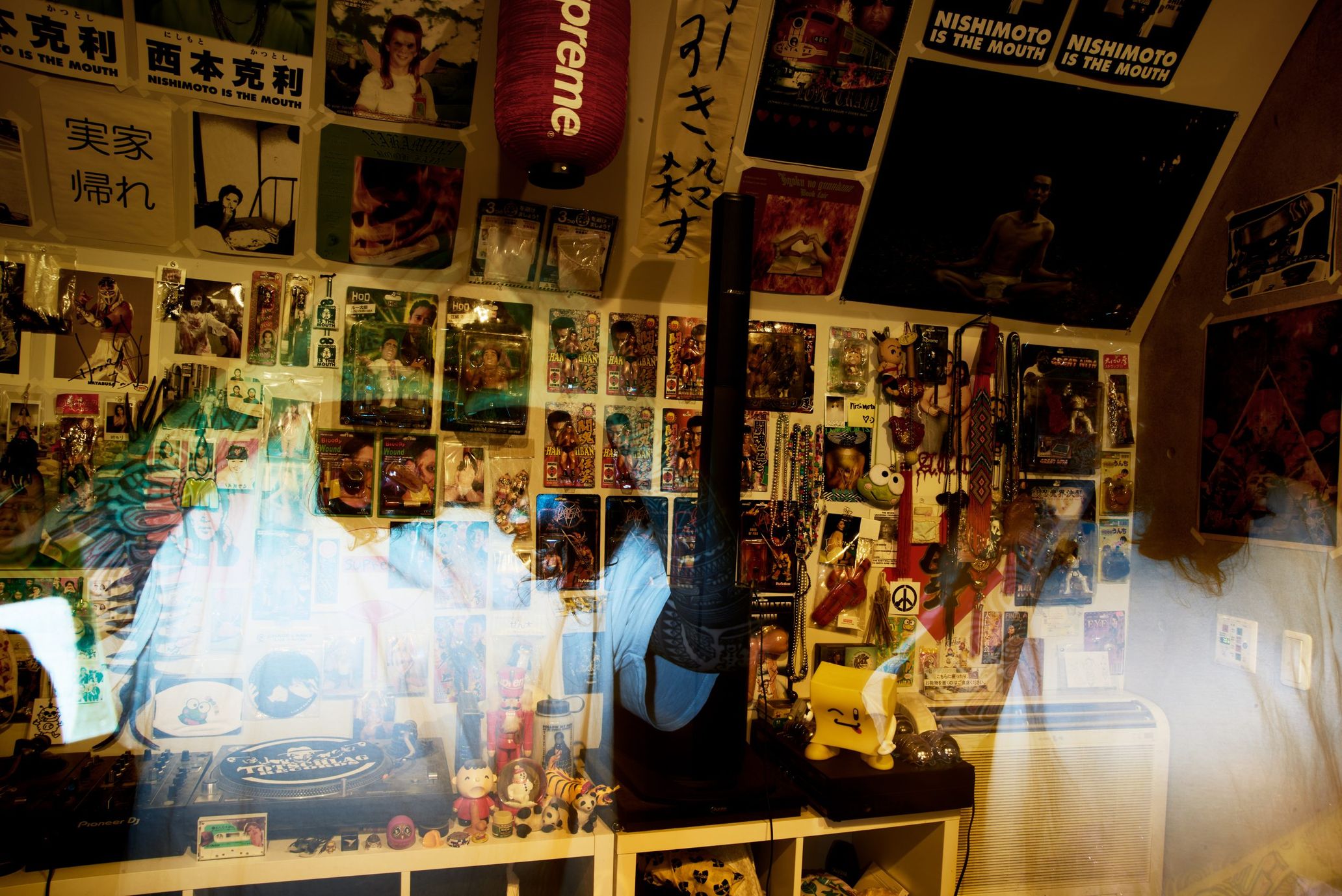 ——It's nice that you can always purchase them.
Nishimoto: Recently I've seen people selling their gift T-shirts on Mercari for around ¥30,000. I've asked people not to buy things on Instagram, but there are still people who do, which is pretty hurtful. Having a premium price for my products makes me happy as a brand owner, and I'm not trying to speak ill of resellers at all. I also sometimes buy sneakers that have premium prices. But if you think about it, it's a waste, because that money could be spent on enjoying a delicious meal.
——What would you like to do with NISHIMOTO IS THE MOUTH in the future?
Nishimoto: I've decided only to think about what's six months ahead. I said earlier that I might die and become a God, but I don't actually know when I'm going to die. Sometimes I'm asked about ten years from now, but I may not be doing this then. The brand might not even exist in ten years time. If I was terminally ill with cancer, I wouldn't have time to continue with the brand. That's why I decided only to think about what's six months ahead, create products that are more interesting than ever, and come up with items that are unlike anything else, something that's unique to me. In other words, I want to make perverse products that our customers will enjoy. Perverse enough that they think, "this guy is stupid." I guess that's it.
Photography Hidetoshi Narita
Text Kango Shimoda
Translation Mimiko Goldstein