The concept of the brand NISHIMOTO IS THE MOUTH is based on an imaginary cult club. The director of the brand, Katsutoshi Nishimoto, who adorns tattoos all over his body, may seem unapproachable at first glance. However, when speaking with Nishimoto, one is struck by his soft-spoken and polite manner.
In addition to tattoos, he has many other interests such as music, sneakers, and figurines. He also possesses a kawaii side, with his love of stuffed animals and Sanrio. In part two of this interview, we will get to know Katsutoshi Nishimoto through his tattoos and other cultural elements that make up his personality to his thought process.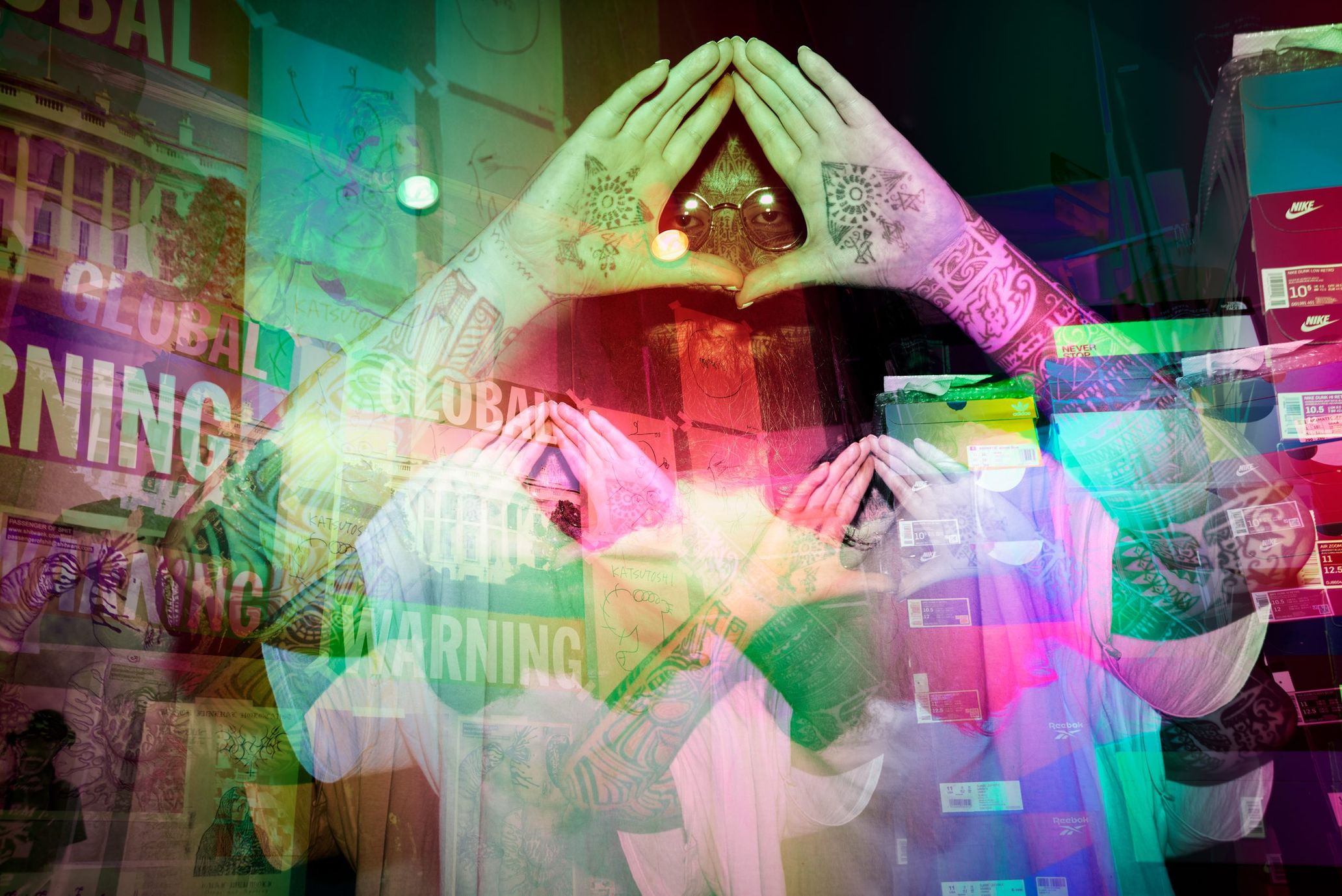 Katsutoshi Nishimoto
Born in Saitama in 1979. Director of NISHIMOTO IS THE MOUTH. Nishimoto started to take his NISHIMOTO IS THE MOUTH endeavor seriously after retiring from a popular apparel brand in 2020. He has made several media appearances, including on YouTube channels. Nishimoto started his own YouTube channel, NISHIMOTO IS THE YOUTUBE, and has been actively increasing his media exposure.
https://nishimotoisthemouth.com/
Instagram:@k_nisimoto_
Twitter:@Nishimoto6996
YouTube:NISHIMOTO IS THE YOUTUBE
You're basically paying for pain when you get a tattoo
——When did you first become interested in tattoos?
Katsutoshi Nishimoto (Nishimoto): I started reading magazines like "Tattoo Burst" and "Burst" in middle school. It was too expensive to buy and I didn't have money, so I read them at the bookstore and tore out the pages I liked (laughs). Then, I started getting interested in how painful a tattoo would be, and got a tattoo of an elephant on my wrist when I was fourteen. At school, I wore bandages and a pile of wristbands to keep my tattoo concealed. My parents found out immediately, but I don't remember getting scolded too much about it.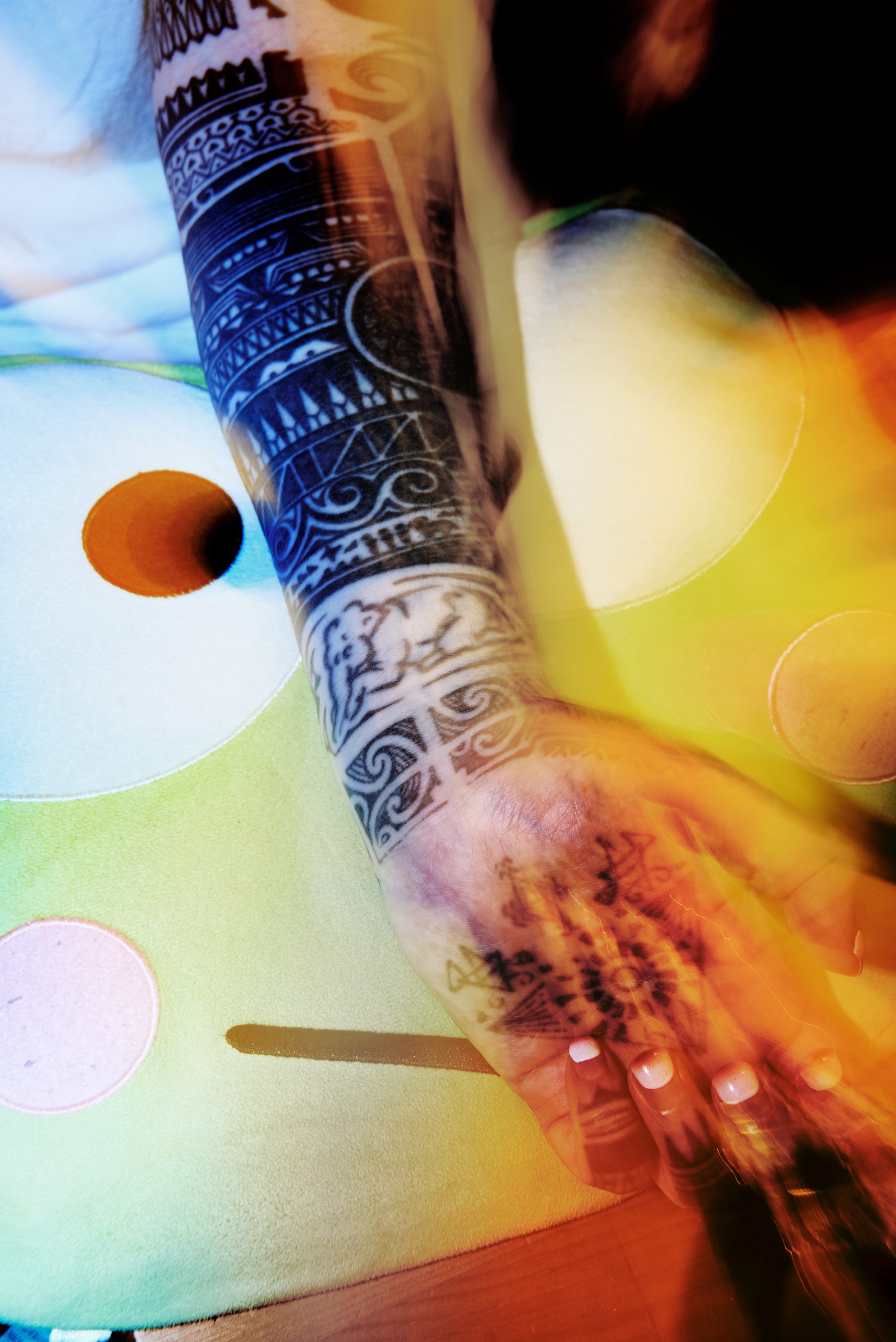 Elephant wrist tattoo that he got at age 14
——Why did you choose this tattoo of an elephant?
Nishimoto: I got it done at a tattoo shop on Takeshita street by an artist I didn't know. The price of each tattoo was set at ¥10,000 for one tattoo and ¥15,000 for another, and I kind of liked the elephant that was there. I learned this later, but elephants are revered as Gods in India. It also matches my tribal tattoos, so it seems my fourteen-year-old brain made the right decision. I could fill it in, but I'm leaving it as is because it matches the other tattoos.
After that, I went down a tattoo culture rabbit hole. I wanted to get a well-done tattoo and found a tattoo artist named Yasu and contacted him because I thought that he was incredible. He got back to me about a year and a half later, and gave me three tattoo designs, all of which were very cool. Since then, Yasu is the only person who has tattooed me, which is why I don't know any other tattoo artists. If Yasu died, I wouldn't want to get any more tattoos, even if some of mine were incomplete. That's what our relationship is like.
——How much did all your tattoos cost in total?
Nishimoto: It's around ¥20,000 to ¥30,000 per session, so around 10 million yen total.
——Are you planning to get more?
Nishimoto: I haven't gotten a new one in about two years. It's mostly about how I'm feeling, and I just don't feel like it now. I'm more focused on the success of my brand at the moment. I don't have any tattoos on the soles of my feet or my penis, so I'd eventually like to get new tattoos there and in the whites of my eyes. My friend recently got a tattoo in the whites of his eyes, but was told that he may go blind in less than ten years. If my friend doesn't go blind in the next nine years, I'll get it done.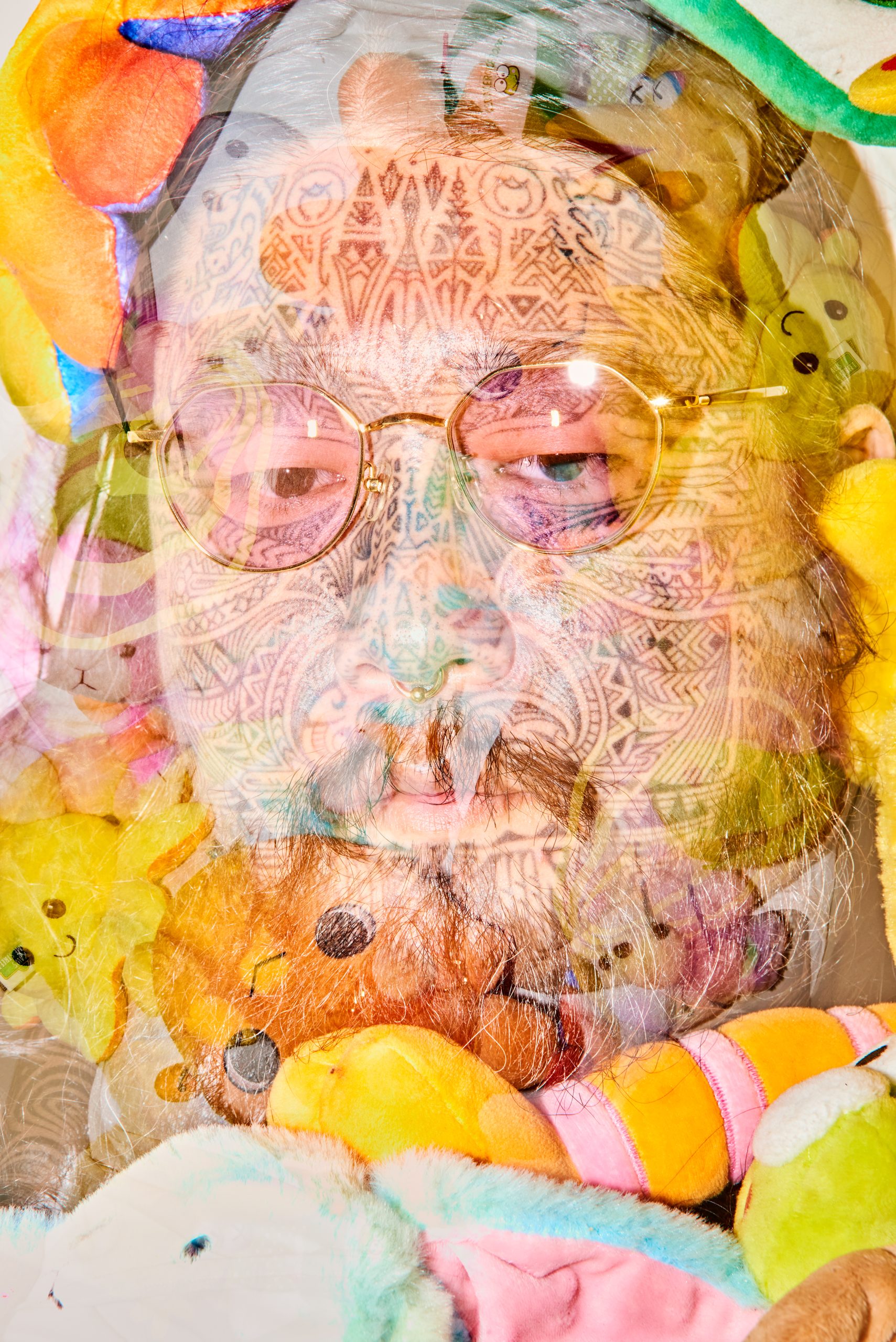 ——This may be an ignorant question, but do you use anesthesia when you get a tattoo?
Nishimoto: You don't. My personal tattoo philosophy is that tattoos are created from pain. There's no point in a tattoo without the pain element. It's like you're paying for the pain.
—— I imagine it must've been quite painful for someone like you with full body tattoos……
Nishimoto: There's almost a rhythm to it. You get used to it once you have so many. I even fall asleep while getting them. Although my achilles, the backs of my knees and thighs, and my ass were painful. And my palms. My wrists were being held down while I was getting my palms done, but it hurt so much that my body would reflexively move as a rejection of the pain. I really wanted to punch Yasu while he was doing it, too. He asked me if he could fix the pattern on my palms, but I can't go through with that unless I'm really excited about something. I'm thinking of getting it fixed when I start dating a really beautiful woman.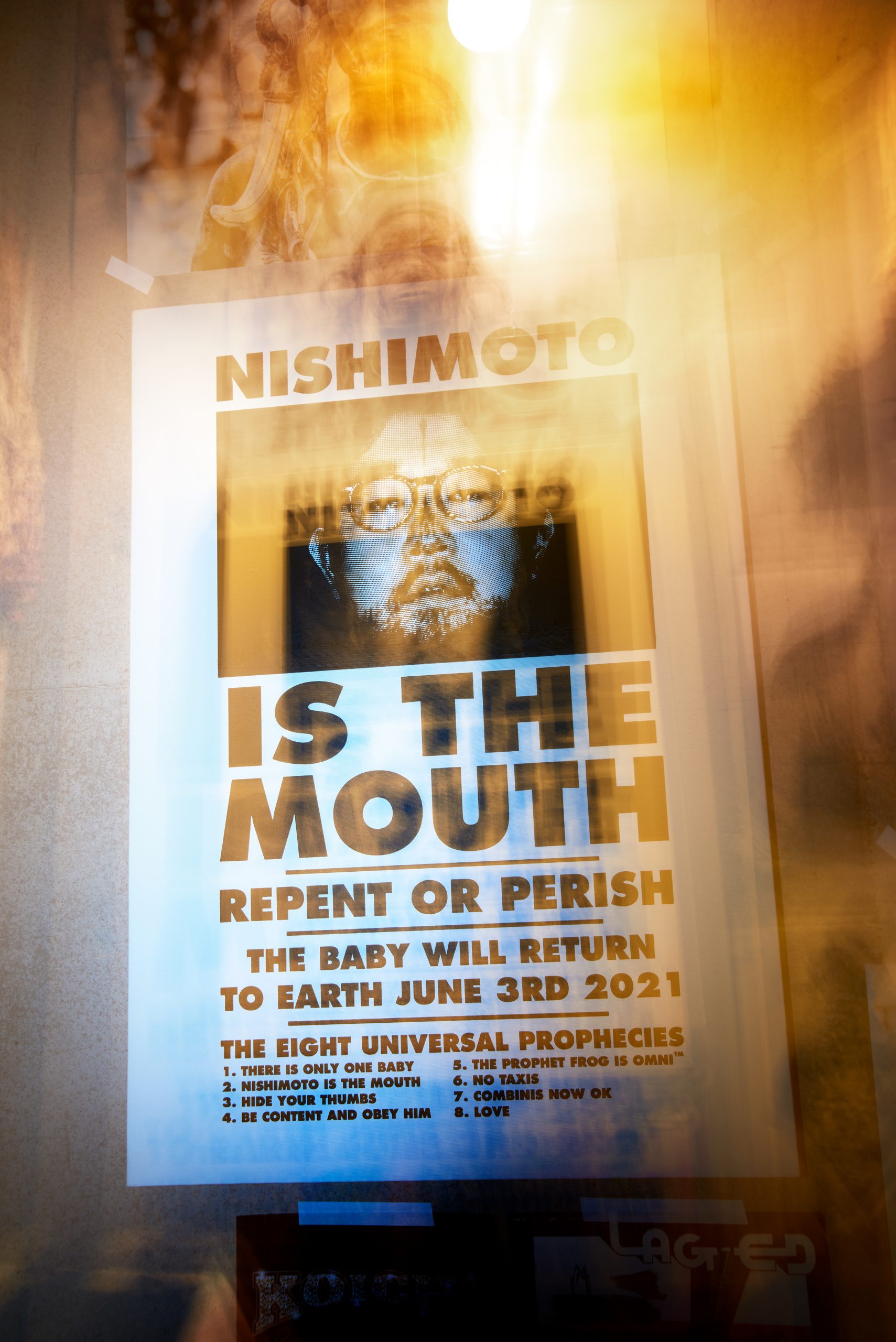 I want to hook up younger artists
——You always wear a white T-shirt and white pants. Do you always wear a specific brand?
Nishimoto: I'd like to keep the brand a secret (laughs). Although I have at least ten sets because the sizing and balance work so perfectly. NISHIMOTO IS THE MOUTH T-shirts are sturdy, thick, original T-shirt body designs, but I personally prefer thinner fabric.
——Do you ever wear your own brand or other colors?
Nishimoto: I have, but it never felt right. I sometimes keep them as memorabilia, but I end up giving them away. When I wore a Nishimoto Is the Mouth T-shirt for a shoot in Portland, an American friend of mine told me to change back into my normal white outfit, and I've kept the full white outfit ever since. Since I only wear white, I enjoy fashion through sunglasses, grillz and sneakers.
——Is there a chance your mood will change that in the future?
Nishimoto: There was a period when I only wore black, but I don't think that'll happen again because white is working well for me. And I don't get questioned on the street by the cops when I'm wearing white. I've only been stopped by cops three times. When I walk home in the morning from the club and pass a police car, I get a lot of looks, but never get stopped. Maybe when I wear white, they think, "this guy might not be a problem after all."
——You talked about sneakers earlier, and have a considerable amount of sneakers at home. How many pairs do you own?
Nishimoto: If you include the pairs at my parents' house, I'd say around 500. I used to only buy Nikes, but it's spilled over into Asics and Salomons, too. I'm constantly buying sneakers and records. I feel like I wouldn't be myself if I stopped buying them. I can't help but want them when I see pictures, and I watch Sneaker Wars everyday. I watch that show and feel bad that new sneakers are coming out. I think, "I'm gonna run out of money again" (laughs). I wouldn't care if it was past the release date, but the day before is the worst. I just have to check.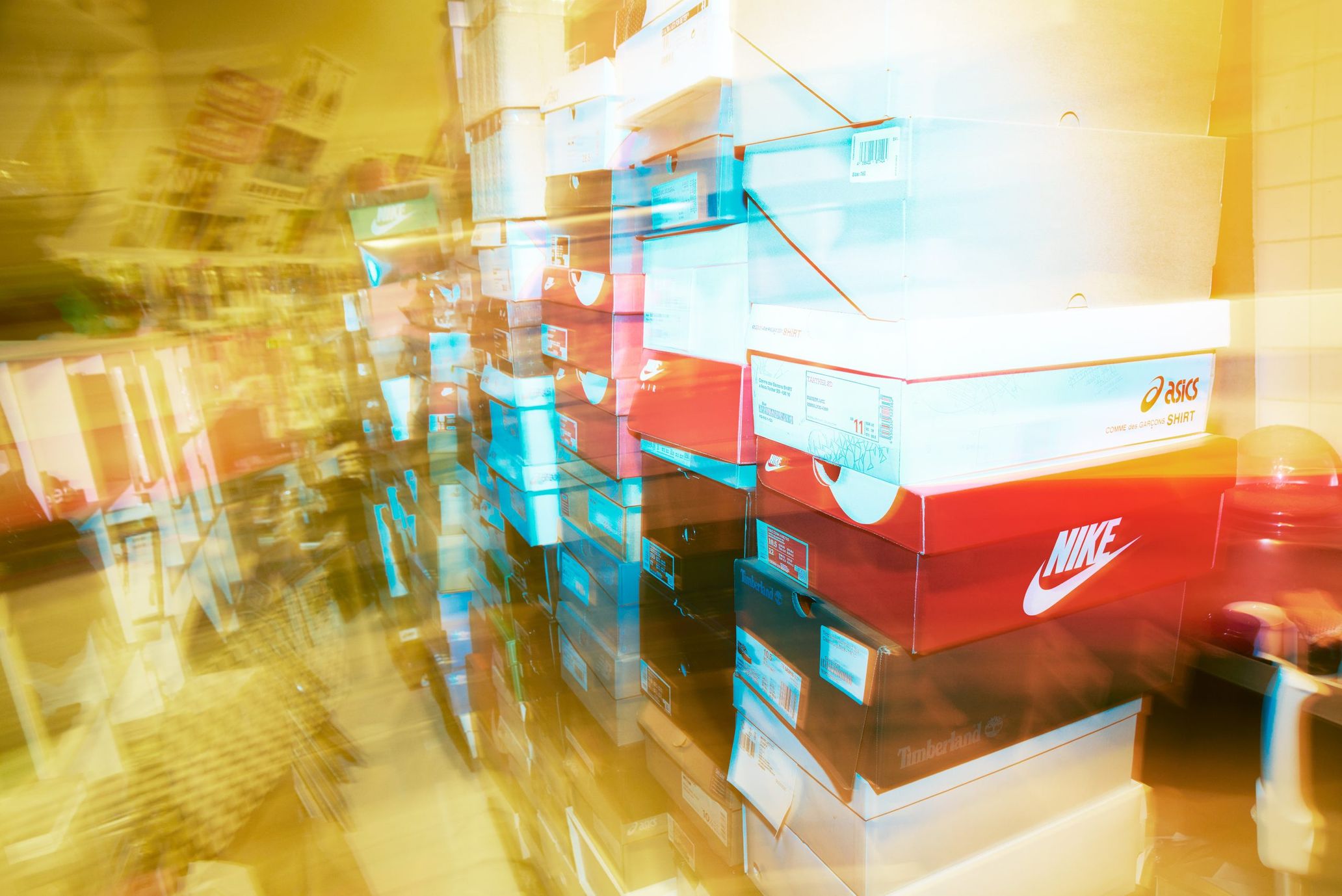 Sneakers overflowing in his house
——I understand that feeling (laughs). I often ask my acquaintances to buy sneakers for me (laughs).
Nishimoto: I do that for the ones I can ask for, too. The ones I can't ask for I don't even think I can win through the lottery. If I really want it, I'll buy it at the premium price. If it's around ¥5,000 more on SNKRDUNK or Mercari, that's a good buy. I'm not really interested in premium sneakers, so I don't buy them for hundreds of thousands of yen.
——What's a sneaker you bought recently?
Nishimoto: The Nike Air Kukini in triple black, the Nike x Jacquemus collab Air Humara, and others. The Asics that Kiko (Kiko Kostadinov Studio) designed is also cool. If they come out with four colors, I usually want all of them. It's a disease.
——Do you wear the ones you buy?
Nishimoto: I actually don't (laughs). I like sandals in the summer. I open the box once it's delivered, try it on once with an outfit, look in the mirror, think it's cool, and that's it. I'm fulfilled just by owning it.
——Is there anything else you collect?
Nishimoto: I also collect art. Not art that costs hundreds of thousands of yen, but art by young, cool artists. This is my personal opinion, but I'm not interested in commercial art that focuses on how much you can resell it for. I'd rather hook up younger artists. They don't have money yet, and it costs money just to buy paint. So I send clothes to the artists I like so they can use that money they would've spent on drinking and art supplies. But it can't just be any young artist. I'm betting on artists that will eventually blossom and become popular in ten years or so.
——You also own many figurines and records.
Nishimoto: The walls of my room represent the inside of my brain. It's pretty stupid. I like to buy rather strange figurines. For instance, I don't want an Antonio Inoki figurine, but I'd love a Haru Ichiban figurine. I also like stuffed animals and Sanrio. The Sanrio characters I've liked since I was a kid are Tabo and Keroppi. I used to visit the Sanrio shop close by often. And I like frogs. I had thirteen pet toads at my old place. Their eyes are really cute. I like different types of music, too. I like noise and black metal, but also listen to J-rap, and artists like iri and Boredoms. I DJ at a party I host called "Zuttomo" at the Shibuya Lion once every two months, where I only play weird vinyls. When I play trance music from the late 90s to 2000s, the young kids who have never heard it before start to mosh and stuff. It makes me happy to see them get so excited.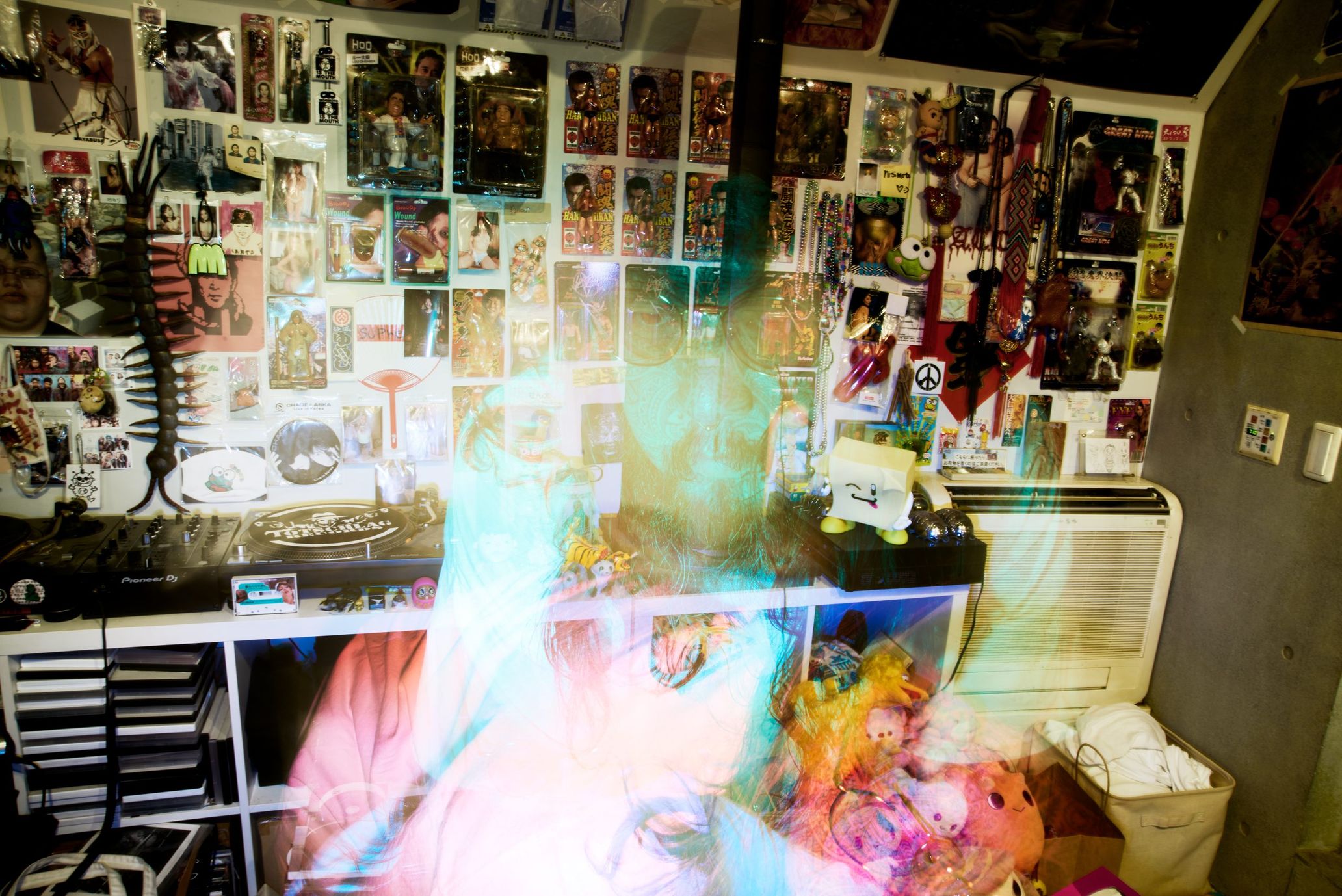 The figurines on the wall that are said to represent the inside of Nishimoto's brain
I'd rather people think I'm stupid than people be concerned for me
——You've started your own Youtube channel recently. What prompted you to launch your own channel?
Nishimoto: There's nothing specific. People told me that I should, and I went with it. But I don't want my YouTube channel to be too intertwined with the world of NISHIMOTO IS THE MOUTH. I'd like to just get footage of the real Katsutoshi Nishimoto. Although the title of the channel is "NISHIMOTO IS THE YOUTUBE," which means I haven't actually succeeded in separating the two (laughs).
My goal is to get 10,000 subscribers by the end of this year. I've just been uploading all the videos that we've been taking and copying popular YouTube video prompts like 100 questions and routines. But we're now talking about making a Terrace House-type drama about two grandmas falling in love with me. People have also told me to start a TikTok. I've heard that doing TikTok can really increase your YouTube and Instagram followers, so I have to do it.
——Will you be dancing on your TikTok?
Nishimoto: I know. I thought I'd do expressionless dances. I turned it down once, but I've been told that we'll have to start filming them soon.
——Who is telling you this?
Nishimoto: The cameraman who shoots my YouTube videos. He's a TV cameraman as well, and he always does my stuff for free. He's a good editor and helps me a lot, but also finds my content funny. I'm not a comedian, but I'd rather be laughed at while I'm alive and die while being laughed at. I want people to laugh and think I'm dumb for having tattoos all over my face. I'd rather people think I'm stupid than people be concerned for me.
——Have you always felt that way?
Nishimoto: No, my feelings have changed since I quit my previous job. I was depressed before, and when I got my face tattooed, people started to look at me weird. I had to go to a psychiatrist because my autonomic nervous system was shot. But there were many people with much worse conditions than myself there, which made me realize I was relatively healthy. Even though at the time, I really felt that my mental health was deteriorating. I like tattoos but getting tattoos made my mental health worse. I was also depressed when I quit my previous job that I had to get unemployment benefits at the public employment security office. It was sad. I wondered how people looked at me. I'm sure they thought, "this makes sense" seeing me in that waiting room with this appearance.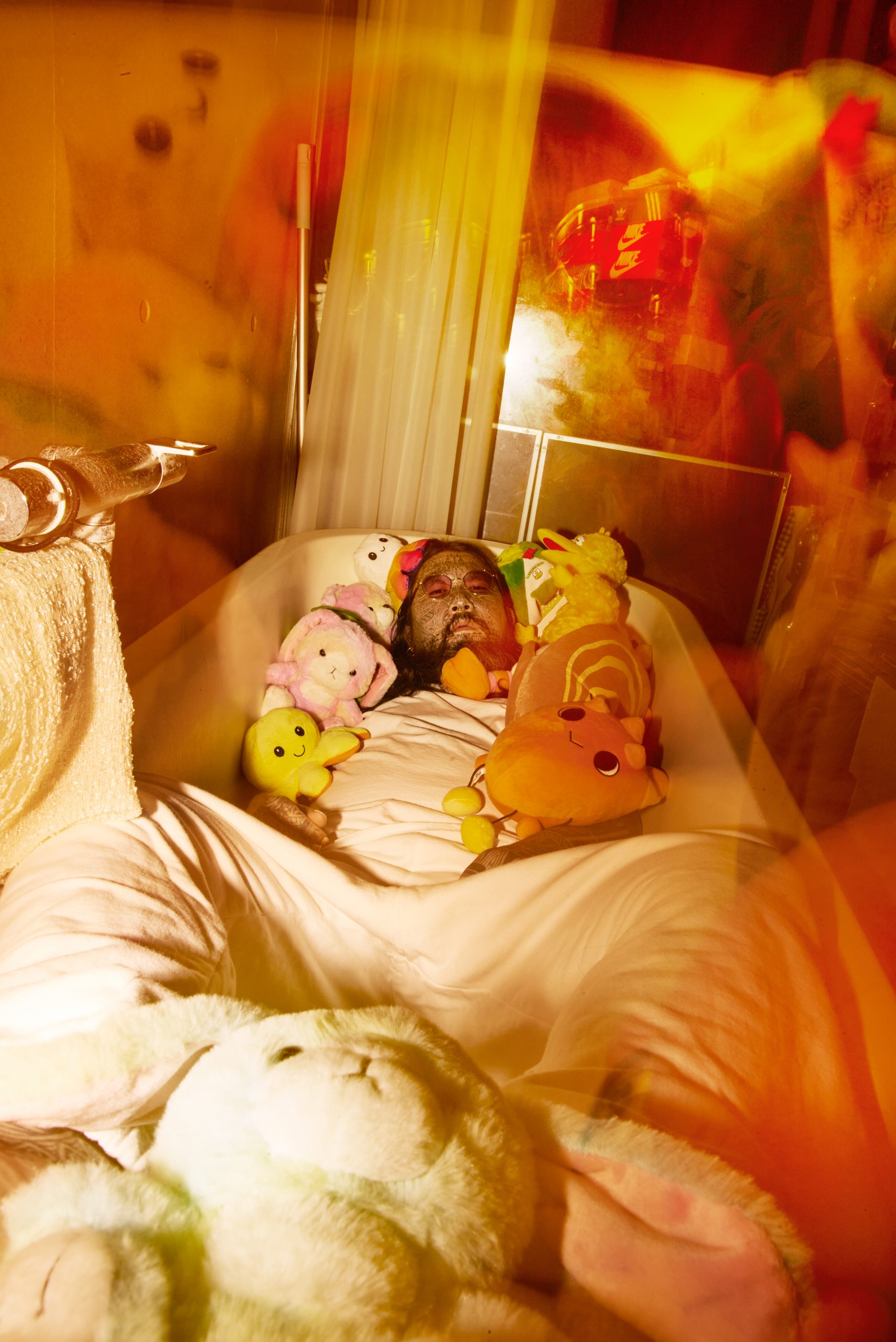 ——You used to go to the public employment security office?
Nishimoto: I didn't want to write a resume and I knew I would fail all of my interviews, so I didn't go to look for jobs. I was thinking I could work at a club or do physical labor or something. But two months later, I got an offer to start a brand. I thought, "great, now I don't have to work!"
——And once you started NISHIMOTO IS THE MOUTH, your mindset changed?
Nishimoto: Exactly. Once I started the brand at 40, my mindset changed to a more positive one, and I learned to embrace the future. The current environment where I'm self-sufficient is great, and I feel like I want to do everything.
I'm super thankful to the people around me, like Mr. Sugaya from Common Base and the YouTube cameraman. I feel guilty that I'm the only one being featured, because I couldn't have done any of this alone. I'm able to be featured in this way because of the people around me. I always feel so thankful for my friends, senpai, and artists that have helped me.
Photography Hidetoshi Narita
Text Kango Shimoda
Translation Mimiko Goldstein