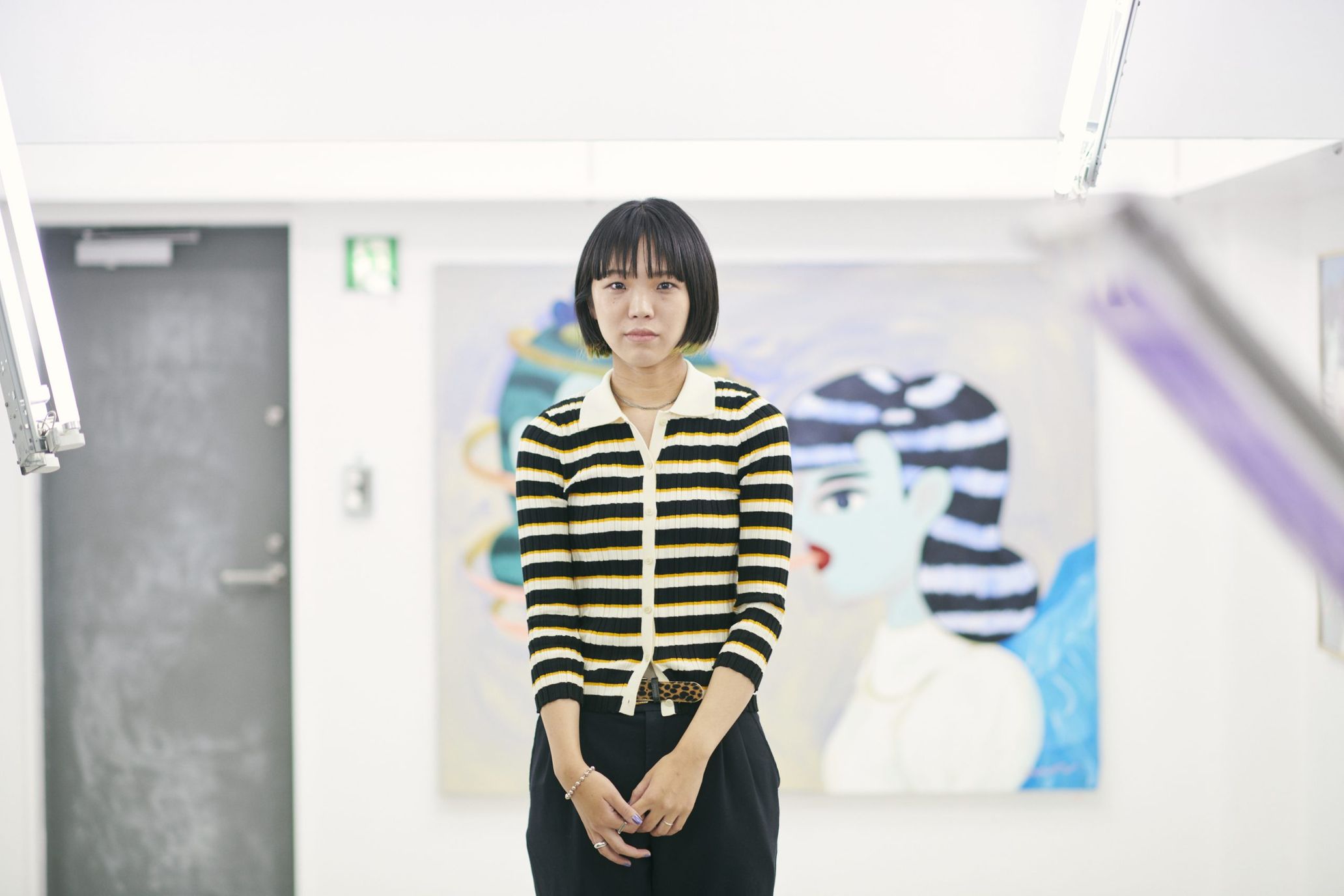 Prominent young artist Momoko Nakamura is known for her distinctive style, in which cuteness and venom coexist in the motif of expressionless women and flowers. She started her career as a graphic designer, but came to feel uncomfortable working on a computer. After quitting her job as a designer, she uploaded a picture she had drawn on Instagram, which led her eventually to become an illustrator. She also does a lot of client work, including illustrations for advertisements and magazines. We interviewed her about her creative practices to date and her own style at the venue of her solo exhibition mutant held in June.
From Graphic Designer to Illustrator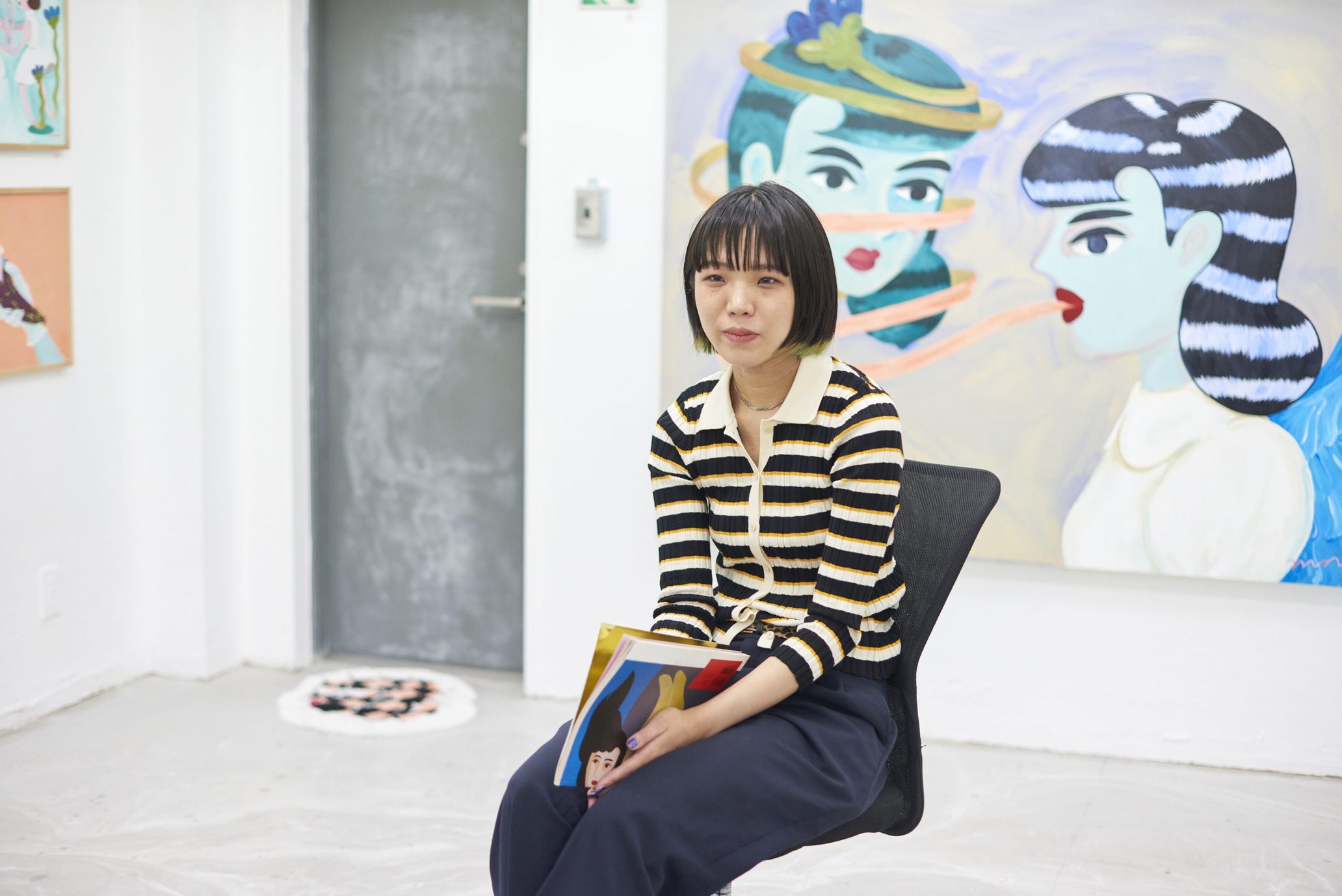 — I've heard that you grew up watching your mother working at home. Did you have the idea of becoming an illustrator someday from when you were a child?
Momoko Nakamura (Nakamura): I remember that I wrote "illustrator" as my future dream when I was in kindergarten, but looking back now, it might be because I only knew my parents' work at that time (laughs). Until I graduated from high school, I had a vague idea of becoming an illustrator in the future, but when I started attending the Visual Design Department of the Kuwasawa Design School, I learned about graphic designer and other professions, and I felt like my world had broadened a little. So in my final year of the college, I chose the seminar of graphic designer Katsumi Asaba, of whom I was a fan, and I went on to work in his office.
— I think the process of design and drawing feel different, right?
Nakamura: I was working for his office for about three and a half years, but I felt that working on a computer was not really connected to my hands. I became aware that I had an overwhelmingly analog brain, and I wondered whether I should continue my career as a graphic designer or not. Anyway, after quitting the job, I bought a canvas and a brush and uploaded my painting on Instagram, and a friend of mine who runs a gallery asked me to exhibit it. But at the time I had just started the job hunting, and I painted about 20 small canvases and framed works, and had a solo exhibition, which was my first opportunity to work as an illustrator.
–When was that?
Nakamura: March 2016. I had my first exhibition at the café/bar "Daitokai" in Shibuya, and fortunately my works were almost sold out. Since "Daitokai" was a bar, I simply thought, "Oh, it's a good life if I am able to drink with people around me and create artworks" (laughs). With such an easygoing feeling, I stopped looking for a new job and became an aspiring illustrator.
I respect my mother as a parent, as a woman, and as an artist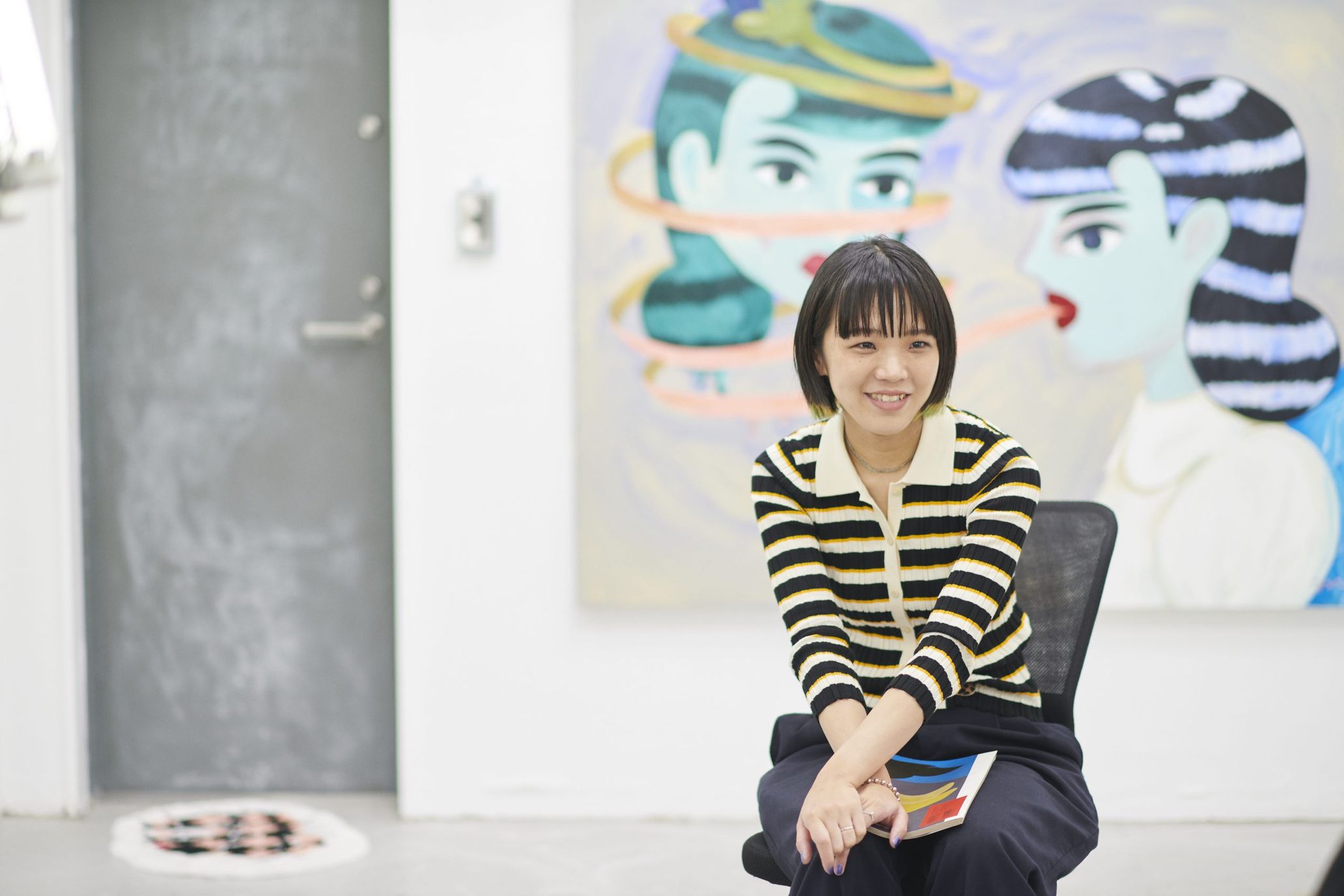 – Did you feel any conflict between being a designer and an illustrator?
Nakamura: My mother told me, "Since you have studied design, why don't you do it a little more?" During that period, I was going for job interviews to show my design portfolio but spontaneously saying "I want to draw pictures" at the interview, which was totally contradictory. So, looking back now, the year or two after my first solo exhibition was a time in which I was wondering what I really wanted to do.
–Were you consciously painting "women" and "flowers" frequently from that time?
Nakamura: Yes, I was. I was drawing women because I like observing people and interacting with people, but at first I was very conscious of the need to paint various new motifs as if I was making a design portfolio, so I could not just draw the motifs I liked honestly. But after realizing that there were painters who continued to draw their favorite motifs as if to work on studies, I relaxed my shoulders and came to think that I can just draw what I wanted to draw at the moment. From there, I began to paint "women" and "flowers," which I find attractive as forms.
–Your works are also characterized by unique color hue. Has it remained the same since then?
Nakamura: Well, when I was a student, I desperately dislike color composition (laugh). I became allergic to colors in school, and all I did were black-and-white doodles. But after I started using colors with paints given to me by a friend at my first solo exhibition, I gradually became able to use colors freely, just like when color-coordinating clothes.
–I imagine that while you were working on paintings, you began to break free of the stereotypes that had developed in you on your own. You once said in an interview that "painting is healing". In the process of painting, is there anything that causes you pain or stops your brushstrokes?
Nakamura: I don't paint until I feel like painting, so even when I have a deadline, I wait until the very last minute until I am excited about working on it. I think that when I am motivated in this way, the feeling of being pleasant persists, which leads to healing. Basically, in everything, I only want to do what makes me feel good.
–Do you decide on how you paint intuitively while working?
Nakamura: I develop an idea sensuously, but when it comes to production, I focus on energy and speed, drawing a solid draft and applying colors accordingly, which I think is antithetical to being sensuous.
–As can be seen from the solo exhibition body held at L'Illustre Galerie LE MONDE in 2020, you have recently begun to exhibit ceramic works,. How do you feel it differs from painting?
Nakamura: In terms of painting, I basically want to paint comfortably and without waste, knowing the finished form, but one of fun parts of ceramics is that there are uncontrollable parts: you don't know the color and size of the piece until it is fired. I find the process of kneading the clay while tracing the texture of it as if I were taking a walk, while not being able to control it fully, to be therapeutic. Although the painting is my main focus, pottery provides a different kind of stimulation that will hopefully lead to healing in the production process.
–In 2021, you held a two-person exhibition Utsukushii Hito with your mother and illustrator Sachiko Nakamura.
Nakamura: Actually, since I was a child, I was uncomfortable with the idea of people making changes to other people's drawings. For example, I remember that at school, people used to freely draw over the pictures of someone else on the blackboard and play with them, and I felt very uncomfortable with that. Perhaps that feeling came from what I had been taught by my mother, so I did not think of making a collaboration at all in the beginning. However, a friend of my mother's told me, "If you are going to have a two-person show, why don't you try to do a collaborative work as well?". I thought that if we were to casually present our work under the title of "experiment," it might be possible to create a work of art together. I tried it with the feeling that "experiments always go with failures," and to my surprise, it turned out to be a lot of fun.
— What kind of person is your mother to you?
Nakamura: I respect her as a parent, a woman, and an artist. Therefore, when in the process of the collaboration, I felt the strangest when I added some touches to the painting first created by my mother (laughs).
"I don't want to draw lies in my paintings"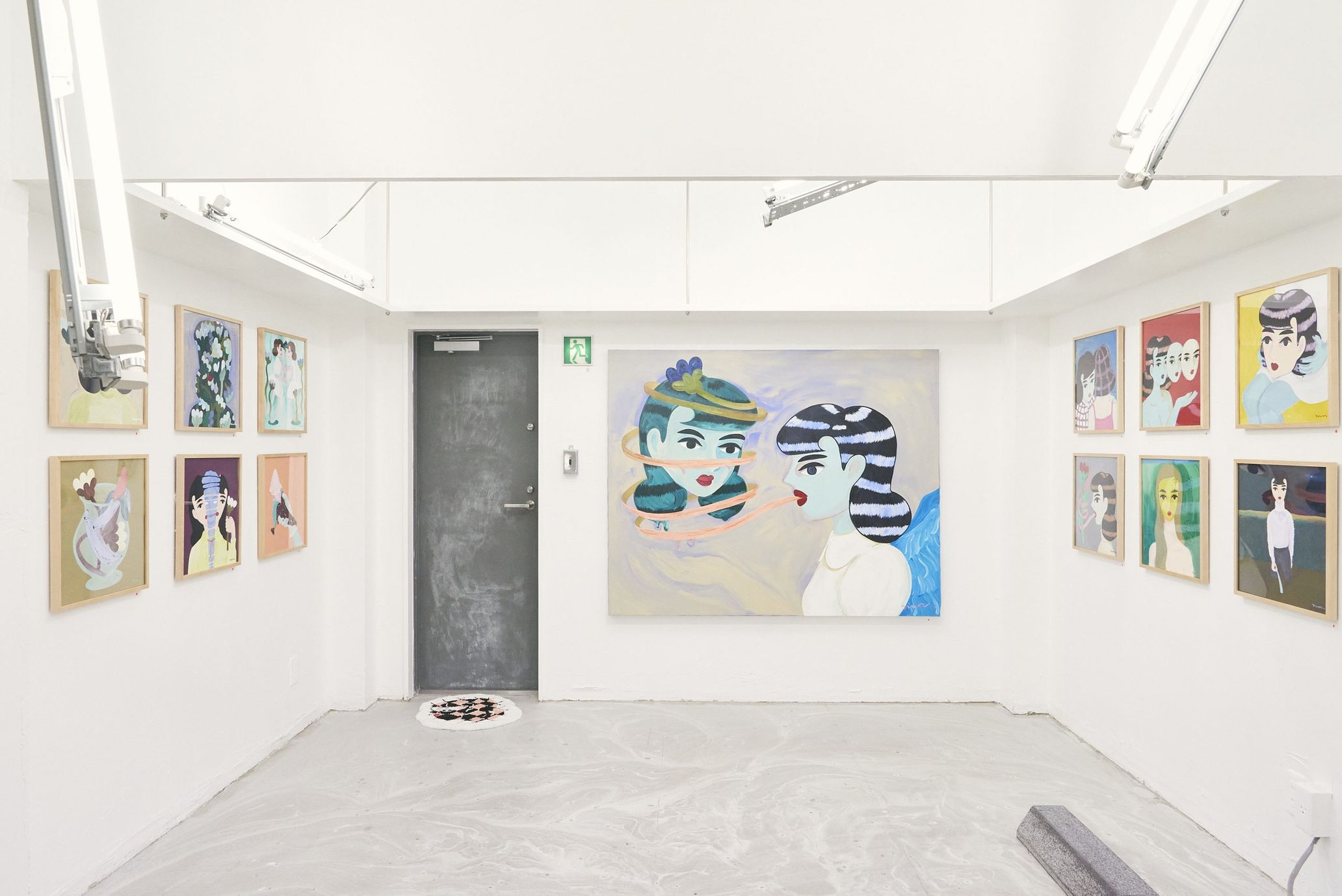 –Can you tell us a bit about your solo exhibition mutant, which was held at IPMatter until June 19? It was presented in a unique space, but how did you make the exhibition happen?
Nakamura: I had worked with Masashi Furukawa, who runs the exhibition space "IPMatter", on a video work for signage screen at Family Mart once, so we were somewhat familiar with each other's tastes. We both like weird things in a mutant-kind of world, and we both like the marble concrete flooring in the exhibition space. From this common ground, we decided the theme of my solo exhibition at "IPMatter". Whenever I do an exhibition, not just this time, I always think about the title and content, considering my mood at the time and how it would connect with the people in the venue. With what I shared with Furukawa-san in mind, I chose words from my notebook, where I always write down my favorite words, that seemed to fit the potential concept and said them out loud, and the title "mutant" seemed to fit well with what both of us imagined. When I showed the first picture I drew for the DM to Furukawa-san, he responded that skin color of the woman in the picture resembled that of a mutant, so I continued to draw the woman's skin in mutant colors for this exhibition. For the music played in the exhibition venue, Furukawa-san chose a variety of songs that gave a floating feeling, and made us feel as if we were in space. I played them even while I was working on the artwork.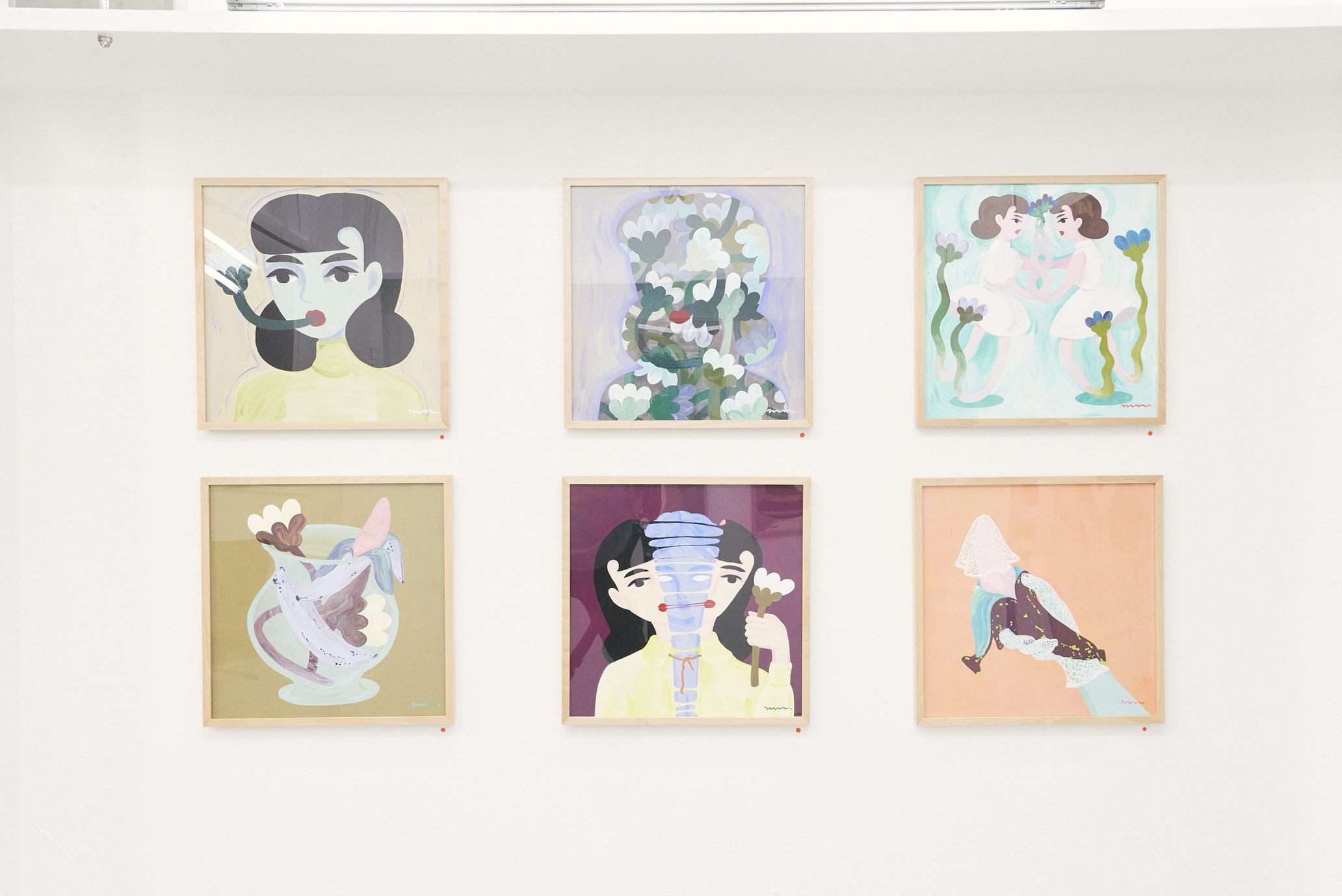 –Not only in the women in paintings shown in this exhibition, the women you depict are always expressionless, aren't they?
Nakamura: I feel that a smile is a smile, no matter how you look at it, no matter if it is false or true. But as for the expressionless person, there is room to imagine what this person is thinking. People could shed tears not only when they are sad but also when they are happy, so the only expressive faces I draw are those with tears flowing. I like to draw such things that leave room for imagination.
–Your past works were marked by beige-colored women, but this time you have mutant-colored women who have metamorphosed. Are there any works that you are particularly attached to?
Nakamura: When I laid out the completed paintings, I found that although they looked bright at first glance, they were actually all dark. Just as I was thinking that I wanted to paint more pictures that looked dark but were actually bright, I received a phone call from a friend telling me that her grandfather had passed away. While listening to my friend, who was so sad but somehow high, I was painting a picture. In doing so, I was able to grasp her dark but cheerful mood, and by the time I hung up the phone, the painting was finished. In this way, conversations between me and people around me and the emotions that arise from them have a great influence on my paintings. So I hope that the viewer can feel various emotions in the woman's expressionless face.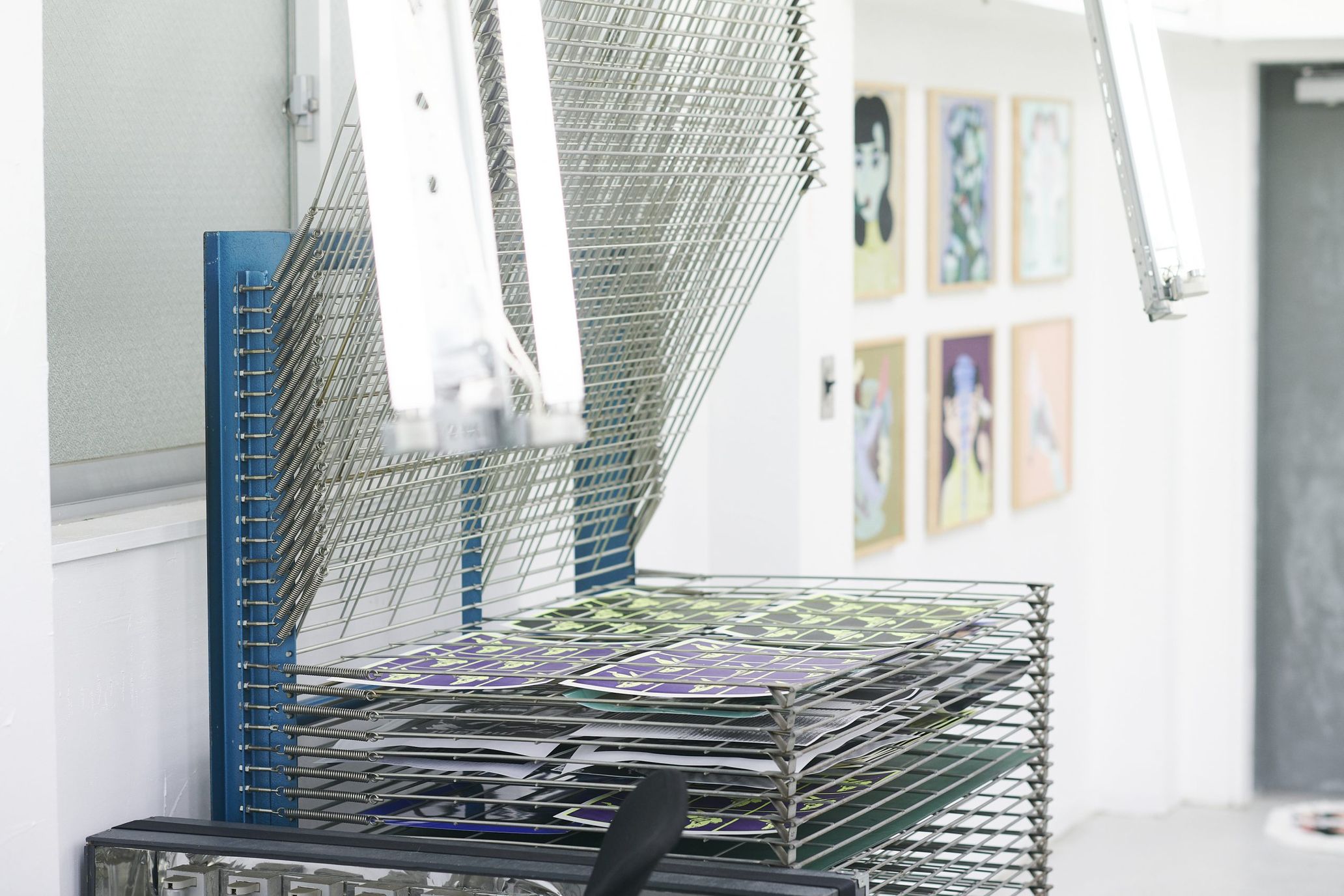 — Please tell us about your upcoming exhibitions and the other plan.
Nakamura: On August 5, my second artbook, HOME, was published by BOOTLEG. Then, from September 12 to 30, I had a pop-up exhibition at Tsutaya bookstore in Daikanyama to celebrate the publication. Also, from the end of October, I will have a two-person exhibition at SAI Gallery in MIYASHITA PARK, organized by Akinobu Tsukamoto and ALPHA ET OMEGA, and in November, I will have an exhibition at Fruits Hotel Taipei, Taiwan.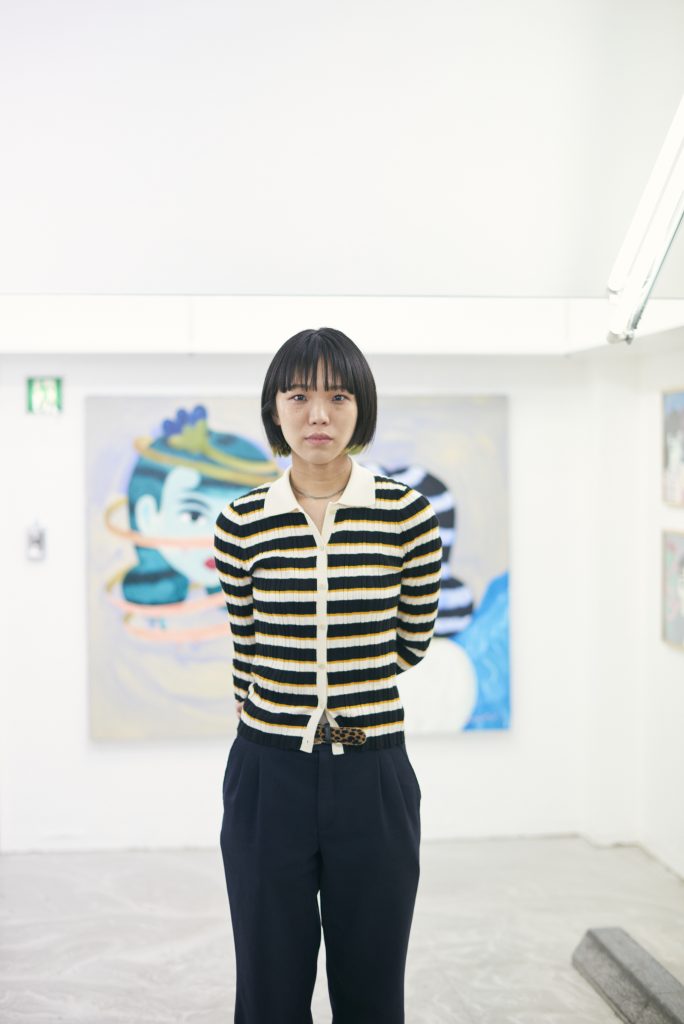 Momoko Nakamura
Born in Tokyo in 1991. After graduating from Kuwasawa Design School, she worked at a graphic design office before becoming an illustrator/artist. Her style is characterized by pop and distinctive depictions of stylish and emotional women and flowers that look like living creatures.
Instagram:@nakamuramomoko_ill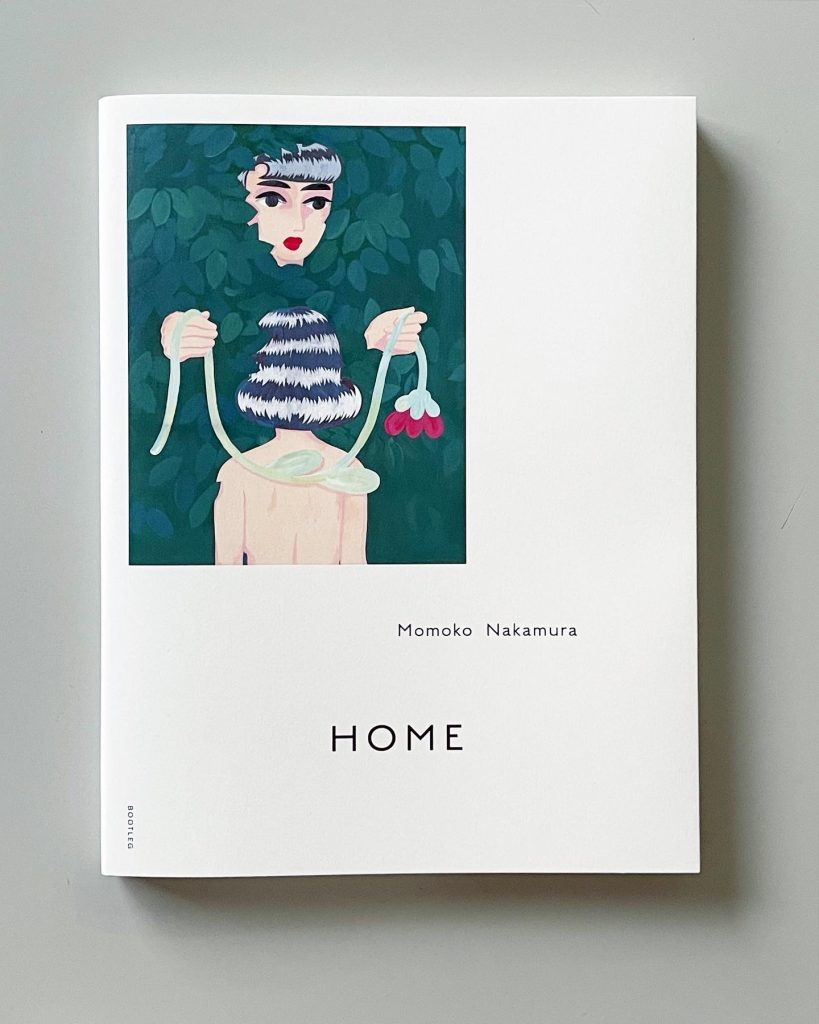 Momoko Nakamura Artbook HOME
A4 size / Paper back / 144 pages / All colors / 111 illustrations
Price: ¥4,400
Publisher: BOOTLEG
Translation Shinichiro Sato
Photography Yohei Kichiraku