UNDER THE SUN, in Sangenjaya, Tokyo, is a hair salon and secondhand clothing store. The store has a selection of secondhand clothes directly bought in the US, and people from various backgrounds, such as those working in the fashion industry, come to the store to get their hair done. UNDER THE SUN pays full attention to the customer's appearance, from hair to style.
The concept of a joint hair salon and secondhand store sounds like it already existed, but it didn't. We spoke to the owner and hairdresser Yuya Nakagawa and Masato Tanita, who's in charge of the clothes, to explore the current state of stores in Tokyo through UNDER THE SUN.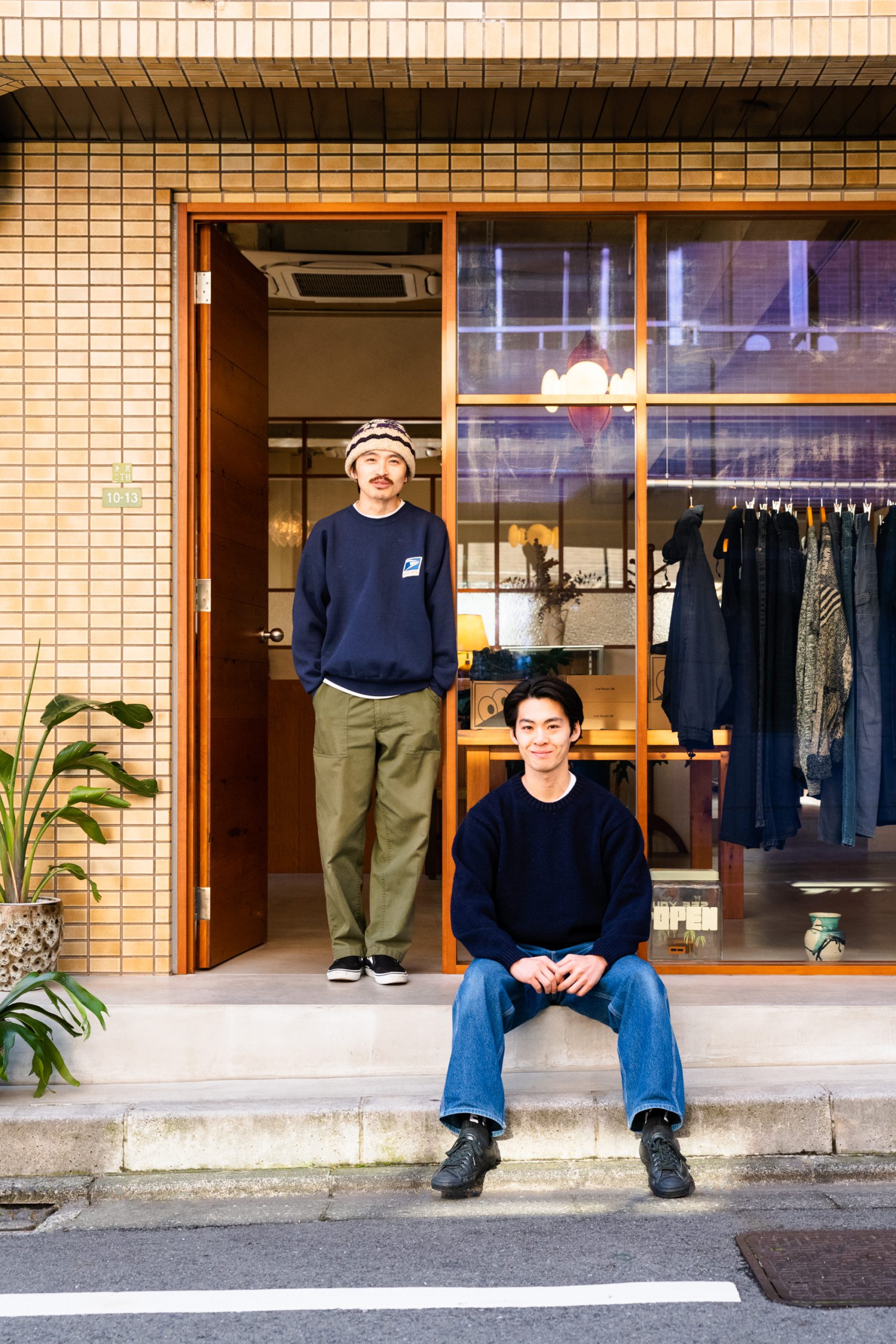 Left → Right
Yuya Nakagawa
After working at a hair salon in Harajuku, Yuya Nakagawa opened UNDER THE SUN in Sangenjaya in 2019. He handles work related to the hair salon and simultaneously sells secondhand clothes he bought himself in the US. UNDER THE SUN moved to a bigger location in 2022. Nakagawa enjoys active hobbies such as skateboarding and biking.
Instagram:@underthesun_sgj

Masato Tanita
Masato Tanita started working at UNDER THE SUN in 2021. He's in charge of secondhand clothes at UNDER THE SUN and runs RE_Cent product, a brand selling palo santo with original scents made from essential oils. Like Yuya Nakagawa, he like skateboards, bikes, and cameras.
Instagram:@txnxt
A store where you can do everything you want
――How long has it been since you opened UNDER THE SUN?
Yuya Nakagawa (Nakagawa): It's been four years. Our store moved from somewhere a little far to this location last March. We have five hair salon staff and two secondhand clothes staff; there are seven people in total.
――Before opening UNDER THE SUN, you worked at a hair salon in Harajuku. Did you think about starting your own business at that point?
Nakagawa: Not initially, but I started thinking about it the more I worked. The best way to do what you 100% want is to run your own store.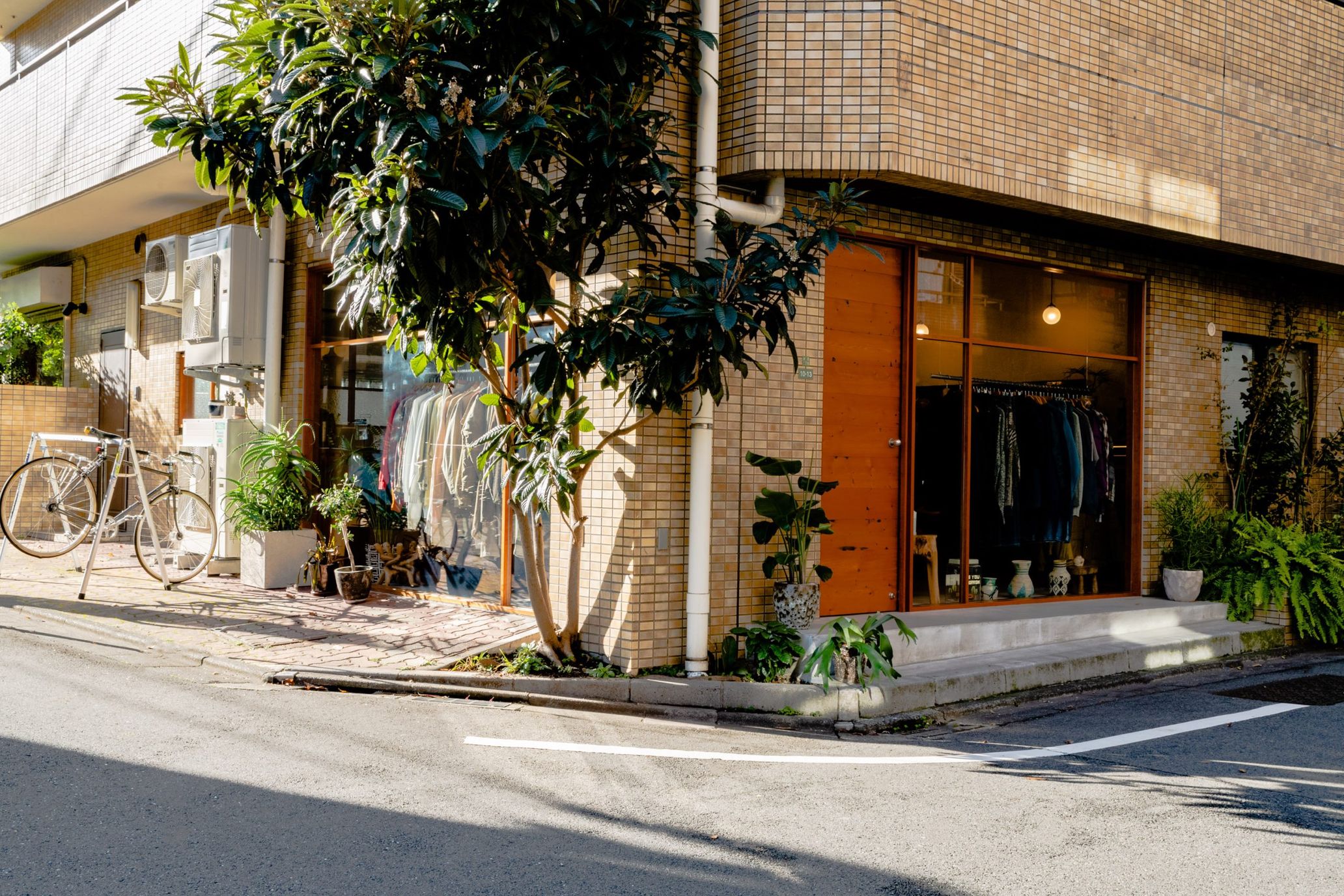 ――You were still in your 20s when you set up the store. You must've been on the younger side by industry standards.
Nakagawa: I became independent at 28, so I was on the younger side.
――I feel it was one option for you to grow your career at another hair salon. Is there a reason why you took the plunge and left quite early?
Nakagawa: I already had a vision for the store, so I thought it'd be better to become independent early on rather than work somewhere else for a few years.
――Was the vision you had back then of the current form of your store—a combination of a hair salon and a secondhand store?
Nakagawa: Yes. I wanted to open a store that combined a hair salon and a secondhand store then.
――What's the concept of UNDER THE SUN?
Nakagawa: There isn't an official concept; anything goes. Fundamentally, it's a store where you can cut your hair and buy secondhand clothes, but I want it to become a place where you can do anything as long as it's interesting.
――Both hairdressing and clothes can be categorized as fashion, but it's rare to see stores that fuse both.
Nakagawa: You don't see them often. I like going abroad as well as secondhand clothes. I wanted to do everything I wanted because I was opening my own store, so I also decided to sell secondhand clothes. Buying secondhand clothes could be a valid reason for traveling abroad.
――You had been doing hair, so does that mean you didn't have experience in buying clothes?
Nakagawa: I didn't. I took about a week off from the hair salon I previously worked at and tagged along on a buying trip with a friend who worked at a secondhand store. That's how I learned how to do it.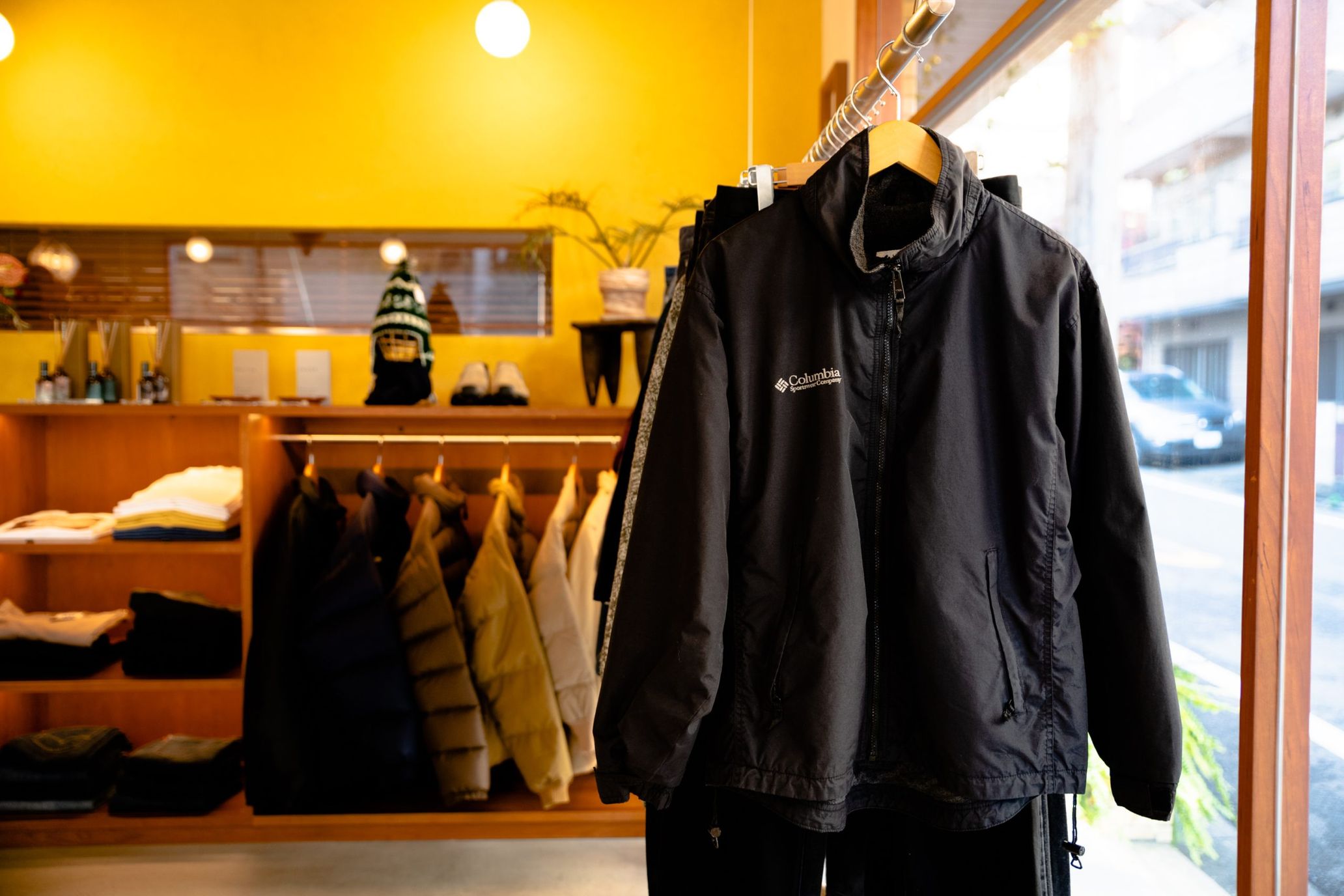 ――Wow. You went abroad to buy clothes until Tanita-san joined, but wasn't that difficult?
Nakagawa: The first time I went abroad on my own was to buy clothes. I was a bit anxious about it, but once I did it, there wasn't a problem (laughs). But I had to move around with a lot of luggage, so it was physically and mentally demanding. But it was fun because I had something to learn every time, like buying something better than before and going around different stores more efficiently.
――You two go abroad to source clothes now. What was your first experience like, Tanita-san? It must've been your first time going abroad for that purpose, and I'm sure it was different from traveling for leisure.
Masato Tanita (Tanita): I had heard from an older colleague that it was a busy undertaking because you had to work from morning to night, but I didn't dislike that. It was fun. I mean, I was able to go to a rural town that was a two to three-hour drive from Portland.
Nakagawa: A place you'd never go for fun.
Tanita: It was fun seeing the real landscape of America, not tourist spots.
Nakagawa: I still clearly remember the secondhand clothes we bought there.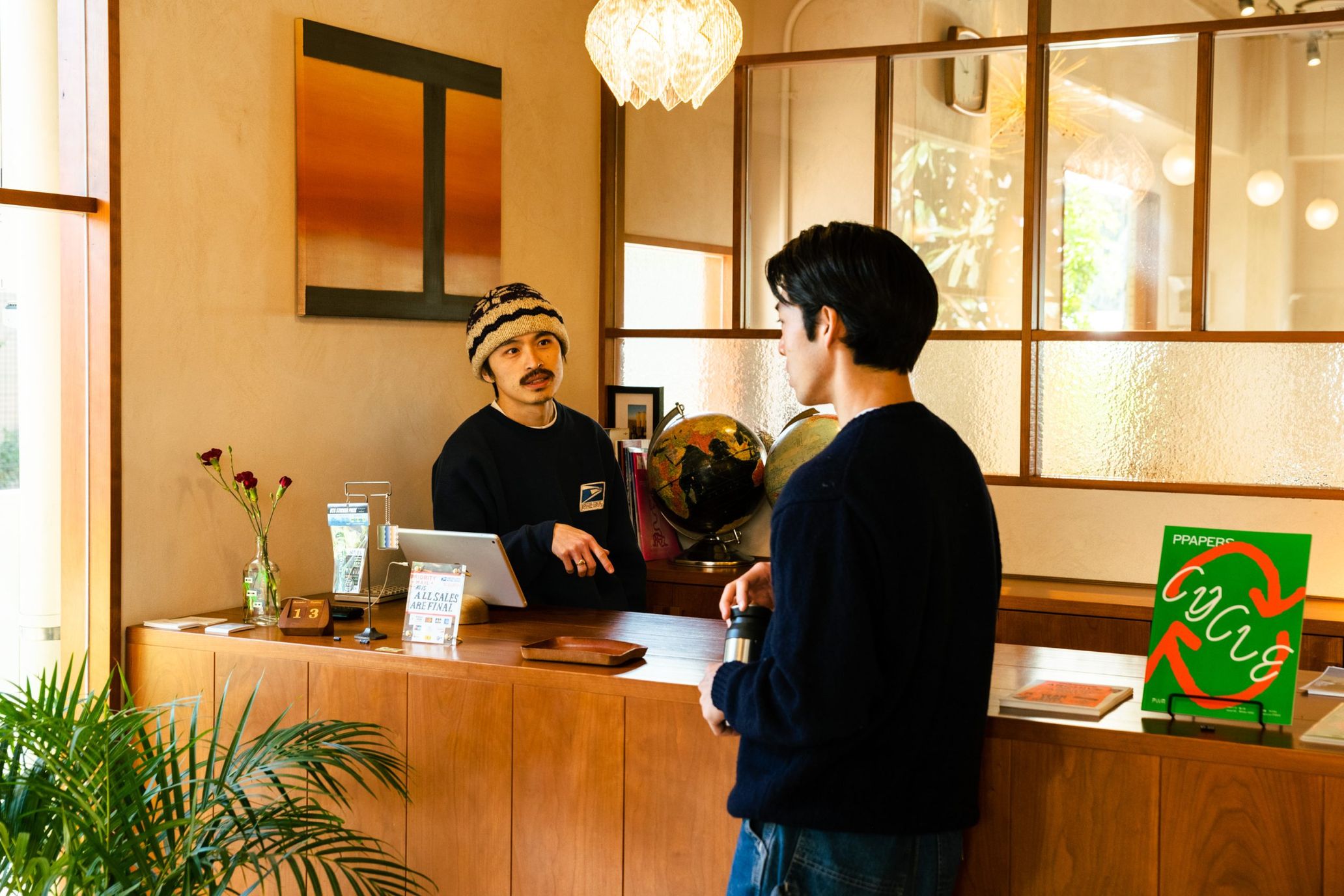 ――Did you two know each other before?
Nakagawa: We met each other through a mutual friend who introduced us.
Tanita: Was that four, five years ago?
Nakagawa: Yeah. We both skate, so we started hanging out.
――What was your job before you started working at UNDER THE SUN?
Tanita: I was a train conductor.
Nakagawa: You rarely meet someone with that occupation! I memorized it instantly.
――How did you go from being a train conductor to working at UNDER THE SUN?
Tanita: I also love going abroad, so I would take two weeks off every year to skate in the US or Europe. But once covid hit, the so-called stable railway industry became tumultuous. That catalyst made me think, "Is this what I really want to do?"
――So, you started wanting to work with clothes if you were going to work anyway.
Tanita: Right. I knew many people who were into making shirts and zines for fun, but I didn't have any friends who had a store. But Yuya-kun had opened a store at an early age; and a hair salon that sold clothes at that. I visited the store and loved how you could tell Yuya's taste just by looking at the secondhand clothes. He didn't have to say anything. I felt jealous of how he, a contemporary of mine, could do what he wanted for a living and that the store was a physical manifestation of his efforts. Even still, I spoke to Yuya-kun because I like secondhand clothes, and I started working at UNDER THE SUN.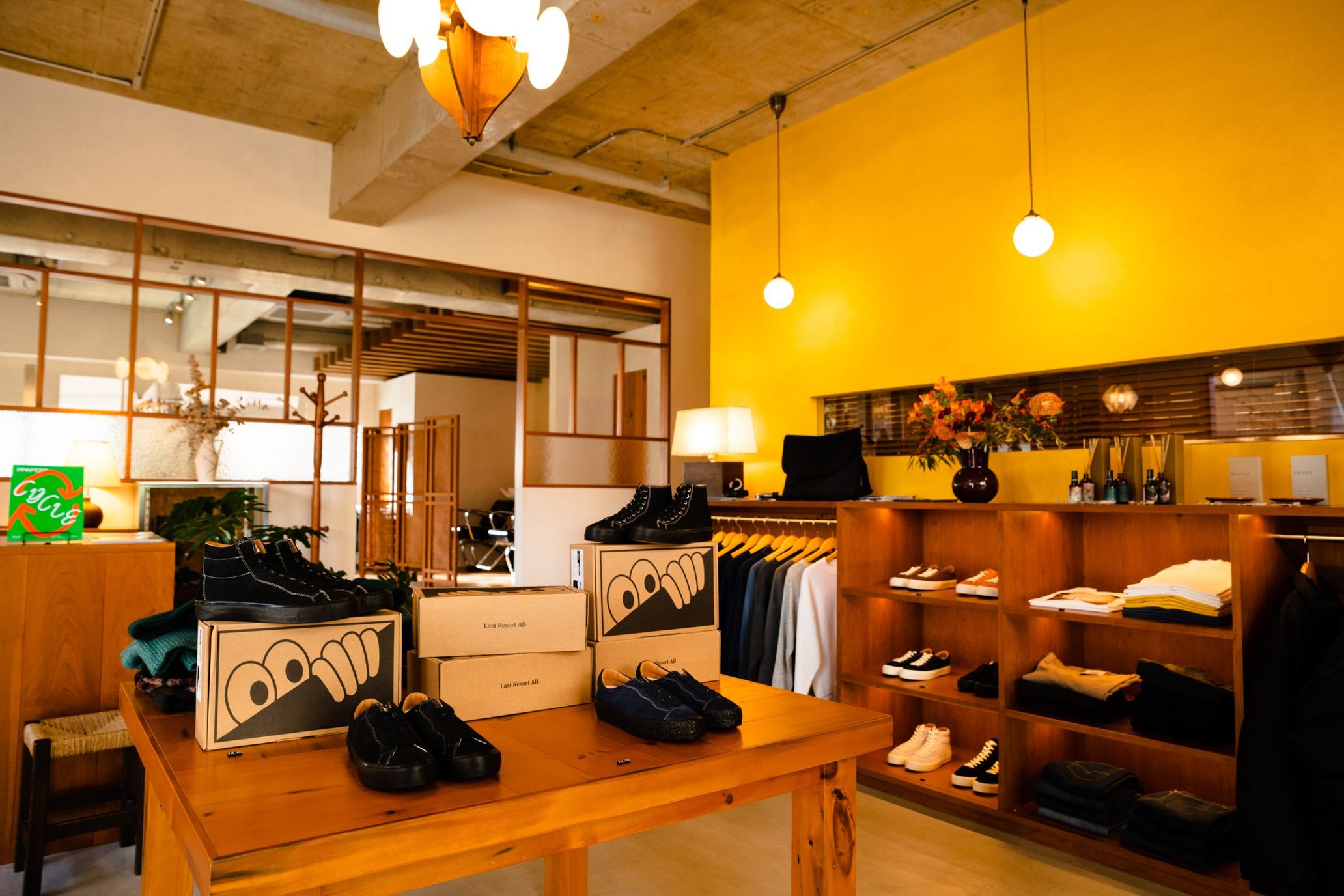 ――Your working environment changed drastically. How was that?
Tanita: I sincerely feel like this was the kind of job I wanted to do. When I see a customer take a liking to fashion or music I enjoy right in front of my eyes, it makes me want to make people happy even more. In my previous job, no one wanted to ride a train because I operated it, but now, it makes me happy because people consider me one part of UNDER THE SUN. You can do anything, depending on how hard you try. Until now, I didn't create anything, but since I started working here, I have begun selling original palo santo. Each staff has their likes, and we're all part of UNDER THE SUN. That's what it feels like.
――You mainly sell standard, casual clothes at UNDER THE SUN, yes?
Tanita: I've always liked cheap secondhand clothes. I sometimes buy expensive vintage clothes, but it's easier to get your hands on casual ones.
――Has there been a change in the selection of clothes since Tanita-san joined you?
Nakagawa: There has been a change. I wanted to incorporate someone else's perspective. I want to keep actively incorporating ideas that I don't have. Many people relate to what Tanita-san does here, which adds character to our store. So, I want to continue sprinkling different elements.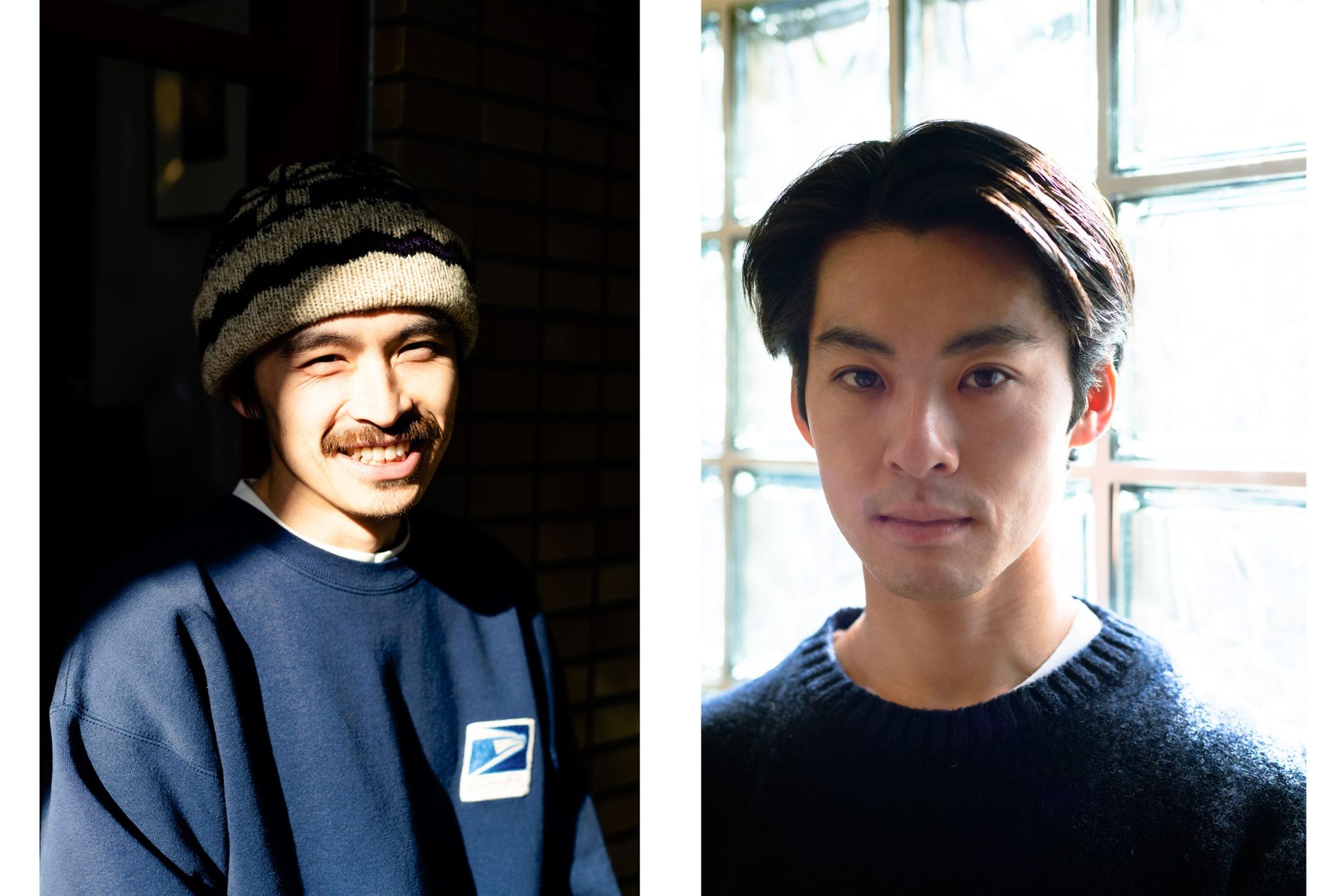 Making original clothes and hosting pop-up shops
――It's easier for someone to walk into the store, even if they're not there for a haircut, because you sell secondhand clothes.
Nakagawa: I don't think like, "If you're going to buy clothes, I want you to get a haircut. If you're going to get a haircut, I want you to buy clothes." It would make me happy if people did both, but I don't wish for that too much. I want people to stop by without feeling any pressure.
Tanita: There was a customer who was a university student who only came here to get a haircut, but they developed an interest in secondhand clothes. It was so nice seeing how the way he styled his outfits changed gradually. Some people used to buy clothes just because they were getting a haircut, but now, some visit us just for the clothes or a pop-up.
Nakagawa: It really is nice when people like our store. But I still get asked, "Is it okay if I just take a look at the clothes?" People get the impression that we're a hair salon, so I guess that's the image they get. I think of it like this: my foundation is my job as a hairdresser, but if there's anything I want and can do, I should do it without being hung up on my job title. I want people to see UNDER THE SUN as a store, not just a hair salon.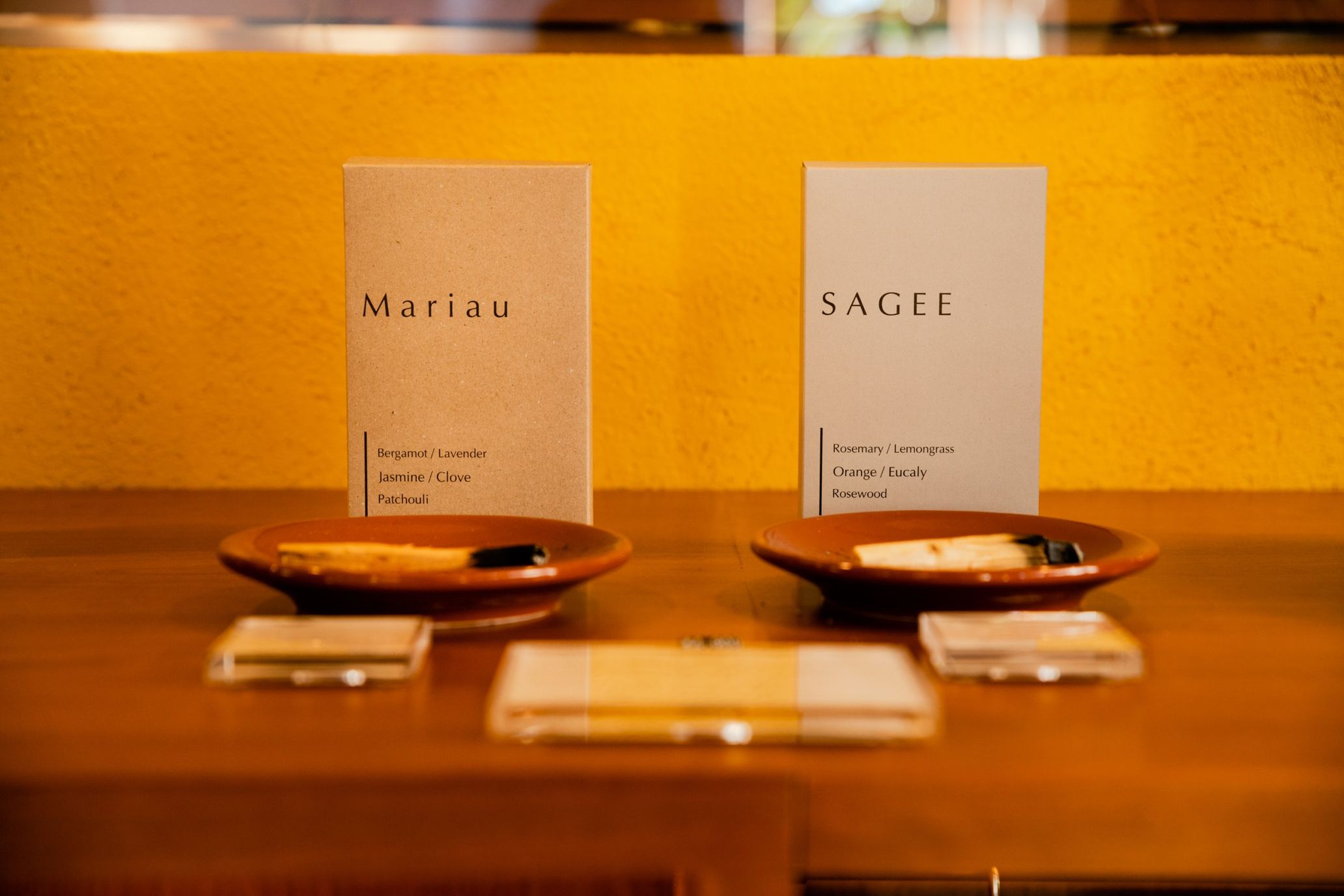 Re_Cent product, a palo santo brand by Tanita-san. Two types of rich scents made from a mixture of natural essential oils
――So, UNDER THE SUN is a platform where you can do whatever you want. You already had a bunch of secondhand clothes since you opened the store.
Nakagawa: The store has been half hair salon and half secondhand store even before we moved locations. There were no examples of stores that combined a hair salon and a secondhand store, so I didn't know how many clothes I should have at the store. At first, I was planning on only having two racks, but then I thought no one would come to the store to buy clothes. The clothes would run out immediately, making it awkward for people to enter the store.
――Two racks of clothes would give me the impression of a hair salon that sells a few secondhand clothes, not a hair-salon-cum-secondhand-store.
Nakagawa: I felt there was no point in doing it if that were the case. I had to be serious about it if I wanted to do it, so I decided to allocate half of the store to secondhand clothes. There were a lot of difficulties because of that, but thankfully, the secondhand store can function on its own.
――The array of clothes is impressive.
Nakagawa: Having both a hair salon and a secondhand store in a same space sounds fancy and interesting, but in terms of actual business, I thought it would not be feasible with a lower number of stocks. Therefore, we decided to open a store with a large number of items that would satisfy our customers as a secondhand clothing store.
――What sort of hairstyles do you provide?
Nakagawa: I don't like hairstyles that are too styled. I do think hairstyles that are done properly are cool, but I like something more casual. But I don't suggest that myself. I say this to my customers often, but like clothes, it's all about how satisfied you feel. My stance is you get to decide whether or not a hairstyle suits you, and if there's a hairstyle you want, you should go for it without thinking about it too much. With that said, I look at the person's hair texture and strive to create the optimal finish that would look good on them.
Tanita: I also get my hair done by Yuya-kun, and I always only say, "Just make it look good."
Nakagawa: Many people say, "The usual, please" (laughs).
――It sounds like a natural finish is perfect because it makes the person feel comfortable. You've also designed clothes since the beginning of UNDER THE SUN.
Nakagawa: At first, it was like, I made original designs because I had the store. I asked an acquaintance to design them, but the further we got into the process, the more I wanted the clothes to stand out as our store's original clothes. I felt it was more meaningful to translate my ideas into clothes if I were going to make something original, so I started getting more particular about them. Before, I would make them when I got an idea, but now I try to make them periodically.
――Do you two come up with the designs?
Nakagawa: No, I'm a bit stubborn when it comes to that, so I think of the designs for the most part. If you take in too many opinions from different people, the direction could go all over the place. I make the big decisions, but say I didn't know what color to use; I would then ask everyone else.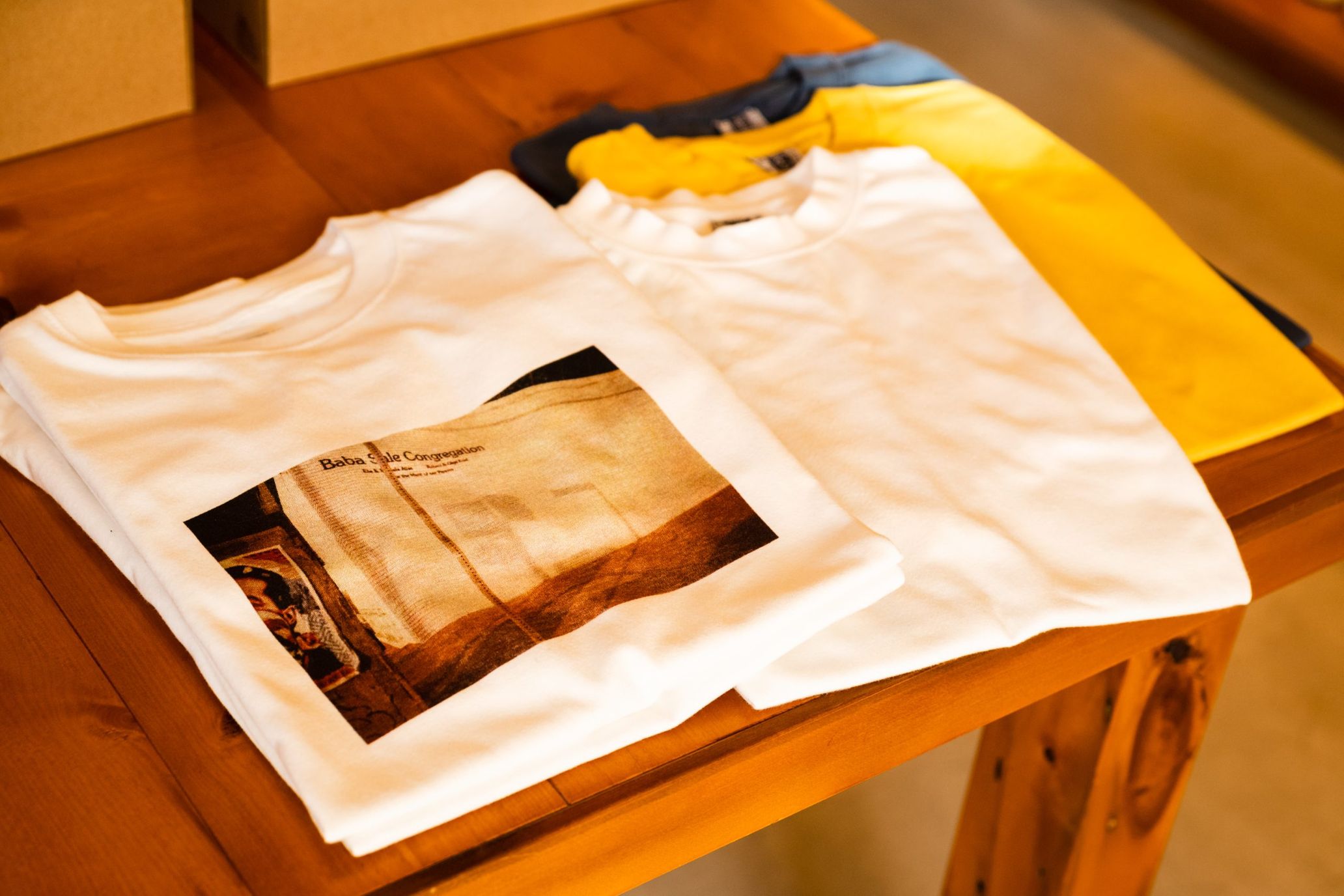 An original long-sleeve shirt with a print of a photo that Tanita-san took in Los Angeles when he went there to buy clothes
――It seems like the original designs also work as a brand. What sort of products did you release recently?
Tanita: We made a bike chino for riding bikes with PWA and BLUE LUG, my friends' brands.
Nakagawa: We all talked about that together to make it.
――t's interesting how the pants have drawstrings in the inner part of the hems so they don't get tangled up in bike chains. It's cool that the pants are also sold at BLUE LUG.
Nakagawa: Both Tanita-kun and I get our bikes assembled at BLUE LUG in Kamiuma, Setagaya. Aoki-san of SIESTA gets his hair done at our store, and I saw him riding a cool bike once. He introduced me to BLUE LUG right away, and I got my bike put together there.
Tanita: Aoki-san gave me that bike. I've been into biking since then.
――Speaking of which, you also hosted a pop-up of WOOD VILLAGE CYCLES, a bike shop in Hatagaya, yes?。
Tanita: I'm close with the people at WOOD VILLAGE CYCLES, so they had a pop-up at our store.
Nakagawa: We have other pop-ups quite often too.
――For example?
Nakagawa: A vegan caterer called SUNPEDAL. I knew of SUNPEDAL but had never met them. WOOD VILLAGE CYCLES was neighbors with them, so we got introduced to each other. We also had a pop-up of HuberStore, where they sold vintage soccer uniforms.
Tanita: CTC STORE is another one. It's a brand that my friend, who I got close to through skating, runs.
Nakagawa: It's fun to host pop-up shops because the range of customers widens. For the PWA pop-up, which we had before we moved, we made shorts together. Customers lined up before we even opened. But the store was small, so we couldn't fit many people (laughs).
――There are many hair salons and secondhand stores in Tokyo. What sort of place do you want UNDER THE SUN to be?
Nakagawa: Many say we're a hair salon that men can go to comfortably. We're not like those hair salons in Aoyama, and we're not formal like barber shops, so customers can hang out more. Plus, we have secondhand clothes, making it even easier for customers to enter the store. I feel like there aren't a lot of hair salons like that in Tokyo. I want the store to be a familiar place that people can look up to.
Tanita: I want to share things we think are genuinely cool with customers and make them happy. To do that, we must dig deep into the things we like and directly experience things we're interested in instead of putting a lid on them. I also want to do my best to buy and recommend clothes so the customers can be even happier.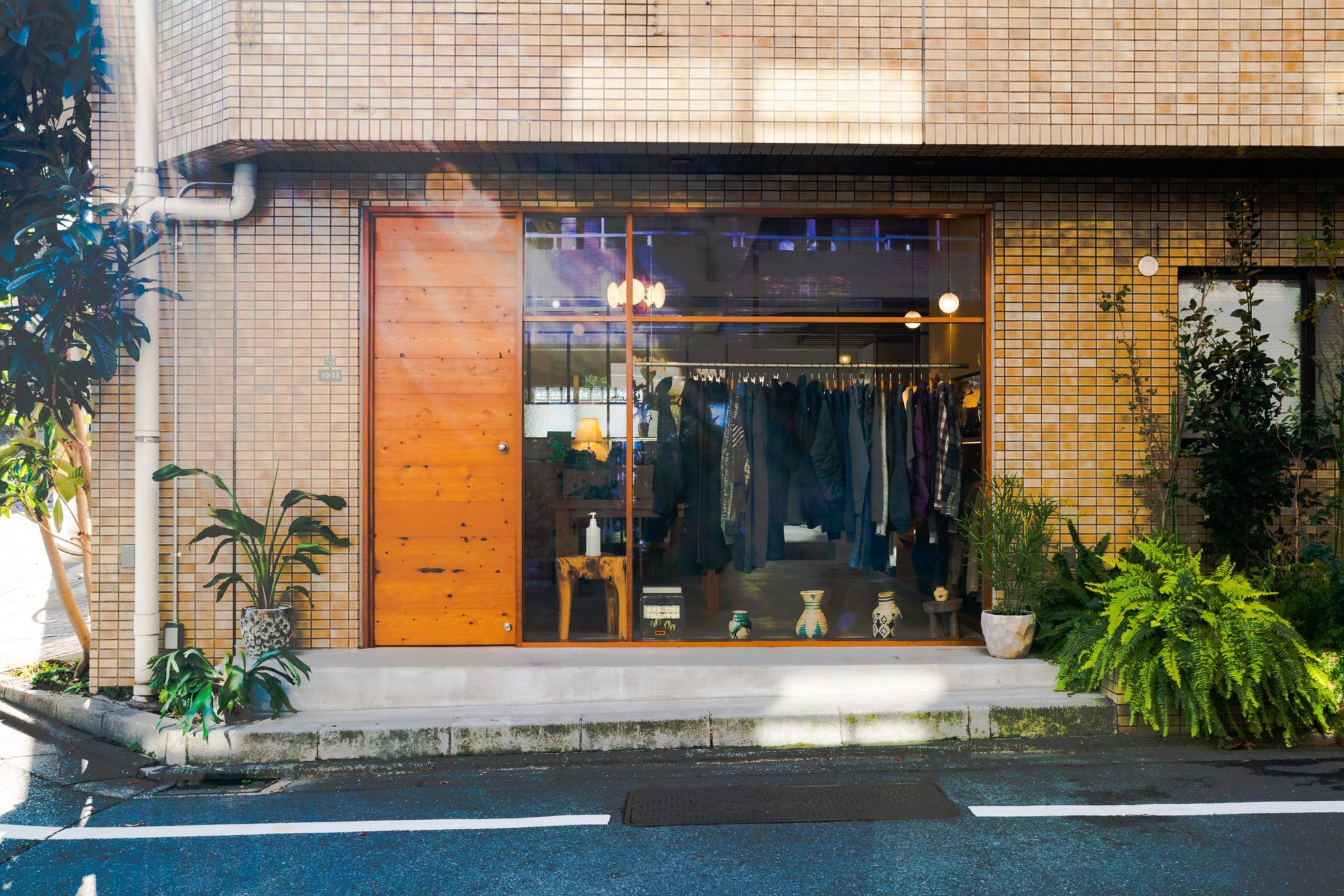 ■UNDER THE SUN
Adress: Ikejiri, Setagaya, Tokyo Avenue Ikejiri 1F 103
Opening hours: 11:00-20:00
Phone: 03-4285-3765
https://www.underthesunsgj.com
Instagram:@underthesun_sgj
Photography Yuta Kato
Translation Lena Grace Suda