The artist, Tomomi Nishizawa, produces work themed on "modern beauty." She studied at Tokyo University of the Arts and was the top graduate in the Department of Inter-media Art. Since then, she has continued to present work that combines make up and medical devices, which attracts focus for their originality. Looking at the ambiguous line between beauty and art, Ms. Nishizawa's work makes you consider what "Beauty" is. Her exhibition "The skin you are in now" has been on display since 2015 in the Art Front Gallery in Daikanyama, Tokyo. What are the thoughts behind the pieces in this exhibition?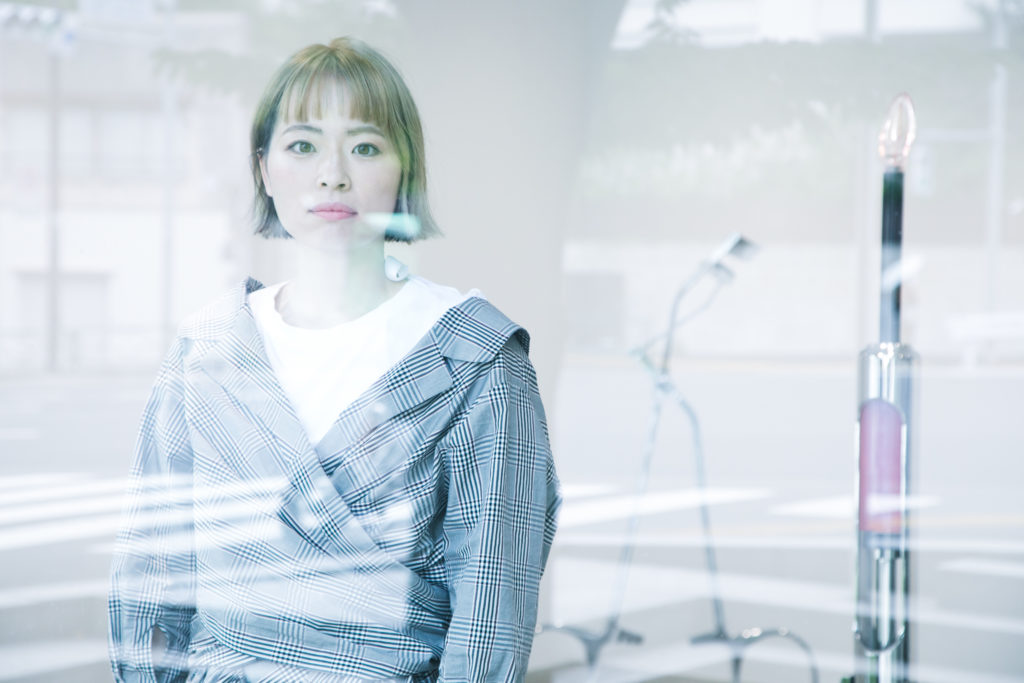 ——What are your thoughts behind your solo exhibition "The skin you are now in?"
Tomomi Nishizawa: "The skin you are now in" looks at the structure of our skin through our make-up, and how we form ourselves under that beautiful skin. I think that's what the theme is this time.
——So in a certain sense, are we expressing our original self through the make-up on our face?
Nishizawa: Yes. I think make-up is like wearing a "second skin." I think my work represents the self. I think image editing apps give a false form, and the expressions from them could be said to be how you want to see yourself. Recently, due to the advances in cosmetics, we can get closer to how we see ourselves in our mind, and as cosmetic surgery becomes more familiar, the line between beauty and medicine becomes more ambiguous. I find this interesting, and try to express that interest in my work.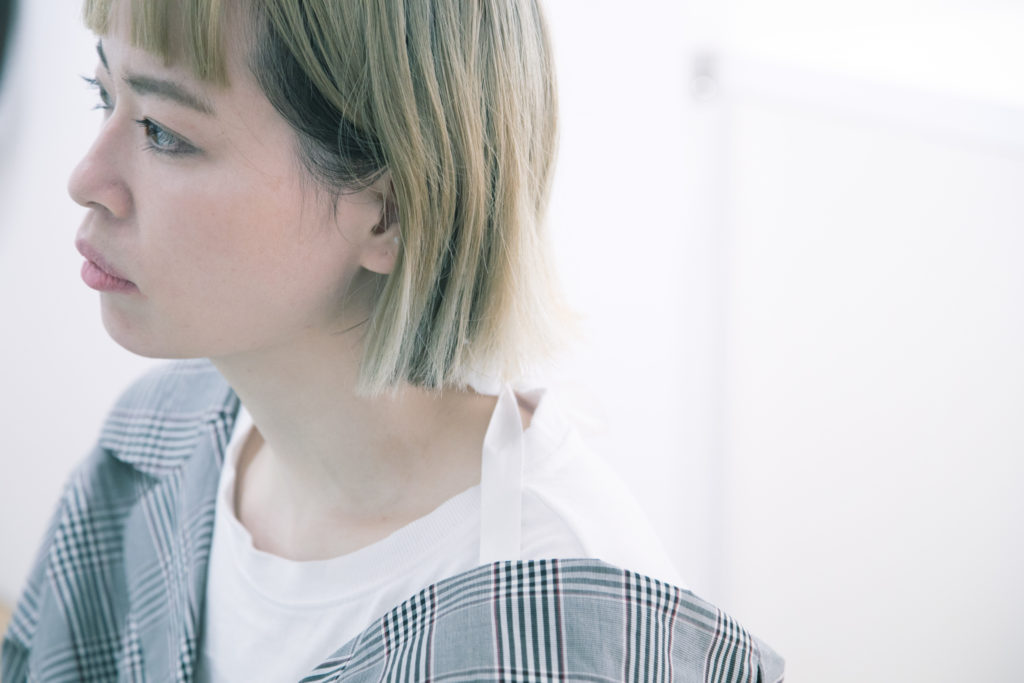 ——What do you think about the slight excess of cosmetic surgery, etc. in the pursuit of beauty?
Nishizawa: I am impressed at how far we have come. For myself, I want to become more beautiful and am interested in surgery, but I can't imagine how or what I want changed. I think people who know how and what they want to change for their ideal face have good self-analysis. I can't do that, so I'm not in denial.
Sculptures exceeding 1.5m 
The "3 sacred devices of beauty" were completed after trial and error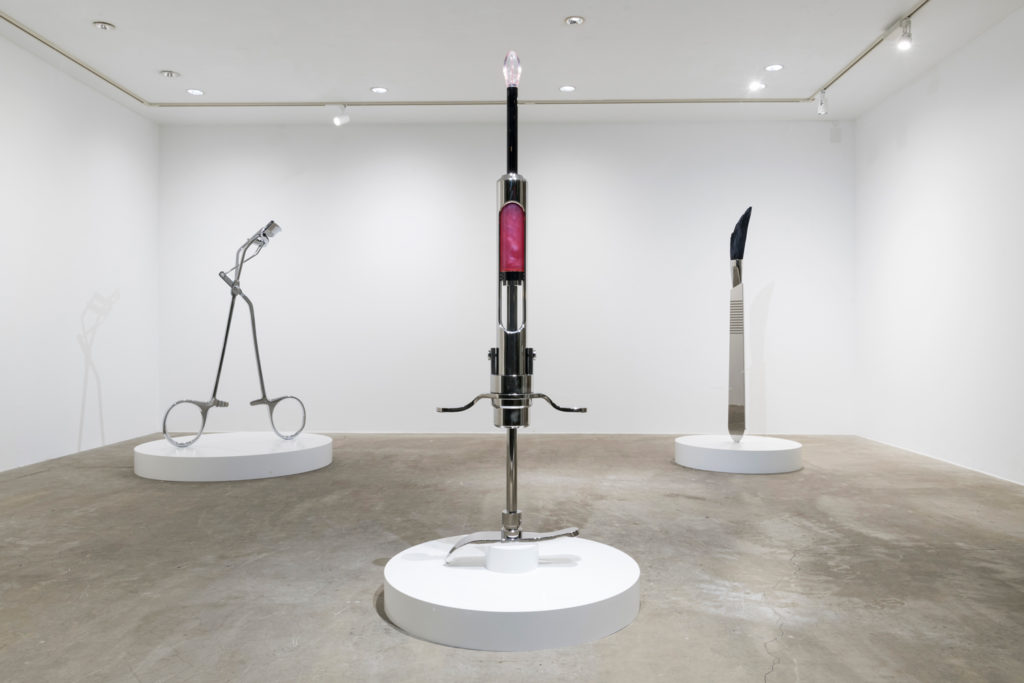 ——This exhibition has 3 sculptures larger than 1.5m and they have a great presence when seeing them in person.
Nishizawa: I call them the "3 sacred devices of beauty." I combined forceps and an eyelash curler in the "Neo Eyelash Curler" for the 2015 exhibition, a face brush with a medical scalpel in the new "Power Brush" and lipstick with a syringe in "Lip Gloss." I started work in January this year, but it didn't go well so I had to start over time and again, and now I feel that I'm finally done.
All works begin with a design, then I think about the structure and order the necessary parts from a factory, but I don't have any connections, so I search on the web for appropriate factories and contact them directly. I didn't limit my search to the Kanto area, but looked countrywide, and since the orders are unusual some places were excited to fulfil them. I do actual work like polishing mirrors myself but getting a professional to make things gives a better finish. Beauty and medicine are delicate things, so I want to ask professionals from here on in considering quality.
——Can you tell me about other new pieces?
Nishizawa: I made another sculpture. "Vascular Stent Necklace" envisions a medical device called a stent, which is used to hold veins open, in the form of a necklace. Also, the picture "Surface" combines lipstick and the beauty product dermapen (a device with micro-needles in the tip that directly puncture the skin to promote scarless healing among other benefits). This was inspired by the counterintuitive idea of becoming more beautiful by damaging the skin with a dermapen.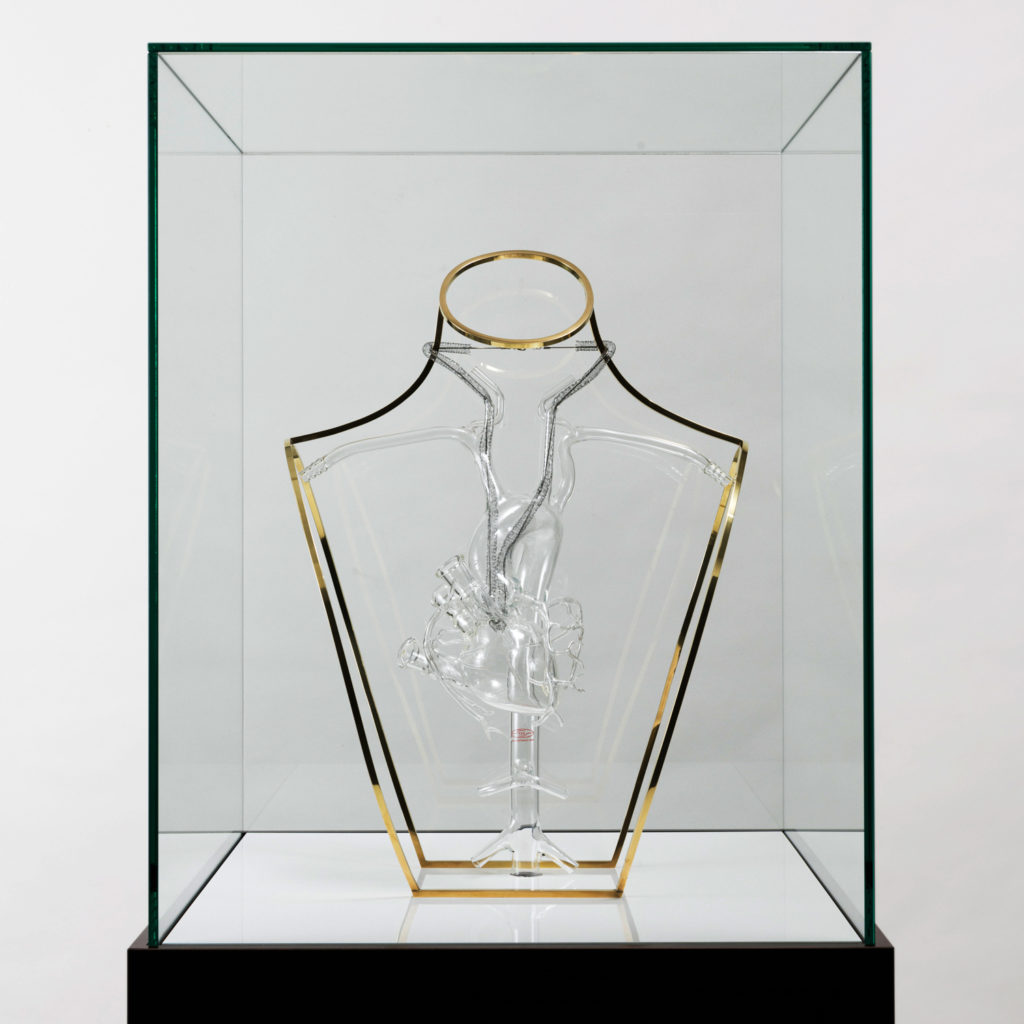 ——Has the corona virus affected your working activities?
Nishizawa: Some acrylic I ordered hasn't arrived and stores like Tokyu Hands or the stationers Sekaido are closed so I haven't been able to get materials, however factory work has shortened and delivered quicker, so there hasn't been too much change overall. I was a little worried in the beginning, but I thought that as an artist I can't do anything other than make things, so I spend my days moving between my home and Atorie.
——What do you want to do next?
Nishizawa: I want to make a pharmacy specializing in beauty. I want to display my work and make a space surrounded by art. I also want to make original medicine boxes and bags, as well as more familiar and useful products. Recently the magazine Art Direction have been contacting me more often and I want to do more of that kind of work.