Some things are difficult to accept. For instance, the sudden end or cataclysmic change in the life of a loved one. The themes in these films heavily feature unexpected events of the world. However, as you immerse yourself in these carefully drawn stories, you find yourself wanting to embrace them, accepting them as being a part of life. I believe many of director Izuru Narushima's films have that element in common with each other.
If you have the chance to meet someone who has created incredible works of art known to people around the world, you should use that opportunity to ask them about things you've always wanted to ask. Such questions may be ones that they didn't want to think about, or ones that they've already forgotten about from the perspective of the interviewee. But it's by asking directly that we're able to put these thoughts into words and deliver it to our audience.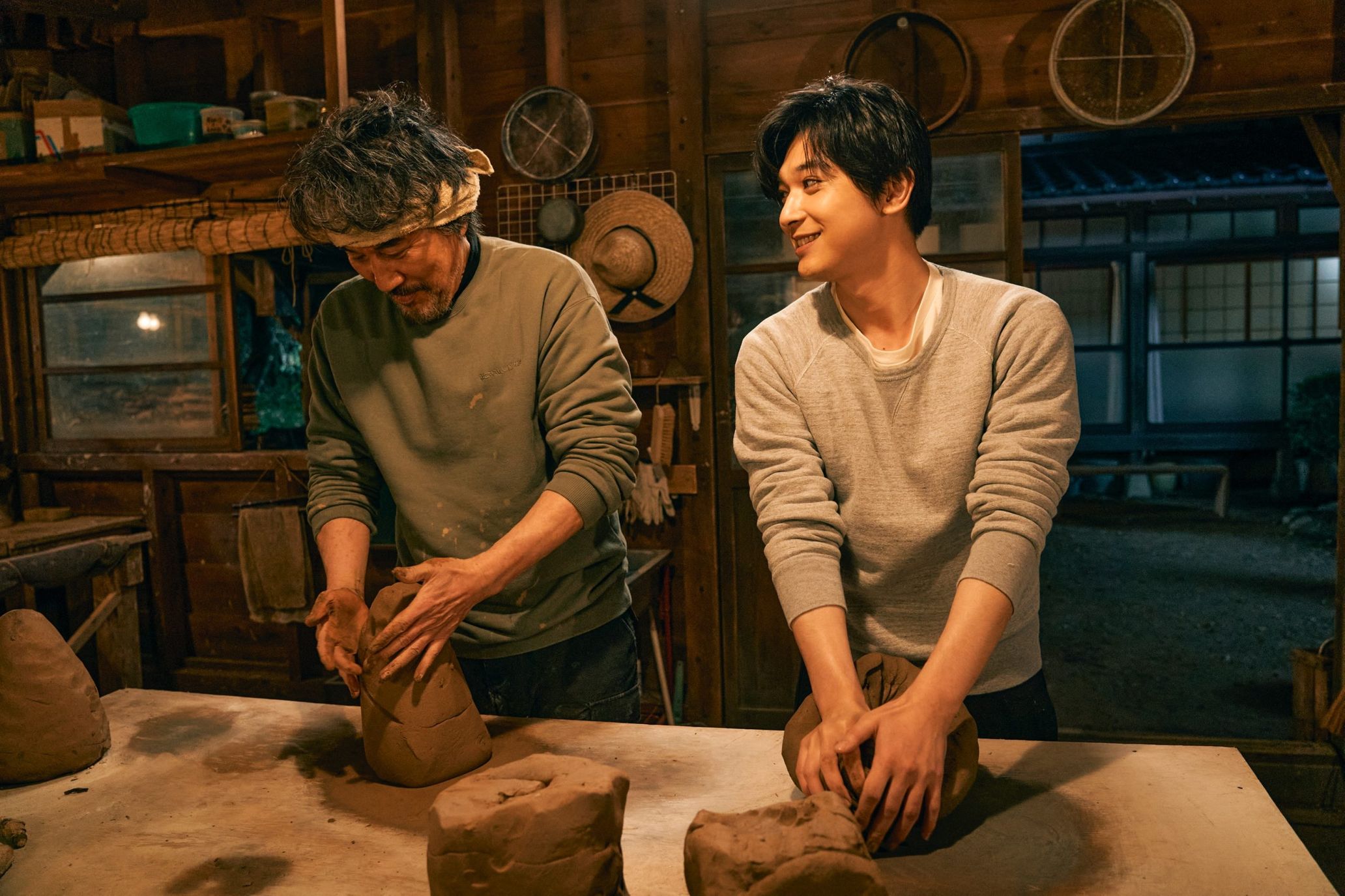 Movies were my textbook. More importantly, they cultivated my own morals and aesthetic sense. I think many people have that same experience. I also believe there are far more people who have found that what they felt watching a movie was much more useful in their lives than anything they learned at school or in a textbook.
Personally, I learned about how to interact with women from Andrew McCarthy, stars of such foreign films as Pretty In Pink and Less Than Zero, and learned about the vulgarity of picking on your close friends' parents from Stand By Me. From the various films directed by Izuru Narushima, one can feel the ways in which the characters relate to their families and the sense of distance between them.
Many of his films give me great courage because it helps me understand that blood ties such as familial love or parental feelings are less important than where I am and who I'm with now. Yet, the themes and delivery of director Izuru Narushima's films vary. Thus, what we absorb and feel in each work can be different.
This makes it all the more important to know what the director's central passion for his films is. As an audience member, I shouldn't need to know this information, but I'm eager to find out. With that being said, we had the pleasure of interviewing the director himself, Izuru Narushima.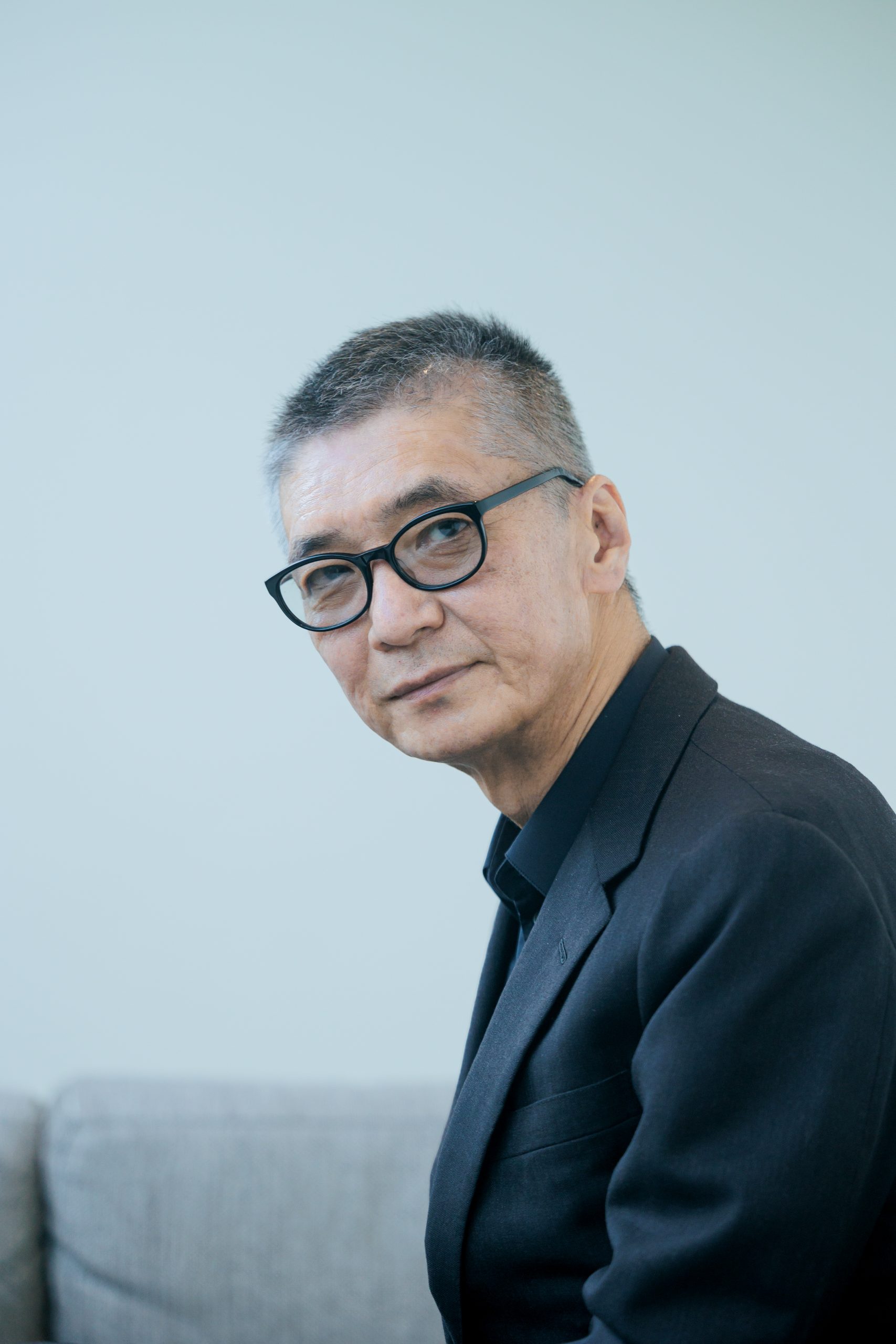 Izuru Narushima
Born in 1961. From Kofu City, Yamanashi prefecture. Narushima has been making independent films since he was a student, and his film Midori Onna was selected for the Pia Film Festival. In 1994, he began working as a screenwriter, and in 2003 he won the Fujimoto Award for Best New Director and the Yokohama Film Festival New Director Award for his first film, Yudantaiteki, starring Koji Yakusho. Afterwards, he worked on a number of popular films including Fly, Daddy, Fly, Kokou No Mesu and Rengou Kantai Shireichokan Yamamoto Isoroku, starring Koji Yakusho. In 2011, Youkame No Semi won ten awards including Best Picture and Best Director at the 35th Japan Academy Prize. His new film Familia, just released in theaters, will be followed by Ginga Tetsudo No Chichi, starring Koji Yakusho.He has also produced many other films, including Solomon's Perjury Part 1: The Case, Solomon's Perjury Part 2: The Trial, Chotto Imakara Shigoto Yamatekuru, Goodbye~Uso Kara Hajimaru Jinsei Kigeki~ and Inochi No Teishajyou.
We interviewed him about his time before he made his debut as a feature film director, and about the many films he's made since then
familia Movie Trailer
©2022 familia Production Committee System
Toyota City, Aichi Prefecture. The junction from the Tomei Expressway to the Wangan Expressway. The sky is waiting for the sunrise before dawn, the beautiful time of day where it's a gradation from deep blue to orange. I have personally experienced this scenic road at this time of day many times because I used to commute to Wakayama for my photography work, and I was always thrilled to see this exquisite gradation.
That scenic view from the road appeared exactly as it did in Familia, the latest film by Izuru Narushima. But despite the beautiful gradient sky being the same, it didn't excite the main character, Seiji, as much. Instead, he was enveloped in a twinge of urgency. Beauty and irrationality coincide. I came to realize, once again, that this is what life is. The moment I had this thought, I was drawn further into the story.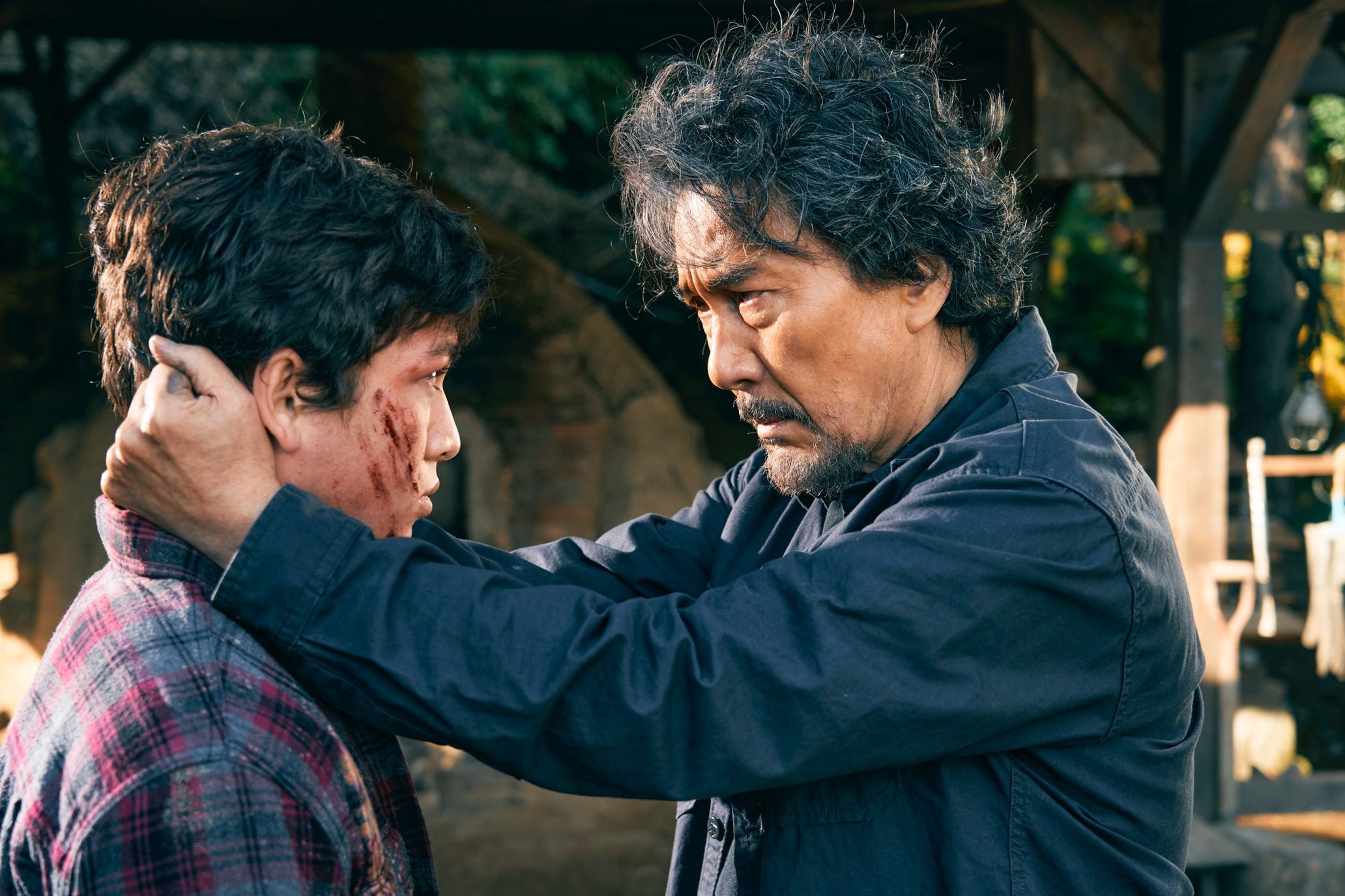 – Between the time you made Yudan Taiteki in 2004 and your most recent film, Familia, you directed fourteen films (with your following film, Gingatestudo No Chichi being your fifteenth). Simply put, the time between the release of these films is such that by the time one is put out into the public, the next film is already being shot or has been finished. What are some things you keep in mind that helps you continue to release films at such a rapid pace into the world?
Izuru Narushima: There are other people who have shot more films. I don't particularly think I've directed that many, but it's definitely not a small amount. It's simply because I make nothing but movies. I don't teach at schools or universities, and I don't direct TV shows. Which means that I can't make a living if I don't shoot at least one film a year. That's it.
– It's the feeling of having to do it. It's like if someone doesn't weight train for a day, and they become obsessive and restless. Do you feel like you can't go on if you're not involved in film somehow?
Narushima: I do. I'm happiest when I'm involved in film. The actual filming only lasts for about a month or two, but I'm part of the pre- and post-production processes, which means I'm involved in each of my films for about three years total. In the case of my new film Familia, it was four or five years. Now, around two films of mine get released every three years.
– After you won a contest award for your independent film Modori Onna in 1985, you worked mainly as a screenwriter for eighteen years until Yudan Taiteki in 2003. What did that time and experience mean to you? And during that time, did you have any specific goals and visions about what kind of director you wanted to become?
Narushima: I originally became interested in films late in the game. I watched many different movies at once, once I was exposed. I moved out to Tokyo, and started watching movies at the Meiga-za.
At the Meiga-za, I watched Yasujiro Ozu's films and Tatsumi Kumashi's Roman Pornos, both of which I thought were interesting. That's how I was educated on film, very different from filmmakers in my generation who grew up on Jean-Luc Godard's films. If I said I thought Roman Holiday was good, my friends would make fun of me.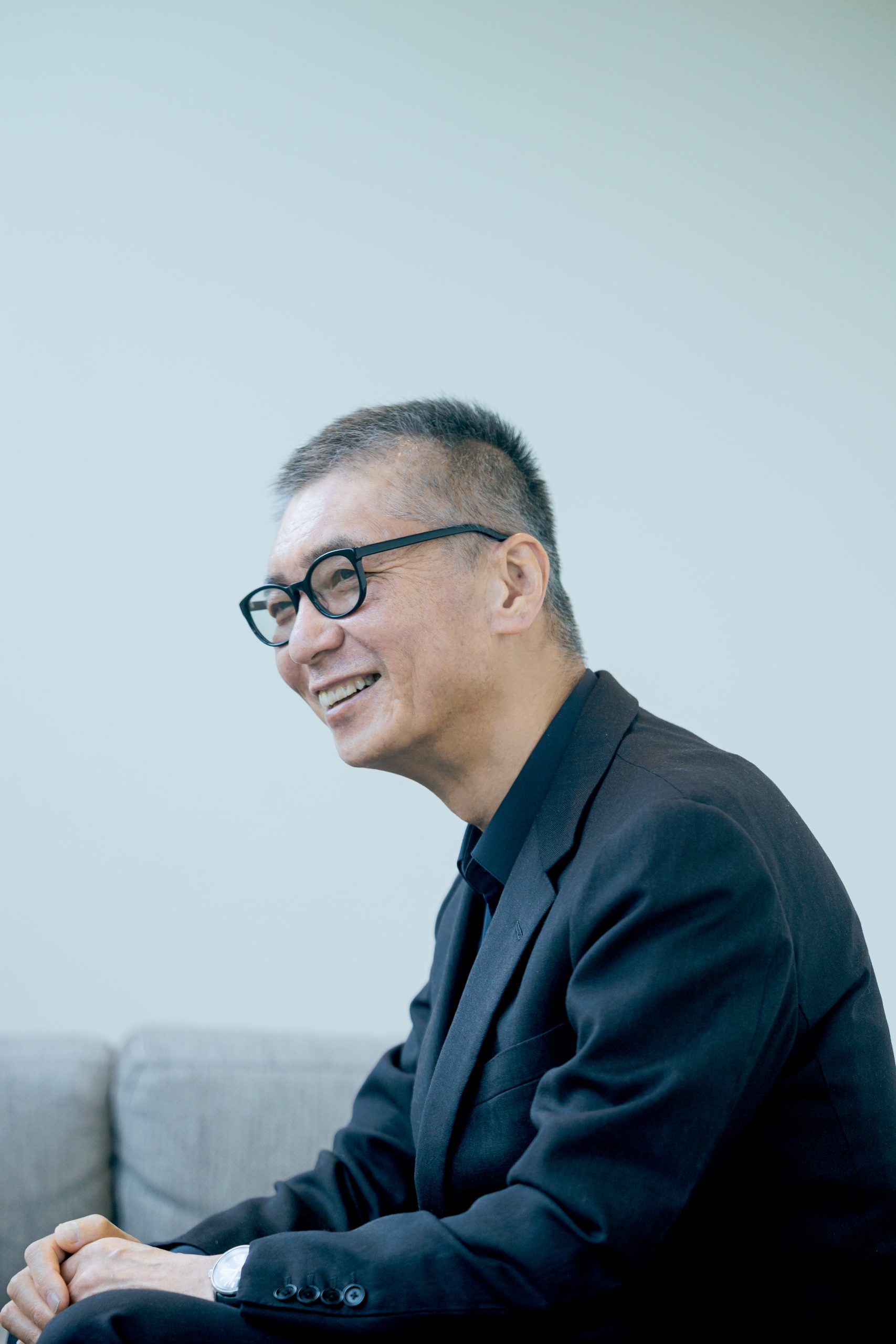 – Godard was such a prolific director, one who would make two films a year. You mentioned that your film education consisted of films of different genres, many of which I assume were Western films. Which is why I want to ask you how you feel about dialogue often featured in such Western films, like, "I love you" and "Hey, tell me you love me". I don't believe you use the line, "I love you" very much in any of your films. Do you believe there are more important things that could be said, or are you hesitant to include such straightforward language?
Narushima: Living in this world means things can be complex. A lot of things are going on in Familia, as well. The main character, Seiji Kamiya, played by Koji Yakusho, is a potter who makes ancient Japanese ceramics. This is the story of what happens to him.
The reason the phrase "I love you" isn't included in a lot of my dialogue is because it's been said that the words "I love you" didn't originally exist in Japanese. It's a phrase that was imported into Japan after the Meiji era. Including the Japanese phrase "Aishiteru" would mean the same thing as saying "I love you". I like creating dramas that don't include that.
– I see. Even in a novel, if you describe something that was fun as just, "fun", it wouldn't be very interesting. In contrast, your films gave me the impression that you took the time to describe things, which distances them from human dramas. Instead, your films convey humans in the most extreme situations. For example, we see a doctor's position as a person entrusted with life and death (Kokou No Mesu), a person in a harsh alpine environment (Midnight Eagle), a person deciding whether to euthanize a loved one (Inochi No Teishajyou), and so on. In Youkame No Semi, Kiwako Nonomiya, played by Hiromi Nagasaku, says , "That child hasn't eaten yet. Please let the child eat" in the final scene. Those were words I wasn't expecting at that moment, but the second I heard them, I understood her feelings all too well. Do you personally have any memories in which you had to make a decision in an extreme situation?
Narushima: No, not personally. But theoretically, I can talk about encountering people the moment something went wrong, like the line, "That child has not eaten yet", which is not a phrase that one just comes up with. Similarly, the actions of Seiji, played by Mr. Yakusho, are not calculated. I like that, and I think it's part of what makes the movie.
– Is that also how you view life?
Narushima: Yes, perhaps it is. Part of it is because I wasn't able to live a calculated life. I'm the type of person who isn't cut out to be a salaryman. I can only do things I enjoy. I can't do what I don't like, and I can't be around people I don't like.
– I learned about how to interact with women and how to go on dates from movies. Even if these films were made by people who weren't cut out to work a regular job, their creations are essential.
Narushima: I'm the same way. I learned a lot through the movies I watched, and I was able to travel the world because of it.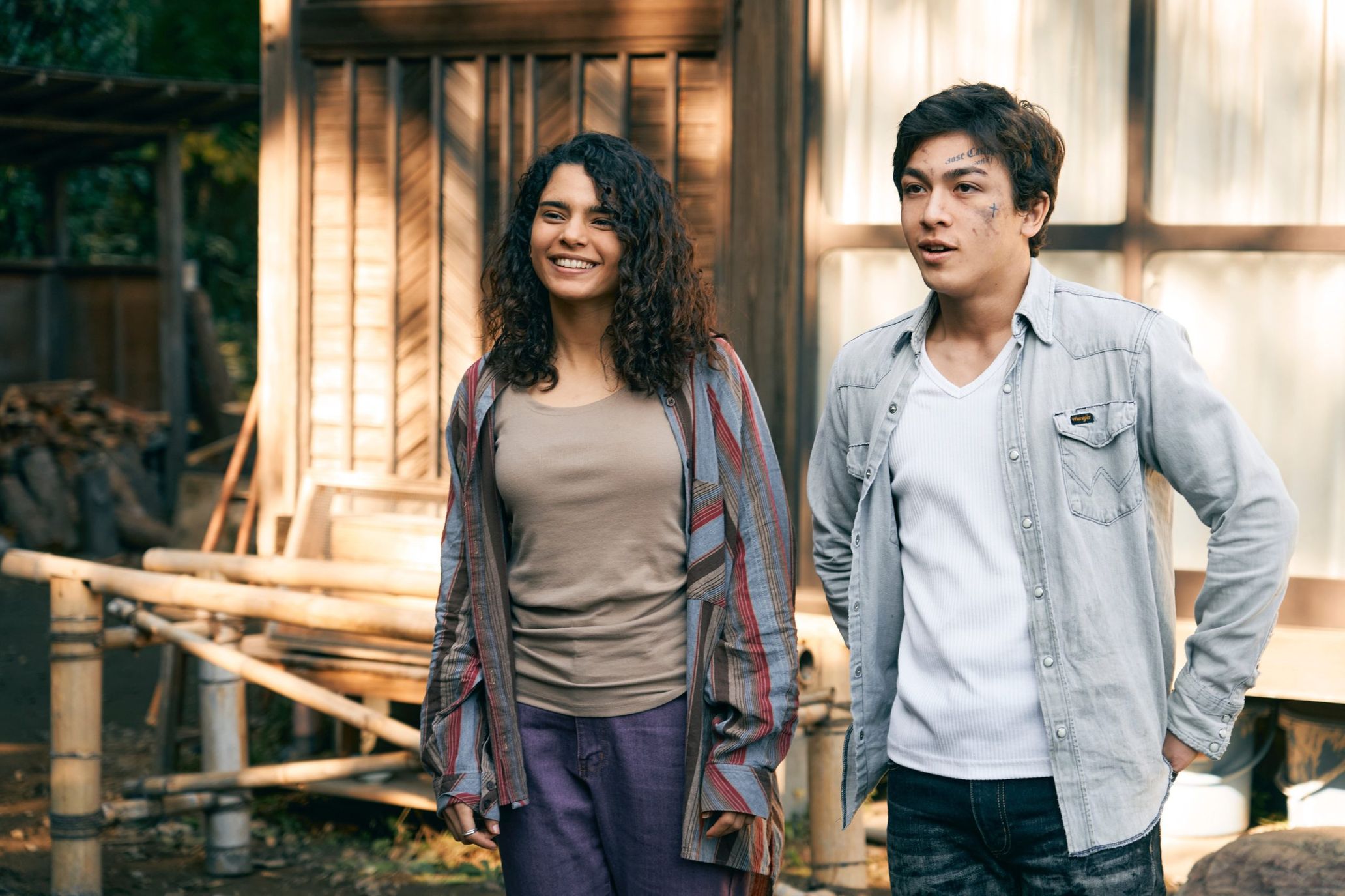 On the memorable scene and stunning shots in the film
– In your newest film Familia, the gradient colors of the sunrise shot from the junction between the Tomei Expressway to the Wangan Expressway, was very memorable. I linked this scene to the one in Solomon's Perjury Part Two: Trial, where the sunlight beautifully peeks through into the gymnasium in the scene immediately preceding the story's climax. The beauty is juxtaposed against the extreme situation. The director of photography in both films is Junichi Fujisawa. Are you constantly thinking about how to include such shots in these scenes?
Narushima: Yes, somewhat. It is a movie, afterall. I want to show the viewer, not tell them. I think that's why many of the climactic moments in my films include such scenes.
– On the subject of parents, their children, and families, has the type of family or relationships between people that you want to feature in your films changed in the twenty-plus years you've been a director? The rate at which times are changing is astounding.
Narushima: It's not like I want to convey that times have changed in my films, but it's true that how people relate to one another has changed. I was living in Okubo, Tokyo, for a long time. There, I met many Korean and Chinese people. I became best friends with a lot of them and we still keep in touch. Back then, we had the Japan-Korea World Cup and other things to get excited about together, but I had no idea that the environment over the past few years would turn out like this. In reality, I feel that the disconnect is growing.
I often wonder if there's anything that films can do to combat that disconnect, although I wasn't purposefully trying to communicate that message through Familia. Since I'm a hedonist, I basically just make films I would want to watch. That being said, I guess I like seeing a message being conveyed when the story moves forward within a family, which is the smallest possible unit in a story. If I were to depict the war between Russia and Ukraine, it would probably be a more interesting drama if I depicted one family in each place rather than the governments of two large countries.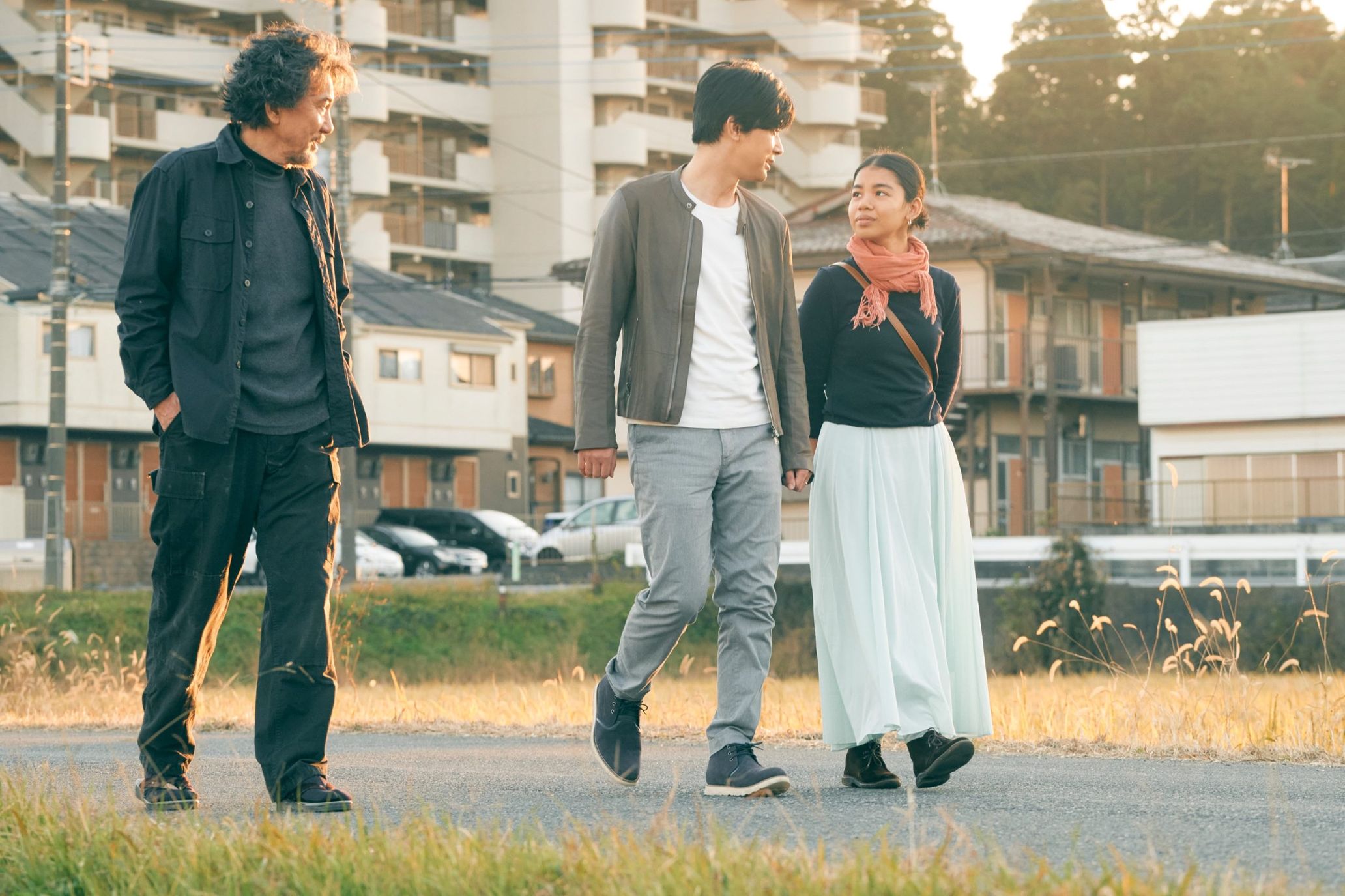 – What is something that never wavers when you're making a film? I'm not sure if I'm correct, but it never seems like you're trying to distinguish exactly right from wrong. The subjects and settings of your past works are also varied and wide-ranging. My impression of your work is that they can't be put into categories or genres, as I tend to do. But even throughout your various films, do you have any basic principles that you try to go by?
Narushima: I'm sorry, but as I mentioned before, I'm just a hedonist who likes and makes movies. It's like being asked what the commonalities between Ms. A, Ms. B, Ms. C, and Ms. D are. There's no such thing. I dated all of them because they're different in their own ways, and like them for their distinct characteristics. Ms. A and Ms. B are completely different people. One is from the Okhotsk region of Hokkaido, and the other from Ishigaki Island in Okinawa. Dating one will bring about a different drama than dating the other. I'm a sincerely indecisive person. I would truly like to date a person from Hokkaido, and then date a person from Okinawa. This is an analogy told as a love story, but it's important to like the drama of it. If I don't like it, I can't film it.
The reason Koji Yakusho appears in so many of my films is because he's my favorite actor. So naturally, the number of my films he's been in has increased. I do what I like, and what makes me comfortable. At the end of the day, the main character is the film itself, and the director is merely the parent who births it. It's fine for the qualities of each child (film) to be different. I think it's okay.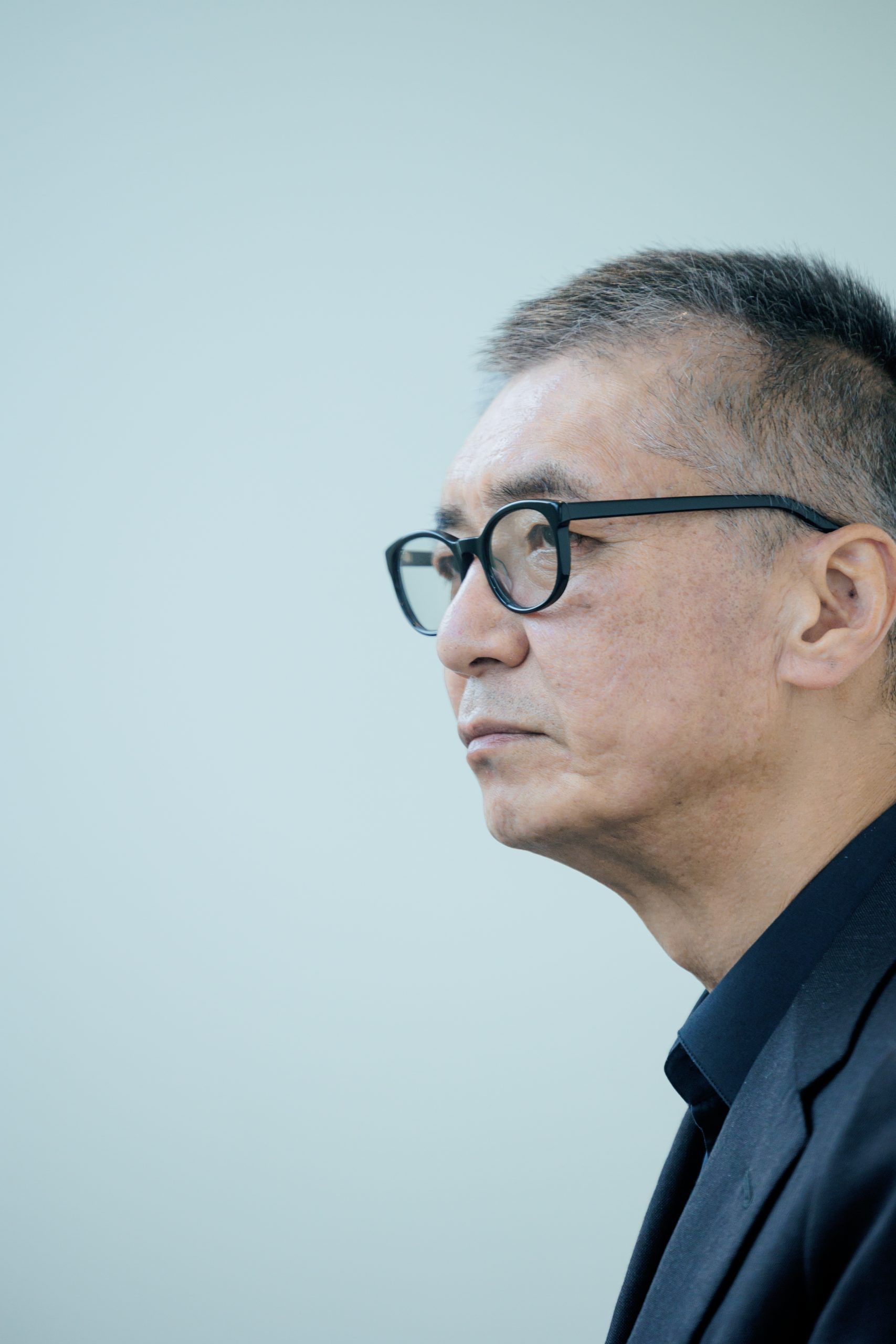 – So there's nothing that makes a film a Narushima picture.
Narushima: Exactly. I don't want to be the type of director who refuses to make a film because it's not like a quintessential Narushima picture. I'll eat Korean food, Chinese food, or sushi from Kyoto, as long as it's good. I want to try everything. That's why for this film, Inagaki (screenwriter Kiyotaka Inagaki) based the story on real scenarios he's encountered, which is why he included the housing complex (modeled after the Yasumi housing complex) and Seto pottery (ceramic art). Anyway, the important thing is whether you like it or not.
– It seems unlikely that you'll ever dislike movies.
Narushima: You can't be so sure. There might come a time when I start to think that nothing I watch is interesting. I'm afraid of that happening one day.
– The last scene in Familia. What was the image that only the main character, Seiji Kamiya, saw?
Narushima: It's common for a lot of my films to end with a closeup of a character. I believe ending on a face conveys a sort of message that encapsulates drama and the future. There's a part of me that hopes that the audience can feel something from it, too.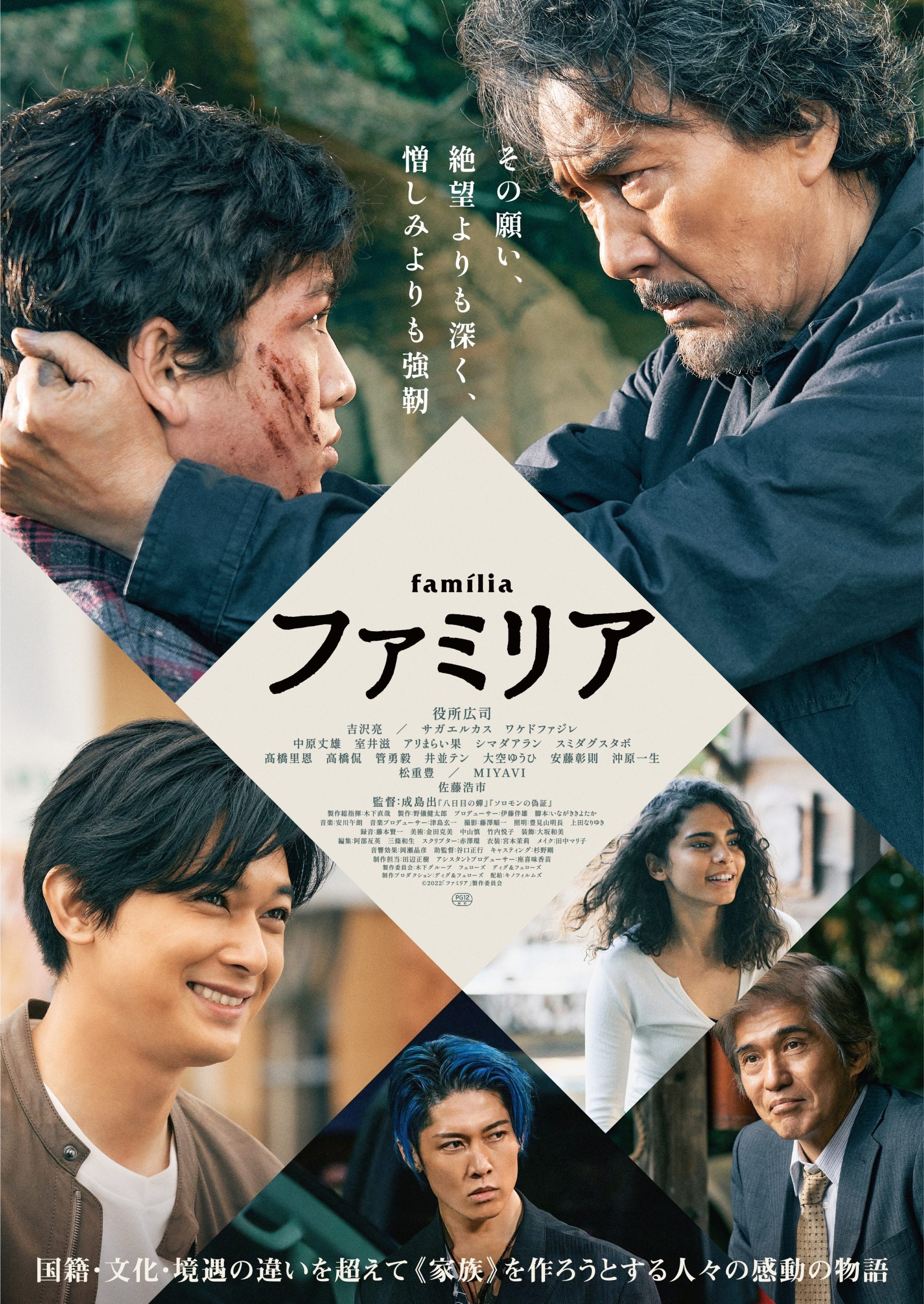 ■familia
In theaters nationwide from January 6th, 2022
Director: Izuru Narushima
Starring: Koji Yakusho, Ryo Yoshizawa, Lucas Sagae, Fadile Waked, Takeo Nakahara, Shigeru Muroi, Maraika Ali, Lima Aran Shimada, Gustavo Sumida, Yutaka Matsushige, MIYAVI, Koichi Sato, and more
Distributor: Kino Films Co., Ltd.
©2022 familia Production Committee System
Official Site:https://familiar-movie.jp/
Photography Kenji Nakata
Translation Mimiko Goldstein