Culture can be born out of a specific time and place, and yet, it possesses the ability to become timeless. In this series, "時音" TOKION invites people who are shaping culture today to talk about the past, present, and future.
This time we talked to the director, Kiyoshi Kurosawa. Since working on his first commercial film Sweet Home in 1988, he's continued to establish a rich and diverse collection of films, such as Cure, which paved the path for Japanese psychological suspense films, Bright Future, a coming-of-age piece starring Joe Odagiri and Tadanobu Asano, and Daguerreotype, a romantic horror film shot in France. Kurosawa is also acclaimed outside of Japan, and he's received many awards. He won the Silver Lion (best director award) at the Venice International Film Festival this September, which made him the first Japanese director to receive the award in 17 years, an extraordinary accomplishment. The film that led to his win is Wife of a Spy, now showing in theaters nationwide. Set in 1940, the dawn of the "Showa" era, Yu Aoi plays the protagonist in Kurosawa's first-ever period drama. What did the director want to communicate by depicting a couple trying their best to survive a turbulent time before the outbreak of war?
Those that roam between the lines are spies, not ghosts
1940, Kobe. The protagonist, Yusaku Fukuhara (Issei Takahashi), runs a trading company. The attack on Pearl Harbor would take place a year later, with the arrest of spy Sorge taking place right before it. Everyone keeps a suspicious eye on one another, and the situation would only become increasingly suffocating for those that dare to have an unbiased attitude.
Yusaku's lifestyle has become westernized, and he regularly comes in contact with foreigners through his work. For fun, he creates an amateur silent film with his wife, Satoko (Yu Aoi), who plays a spy. He leads a lavish life; it's as if he's oblivious to the sense of dread wafting through the air of Japan. It is not surprising when a military police officer has suspicions about the couple. Seeds of doubt grow within Satoko too, and she launches her inquiry —
— This is how Kiyoshi Kurosawa's new film, Wife of a Spy, opens. As it's known, this film earned him the Silver Lion for best director at the 77th Venice International Film Festival. On a more personal note, I realized something after having watched the film, and so I looked back on Kiyoshi Kurosawa's filmography.
In the '90s: after he released the direct-to-video series, Suit Yourself or Shoot Yourself (1995-1996) starring Show Aikawa and noir action flicks, The Revenge: A Visit from Fate (1996) and The Revenge: A Scar That Never Fades (1996), Kurosawa found success through Cure (1997), which went beyond the borders of a serial killer story and called into question the stability of the human ego, and then came out with Pulse (2000), a horror masterpiece that's eerily reminiscent of the coronavirus world we live in today.
In the 2000s: he came out with Bright Future (2002), an anti-genre film that illustrates Kurosawa's discontent with modern-day society, and then came face to face with different genres until he landed on creating refined horror films such as Loft (2005) and Retribution (2006), and then came out with a literary-like piece, Tokyo Sonata (2008).
In the 2010s: he had a period of rejuvenation after initially finding success in the '90s, as seen in his many releases such as the television series Penance (2011), as well as Seventh Code (2013), Daguerreotype (2016), and To the Ends of the Earth (2018), all of which were filmed abroad.
What I realized from watching Wife of a Spy was none other than the recurring "spy" motif throughout his work.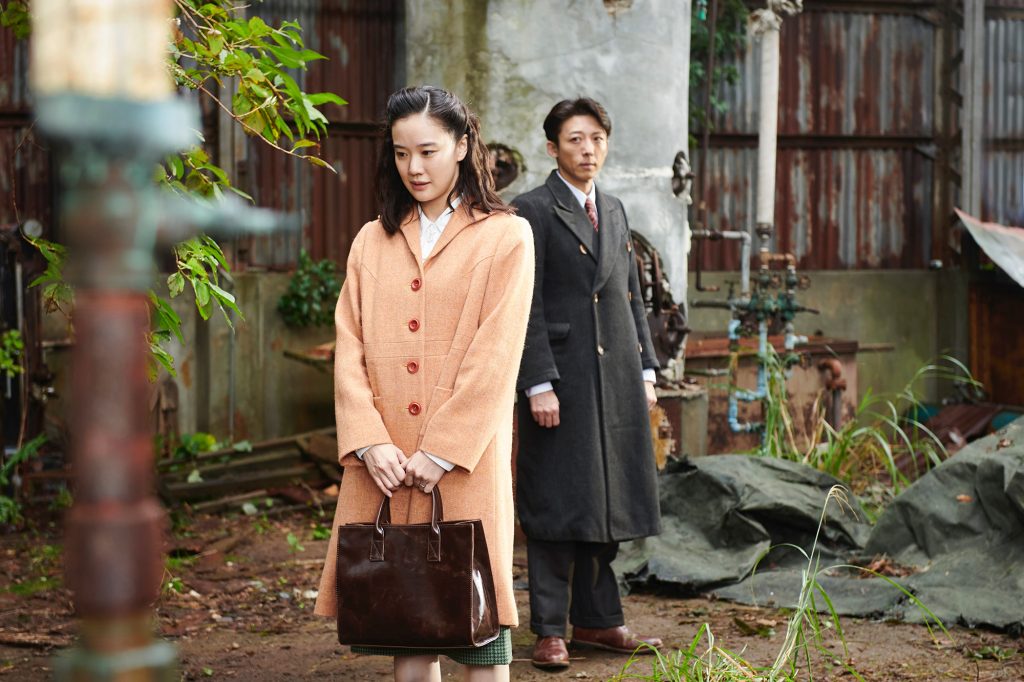 Until this point, ghosts have played a unique role in Kurosawa's films. Sometimes they provide fear, while at other times, they could have a healing function, like the ghost that healed the heroine in Journey to the Shore (2014). All ghosts hover between "this world" and "that world." The boundary between "this side" and "that side" blurs when ghosts appear, and previously separate entities such as "oneself" and "other people" infiltrate one another. A world in which such binaries are completely null eventually emerges. Ultimately, that's what his films are about.
Incidentally, spies travel between boundaries such as "enemy/ally" and "this side/that side." They must see things from both sides and figure out who the real enemy or ally is (for example, a spy might have to find out which side has Japan's best interest at heart). They fuse the boundaries and quietly disappear into the horizon.
Wouldn't it be fair to assert that as a motif, spies are on par with ghosts in Kurosawa's films? That's what Wife of a Spy made me realize.
"Both old films and contemporary films have featured spies as a theme — not that there's a lot of those in Japan — especially in America. How much of what we see should we believe? What lies beneath the surface? What's going on outside of what's shown on screen? That aspect remains a mystery for the viewer. People believe that whatever's on the screen is everything, but is what they see real? If you open a door [that's on screen], a world you can't even imagine might be behind it. If the camera were to pan elsewhere, something completely different might be there. I think spies speak to the fundamentals of cinematic expression."
It could feel frightening when the line between the world of the living and the world of the dead blurs after the emergence of a ghost in Kurosawa's films. However, his films hint at relief or salvation at the end of chaos or "the other side." There's a sense of lightness when that sentiment is on the screen, and this point is particularly vivid in his latest film.
"Ghosts exist on the border between life and death, while crimes exist on the border between morality and immorality — take, for instance, the bizarre murderer from Cure. Exploring these themes in a film set in the modern age creates so much ambiguity. I would ask myself, 'where should I go from here? Was going this way the correct or incorrect decision? Or, did it ultimately lead to happiness or unhappiness? Was there hope or despair there? I don't know, but I have to overcome this boundary' and have no choice but to end my films on that note."
But this film is set a little in the past. Therefore, we know what happened to Japan and the world after the story of the film concludes at one point. The result of what happened then connects to the current day, and so in general, we understand what was right and wrong, and what would have a future and what would only have despair. I think that was big this time. That's why the ending wasn't as ambiguous as usual. I could go over the border. Or I could remain within it. Compared to always, I could tell what was right, what choice had more freedom, and whether the characters were happy. I think it's because this was a historical drama."
The future of films that have consumed external influences
In the film, it appears Yusaku Fukuhara, played by Issei Takahashi, is almost like an empty, robotic machine with no internal life. It becomes unclear whether he has any beliefs at all, and even if he does, it's difficult to tell what they could be. As a viewer, it seems as though Satoko, played by Yu Aoi, outwardly expresses how one would expect a wife to feel when her husband is acting oddly. Is Yusaku a spy or not? How will Satoko accept him, and what will she do? The suspense intensifies all the more as they oscillate between different alternatives.
"It was my first time working with Takahashi-san, and it truly was a fun experience. I barely gave him detailed instructions, but he picked up on what I was looking for from reading the script, like 'the director wants me to act like this.' Of course, I think he understood that from watching my past films too. I don't know what was going on in his head, but all the lines he said were oddly convincing. He delivered a brilliant performance. I don't know if his words were the truth. Once you question one thing, you end up questioning everything. The thing is, I understand why Satoko believed in her husband 100% at one point. Her faith is betrayed the next moment, only for her to go back to trusting him once again right after. She was superb in the way she played the part of someone whose faith was being shaken. It might sound bigheaded of me to say this, but she seemed like a character that would be in one of my films- a character that stands on the border (laughs)."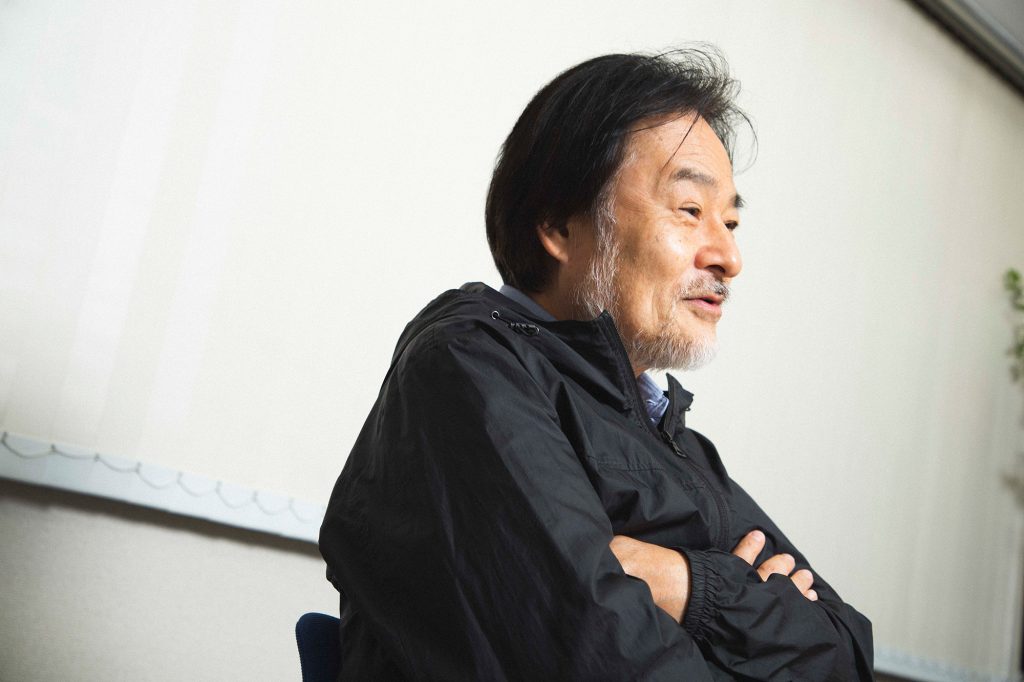 There's a quote from Kurosawa inside the pages of 00's-Plus Movies, published by Kawade Shobo Shinsha around a decade ago: "I think films from the 20th century are so strong that they could swallow any 3D film or mockumentary up." He also said, "I want to direct a film that proves how films are powerful, unwavering." Although he absorbed external influences such as "original films" and "foreign films," his films in the 2010s stayed true to Kurosawa, and he has put his words into practice.
"I said that ten years ago (laughs)? But yes, I still am strongly convinced that I'll be alright because my films are unshakeable, even if I take in different influences. Also, I believe it's ideal to watch a film on a big screen, in a dark movie theater with an indefinite number of people. That hasn't changed. Of course, if people can't do that, they could watch films at home via a DVD or online streaming. But the ideal way to watch a film is at a movie theater; I can't change my mind on that. I think the pandemic will continue for a while but, if movie theaters disappear and we all start watching films alone at home on a monitor, then perhaps my image of films will shatter into pieces.
I feel like this is a bit similar to the debate surrounding whether film or digital is better. Most films are shot digitally, but we have preserved the traditions of film, which took over 100 years to culminate. When you watch Hollywood movies, you'll see that even they've kept the memory of film alive. Some people still shoot on film too. Even if shooting digitally continues to be the norm, people can create their ideal image thanks to what film has fostered. However, if those that keep the memory of film completely vanish, then films might change drastically."
What happened in the '40s relates to Japan today
The world has undergone a massive change this year because of coronavirus. At the beginning of spring, it was as though reality had turned into something I had previously seen in one of Kurosawa's films. Now that we've gone through that period, for now, we can say that the makeup of society was more robust than we had thought. For the time being, things aren't changing rapidly every day. However, the omen of death is never too far away; we live each day with this in the back of our minds. A diabolical disaster might be around the corner, and yet we're hovering between the line of what's correct and incorrect with no obvious answer.
Perhaps our current situation is connected to '40s Japan when the nation was marching towards destruction. It's hard not to feel this way. Kurosawa stated the following in an official interview regarding his latest film: "On the surface, it may look as though present-day Japan guarantees freedom and peace. However, I believe we exist side by side with the danger of descending into a state of madness at any given moment." That's why he wants "people to feel the reality of that danger" through the film.
Wife of a Spy is a Kurosawa-esque film through and through. Further, as I mentioned, Kurosawa's films blur the very concept of boundaries and take into account whether one should or shouldn't cross them. It's not a stretch to say that he has visualized a situation similar to the one we're living in right now. I would even go as far as to state that this applies to all works created by brilliant people, despite it sounding like a cliché.
The 2020s has just begun.