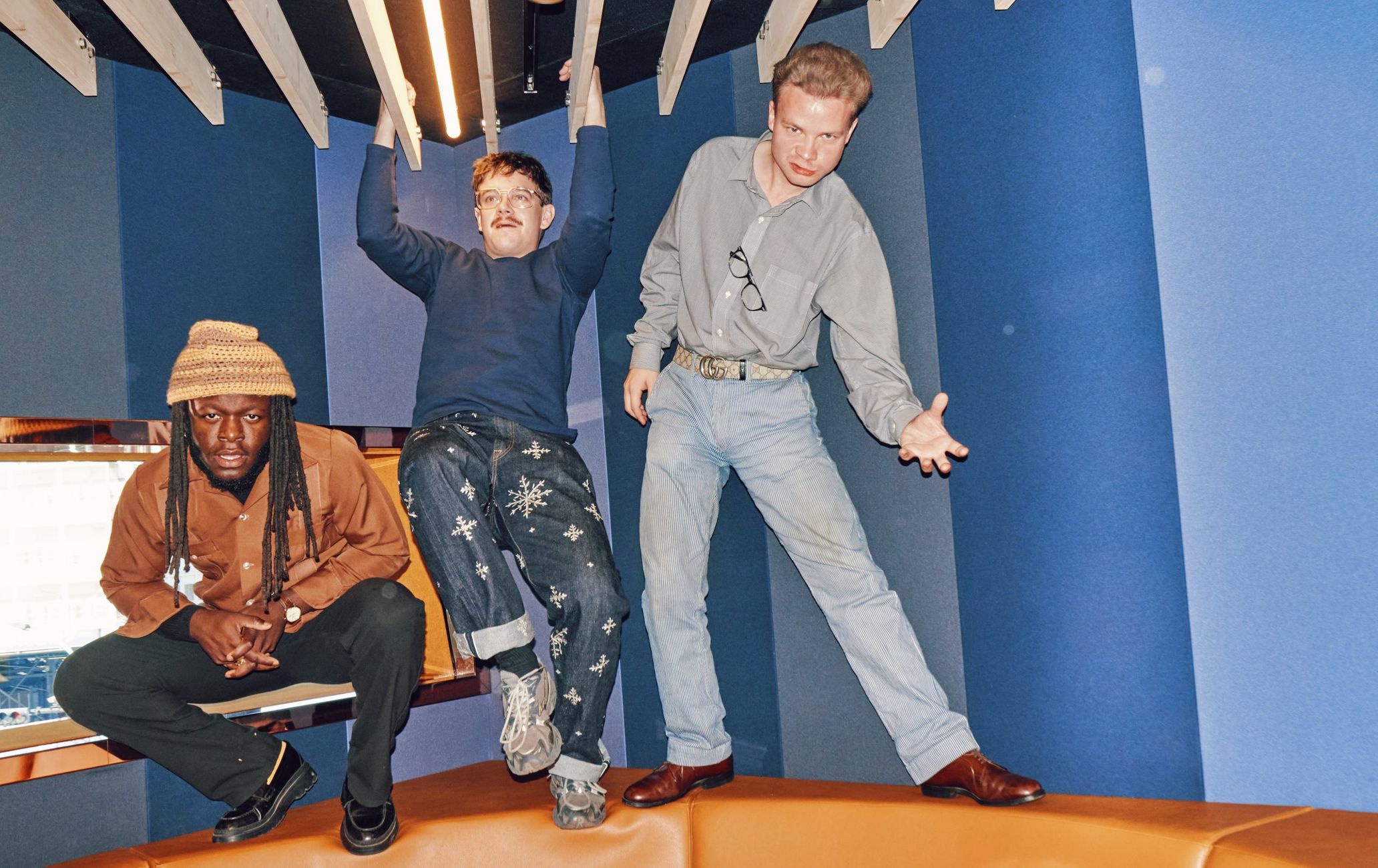 It's no secret that black midi has been one of the frontliners in the booming UK rock scene for the past few years. Their creative ideas inspired by all kinds of music from all over the world, their high level of songwriting and performance skills, and their expressive abilities all make them stand out from all the others, and their new album, Hellfire, released last summer, was a strong reminder of this.
The band is led by a vocalist/guitarist Geordie Greep, who has a particularly strong personality. black midi is a group of musicians from diverse backgrounds who studied at the prestigious BRIT School, and Geordie's curiosity, which extends beyond music into a variety of other fields, is undoubtedly a key element in shaping their style and philosophy.
On stage, Geordie plays the guitar and does the salsa steps, sometimes changing his voice tone and acting out different characters. What is the source of the band's leading player's passion for music and art, and how does it drive the black midi today? A few days after their first performance in Japan in three years, which had been postponed due to the pandemic, we spoke directly with him at the music studio in Shibuya.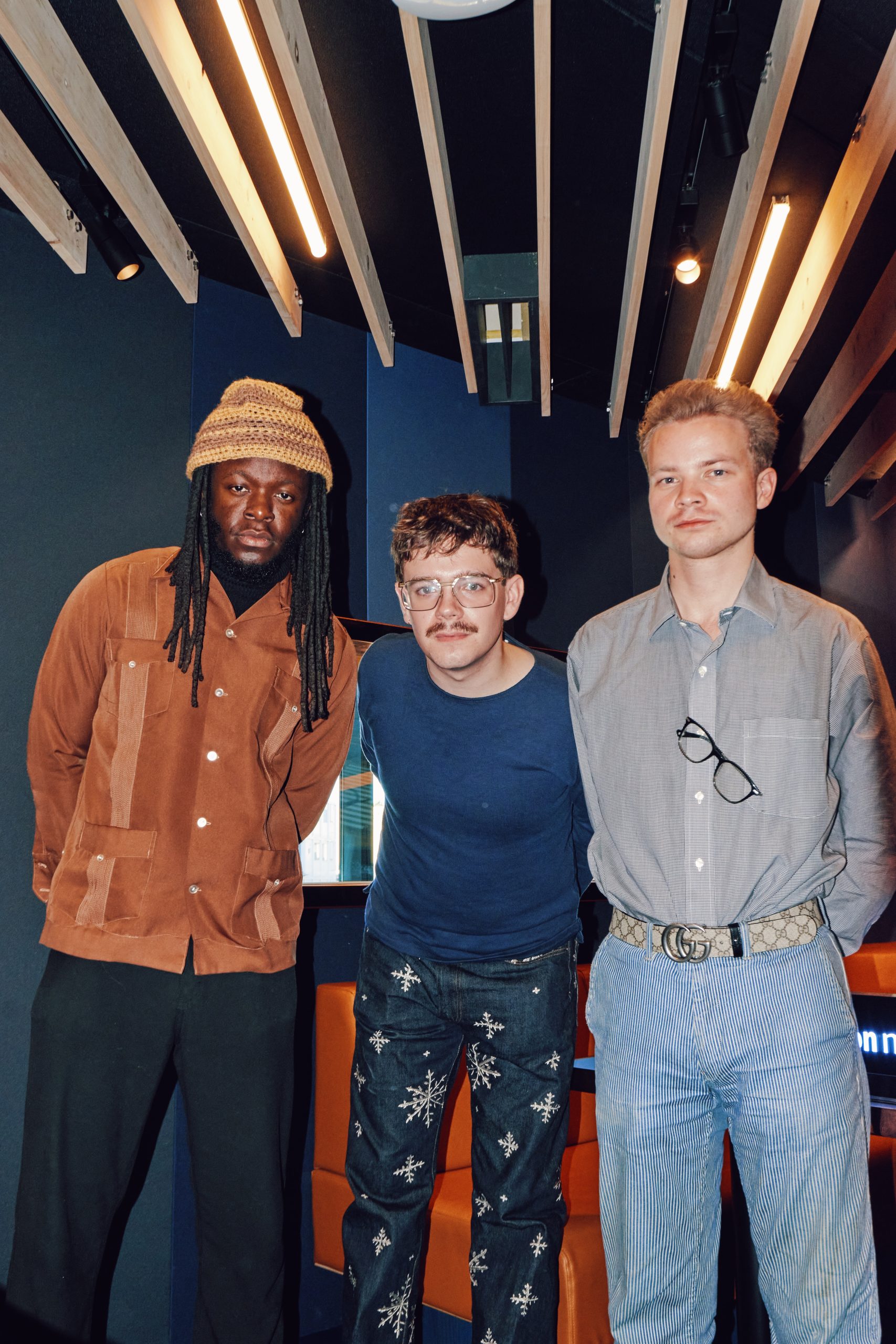 black midi
black midi is a three-piece band based in London, consisting of Geordie Greep (vo. gt), Cameron Picton (vo. ba), and Morgan Simpson (dr.). The members met at the BRIT School, a prestigious performing art school in England that turned out Adele, Amy Winehouse, and King Krule, among others. 2019 saw the release of their first album, Schlagenheim. With this work, which was listed as one of the best albums of the year, the band was described as "the most exciting band of 2019," and nominated for the Mercury Prize. The band released their second album Cavalcade in May 2021 and their third album Hellfire in July 2022.
https://bmblackmidi.com
Twitter:@bmblackmidi
Instagram:@bmblackmidi
YouTube:@blackmidi5762
— I remember that you mentioned in a previous interview that you were very fond of bossa nova and Argentine tango. Listening to the new songs like "27 Questions" and "The Defence," both of which were performed at the recent show, I could see stronger influences from that sort of music and the fruit of profound exploration of melody and harmony that the band experienced during the term from your last album Cavalcade to your latest Hellfire. What do you think about that?
Geordie Greep (Geordie): The answer is quite simple. For example, the intro of "27 Questions" was inspired by Astor Piazzolla, and our aim was to express tango-like chords in our own style. I can't remember the name of the song, but I liked Piazzolla's album called Tango -Zero Hour and was drawn to its angular yet passionate nature. So it was directly based on Argentine tango.
–What made you to develop your interest in that sort of music?
Geordie: I don't really remember. There is a lot of music out there that references Argentine tango as an exotic tone from far away. Even more, there is a lot of pastiche-kind of music in the world that references all sorts of things like Peking Opera, and of which you don't even know what is at the core at all.
As for our own music, many of our songs have sections that reference Argentine tango, and fewer songs have sections that sample movie soundtracks. For me, Piazzolla and Dino Saluzzi were certainly the gateway to my infatuation with Argentine tango, and I love the push-and-pull kind of musical composition, the sensual yet harsh and rough feel of that sort of music.
–For you, what is the value of Argentine tango that needs to be reevaluated today?
Geordie: A lot of South American music pieces have a very high quality of musicality, very complex in terms of chords, melody, and rhythm, but they are made for a wide audience. I hate a kind of music that denies such an essential enjoyment of music, music that the listener cannot get into the tempo or rhythm of, or music that is just complicated and difficult to understand. Good music, or the best music, has a very complex structure consisting of melody, rhythm, and vocal, yet is very easy to listen to, and makes the esoteric elements accessible. Tango has a particularly devilish sound, wicked and passionate at the same time, and it has a different charm from many Latin American popular music such as salsa and bossa nova. Every tango song has a similar structure, starting with an angular, peculiarly shaped riff that twists and turns to form a chord that creates overall impression of the whole, and that riff appears here and there throughout the song, with a number of chord changes, before slowing down and coming to a stop. Then they look at each other romantically and whisper, "mi amor (my love)" (laughs).
— Haha, I see (laughs).
Geordie: But tango dancing is very difficult. That is something that real professionals can only do, and I can't do it at all. Dancing in a salsa club is fun, though (laughs). Salsa is all about rhythm, not so much about the precision of the steps. Tango makes me tingle and almost causes cramping when I dance it (laughs). Have you seen the movie Tango Lessons? It's a film by a female director (Sally Potter) who made Orlando, an adaptation of the novel by Virginia Woolf, about a white English woman who tries to become a professional tango dancer through a series of lessons. The movie itself is not my cup of tea, but the concept is interesting and the scenes where protagonist devotes herself to tango dancing to become a dancer are very impressive.
–Hearing what you've talked about music, it seems you are interested not only in the music itself, but also in the culture and history behind it.
Geordie: I feel like I'm getting more interested in a lot of thing. But I don't have any distinctions or lines in my mind, like "this is good because it came from that country," and I don't have any particular fetishism for a particular region or country. I just genuinely love something. I think it's true that there are good things that come out from South America. But it is a product and a boon of certain misfortunes. South America has a terrible history, which has never been good, but has brought together a diversity of things. There are a variety of people involved, including indigenous South Americans and immigrants from Italy, Spain, and France, and as a result, many different kind of histories and cultures have been fused together to create a unique sensibilities, as can be seen from their music, literature and movies. It's these people who came together that created an interesting culture.
The trigger for developing an interest in music other than British and American rock and pop music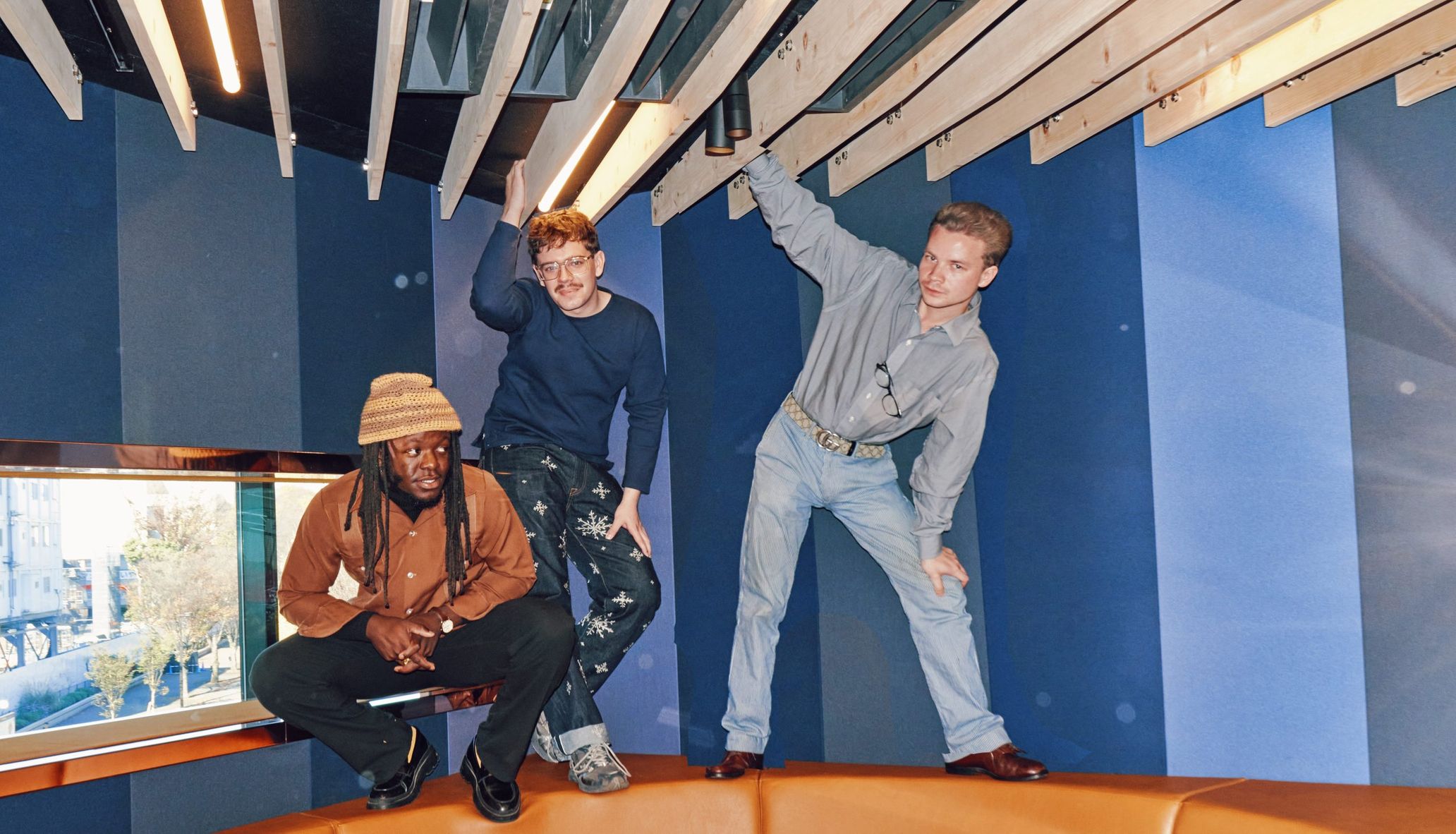 –What were the roots or origins of your interest in music other than so-called Anglo-American rock and pop music?
Geordie: Well, I'm not sure. But my father was very passionate about music, and has imprinted on my mind from a young age the idea that "there are good and bad music, and there are no boundaries between genres." He always told me that I should be honest about my emotional reaction to something and not push my value on someone else. If I don't like what everyone else likes, I can say it's not for me. But on the other hand, if I really like something, there is no need to be ashamed of it. My father is a man who has listened to a wide variety of music in this way, and his existence is a testament to the variety of music and art that has been brought into my life as well. Also, I have family members who come from different areas, have different kinds of musical tastes, or who encourage me to "check this out."
–So, the stance that you and black midi have today is something that was fostered by your family environment, right?
Geordie: In my case, the first music I got into was classical music, so a lot of the music I like is very far removed from my personal life and experiences. Because of that, I came to realize that it's silly not to like something just because it was geographically distant from me. Suppose the music I like was written at a time when life revolved around the Catholic Church and their music—in other words, when music was written for the Church, played only once, and never heard again, I might have been executed for a really insignificant reason, like just because I heard that music. But in this day and age, it doesn't matter what we listen to, whether it was written 20 years ago or in another country, why should we deny ourselves the joy and pleasure of listening to that kind of music?
–Yeah, you're right.
Geordie: Needless to say, the great thing about music is that it doesn't have to be verbalized, so anyone can enjoy it. I love translated books and movies. Most of my favorite books are French, and I love movies of every kind of genre, but especially I watch a lot of movies from Hong Kong. But when a language is translated, there is always the fear that something has been changed or lost.
But again, the great thing about music is that it sounds the same to everyone, even though you can't translate the major third. Music is the most immediate and most mysterious art form in that everyone can enjoy it and everyone can get the idea of what a happy or sad song is like. But it's such a mystery why major scales are happy and minor scales are sad. It's completely beyond our comprehension, but at the same time, it's undeniable.
Influences from Japanese culture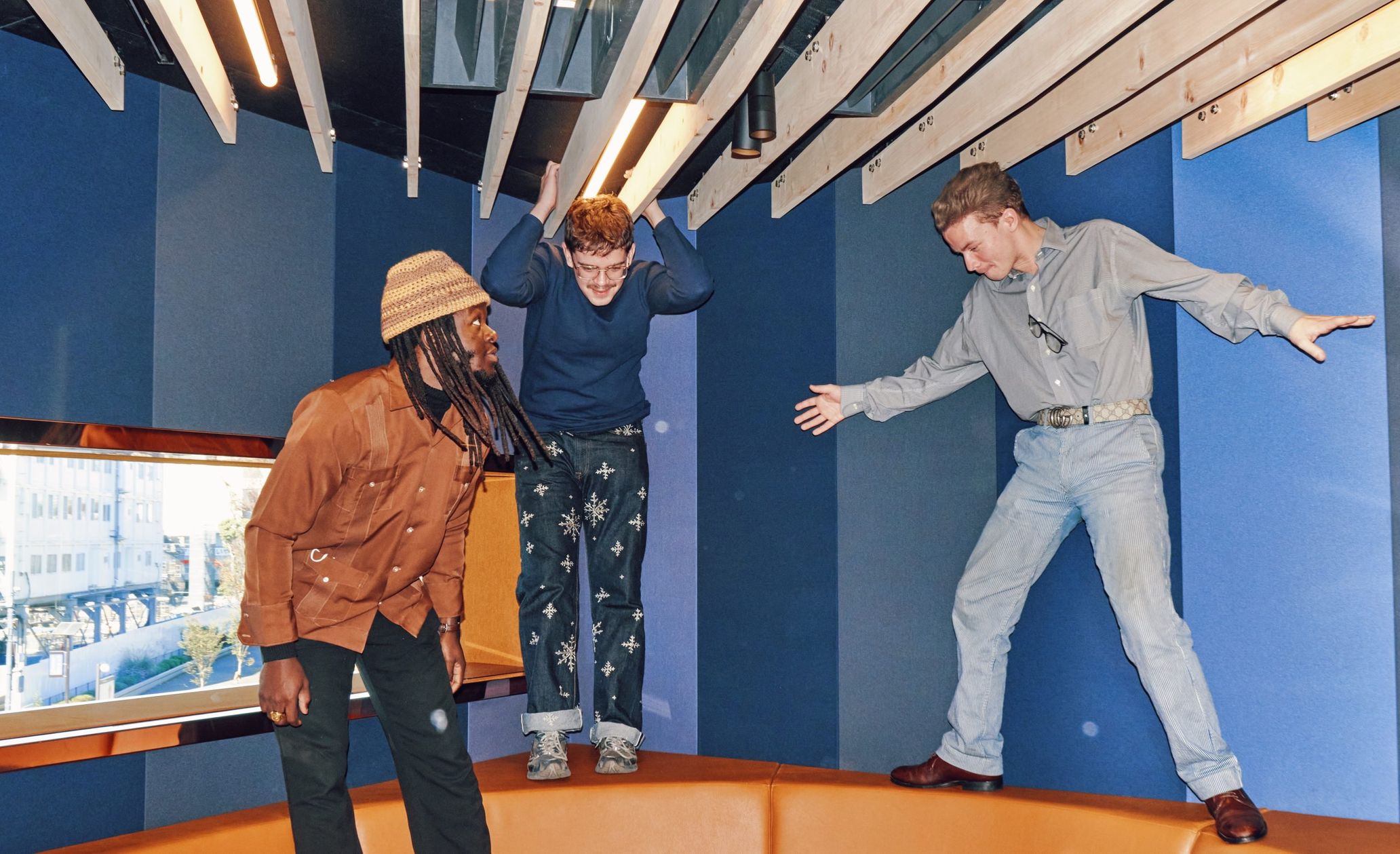 –In relation to music and art outside of the U.K. and the U.S., black midi is also known for its deep ties to Japanese alternative music and culture.
Geordie: That's exactly what I was thinking. I had a show in Nagoya a few days ago, and the DJ at the show was ∈Y∋ of the Boredoms. Boredoms are one of my favorite bands and I respect them from the bottom of my heart.
I was first exposed to Boredoms' music when I was 13 or 14 years old, I think, when Vision Creation Newsun was released, and it was a significant event for me. I saw their live show at the Barbican Center in London, which is a very prestigious venue where classical music concerts are usually held, and they were playing with a big band with 5-7 guitarists, 4 drummers, and many keyboard players, led by ∈ Y∋ performing as a DJ. In addition, ∈Y∋ had 88 random people play cymbals. It was full of all kinds of gimmicks, but at the same time a spectacular show.
As it turned out, it was truly fantastic, because the way they did it was not just a gimmick, but they really tried to do something crazy and silly. It was a very rare and unique experience to see that kind of sound being created right in front of my eyes. I remember the cymbals sounded so lyrical, like the sound of the ocean. Technically, a PA can make any sound, but the sound reproduced through a machine is always slightly altered and sounds strange. But with their sound and performance, you could feel the slightest change in frequency just by moving your head, and it was probably one of the top three best shows I've ever seen in my life.
–I totally understand what you meant.
Geordie: That's how I got into Japanese noise music, like Otomo Yoshihide's Ground Zero. Their Revolutionary Pekinese Opera is especially fantastic―and of course I love Consummation and Consume Red too. Melt Banana is also great, and I love OOIOO by Yoshimi of the Boredoms, Afrirampo and many others. Anyway, they are all great music.
I've always been wary of those who are obsessed with one country or culture, and this encounter with Japanese music was a great reminder of that. I also like Toru Takemitsu, who makes classical music – he did the music for Akira Kurosawa's film Ran, and he has done a lot of beautiful music and symphonies. I also love Japanese films. There are many, but I love Kenji Mizoguchi's Ugetsu and Masaki Kobayashi's Harakiri as well.
— I remember you posted a picture of your band member with Kyary Pamyu Pamyu on SNS prior to this Japan tour.
Geordie: I remember that when she first came out, there was a lot of positive reaction in the Western media. So I listened to the album and thought, 'That's pretty good' (and he starts humming the chorus of "PONPONPON"). I saw her live before at Coachella and unfortunately didn't get to meet her in person (*bassist/vocalist Cameron Picton is in the photo with her), but I remember being very impressed with her performance. Originally, I don't like live shows where the vocalist just sings along to a backing track, but her live show had energy, passion, and an aura of authenticity, and I really enjoyed it.
— What do you think about Japanese video games and anime?
Geordie: When I was little, Kaidi (Akinnibi), who plays the saxophone for the band now – my best friend in life – he recommended Cowboy Bebop to me and I used to watch it a lot. It was cool because it was somewhat perverted. I also loved Satoshi Kon's Perfect Blue. Satoshi Kon was an animation artist, but his work has a very sophisticated style and is very artistic. The American director of Black Swan (Darren Aronofsky) bought the rights of the work, so basically Black Swan can be said to be a remake of Perfect Blue. In fact, there are many scenes in Black Swan that are recreations of scenes appeared in Perfect Blue. Story aside, some scenes are completely plagiarized. It's very interesting that he was able to do that because he bought the rights of the film.
–How about Japanese video games?
Geordie: I love them. I especially love Metal Gear Solid. Also, I used to play Tekken a lot. And Super Monkey Ball when I was a kid.
Becoming a frequent customer at Sushi Zammai on the second visit to Japan
— This is your second visit to Japan. Did you have any opportunity to visit any places and experience Japanese culture?
Geordie: This time, I had the first day free, so I spent the whole day exploring the city. But I still only went around the neighborhood of Shibuya. However, I went to Sushi-Zammai five times.
— Five times(laughs)?
Geordie: It was wonderful. In Japan, I was impressed by the hospitality of the staff in restaurants and clubs, and even when you get take-out, they are all very kind. Also, it's great that things are cheaper now (due to the weakening yen exchange rate). I was able to buy a Giorgio Armani jacket for about 1,000 pounds less than in England.
–By the way, do you think it is possible to be inspired by Sushi-Zammai, which you frequented so much, and to have it feed back into your songwriting in some way?
Geordie: If we can emulate the quality of efficiency and professionalism that can be found at any Sushi Zammai restaurant, I think we could be a very good band. It's run with a speedy and excellent operation.
— In a previous interview, you mentioned that you had already started writing songs for Hellfire at the time of the release of your last album Cavalcade. How about the situation now?
Geordie: Well, I'm not sure. Because I've spent a lot of time away from home in 2022; I haven't been in London for more than two weeks in the nine months since March. So I'm really looking forward to getting back to London and getting back into the swing of things there. So at this point, any plans for this year or the next album are unrealistic and mostly hypothetical. Well, who knows what the future holds for the group, this will possibly be the end, we'll see.
Translation Shinichiro Sato
Photography Haydee Yamane