There is no end to the number of people moving from city centers to the countryside. The reasons for moving and the backgrounds of those who do so vary widely. Among such migrants, Yuki Oka, who runs "ONE RECORD STORE" in Suwa City, Nagano Prefecture, is perhaps a bit of an anomaly.
Raised in the U.S. as a child, Oka was exposed to hip-hop culture and learned the essence of partying at New York's legendary party "The Loft," and on March 21, he hosted the music event "UNIVERSAL CHAOS" at ENTER in Shibuya. "The record store is a platform that connects everything derived from music," he says.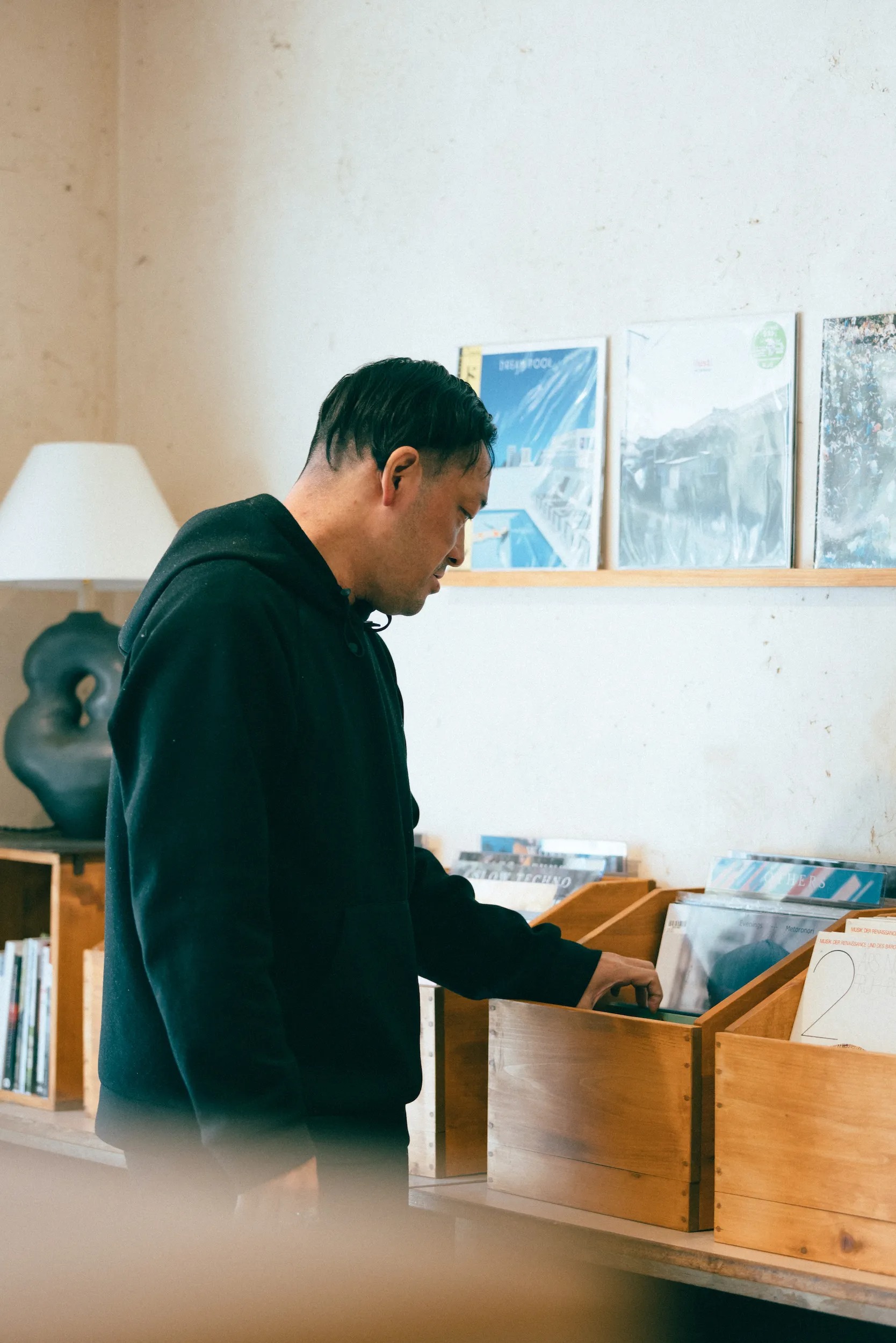 Yuki Oka
He was born in 1981 and is the representative director of Digireha Inc., the non-profit organization Ubdobe, and ONE ON ONE LLC. He spent eight years of his childhood in San Francisco, and returned to Japan immersed in music. The illness and death of his mother and grandfather led him to work as a caregiver for the elderly and a supporter of children with disabilities. Currently, he is developing club events and mystery-solving events with themes of human science and art, welfare businesses such as in-home care, visiting care for persons with severe disabilities and mobility support, rehabilitation contents in the form of digital art, and traveling internship programs in the medical and welfare fields, as well as running a record shop.
https://linktr.ee/UQLINK
「ONE RECORD STORE」
Instagram: @one_record_store
Seeking activities related to local revitalization through encounters with the owner of ReBuilding Center, who also moved to Suwa
–What made you decide to move to Suwa City, Nagano Prefecture?
Yuki Oka (Oka): When my child was born, I was looking for an area outside of Tokyo and found Suwa City.
–How do you feel now after settling in this place? What do you find attractive about Suwa City?
Oka: I am only in Suwa about half the week because of my work, but I no longer have a home of my own in Tokyo, where I used to be based, so this place is my home base. Anyway, I feel at home here, and it is my favorite place I have ever lived. I even think it is the best in the world. There is Lake Suwa nearby, and when I drive around the lake, I sometimes come across incredibly beautiful moments. There is not only such natural beauty that I can be impressed by but also a town with many young and interesting people. I like how they are well-balanced. I don't think there are many other places like this here.
–You have wanted to open a record store for a long time, but why?
Oka: Because my life has been centered around music. That has never changed and never will. Although I run a non-profit organization specializing in social welfare and a company that provides rehabilitation contents using digital art, all of them are run as legal entities. So I wanted a space where I could immerse myself in my own world. You may say it's my hobby if you like.
— Why did you open it in Suwa rather than in Tokyo?
Oka: I always wanted to open a record store but have never thought of doing it in Tokyo. I may not look it, but I am actually very cautious (laughs). So I also thought operating it with someone else would be difficult. When I first moved to Suwa, I knew no one and had no friends. But when I met people who also moved to Suwa, such as Mr. and Mrs. Higashino of ReBuilding Center JAPAN, which deals with old materials and tools, and Mr. Miyasaka of Miyasaka Brewing Company, known for its sake brand Masumi, I learned that people in their 30s and 40s were taking the lead in revitalizing the community through interesting activities. Then I started looking for a place to open a record store myself, and ReBuilding Center showed me a number of places, but none of them seemed to fit the bill. However, As for this place, a florist "Olde" had already decided to open its shop here, but they suggested that I share this space and open a record store in the back of the florist. I met with Misato, the owner of Olde, and my intuition whispered to me this was the place! After four years of searching for a place to start my business, I found what I thought was my destiny.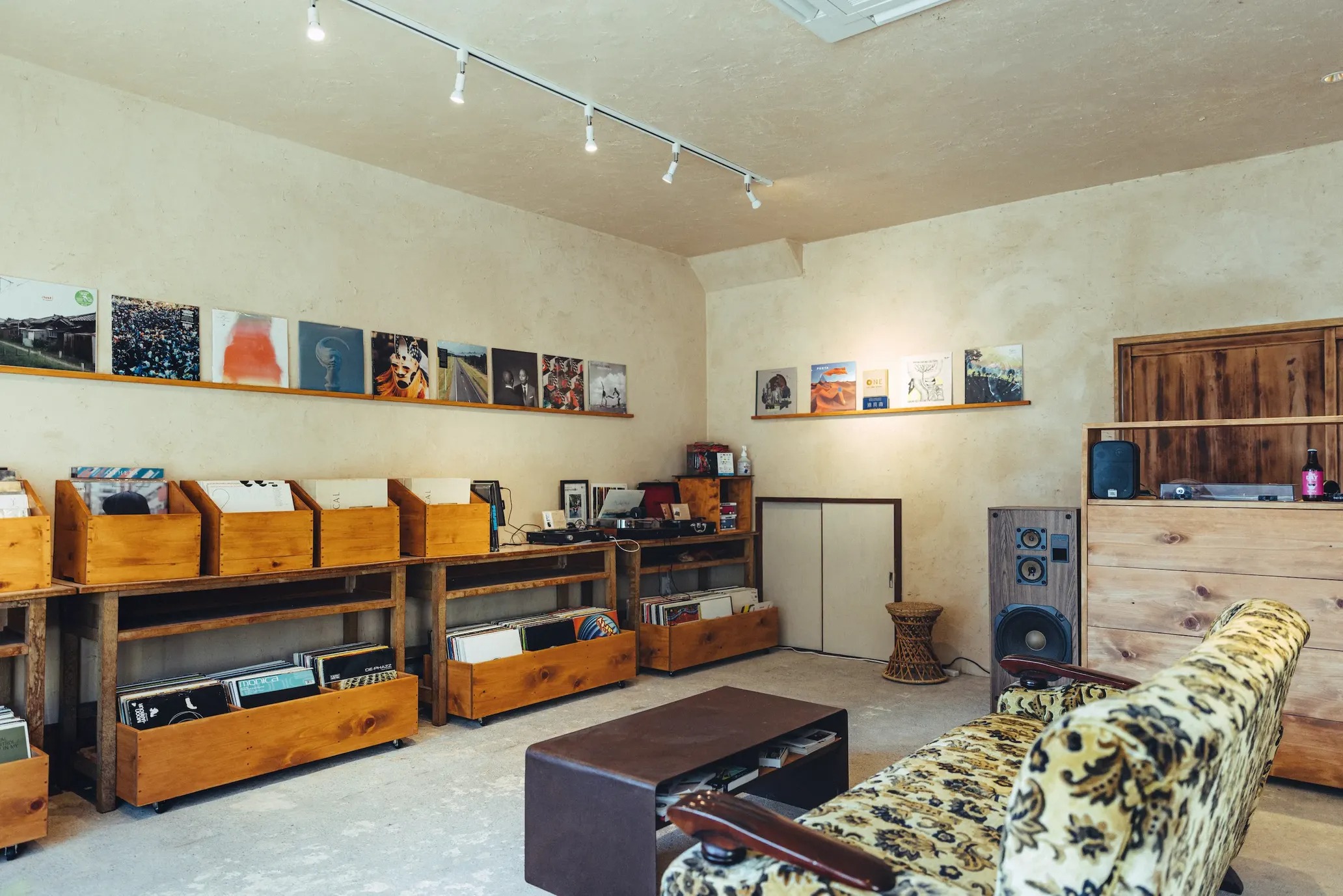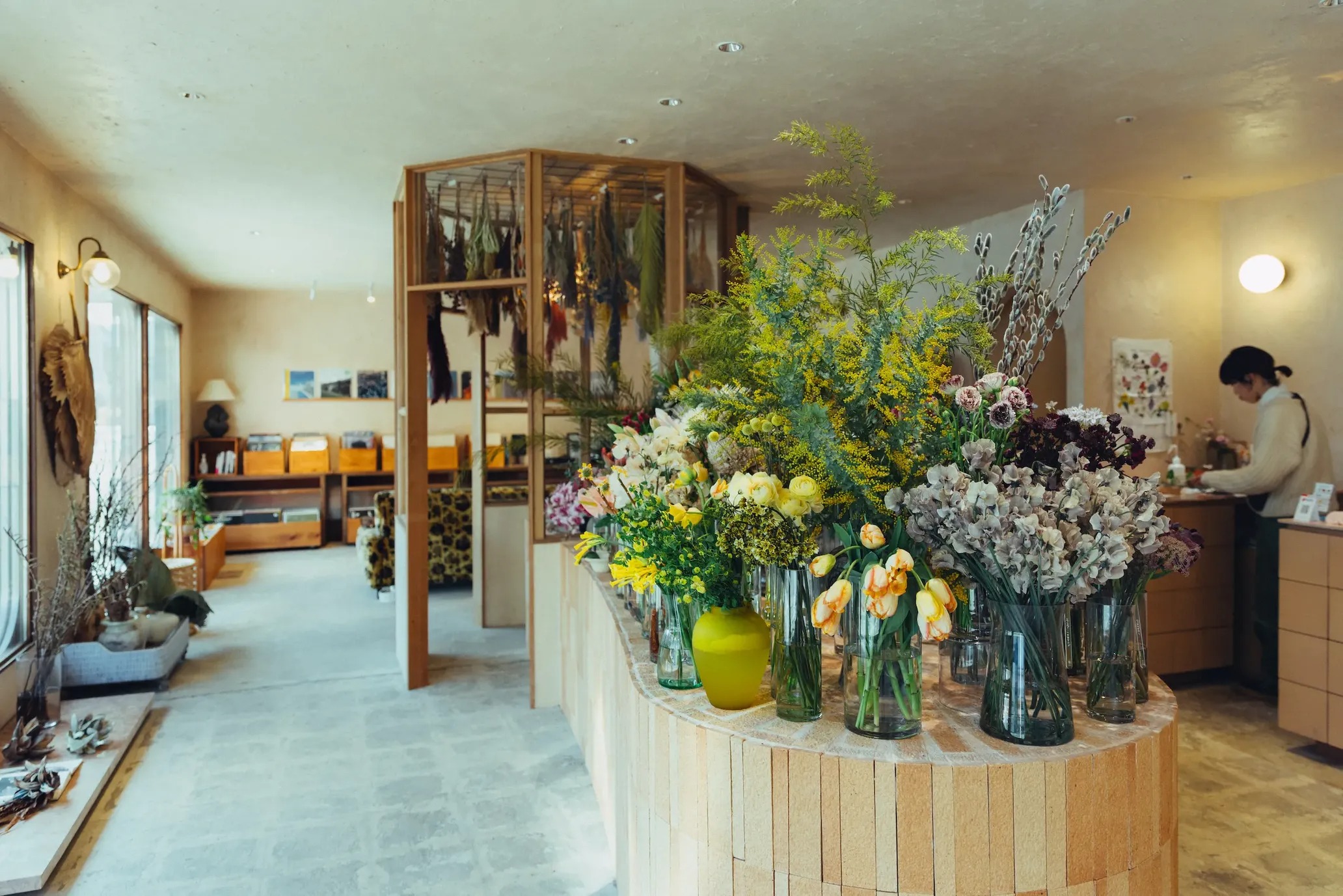 A place not only to sell records but also to meet people.
–Running a record store in a non-urban area with no nightclubs nearby would be difficult How do you find it?
Oka: There are record stores not only in Suwa but also in the neighboring towns like Okaya and Fujimi, and even though there are no nightclubs, DJs from different areas hear about us and come to buy our records. Also, we have an online store. Matsumoto, the home of "Ringo Music Festival", already has its own music culture. It is not far from here, and I hope that people from Ina and neighboring areas will join us in promoting Nagano's music culture.
As stated on the store card, I am not a musician, critic, or collector. Instead, I value the simplest feeling of "Oh, I like this" or "This is cool" when I hear music.
— That is the natural feeling that comes up when we listen to music, and since it is an instinct that people have, it allows us to enjoy music in its purest form.
Oka: Yes, it is. However, the store is not yet in my ideal shape, so much work is needed in the future. I do all the purchasing myself and am about to start stocking the genres I love. For the first year after I opened, I stocked a wide range of records from various sources, hoping to create a steady stream of customers while keeping an eye on how things were going. Recently, I have been in communication with my favorite labels, such as "WARP," "Ninja Tune," and "KOMPAKT," and I am almost ready to start dealing with them.
The point of running a record store is that you can meet people there, right? I think that is important. But for that to happen, it has to be physical, not digital or remote. I can ask DJs I meet at the store to perform at events in Tokyo, and vice versa. So I want the store to be more than just a place to sell records; I want it to be where people can get together and derive something from.
–With the COVID pandemic, digitalization has progressed even further. Still, just as can be seen from the fact that analog records are selling well, we are reminded of the value of physical objects and real human connections, aren't we?
Oka: Besides selling records, I would like to invite artists to hold events. Actually, after the record store, I want to create a nightclub. Suwa is overwhelmingly lacking in music culture. There are music venues, but they feature rock and pop live music, so I need to familiarize myself with those. That's part of why I created "ONE RECORD STORE."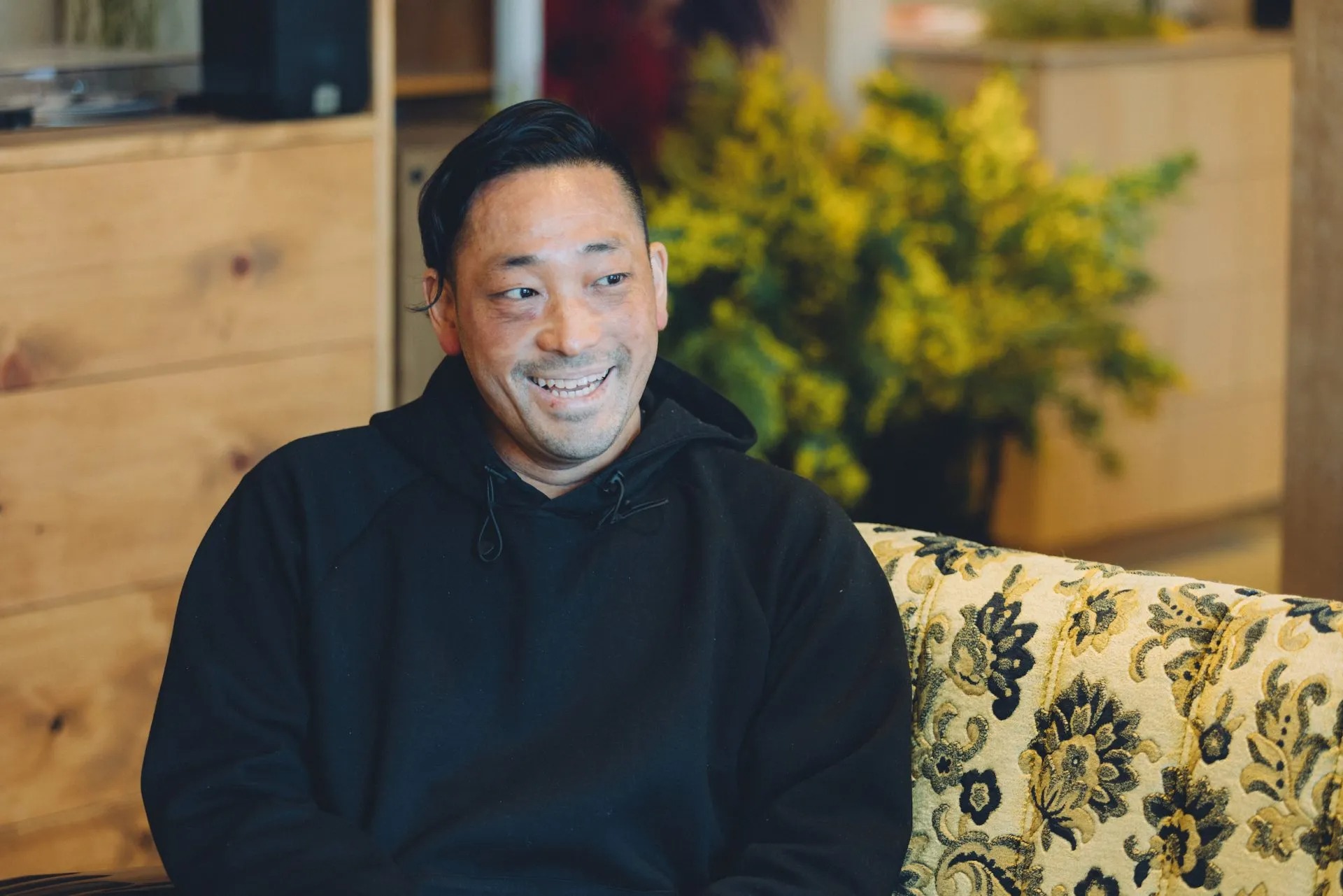 –You often go abroad. What were the most interesting places you visited and why?
Oka: There are many! From the major ones, I would say "Amoeba music (https://www.amoeba.com/)" in LA, San Francisco, and Berkeley. I was shocked when I went to the LA store for the first time when I was about 18 years old, and I was even stopped by customs on the way home after buying many records (laughs). I once went to a record store in Hollywood that specialized in black music, and a Japanese female staff was working there. I told her that I liked hip-hop, and she invited me to a party where her boyfriend was DJing. I hit it off with her boyfriend, who also likes hip-hop, and he agreed to let me in as a roadie at the party, so I followed him to a venue. The area where the party was held turned out not to be a safe place where there were murders every week, and I, as a Japanese, stood out quite a bit. However, I didn't get scared because I was with that D.J. guy and was shocked to discover the authentic underground culture there. From that time on, I started buying records.
–It's very unusual to have such an experience at the age of 18. Was it hip-hop that you were into at the time?
Oka: Yeah, I lived in the U.S. from the age of 3 to 11, so hip-hop culture was a natural part of my surrounding environment. But after returning to Japan, I was also into hardcore, so I used to go to both nightclubs and music venues dressed as a B-Boy but with a Mohawk on my head (laughs).
— Are there any other places that left a lasting impression on you?
Oka: Berlin was impressive. I have been to Berlin once, but I went there just when I was thinking of opening a record shop, so I visited there to look for some references. First and foremost, I like the forest-like interior of "Spacehall," which allowed me to concentrate on digging. Then I went to "Hardwax," which has the Aphex Twin's logos all over it, whom I adore.
I was also influenced by "other music" in New York, which is closed now. I liked that they had a niche lineup that outside mainstream techno. My favorite place when I was in college was Nujabes' "Tribe," which was located in Utagawa-cho, Shibuya, although it is also closed now. I told the staff what kind of music I liked, and they suggested The Album Leaf. I was told that the mindset of the main person in the project, who originally played in a hardcore band and then transitioned to electronica, would match the transition in my life. I fell in love with that music, and from there, I started going to that record store. I loved the atmosphere of it more than any other record store in the world, and I loved being able to sit on a club chair and listen to the music. I also used to go to WARSZAWA near Tribe and buy all the records from my favorite labels.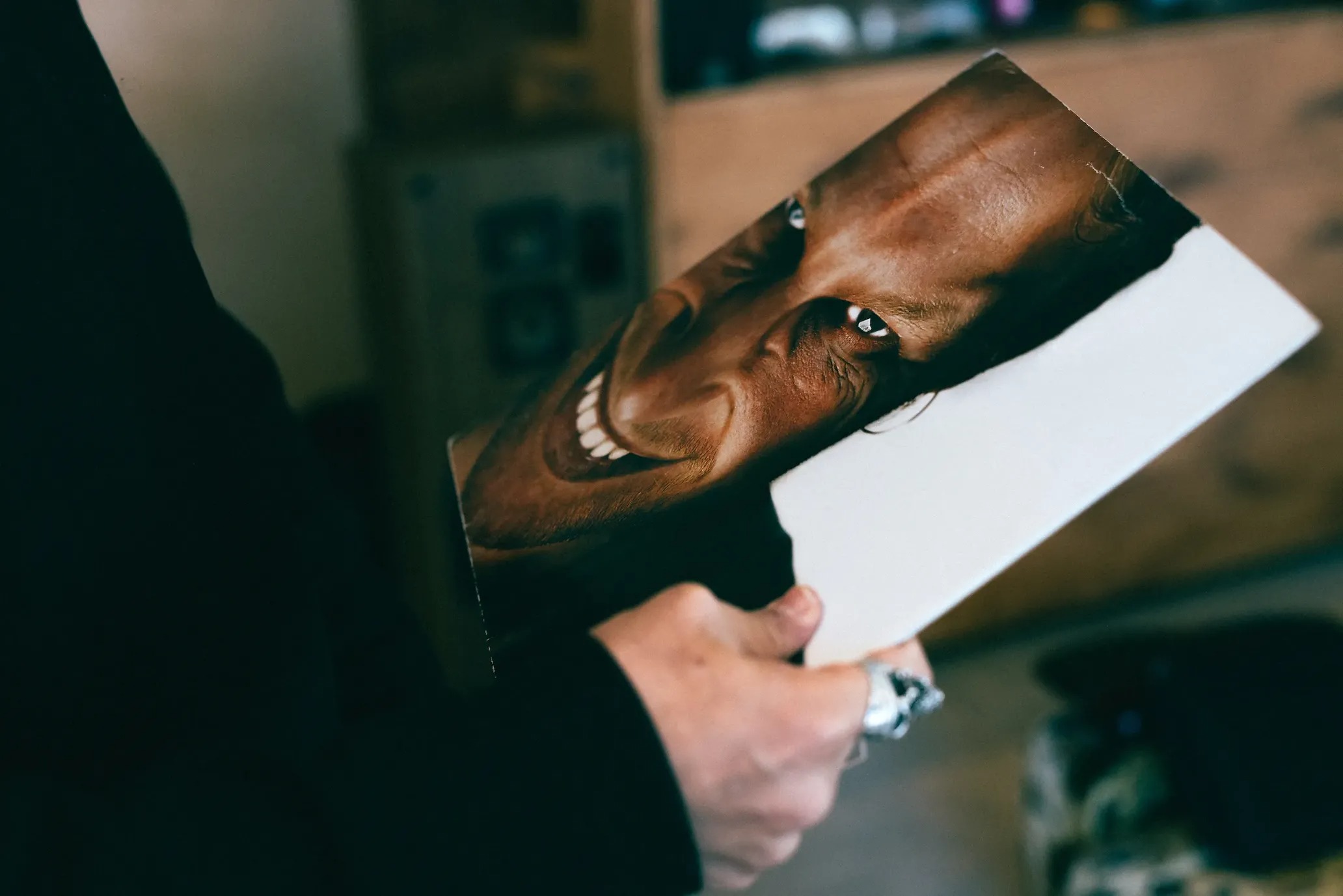 –When the record stores in Shibuya were at their most prosperous, there was a unique atmosphere and culture. What about festivals and parties?
Oka: Of course, there were also memorable parties! When I was in my 20s, my brother lived in New York and I visited him often. A friend of mine who had become good friends there told me that "The Loft*" would be held the following month. "The Loft" was completely invitation-only, and since my friend had been invited, I got in with him. As far as parties go, it was the greatest experience. They bring in a sound system and deco [佐藤1] to a place like a community center, and the acoustics are just amazing. Also, the DJs are supposed to play one song in its entirety without connecting songs, which is the style of the founder, David Mancuso. It's hard to explain in words, but it was an unprecedented experience for me, both cerebrally and physically. It was like being surrounded by a sense of security and happiness, even though I was among people I didn't know at all.
The other place I would have to say is "Berghain" in Berlin. I wasn't allowed in as a guest, so I had to wait in line with other guests to be let in. The sound of the bass, the people dancing on the dais, the chaos of the toilets, the space filled with the sound of pounding techno, and the heavenly feeling I got when I went to "Panoramabar" on the upper floor, all of it was amazing.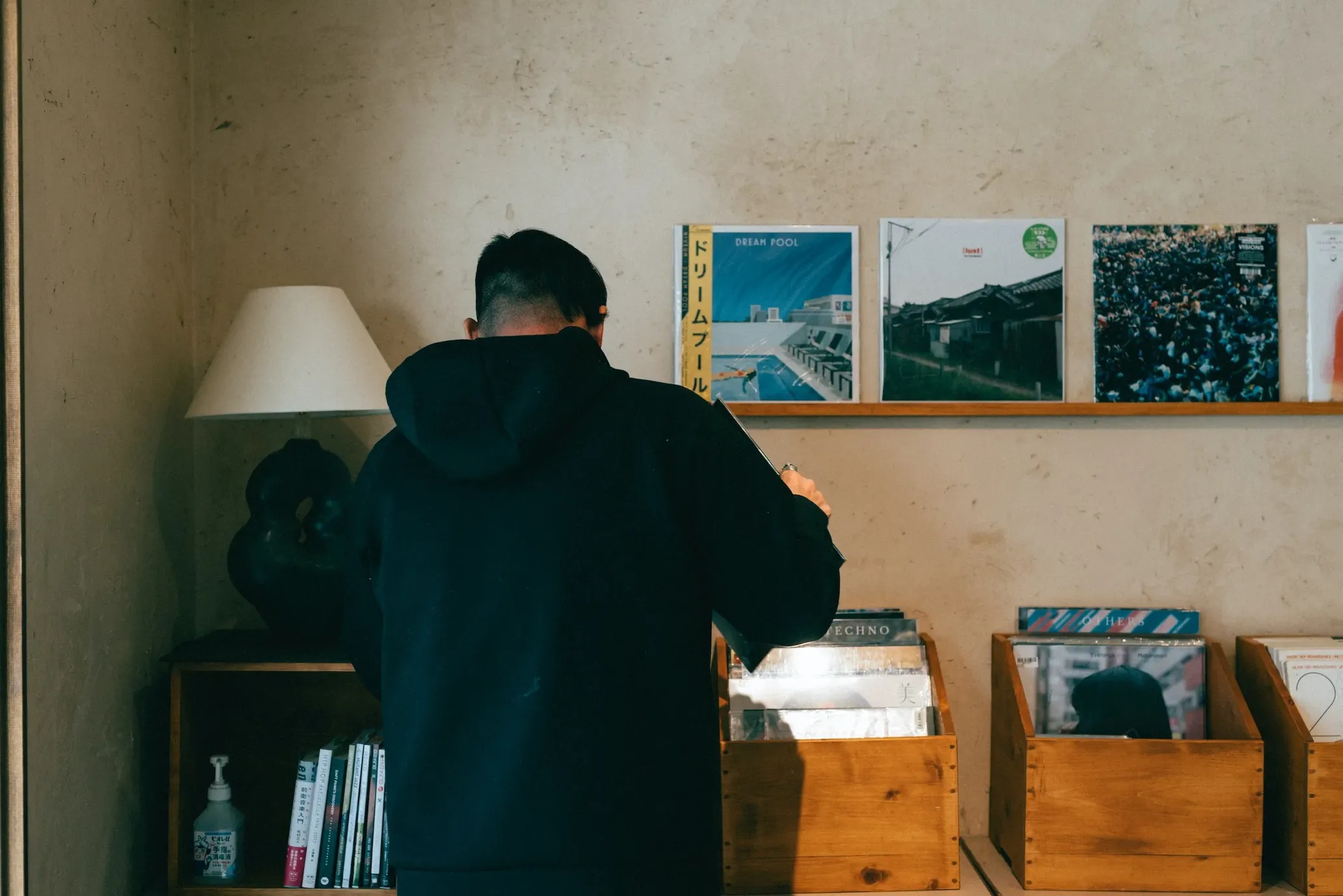 Yuki founded a non-profit organization to practice music therapy
–Those experiences are quite precious and enviable for party lovers. What prompted you to go from such a life where life itself is like music to starting a welfare business?
Oka: When I was in college, I was a party guy who didn't go to school much and only did music events. However, while I was doing that, my mother became ill and passed away. I was very depressed and reconsidered my life, so I got a proper job and started working seriously. Then, my grandfather developed dementia. That is when I learned about music therapy. I thought that by having my grandfather listen to music that I loved, I might be able to revive his memory! So I quit my job then and started attending a college to study music therapy. While studying music therapy, I had the opportunity to perform at facilities for physically challenged people and nursing homes, and I would play punk music for them (laughs). Through these experiences, I ended up starting a non-profit organization dedicated to medical welfare, which is one of the projects I am currently managing.
–Is the event "UNIVERSAL CHAOS" to be held on March 21 at ENTER in Shibuya part of your welfare project?
Oka: It started back in 2010, but it was first called "SOCiAL FUNK!" and was held once every year or two at "Asia" in Shibuya, and then we moved the location to "VISION" and invited BUDDHA BRAND and others as guests for the event held in November 2019, which turned out to be the biggest-ever event. After that, unfortunately, we can no longer hold the event due to the pandemic, but to revive it, we are starting this year with a smaller party called "UNIVERSAL CHAOS." In the welfare world, there is a mindset of "let's all get along," mixed with a discriminatory viewpoint. I think that is unnatural. Because there are genres of music, and each has its own history, so we should not mix them up easily. Therefore, I think it is good for things to be in a state of coexistence, not fused with other things. For example, I believe blindness and deafness are genres of human beings. So I want to create a situation where we can exchange the highest respect by making the most of each personality rather than just lumping them all together as disabled people. That is why I decided to hold a music event where both non-disabled and disabled people exist in the same space.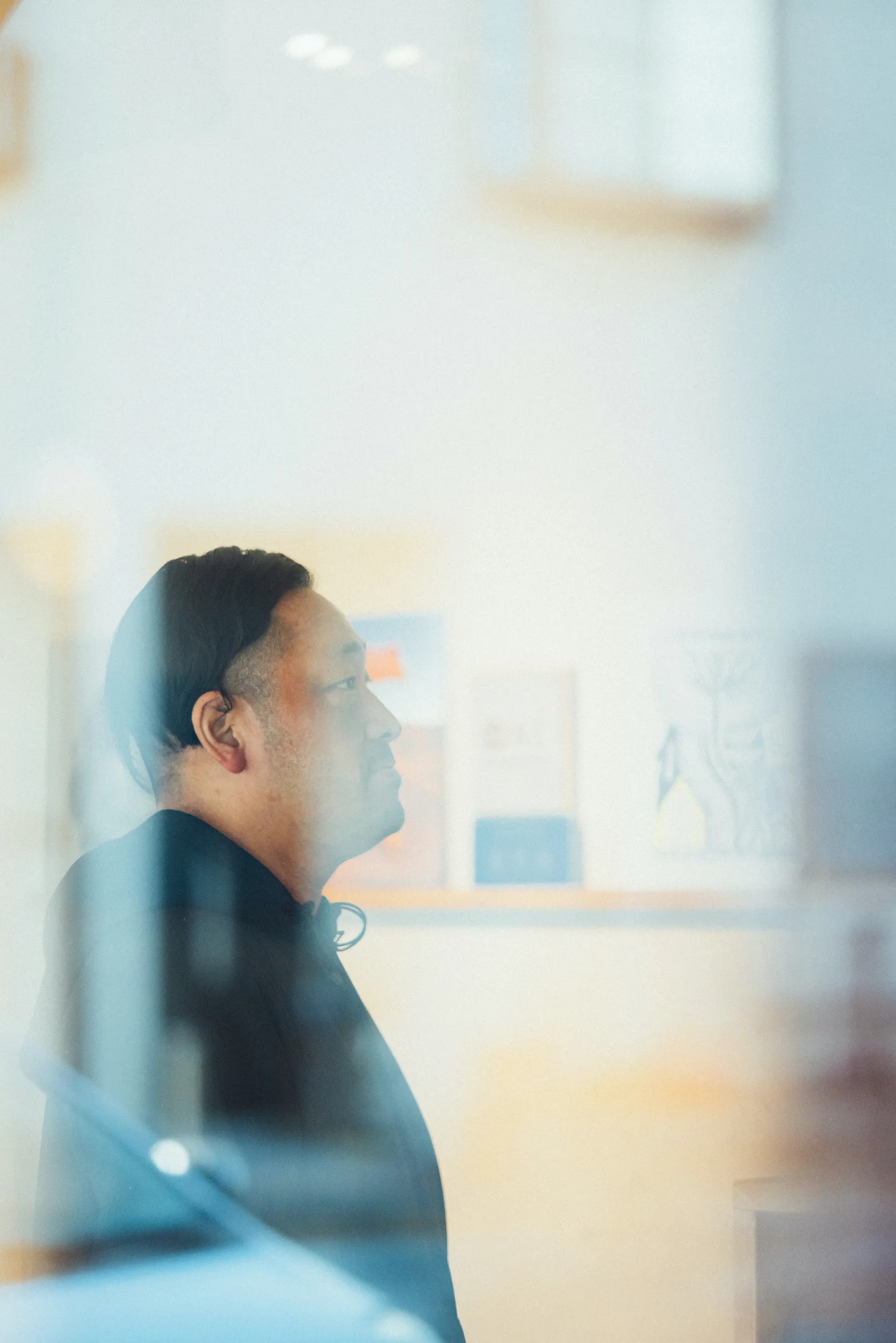 –I often see people in wheelchairs performing at clubs and festivals in Berlin, but they seem to be properly dressed up and dancing happily. I have never seen such a scene in Japanese nightclubs, so I think they feel it is difficult to enter and stay away.
Oka: The situation in the US is the same as in Berlin. Or rather, I feel that they treat them normally without treating them as physically challenged people in the first place. People in the U.S. seem to think it is important not to treat them differently because of their disabilities, and they are rough in a good way. In Japan, we don't have that mindset. There is a stereotypical idea that you have to give them special treatment.
Some of the planning members of "UNIVERSAL CHAOS" are deaf or blind, but we are working together to create a project. We plan to have the blind staff listen to the performers' records and verbalize them in their own way, and then use AI to create and exhibit the images based on their words. For those who are deaf, in addition to having them feel the sound through the vibration of the speakers, we are also preparing to express melodies with light and have them feel the music through images. Although the contents are all experimental, we hope to overturn the concept of people with disabilities through such practices.
(*This legendary party traces its origins back to a Valentine's Day party held by David Mancuso in February 1970 in the loft of his home in New York City. From there, the party became a weekly event later dubbed "Loft." The stories associated with the party were later made into a movie.)
Photography Shiho Furumaya
Translation Shinichiro Sato