Bangkok, the capital of Thailand, is a city where the sacred and the secular, the beautiful and the ugly, and the new and the old intersect. The mysterious energy that this chaotic city emanates attracts all who visit. Boosted by the country's economy which has been experiencing positive growth since 2010, this magical Asian metropolis became the city that welcomed the most tourists in the world in 2018. Locals call the city "Krungthep" after the first letter of its official designation. It means "City of Angels".
Thailand's contemporary art scene, which is centered around such a heavenly world, is now attracting worldwide attention. In recent years, a number of large-scale exhibitions have been held there, and artists who work internationally continue to emerge, likely due to the synergistic effect of these exhibitions. Aof Smith, born and raised in Bangkok and still based in his hometown, is one of the artists at the forefront of this emerging movement.
"HERITAGE", his first exhibition in Japan, is being held at MEGUMI OGITA GALLERY in Ginza until April 28th. He has been actively participating in group exhibitions since he was a student at King Mongkut's University of Technology. His presence seems to have become widely recognized beyond the country's borders. His solo exhibition "Irrepressible Summer Melody" held in the U.S. last year is the best example of his global work as he uniquely interprets American pop surrealism and lowbrow art. The spectators who visited the exhibition will surely remember the Furry, the ethereal character depicted in his works. The elaborate depiction of the Furry, which looks as if it could've been created by computer graphics, is a testament to the artist's skill. We recommend that you see the exhibition in person in order to experience the realism of the work.
The Furries drawn onto these canvases are depicted along with disturbing artifacts such as lit fuses, red lights, dynamite, and missiles, which together with the cute outfits and joyful expressions of these creatures that are beyond human understanding, create a monstrous chaos. These are the key compositions in Smith's work, and understanding them reveals his own satirical sense of humor and his messages to civil society. As I interviewed Smith, I was struck by his gentle eyes and voice, as well as his sincere attitude as an artist.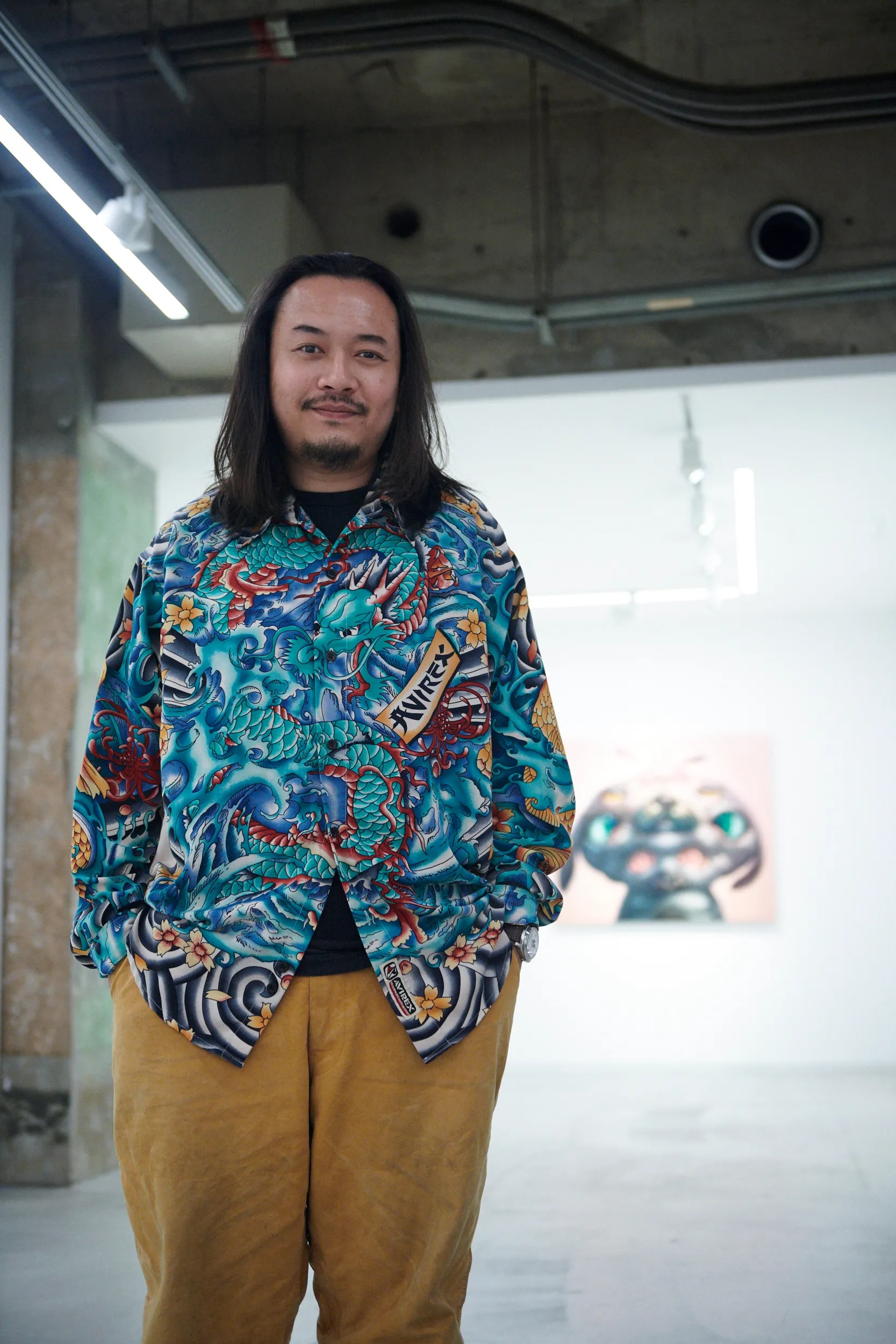 Aof Smith
Based in Bangkok, Thailand. Inspired by manga, anime, science fiction, etc., he draws original creatures and his unique color scheme has gained a following. HERITAGE" was his first solo exhibition in Japan.
Environmental consciousness as his source of inspiration
–– How did you come to exhibit your work in Japan this time around?
Aof Smith: I was searching for galleries I could exhibit at when I visited Tokyo in 2019 for vacation. I showed my portfolio to Megumi, the owner of this gallery, and he liked it. When he visited Thailand, we promised to hold an exhibition of mine in Tokyo in 2020. Since it got postponed because of COVID, I'm doing it now.
–– Did you have any other reason to visit Japan other than to look for galleries?
Smith: I collect vintage shirts as a hobby. I made my thrift store rounds here since Tokyo is home to so many. I also collect kusakabe, Japanese oil paints, which I come here to buy. It's great quality and I use it a lot, so I usually have it shipped from Japan. I've used it in this work, too.
–– What is your artist background?
Smith: I was around art since I was born because my father was an art teacher. I then went on to earn a degree and MFA in fine art, and became a full-time artist from there.
–– Where did the inspiration for your currently exhibited work come from?
Smith: I was mainly inspired by environmental issues. Japan is very organized in how they collect garbage, and the streets are very clean. But the reality is that many countries haven't achieved that level of organization. Everyday, we consume things in our consumerist society. I think about what will remain, what will disappear, and what we should leave behind once humans cease to exist. I also think about the effects the wars and violence that we see in the media and on the Internet have on the environment. That sort of environmental consciousness is what inspired me for this work.
–– When was the Furry created?
Smith: I initially found the prototype of the current character in the paintings I was doing as a student. But at the time, I didn't realize that they were hidden in the paintings. When I was contemplating what I should do for my exhibition for the following year back in 2013, I realized that this character who was hiding in one of the paintings I was looking back on had expressions similar to mine. By attaching fluffy rabbit-like ears to it, he became a character appropriate for my work. I presented the character in 2014, and have been depicting them in my work since.
–– Are all the characters depicted in these works Furries?
Smith: They are. It started with the original Furry, and more derivatives were portrayed as time went on. There are some differences in the Furries to express what I was seeing at the time. The name Furry is a set of common blood or kinship-type bonds that these characters have in common.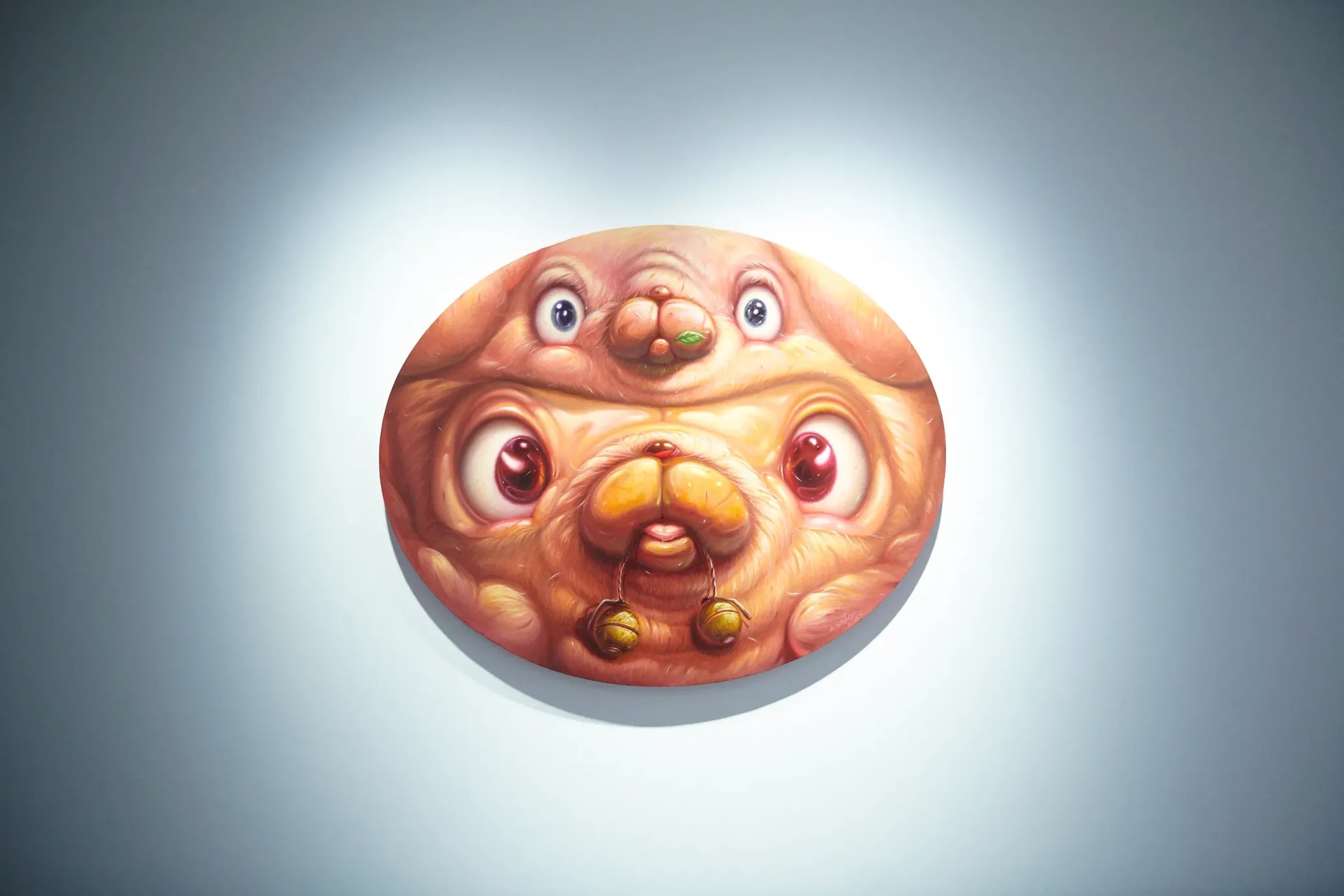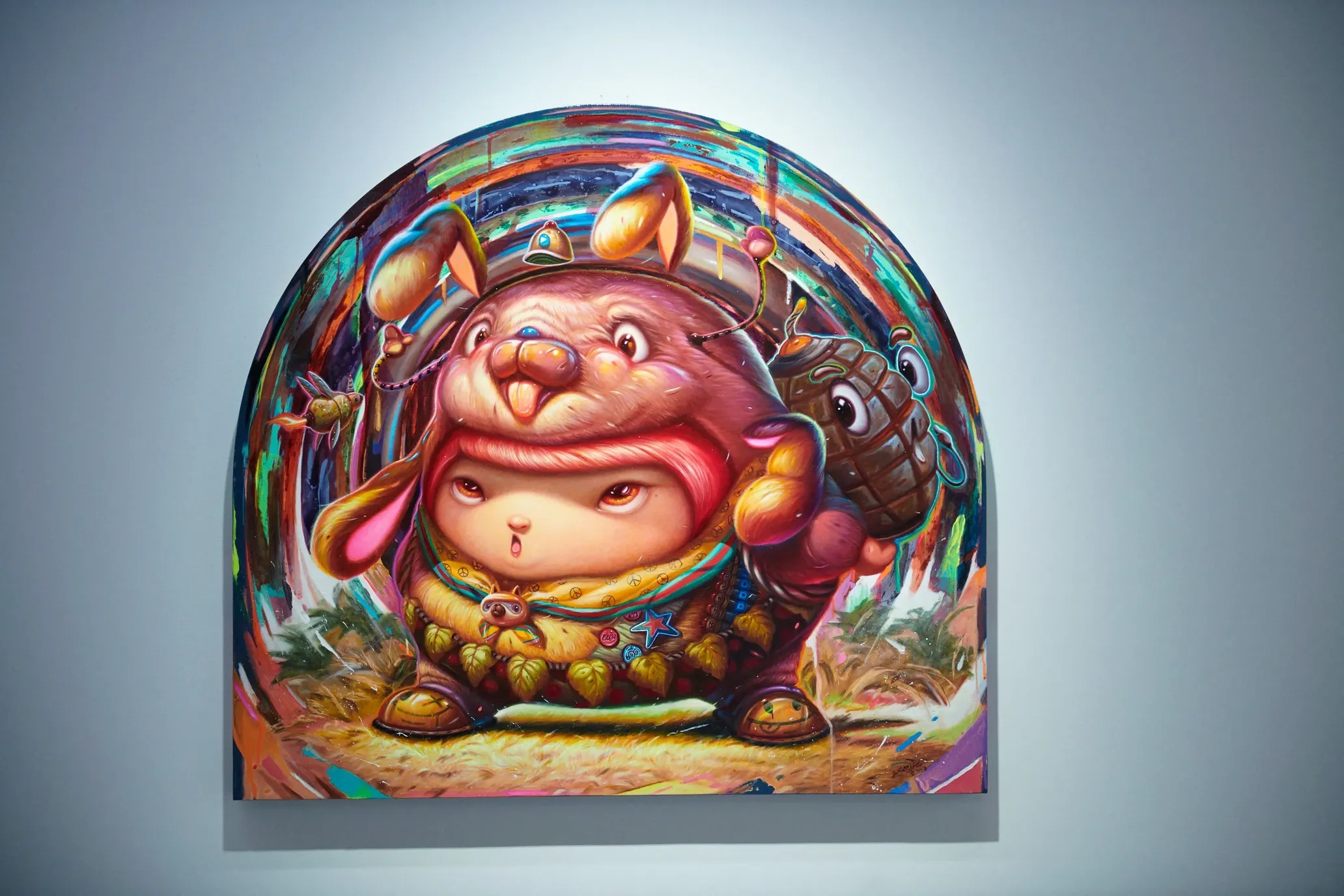 A bird's eye view of the Thai art scene
–– How long does it take you to finish one piece?
Smith: For my painting process, I start by painting the background pitch black, choosing my character layouts, drawing them in, and then topping it off with a translucent surface color. Not all of the pieces take the same amount of time, but it usually takes around three weeks. There are two types of pieces in this exhibition, the ones with a black base color and the ones without.
–– There have been many unique characters like yours that have been created in manga and anime that are appreciated worldwide. Have you ever been exposed to that sort of Japanese character culture?
Smith: I have. And I've undoubtedly been influenced by several Japanese characters. Especially anime from the 1980s and 90s like Dragon Ball Z, Slam Dunk,and YuYu Hakusho. They were so popular in Thailand that they played on TV every morning. The detailed images of Japanese anime are incredible, and I've been very impacted by those characters' expressions and humor. I think you can see that influence in my work, too.
–– Do you have any favorite characters?
Smith: My personal favorite is Majin Buu from Dragon Ball.
–– What kind of city/place is Bangkok for you?
Smith: To me, Bangkok is a gray city. I think it's a city where people from other countries and cities can easily adapt to. While many people have found the great things about Bangkok and live comfortably there, there are also some elements that aren't so great. But since it's my hometown, it's also a place I can comfortably focus on my work. It's not black or white, which is why it's a gray city.
–– I've heard that the Thai art scene is thriving. How do you feel about it as someone involved in the scene?
Smith: There are two important goals I have as an artist. The first is to create work according to my own desires. The second is to be seen and recognized by an audience. The world is connected by the Internet now, so rather than look at the Thai art scene individually, I believe that art-related people all over the world are connected into one unified soul, and exist as one community.
––– Are there peer connections between artists?
Smith: Of course there is a community in Thailand that centers around galleries. It's good to have more opportunities to exhibit with some support from such a growing community. But I like the old-fashioned way of doing things, like distributing my recordings to radio stations if I was a singer, as was the impetus for this exhibition in Japan. I sell myself as a solitary artist (laughs)… But I do have friends (laughs).
–– What is your goal for the future?
Smith: I've planned four to five exhibitions until 2027, so my goal for the time being is to take care of my health and to continue creating.