Nick Wooster stands at the forefront of the fashion world. After building his career at Barneys New York and Calvin Klein among other brands, his style has become a guideline for men's fashion. He has strong ties to Japanese fashion and has served as a judge for the "TOKYO FASHION AWARD", which has produced many young designers. He announced he will be releasing collaborative items with KUON, a menswear brand that incorporates Japanese traditional clothing styles like boro, after meeting the designer in June 2023 at the award ceremony.
We ask Nick Wooster about his past, 21st century men's fashion, and the possibilities of Japanese brands as well as its challenges. At the end of the interview, we are joined by KUON designer Shinichiro Ishibashi to hear about their collaborative approach. Let's listen to the thought-provoking words of Nick Wooster.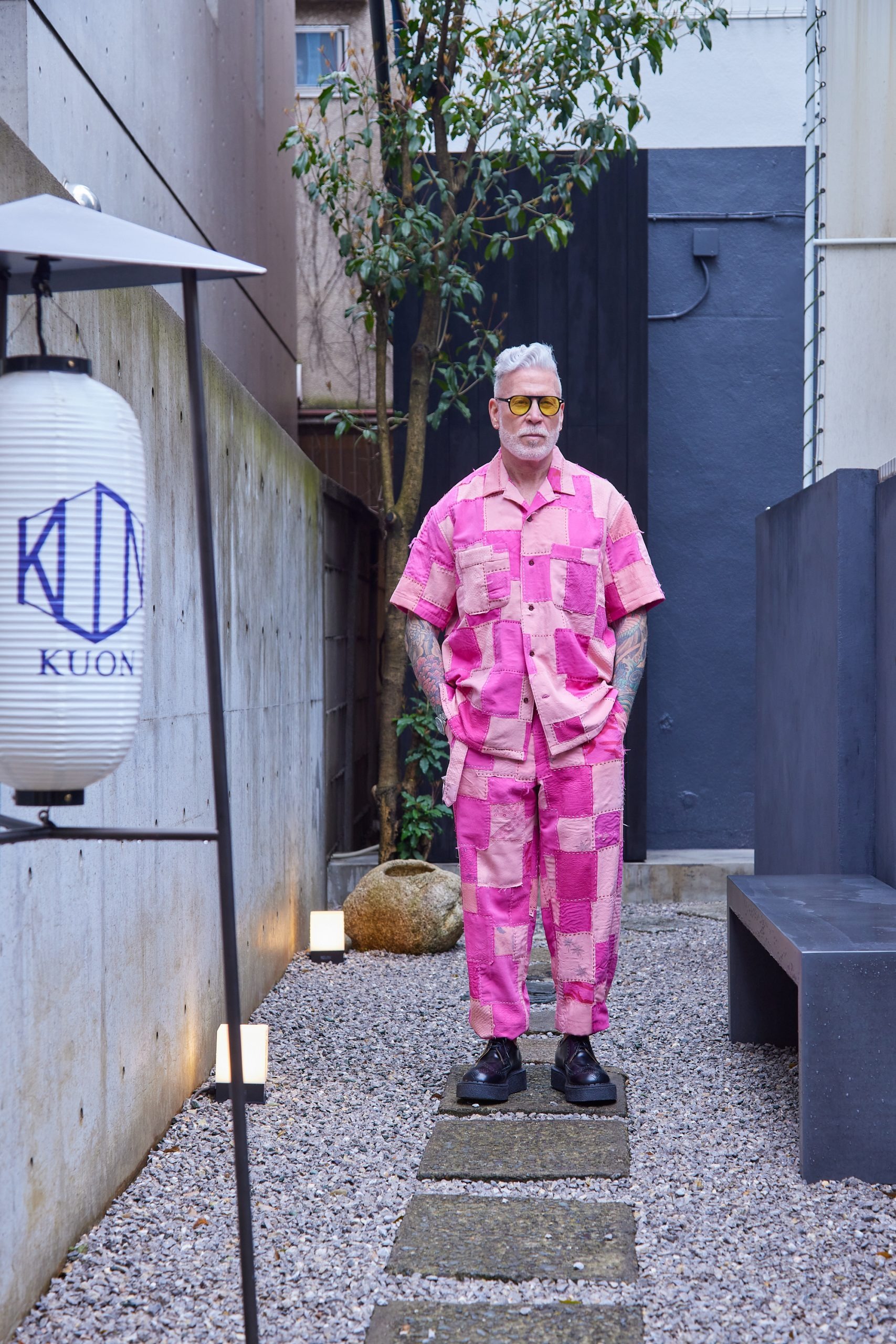 Nick Wooster
Born July 2nd, 1960. Wooster worked as a buyer at Barneys New York and Bergdorf Goodman, a retail merchandising director at Calvin Klein, and as a design director at Polo Ralph Lauren. He currently works as a fashion consultant and an advisor for multiple brands. He has over a million followers on Instagram and has gained international attention for being a men's fashion icon. He also serves as a TOKYO FASHION AWARD judge.
A passion for fashion awakened in his youth
–– What event awakened your interest in fashion?
Nick Wooster: The short answer is that I don't know. I remember being particular about clothes at a pretty young age. Since kindergarten into my elementary school years, I remember choosing my clothes myself.
–– You've been dressing yourself since you were that young?
Wooster: Even my mother couldn't dress me. I had to choose my clothes myself because I would reject the outfits my mother put together for me. It was obvious that I was interested in clothes at a young age. When discussing fashion, I was adamant that I was interested in clothes, not fashion. When it came time to choose a job, I decided to get into jobs that revolved around fashion and clothes simply because it seemed the most interesting. So I don't think there was a specific event or reason why I'm in this industry.
–– Which fashion designers or fashion influencers do you consider your icons?
Wooster: Similar to my previous answer, I never had an icon whose style I admired. For me, the most interesting places to see clothes are not necessarily at fashion week or at fashion shows. I'm more interested in looking at people at airports and restaurants rather than designers' clothes on a runway.
–– Fashion you see in the city is more important to you.
Wooster: There are designers like Ralph Lauren in his early days and Rei Kawakubo with her forty-year career that are important designers to me. And of course there are legendary designers that have contributed to fashion history like Karl Lagerfeld, Coco Chanel, and Georgio Armani. But I draw more inspiration from looking at different things than from one specific designer. There are some great contemporary designers, though. And for me, most of them are Japanese. I find many things about Japan to be interesting.
–– I'd like to ask you about your career. You started in the retail business at places like Barneys New York, and then went on to work for brands like Calvin Klein and Ralph Lauren. What made you choose this career?
Wooster: That's exactly right. I initially worked as a buyer for Barneys New York, and then at Bergdorf Goodman. Around that time, I realized being involved in products and in its creation and development would be more of interest to me. Fortunately, I was able to build my experience by working first for Calvin Klein, then Ralph Lauren, and other smaller designers' brands. What's funny is that I worked for Neeman Marcus and Bergdoft Goodman in 2010 – I came full circle and ended up back in the retail market. I like both the retail business and being involved in the products themselves. But the main reason why I decided to switch careers was ambition.
On the work of great designers and Japan
–– Hedi Slimane's skinny style and Thom Browne's suits made a huge impact that affected change in 21st century men's fashion. What do you think is the most impactful event in 21st century men's fashion?
Wooster: It's interesting you mention Hedi Slimane and Thom Browne. I also believe these two are the most important figures for men's fashion of the early 21st century. But what's intriguing is that Hedi Slimane himself is moving away from the super skinny silhouette and is instead utilizing a more oversized look. I think Rick Owens is also a key player when it comes to silhouettes, as well as Balenciaga creative director and Vetements co-founder Demna Gvasalia, who was essential in changing the idea of oversized clothing. What's most compelling about all the designers is that the public has grown interested in these new styles.
–– What is something that fashion designers should keep in mind?
Wooster: It's important for designers to keep producing appealing products. They must create desire, and continue to create it. Hedi and Thom Browne were able to realize a new desire at the beginning of the century. Rick Ownens and Demna have done the same thing. There are also people like Rei Kawakubo, who have continued this work for forty years. Designers are constantly creating objects of desire, even if they're really weird and esoteric. You may not even want to wear these clothes, but the impact that the designers' have may continue on. That is the job of a great designer.
–– In Japan, we use the word "ametora", which is an abbreviation of the term "American traditional". Many traditional American items and styles have been imported into Japan, which have now all culminated into a new style of fashion. How do you feel about Japanese men's fashion?
Wooster: I'm not sure if this answers your question, but as far as I can tell from the 33 years I've been coming to Japan, I think Japan always embraces tradition.
–– What does "embracing tradition" look like to you?
Wooster: Having a respect for tradition and for the classics – there is always respect. I always say this, but even Rei Kawakubo, in my opinion, is quite classical. Although her designs are avant garde, she constantly uses British tailoring techniques, colors like navy blue and blue, and incorporates white shirts, all things that are rooted in traditional menswear. Of course her interpretation of these traditional styles is very different. Junya Watanabe, a student of Rei Kawakubo, also pays respect to and has an understanding of tradition. You can always find fabulous vintage pieces at great places like The Real McCoy's. The fashion you see in places like that are always rooted in something American, but with a uniquely Japanese interpretation.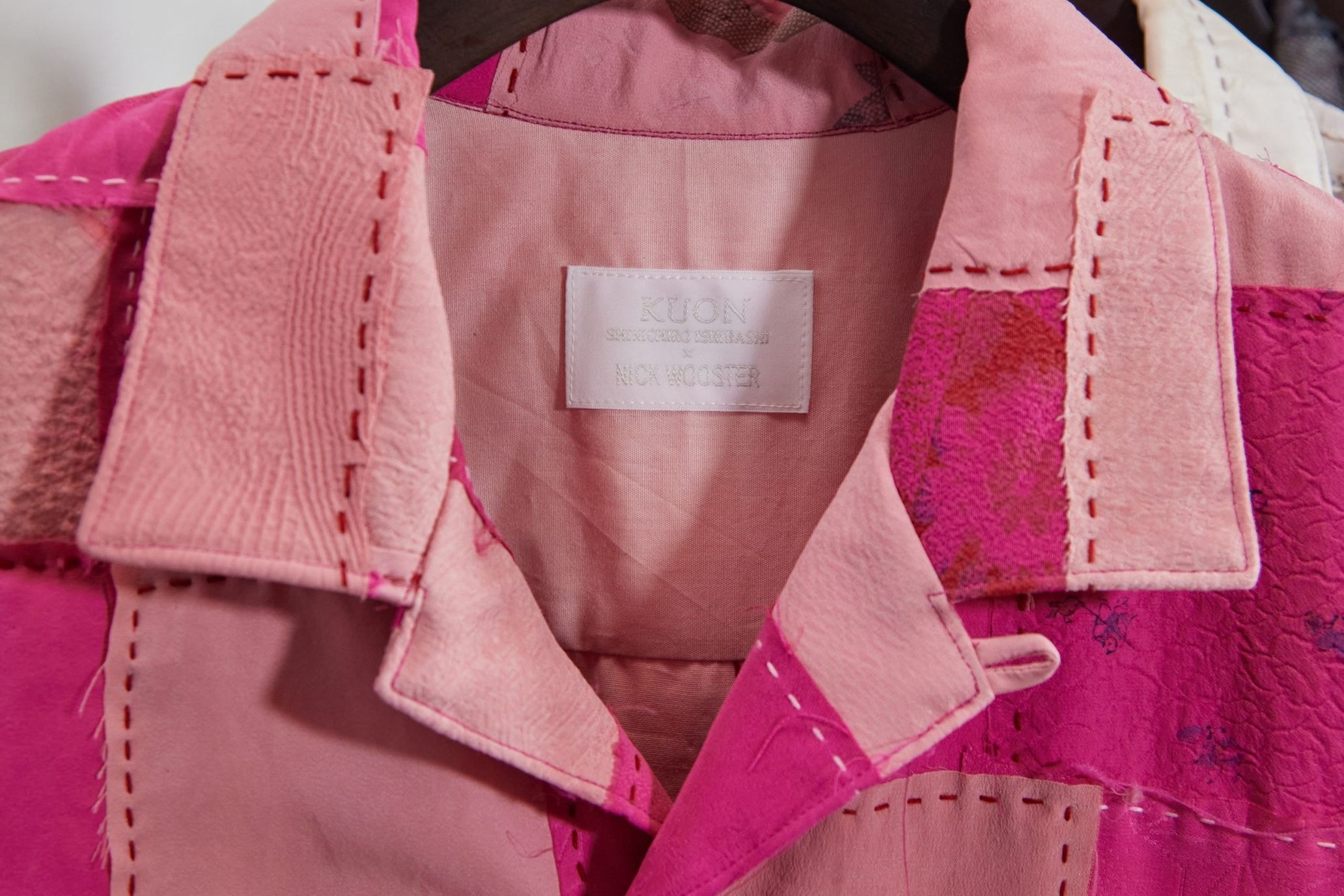 What do Japanese brands have to do in order to compete on the world stage?
–– What do you feel are the strengths and distinct qualities of brands in Japan, Europe, and the US? I'm curious specifically about your thoughts on Japanese fashion.
Wooster: Each country – Italy, the US, France, and other places in Europe – have their own individual strengths. The US, for instance, is known for their casual style. For better or for worse, casual style ideas like sweatshirts and sneakers we have in America have been attracting worldwide attention.
–– How about other countries?
Wooster: Europe, specifically Italian fashion, emphasizes tailoring, sartorial style, and high-quality clothing. Japan incorporates the strengths of each country and filters them to make it their own, new idea.
–– You also serve as a judge for the TOKYO FASHION AWARD.
Wooster: Brands that participate in Tokyo Fashion Week and TOKYO FASHION AWARD are precisely what I mean by "new things". Long-standing Japanese brands have been presenting their work in Europe for years now, but Paris is now their home.
–– What does Paris signify in the fashion world?
Wooster: Paris is a melting pot of different ethnic groups, including Americans, Italians, British, and Japanese, and in some ways is the most international of all fashion capitals. At Tokyo Fashion Week and TOKYO FASHION AWARD, on the other hand, one has the opportunity to encounter new brands that will one day stand on the same stage as many brands in Paris. It's great that there's a system that allows people to discover new brands, and I believe Japan is at the forefront of this field. New brands aren't considered as important in London or New York Fashion Week as they were in the past.
–– Up-and-coming brands from Japan are our strength, but are there any weaknesses in Japanese brands or Japanese fashion strategy?
Wooster: I've spoken about this countless times, but I'll say it again. I believe that a problem that is unique to Japan is its approach to sales. In countries around the world, it's crucial that a selling campaign can be showcased to customers around the world within a month to six-month period, on average. Japanese brands, however, conduct shows across Japan for a set period of time, each brand having two to three days to showcase their work. For instance, Brand A showcases their collection on March 1st and 2nd, and a different brand does their showcase on March 30th and 31st. Let's say you're coming to Japan from Paris, Milan, or New York and you're only here for a week. What would you do if that week only one brand, either A or B, was showcasing?
–– Meaning that even if you want to see both brands, you have to give one up.
Wooster: This is a phenomenon specific to Japan, and it's not great for building relationships with the rest of the world. It's not like people around the world are able to come to Japan at any given time. This problem must be addressed if Japan seeks to attract people to see up-and-coming Japanese brands each season.
–– That's a very difficult problem for smaller, emerging brands to tackle.
Wooster: Of course, newer Japanese brands can't do what mega brands like Gucci and Prada can do on an international scale. People may come to see a season and order a collection, but that's reliant on luck.
–– But I believe the Japanese market is a bit different from the European or American markets. In terms of design, Japanese brands must design their collections after considering the Western market. Would you agree? In order for Japanese brands to find success globally, should they focus on a product-first or market-first model?
Wooster: It's like asking which came first, the chicken or the egg? Meaning that they're both just as important. I personally believe the egg comes first – or the product must be right. And nine times out of ten, or 90% of the time, I can say with certainty that Japanese products are the best. The problem, or perhaps the area that needs to be reconsidered, is adjustment.
–– What specifically would that entail?
Wooster: There are problems with size and market schedule, and pricing has been a problem in the past. The weak yen has been an advantage recently, but these issues always arose when Japanese brands did business abroad. If these brands can overcome market conditions such as size, time, and pricing, they would be able to do business anywhere in the world. And there's currently an increase in Japanese brands that hold that potential, which should be encouraging. It's very exciting.
An unwavering style expressed even though collaboration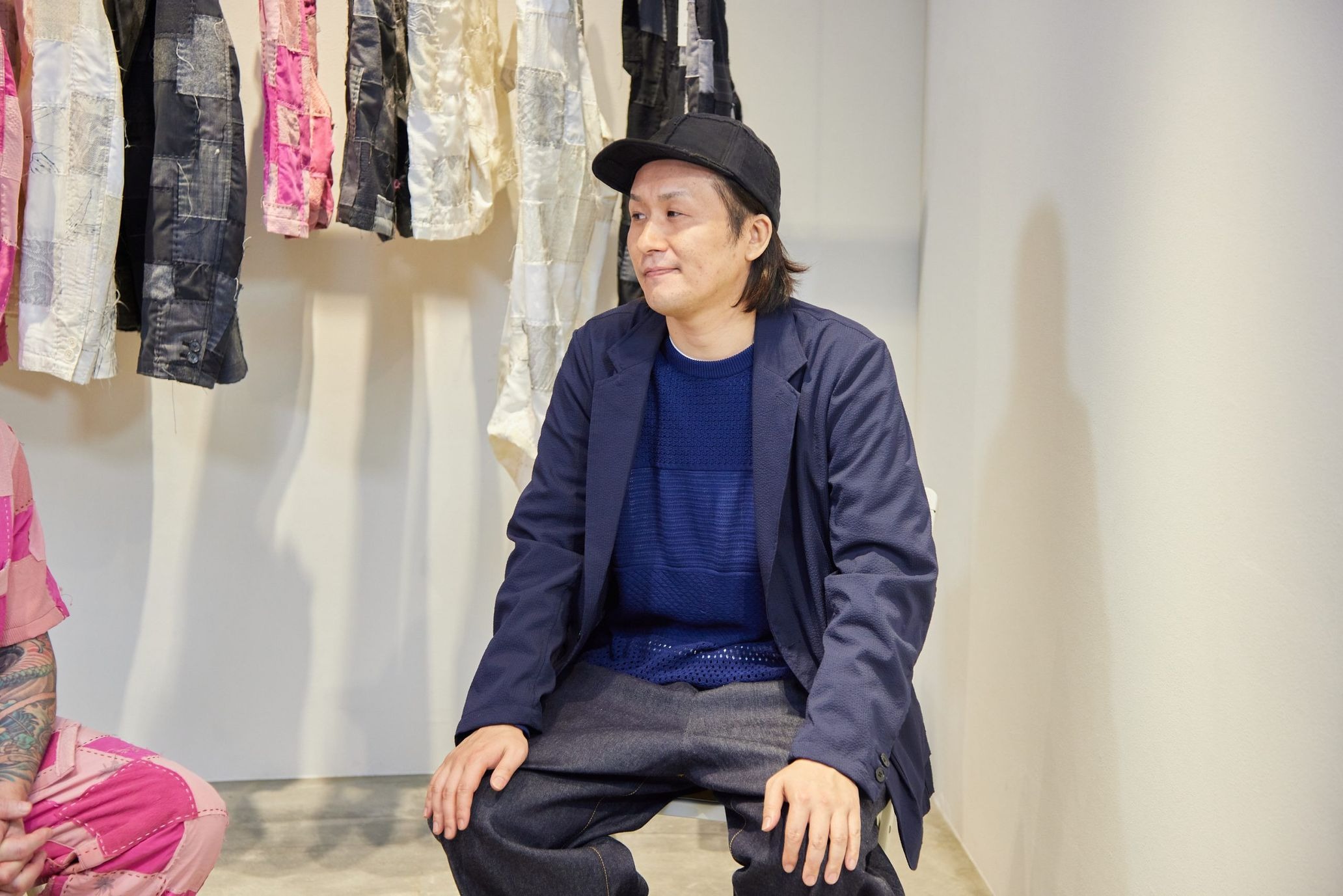 –– The collaboration item between KUON and Nick Wooster is set to be presented this June. When did you first meet Nick?
Shinichiro Ishibashi: We first met during the judging of the 2018 TOKYO FASHION AWARD. KUON was one of the awarded brands, and Nick was one of the judges. He came and visited KUON's tiny office, which was located in Nakameguro at the time. I was worried about the space being too small to visit (laughs).
–– What did Nick say about KUON at the time?
Ishibashi: He said it was "super nice" (laughs). As we talked, he taught me strategies for taking my brand overseas and about pricing, among other things. I had seen him in fashion magazines before the age of social media and Instagram, and assumed he would be a serious person. But upon meeting him, he was very open and answered all the questions we wanted to ask. Perhaps calling him a "nice older man" is rude, but he seemed to be a very dependable person, an impression that has not changed.
Wooster: One thing that I think is special after my collaboration is KUON is that each of their pieces are made so thoughtfully.
–– I imagine striking a balance between KUON's distinctive designs and Nick's unique style was difficult. What was important to you in this collaboration, Mr. Ishibashi?
Ishibashi: When deciding how much we wanted to play within the limitations of a dress, using a 150-year-old kimono to do a patchwork piece is hard to do. We were able to accomplish this because of KUON. Nick and I often talked about how to propose this as a style. We thought about how elegant we could make a simply-made jacket without shoulder pads.
–– I feel that your everyday style is reflected in your collaboration with KUON. How do you choose what to wear everyday? Do you choose your bottoms first? Do you have a routine or rules?
Wooster: I don't really have any specific routines or rules, but I usually have "something" that becomes the basis of my outfit. That "something" could be a jacket or a suit, perhaps a pair of shoes, or maybe even an item like a T-shirt. But it's not that clear most of the time. Usually, my ideas are ambiguous. I ask myself questions like, "Should I wear a suit today?" "Maybe shorts?" "Should I go with navy or pink?" But there's one thing I believe is very important. It's to consider the weather first. This is how I choose my clothes: "It's raining, so I shouldn't wear white", "It's hot, so I won't wear anything heavy".
–– It seems like your collaborative collection has a wide range of clothes, offering not only dressy items such as jackets, but also casual clothes.
Ishibashi: T-shirts and sweatshirts have become indispensable everyday items. It may not be right to say that the collection ranges from everyday wear to business wear, but Nick and I have discussed this, which is why we were able to create a collection with a wide range of styles.
–– I sense a hint of workwear inspiration in KUON's style. What influenced your view of menswear, Mr. Ishibashi?
Ishibashi: I read a lot of fashion magazines in my elementary school and middle school days. Out of everything, I was most impacted by Christopher Nemeth pants. I think I liked constructed punk and street clothes. That's what got me into it.
–– What have your influences been since you started your professional career in making clothes?
Ishibashi: When I became a pattern-maker and started to create things, I found myself finding interest in the history of western clothing. I came to understand the meaning behind the details of clothes, like the work and tailoring, by learning its history. The experience became more and more enjoyable because I was able to gain knowledge about the history of clothing.
–– Lastly, I want to ask Nick about tips on how to coordinate the KUON collaborative items.
Wooster: My personal styling tip is to "start from scratch", meaning there's no need to coordinate your whole outfit. If you coordinate your whole outfit from head to toe, that will end up being very expensive. That's why I think focusing on making one item shine is what makes an outfit interesting.
–– What is the key to styling one selected item to make it shine? Wooster: Let's say you decide that you like the shorts or the pants in the collaborative collection. You can choose a jacket, as well. You need an outfit that is natural to your personal style. There is no need to do a full coordination. Instead, the key is to make that one item special. Each collaborative item with KUON is specially made. Frankly, what I just told you is detrimental to selling our whole collection, but I believe that making every piece special is most crucial.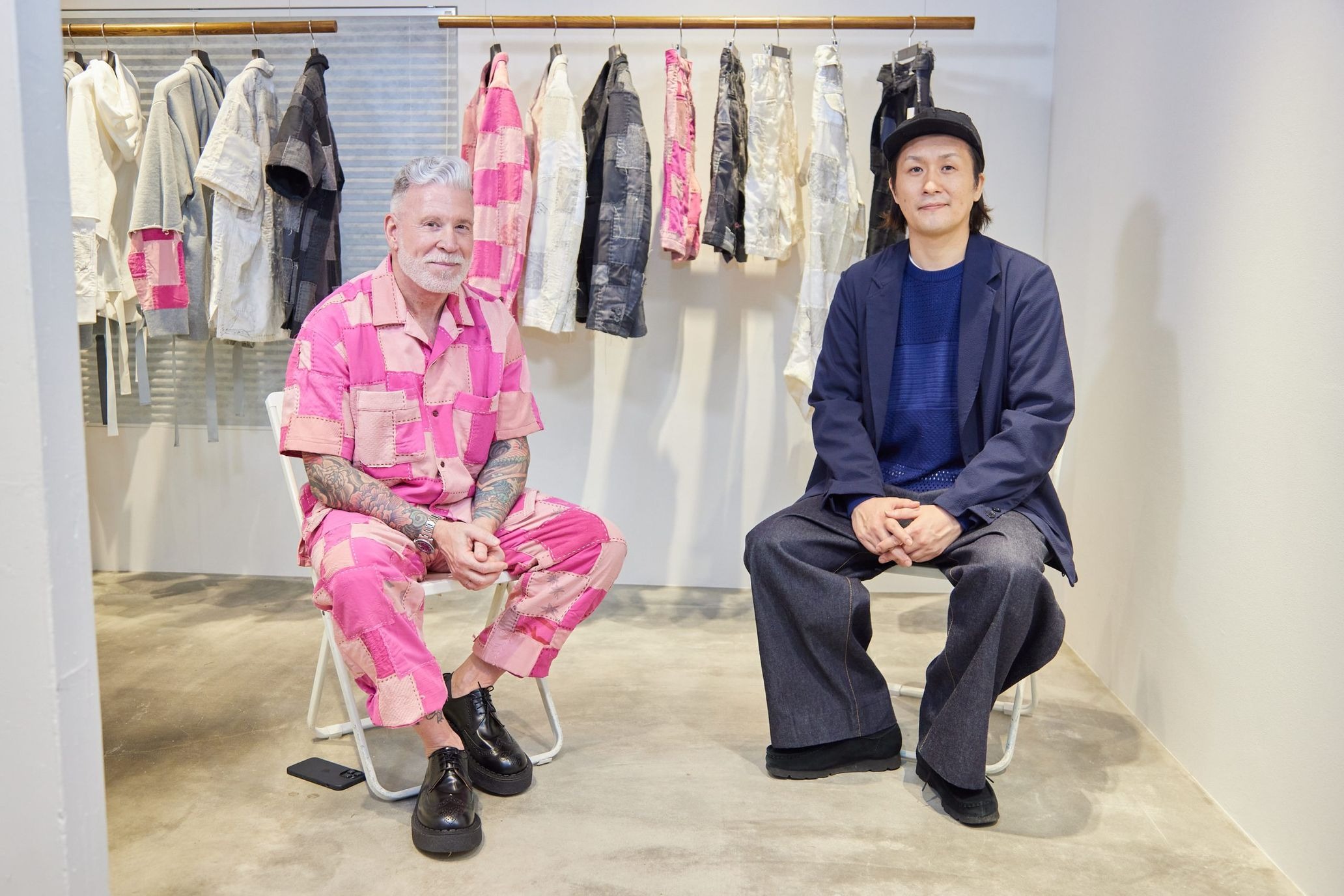 Sincerely loving clothes and fashion
During Tokyo Fashion Week 2023AW, I visited several brands to cover their runway shows and saw Nick Wooster many times. The look in his eyes as he gazed at the looks showed a tenderness that felt like he was watching over the young designers. I found myself wanting to hear what he had to say about how he felt about the clothes.
As we talked about at the end of the interview, he willingly collaborated on this project, and emphasizes his love for clothes even if that means it's detrimental to sales. He puts importance on the need to be sincere towards fashion. In whatever scene, in whatever place, Nick Wooster's style is unwavering.
Translation Mimiko Goldstein