MADSAKI's solo exhibition "1984" is being held at the Kaikaikiki Gallery in Tokyo. The exhibition will be held until October 1st. The exhibition is based on Mattel figures, comics and packaging from the Masters of the Universe franchise, which influenced MADSAKI in his childhood, and consists of sculptures of the toys that are about 15 times their actual size, as well as paintings inspired by photos of MADSAKI when he was 10 years old.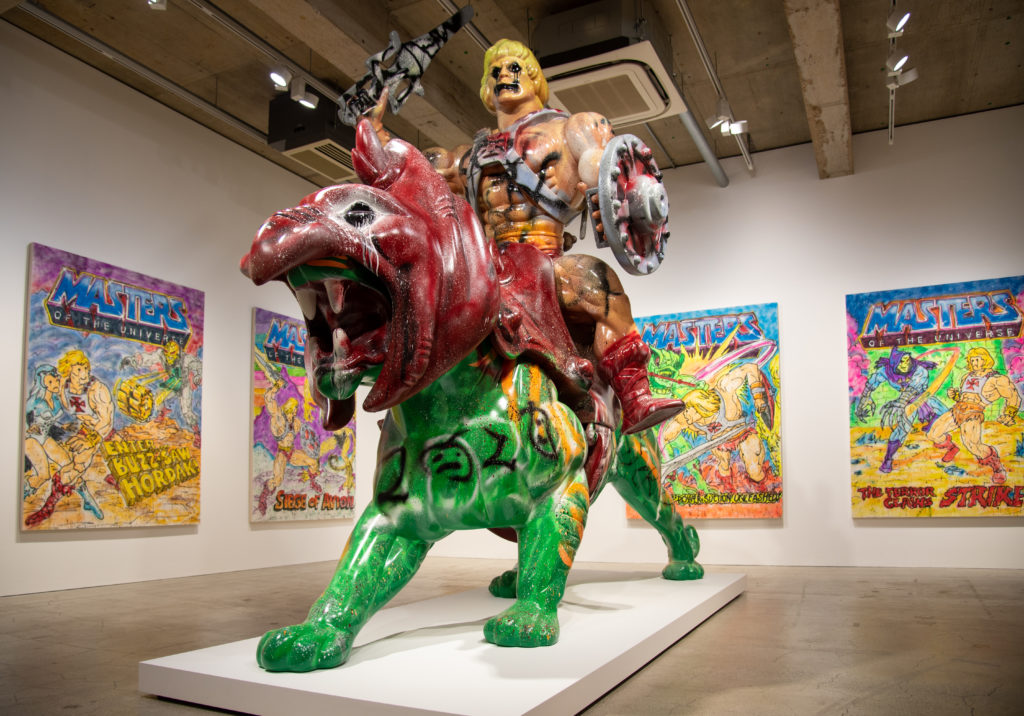 Takashi Murakami explains the relationship between MADSAKI, The Masters of Universe, and 1984. He said, "In 1980, when MADSAKI was 6 years old, his family moved from Osaka to Bargain County in New Jersey, USA. He couldn't speak English at the time. He felt a thick wall between his classmates, and after school he often watched TV cartoons by himself at home. Among other things, he was passionate about the cartoon "He-Man & The Masters of the Universe" based on the toys by Mattel. The company debuted with the toy figures in 1982 and has since expanded to several genres, including TV cartoons, comics, games, and live-action movies. He-Man, a powerful, blonde hero, clearly and confidently explains each situation and his actions. The compelling lesson-based commentary caught the ear of MADSAKI for him to learn English and a provided a cultural and linguistic bond between him and his environment. Through watching the show, MADSAKI learned to convey his thoughts in English. In other words, He-Man created a cultural bridge for him and played a central role in his character development. He mastered English in 1984 which was when "Masters of Universe" reached peak popularity."
In addition, regarding the relevance of Orwell's novel, 1984, he explains "Apple aired a Macintosh commercial directed by Ridley Scott at the Super Bowl on January 22, 1984. The indie company that challenged IBM, the largest company in the computer industry, was also a symbol of the changing times with the rise of a new generation of computers. This was like the story in George Orwell's novel which highlighted the conflict between an authoritarian regime and individual freedom. In other words, MADSAKI's the impregnable barrier was language, and the hero who broke that wall was He-Man. Orwell's 1984 was also incorporated as the hero and worldview mirrored that of MADSAKI's life."  
MADSAKI was born in Osaka in 1974. In 1980, at the age of six, he moved from Osaka to Bargain County in New Jersey, USA. He obtained a BFA from Parsons School of Design in New York in 1996. He has been a member of the artist group, Barnstormers, for several years. From 1999 to 2002, he worked as a messenger on Manhattan Island. He returned to Japan in 2004 and has held a solo exhibition once or twice a year while collaborating with brands in Ura-Harajuku. In 2017, he became a member of Kaikai Kiki.