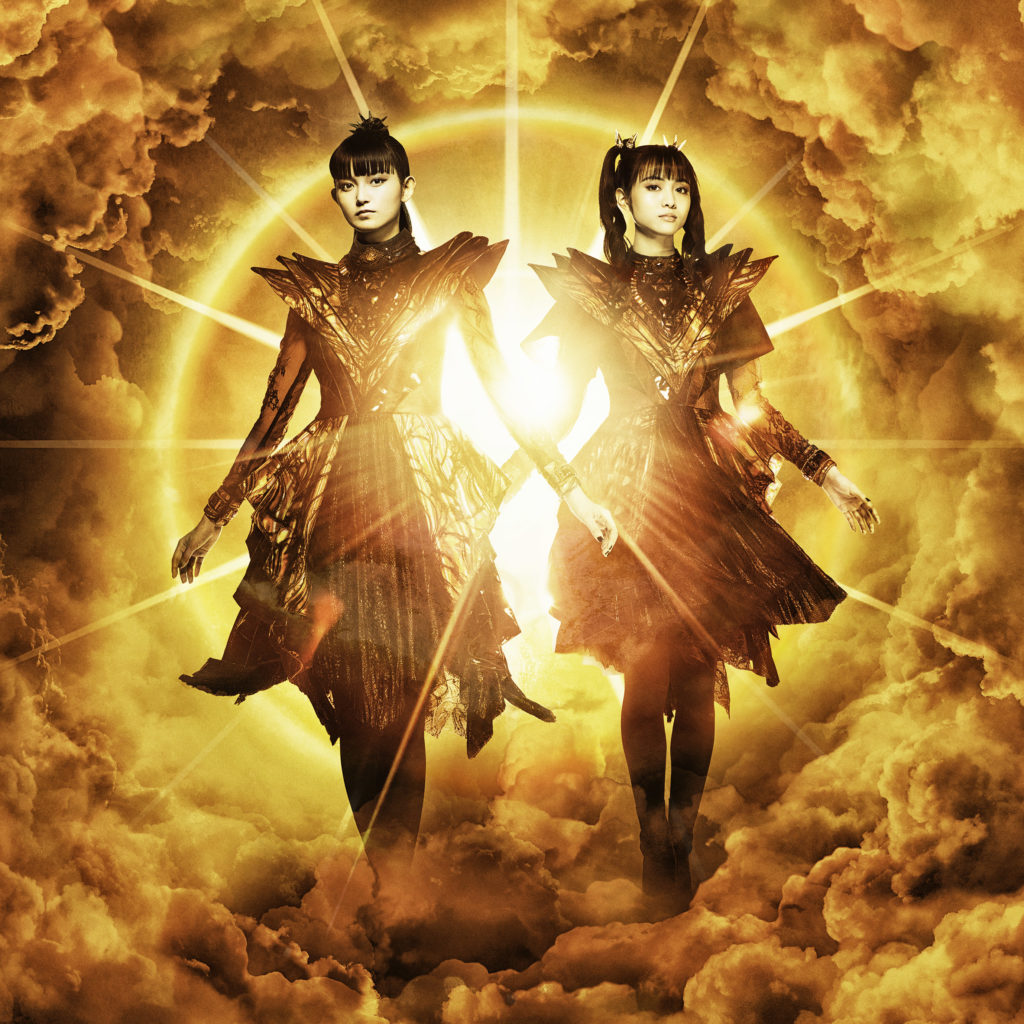 Culture can be born out of a specific time and place, and yet, it possesses the ability to become timeless. In this series, "時音," TOKION invites people who are shaping culture today to talk about the past, present, and future.
This year, BABYMETAL is celebrating the 10th anniversary of their formation in 2010. With their originally scheduled tour in Asia canceled due to the coronavirus pandemic, this has been a year of reflection for the band, which usually focuses on live performances. In the midst of all this, they're releasing "10 BABYMETAL YEARS," a 10th-anniversary album of their greatest hits. On December 31st, they'll make their first-ever appearance on Kohaku Uta Gassen, NHK's annual New Year's Eve television special. Furthermore, they plan to hold 10 shows at the Nippon Budokan in 2021. With the band back in motion, what's been on BABYMETAL's mind these days?
――How were you feeling during the stay-at-home period this past spring? BABYMETAL is always going on tour and playing international festivals, so I'd think that neither of you had spent very much time at home up until then.
SU-METAL (SU): Our Asia tour was canceled, and we weren't able to do anything we'd planned. BABYMETAL has always revolved around live performances, so I was able to feed off everyone's energy and let out the stresses of everyday life. So, not being able to play live shows hit me harder than I thought it would. It was such a profound feeling of emptiness that it made me think: "Wow, so this is what happens to me when I don't play live shows."
――So it had a pretty big effect.
SU: I was feeling pretty lost at first, but metal music saved me. Thanks to metal, I was able to return to feeling positive and optimistic, which reminded me of how powerful music is. It was the first time in my life that I felt that lost, unable to do something I'd taken for granted, so I learned a lot. On the other hand, I was able to think about different ways to take advantage of this time, and Bring Me The Horizon reached out to us to make a song together, so I was able to prepare for the future.
――How about you, MOAMETAL?
MOAMETAL (MOA): When I came back from our European tour and saw the whole country talking about the coronavirus, I thought it was really a miracle that we were even able to make it through our world tour and fly home.
――The last show of your METAL GALAXY WORLD TOUR was on March 1st in Moscow. If it had been just a bit later, you may not have been able to finish your tour. You may have even been stranded in a different country, right?
MOA: Yeah. But our next plan was to tour Asia, and that was canceled. We were so excited to be able to go somewhere warm, and we'd always been talking about how we wanted to tour Asia, so thinking that we would finally get to do that and having it canceled was really sad.
I knew that other artists couldn't do anything under these circumstances either, and it made me wonder what the role of music was. It's in these kinds of situations that music should be able to make people happy, but with all these shows being canceled, I started to think that music was more likely to make people sad. I wanted to hurry up and do something, and was feeling restless.
――What made you snap out of it?
MOA: At the height of the coronavirus, I was relieved to realize we still had things we could offer, like uploading videos on YouTube of our past live performances.
These past ten years, there was always an obstacle that I was frantically trying to overcome.
――I'd like to ask you about the past ten years. When you were starting out, did you think BABYMETAL would last this long?
SU: Not at all. (laughs)
MOA: When we formed the band, I thought I'd be doing something completely different by the time I was 20. There were a number of times when I didn't know whether BABYMETAL would keep going or be done. Every time that happened, I wasn't thinking that far ahead, but I definitely didn't think that we'd be doing this for ten years. Ten years flew by.
――Why do you think you've been able to keep going?
SU: To be honest, it was only two years ago that we even started realizing how long it's been. (laughs)
――Until then, you didn't even have time to reflect.
SU: Right. It was like there was always an obstacle that I was frantically trying to overcome. But I never really thought of that as difficult. Even when I'm away from home, I always feel like everything will be okay. I just remember that I was able to make things work last time, so I should be able to overcome anything this time, too. And that opens up new paths, which is really fun. It's like clearing levels in a video game. We know that feeling of accomplishment that comes from overcoming obstacles, and it gives us confidence to know that we're in uncharted territory. So, it's not that we've been able to soldier on despite the difficulties; it's more like we've been able to have fun the whole way. I guess that's because we have everyone.
――When you say everyone, you mean fans and staff?
SU: Yeah. And members, too.
MOA: Recently, I've been reminded of how much I really love our team. We're able to play live shows because of the staff who support us. I think the happiest moments for me are when I get to see the smiles on my fans' faces, and those are the moments that keep me going. SU-METAL keeps me going too.
SU: (laughs)
Our metal attitude hasn't changed over the last 10 years
――Over these past 10 years, what's changed and what hasn't?
MOA: I feel like more things haven't changed. Even looking at SU-METAL objectively, I think she hasn't changed, which makes me feel reassured. The structure of our band has changed, but I think it's evolved in a good way. Our metal attitude is also really important to us, and that hasn't changed at all.
SU: BABYMETAL's songs have spanned so many genres that people might wonder if we're even the same band. Every time we get a new song, I think of it as a new challenge and figure out how to sing and perform it. I think it's the same for MOAMETAL. So I feel like BABYMETAL itself is what continues changing. In particular, with our third album, I think we were able to destroy any preconceived notions of what kind of band BABYMETAL is and expand our music further.
――So from the beginning, you've been a band that always takes on new challenges. The fact that BABYMETAL is constantly evolving and tackling new challenges hasn't changed. MOAMETAL talked about the change in the band's structure, but the structure of your live performances has also changed. Until you adjusted to it, was it difficult to play with two members and a backing band?
SU: Our first live shows since the band changed were on our US tour. Many of the places we were going to were in rural parts of America, and there were a lot of fans we were meeting for the first time. Honestly, I sometimes thought that people supported BABYMETAL largely because we looked cute, rather than because of the music. But as we toured together, the audiences' reactions became, "BABYMETAL's live shows are fun!" So that made us really feel like our performances were moving people. After our first show on the tour was over, I was worried about whether we'd be able to make it through our tour, whether we'd be okay—but I think the fact that we challenged ourselves at that time allowed us to learn new things.
――I want to ask you about your greatest hits album, "10 BABYMETAL YEARS." Everything about this album is large in scale.
MOA: It's an album with 10 variants and 10 songs for our 10th anniversary. Plus, we have 10 shows at Budokan after this. So many 10s! I want to say this album is a "10," too. (laughs)
――Which song from "10 BABYMETAL YEARS" is most special to you?
MOA: "Road of Resistance." BABYMETAL is all about exploring a new frontier of music, and that idea is embedded in the lyrics. We are who we are because of this song, and I think the lyrics and choreography best represent BABYMETAL's fighting spirit. The first time we performed it was in England, and I still remember that performance. Everyone was so excited, and the audience sang along with us during the call and response. At that moment, I felt like our music could bring people together, which made me really happy. Of the 10 songs on the album, "Road of Resistance" has a special place in my heart.
SU: For me, it's "Megitsune" It's my favorite BABYMETAL song, and it's also the most difficult for me personally. We were still kids when we recorded it, so it was basically just some kids giving it their all. I think that's cute because it feels just like BABYMETAL at that time, but as we played more live shows, I realized this song is a mix of many different elements: fast but smooth, fierce but beautiful. I think there are also people overseas who like this song because the melody and choreography are very Japanese. Also, this is a tuning song for me.
――Tuning?
SU: It has a nice balance of what I need to sing BABYMETAL songs, so it's a good song to check how my voice is doing. Like if I'm off-rhythm, off-pitch, or able to hit the high and low notes that day. When I sing this song, I can tell how my voice is doing at that moment. So I always make sure to sing it before a show. In a sense, it's a song that sets the standard.
On their first performance on Kohaku Uta Gassen: "It's more nerve-wracking than an overseas festival."
――This New Year's Eve, BABYMETAL will appear on NHK's Kohaku Uta Gassen. How did you feel when this was decided?
SU: I found out in the morning, then went straight to the press release. All of the people around me were people I see on TV.
MOA: It's like, I was brought here, but I'm not sure if I belong. (laughs) I think since usually, we mainly play live shows and don't appear on TV too often, it'd be nice to do something interesting. But we've always performed for audiences with our live shows, so we're not used to performing for cameras. I'm more nervous about the cameras.
SU: In a way, it's more nerve-wracking than overseas festivals, isn't it?
――This is the last thing I want to bring up. It's been confirmed that you're playing 10 shows at Nippon Budokan in 2021.
MOA: At our last Nippon Budokan show, we were experiencing a lot of firsts, so it was pretty difficult and we have some tough memories from the time. With this live show, we want to show how much we've grown and feel that sense of accomplishment that comes from playing a good show.
SU: We've played a lot of live shows and had all kinds of experiences, but at Budokan, we experienced a lot of things for the first time, and all at the same time. Everything was new to us, so I think the amount of experience we gained during those two days was amazing. But my brain was constantly in overdrive, so I didn't really have the mental capacity to have fun.
MOA: We're more experienced now, so I think we can have fun with Budokan.
SU: A lot of things are still up in the air, so we're looking forward to seeing how it turns out.
MOA: Only the Fox God knows what will happen. (laughs) Under these circumstances, I just hope that we can safely hold the show.
SU: Yeah. Basically, I just hope that everyone is healthy and can safely get together at Budokan.